Signature Creations for Two Menu – Nobu Kuala Lumpur
Monica Tindall
Nobu Kuala Lumpur reopened this September with another dinner for two menu that is guaranteed to entice many to dine out again. After closing its KLCC location at the end of December 2020, the restaurant reopened on the fourth floor of the Four Seasons Hotel in March 2021 (click here for pics). However, a short while after closed again due to pandemic restrictions. With such a brief launch, you might not yet have had a chance to visit the restaurant's new digs. Indeed it is one of the most exceptional dining experiences in the city. So, now is your chance to snap up a deal and enjoy the shiny new setting along with a delicious line-up of signature dishes.
Signature Creations for Two Menu – Nobu Kuala Lumpur
The Signature Creations for Two Menu at Nobu Kuala Lumpur is priced at RM 428++ for two people and is running for September 2021. The six-course menu is also available with sake and wine pairing, which I highly recommend, for RM 798++ per couple.
Moriawase
Dinner begins with a selection of Nobu's most prized sashimi recipes, moriawase. Start with the oyster, make your way right to yellowtail sashimi, and finish with the tuna salad.
The first of the trio features oysters from the Kumamoto Prefecture on the island of Kyushu in Japan. The shell is quite a deep scoop holding slender flesh. The balanced sweet, salty and maybe even fruity finish is complemented with a fine Maui salsa and the most delicious Japanese baby peach. Be warned that table manners might fail with the middle plate, the yellowtail sashimi and jalapeño. The yuzu soy sauce is so darn more-ish, it's tempting to pick up the bowl and slurp the remains to not miss a drop. Lastly, the tuna sashimi salad, another Nobu classic, raises the intensity a half-notch with a sesame onion soy dressing.
The lovely fine mousse of the wine mate, Villa Conchi Cava from Spain, provides a soft and cleansing mate to the sashimi. Its crisp citrus entrance and full toasty conclusion are delightful.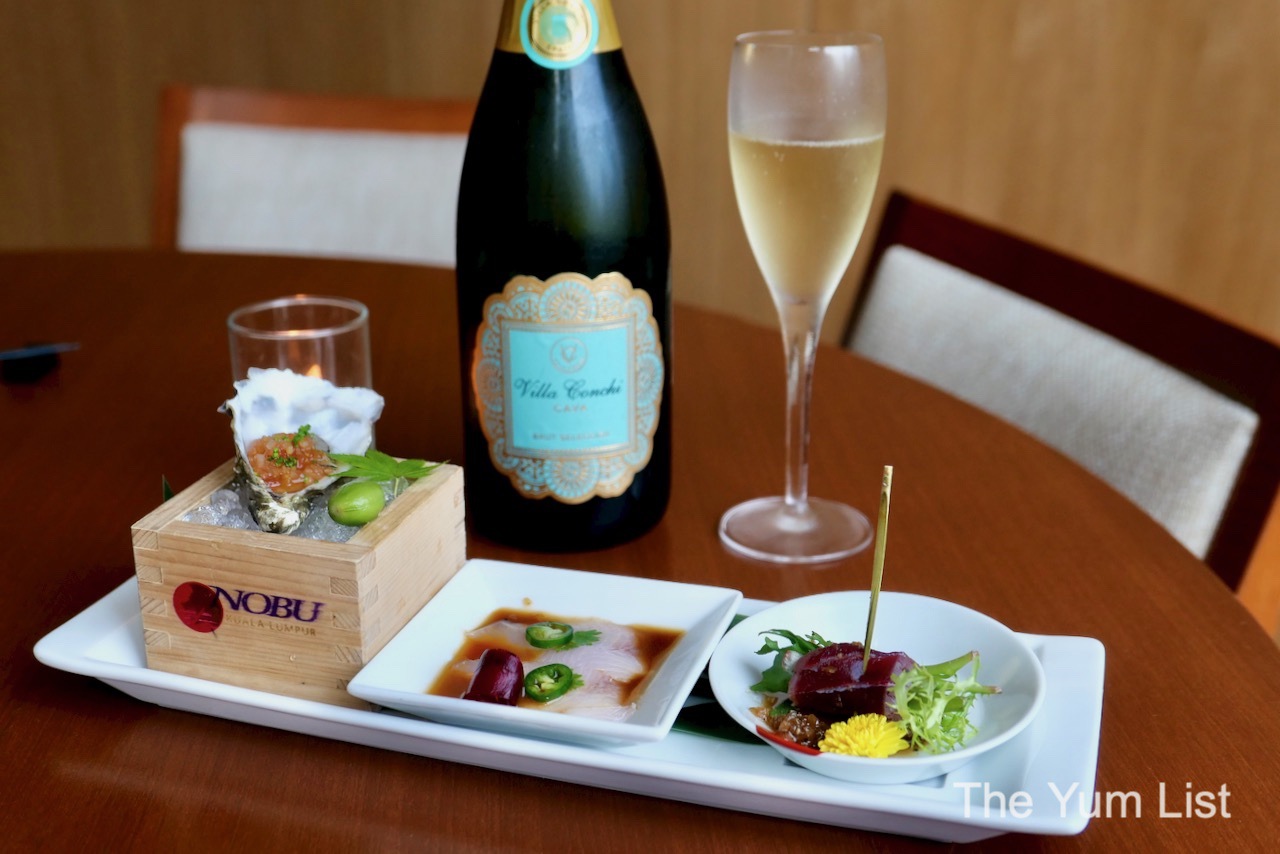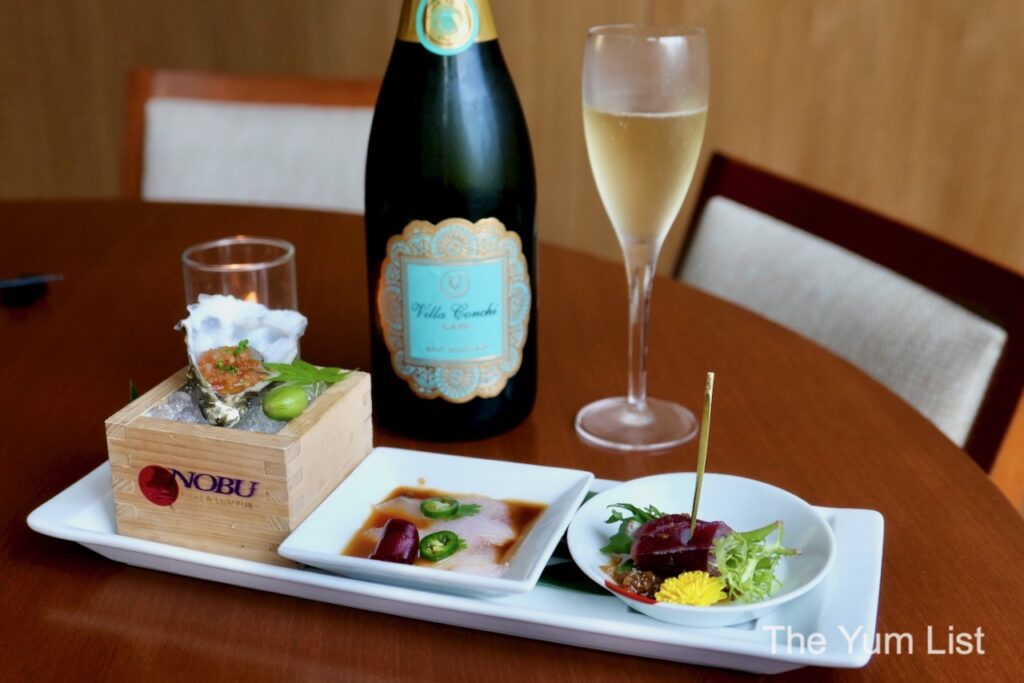 Chef's Sushi Selection
If you're visiting Nobu for the first time, you'll soon discover that sashimi and sushi are just as much about the sauces as they are about the fresh catch. In the chef's sushi selection, salmon, white fish, mackerel and botan shrimp top short-grain rice and each is accompanied by its own individual seasoning.
Salmon, seared with hot olive and sesame oils, is partnered with yuzu soy sauce, ginger, garlic, chives, and sesame seeds. The white fish is topped with dry miso, yuzu olive oil, garlic chips and chopped chives, and the mackerel combines with a delicious mix of scallions, grated ginger, sesame seeds and ponzu sauce. Winding up the quartet, botan ebi is treated with Peruvian care in the tiradito (similar to ceviche) preparation of yuzu lemon juice, rocoto chilli, soy sauce and coriander. This luxurious line-up is well-deserving of the Nobu Daiginjo TK40 "The Premium Sake" with its delicate body and long, creamy finish.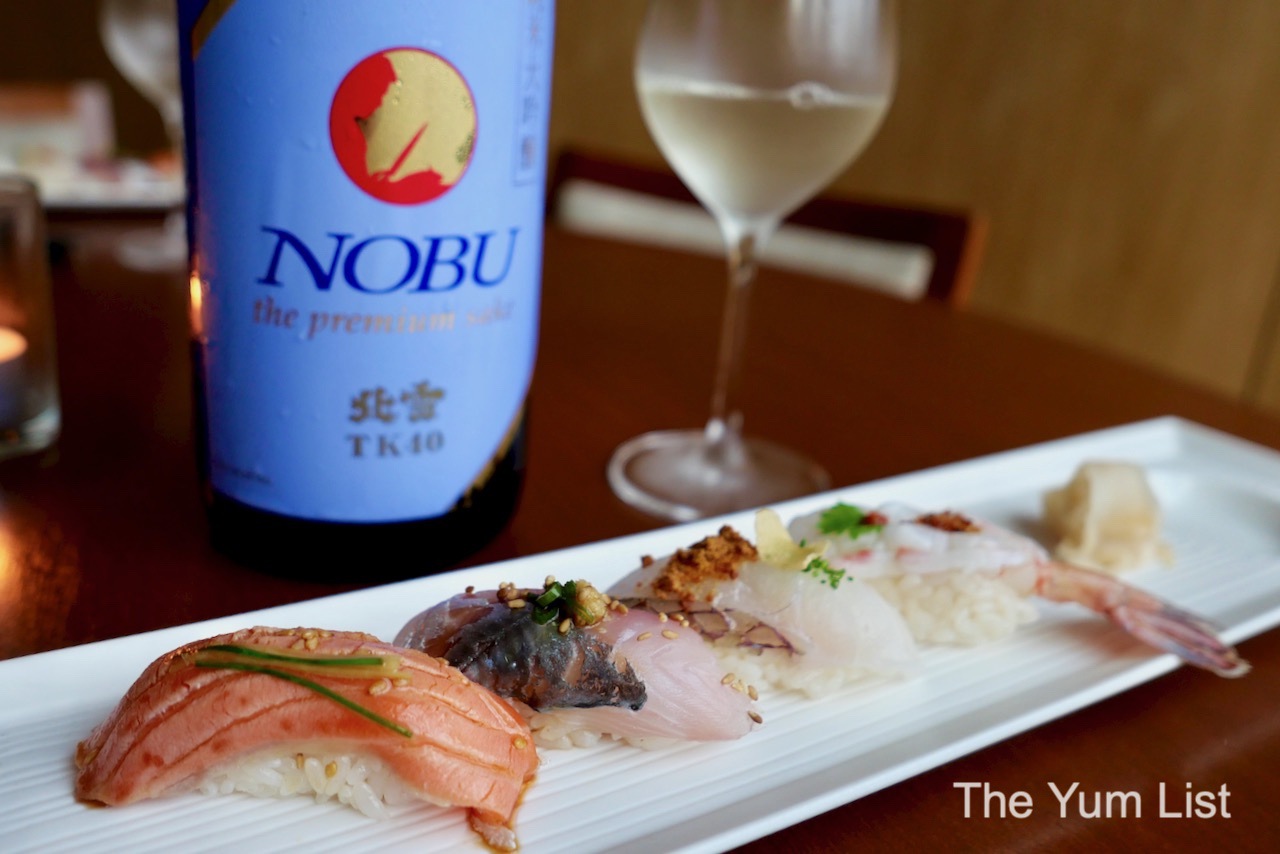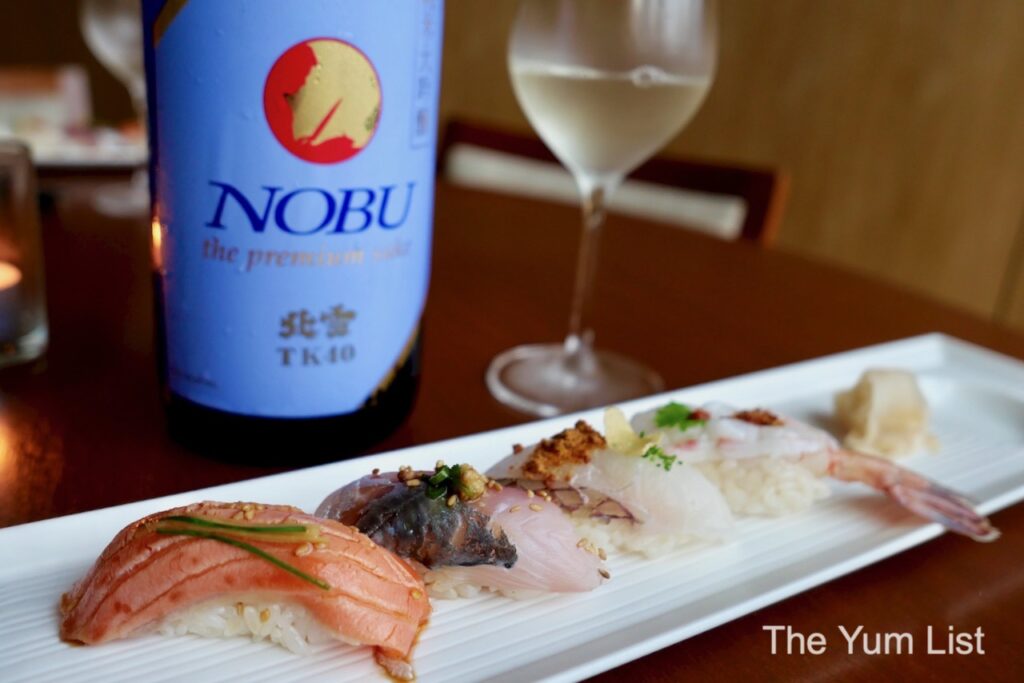 Black Cod Miso
First served at Nobu Matsuhisa's restaurant in Beverly Hills in the 80s, Black Cod Miso has since been replicated by chefs worldwide. The marination of mirin, sugar and white miso locks in the flavour and moisture of the fish as the sugars caramelize under the grill. Although now a dish recognized globally, its simplicity in preparation means consistent quality throughout the chain worldwide.
Presented on a kuma zasa leaf, the cod is adorned with dried apricot and pickled ginger stem. With the fish, we try a young 2020, Chateau Lamothe-Vincent AOC, Bordeaux from France. This is one of several new wines the Nobu team are trying out. It's vibrant with tropical fruit aromas thanks to the sauvignon blanc, while the body is buffed with texture and complexity thanks to the Semillon. If the cod were to be the final main course on the menu, I might prefer a Chablis with some creamier notes and perhaps a hint of vanilla. As there is still beef to come, the choice of this crisp white assists in slicing through the fat of the fish, and allows a gradual build-up in intensity to the rich tenderloin coming up next.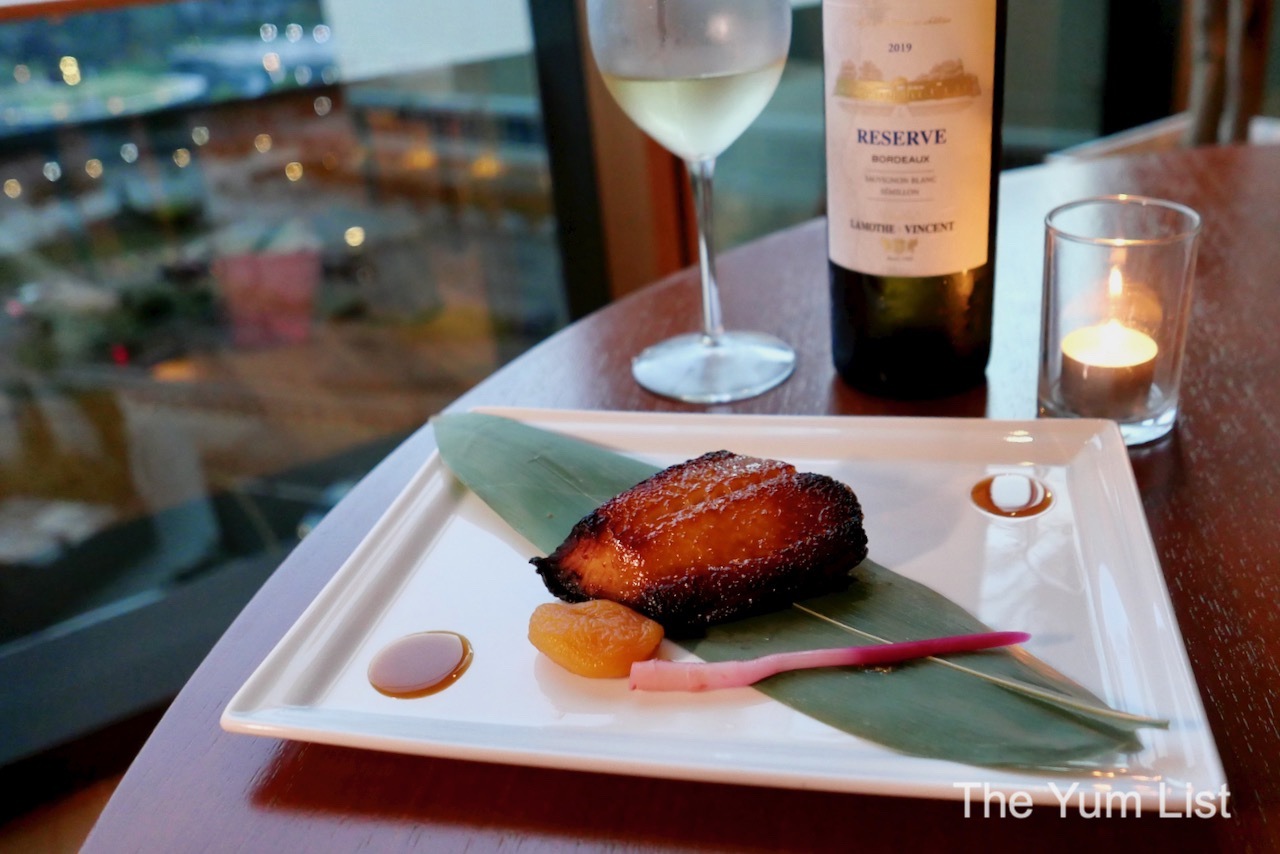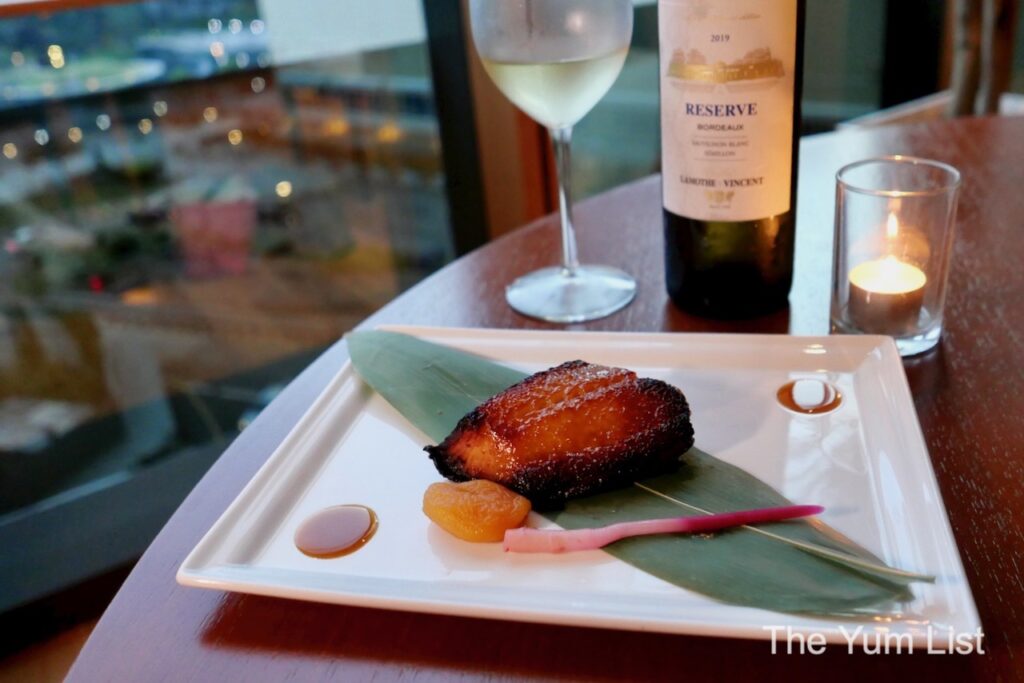 Angus Beef Tenderloin with Soba Risotto
With the dominance of seafood on Nobu Kuala Lumpur's menu, you might not expect beef to be done exceptionally well. It is nice to be pleasantly surprised, though, isn't it? Best served medium-rare, the Angus Beef Tenderloin is a full-flavoured recipe with truffle teriyaki sauce. Buckwheat risotto, edamame, pumpkin puree, lotus root chips and cherry tomatoes contribute texture but not too much flavour to compete with the meat. Another young wine, the 2020 Norton Malbec Collec'ion, Malbec from Mendoza, Argentina, is presented for this course. Typical of the grape, it's fresh with plum and cherry notes has a medium to full body and lingering finale.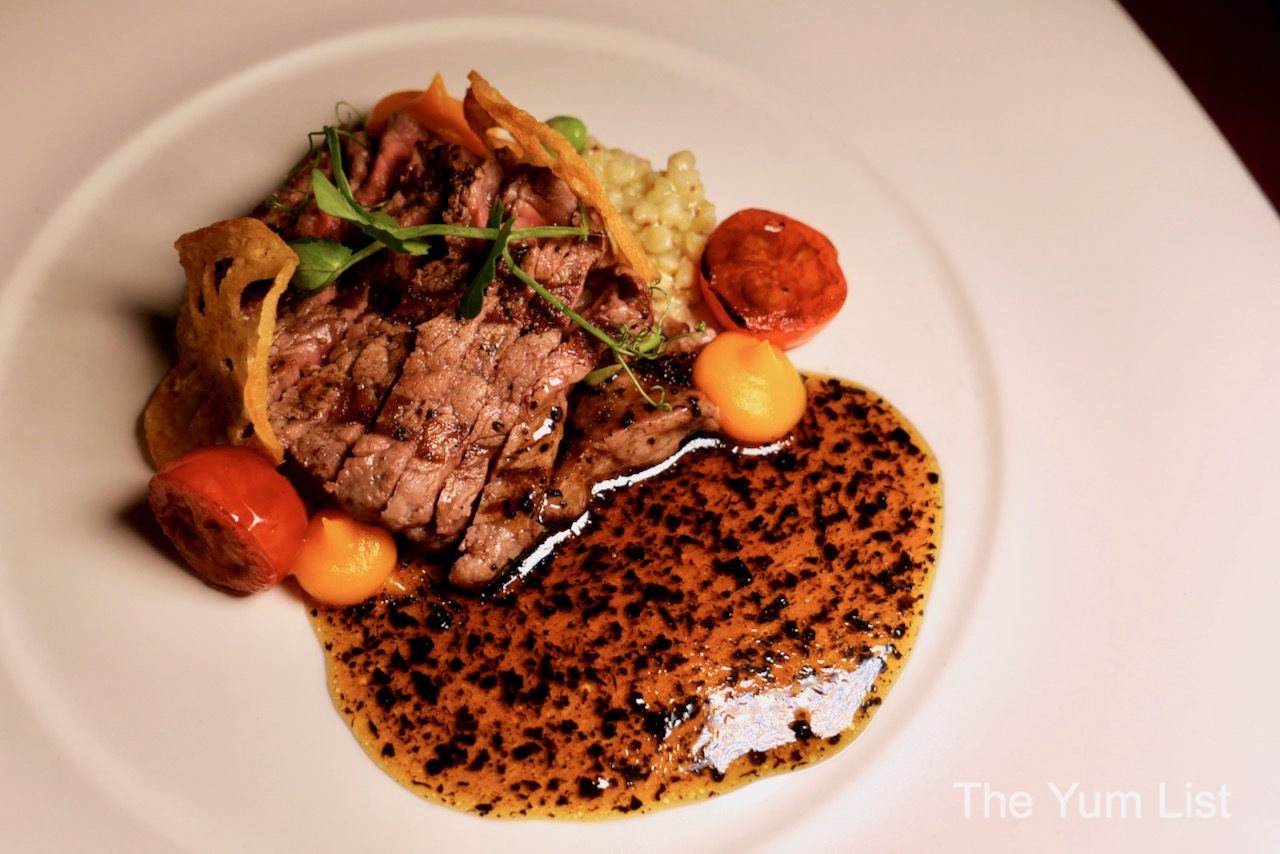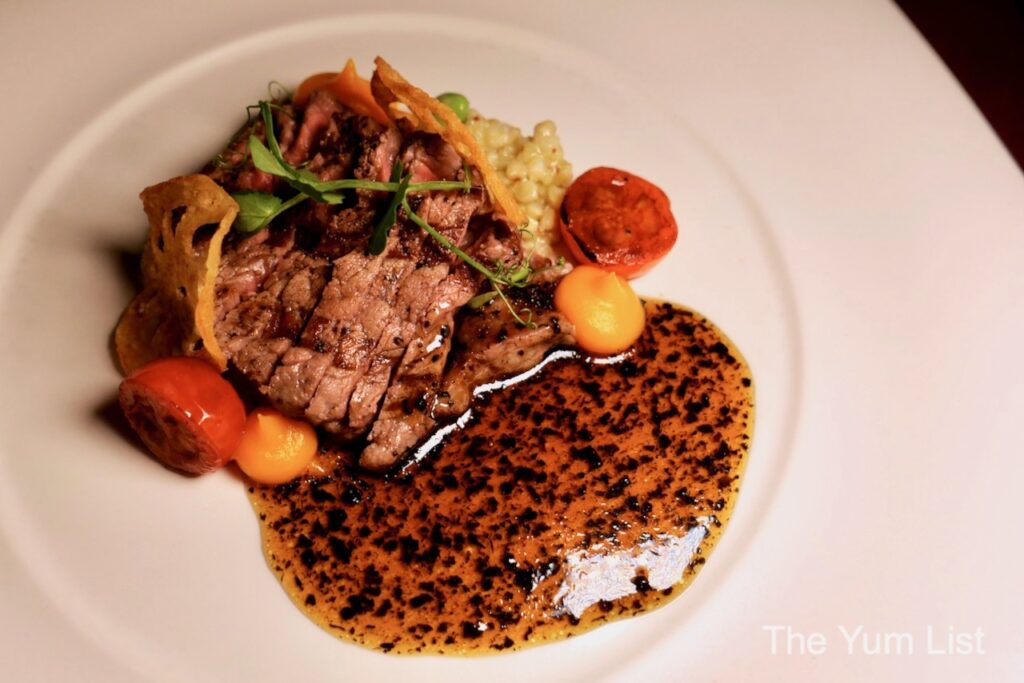 Lobster Somen – Signature Creations for Two Menu
Ensuring all stomachs are satisfied before heading to a sweet conclusion, the carb course of lobster somen is a rather decadent choice. Fine noodles are capped with slices of tender crustacean and seasoned with bonito flakes. Following the rise in complexity of flavours of the preceding courses, this takes the palate back down in a segue to sweets.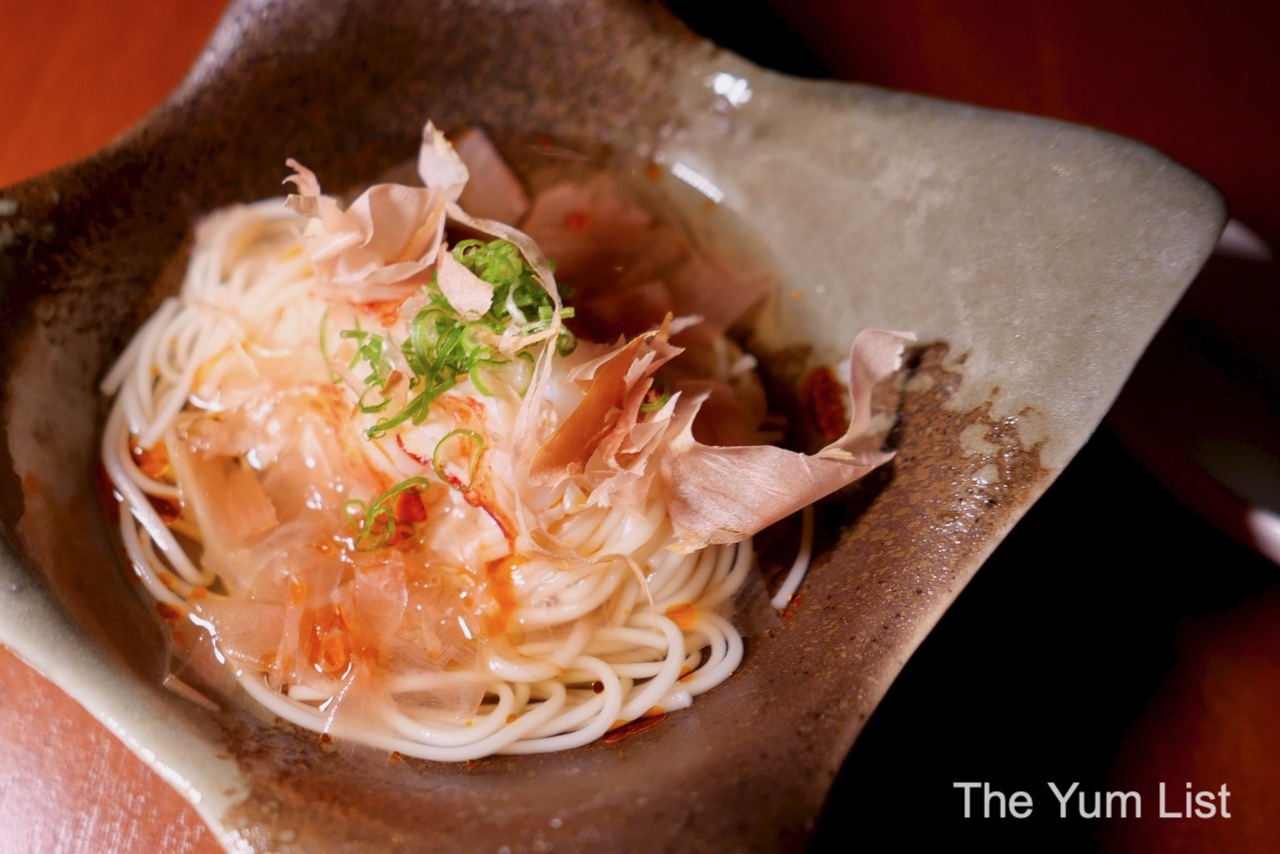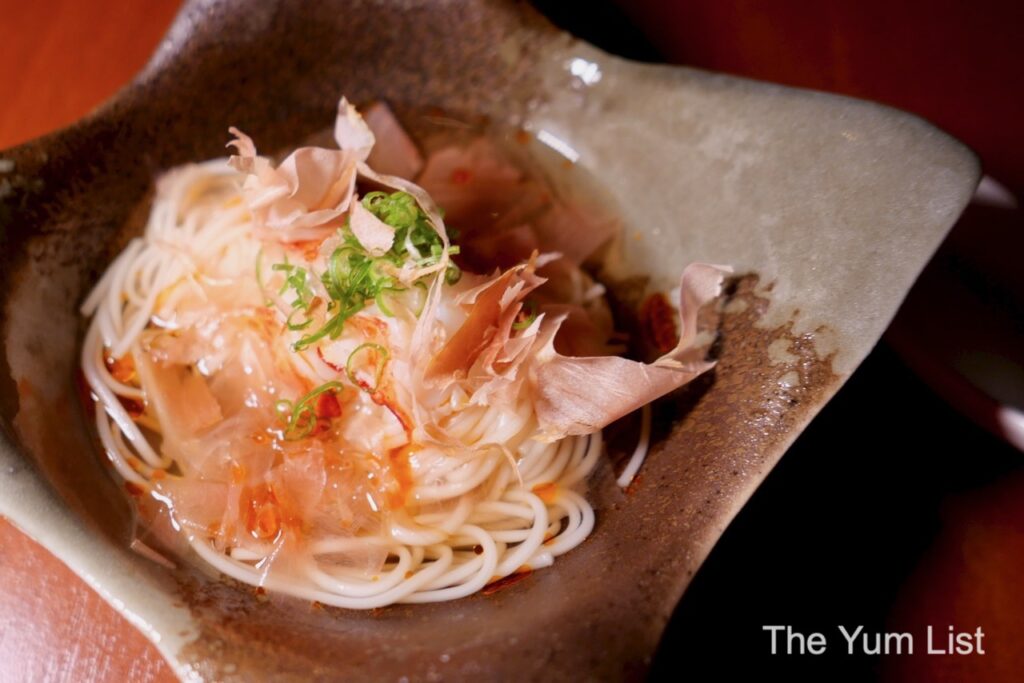 Cheesecake
Nobu's Cheesecake culminates the menu with a combination of sweet, tart and creamy. Yuzu strawberry sorbet (fantastic, would be happy with this alone) provides a sweet and sour freshness against the velvety cheesecake. The plate is rounded off with raspberry gel, sesame crumble, and a Japanese maple leaf garnish. A light layer of sugar is torched on top, gifting a superfine bruleed crown.
The final pairing is a sweet muscat, M. Chapoutier, Beaumes De Venise, more on the fruity side than the honeyed end. It balances candied fruit and floral aromas with a light body, a lovely mirror to the dessert.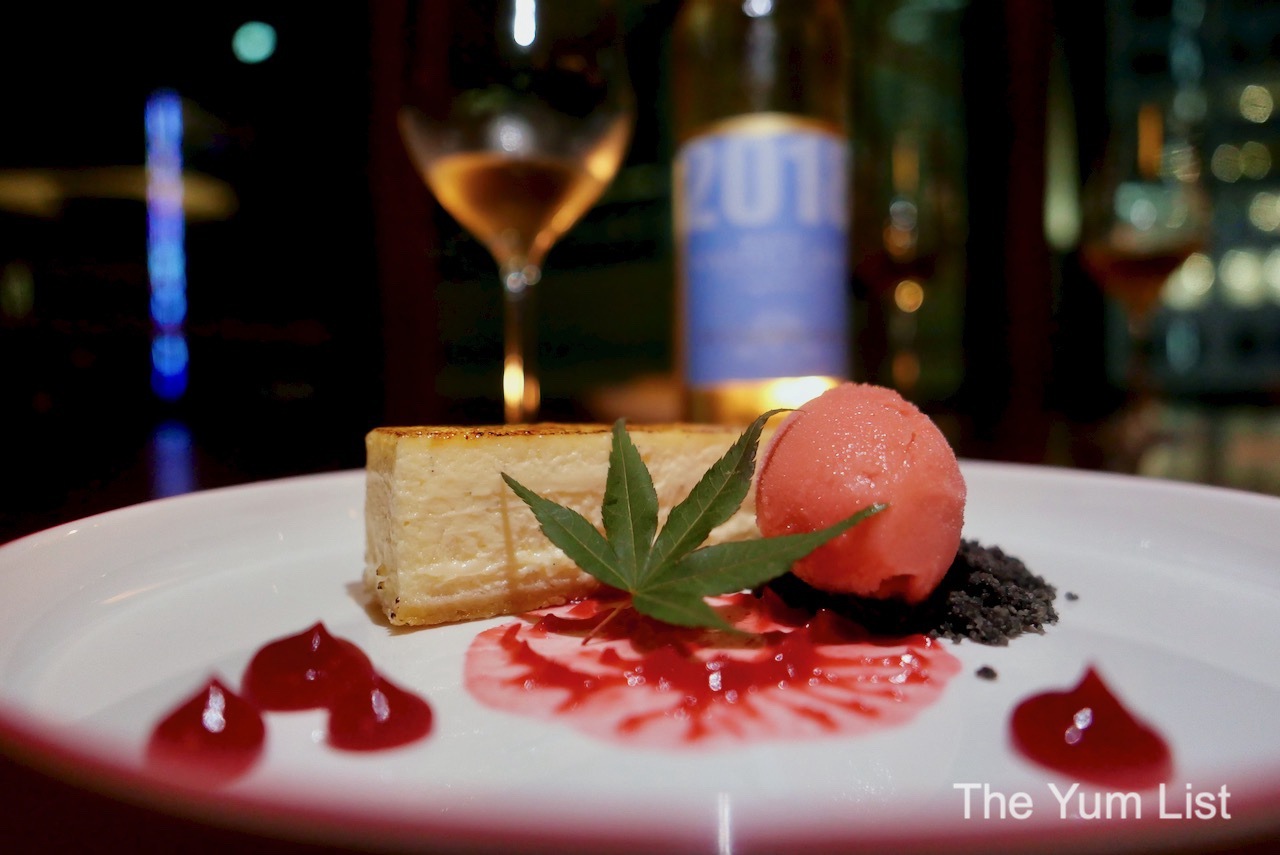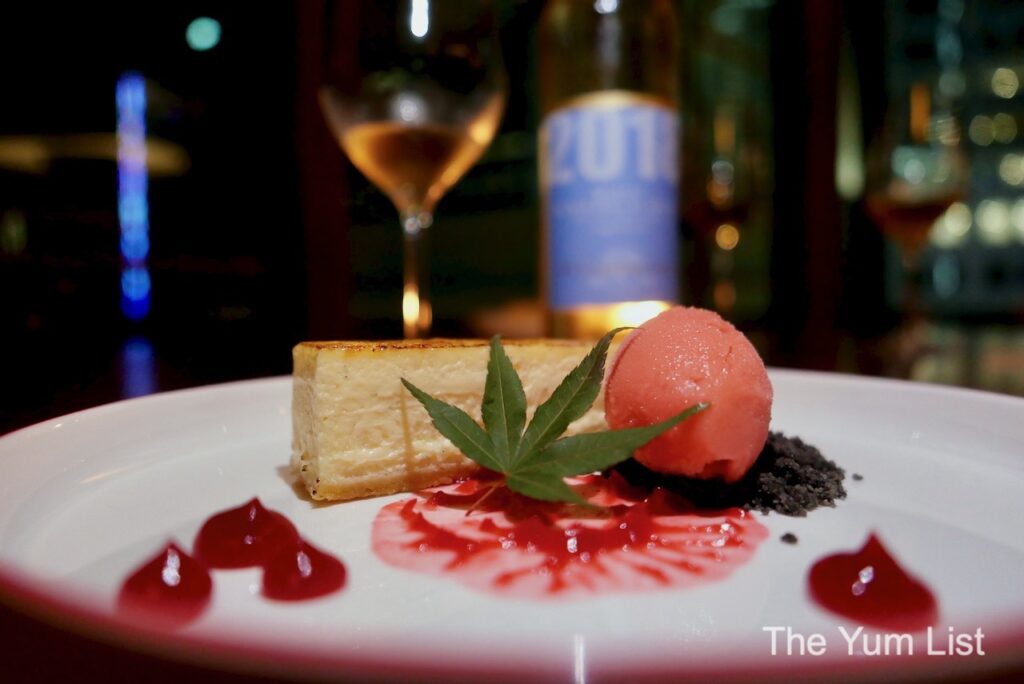 Signature Creations for Two Menu – Nobu Kuala Lumpur
The Signature Creations for Two Menu at Nobu Kuala Lumpur is exactly as described – a collection of some of the restaurant's most popular recipes. If you are a first-time visitor, it is an excellent selection to get a feel for the kitchen's foundations. However, returning customers will find joy in the familiarity of the meal – a happy time reconnecting with a long lost friend.
Reasons to try the Signature Creations for Two Menu: Nobu Kuala Lumpur: value-for-money; lovely new setting; exceptional service; a fantastic mix of Japanese and Peruvian flavours.
Nobu Kuala Lumpur
L4A-05, Level 4A Shoppes at Four Seasons Place KL
No.145, Jalan Ampang, 50450 Kuala Lumpur, Malaysia
+603 2380 0028 or WhatsApp +6019 389 5085
[email protected]
New Nobu Kuala Lumpur Opening Hours
Dinner: 6.00pm – 10.30pm (Daily)
Find more Japanese restaurants in KL here, and stay up-to-date with the latest gourmet and travel recommendations for Malaysia here and here.