Cantonese Dim Sum Brunch at Yen, W Kuala Lumpur
Words: Monica Tindall Photos: Rich Callahan
As things continue to open up, I'm sure many will be happy to see more weekend brunches returning. Yen Chinese Restaurant at W Kuala Lumpur offers a value-for-money weekend Cantonese Dim Sum Brunch for RM 128+ per adult and RM 64+ per child Saturdays and Sundays between 11 am and 2:30 pm. Executive Chinese Chef, Weng, serves up imaginative interpretations of Cantonese cuisine with a contemporary take. On the menu, we find lots of favourites along with some fun and delicious innovations.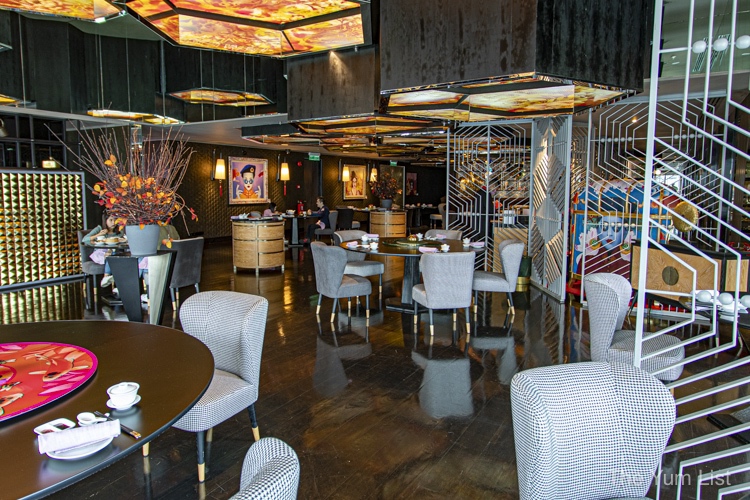 Cantonese Dim Sum Brunch at Yen
As with most Chinese fare, you'd be well advised to come with the whole family. The fun of dim sum is ordering many dishes and tasting it all in small bites. This is one case where "the more, the merrier" certainly rings true. Unlimited servings are delivered to your table in the perfect melding of buffet and ala carte ordering.
Since our last visit, the already stylish dining room has been gifted added life with the addition of vibrant artworks. Take time to admire the works on the walls and the lazy Susans on the table.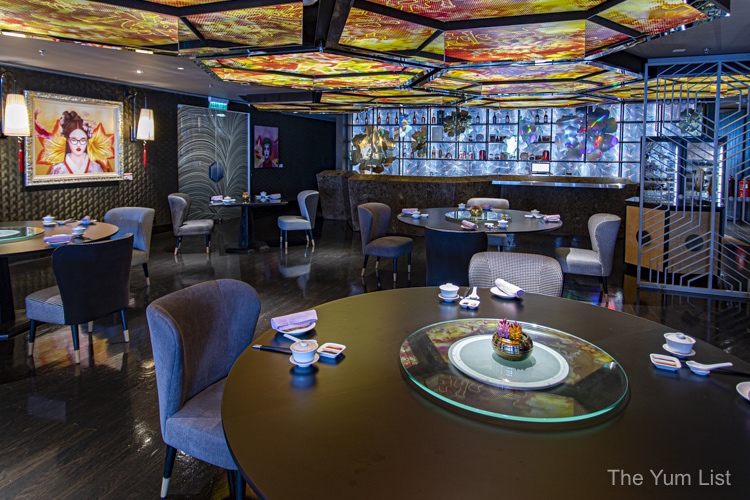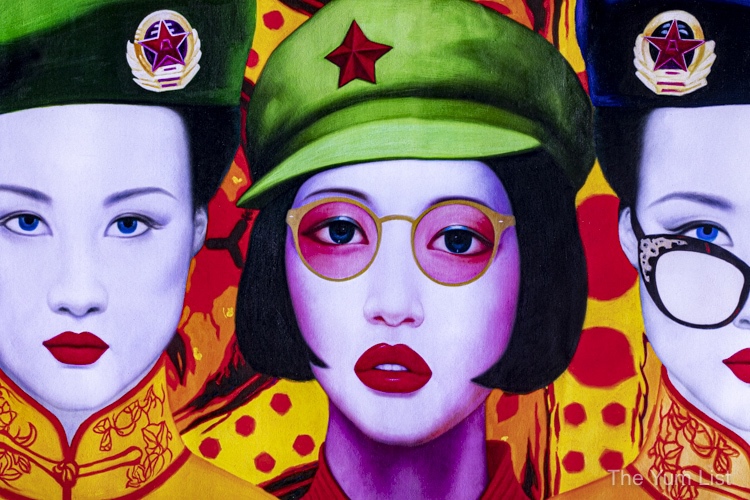 Steamed Dim Sum
It would be easy to be overwhelmed by choice. Still, we use the handy markings of Y for signature dishes, a carrot for vegetarian and a chilli for spicy items to guide us.
A quartet of popular picks come highly recommended in the steamed section – chicken siew mai with black truffle, crystal prawn dumplings with morel mushrooms, boletus mushroom and organic vegetable dumplings, and the honey-barbecued chicken buns. The last is an eye-catching pic, shaped like a chubby mushroom and filled with moreish honey-barbecued chicken. The first three are fabulous little bundles of joy. Skins are delicate, thick enough to contain the loaded ingredients, but thin enough to melt immediately once in the mouth.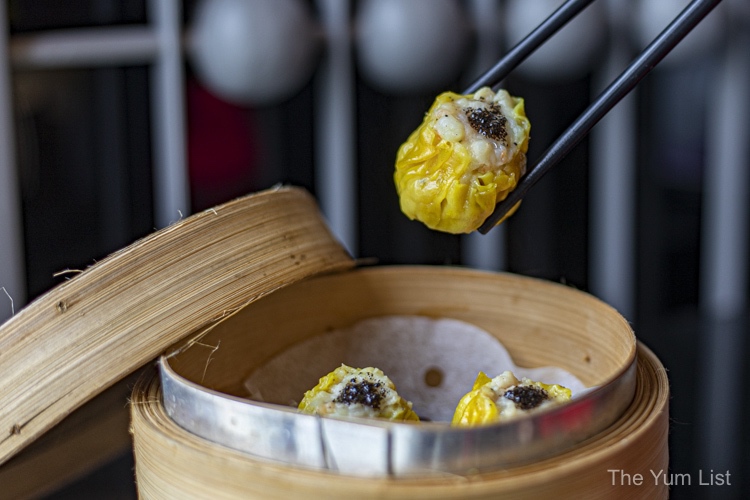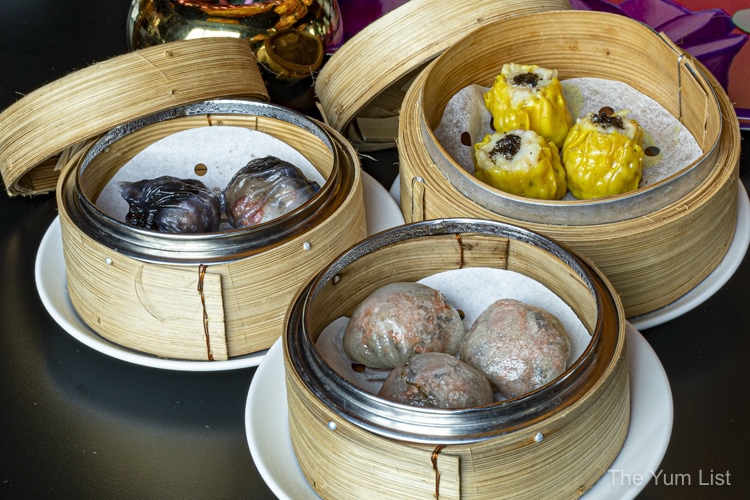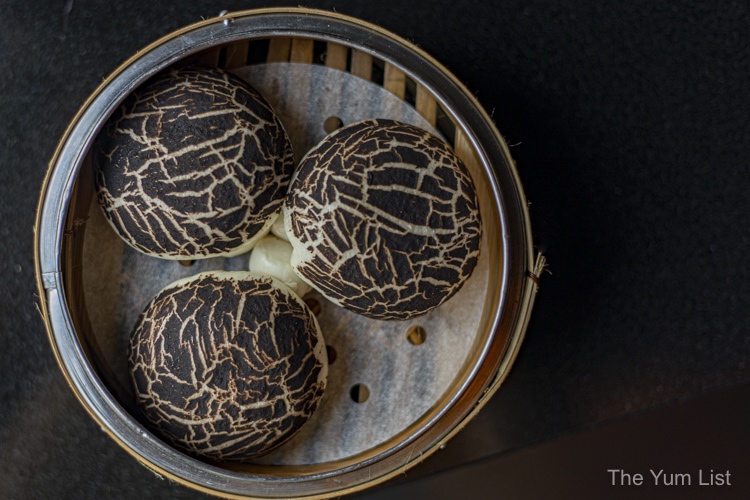 Fried & Baked Dim Sum
While my preferences are for lighter, steamed options, there is no denying that the fried and backed recipes are packed with flavour and highly satisfying. Cod fillets wrapped in kataifi noodles are an excellent choice and given a modern twist with chilli padi cheese. Although deep-fried, the noodles are light and crisp. Not a drop of oil stains the plate. The wok-fried radish cake with bean sprouts, supreme chilli sauce and Sakura shrimps is another worthy pick.
Occasionally, the chef throws in a couple of specials, and today, we're fortunate to try the lobster bean curd roll. Plump pieces of lobster are wrapped in a thin bean curd skin and quickly fried. The crisp coat and tender meat meld together with each bite.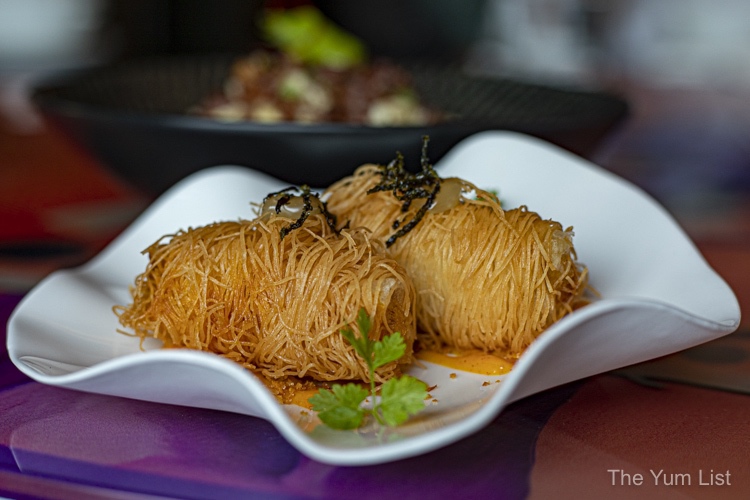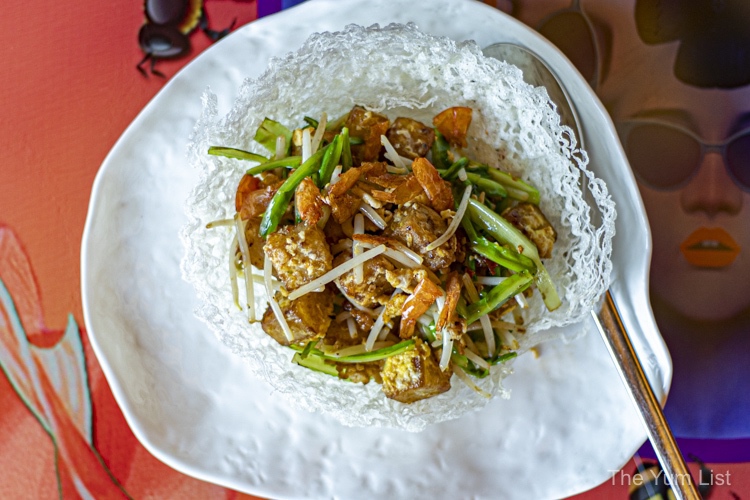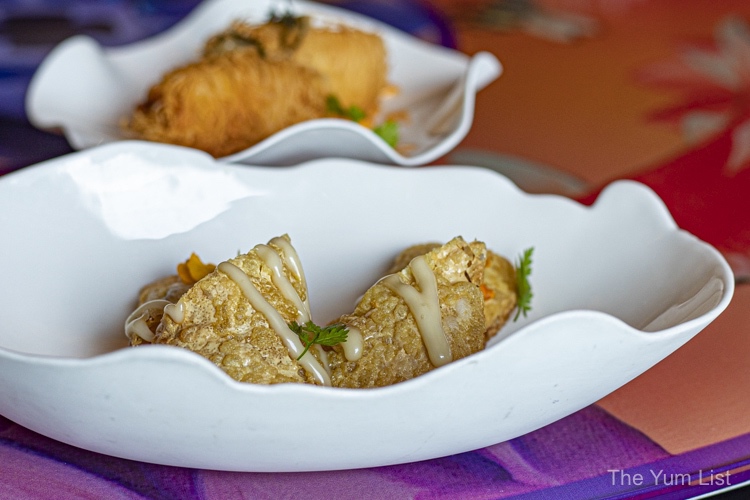 Steamed Flour Roll Cheong Fun & Congee
The steamed flour roll is gently sweet in the middle, thanks to barbecue chicken. Home-cooked sambal paste offers a savoury finish but is not overly spicy. The skin is silken and slips down the throat.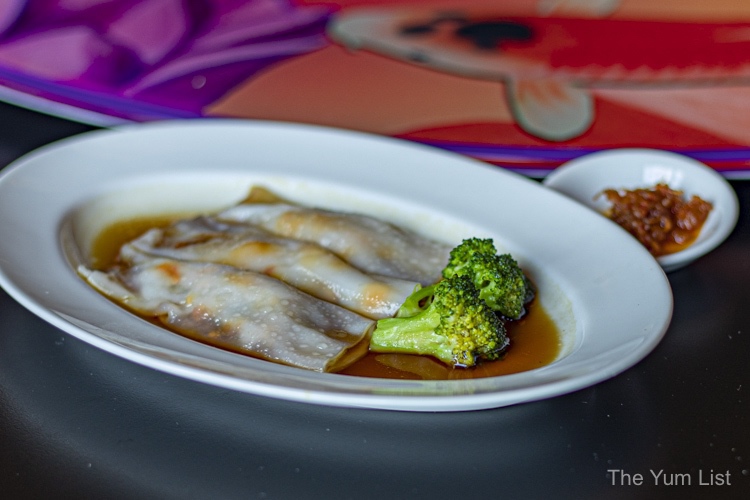 Soup – Cantonese Dim Sum Brunch
Soup choices change regularly. This week the chef has cooked up a double-boiled fish and winter melon soup. Goji berries, Chinese almonds and red dates float on the top. The melon gives a gentle sweetness to the broth. All in, it's a nicely balanced brew, something that feels as though it would nurture you when down with a cold.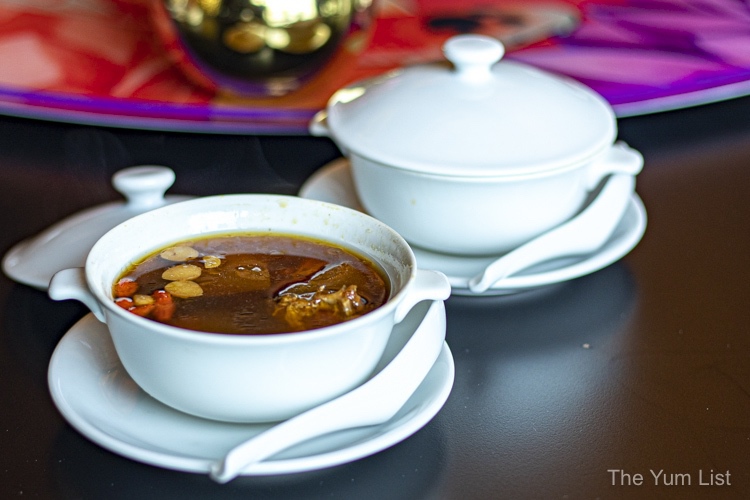 Vegetables, Bean Curd & Rice Noodles
Next, noodles and rice guarantee that no one leaves hungry with several tasty items. Stewed assorted vegetables, mushrooms and glass noodles are delicious in a preserved bean curd sauce. However, the red rice is awesome (order two!). I love the nuttiness and texture of whole grain rice. Here it still retains an attractive chew to the bite and has been wok-fried with organic egg, mushrooms, ginger and French beans.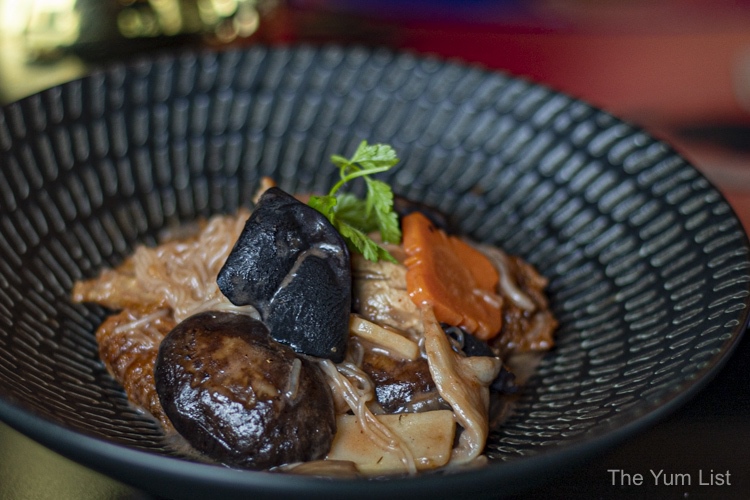 Sweet Temptations
Milk pudding is one of Yen's signatures. It's a solid milky pudding given a layer of complexity, thanks to the truffle. The piece of honeycomb served on the spoon adds not only sweetness but also a good crunch.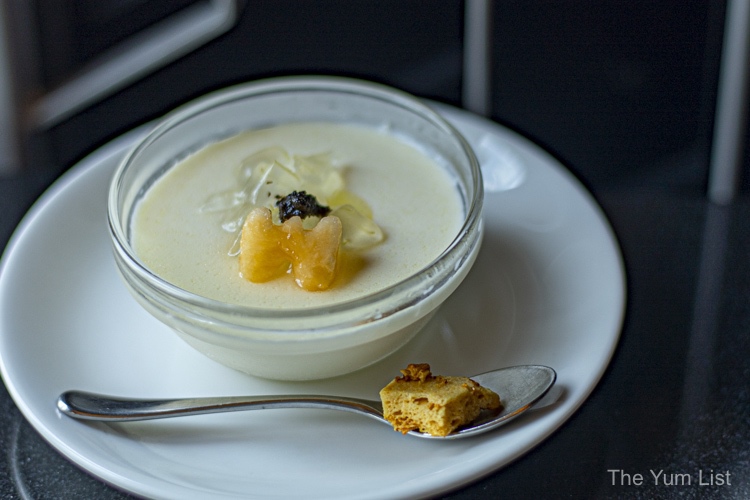 Tea
Yen offers a selection of four teas, each with its own health benefits. We're impressed by the list of claims for the Pu Er and so order with good nutrition in mind. Apparently, with every sip, we'll be assisted in lowering blood fat, losing weight, improving digestion, and a whole bunch of other benefits. It works well with the dim sum, helping to cleanse the palate between tastes.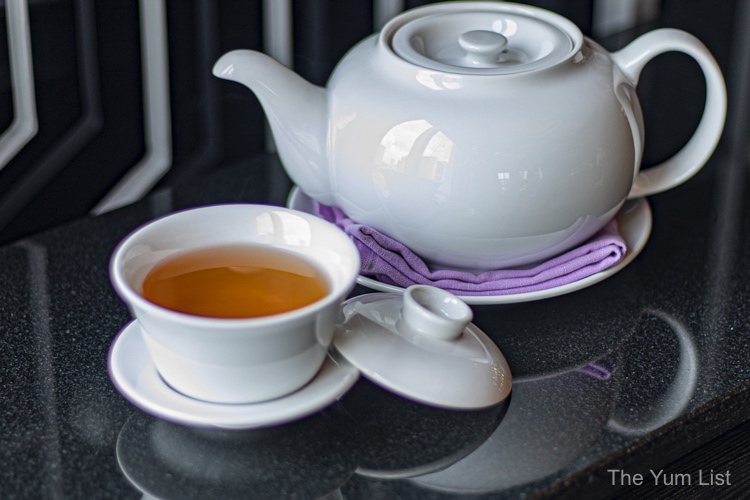 Cantonese Dim Sum Brunch at Yen Review
The Cantonese dim sum brunch at Yen is excellent value for money considering the quality of food, stylish setting and unlimited orders. Tables are spread apart, and staff follow strict SOPs, making the environment feel safe but at the same time welcoming.
Reasons to try the Cantonese Dim Sum Brunch at Yen: excellent value for money; vibrant contemporary setting; must try the red rice and mushroom-shaped barbecued chicken buns.
Cantonese Dim Sum Brunch at Yen Chinese Restaurant
W Kuala Lumpur
No. 121, Jalan Ampang
Kuala Lumpur, 50450 Malaysia
+60 3-2786 8888
b&[email protected]
www.facebook.com/WKualaLumpur
Saturdays & Sundays
First Seating: 11:00 am – 12.30 pm
Second Seating: 1 pm – 2.30 pm
Find more on W Kuala Lumpur's restaurants and services here, and stay up-to-date with the latest gourmet and travel recommendations for Malaysia here and here.