Exclusive Selection for Two Menu – Nobu Kuala Lumpur
Words: Meg Alice Photos: Monica Tindall
You might be thinking, didn't I just read about Nobu Kuala Lumpur's Signature Creations for Two Menu in September 2021? If so, you are correct. You can read that article again here and about Nobu Kuala Lumpur's move to the Four Seasons Hotel in March 2021 here. We're revisiting Nobu again because they have created a new Exclusive Selection for Two Menu that's quite the opposite of the Signature Creations.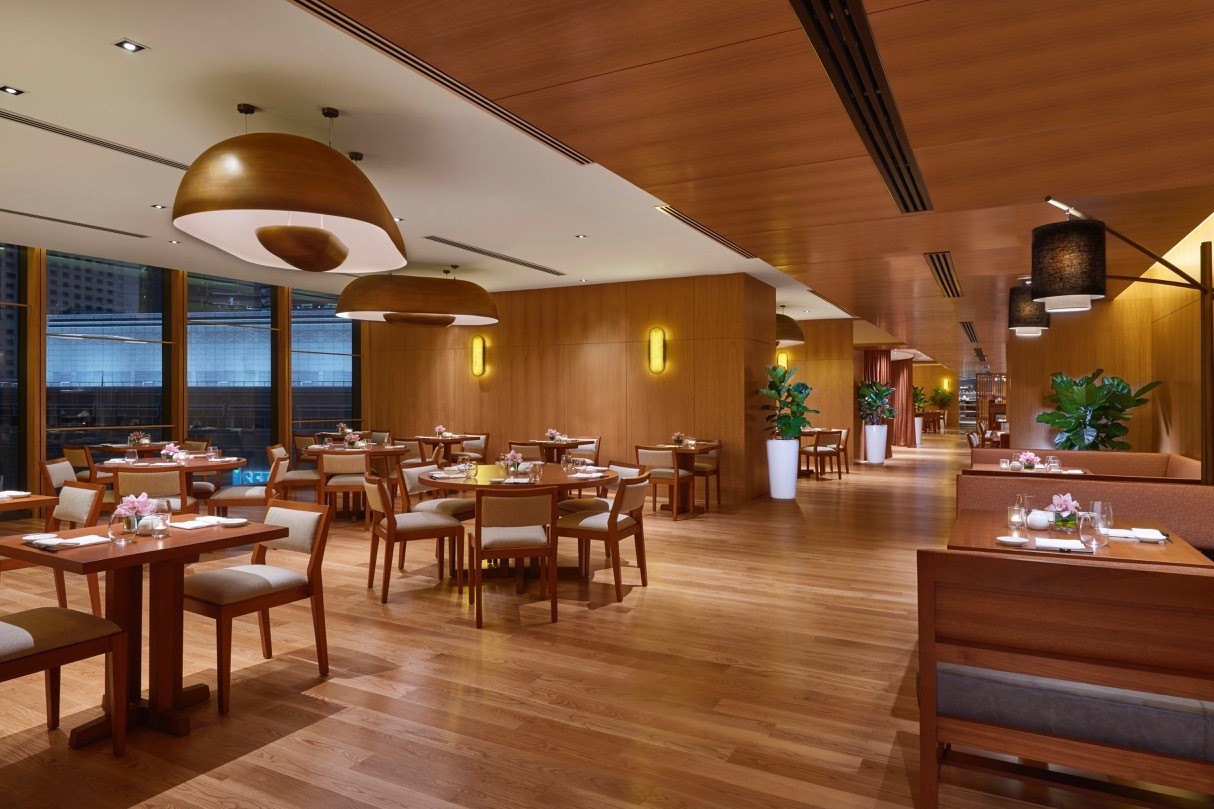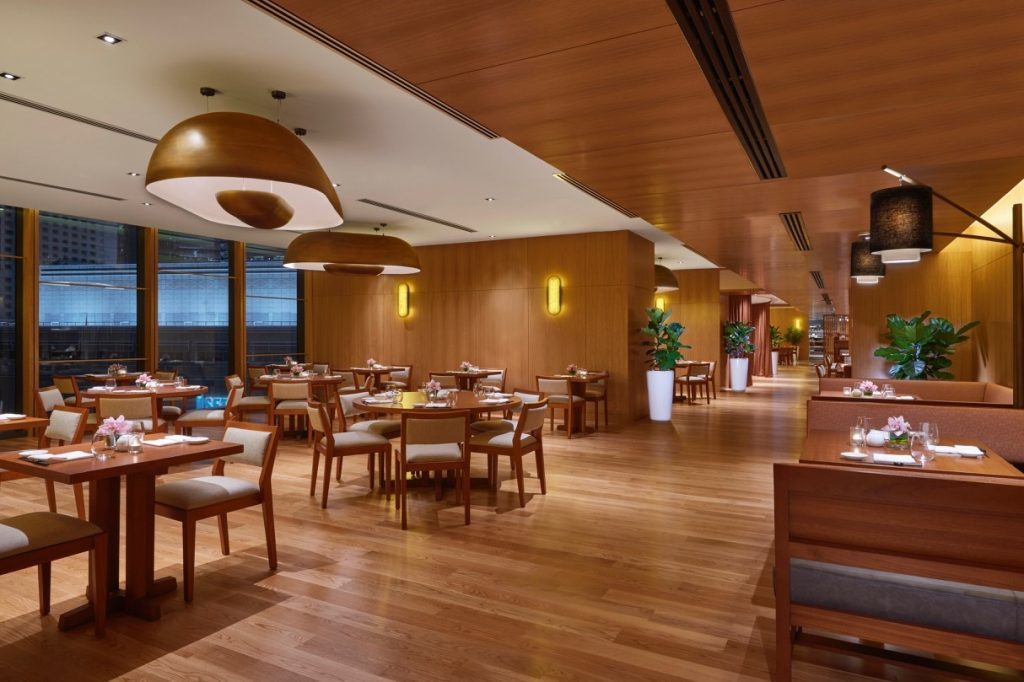 Exclusive Selection for Two Menu – Nobu Kuala Lumpur
Nobu Kuala Lumpur has done it again with its October five-course Exclusive Selection meal featuring a theme of newer creations and unsung heroes of the menu.
Nobu signature dishes like miso black cod are not on this menu in favour of whimsy and experimentation. This is a chance for long-time local executive chef Philip Leong and newly arrived head sushi chef Masami Ouchi ("Chef Masa") to play together, embracing their new location at the Four Seasons Hotel. The menu delivers a joyful dining experience that celebrates bringing new and unexpected flavours together for RM 398++ per couple.
Exclusive Selection for Two Menu – Moriawase
The five-course meal starts with the Moriawase (plate of assorted cold dishes). The oyster shooter is delectable with a bright ponzu sauce (citrus vinaigrette), and the whitefish tiradito-style tastes close to ceviche with a delicate hint of acid and spice. The standout, however, is the salmon in jalapeno sauce with garlic puree.
The salmon wrapped in kelp features a yamagobo (Japanese pickled burdock root) bite in the centre, giving a fun crunch. For an additional RM 55++, one can opt for an add on of scallop karashi sumiso with caviar, but in our experience, the initial trio stands on its own.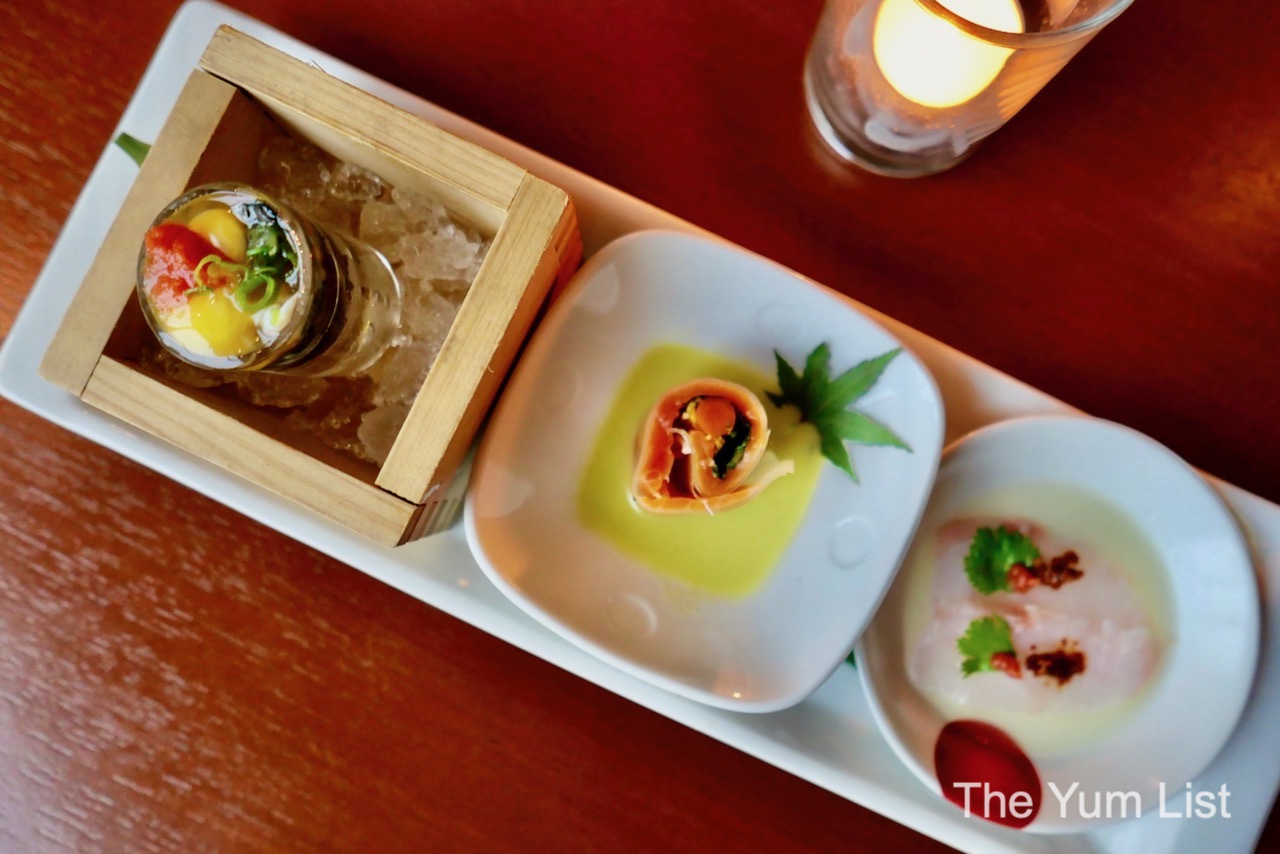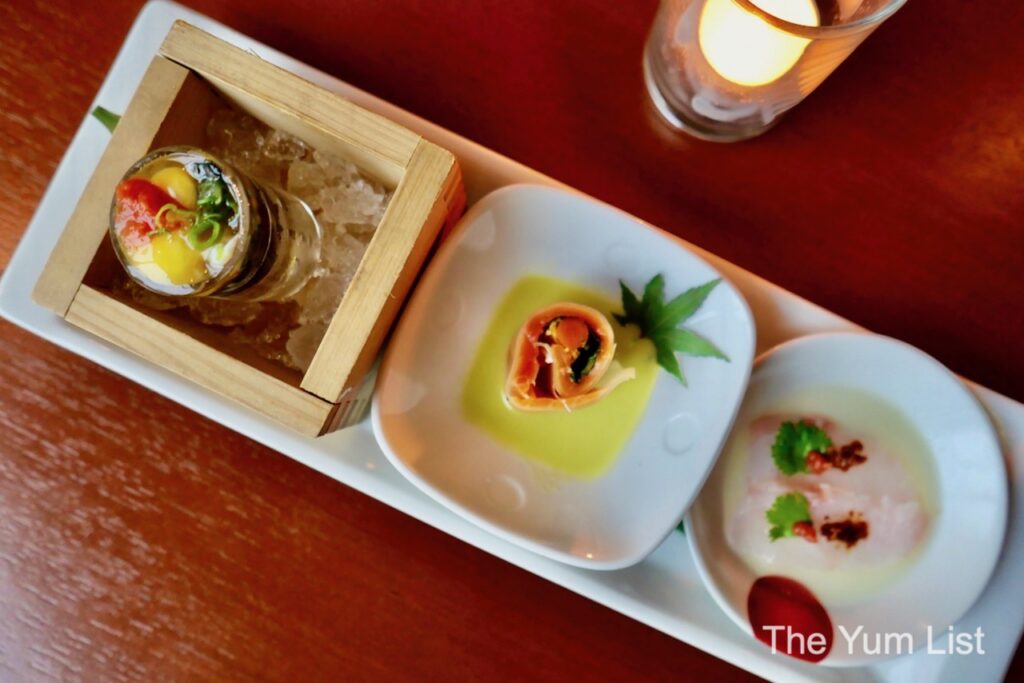 Chef's Sushi Selection
If you read our last review, you'll recall that Nobu's sushi is equally about the fresh fish as the accompanying flavour additions. Each of the selected pieces for this course – kampachi, mackerel, fluke, and salmon roe –is specially designed with daring sauces and spices. The kampachi is paired with a wasabi salsa, and the mackerel features the ponzu sauce again with sesame and scallions. The fluke is topped with egg powder. The highlight for me is the salmon roe offering an explosion of flavour with each individual roe popping in your mouth.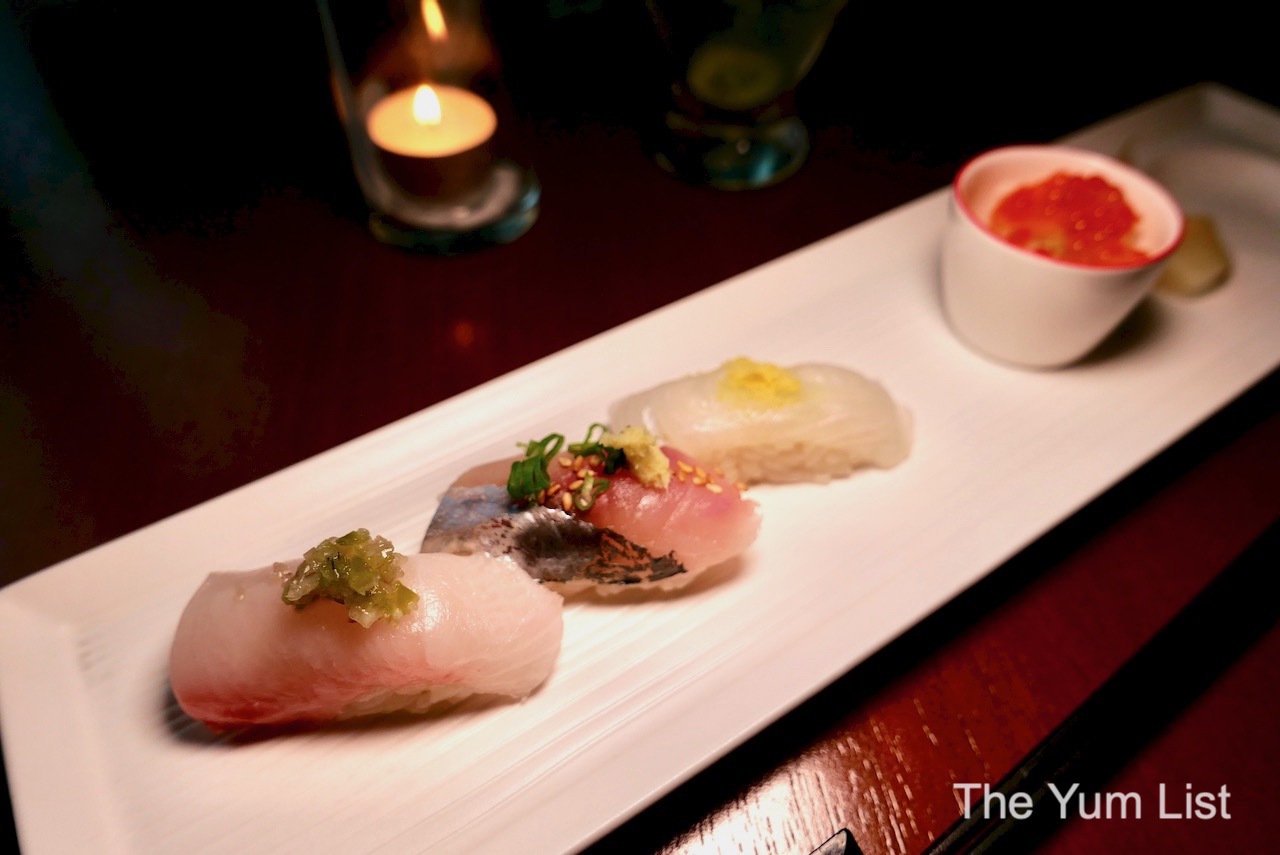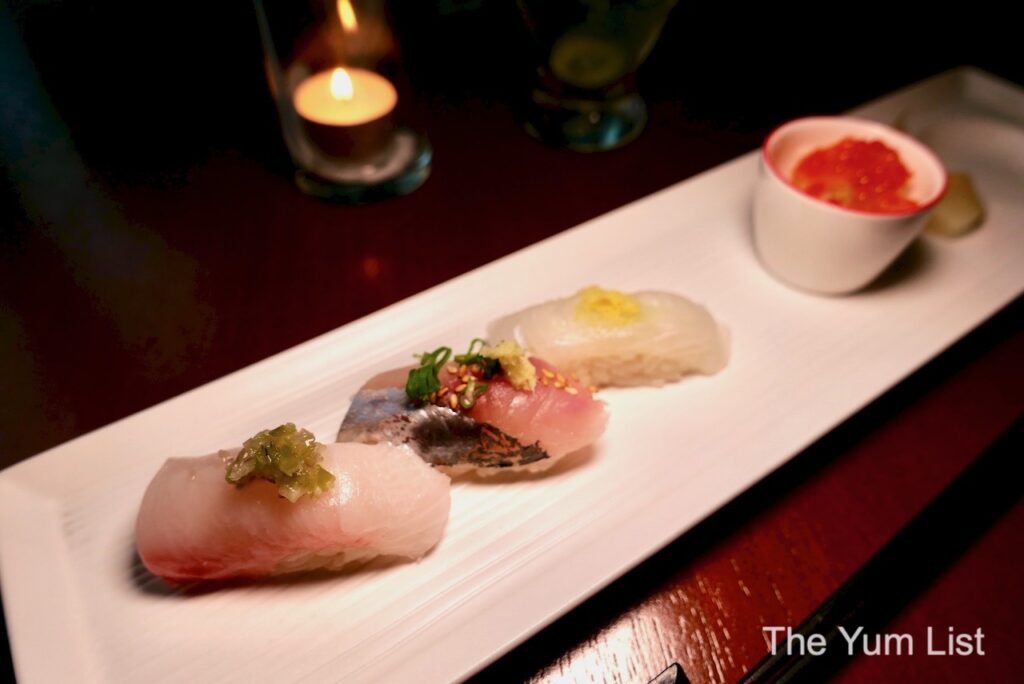 Umami Seabass Tempura
The third course or first main course is rich seabass tempura luxuriating in a velvety carrot sauce. As with the jalapeno sauce, I could eat a bowl of the carrot sauce like soup. The seabass itself is buttery and hearty in all the best ways. For an additional RM 55++, diners can substitute lobster tempura for the seabass tempura. Still, the seabass is a treat on its own.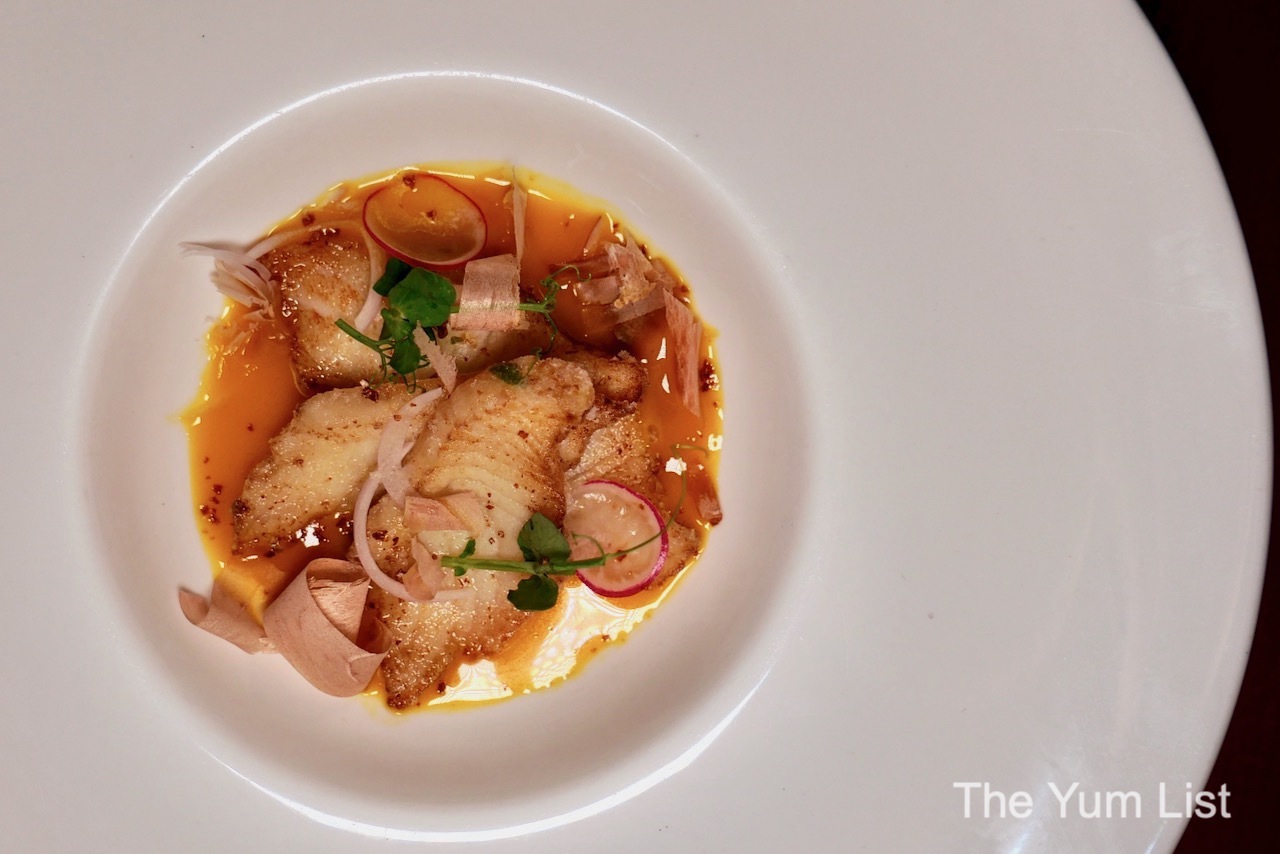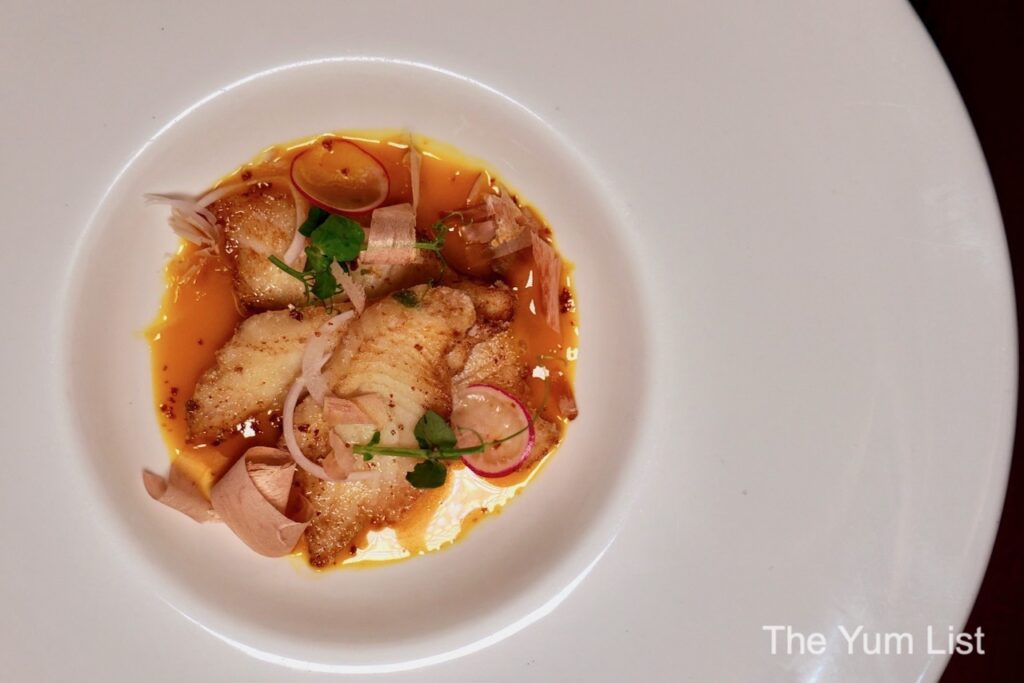 Braised Wagyu Short Rib
The fourth course or second main comprises a teriyaki-braised wagyu beef short rib accompanied by apple salsa, baby corn, cherry tomatoes, and wasabi mashed potatoes. The apple salsa cuts through the richness of the short rib with perfect proportions of meat, vegetables, and teriyaki sauce. I was worried by the description of the dish as including "apple teriyaki" that it would be too sweet. Still, because the apple is a stand-alone salsa, the recipe is perfectly balanced between the teriyaki and tart apple flavours.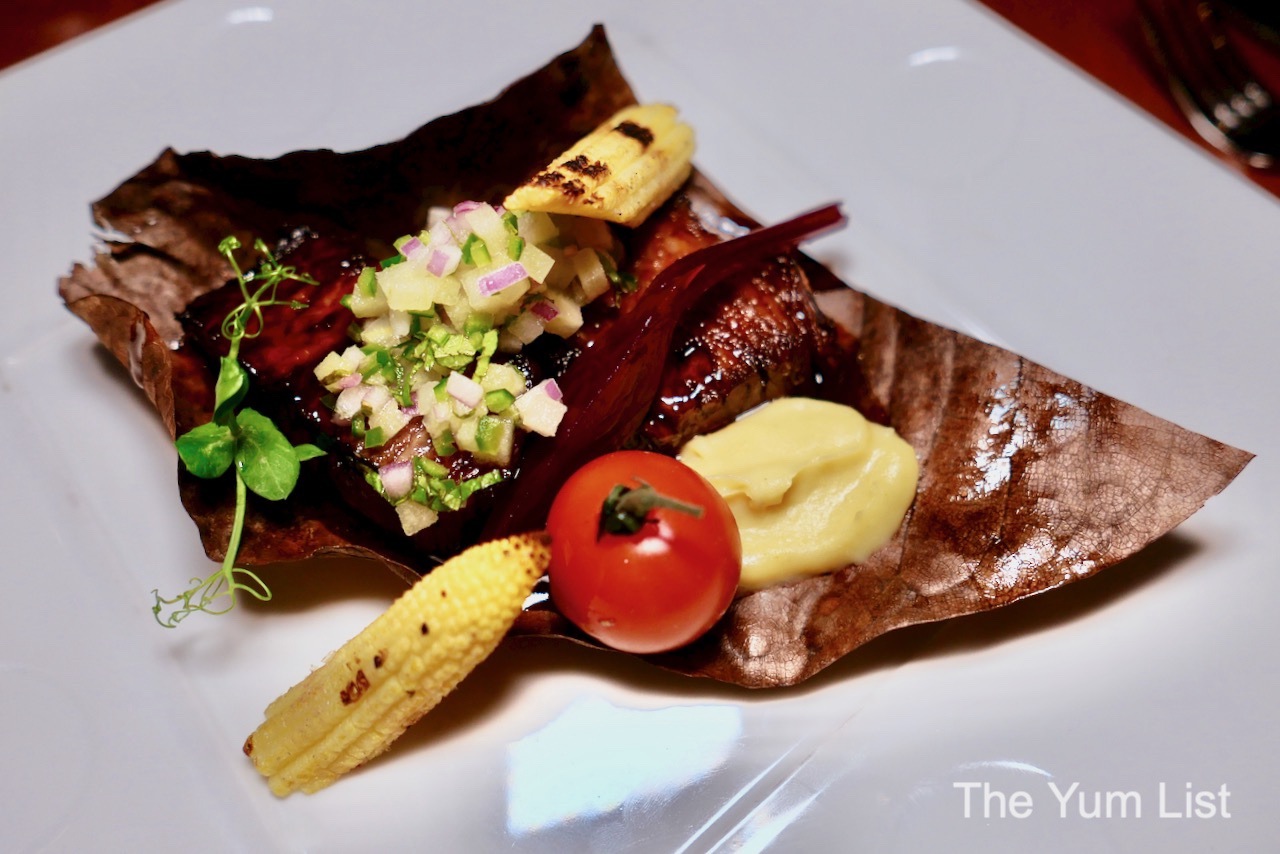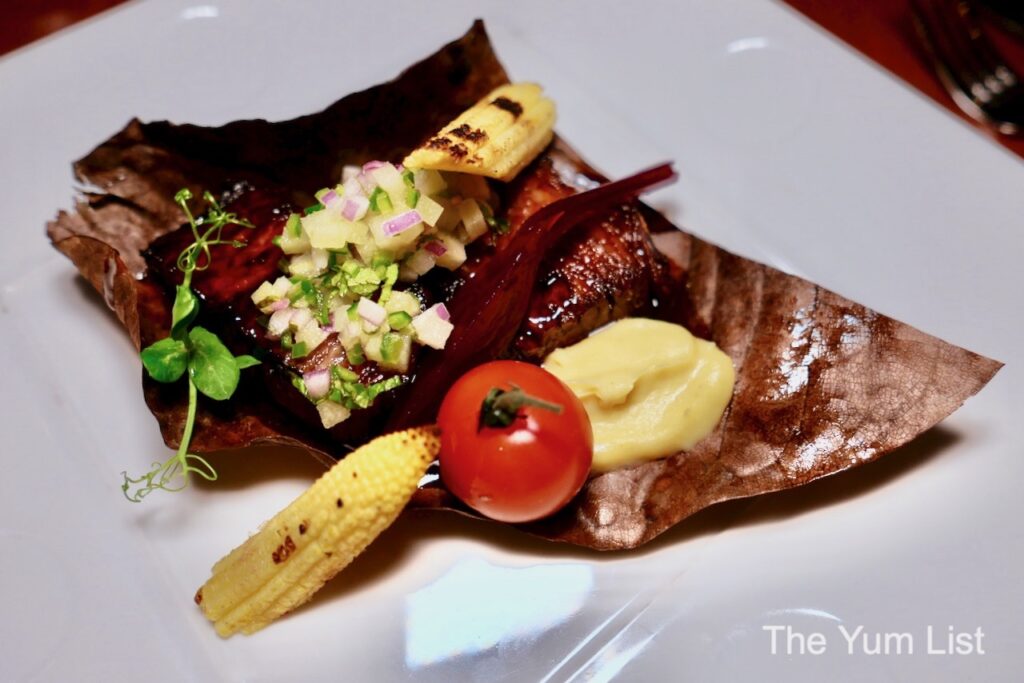 Tofu Bavarian with Monaka
The final dessert course is the most experimental and whimsical dish of the night featuring tofu in a seashell-shaped monaka (Japanese wafer) to be eaten like a sandwich. The desert also includes jasmine sorbet. The plate is presented as a child's playground of activity dotted with palm sugar mochi.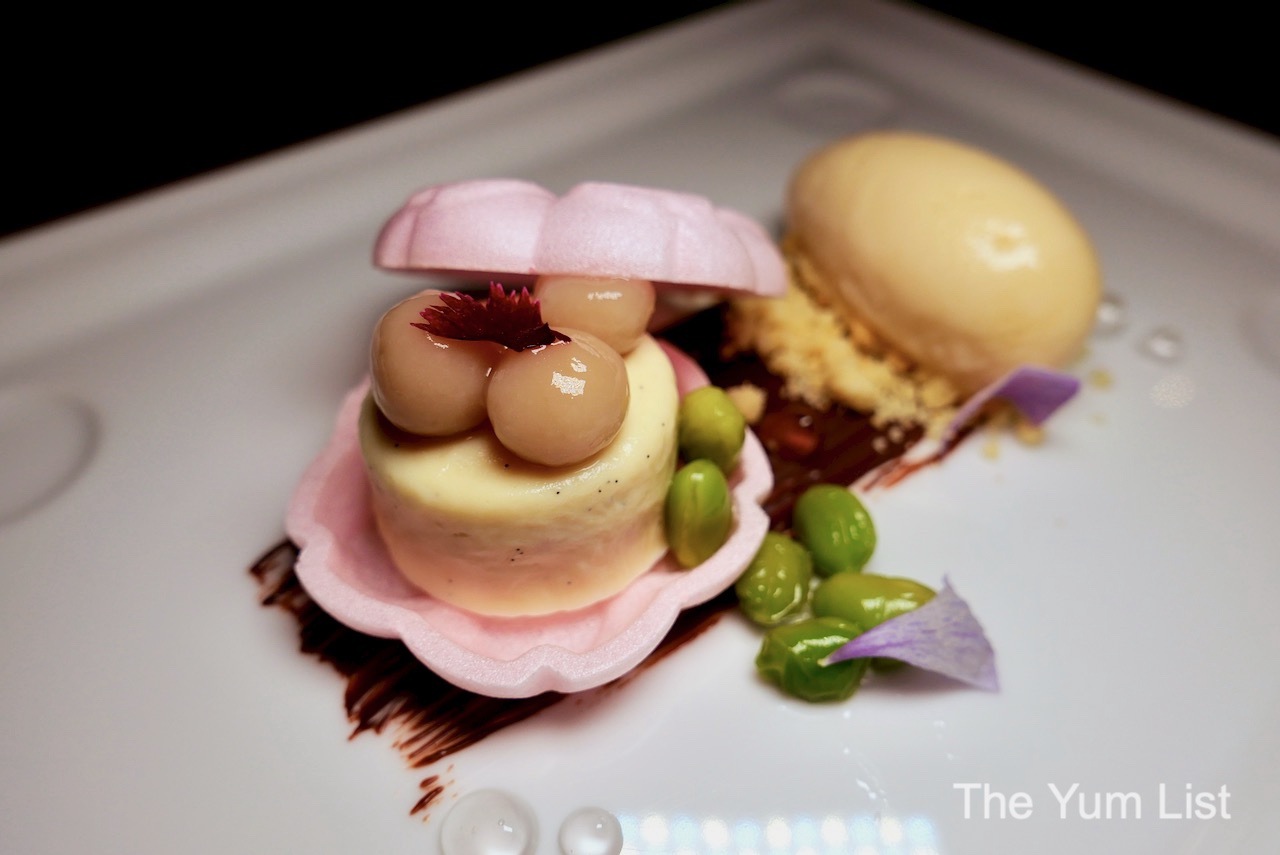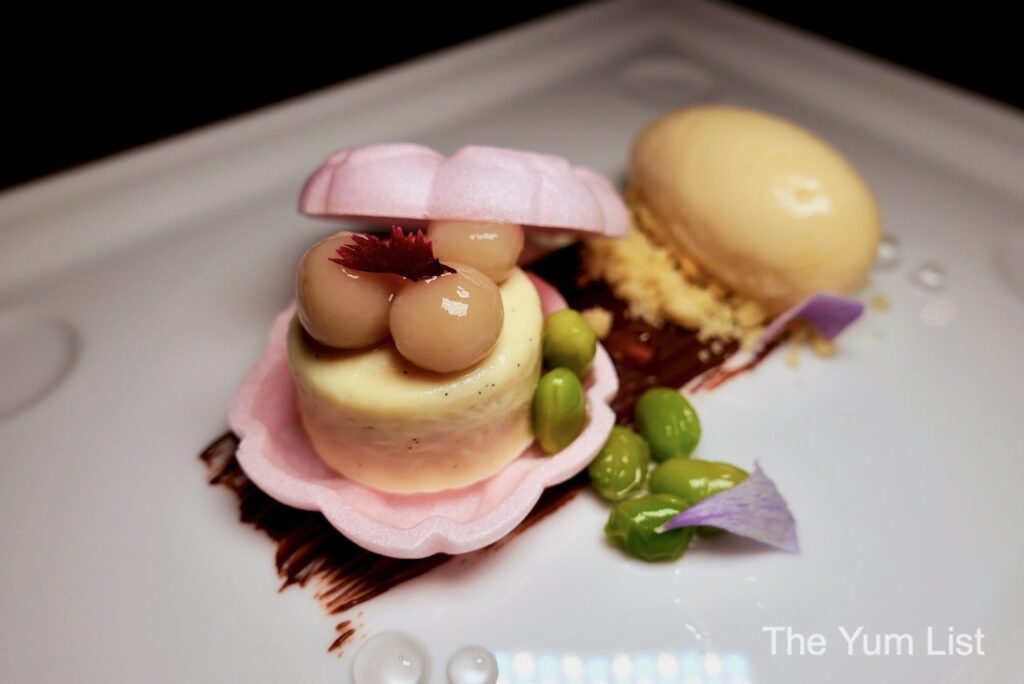 Additional Dinner Musings
As briefly mentioned, diners can opt for the premium upgrade options of scallops for the Moriawase course or substituting lobster tempura for the seabass tempura, both an additional RM 55++. For this dining experience, there is no wine or sake pairing. We stuck with Nobu's crisp signature Matsuhisa Martini including Ketel One vodka, Hokusetsu sake and ginger (thank you Robert De Niro) and the chef's choice of a Bordeaux wine with the short rib course.
As with all Nobu's specially curated meals, the five courses are designed to give you the right amount of nourishment and calories, leaving you satiated but not overstuffed. This Exclusive Selection for Two menu is priced at a reasonable RM 398++ per couple. A comparable meal a la cart would price much higher, making this an excellent deal.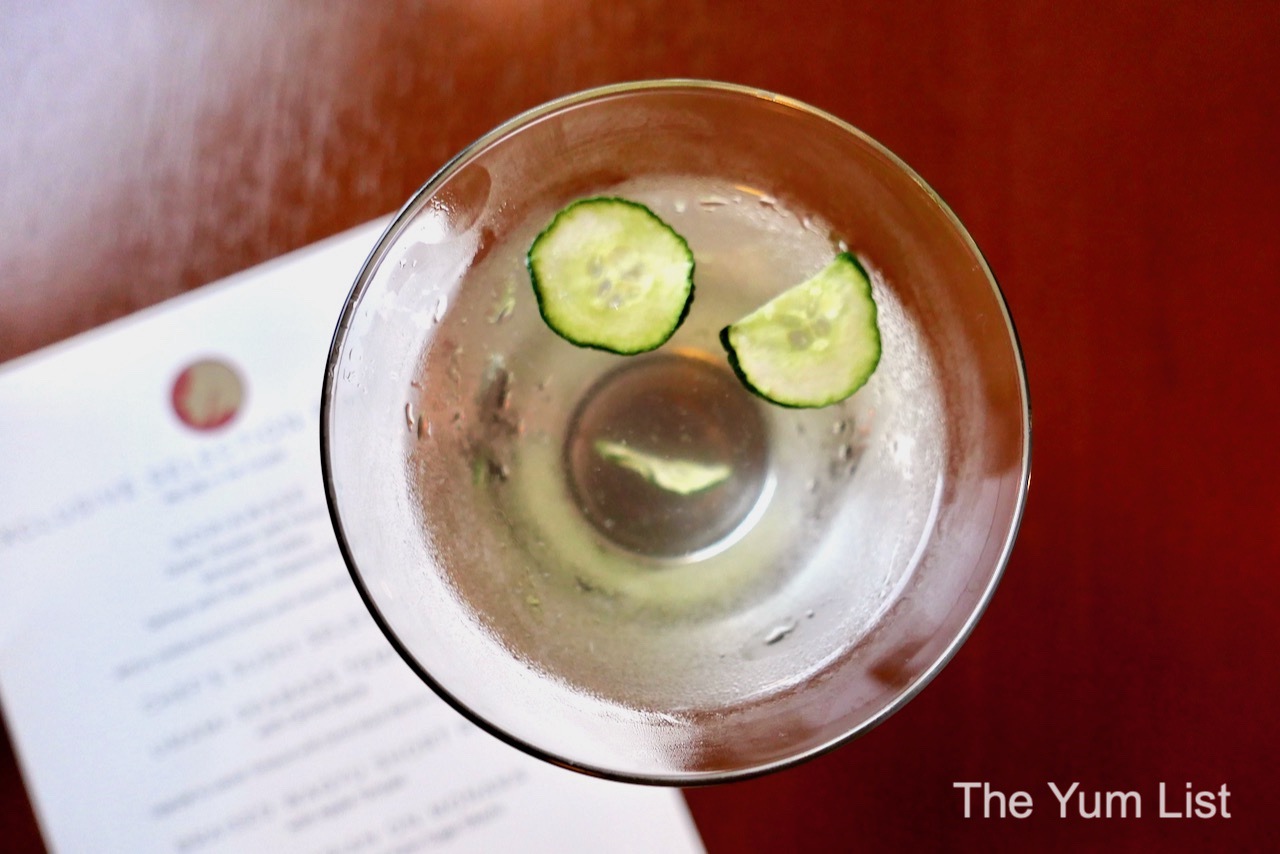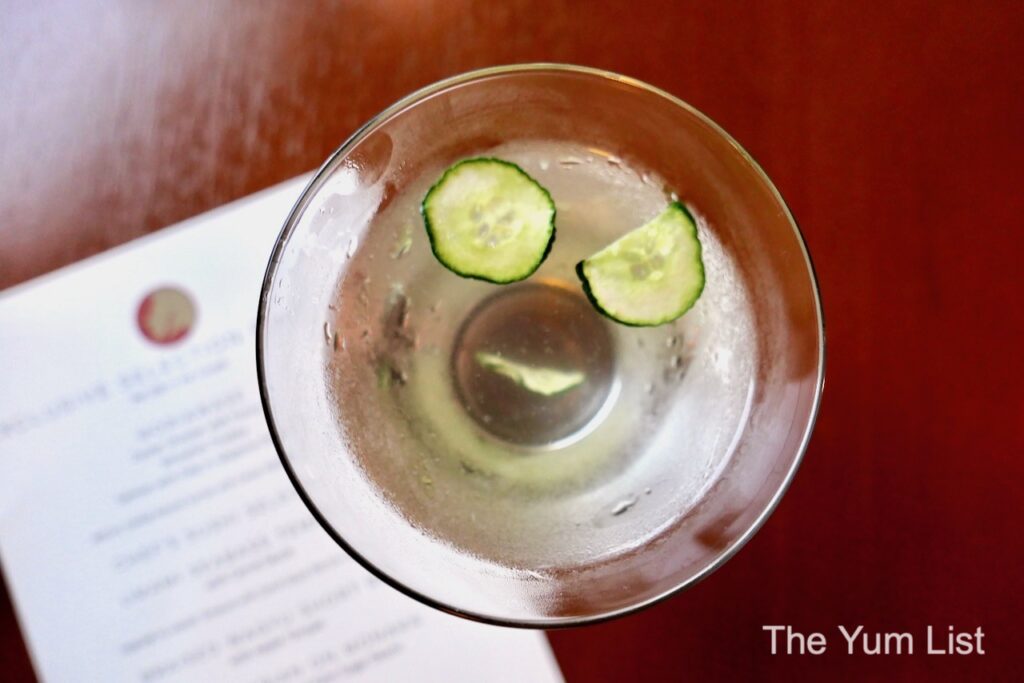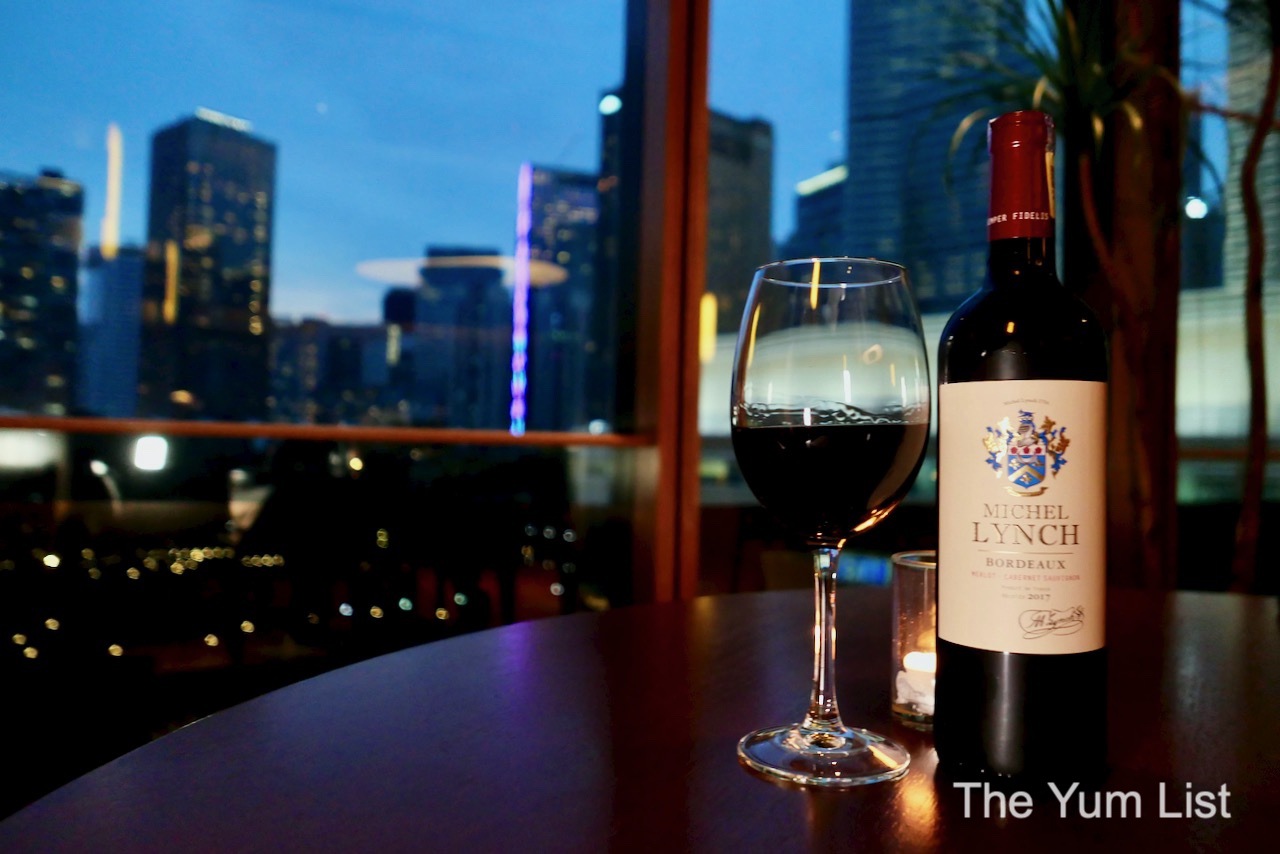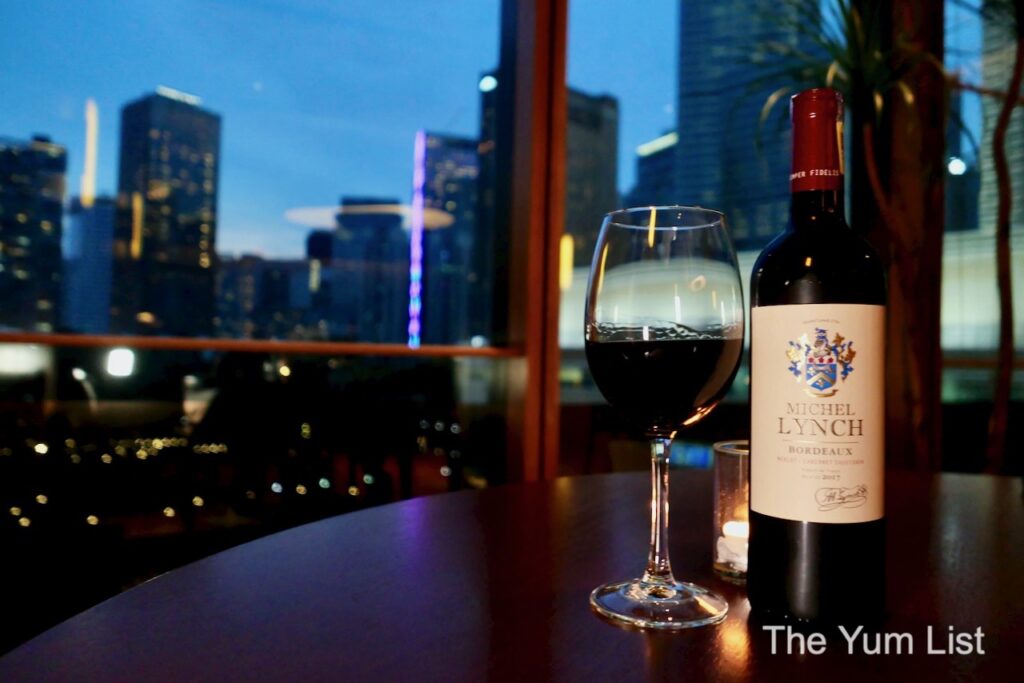 On a personal note, we are greatly pleased to see Nobu bustling with diners again, which bodes well for a long collaboration between executive chef Philip Leong and head sushi Chef Masa. The doors opened at 6 pm sharp, and almost instantly, every table was filled, including children and families. To accommodate this rush of diners, Nobu has opened its private dining rooms to allow generous space between tables creating a pandemic-safe environment. Enjoy this five-course menu from Sundays to Thursdays through 31 October.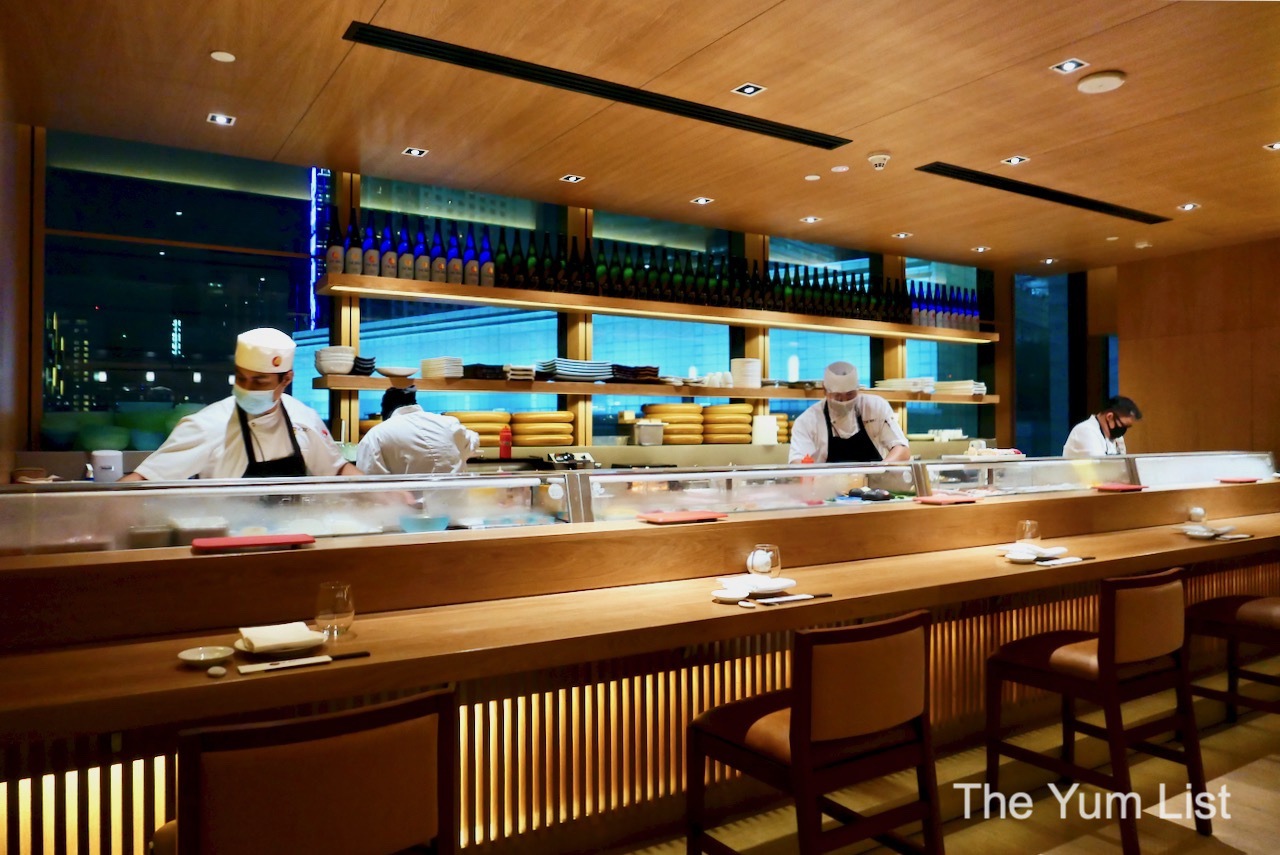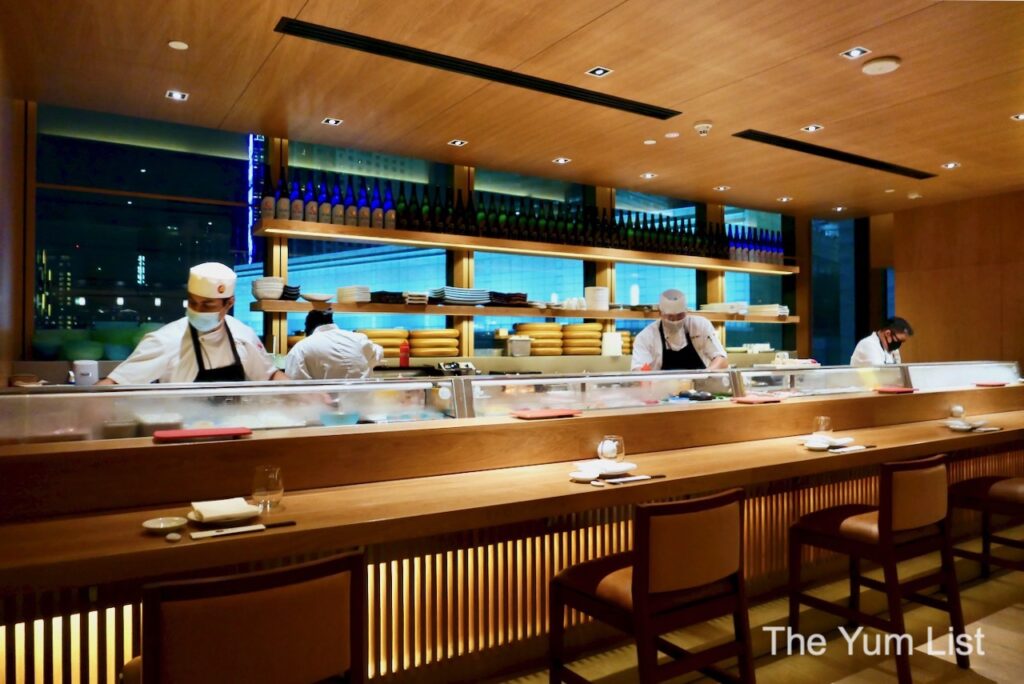 Reasons to try the Exclusive Selection for Two Menu at Nobu Kuala Lumpur: excellent value for money, pandemic-ready setting, superb service.
Nobu Kuala Lumpur
L4A-05, Level 4A Shoppes at Four Seasons Place KL
No.145, Jalan Ampang, 50450 Kuala Lumpur, Malaysia
+603 2380 0028 or WhatsApp +6019 389 5085
[email protected]
New Nobu Kuala Lumpur Opening Hours
Dinner: 6.00pm – 10.30pm (Daily)
Lunch: 11.45am – 2.00pm (Monday – Friday)
High Tea: 1.00pm – 4.00pm (Saturday – Sunday)
Find more Japanese restaurants in KL here, and stay up-to-date with the latest gourmet and travel recommendations for Malaysia here and here.