Vegetarian Restaurant Langkawi
Monica Tindall
We've had a long adoring relationship with The Fat Frog in the former digs of the clubhouse of 99 East Golf Club, Langkawi. The luxurious sense of space, alfresco seating and lengthy vistas over the fairways were just a few reasons for our affection. More motive was found in a delicious menu with loads of healthy options. However, recently they've gone fully vegetarian, and this warrants even higher regard. 
Removing meat from the menu could potentially see a decline in regulars. However, with the loss of those who couldn't possibly imagine a meal without animal protein, comes a whole new crowd of the enlightened, making conscious choices to do right by their body and by the planet.  
Reducing the amount of animal products we consume is one of the best things we can do to minimalize our negative impact on the earth. The team at The Fat Frog go a step further by attempting to grow much of their own organic produce, literally providing a garden to plate experience. Take an even closer look and you'll find much of their furniture has been upcycled from organic remains of the surrounding golf course, and items such as glass bottles repurposed as décor.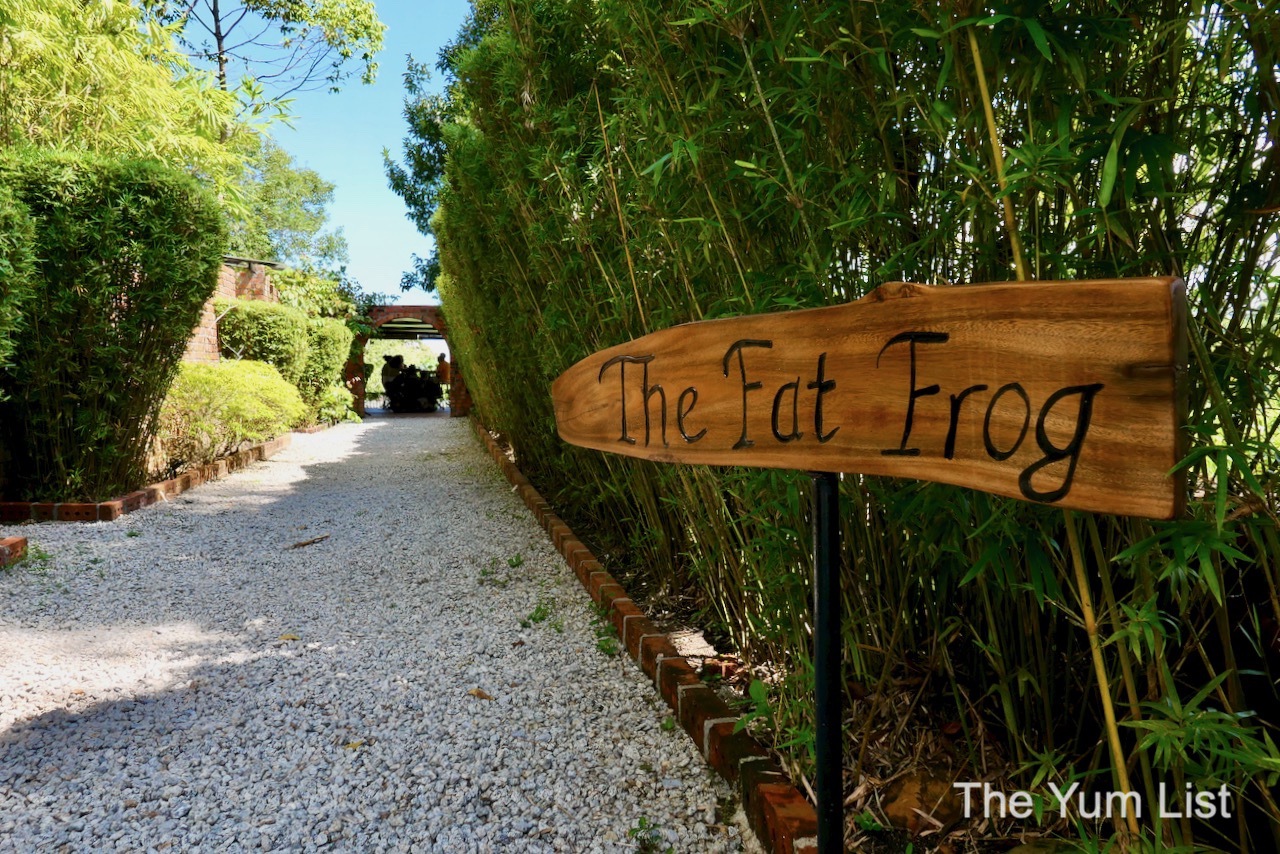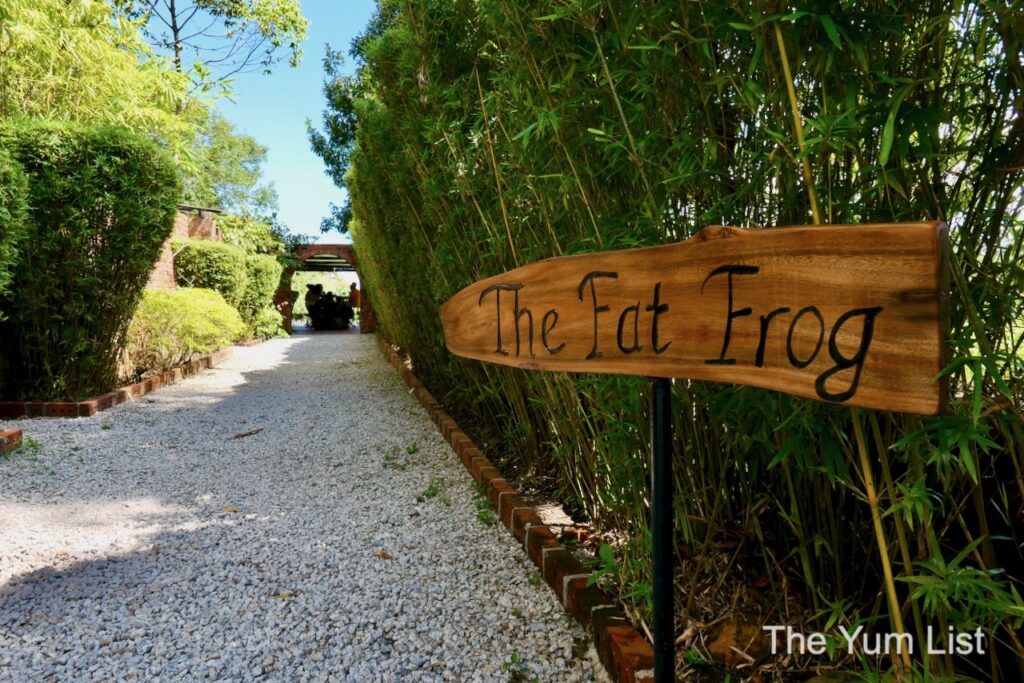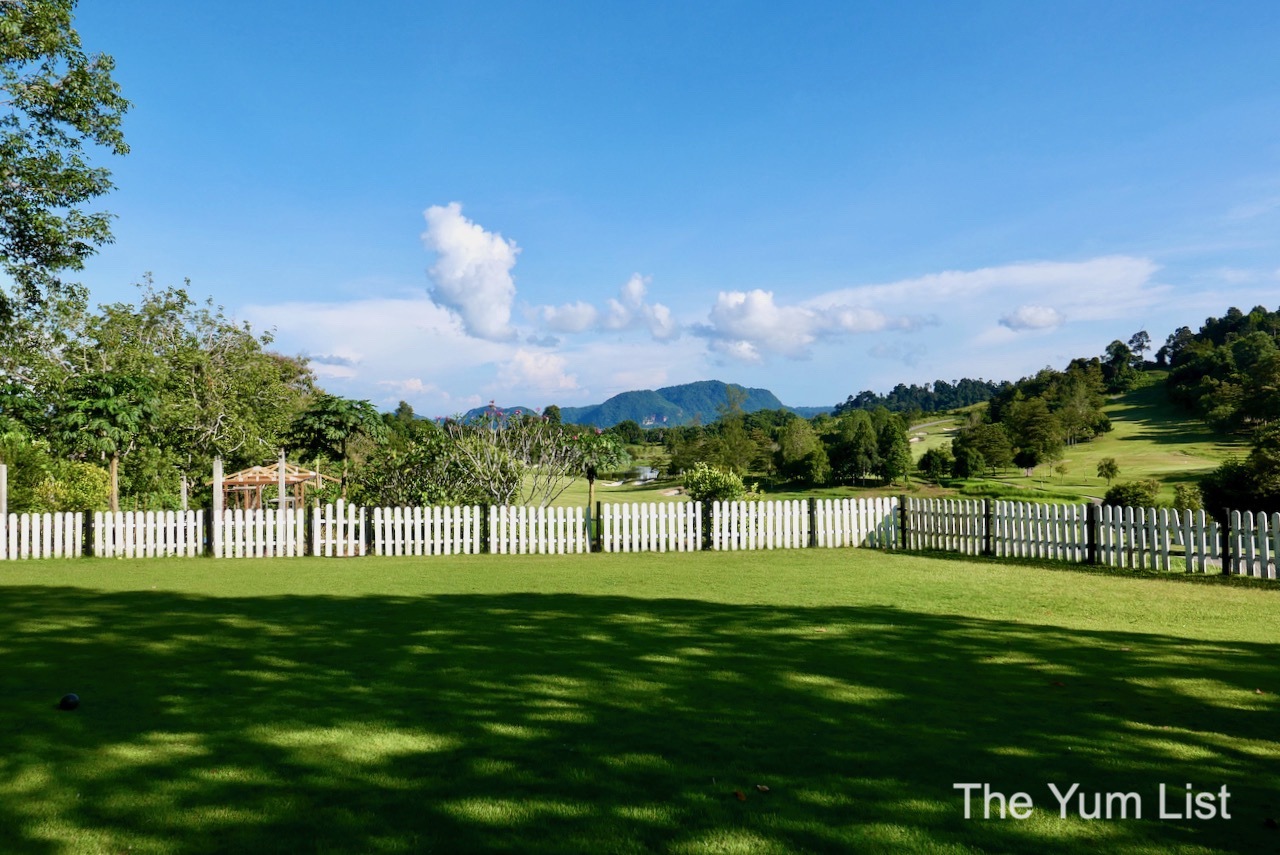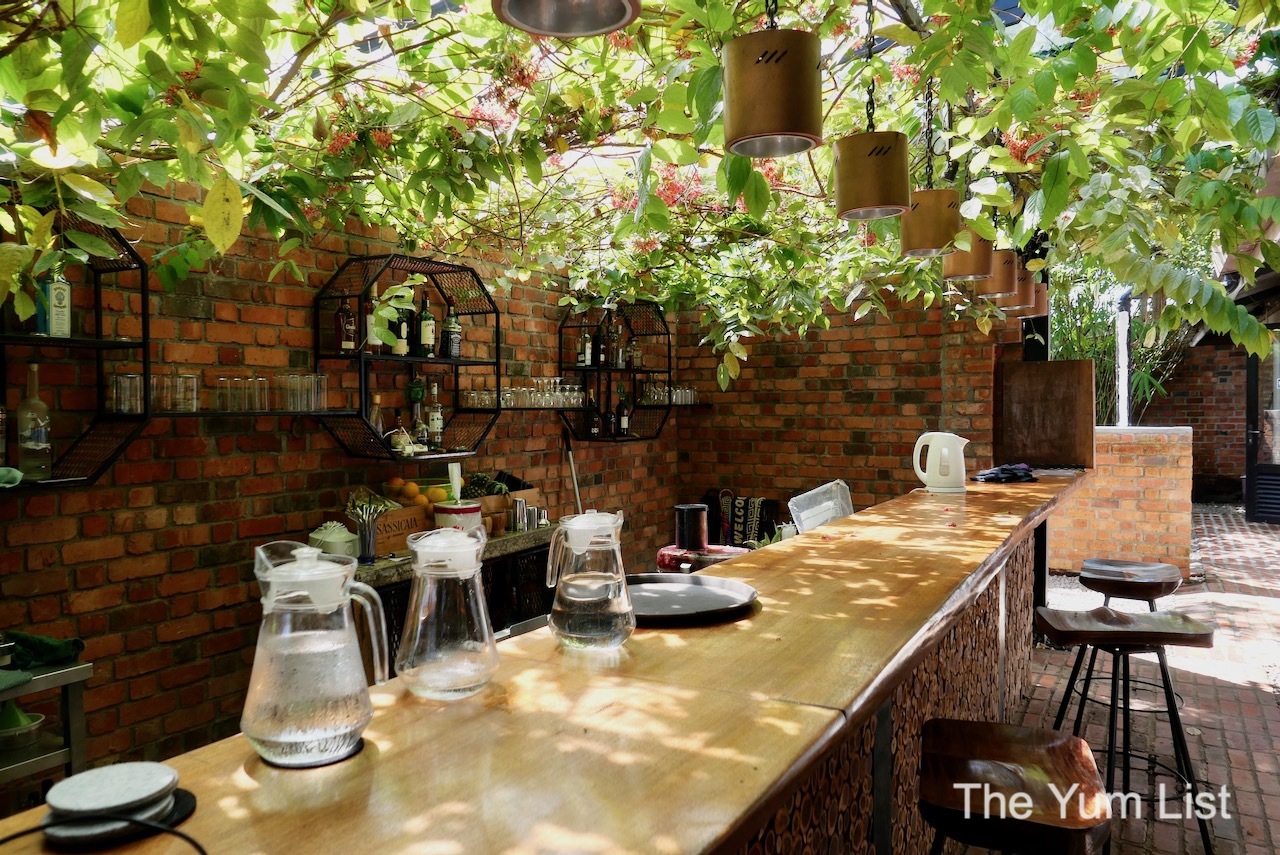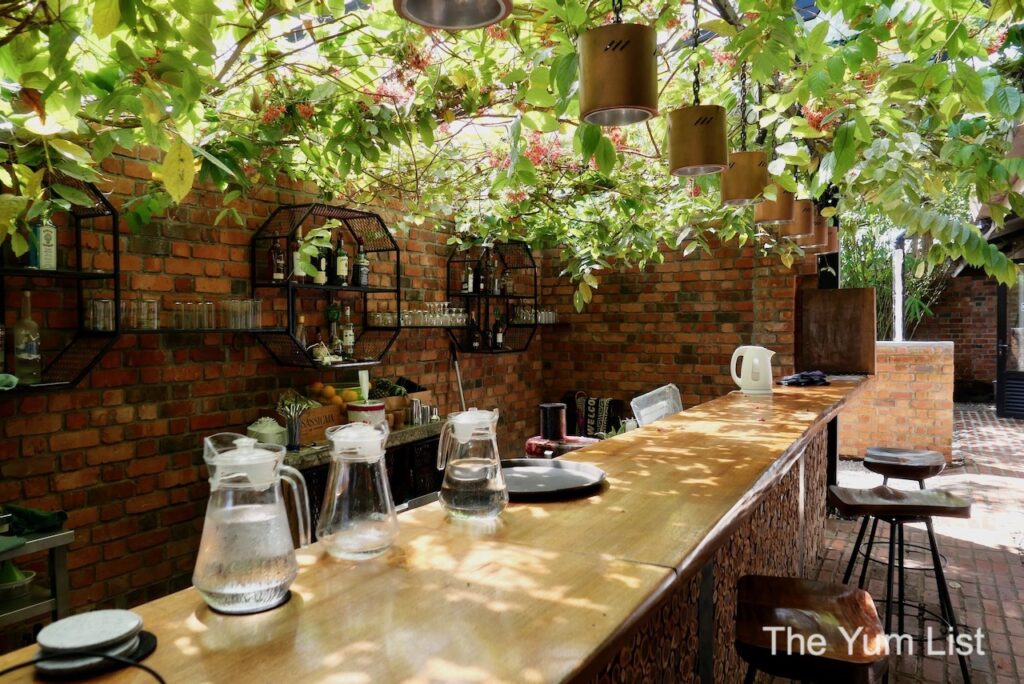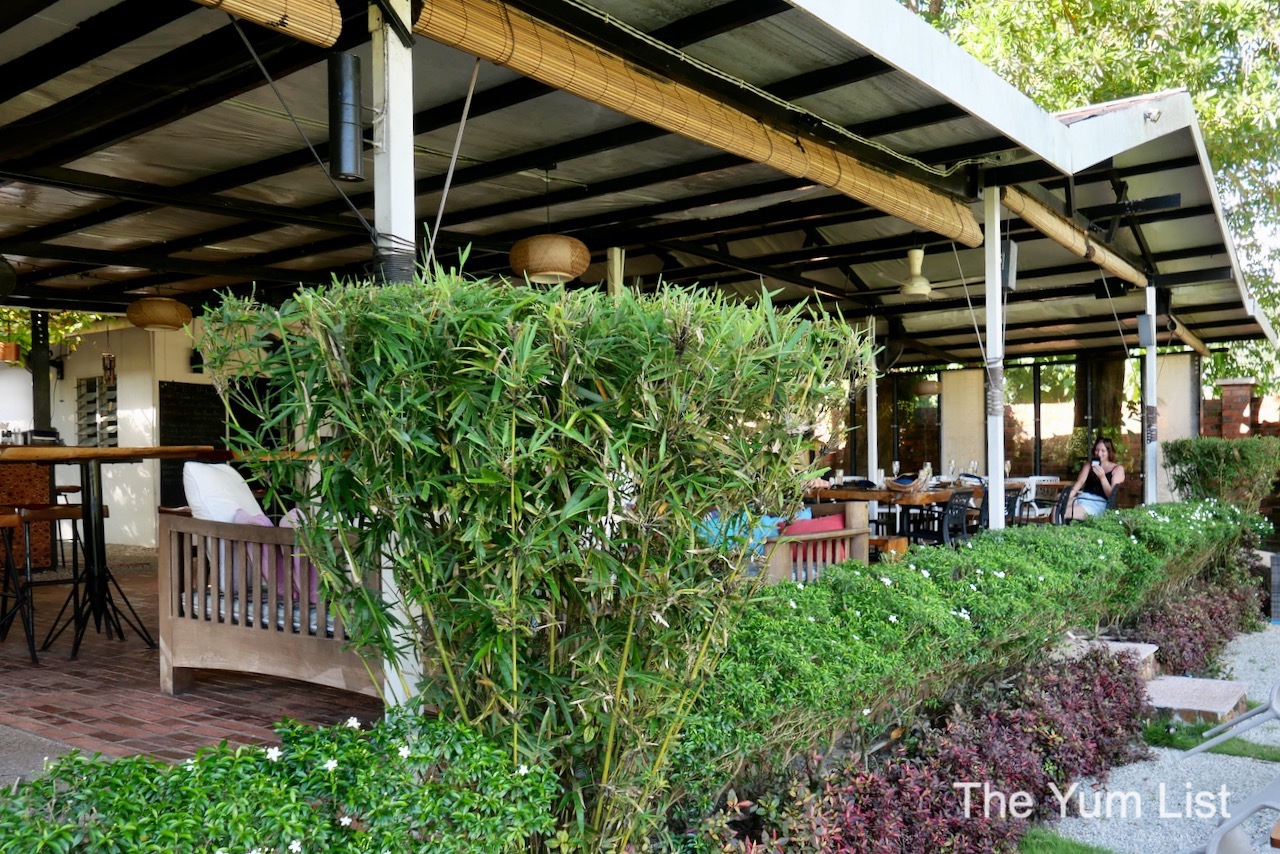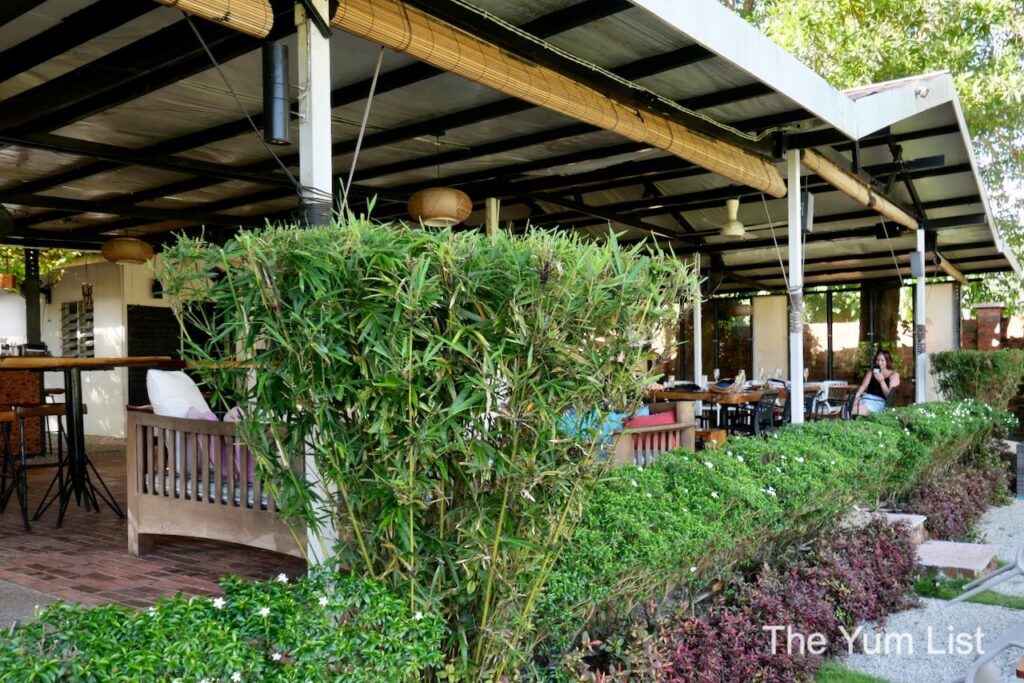 The Fat Frog Drinks Menu
Upcycled vodka bottles even provide glasses for smoothies and juices. They're just the right size and photogenic too. Beetroot, Apple, Carrot & Ginger (RM 14) is a rich red and the juice is nourishing and cooling. At the same time, the Pina Colada Smoothie (RM 17) with pineapple juice, banana, coconut milk and honey, is refreshingly tropical. Both are superb choices.
We're saving ourselves for a wine-paired dinner tonight so forego the cocktails, beer and wine on this round. They're all reasonably priced, though, with beer starting at RM 7, cocktails hover between RM 20 and RM 24 and wine by the glass is RM 17. Those views and alfresco seating are perfect mates for a cold one.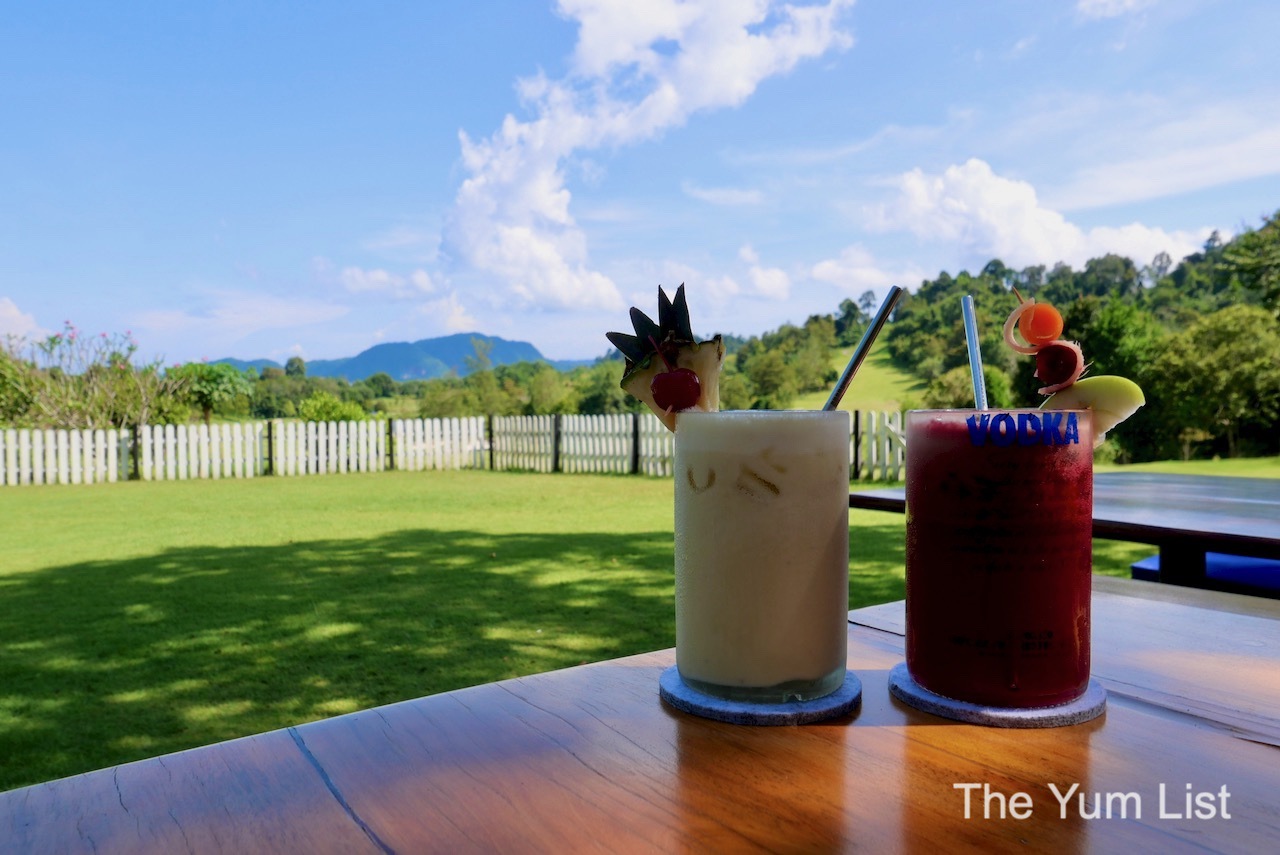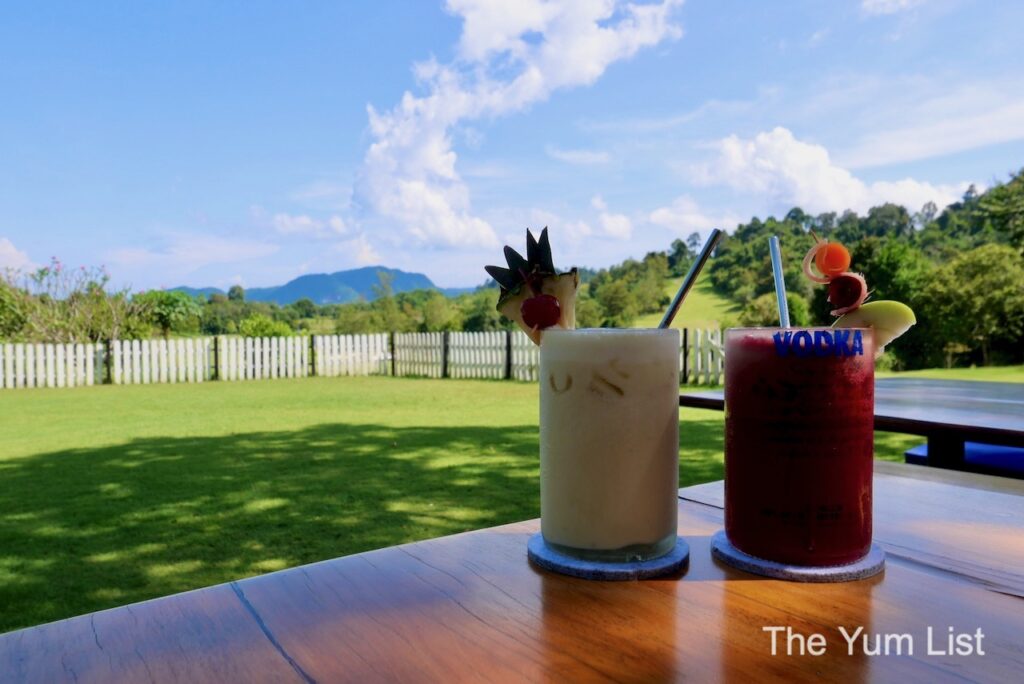 Vegetarian Restaurant Langkawi The Fat Frog
Starters
Thinking about that wine, the Mediterranean Sharing Platter (RM 42) would be a fantastic match. Long leisurely sips and nibbles are only enhanced by the gentle breeze and vistas. Olives, feta, hummus, dukkha, falafel, homemade bread and olive oil are excellent pickings.
If going for a full meal, the Soup of the Day (RM 12) is a great place to start. Today's recipe is a creamy leek and potato soup. It's a simple but filling beginning. Don't be deceived; the bowl looks small, but it's rich and flavourful, and small eaters could probably share it as a starter.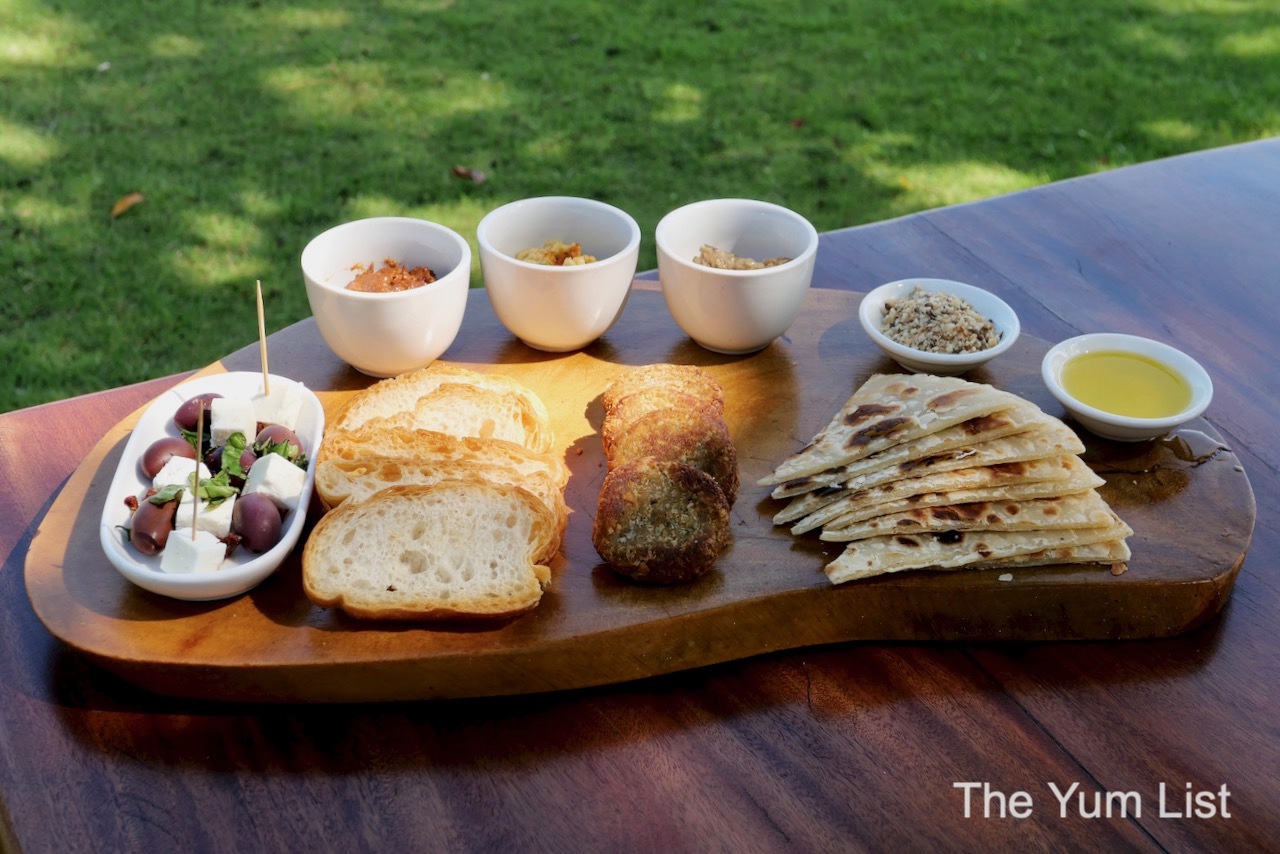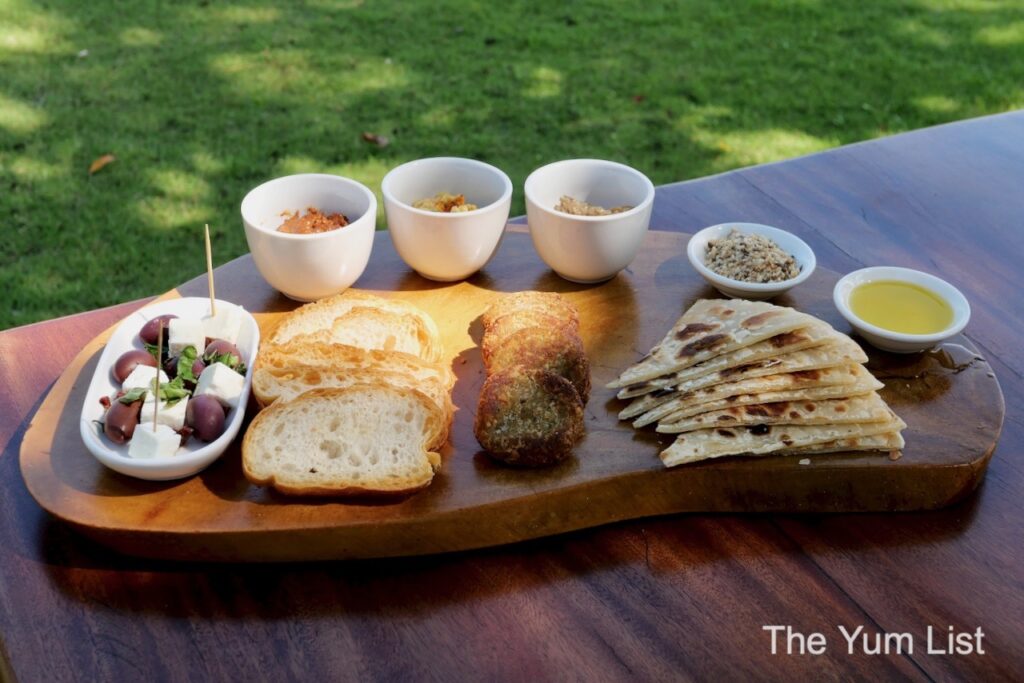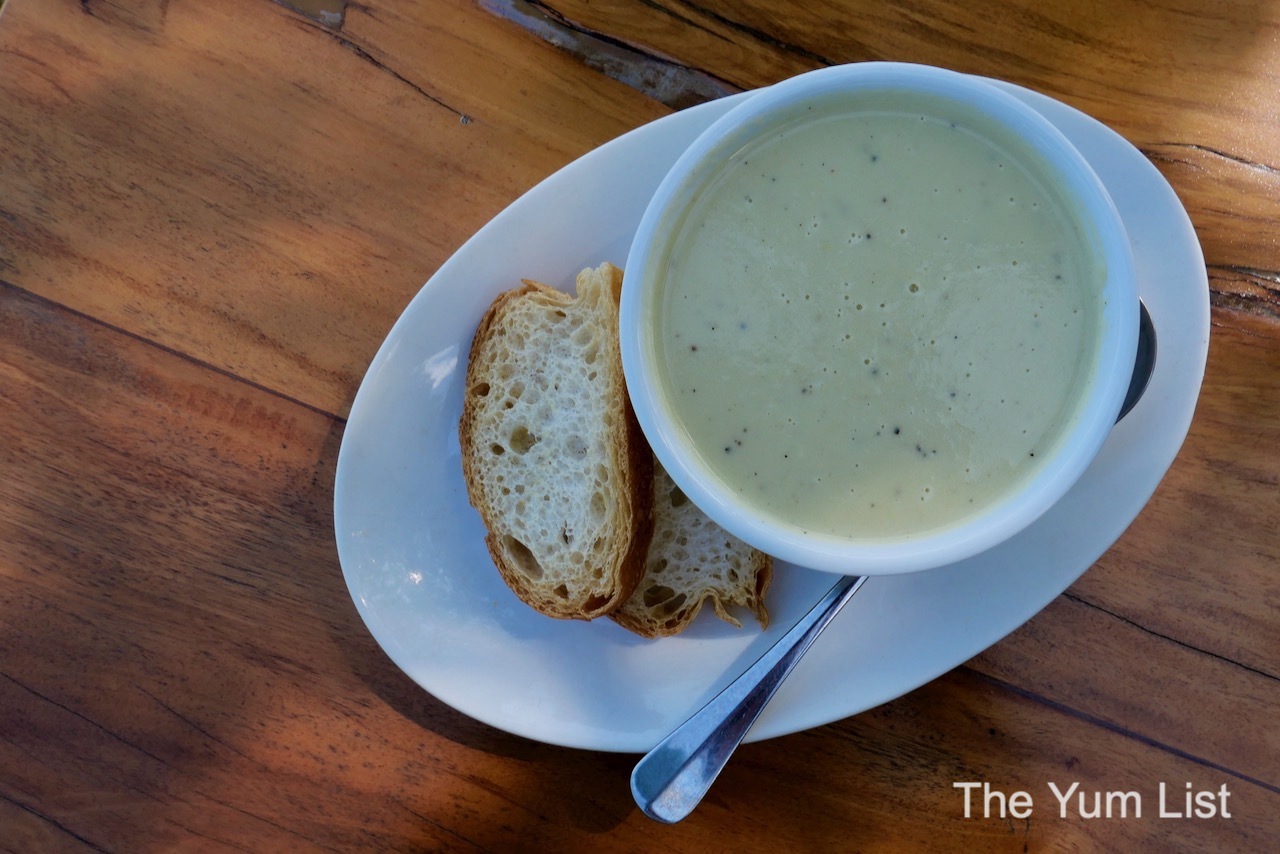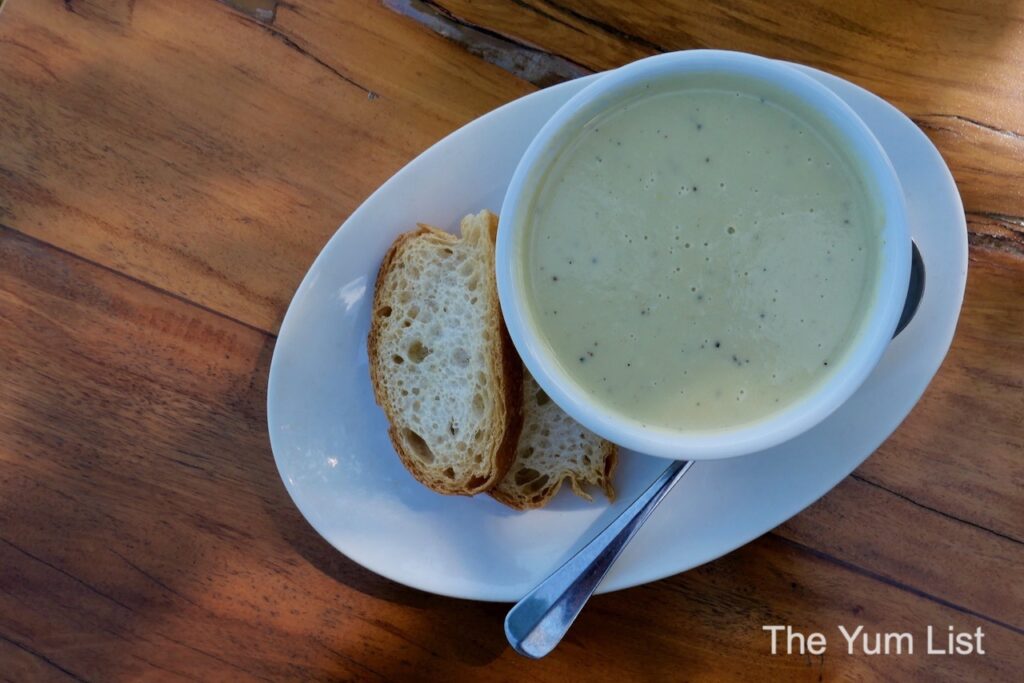 Pasta
For something guaranteed to fill a hungry tummy, try one of The Fat Frog's pasta dishes. The Broccoli Pesto with Mixed Mushrooms (RM 36) is a great pick. Spaghetti is coated with house-made pesto, a blend of broccoli, basil, mint and cheese, and bulked up with veg and sauteed mixed mushrooms.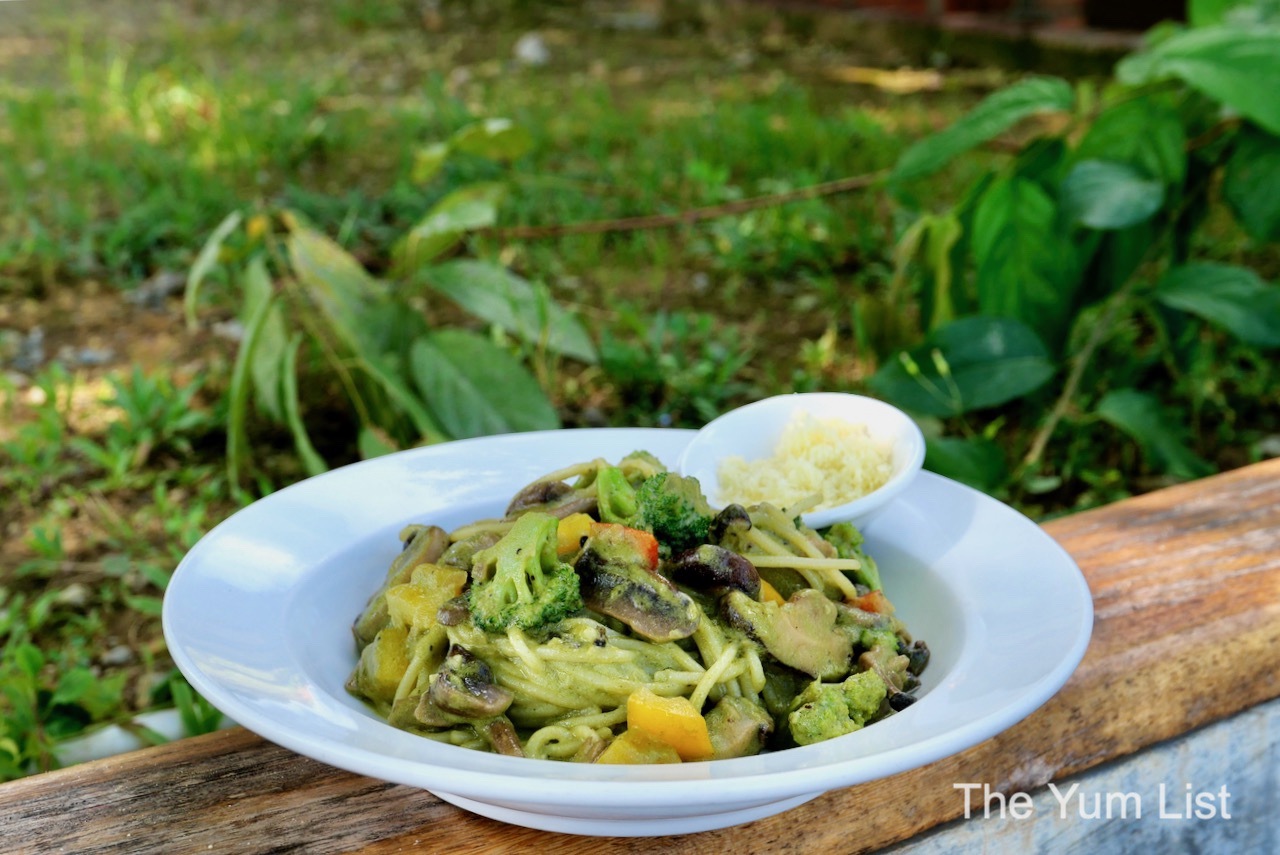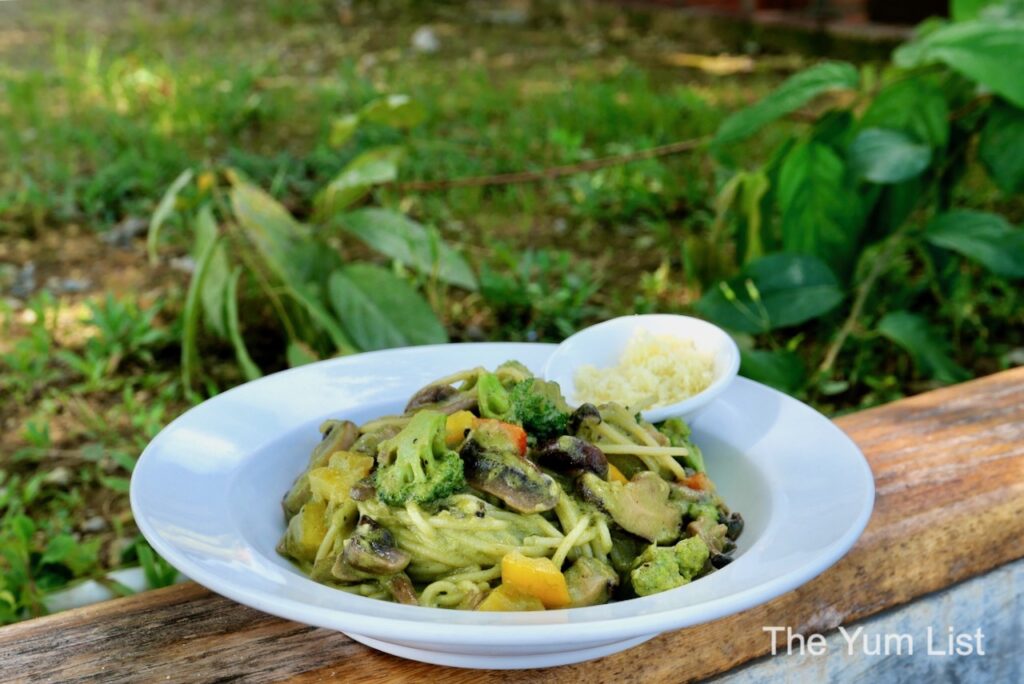 Light Meals
You can just about guarantee that if there's pumpkin on the menu, I'll order it. At The Fat Frog, we get it in salad and risotto. Roast Pumpkin Broccoli & Feta Salad (RM 28) contains a lightly spiced roasted pumpkin with crunchy broccoli, toasted seeds, mixed leaves, halved cherry tomatoes, couscous and crumbled feta. It's a vibrant mix, only needing a splash of olive oil and balsamic as dressing.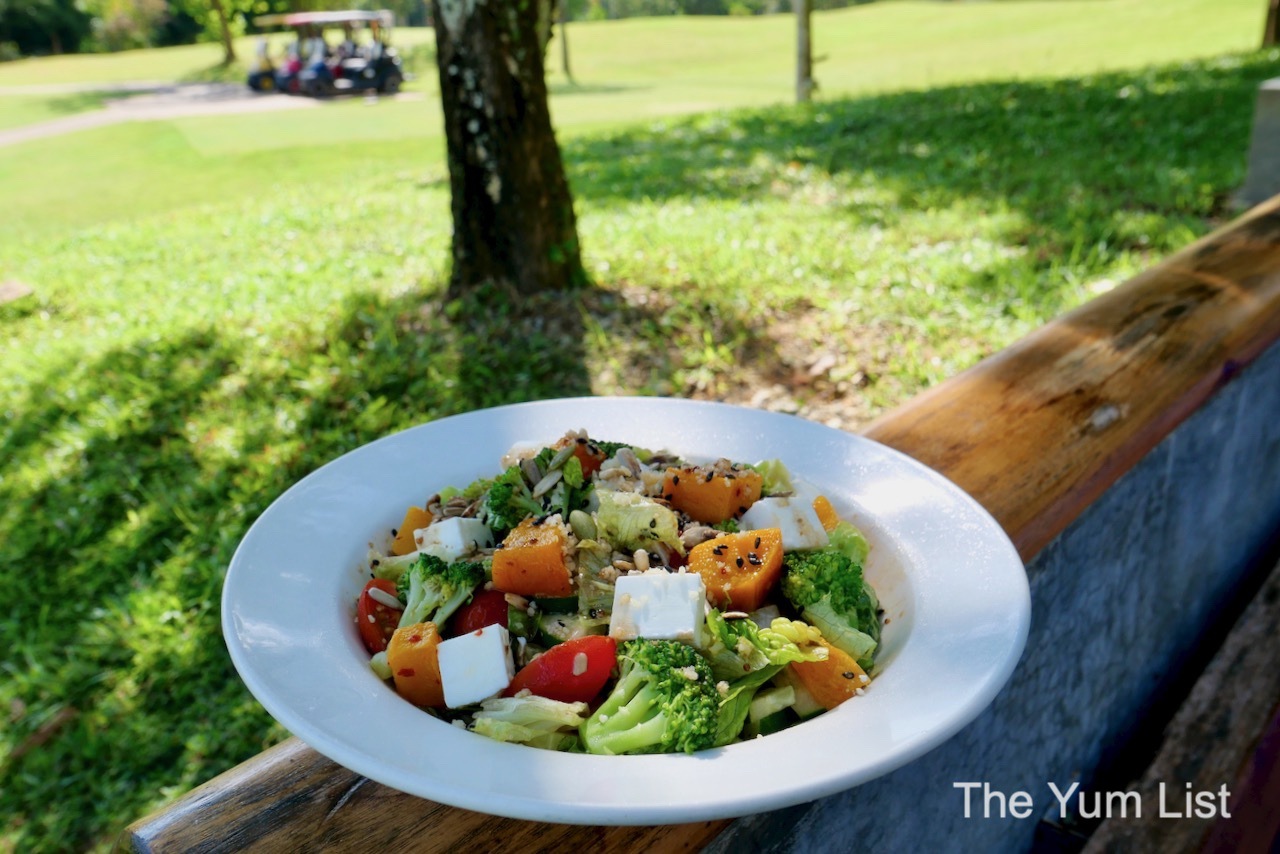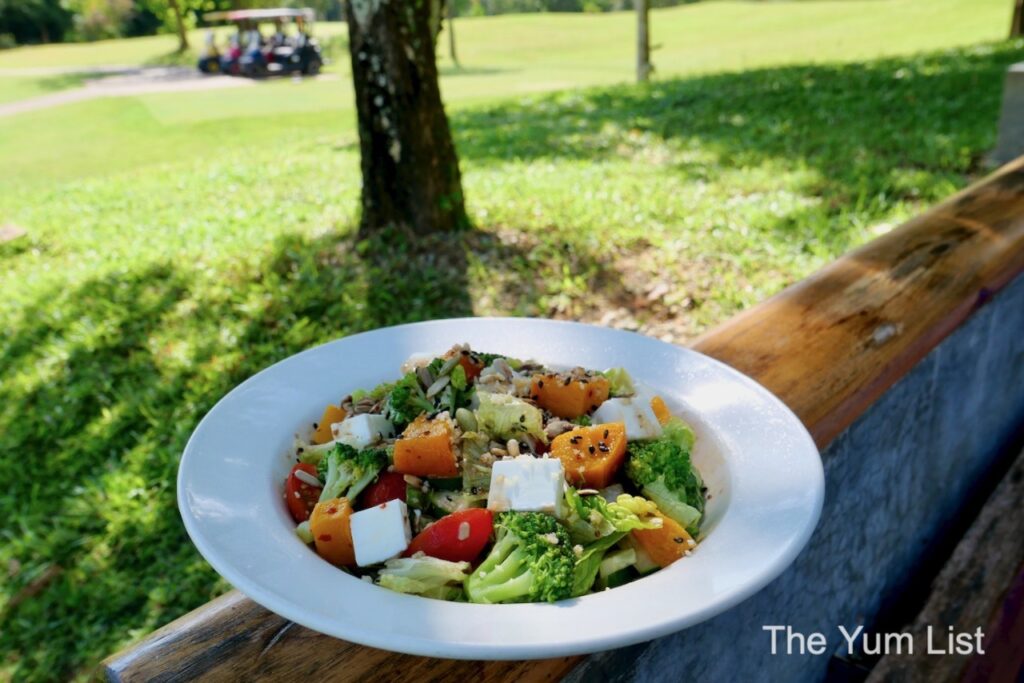 Vegetarian Restaurant Langkawi – Mains
My second chance for pumpkin is a lovely, creamy Risotto (RM 38). Arborio rice maintains a soft chew. A hint of pumpkin colours the rice and mushrooms add texture. This is one of their best sellers for good reason.
Our last order is a beauty, the Mushroom Bean Burger (RM 36). The homemade patty is packed with finely ground veg and sits atop chilli beans and caramelized onions. Cheese melts over the crown, and a white bun is hidden underneath. Fat sauteed potato wedges make a nice change from the usual fries.
I don't eat dessert, but diners at a neighbouring table are delighted with the chocolate lava cake. Kayla tells me she rates it eight out of 10 Yums. If you're a sweet tooth, you might consider giving it a try.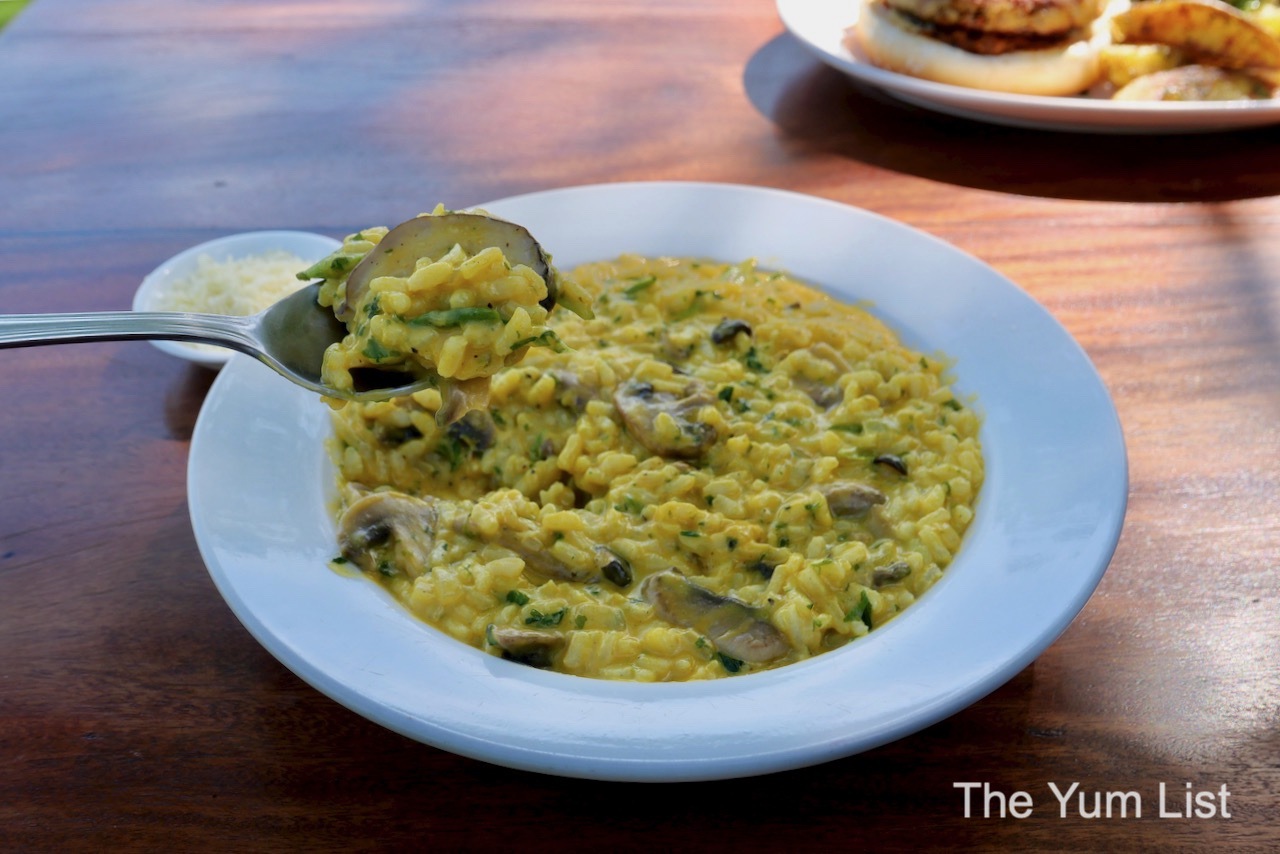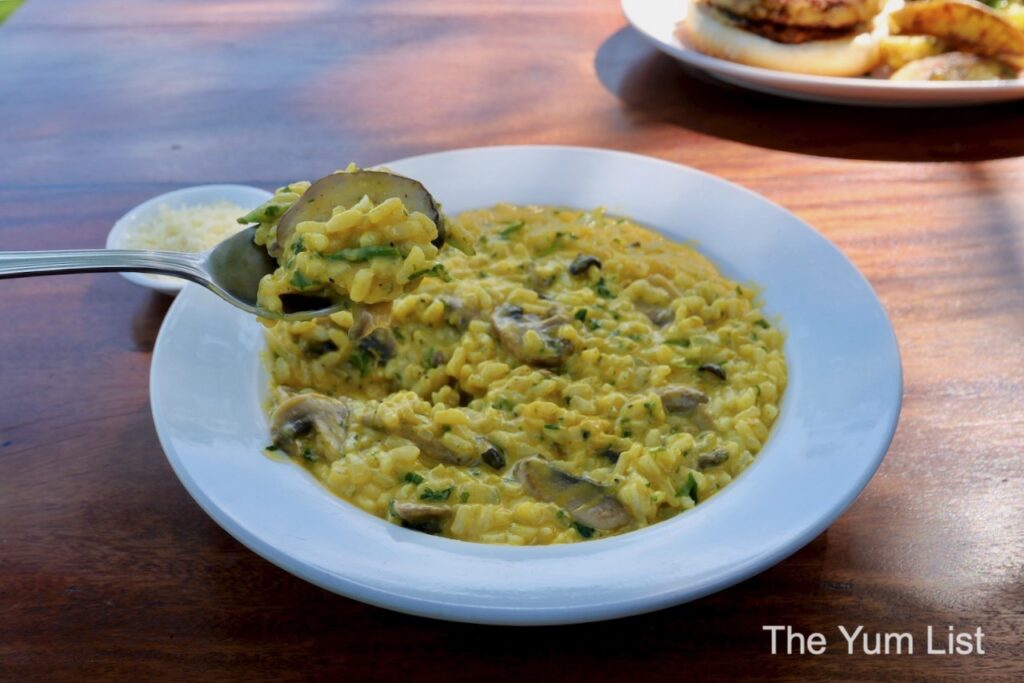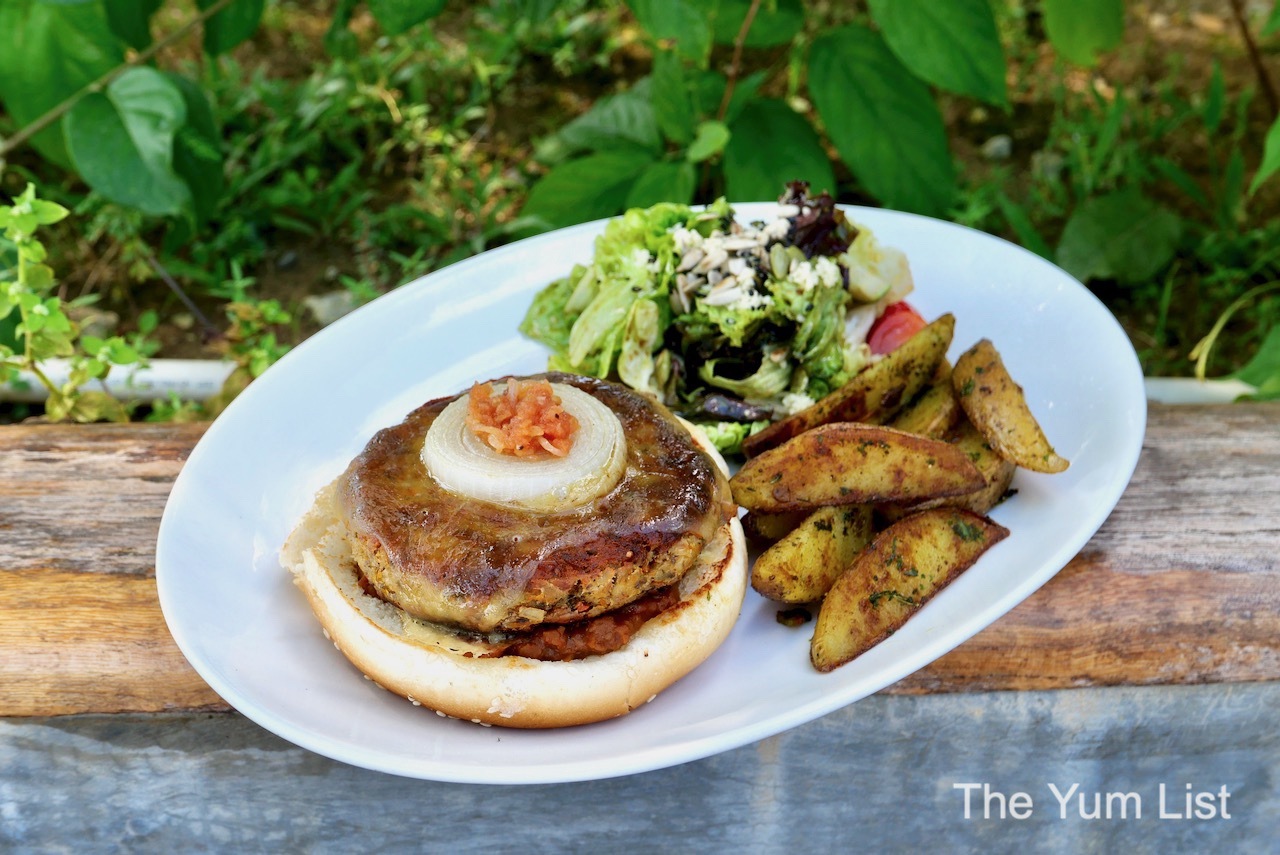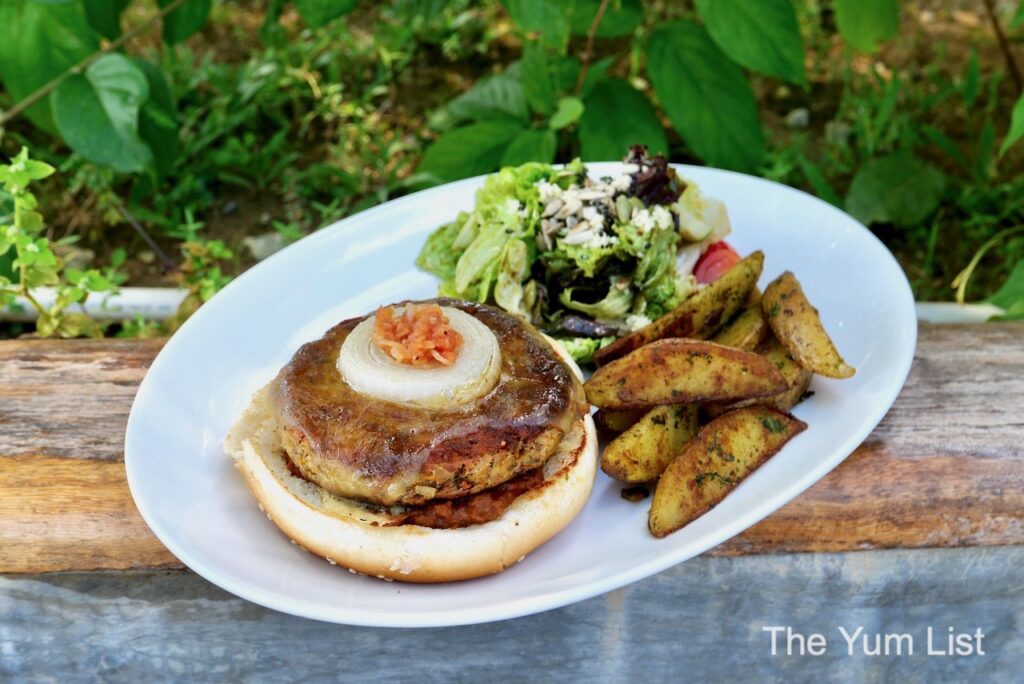 Vegetarian Restaurant Langkawi
Even though our last bites and drops are long gone, we're happy sitting for a while more. The sun is lowering, the temperature is dropping, and the birds are increasing their song. If we weren't off to capture another restaurant this evening, lunch could easily morph into sundowners and dinner. Time passes so pleasantly at The Fat Frog.
Reasons to visit The Fat Frog: relaxed environment with peaceful green views; entirely vegetarian menu; reasonably priced drinks; great for sundowners; really just an all-around pleasant experience.
The Fat Frog
Vegetarian Restaurant Langkawi
99 East, Jalan Padang Matsirat
07000 Langkawi, Malaysia
+6 04 955 1153
[email protected]
www.facebook.com/thefatfroglangkawi
Find more recommendations for travel to Langkawi here and stay up to date with the latest gourmet happenings in Malaysia here and here.