Evoke Gastrobar Bukit Tunku
Words: Monica Tindall
Photos: Rich Callahan
We first tried Evoke Gastrobar's menu as delivery over the pandemic. The food was so good that we were eager to visit in person. With restrictions eased and the end of 2021 rush over, we enjoy a casual Sunday lunch at the restaurant in Bukit Tunku.
Head chef Ryan Teh and founder Celina Wu have decades between them in the food and beverage industry. They started Evoke Gastrobar in Bukit Tunku wanting to create a neighbourhood space where the guest experience would be enlivened by modern European cuisine, reflective of fond memories of their own time overseas.
Ryan says, "I want my dishes to evoke flavours and memories of my days in Europe, from savoury pate, succulent beef bourguignon to the sweet and decadent Mont Blanc. My forte is French cooking techniques, hence, classic French dishes are on the menu with my own twist to them." Celina adds, "We serve high-quality, wholesome, hearty meals but not the typical pub grub you would usually get from a bar. Chef Ryan has put a lot of research and development into creating these dishes."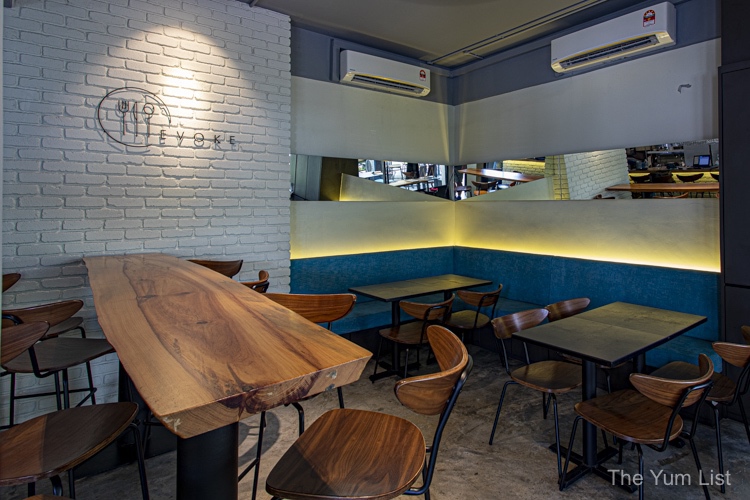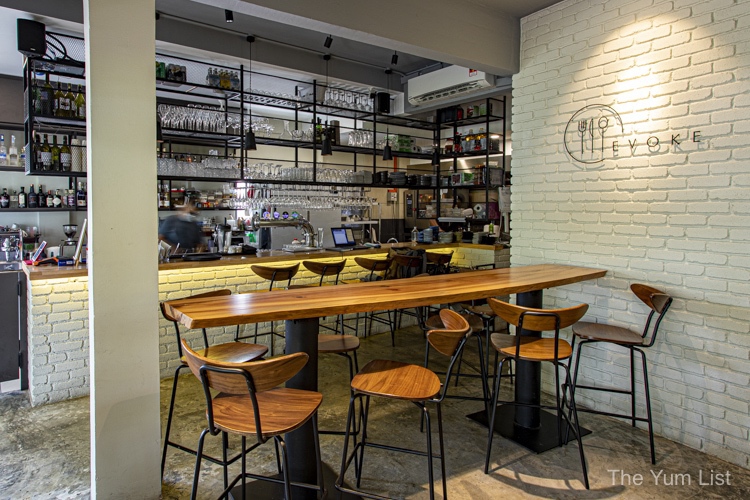 Evoke Gastrobar Bukit Tunku
Housed in the recently renovated enclave of The Stories of Taman Tunku, Evoke Gastrobar offers a casual canvas for guests to dine and imbibe. Indoor and outdoor seating with long communal tables and seats at the bar encourage conversation and connection, while tables for two and four provide opportunities for intimacy. The music is just the right volume, speakers humming with bossa nova and coffeehouse covers. It's a friendly palette for the modern European Menu.
Cocktails at Evoke Gastrobar
An Evoke Mule (RM 30), designed by outlet manager Amilrul, cools us down on this warm afternoon. A pretty concoction of lemongrass-infused vodka, kaffir lime, blue Curacao, and ginger is refreshing and makes for an excellent aperitif. It's garnished with fresh ginger slices and kaffir lime leaves, which make a distinctive top for the pale blue liquid.
Delivering this creation is our server, Luqman. He is well-informed down to the listing of individual ingredients and methods of preparation for both drinks and dishes. He epitomizes the style of service here. All staff have formerly worked with Celina in luxury properties and this is obvious with the level of care for guests. This humble corner gastrobar is complemented by an excellent team.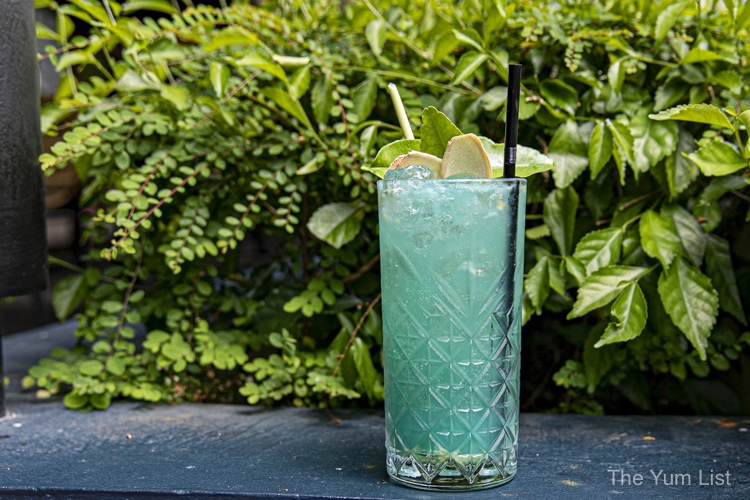 Starters
We continue sipping on cocktails with a couple of starters. Spicy Roasted Cauliflower (RM 28) and Mushroom Arancini (RM 35). The former is an easy win for me. I love the veg – both the taste and the texture – and it's a terrific base for the spice mix. Hung yoghurt, mixed nuts, rum raisins (soaked for two weeks), mint, coriander and shallots are delicious trimmings. I liked this dish as a takeaway but it is even better dine-in.
The rice balls (while very good) are a means to scoop the highlight of the show, cashew Romesco sauce. We roll the crisp shells in the sauce and when no more can be amassed, turn to spoons to get the last remaining drops. A squeeze of lemon before eating makes them simply irresistible.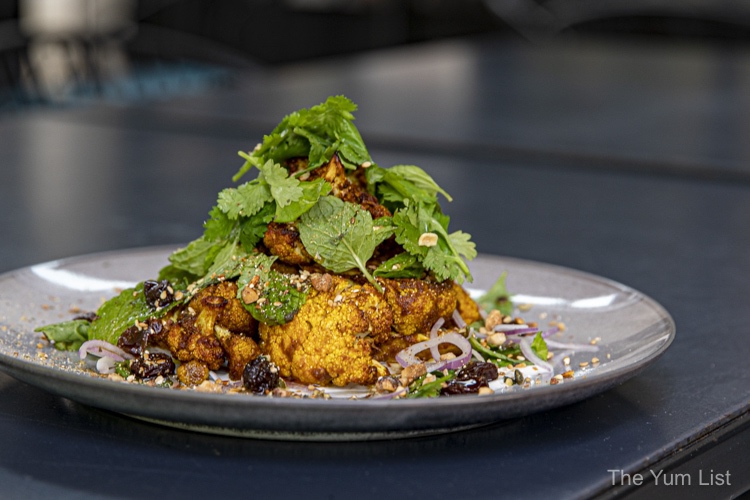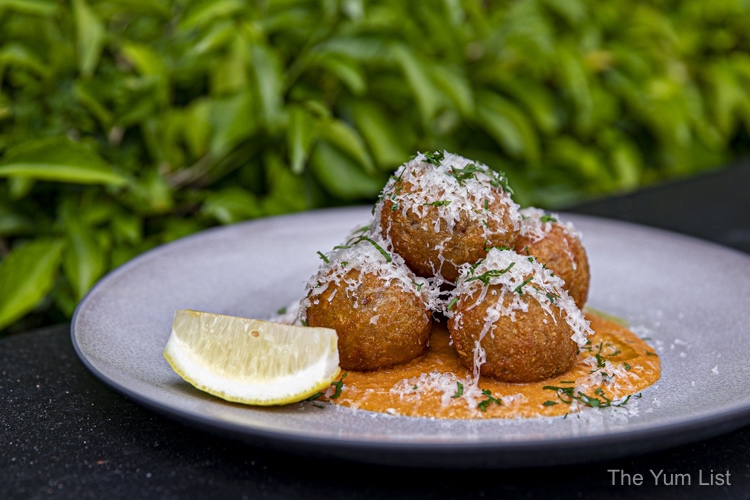 Wine
As the meal progresses to mains, it's time to switch from cocktails to wine. Evoke Gastrobar has a compact wine list making choosing easy. I opt for a bottle of the Rockcliffe Third Reef Chardonnay (RM 330). Scoring 89 points in the James Halliday Wine Companion, it's a decent drop. It's summer straw in colour with stone fruits and a hint of spice on the nose. Wild-yeast fermented in French oak barrels, the grape's acidity is balanced with a nutty warmth. This is great with both our fish and cheesy risotto coming up.
While on the subject of drinks, I should mention that the team at Evoke make their own still and sparkling water. An Italian filtering and gas system cuts the use of 1000s of plastic bottles and also reduces the price for customers. Another cool machine from Italy is a glass sanitiser and chiller with liquid CO2. Glasses are sanitized and chilled right before serving – it's a blessing and welcome attention to detail in this tropical climate.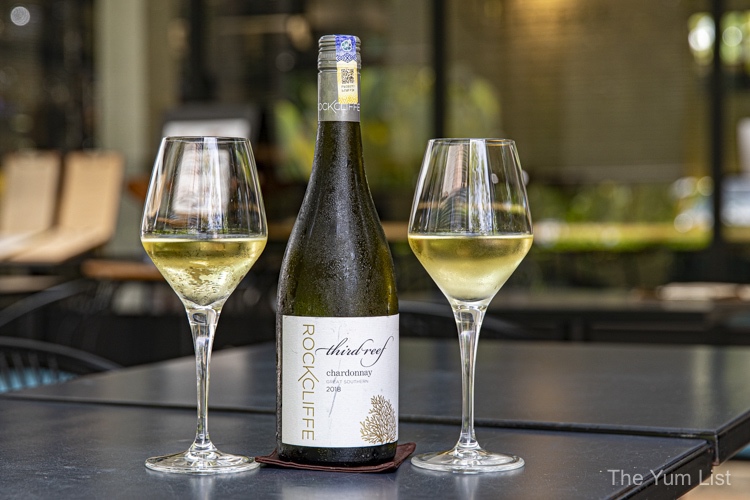 Main Menu Evoke Gastrobar
Content with our wine choice, it's onto the mains. The first, Four-cheese Risotto (RM 48), is a full moon on the plate with a blanket of crushed mixed nuts (cashews, almonds, pumpkin seeds and toasted glutinous rice) and shredded fresh Italian parsley. Cream cheese, gouda, grana Padano and gorgonzola reach every corner of the mouth. The cheese combination is well-balanced but a sprinkling of edamame further harmonizes the dish cutting its richness and encouraging us to spoon back in for more.
Pan-seared Barramundi (RM 45) is a generous serving with four slices attractively seared to a golden edge. Beurre noisette, crushed olives, cherry tomatoes, olives and shallot salad gift delicious Mediterranean flavours. Moreover, we're captivated by the veil of "poor man's Parmesan" – toasted bread crumbs, garlic, thyme and lemon zest – imitating the umami flavours of the cheese.
Our final main, Braised Lamb Shank (RM 80), is popular with all. Braised in lamb stock for six hours, the juices are kept inside the meat while still allowing it to retain some texture. Sage and Italian parsley are a pretty green contrast to the deep brown lamb. A simple side of couscous cooked in chicken stock, tomato, feta and Italian parsley complement the lamb – just the right amount and not too heavy.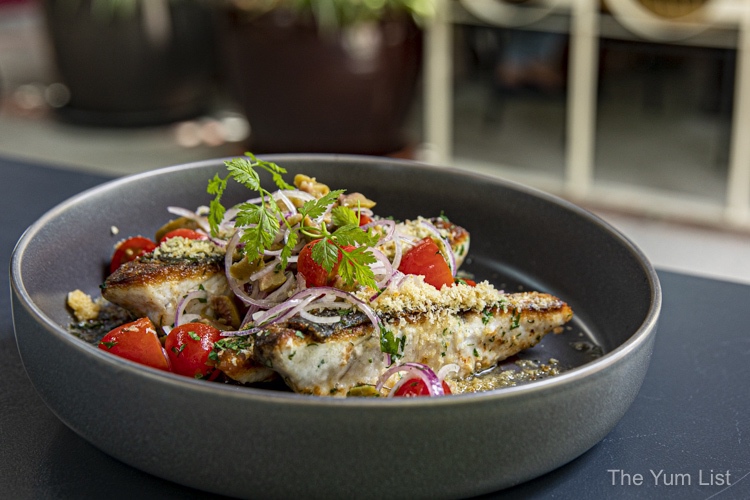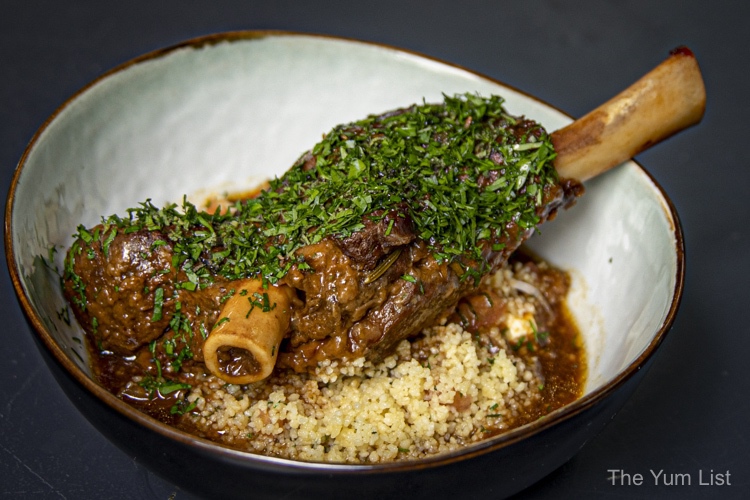 Dessert
Chef Ryan's fondness for French recipes is shown in the Craquelin Choux (RM 22), our dessert. Combining a cookie-like dough (craquelin) over piped choux gets the best of both worlds – a puffy pastry with a crunchy, buttery, sweet shell. Chef Ryan has included some regional influence giving the pastry cream some flair with a trio of fillings – yuzu curd, mixed berry cream and black sesame mousse.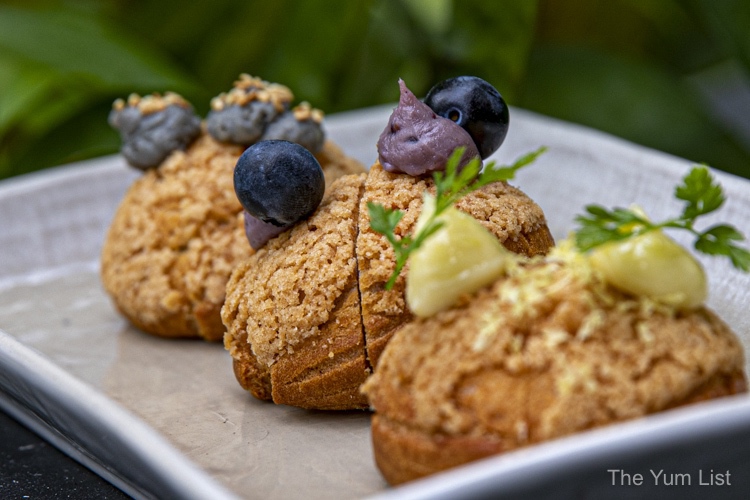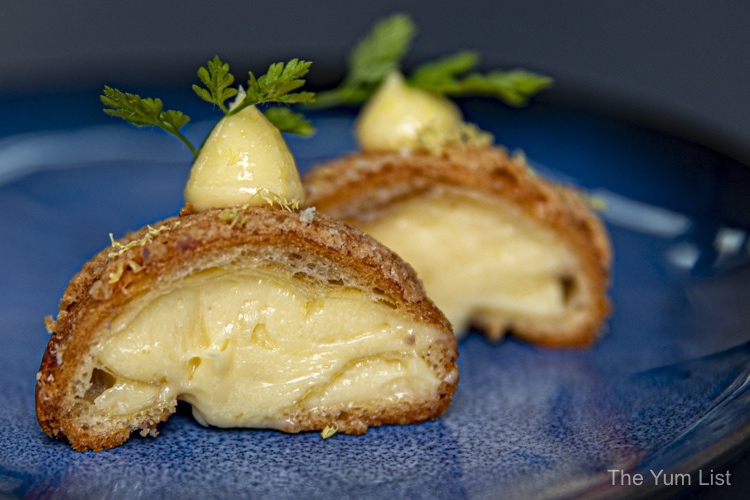 To Conclude – Evoke Gastrobar
Rich sees a caffeine ending fitting. Vittoria Coffee (RM 12) served with "belly buttons," (thumbnail-sized biscuits with a whirl of coloured icing) combine Australian coffee culture with Malaysian nostalgia. Alternatively, if you like your caffeine chilled, the Ice Coffee (RM 15) is fantastically presented with an espresso popsicle in a tall glass. Layers of an espresso shot, milk, foam and whipping cream are disturbed by the coffee ice stick, swirling into an expressive work of café con leche art. Celina says this evokes memories of her childhood eating ice cream sticks from the school canteen. She also adds that there's no skimping on the beans here, a full 16 grams is used in every shot. Rich notes the drink getter stronger as the ice melts. "That's genius! Why is this not done more?!" he approves.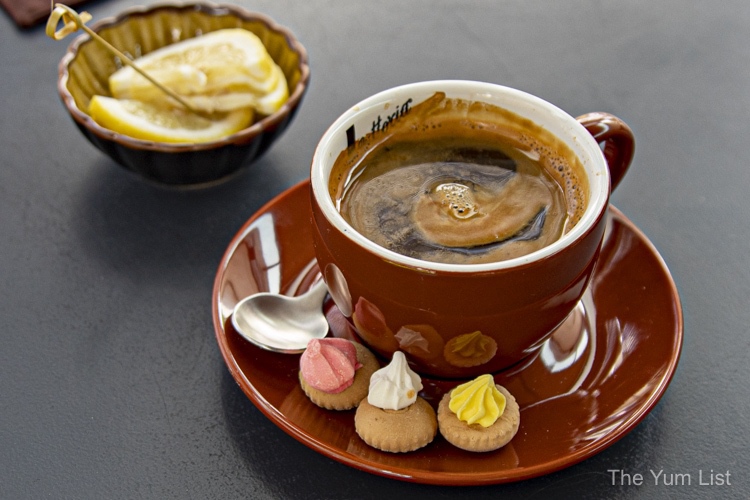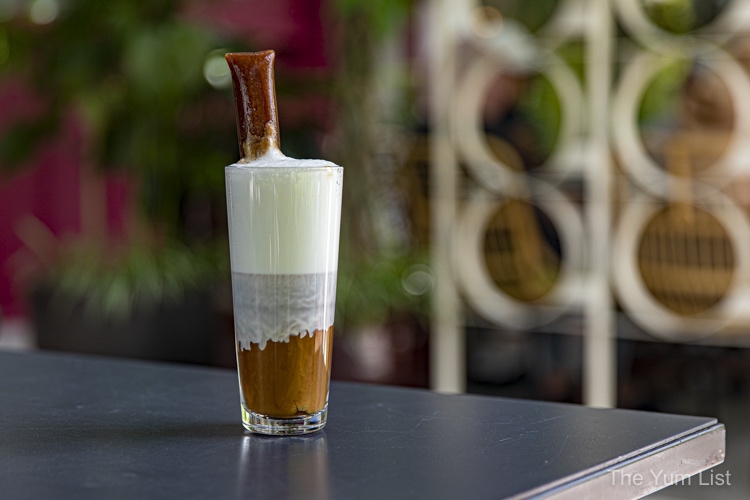 While caffeine is a first-rate ending, I complete the afternoon with one of Evoke's gin and tonics. Brandishing over 20 gin labels, each mixed drink is served in a copa glass with the garnish frozen inside the ice ball! It takes over six hours to make each sphere. The content varies depending on the gin, so take your time to sip and savour. Mine is made with 45 ml of London No 1 (RM 50) and Fever-Tree tonic with a whole lemon slice inside the frozen orb.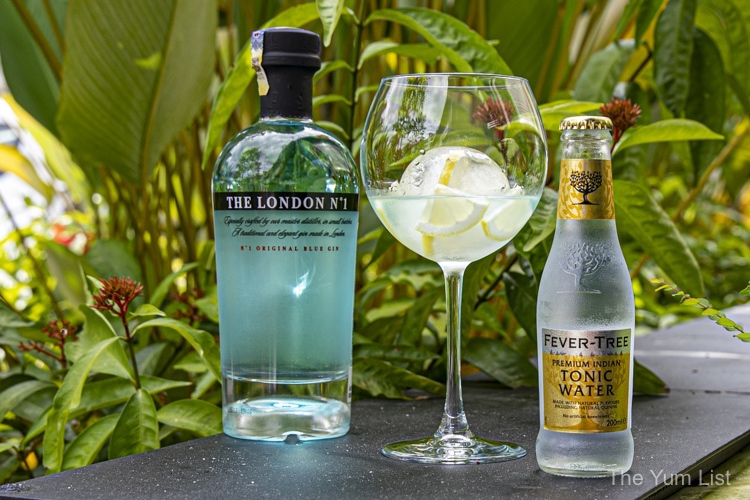 Reasons to visit Evoke Gastrobar in Taman Tunku: charming small lot with both indoor and covered outdoor seating; comforting menu of hearty, balanced European fare; G&Ts made with premium tonic and a 45ml (not 30ml) shots; house-made sparkling water that is cheap and creates no plastic waste.
Evoke Gastrobar
The Stories of Taman Tunku, Jln Langgak Tunku,
Taman Tunku, 50480 Kuala Lumpur, Malaysia
www.facebook.com/evokegastrobar
+60166133288
Evoke Gastrobar Opening Hours
11 am-midnight
Check out Evoke Gastrobar's delivery menu here and stay up to date with the latest food and beverage happenings in KL here and here.