Canotto Pizza KL
Words: Amanda Chin
Photos: Richard Callahan
There's one thing for certain. Pizza is a way of life. Found in almost every corner of the planet, most establishments claim to have the best of the best. That's easy to say but hard to follow through. With a raging increase in pizza snobs, being on the hunt for a slice of good pizza is a rising trend in Kuala Lumpur.
Superfine Café, Seventeen Mall
Craft beers, their own kombucha, and now, pizzas? What's not to love about Superfine Cafe? Proprietor Larry has upped his food game by turning his passion into a menu at his cafe. Before we get into all of that, a fun fact I have to share is that Larry used to work at Kenny Hills Bakers, which is where his love of pizza stems from.
Superfine Cafe looks like your typical modern-day establishment in a shopping mall. Bright colours, patterned tiles, and big-seating areas are a welcoming vibe to shoppers and families. With a menu that ranges from burgers to tacos and healthy vegetarian options alongside a great beverage list, it's not hard to see why people choose to take their shopping breaks at this spot.
When I walked in, I was instantly greeted by friendly staff and Larry's wife, Kennix (who has recently given birth to twins and looks amazing, by the way!). I was then led to the back of the cafe to sit with Monica and Richard with a zero-expectation appetite to eat some good old pizza.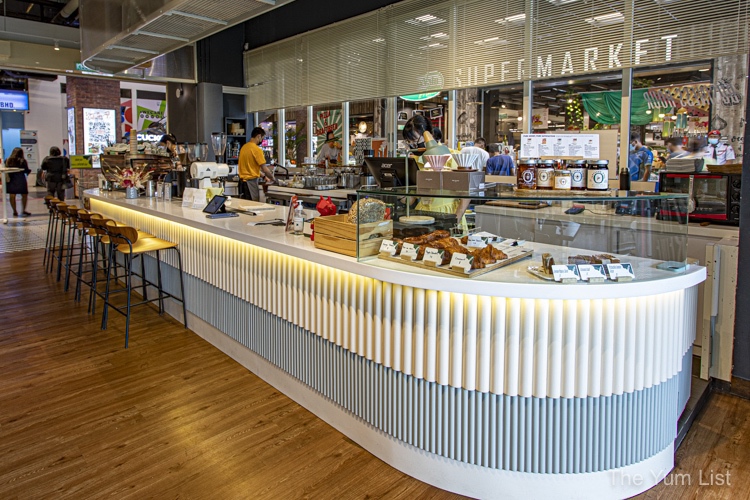 Liquid Ferments
Two drinks already set on the table were homemade brews – the Nitro Kombucha (RM15) and Kefir Lemonade (RM16). The kombucha and lemonade were light, sweet and tangy, a refreshing start to our food date.
We were also given two craft beers – the Nebucha Dnezzar (RM 34) and Brewdog's Tony's Hopoloney (RM 38) – both of which had their own unique and interesting flavours. Larry's selection of craft beers comes from all over the world, from New Zealand to Amsterdam and even one from China. They make fine mates to the Canotto pizza ahead of us.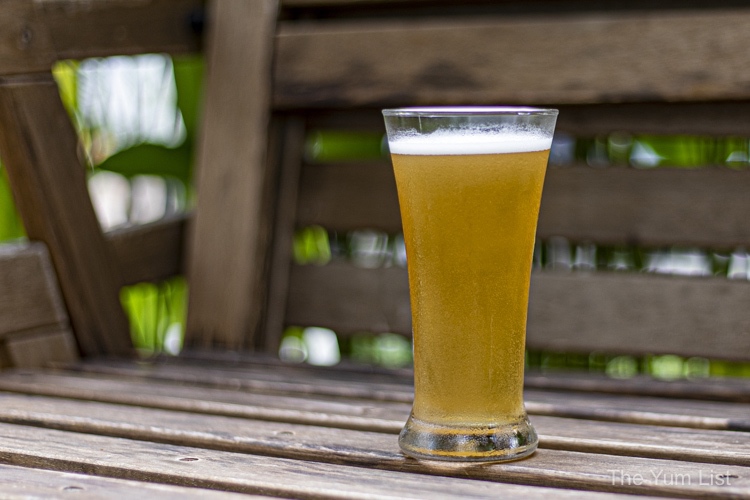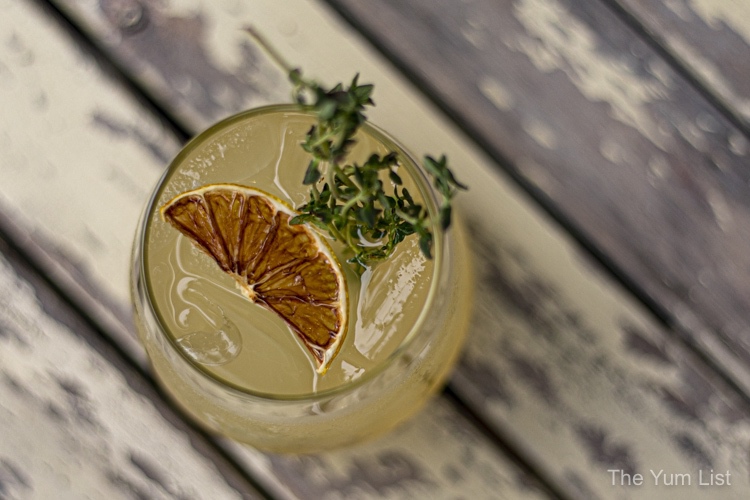 Superfine Menu
Our first dish was the Roasted Cauliflower with Salsa Verde (RM30), which is also a worthy option for the health freaks. With pomegranate sprinkled all over and a nice green sauce on top, the whole plate is what I imagine the #eatclean ambassadors on social media crave.
Our next health platter was a plate full of green leaves – the Kale Salad (RM30) – which is a staple for your typical hipster of today. This salad came loaded with sweet potatoes, quinoa, job's tears, pistachio crumble, cranberries, a poached egg, and a mouth-watering tahini dressing.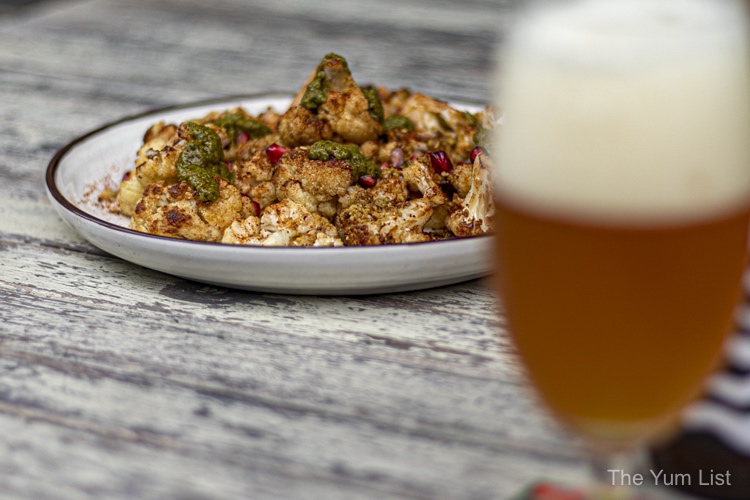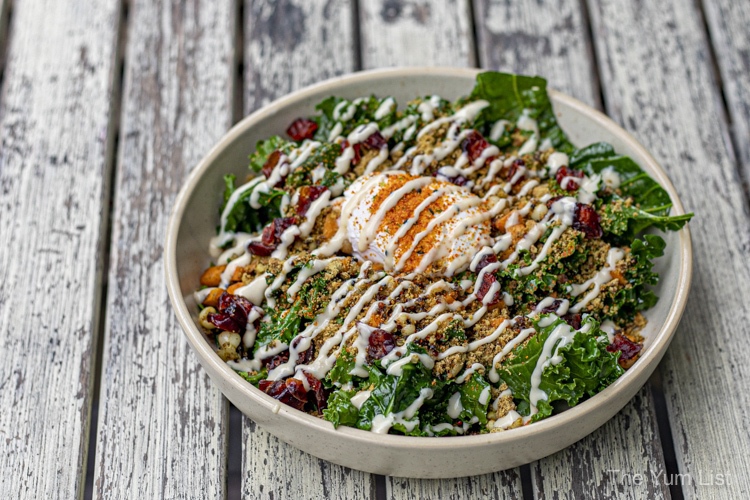 Canotto Pizza KL
The way to see if a restaurant has good pizza is to order the OG, and that was our first one at Superfine Café – the Margherita (RM36). Although simple, this pizza is one for the books. A poofy crust, not too full and heavy, with a thin base and perfect toppings of fior di latte, tomato sauce, sun-dried tomatoes and basil.
It's not hard to see why Larry's pizzas are on the rise; his babies (not his actual twins) take one full day to ferment – using the Poolish method. This form of pre-ferment is typically used in French bakery products and is what makes baked foods soft and aromatic. The cheese Larry uses is sourced from Langkawi from a local company, while the tomato sauce and flour come straight from Italy.
We then went from OG to "oh wow" as the Jamon Serrano (RM64) was placed in front of us. It had a crust to die for, the traditional mozzarella cheese and authentic Italian tomato sauce. The "wow" factors here were the 24-month aged Spanish ham, shaved Pecorino Romano (both sourced from Bottega Mediterranea) and topped with honey-roasted almonds. Let me tell you, if perfect combinations had a place in the dictionary, this pizza would be used to define it.
Last on our pizza expedition was the Al Funghi (RM46), which was a fun guy indeed. Besides the mozzarella base, this baby came loaded with artichoke cream, big roasted portobello mushrooms, black truffle oil and fresh dill. Vegetarians and meat-eaters would very much enjoy this explosion of deep flavours.
To top it off, Larry came to sit down with us at the end and offered us honey with chilli flakes so we could try that with our second slices – a great choice. He told us the honey was normally used with the Diavola (RM50) to balance all the meats and spices, but it was the cherry on top of the pie with the pizzas we had.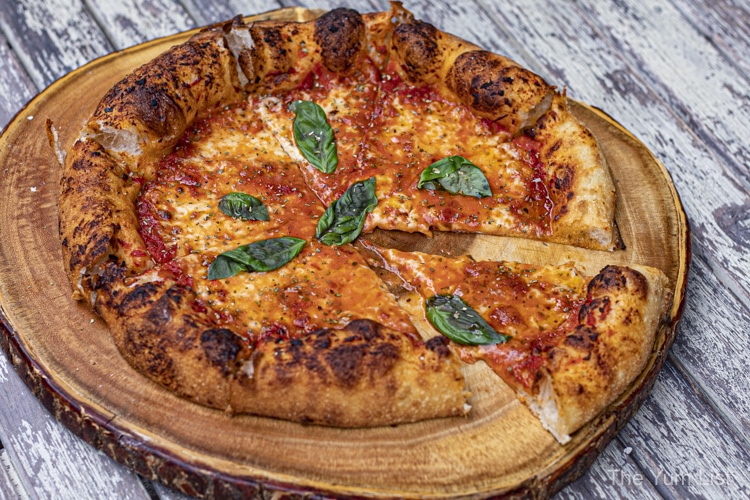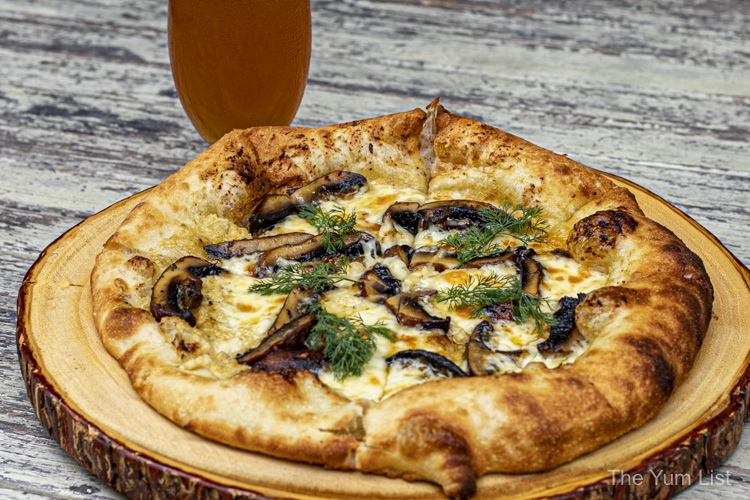 Canotto Pizza Fulfillment
So, what makes Larry's pizzas at Superfine Café stand out? Besides the fresh flavours, the pizza itself is a rare gem. His 13-inch dough babies are made in Canotto style, which is Italian for an inflatable raft and a large edge. It may look like a Neapolitan pizza, but trust me, the crust is a puffy dream made out of air and love.
What's more interesting is that he doesn't use a special pizza oven to produce magic. He uses a standard kitchen one. What pays off is his dedication to strive for perfection, and the majority of the ingredients are sourced fresh and locally.
I'll definitely be going back with friends so I can order all of the 11 pizzas because they all sound heavenly. If you have never got to visit Italy, this is your chance to try Italian pizzas, which isn't the same, but it'll do in these trying times where travelling has become a bit of a challenge. When the moon hits your eye like a big pizza pie, it's certainly amore!
Additionally, because the non-vegetarian Canotto pizzas use proper meats like chorizo salami, jamon serrano and beef pastrami, you'll get the full spectrum of style authenticity. If you're vegetarian or vegan, there are quite a few options on the pizza list alongside Mushroom Ragu Pasta (RM26), the healthy Kale Salad (RM30) and Roasted Cauliflower with Salsa Verde (RM30). 
Reasons to visit: bright, modern atmosphere, friendly staff, notable coffee, home-brewed kombucha, the array of craft beer options, Canotto pizza, and super welcoming owners.
Superfine KL
Seventeen Mall
L01-L02, Jalan 17/38, Seksyen 17
46400 Petaling Jaya, Malaysia
www.facebook.com/Superfinekl
· Non-halal
Superfine KL Opening Hours
Daily: 10:00 a.m. to 9:00 p.m. *Pizza available 6-9pm
Find more pizza restaurants in KL here and stay up-to-date on the latest happenings in KL's food and beverage scene here and here.