Fine Dining Chinatown KL – ANJO
Words: Alison Christ
Photo: Rich Callahan
Monica has been enjoying a jet-setting summer break from KL, and tonight is the first time we have seen each other in over two months. Besides working together for The Yum List, Mon and I have become great friends over the last five years, so it's a reason to celebrate seeing each other and what better way than to share a fine dining meal in Chinatown, KL at Anjo? Translated from Portuguese, ANJO means Angel. Jessica, the Manager/Sommelier, tells us the owner has a love for fine dining, and this was the passion that led to its creation.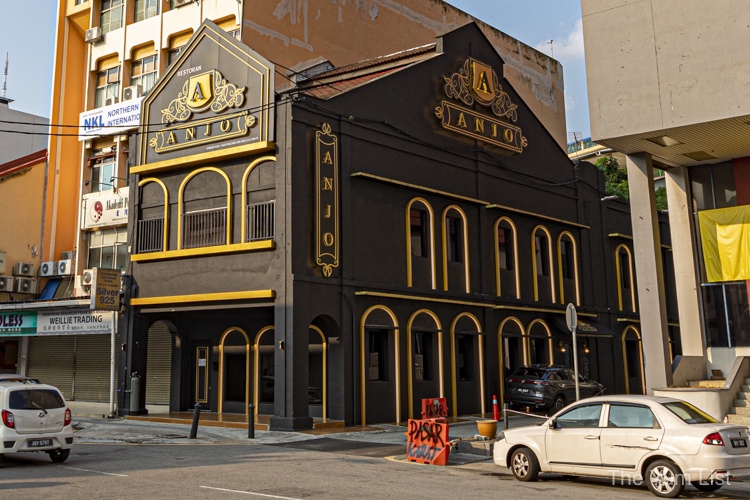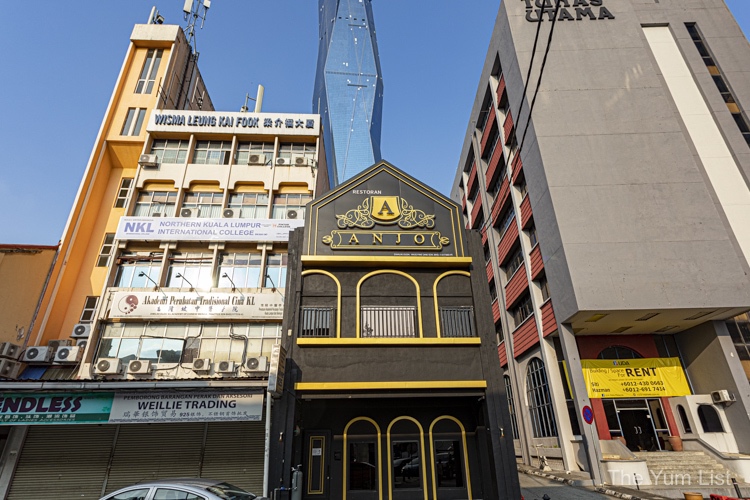 ANJO's Hidden Bar
I walk my dog daily through the streets of Chinatown along Jalan Petaling and the surroundings. Whenever I pass by ANJO, I am fuelled with curiosity. I can't see inside as the shutters are closed, which adds to the mystery of what's inside. When Monica asked me to join her for dinner, I said enthusiastically…yes! We meet early for cocktails upstairs. When you come, make sure you do too and climb the stairs to the Hidden Bar, aptly named, as you can't see it from outside or the front entrance. Jessica and Mohan – Team Leader and Bartender, warmly greet us. We decide on just two cocktails (allowing room for the wine dinner to come). The Roxa is with butterfly pea-infused Tanqueray gin and yuzu. The drink is a gorgeous purple with a refreshing flavour from the yuzu, albeit a touch on the sweet side. We prefer dryer cocktails, so Monica and I enjoy the Gin2 with Tanqueray, rose syrup, lime, and cucumber. It's pleasant and aromatic and is going down in a hurry. Mohan has nine signature cocktails to choose from (RM 45 each), something for everyone.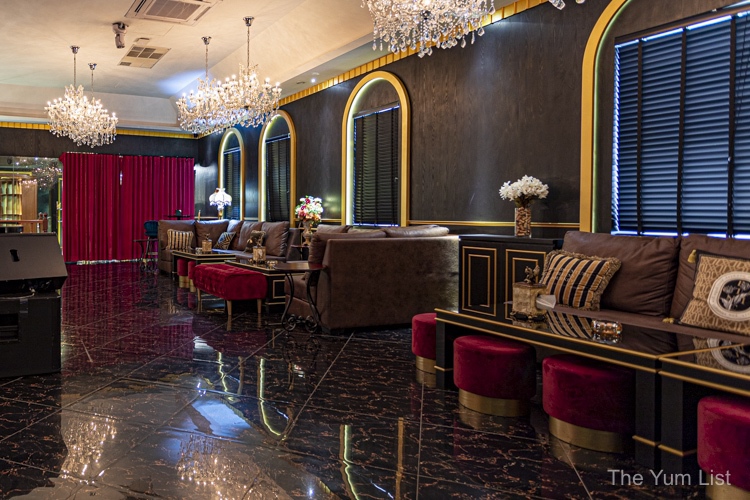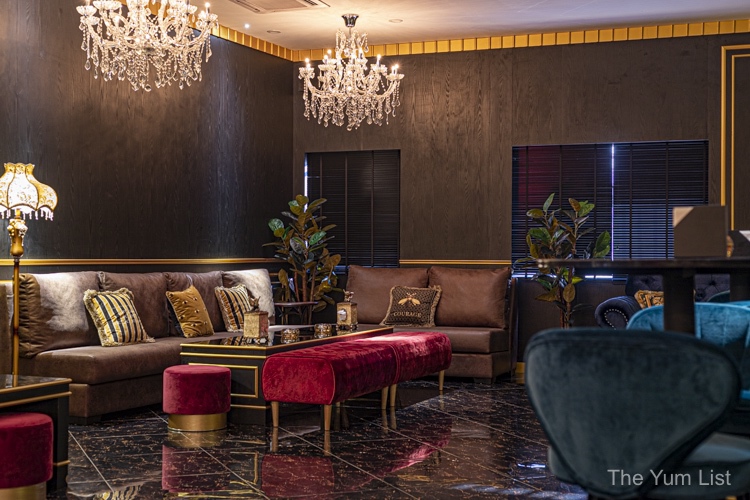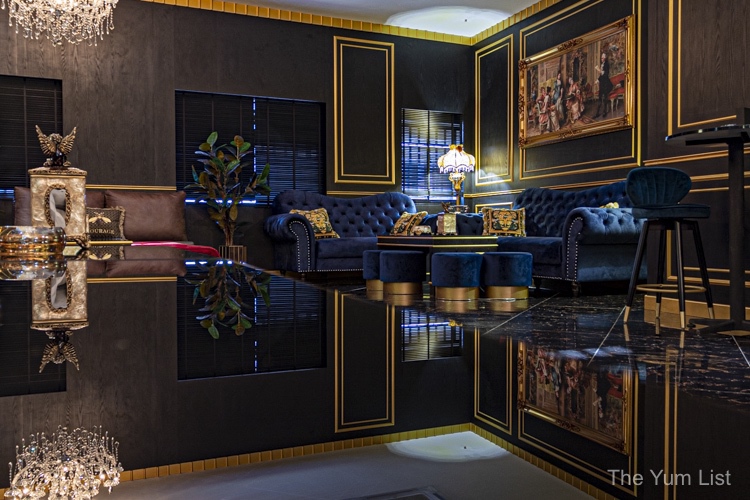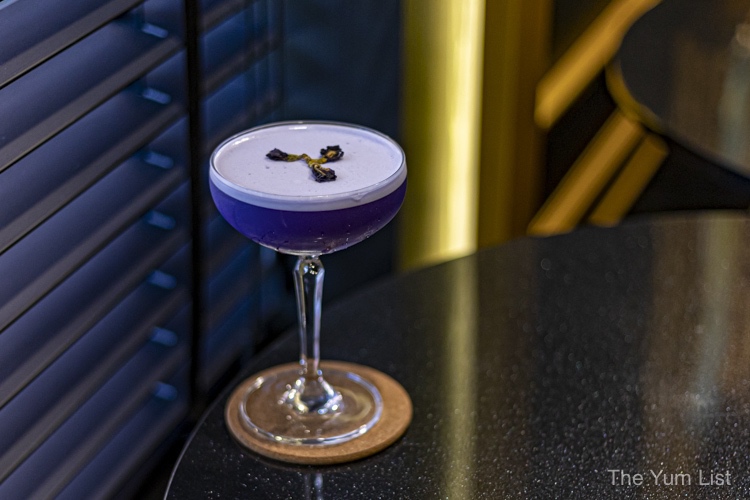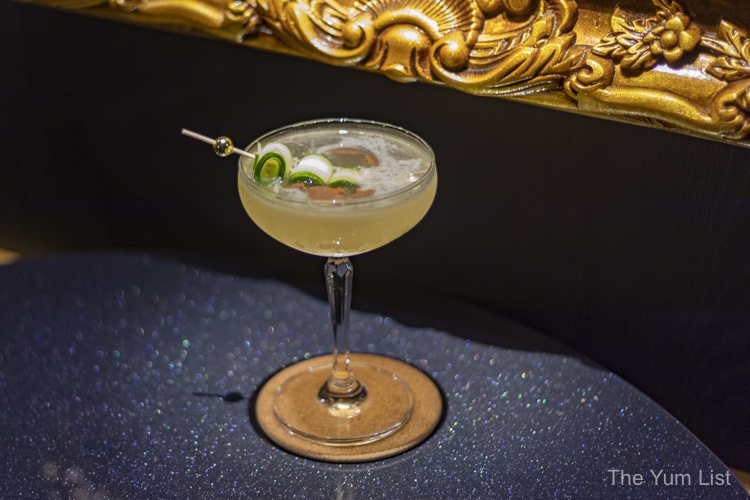 Fine Dining Chinatown KL – ANJO
Now our palates have been stimulated, Jessica leads us downstairs to the dining room, which is not what I expected. It's one large room with 16 seats around a counter that faces the open kitchen. This is an awesome open space where Chef Monday (like Monday, starting the week off right) happily greets us! This dining room reminds me of The Game of Thrones with the chairs resembling thrones, and I am expecting a king and queen to walk in at any moment. If you want to treat yourself like royalty, you can dine here with one friend or book the entire 16 seats.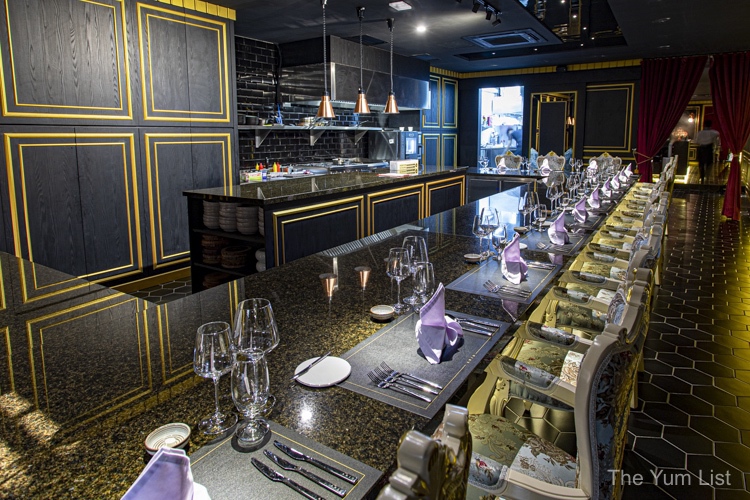 Luxury Menu at ANJO
Chef Monday tells us we will experience the Luxury Menu (RM 790) and Jessica is excited about our response to the wine pairing she has carefully crafted (RM 350 for six glasses). After an intro to how the meal will be executed, we are offered an array of bread to choose from, Sundried Tomato Focaccia, Rye Bread, Brioche, and my favourite gluten-free Sourdough. We are served a beautiful dish of the most glorious food on earth, butter! Four different types; plain French, Espelette Pepper, Truffle, and Pesto. I am in heaven right now, having a fond love of butter. Bread is great, but let's face it, bread's number one job on earth is to be a vehicle for butter!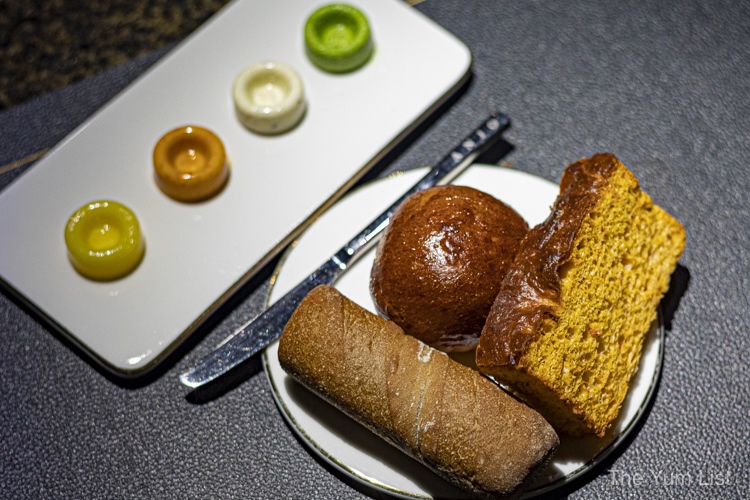 Amuse Bouche
From our front row seats, I am enthralled by the intensity of the food production. Chef Monday and four of his culinary team work together on each plate, like doctors performing surgery. The first dish or Amuse Bouche is a King Crab Roll with Baeri caviar and avocado, Pan-seared Scallop with butter and potato togarashi (a spice blend that the Japanese use like most people use salt and pepper), and Tuna Tartare with sago crackers. The trio is absolutely gorgeous, immaculately plated and equally delicious. 
Jessica comes over and fills our flutes with a beautiful pink bubbly, the moment Monica and I have been waiting for. If you go with the wine pairing, you may want to start with a glass of bubbles or another cocktail as the wine only begins after the bread and amuse.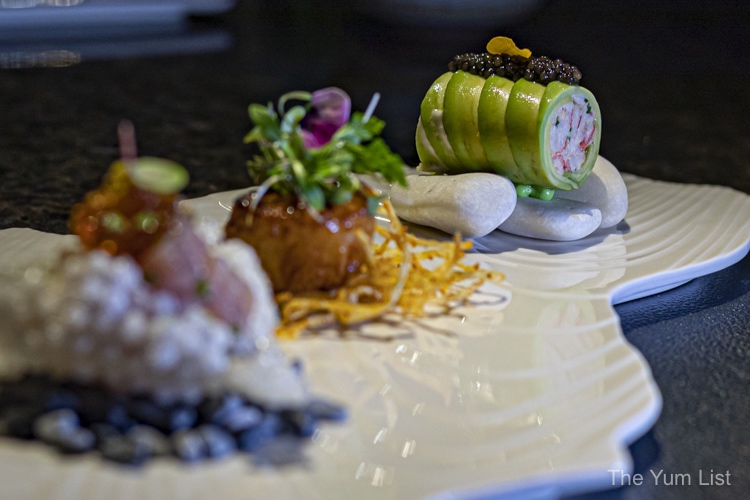 Beef
Next is Beef Tartare, made with wagyu, horseradish gel, shimeji, and squid ink tuile paired with the delicious Belstar Sparkling Rose from Italy. I'm not a big beefeater and never really got into tartare but man, this one is good. I clean my plate. I especially enjoy the tiny delicate shimeji mushrooms, packed full of nutty flavour and offering a great consistency to match with wagyu.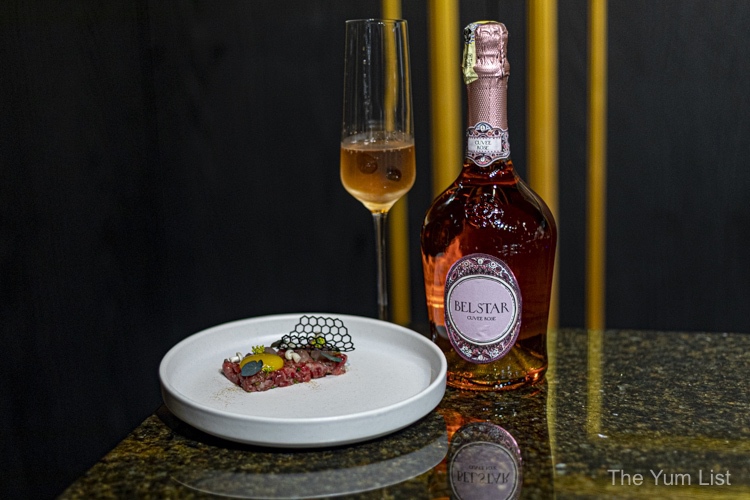 Salmon
Confit Salmon with orange cauliflower features Heirloom cauliflower, orange in colour and liquefied. The Ora King Salmon from New Zealand was sous vide for one and a half hours, and Monica and I agree it's the softest, creamiest salmon we've ever tried. The cauliflower is so yummy I tell Chef it could be served alone as a soup course. Chive flowers rest on top and really do taste just like chives. Remole by Frescobaldi a Toscana blend of Trebbiano and Vermentino goes nicely with the fish.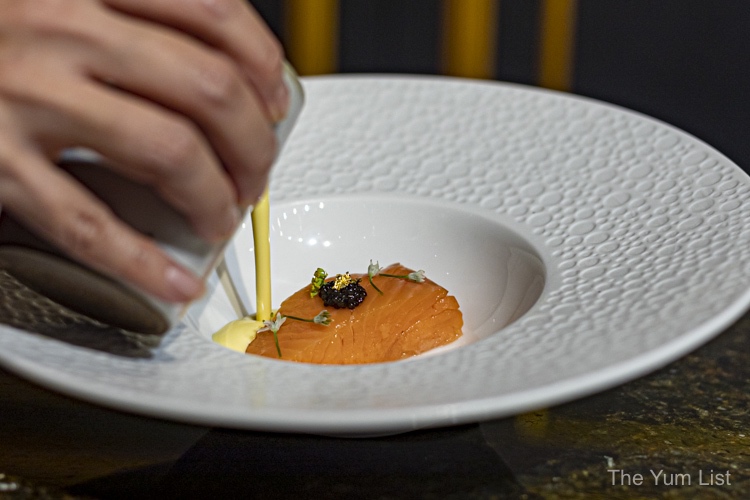 Foie Gras – Fine Dining Chinatown KL
In the middle, we are served Foie Gras with Pain de Spice (loosely translated to gingerbread), strawberry, cherry, and fennel flower (tastes just like fennel but not actually from a fennel plant). This dish is surely an art piece adorned with 160 small dots of sweet strawberry puree. Jessica went outside the box on this pairing with a high-acid dry French rosé by Gayda `La Minuette' to counterbalance the sweetness of the dish.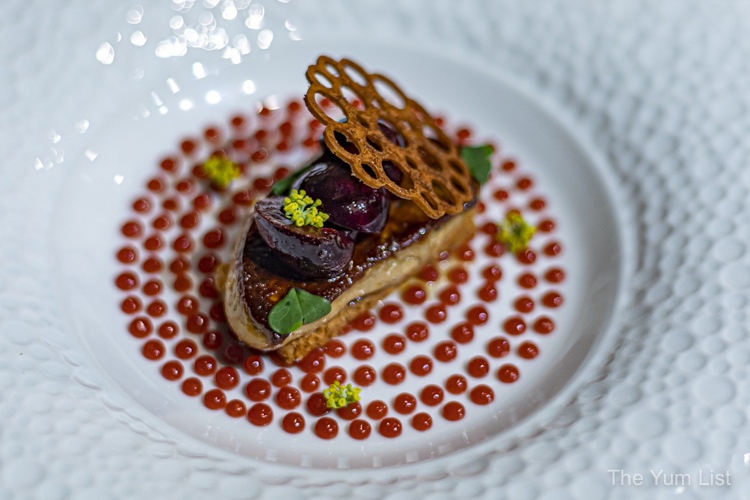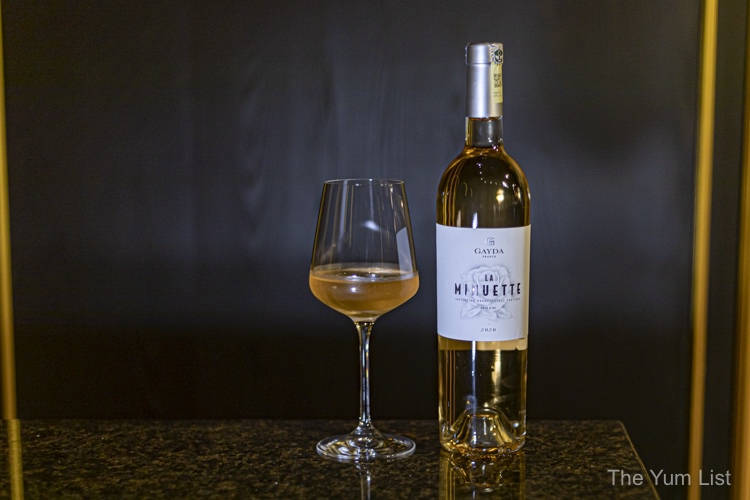 Risotto
Risotto with truffle, Parmesan, and morel mushrooms is yummy, especially with real truffle from Australia (not the usual truffle oil everyone likes to use – personally, I can't stand truffle oil, but I love real truffles). The Australians are doing a great job on the truffle growing front. The Il Canneto Sangiovese by Mantellassi works great with the earthiness of the fresh truffles and morels.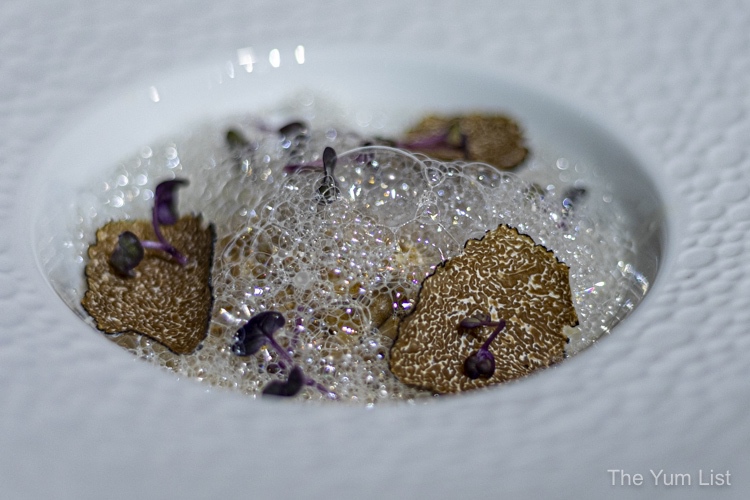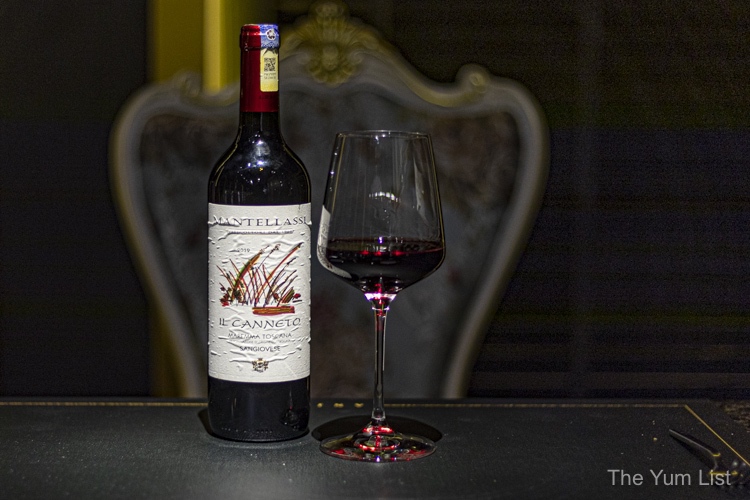 Fish
The Fish of the Day is Loup de Mer (Spanish Sea Bass) and is served with pumpkin puree, morel stuffed with chicken mousse, and drizzled with jus lie. Again, it's beautifully plated with edible flowers and has perfectly cooked crispy skin. The stuffed mushrooms are great, and I would be happy with these as a dish unto themselves. We switch back from red to white, which is working just fine. The B-Qa de Marsyas from the Bekaa Valley, Lebanon, is exciting and refreshing. Although we need not worry about refreshing ourselves as Chef Monday hands a palate cleanser of tamarind and coconut crumble. Yum!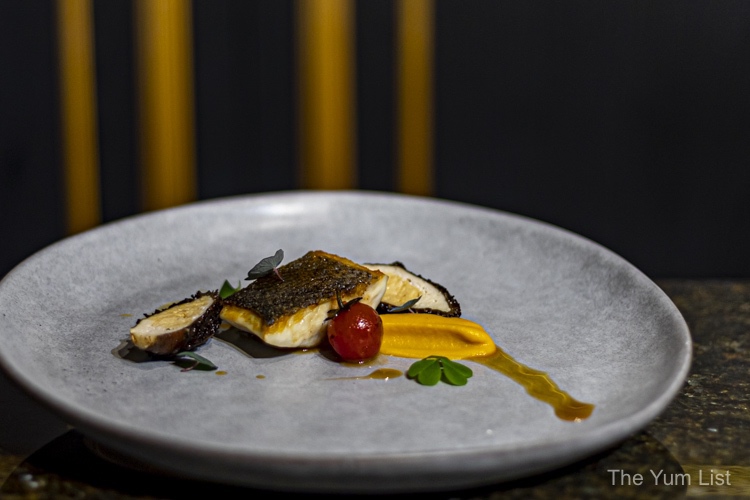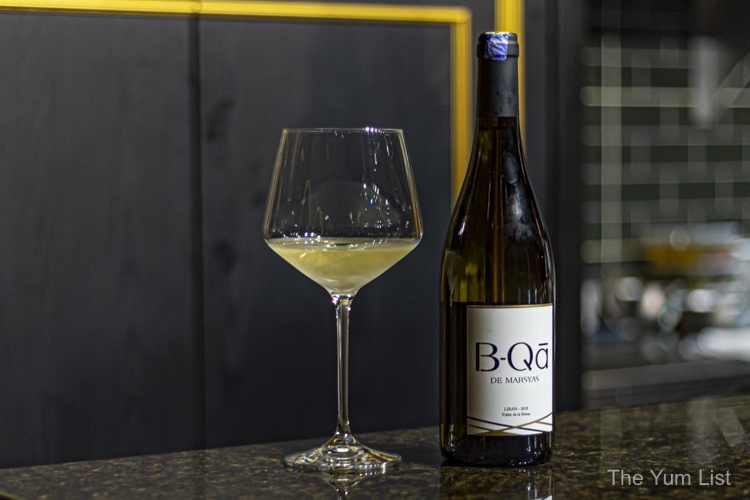 Beef – Fine Dining Chinatown KL
With one more savoury course to go, Monica and I agree to share the Blackmore Strip Loin with broccolini, potato croquette, confit pearl onion, and sauce au poivre (peppercorn). Blackmore Wagyu is an Australian family-owned, award-winning producer of full-blood wagyu. Anthony Bourdain even mentioned them in a talk once. I understand why. This meat is so delicious and is melting in our mouths. It's made even more enjoyable by my favourite still wine of the night, the Gaba do Xil Mencia by Spanish producer Telmo Rodriguez.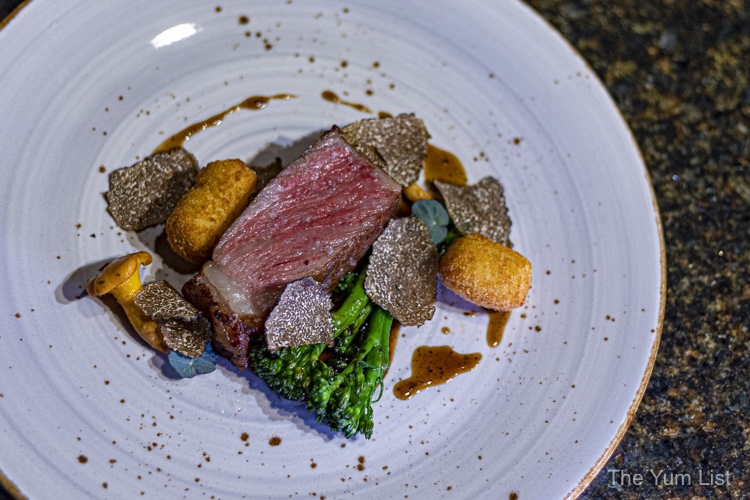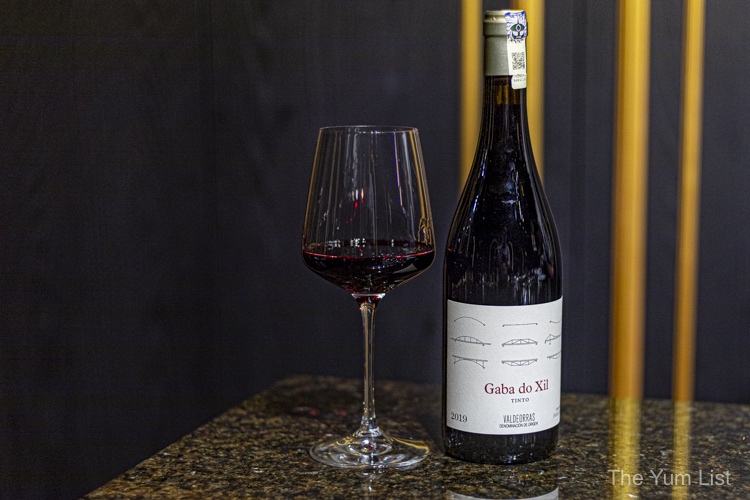 Dessert
We are reaching the finish line here, and I think I can't possibly eat another bite but silly me. I have no difficulty smashing the Chocolate Orange Flourless Cake with Pistachio and Almond Sorbet and the Chef's special gift of Petit Fours. There's no wine with dessert, but we don't mind. I ask for a top-up of the Mencia, and Jessica graciously provides.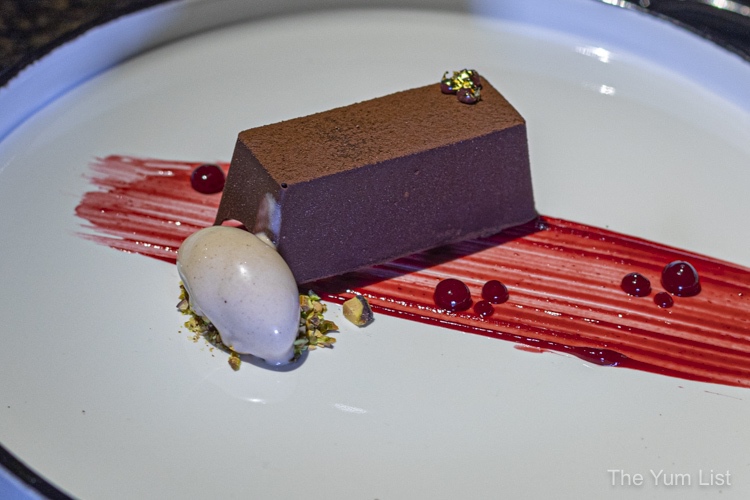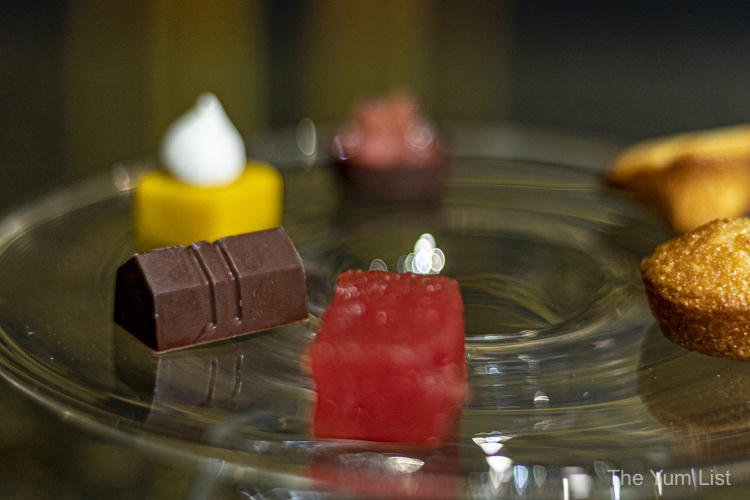 Fine Dining Chinatown KL – ANJO
We have enjoyed ourselves tremendously and have been treated like Queens. We highly recommend spending some time pre or post-meal in the hidden bar upstairs. So, do allow some additional time on either end to thoroughly soak up the setting of this special place.
Reasons to enjoy fine dining at ANJO in Chinatown KL: the hidden bar, immaculate presentation, quality live cooking performance, attention to detail, and attentive service.
Fine Dining Chinatown KL – ANJO
Jalan Petaling, City Centre,
50000 Kuala Lumpur, Malaysia
+6 019 977 1010
www.facebook.com/anjomalaysia
ANJO Opening Hours
Fine Dining Chinatown KL
Session 1: 6.00pm – 8.00pm
Session 2: 8.30pm – 10.30pm
Hidden Bar
5pm – 12am
Find more restaurants for special occasions here, and stay up-to-date on KL's food and beverage scene here and here.