Afro-Caribbean Restaurant in Kuala Lumpur – JOLOKO
Words: Jacob Weber
Photos: Rich Callahan
It's a long and costly journey from Kuala Lumpur to the Caribbean.
Luckily, there's a colourful little corner of Chow Kit which comes close.
JOLOKO actually needs little introduction at this point. The award-winning Afro-Caribbean restaurant and bar has been a firm favourite on KL's foodie scene for the last few years for its sharing platters as much as its parties.
And what it lacks in white sandy beaches, it makes up for with … well, everything else. From the eclectic wall-size murals to the exceptionally well-balanced menu, a visit to JOLOKO is so immersive it feels like an experiential dining occasion. The cute courtyard area at the back, in full view of the bustling kitchen, could be somewhere in Cuba. The semi-alfresco set-up at the front is a tropical hideaway that wouldn't look out of place in Jamaica. "Authentic" gets thrown around a lot these days … but Joloko is certainly committed to the Caribbean spirit. Great food, great cocktails, and great vibes.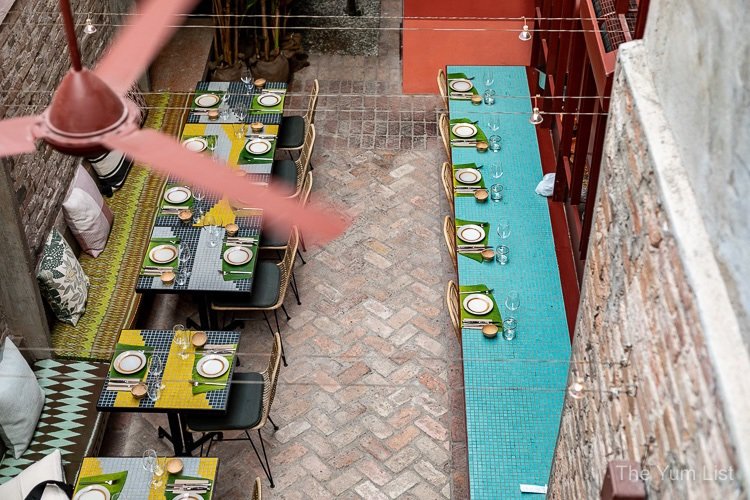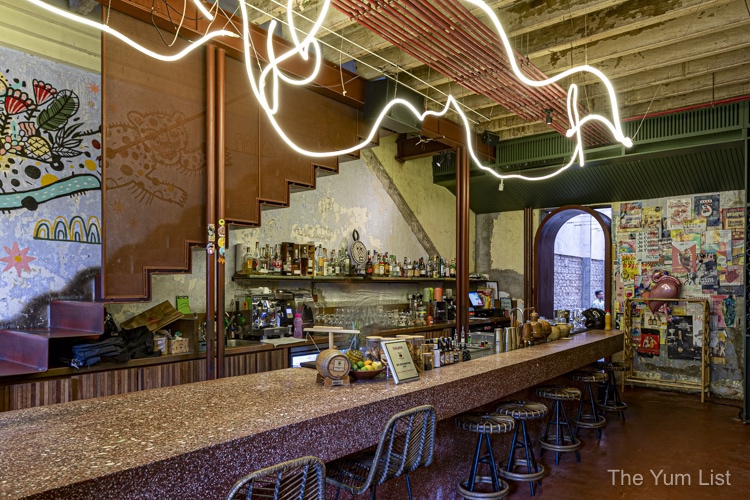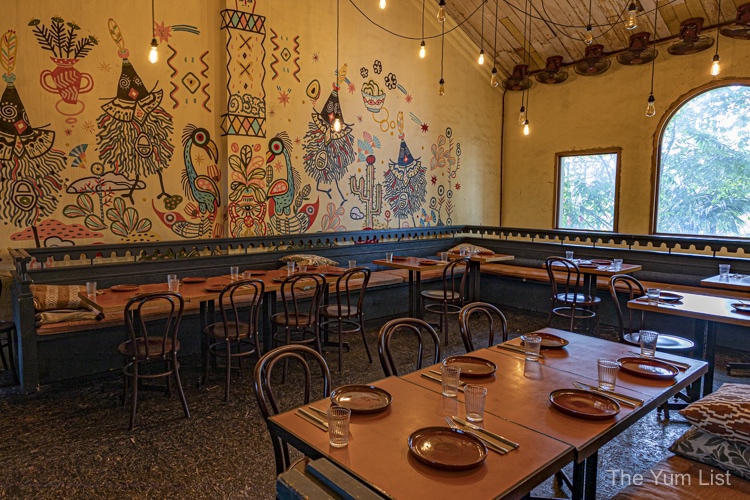 The new Head Bartender Miraz is bringing his top-tier experience from Tickets and Crane to the party. JOLOKO have just introduced a new 'superjuicing' approach to processing fruit, which maximises yield, minimises waste, and earns them bonus sustainability points from The Yum List. The cocktail menu has been shaken up, and we're eager to get started.
Afro-Caribbean Cocktails at JOLOKO
The Zombie No Go Go (RM55) is a good place to start. It's a funky blend of island and overproof rum, a Caribbean falernum liqueur, lime and pineapple, served in a scowling tiki mask. It's also topped with absinthe for an extra kick, which our smiling waiter Wana gleefully sets ablaze. It's delicious; zesty, ice cold and refreshing – perfect on a hot afternoon – and not too sweet, with a nice edge from the absinthe.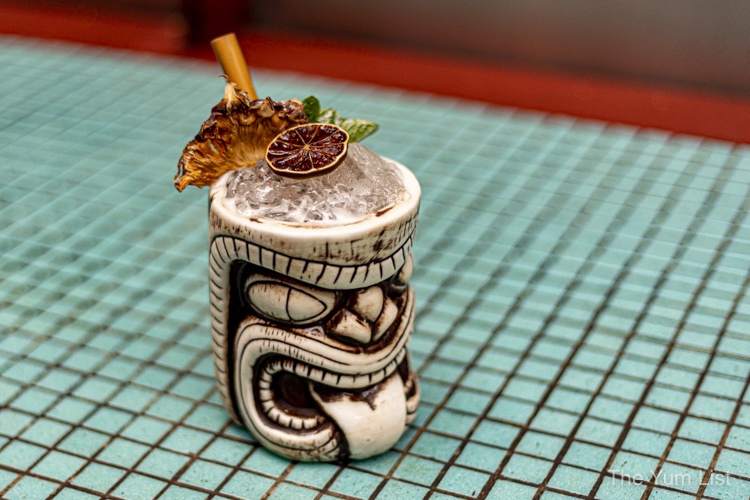 JOLOKO is probably the only 'serious' mezcal and tequila bar in town (as serious as one can be about these famously inhibition-loosening spirits) and only serves 100% agave mezcal, with an entire page on the menu dedicated to agave- and tequila-based versions of classic cocktails. We try a Tequila Paloma (RM45) – you can also choose a mezcal base to go with the grapefruit and lime – and it's great. Deceptively simple but definitely punchy, with a sour kick and a salty finish.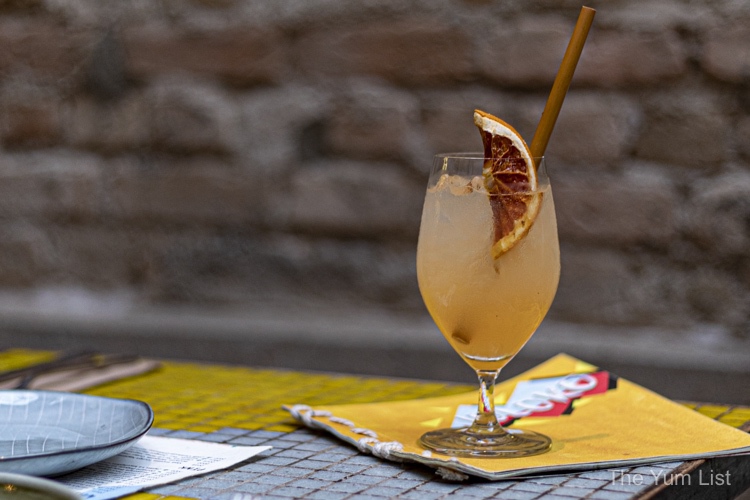 Monica, eagle-eyed as always when it comes to cocktails, spots El Fuego Negro (RM55) on the menu. It's JOLOKO's version of the Negroni, so no wonder she noticed it – a bar's 'Negroni test' is practically the gold standard for The Yum List. This Caribbean-Italian combination of mezcal, Amaro Montenegro, sweet vermouth, Campari, black lemon bitters, and soda passes the test, with the splash of soda a unique way of opening up every sip of this typically bitter, herby drink.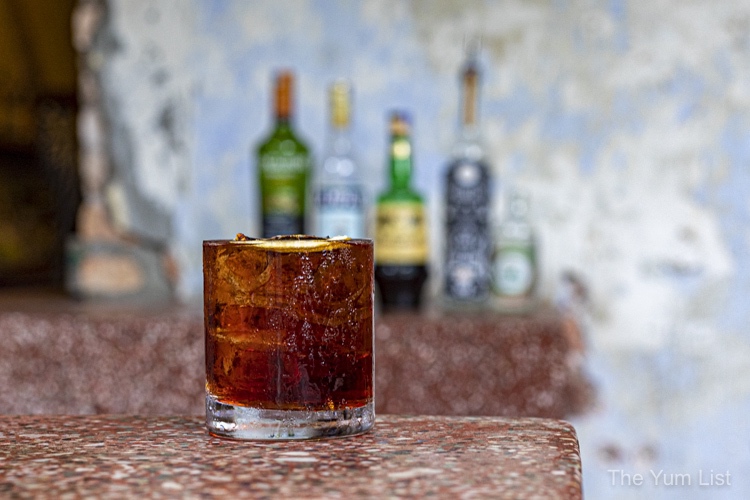 The Voodoo Old Fashioned (RM55) – so-called because it uses rum from Haiti, where voodoo is still practised – is a curious concoction that has been fat-washed in cocoa butter and finished with nut bitters. It's smooth, sweet, and has a fascinating depth to it.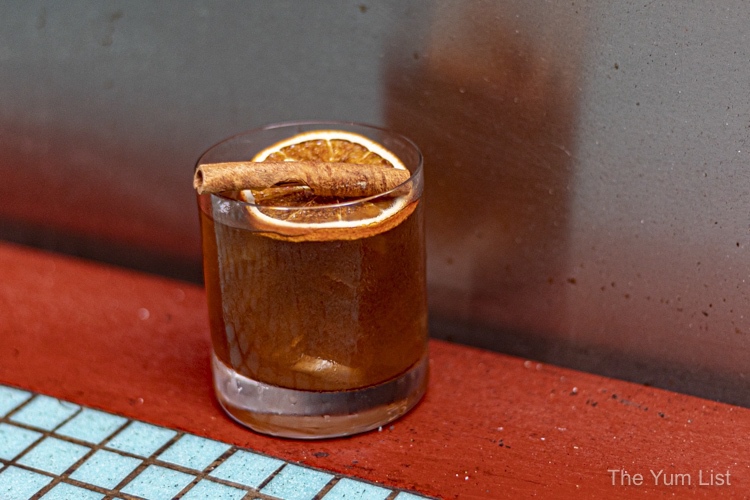 There's plenty more besides mezcal on the drinks menu, including some very interesting wines. We get to try a 2020 Nestarec Senza White/Red blend (RM380); the menu tasting notes describe it as a 'sensational sparkling wine', and I don't have a great deal more to add. It's certainly very drinkable, fun, and refreshing, with notes of raspberry, cherry and blackcurrant. "It's a very JOLOKO wine", co-owner Rick proudly declares, and it's tough to argue – not just because he'd know best, but also because the funky label perfectly matches his flamboyant shirt, which happens to be from JOLOKO's own fashion range. Talk about brand consistency …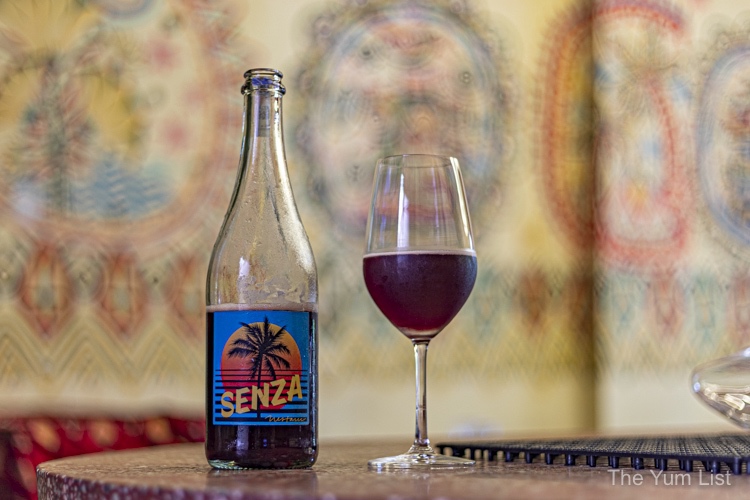 Afro-Caribbean Cuisine Kuala Lumpur
Appetites stoked and palates tingling; it's time to move on to the food. JOLOKO's menu is designed for a communal dining experience and divided into 'acts' – Act 1 being the alcoholic stuff, Act 2 is flatbreads and dips, Act 3 shared platters to pick at … and so on, all the way until Act 6, where delicious desserts (and a special surprise) await.
We start with a veggie-friendly option, the Flatbread with Pineapple, Cream Cheese & Jalapeño Dip (RM25). It's a creamy dip with a spicy kick, with the tartness of the pineapple bringing out a little extra spice from the jalapeños. An ideal way to warm up the taste buds.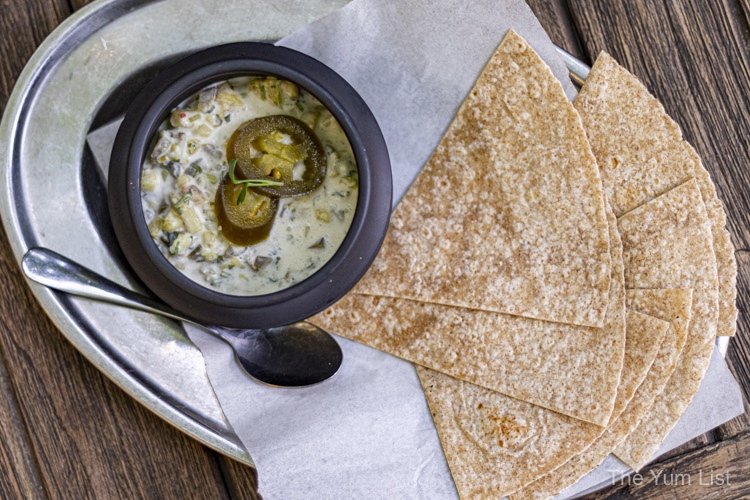 The Guava Glazed Prawn Tostadas (RM45) are a colourful contrast of flavour and texture; springy, well-cooked prawns on crunchy tostadas, with the sweetness of the guava balancing the heat in the gorgeous spicy sauce. Make sure you have a few extra napkins on hand for this one.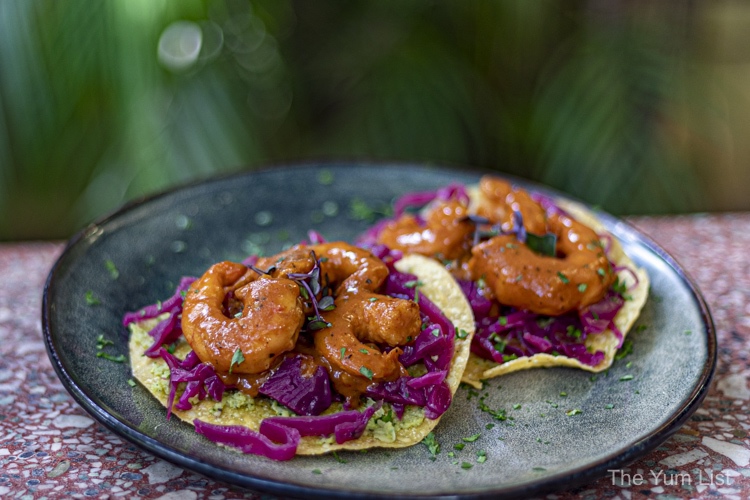 There's more beautiful contrast in the Crispy Pomfret with Pineapple Salsa (RM25); fried fish with a satisfying crunch, topped with tangy, sweet and spicy pineapple. After a few cocktails, this is one of the best bar snacks you could order.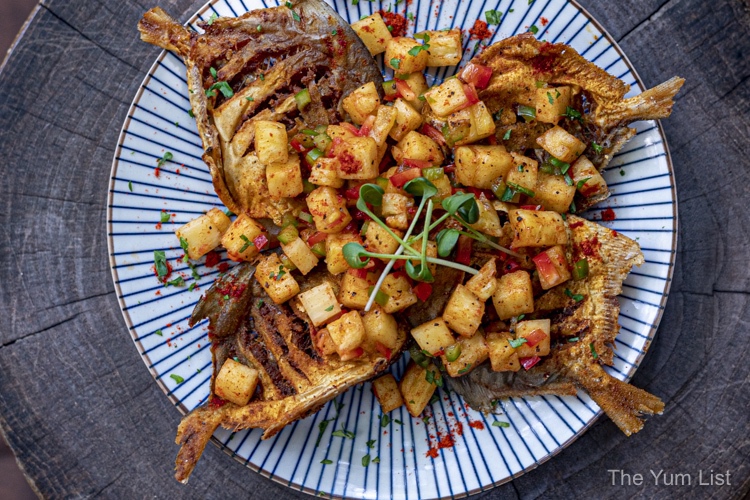 Grilled Goat Ribs with Shatta (RM65) – a spicy Middle Eastern sauce – are the pick of the meat section on the 'pickings' menu. The lamb is tender, falling off the bone at first swipe, and the sauce highlights the char on the meat, tying everything on the plate together very nicely.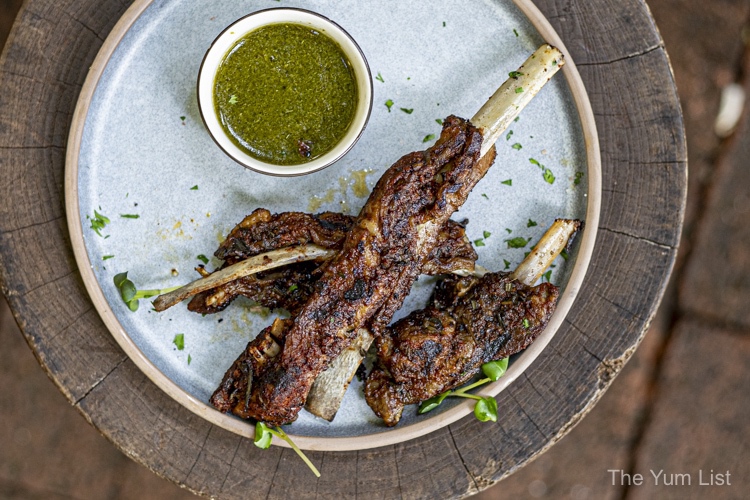 Those of a vegan persuasion – or anyone who wants something a little lighter and brighter – will appreciate the Watercress, Cashew and Coconut Salad (RM25). Sometimes the simple ingredients are the best, and they certainly are here. It's fresh, easy, and on the right side of tropical. Likewise, the Burnt Cabbage with Tahini (RM25) is simple but effective, with a contrast of creamy and crunchy textures.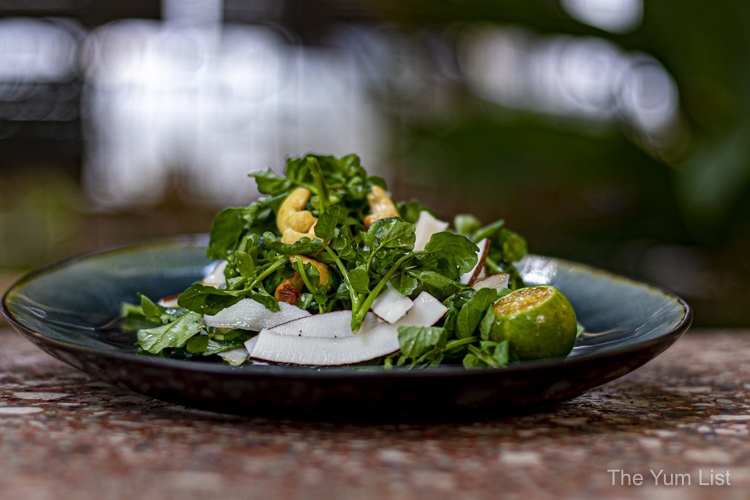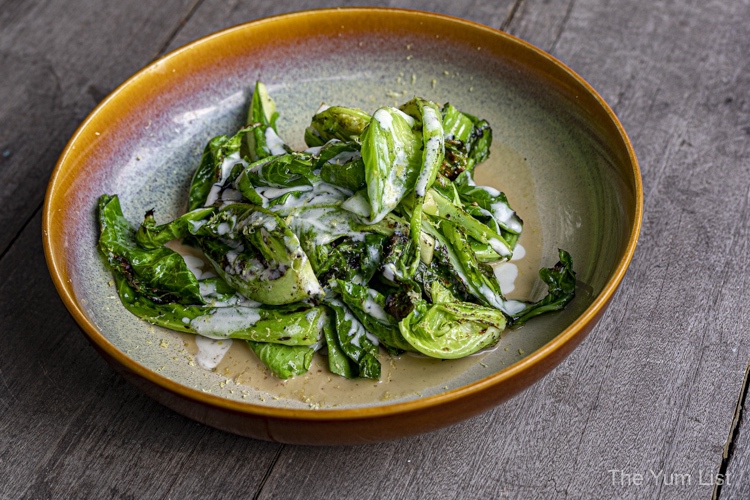 Next, one of the main events, a star of the show: the Argentinian Angus Sirloin Steak with Fire Roasted Salsa and Dewa Dewa (RM150; ±300g). Dewa dewa is unfamiliar but not unwelcome; it's like an African version of miso, with a curious savouriness and earthiness to it. The steak is wonderful, and the fire-roasted salsa adds the signature JOLOKO spice.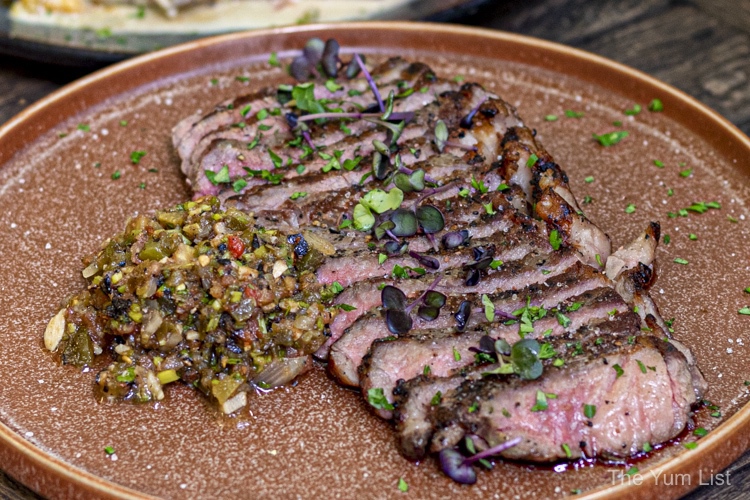 Last, but absolutely not least: Grilled King Prawn with White Wine and Coconut Sauce (RM65/piece; RM180/3pcs). Again, the contrast in taste and texture is well-balanced and well-executed, with the rich and creamy sauce going well with the tender white meat.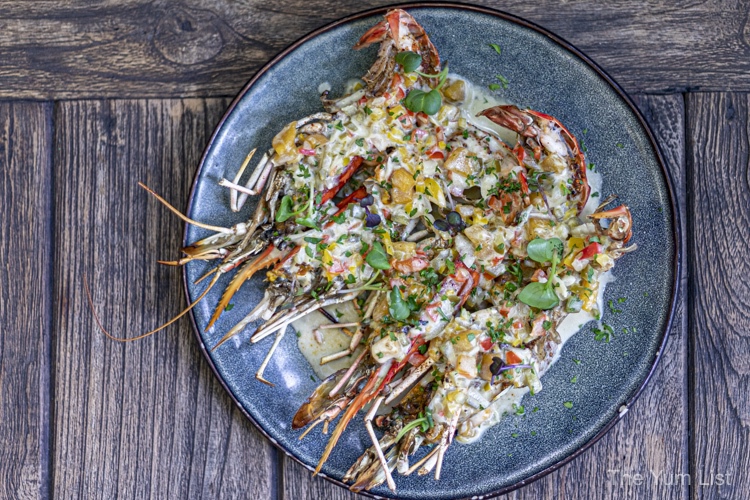 Licky Chan Ice Cream
For dessert, we decide to head over to Licky Chan, an upmarket ice cream parlour a cone's throw away (and also owned by Rick). You can get dessert at JOLOKO – and very good dessert, I know it is too, having had their famous Chilli Cheesecake (RM28) several times before – but we figure we could do with walking off a few of these Afro-Caribbean calories.
Oh, and that special surprise I mentioned is that JOLOKO customers can get 10% off at Licky Chan when they present their receipt (same day only). With 20 flavours to choose from, that bill might add up, so 10% will be a welcome discount.
Licky Chan practises a farm-to-cone approach with fresh ingredients from local suppliers. Lactose-free and vegan options are available – as are boozy varieties with creative uses of quality spirits and liqueurs. There's also a tattoo parlour (The Poke Guy) under their roof, so proceed with caution (or don't!) if you've had a few cocktails.
We sample pretty much everything – we suggest you do the same – before Monica and I land on Chocolate Concierge, a Dewars 12-year and Pahang single-origin Malaysian cacao blend- the perfect, soothing end to a spicy afternoon. Just about resisting the urge to poke my head around The Poke Guy's door, it's time to head home.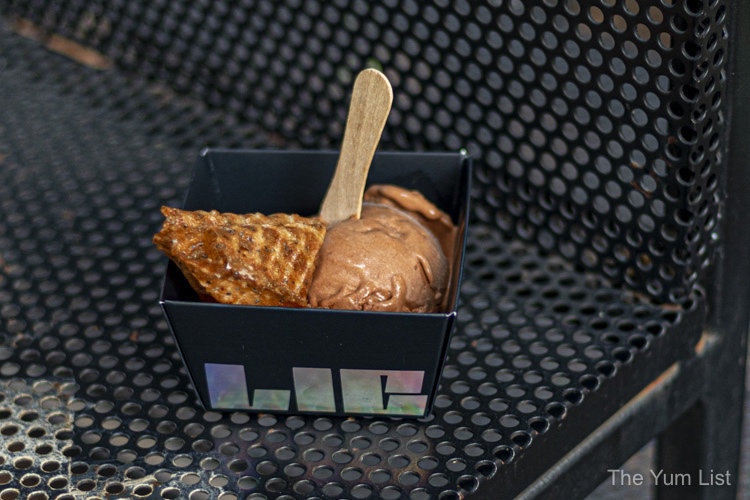 Afro-Caribbean Restaurant Kuala Lumpur Review
It's really not difficult to see why JOLOKO won the "Best Bar in KL" award in their first year of operation. From the cocktails to the cooking and the creative touches everywhere you look, it's all fun and vibrant – and with serious substance behind the spirit. Punchy cocktails, exclusive mezcals, and a thoughtful menu with a signature flavour; talk about the spice of life.
Reasons to visit JOLOKO: authentic Afro-Caribbean restaurant in Kuala Lumpur; great atmosphere for groups; some of the best mezcal in Malaysia; funky cocktail menu with twists on traditional classics; menu designed for sharing; plenty of events, collaborations and live music to keep things interesting.
JOLOKO – Afro-Caribbean Restaurant Kuala Lumpur
43, Jalan Kamunting, Off Dang Wangi, Chow Kit
50300 Kuala Lumpur, Malaysia
[email protected]
+60 11 6426 264
JOLOKO Opening Hours
Monday-Friday 5 pm-1 am
Saturday & Sunday 12 pm-1 am
Stay up-to-date with the latest gourmet and travel recommendations for Malaysia here and here.