Vertigo TOO – Kuala Lumpur
Words: Jacob Weber
Photos: Rich Callahan
I could go with one of the usual sky bar-related puns to talk about Vertigo TOO at Banyan Tree Kuala Lumpur.
Raising the bar. Sky-high standards. A new level of hospitality. That sort of thing.
But as the tallest rooftop bar in Malaysia, at 60 floors above Kuala Lumpur city centre, none of them quite do it justice.
(And I will never turn down the opportunity to use a pun, so this must be something.)
We're here to sample a few sundowners before a special dinner at Horizon Grill, and Vertigo TOO is the perfect spot to drink in the panoramic views of the capital (OK, one pun). From its prime location in Bukit Bintang, Vertigo Too offers unbroken 360° views over KL and far beyond, taking in all the skyscrapers and shopping malls and everything else that makes this city so special. It's enough to make your patriotic heart swell with pride, whether you're Malaysian or not – or even whether you live here or not. Sit back in a comfortable chair, nod along to the laid-back house music soundtrack, and the postcard-like picture is almost complete.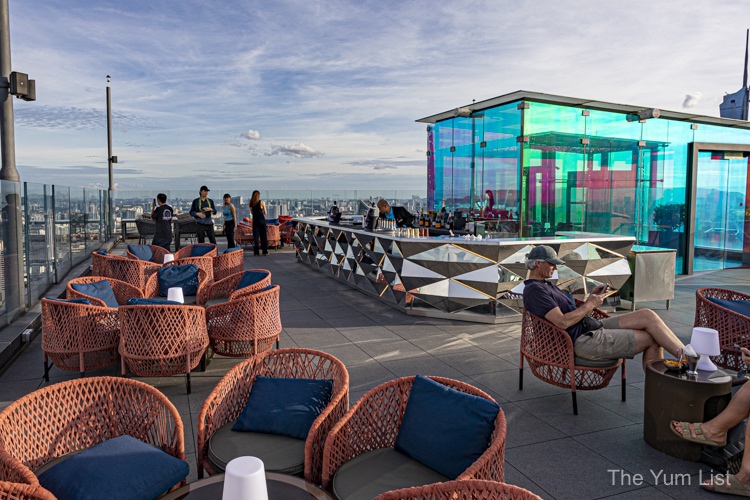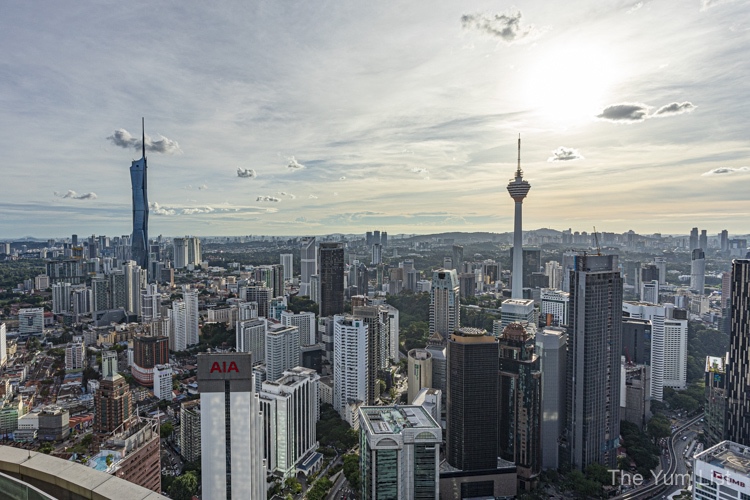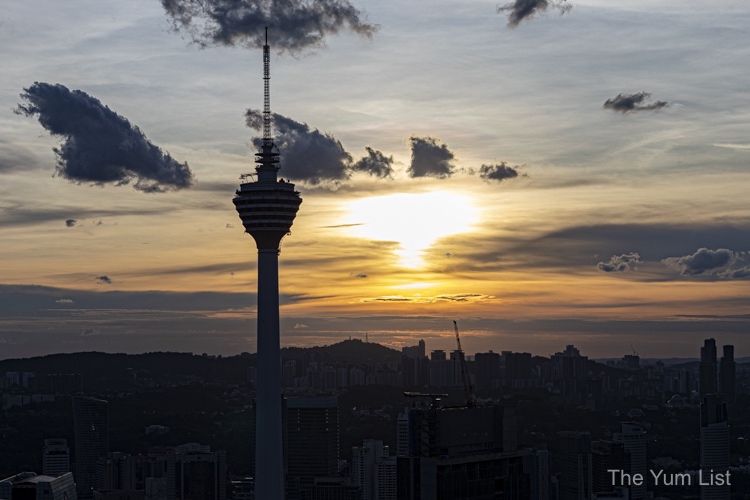 I say almost – because it couldn't be complete without a cocktail (or several). Vertigo TOO has an extensive alcohol menu, including classic international cocktails as well as locally inspired and 'flair' cocktails (plus the usual bottles of spirits and beers). We're a cultural bunch at The Yum List, so we decide to try a few locally inspired varieties, starting with the Hibiscus Collins (RM55), which features gin, orange liqueur, lemon juice, and hibiscus syrup. Its four ingredients are deceptively simple but delightfully refreshing; sweet and juicy, with the citrus taking the edge off the gin.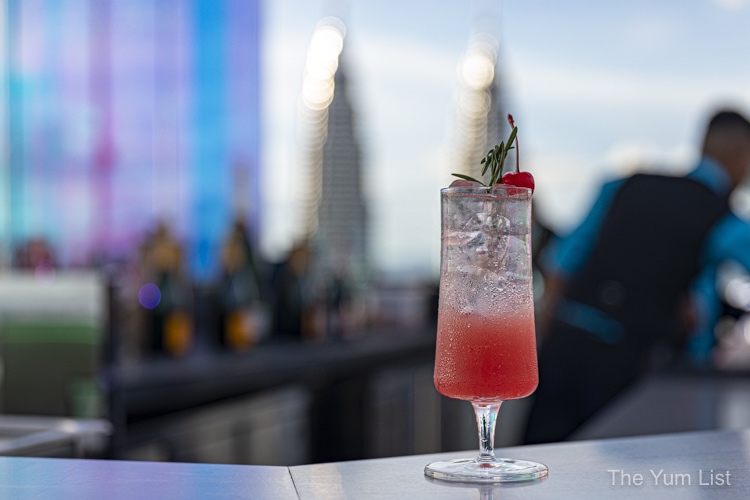 The Mount Genting (RM55) – gin, dry vermouth, lime juice, lychee and raspberry syrup, and egg white – is more complex but no less fruity, with a more floral and aromatic feeling to it. It's garnished with fresh blueberries for that Instagram-friendly finish. We can see Genting glinting in the distance, so we raise our glasses in that direction.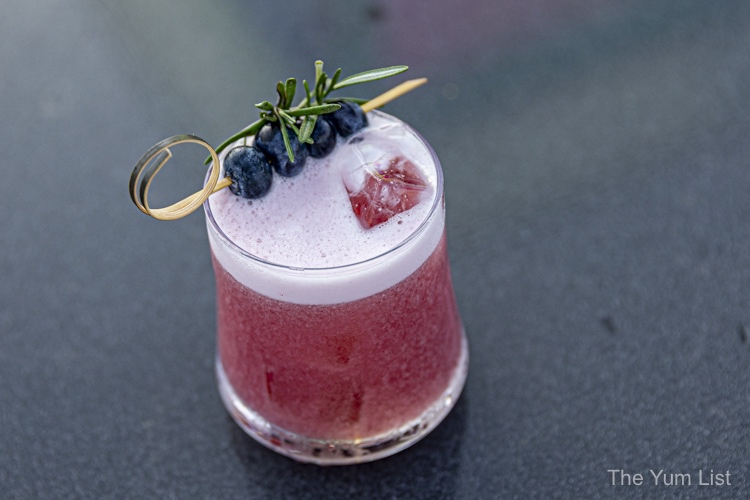 I'm not quite sure which direction Malacca is in from where we are, but I raise a toast to it anyway with the Gula Melaka Mojito (RM55). It's a traditional cocktail with a local twist, a punchy combination of rum, spearmint, soda water, and gula melaka, finished with a lime wedge.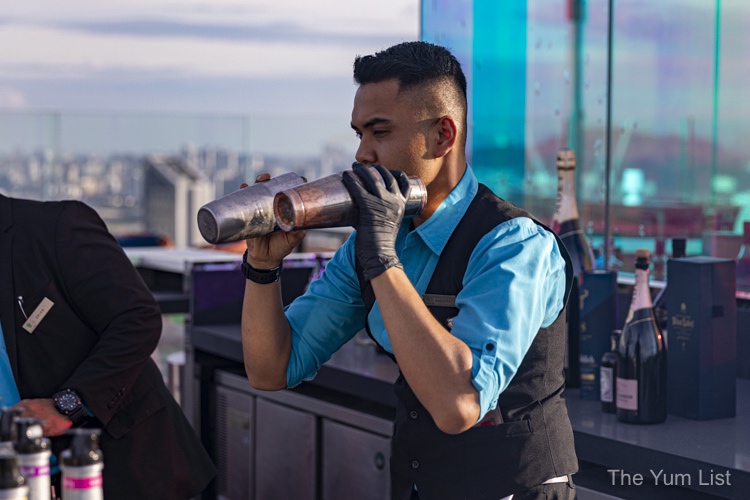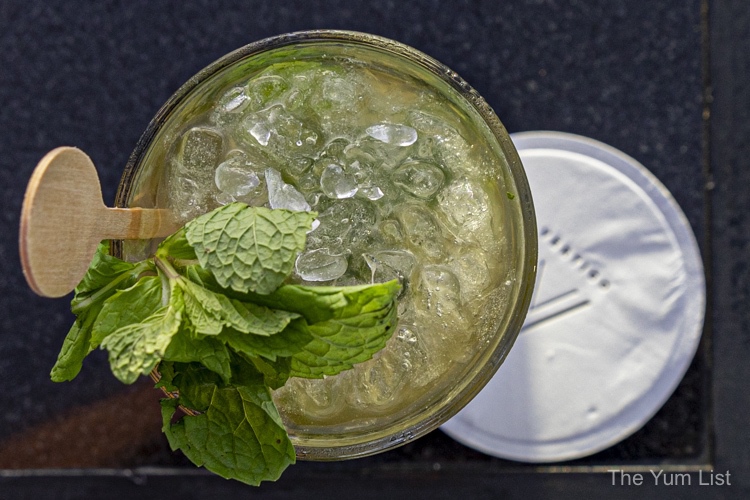 The Pineapple White Lady (RM55) works wonders with three ingredients: gin, pineapple purée, and orange-flavoured liqueur. It's tangy, tropical, and a good bet at sunset.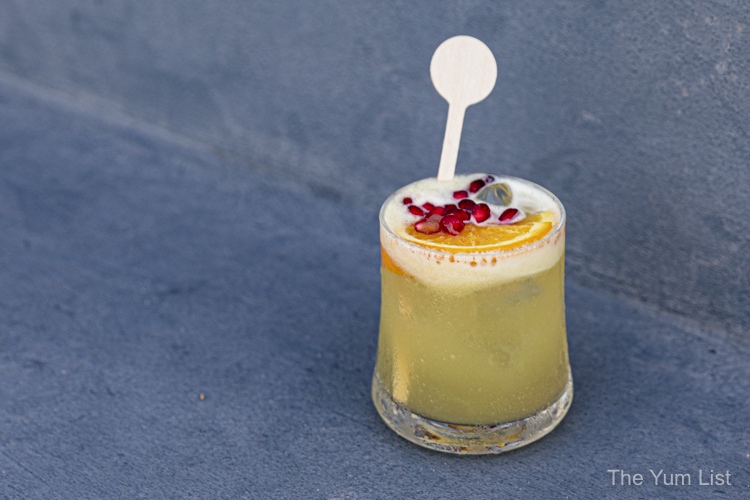 Eyes twinkling and palates primed, we're ready to eat. Vertigo TOO has proven the perfect place for pre-dinner drinks, and now it's time for the main course – or, several.
Extraordinary Menu at Horizon Grill
The Extraordinary Menu (RM1,298/pax nett; minimum 4 persons) at Horizon Grill is Chef Francesco's personal selection of his eight favourite courses from the a la carte menu – and who would know better about the best courses than him? We're quite happy to leave the menu in his hands, and the fancy black cutlery in ours.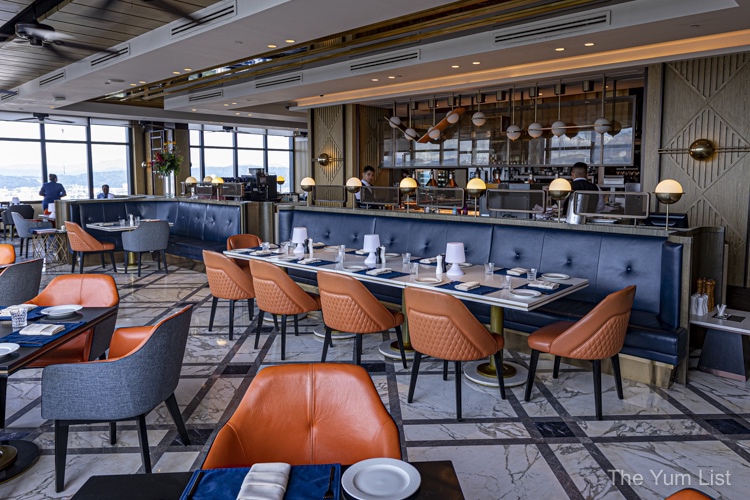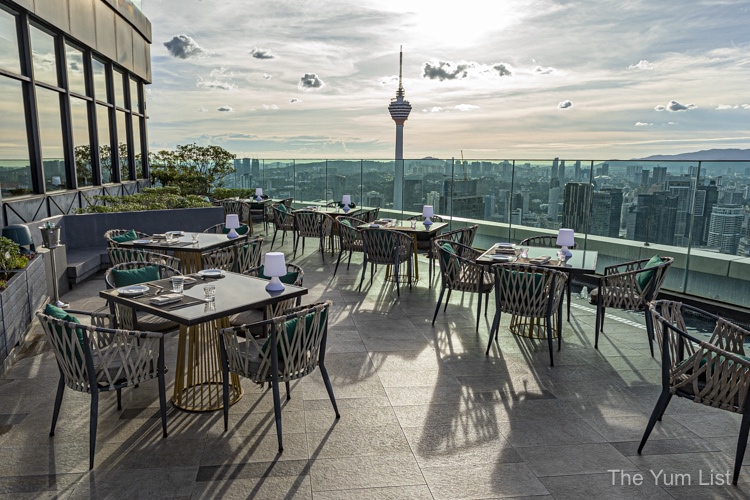 The first course, the cold appetiser, is Torched Japanese Hamachi. It's one of the more memorably presented dishes I've had the pleasure of staring wide-eyed at recently; it comes with a stunning–and edible–lattice that looks like the crown of a woodland princess. Chef just laughs off our questions and refuses to tell us how he's done it. Gotta respect that, really. The fish is fresh and meaty and tender, perfectly torched, and there's a passionfruit gel to add a subtle sweetness in the background. Shiso oil offers a little extra depth, and Kaluga caviar presents a lovely, salty, rich taste and texture on top of everything – and just to hammer home the fanciness of the whole plate. A great opening.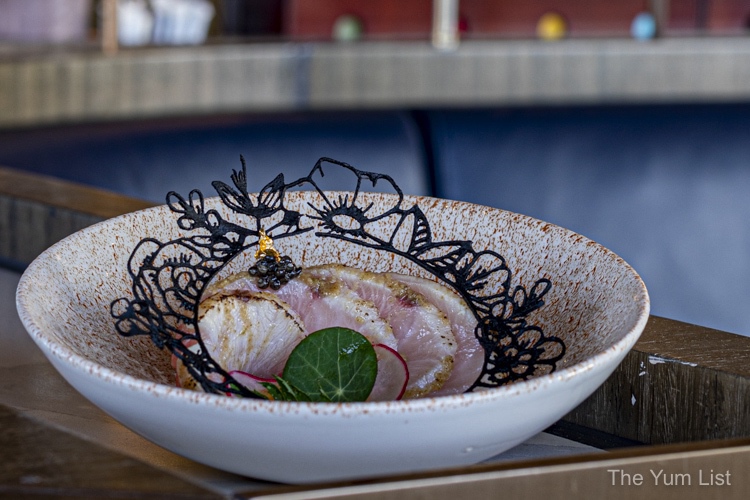 The second course is a hot appetiser in the form of a Hokkaido Scallop with artichoke, black garlic, and shaved black truffle. Cutting into it feels like an interactive art piece, revealing beautiful layers of green and black – and it tastes even better than it looks. Smokey, earthy, with a natural sweetness from the fresh scallop; a winner.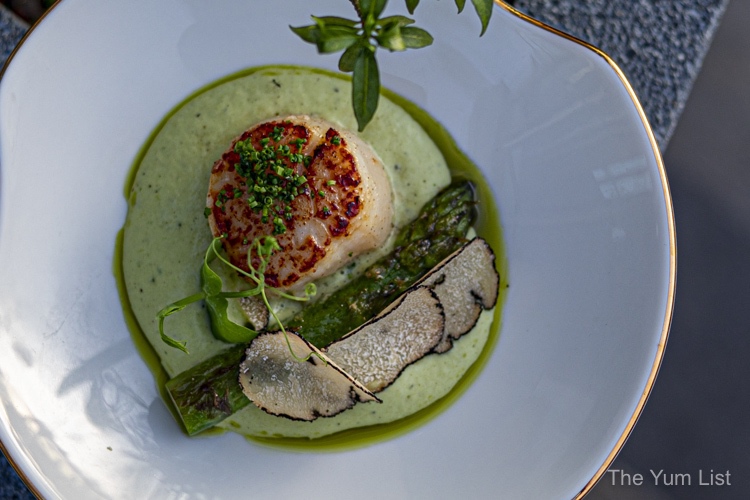 If you order in advance, you can swap out courses for vegetarian options. By this point, Rich has had a pumpkin salad and a mushroom soup, both of which were outstanding and enough to make me as jealous as could be without wanting to sacrifice my scallop.
The third course (warm appetiser) is Bone Marrow: steak tartare on grilled bone marrow with salsa verde and harissa. It's a Spanish beef – Rubia Gallega, to be precise – and one of the most sustainably sourced, free-range cuts available. It's exclusively produced from cattle indigenous to Galicia, who graze for 8-12 years in the meadows of Northern Spain. The older beef has an intense, succulent toughness to it – but 'tough' is a relative concept when you're indulging in tartare of this quality. The sauces really lift and enhance the flavour of the beef, while the marrow adds a rich depth, making the tartare taste almost sweet by comparison.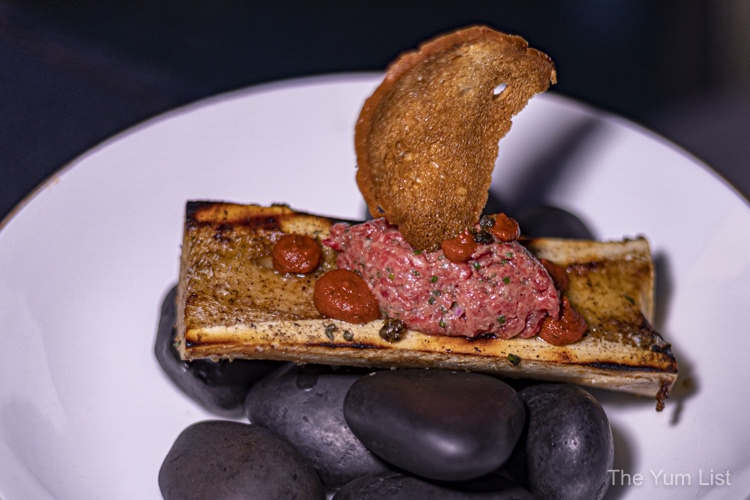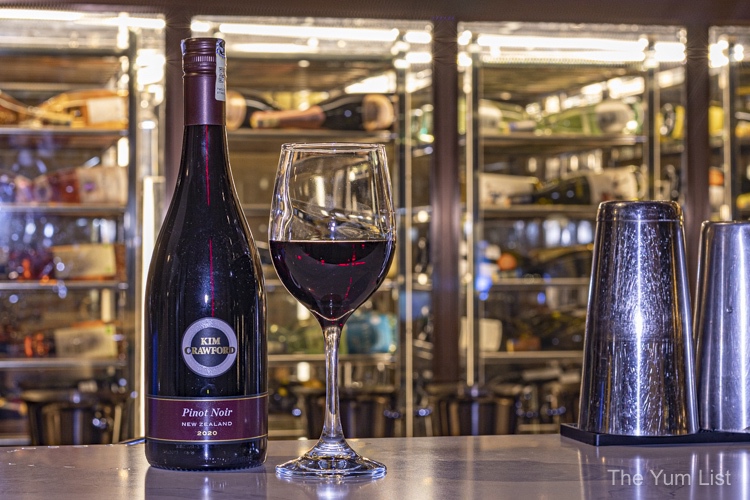 Next up, a French Foie Gras, and there's plenty going on to please the palate. Shiso oil and sorrel leaves provide a refreshing counterpoint to the rich, earthy, silky foie gras, and there's a delightful strawberry terrine to add some tangy, juicy contrast. Crispy gingerbread offers even more texture and flavour.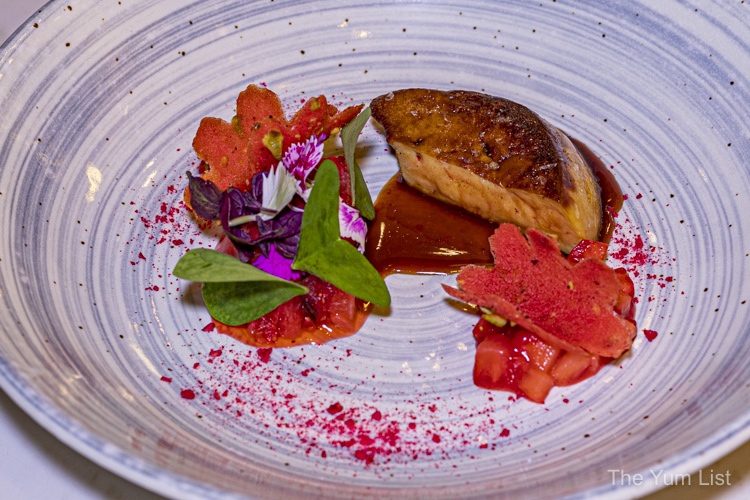 Our pasta course is Mushroom & Taleggio Ravioli with butter sage sauce, parmesan and shaved black truffle. The paste is fresh and homemade, and the mushrooms have robustness and earthiness about them that isn't too strong; intense but balanced. As every good tasting menu should, this course is doing a fine job of stepping up the flavours and the fragrances in every dish.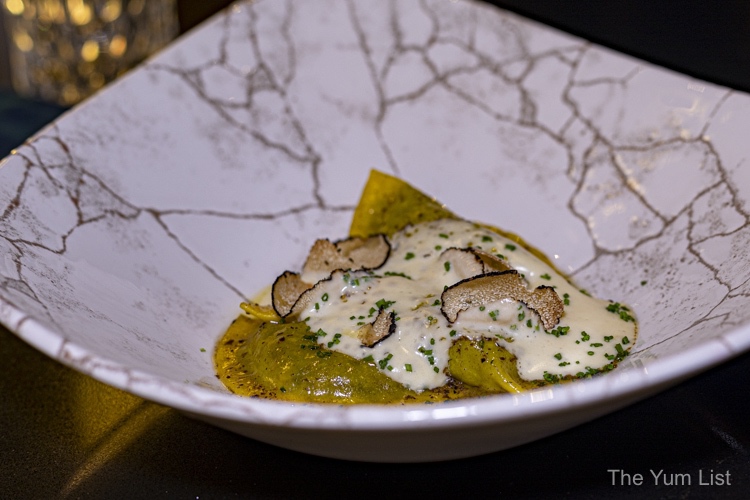 The Sabah Prawn arrives wrapped in seaweed and spinach and cooked in a salt crust, which is all rather unique. Like the scallops, it's so fresh that it's sweet, with a briny, salty layer that adds a different depth and dimension to the dish.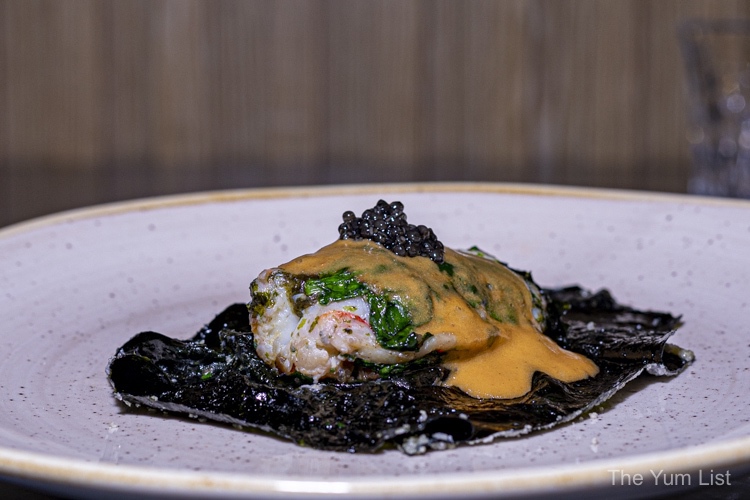 Before the main course – a Santa Maria Grilled Miyazaki Tenderloin, which I am very excited about – our waiter arrives at the table with a big smile, and a bigger box of fancy steak knives. He invites us to choose our weapon from the shining selection of sharp blades, and we're only too happy to oblige.
The steak itself is so beautifully cooked that I could have probably cut it with a spoon, but the knife comes in handy anyway because there's plenty more to slice and dice. The creamy potato pairs well with the sauteed Hohohotake mushroom, and there's a great char on the leek. Morel sauce and shaved black truffle bring everything together in delightful harmony.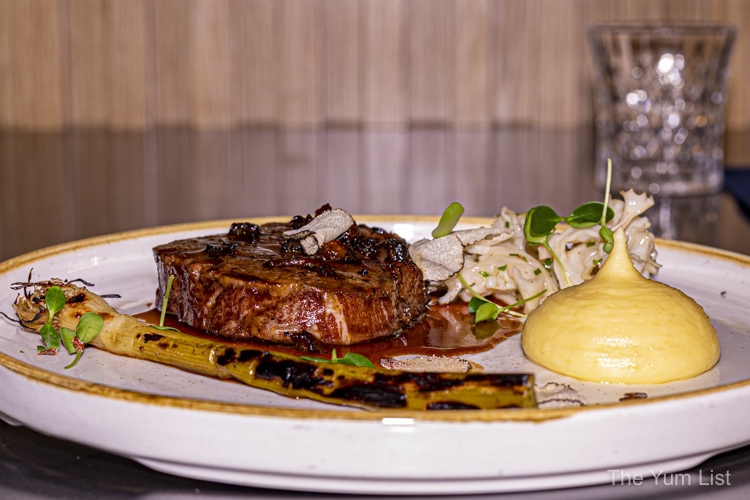 For dessert, we have a classic French Rum Baba, a spongy cake soaked and infused in a sticky, boozy white rum syrup and topped with a Madagascan vanilla bean whipped cream. Decadent and delicious, the first spoonful is enough to immediately silence the table and leave us all staring at our plates for a few seconds.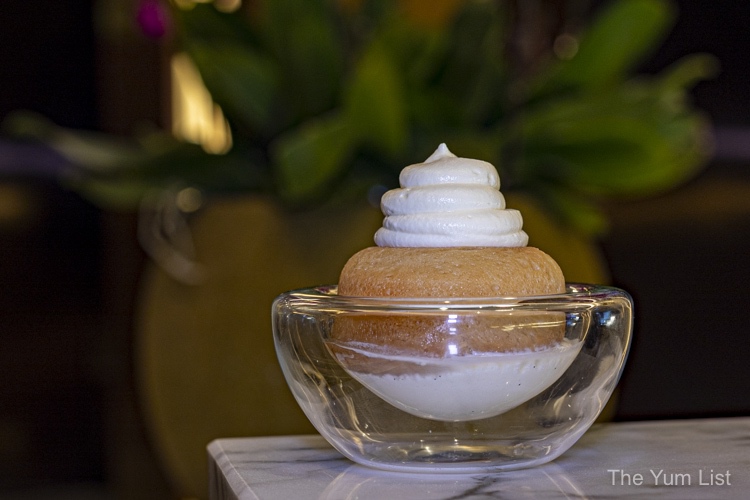 Fine Wines at Horizon Grill
We're feeling fancy in this beautiful restaurant, so it's only fitting that we try some fine wines to pair with the food. Monica is always partial to a rosé, so we have a Coteaux d'Aix-en-Provence Rosé from the Domaine de la Chapelle Saint Victor winery in the south of France. It's light and bright, slightly on the dry side and beautifully balanced with summer fruits and citrus notes. Strawberry and watermelon mingle with lemon and grapefruit, and there's a lovely crisp finish.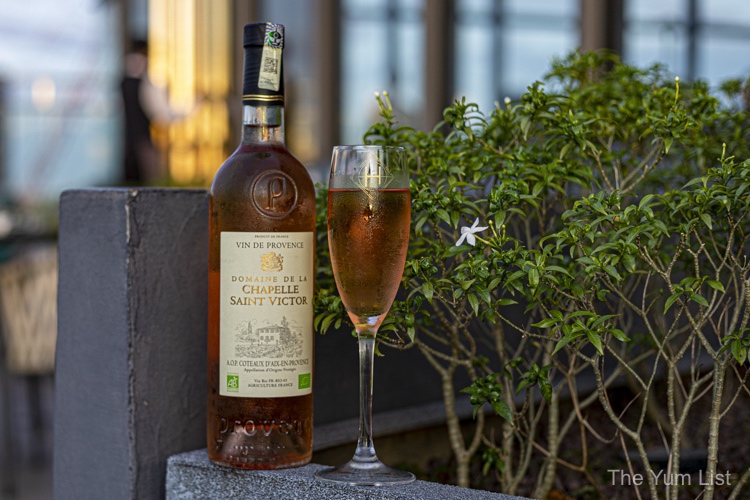 And for the steak course; well, if we're picking out personal steak knives, we have to select a suitable red too, right? The El Abuelo de Piqueras Crianza 2019 is a bold vintage, with red fruits and cherries on the nose and an oaky finish with tobacco and dark chocolate notes. This Spanish wine pairs perfectly with our Spanish beef.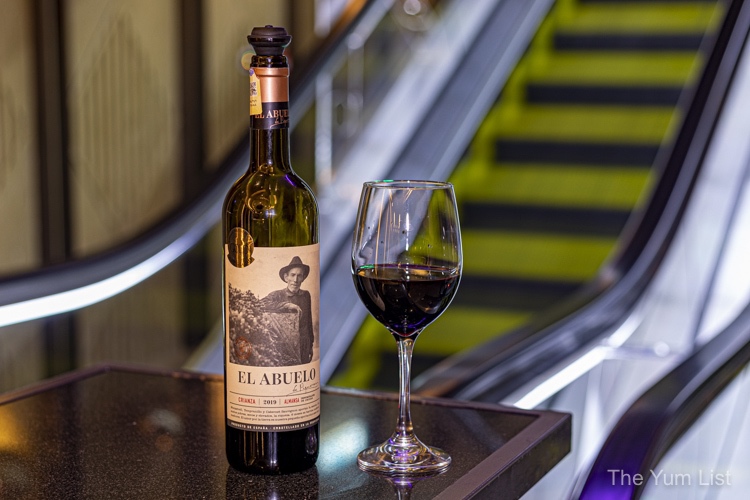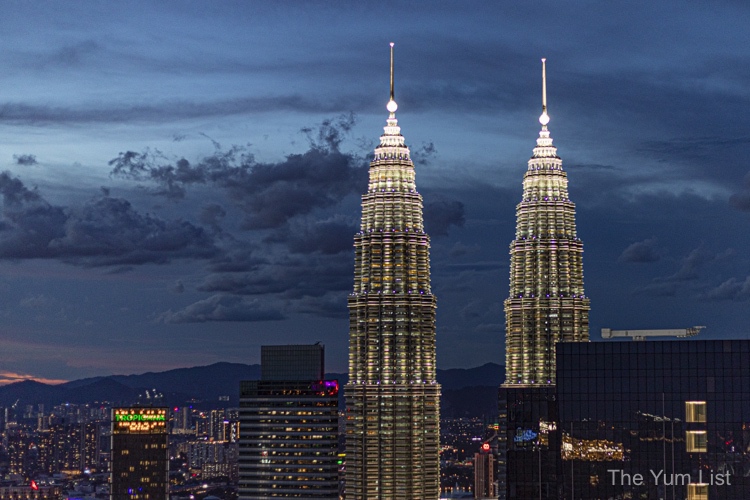 Vertigo TOO & Horizon Grill Review
I won't name any names, but let's be honest: there have been a few high-altitude establishments vying for attention in KL over the years, but none have really nailed it. Sure, they're fine to take out-of-town visitors for their first evening – but how often do you go back with your local friends?
Banyan Tree Kuala Lumpur feels different.
Vertigo TOO is a cool, colourful rooftop space that doesn't feel like a tourist trap or something to tick off a TripAdvisor list. It's not a mass-market menu – some thought has gone into these locally-inspired cocktails and luxury bar snacks. And bonus points: Banyan Tree Kuala Lumpur prioritises locally-sourced and sustainably-produced ingredients, including seafood from ethical and responsible fisheries. That gets an extra thumbs up from The Yum List.
The Extraordinary Menu at Horizon Grill is just superb; a well-paced and beautifully balanced gastronomic experience, a medley of flavours and textures and indulgences. Just make sure you book a table by the window because this view really is spectacular.
Reasons to visit Vertigo TOO: highest rooftop bar in Kuala Lumpur, with unbroken panoramic views; Instagram-friendly handmade cocktails with local ingredients; luxury bar snacks; great atmosphere and service.
Vertigo TOO
Level 60, Banyan Tree Kuala Lumpur,
2 Jalan Conlay, Kuala Lumpur, 50450 KL
Vertigo TOO (Kuala Lumpur) Opening Hours
Daily 6 pm–12 am
Horizon Grill
Level 58, Banyan Tree Kuala Lumpur
2 Jalan Conlay, 50450 Kuala Lumpur, Malaysia
+6 03 2113 1821
[email protected]
Horizon Grill Opening Hours
6:30am – 10:30am (Breakfast)
12:00pm – 2:30pm (Lunch)
6:00pm – 10:30pm (Dinner)
Find more restaurants for special occasions here, and stay up-to-date on KL's food and beverage scene here and here.