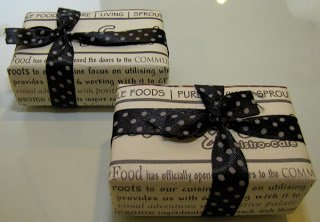 This chemical and preservative free is soap is made from the Sarawakian dabai or gana – a unique mini avocado like olive looking fruit found only in Borneo. Renowned for its high antioxidant, phenolic, magnesium, calcium and good fatty acid content, they're not only edible but make a creamy soap perfect for sensitive skin. These soaps don't bubble and froth like your typical chemical laden soap, but they will leave your skin feeling clean without any nasty reactions to an artificial base.
Sarawak Laksa made from organic black noodles, bundles of fresh veges and prawns also from Sarawak. Just as you'd expect from Living Food, everything is made from scratch containing no MSG or preservatives. Of note is the accompanying sambal made, not from fried seafood, but from organic fermented soy beans.
Delicious mixed plate of nut creams and crudites. In the foreground the divine almond butter with dates and buckwheat granola. Dare I say the sweet heavenliness of this combo could even be a replacement chocolate?
Sandwich on organic whole grain bread with fresh coleslaw (no mayonnaise) and a sesame dressing.
Raw Hawaiin Pizza – incredibly addictive with a flax seed base, nut spread and mix of fresh, semi dried and marinated veges.
Popular breakfast – the buckwheat granola with fresh fruit and almond milk.
Raw sandwich, avocado, semi dried tomatoes, fresh greens.
Thick refreshing Revive juice.
Cheesy breakfast omelette.
Mushroom patties.
Trio of zucchini.
Segafredo coffee.
New look to their raw pancakes.
Tumeric rice with pomelo salsa, crunchy soaked sprouted dehydrated almonds and trio of organic rice featuring, the difficult to obtain, black rice from Barrio in Borneo.
Wild ferns from Sarawak with a deliciously sweet and tangy dressing accompanied by pomelo salsa.
Raw choc orange brownie. Crumbly and dreamy.