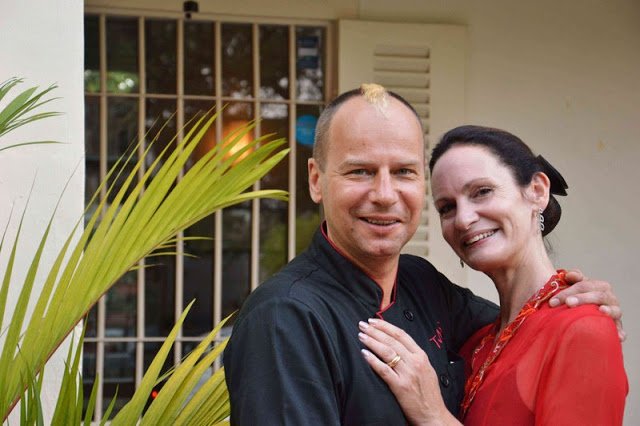 Chef Tommes and Louise
Celebrity Chef Tommes and his lovely wife Louise tell The Yum List about their journey together in creating That Little Wine Bar.
What do you both do and how did you get into the industry?
Tommes: I am Chef and Owner of That Little Wine Bar. Irrawaddy Fine Foods, and The Penang Pork Company. It is all Louise's fault that I got into the business. She bought me lessons at one of the best Culinary schools in New York for a birthday present and I became hooked! Before that I had worked in the corporate world, and as an artist and sculptor. Louise helps me out with marketing, business strategy, admin and emotional support when things are stressful.
What's the concept behind That Little Wine Bar? How/ why did it get started?
Louise: We were living in China and knew we wanted to stay in Asia for the long term, but not in China. We discovered Penang, fell in love with it, bought a heritage house and renovated it, with the aim of using it as a holiday home to take occasional breaks from the noise and pollution in Shanghai. But then Tommes noticed a vacant shop house opposite and started thinking… Why not open a wine bar with surprisingly good food, comfortable, welcoming, cosmopolitan… the kind of place that we like to hang out in ourselves, and just across the street from us?…
Where have you lived around the world?
Tommes: I started out in Germany and was posted to France by the company I worked for, Philips. Louise (who is English) also worked for Philips at the time, and was also posted to France. She had just returned from Singapore then. So that's where we first met. But then I got posted to Dubai and she stayed in France so we had a long-distance relationship for a year or so. We then moved to New York together, which is where I changed careers and became a Chef, then to Shanghai and now to Penang. And we have no plans to move again!
Share with us an interesting story from one of your postings.
When "That Little Wine Bar" was still very young and staff had still a lot to learn about wine a customer asked for wine recommendations and pointed at the wine list "…and how is this wine?". I told my staff never to lie to people or make up stories, but ask the sommelier if they didn't know something. But this time the waitress said: " Sir, I really don't know about this wine … but Chef drinks it every day so it must be good !" The customer laughed, ordered and had a good time.
What's the best/ worst part of your job?
Tommes: best part – seeing the smiles on customers' faces when they are having a nice relaxing evening and enjoying the food. It's a really nice thing to make people happy like that.
Louise: worst part – we are always working when other people are out having fun in the evenings!
What's your favourite Malaysian food?
Louise: We are both big fans of chicken rice, and have our favourite hawker stall at the centre just down the street. We eat there at least once a week and always order the same thing!
What's your favourite meal at That Little Wine Bar?
Tommes: Well, often when we eat at the wine bar we are trying some new special for the menu, but otherwise it's the comfort food items. For me that would be my home-made pork sausages and for Louise, the mushroom quiche.
Louise: The mushroom quiche has been on the menu since we opened over three years ago. Customers sometimes say to me "Louise, I am so boring, every time I come here I order the same thing because I know I love it". I reply, don't worry, I do exactly the same!
What's your perfect food and wine pairing?
Tommes: My wife 🙂
What can guests look forward to from That Little Wine Bar in 2013?
Tommes: Consistency in service and in food. Some new interesting dishes, some fun food and wine pairings and a new TV show on AFC.
Thank you Tommes and Louise! The Yum List is looking forward to checking out your lastest show and new dishes this year.
Previous posts on their restaurants: