*** Sadly, La Mexicana is now closed.
It's no secret that I love the entire eating experience at La Mexicana: authentic cuisine from all over Mexico, (not the Tex Mex variety that most people identify with the country); friendly servers that remember your last visit; a great atmosphere highlighted by colour and indigenous crafts; some of the best Margaritas, Mezcal and Tequila selection in town and; the convenience of being walking distance from my home.
Happy Hours have never been happier. Mondays to Fridays, from 5 to 8pm, diners can escape the traffic and indulge in two-for-one Margaritas. Their classic Margarita is a must, but this month too sees a creative introduction already proving popular. The Margarita Jamaica utilizes the basic ingredients of Tequila and lime, but is given a zang of colour with the roselle (hibiscus) flower.
The list of homemade tortilla-based dishes is increasingly impressive. Tacos al Pastor are the most recent inclusion.  These popular late night snacks are sold on many a street corner in Mexico. Pork is marinated in adobe and roasted on a vertical grill, similar to Middle Eastern kebab meat preparation. The tradition on the
streets is to hang a pineapple above the meat. As customers place orders, the skilled cook, slices meat into an open tortilla, then, with a lightning speed flick of the knife, carves a wedge of fruit and catches it in the folded tortilla. Listo! La Mexicana's version however, comes minus the theatrics, but plus the hygiene.
The Gringa, so named because it's made with a white wheat tortilla instead of the yellow corn, features a similar filling as the Tacos al Pastor but is folded with the incorporation of melted queso estilo Chihuahua (combination of cheeses).  Salsa verde sides both.
The fantastic thing about Mexican food is that there are so many varied reactions in your mouth depending on the chilli used. Some hit the back of your throat, some clear your sinuses, while others envelop your entire
mouth. Huarache Pacifico had hubby and I fighting over the last mouthful. This corn tortilla is shaped in the form of the sole of a sandal and topped with mixed seafood and cheese. The chilli in this dish hits your tongue after you've swallowed and lingers on its tip, finally, well after the last bite has been swallowed, it disappears from the inside of your lips. A dark cream made of chilli chipotle adds even more zoom.
Crepes de Huitlaconche a la Crema de Chilli Poblano is another item added to their meat-free options. Filled with hongos, the fungus that grows on corncobs – a delicacy in Mexico – and showered with a sauce of Brie and chilli poblano, it's a dish vegetarians will salivate over.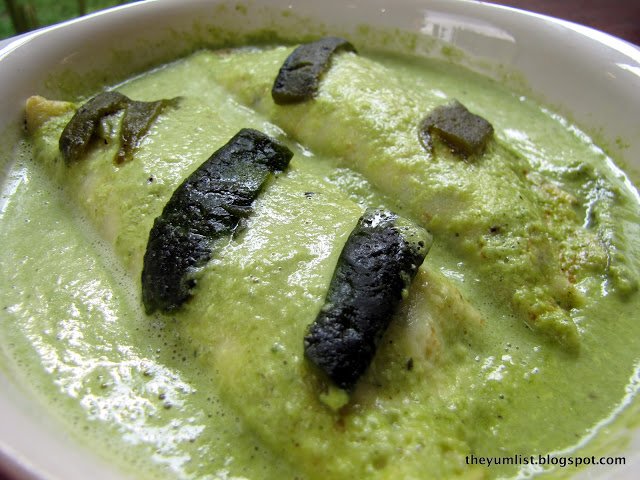 Crepes de Cuitlacoche a la Crema de Chile Poblano
Camarones a la Diabla con Chili Morita are a classic. Pan fried in oil, garlic and dried morita chilli, this dish packs a punch, especially if you munch directly on one of the dried chillies. Sided with triangles of tortilla, this is the ultimate "anytime" dish.
Jalapenos Rellenos de Ensalada de Atun are sure to please true Mexican cuisine addicts and newbies to the region as well. I imagine my Malaysian buddies going ga-ga over these zappy two bite size crescents. Pickled green chillies are filled with almonds, corn kernels, tuna, cheese, capers and onions. They're another great snack or appetizer.
Enmoladas de Pavo had to appear sooner or later on the menu. The renowned mole sauce, made from a
complex blend of spices and chillies, with a base of chocolate, smothers a bowl of enchiladas filled with shredded turkey. Homemade cubes of cheese and onion rings garnish the top.
Pastel de Tres Leches completes the new menu items with a sweet fresh finish. This three milk cake uses whole milk, evaporated milk and condensed milk to create a wet layered sponge cake. Divided with a nut mash, coated with a Chantilly cream and, dressed with bright orange peach slices, this traditional Mexican dessert is a masterly finish.
Reason to visit: authentic Mexican cuisine, a good variety of vegetarian dishes, two-for-one Margaritas, easy parking.
Terrace at Hock Choon
Jalan Nibong (off Jalan Ampang)
Ampang, 50450 Kuala Lumpur
Malaysia
+6 03 425 35251