The Fullerton Bay Hotel, Singapore
Backed by Singapore's business district, sided by the art and culture scene, neighboured by shops, restaurants and entertainment, and nestled itself in the historical heart of Singapore, The Fullerton Bay Hotel is on one primely situated piece of land. Oh, did I mention too, that it's on the waterfront? This boutique hotel not only trumps the deck with its position, but carries through to be an all round winner in terms of contemporary luxe design and service to match.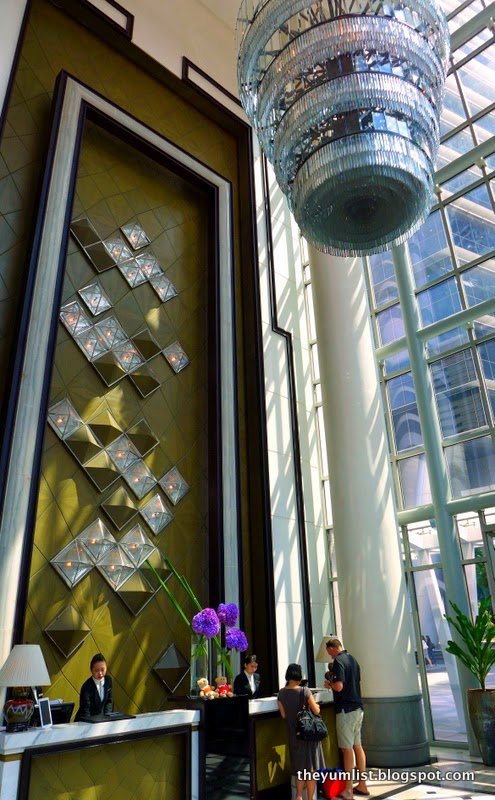 Towering Reception
Chic Rooms with a View
Knowing all too well they have a fabulous location, The Fullerton Bay Hotel takes full advantage of its bayside spot with floor to ceiling windows and private balconies primed perfectly to capture the stunning scene of Marina Bay. Evolving from a morning picture of calm, to an afternoon dotted with sailing boats and joggers, and finally to a dazzling evening lit by the nightly laser light show, the outlook is continually engaging.

Panorama from Bay View Room
Despite being in the middle of the action, double-glazing of the glass ensures that the vistas are seized, but the outside noise is not. Bay View Rooms are located from levels two to six, meaning morning rousings are greeted with shimmering water views that you don't need to get out of bed to admire.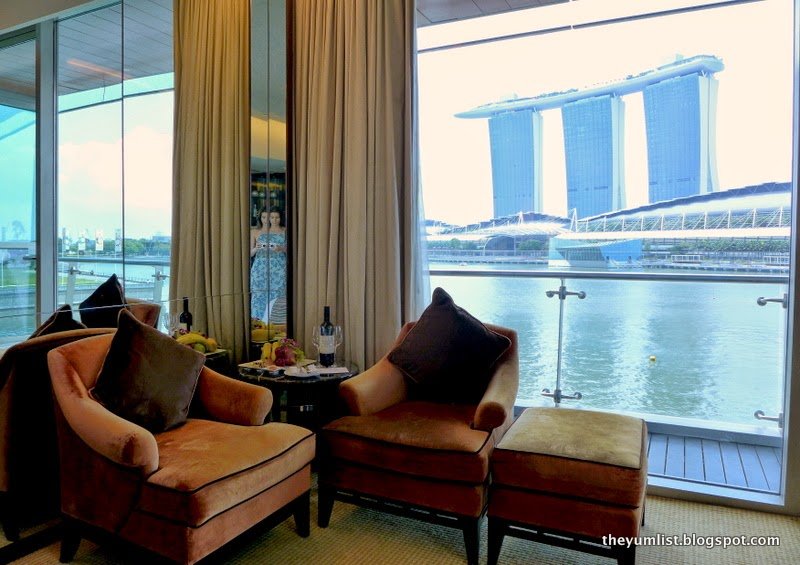 Lounge in Bay View Room
Mini bar amenities have nabbed the attention of us both. An espresso coffee machine makes me smile and hubby is already shuffling through the selection of Gryphon tea bags. We particularly like this brand as it's local and we've seen some experimental flavours in the stores. Hubby is fingering to see if he can find a Chai, while I'm wondering if there's any Gold Dust in this mix.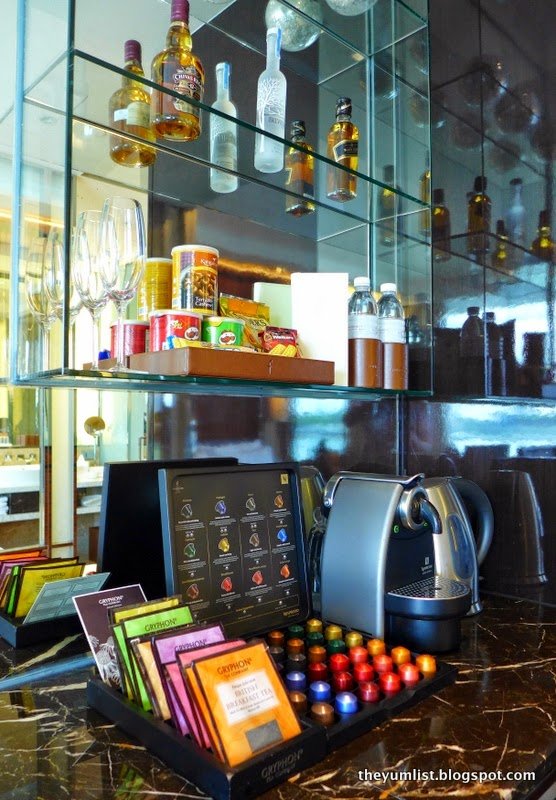 Hot Beverage Making Facilities
A finer sleeping experience couldn't be imagined. Our king-sized bed is dressed with the best of Egyptian cotton quality linens and 100% goose down pillows and duvet. We can customize our sweet dreams with pillows of our choice too. Hubby chooses the Buckwheat Pillow, which claims to provide natural air circulation with individual hulls, and I experiment with the Micro-Gel Pillow consisting of millions of microfibers that gently cradle the head and neck.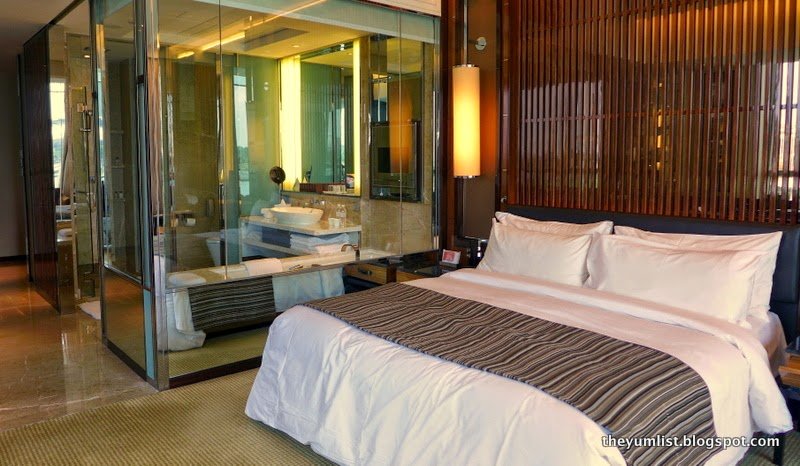 Bay View Room
The bathroom smells divine and we soon discover why. Customized Bvlgari Red Tea collection bath products await our use. I dive in and slather some body lotion on my dry hands and, hubby decides rather quickly that he needs a shower. "Smelly from the travel," he justifies. Shutters and sliding doors open or close off the bathroom as desired and, the plentiful hanging space for robes and/or towels is much appreciated too.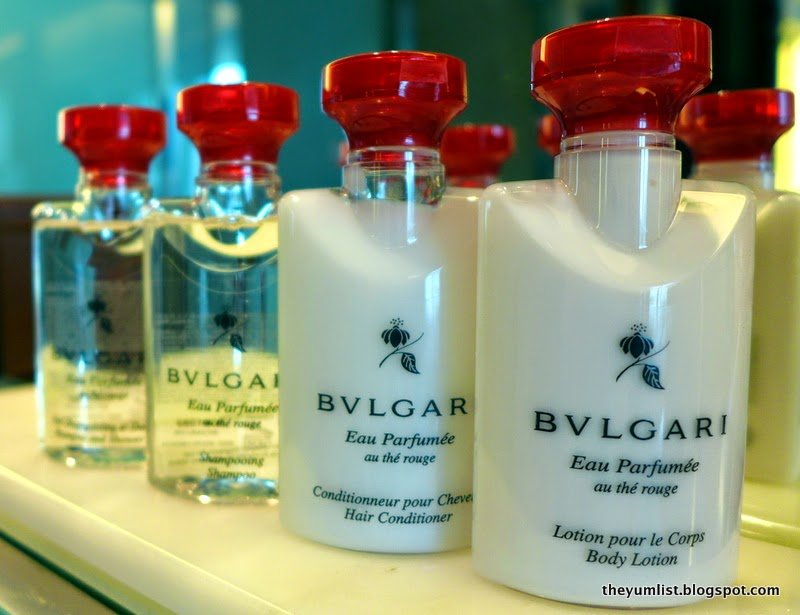 Bvlgari Bath Products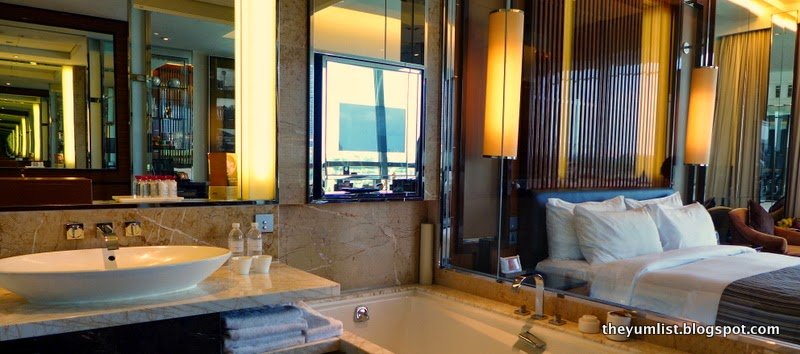 Bay View Room
Speedy Wi-Fi, electronic safe, hair dryer, pay-per-view movie channels, TV et cetera are all expected and provided. The 19-inch LCD TV in the bathroom however is a surprise and positioned perfectly to encourage just a little extra soaking in the tub while catching the end of the footy or the latest love affairs on your favourite soap opera. The shoeshine service is another small but important detail we're particularly fond of, especially after a number of days on the road.
Dining in Style
Four unique outlets satisfy hunger and stimulate the senses at The Fullerton Bay Hotel. Harbour front dining is at its most luxurious at Clifford. Magnificent windows frame the bay, presenting diners with premium views in air-conditioned comfort. An al fresco terrace and private dining room allow choice of setting in this modern French American brasserie.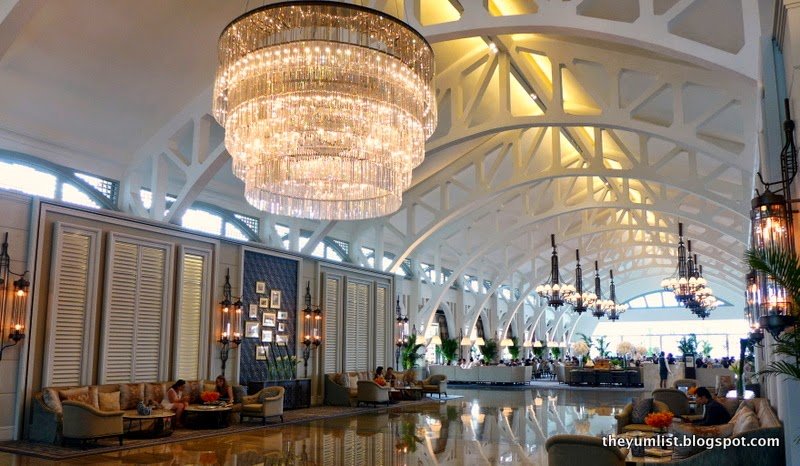 Lobby, Clifford Pier
A very upscale take on a lobby lounge and bar is seen in The Landing Point. Vintage style furnishings featuring wingback upholstered chairs and ball-turned legged coffee tables line the marble promenade. Lighter fare, afternoon tea and cocktails are predominant orders, but a Jazz Chocolate Buffet Friday and Saturday evenings sounds enticing enough to be on our 'next visit' list.
Lantern, The Fullerton Bay's rooftop bar, competes only with its sister hotel,
The Fullerton's Lighthouse Bar
, for first place in the competition for "Best Rooftop Bar in Singapore." There are a number of others around, which I won't name, that tower down over the city competing to be the highest, but they lack the exclusivity and 'so close to the view I could touch it' nature of the Lantern. A sunset glass of bubbly is a most suitable appointment.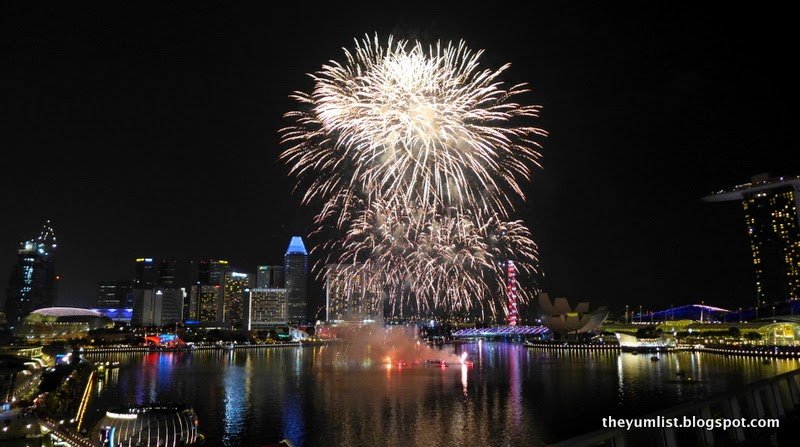 Fireworks Viewed from the Lantern
The most recently launched (May 2014) destination restaurant, The Clifford Pier, is also one of the city's oldest landmarks. Built in 1933 as the jetty for arriving ships it was originally surrounded by a sense of exploration and pioneering. Hawkers would vend their food from sampans to the newcomers and, later a car park next to the pier was converted into a hawker centre. It's with this spirit that the menu of The Clifford Pier is
designed.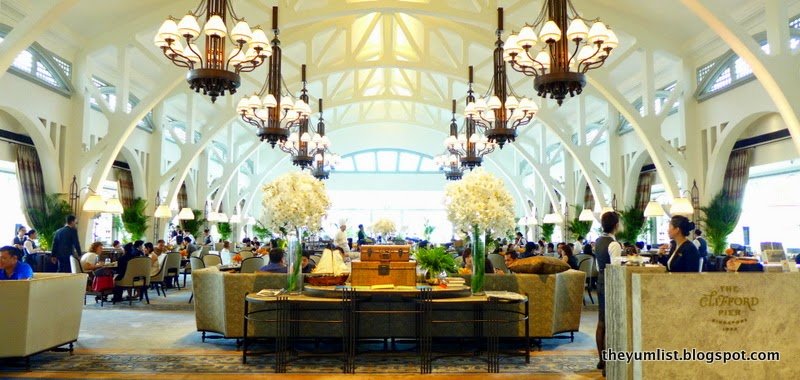 Clifford Pier
Singaporean classics and reinterpretations of dishes introduced by immigrants from both the region and western cuisine can be found on the extensive menu. We try a number of mouthwatering temptations at The Clifford Pier. 
Check out what we recommend here.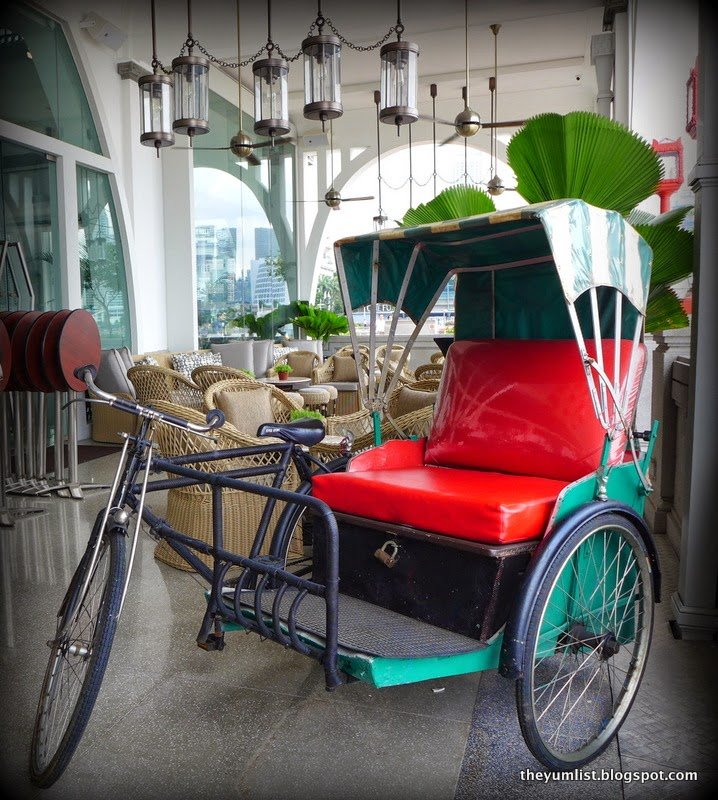 Trishaw on Clifford Pier
Wellness
Gymnasium
The round-the-clock gymnasium sounds my exercise radar. I'm an early riser and those gyms that don't open until 7am don't make me very happy. The Fullerton Bay Hotel's fitness centre however is open 24-7. Up-before-the-birds me, and night owl hubby are both content with the opening hours. What rocks our boat even more is the use of TechnoGym machines – cutting edge equipment enhanced with individual monitors and the possibility to hook in and track your progress. The outdoor deck too is a fine touch bestowing the opportunity for a stretch (or yoga, or whatever you please) in the fresh air.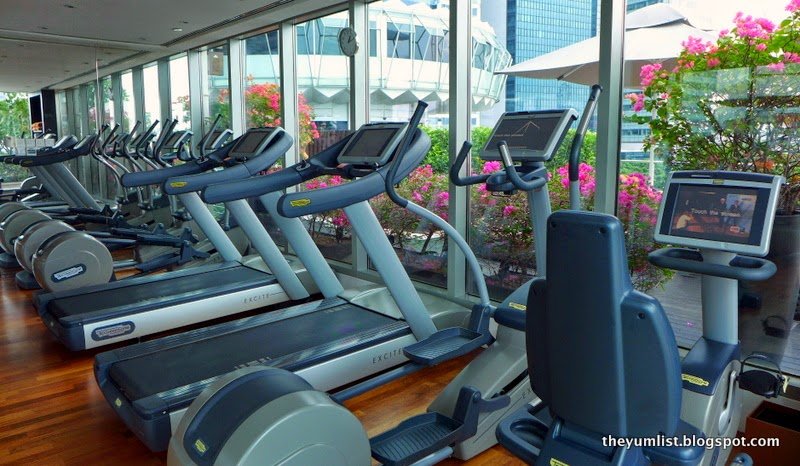 Gymnasium
Rooftop Pool
Bordered by a wooden deck and lush tropical plants, the lengthy rooftop pool is a wonderful setting for winding down after a day of business, play or exploration. Its waterfront location means the views are all yours and, sunset is a particularly pretty moment to behold. Once darkness has fallen over the city, the nightly light show projected from Marina Bay Sands provides a spot of diversion. What could be more magical than a dip in the pool, cocktail in hand and a dazzling spectacle of laser entertainment?

Rooftop Pool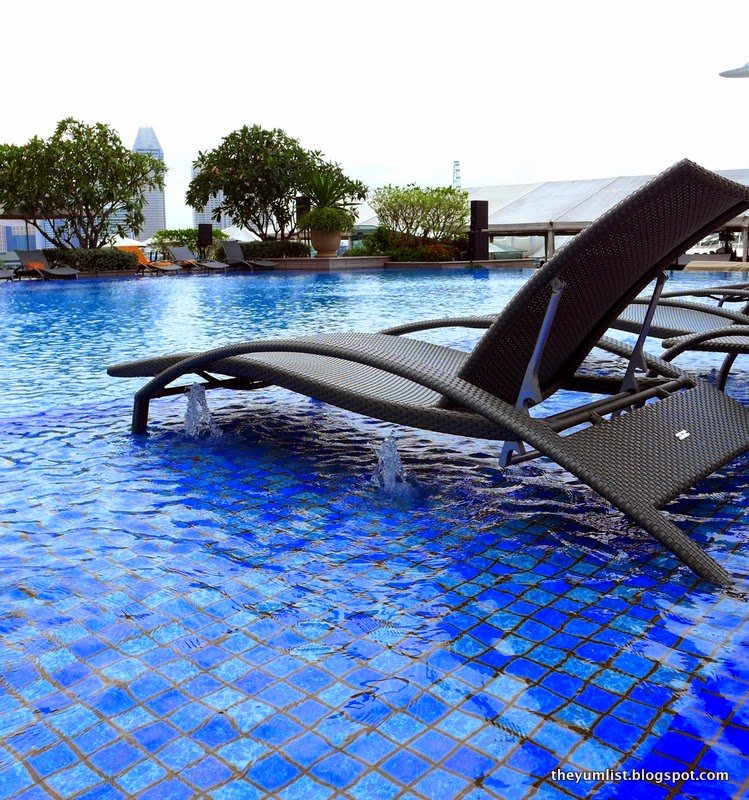 Pool Chair
Round the Clock Service
From start to finish we feel well looked after at The Fullerton Bay Hotel. A limousine, stocked with moist refresher towels, chilled water, magazines and newspapers, picks us up from our first and delivers us to our next destination. Staff accompany us personally to our room and include a tour of where to find important things such as light switches and air conditioning controls. Delivery of all of our requests (pillows, fresh milk, water, ice) are carried out within 10 minutes of the first call. A smile and kind word are never absent from even one of the staff, including cleaners, waitstaff, bellboys, receptionists, chefs and management.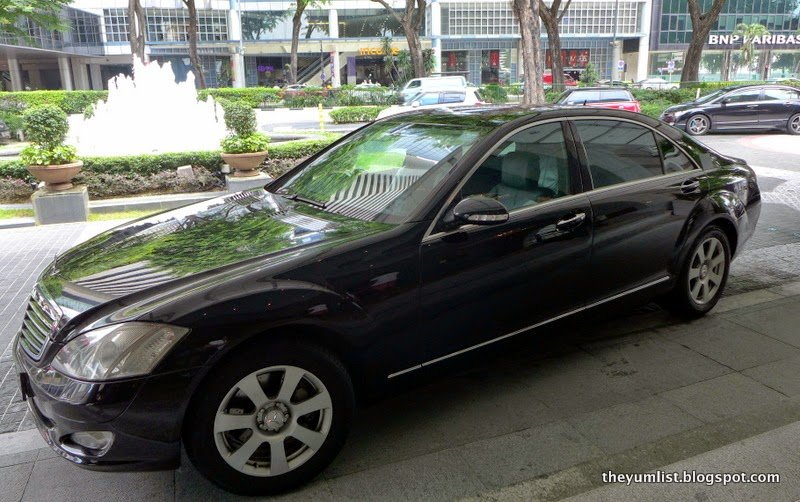 Limousine Transfer
The Fullerton Bay Hotel is one of the most luxurious in which we've stayed in Singapore. Acing it in terms of food and beverage, amenities, service and location, it's an experience not to be missed.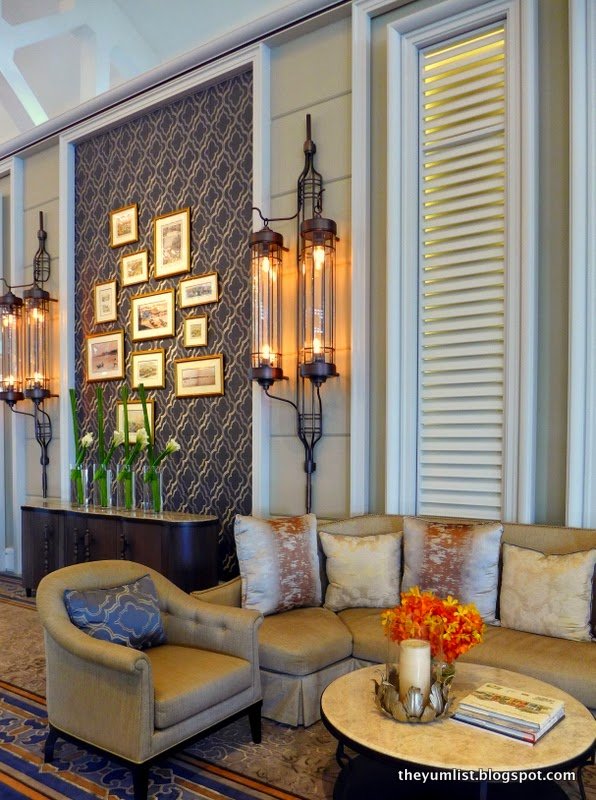 Lobby
Reasons to visit: stunning and convenient location; stylishly chic boutique hotel; great rooftop bar and; lush dining options.
The Fullerton Bay Hotel Singapore
80 Collyer Quay
Singapore 049326
+65 6222