You'll Never Want To Leave The Peninsula Bangkok 
Words: Han Sen Hau   Photos: Monica Tindall
It's half past nine on a Saturday night, and I'm but a capricious hotel guest wishing to take a ferry across to the famed Asiatique whose bright lights twinkle like stars reflected along the river of kings. I head to concierge and inquire about the boat service to the mall, but the only one that leaves for the Asiatique had departed much earlier in the evening.
"No worries," the concierge assures me, "we are still able to ferry you across to the Saphan Taksin pier where you can catch another boat."
"Oh good, would I have to wait for a few more passengers before we depart?"
"No sir."
Five minutes later, I was the only passenger in a boat with a capacity for 30 en route to a pier across the river. Unnecessary squander of diesel or impeccable service? Regardless, I was most definitely impressed (and a little conscience-stricken for I've never made anyone ferry me across anywhere quite like that) by the hotel's commitment to ensuring their guests get what they want and where they need to be in full Peninsula style. So what do I do? Run to the hull of the boat, pretend I'm Jack Dawson on the Titanic, bellowing "I'm the king of the world!" as the boat putters across the Chao Phraya.
Of course I didn't, that would've been unsightly.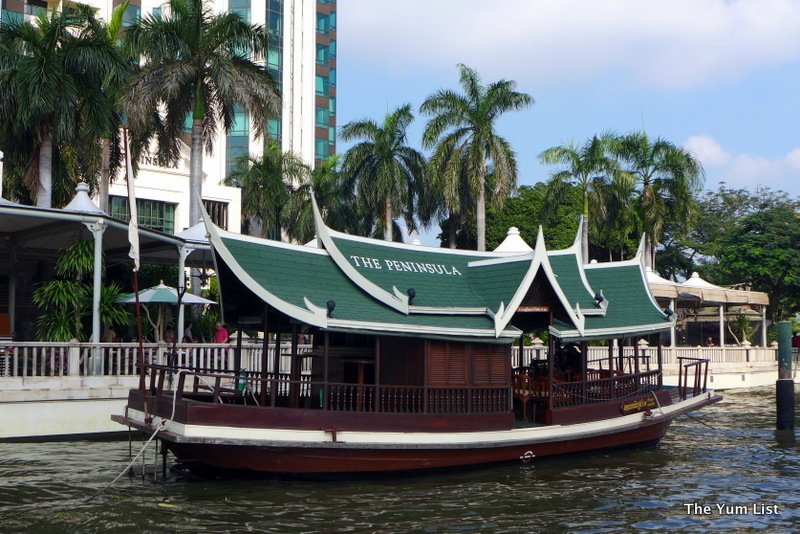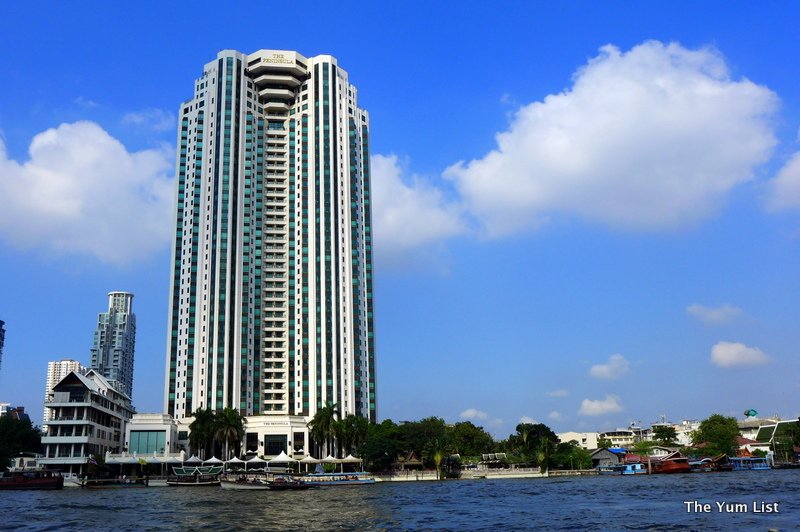 Keeping Up with The Joneses
Upon my arrival at The Peninsula Bangkok, I had been informed that the hotel would be particularly busy on the weekend of my stay, what with several engagements and a couple of weddings taking place on the hotel's premises. I once entered the elevator and was joined by a bride and her family shortly after. She looked as if she just walked out of a painting, then she looked at me with a cool stare that whispered, "one step on my silk shawl and you're Tom Yum Goong". I was left in chills as she strutted out. I stared at my flip flops that slapped against my heels wherever I went, and was suddenly overcome by the image of how underdressed I was in a shirt, shorts, and rucksack. For a moment, it seemed like a perfectly good idea to explore Ayutthaya's temple ruins under the blistering heat in a collared shirt, jeans, and leather shoes.
Being a self-proclaimed flashpacker, I've always treated hotels as simply a place for a brief respite, before I'm up again in the morning and off to my next adventure. I've never minded a little sweat, some dirt at the hem of my pants, and arriving at reception looking like I've been chased by a charging rhinoceros. Staying at The Peninsula Bangkok, however, somehow gave me the impression that my hair should be speckless, my dress immaculate, and my arrival at its doorstep like a P.G. Wodehouse character—unprecedented, when really I'm just a bumbling buffoon trying to find my place in high society. Thankfully, I've managed to avoid some of the greater fashion faux pas throughout my stay at the hotel, and the staff would always politely, but firmly, inform you if you do need to change out of your current attire to have breakfast at the River Café and Terrace.
Okay, so there was that one time…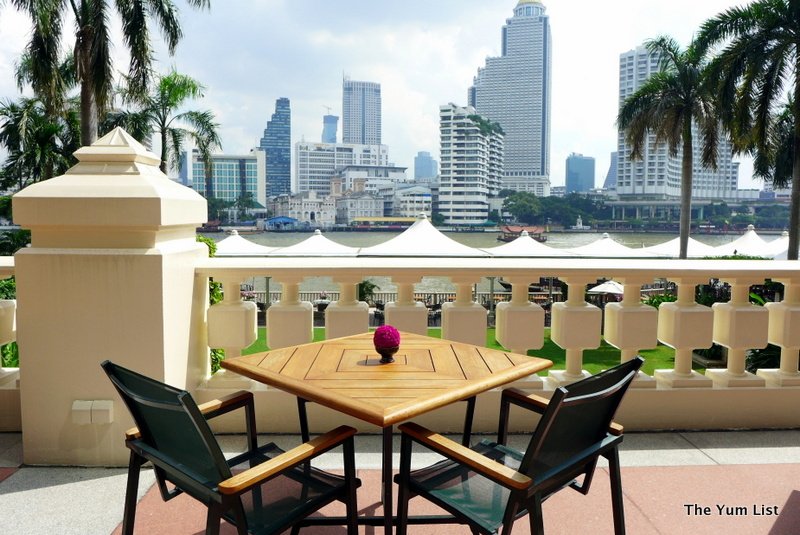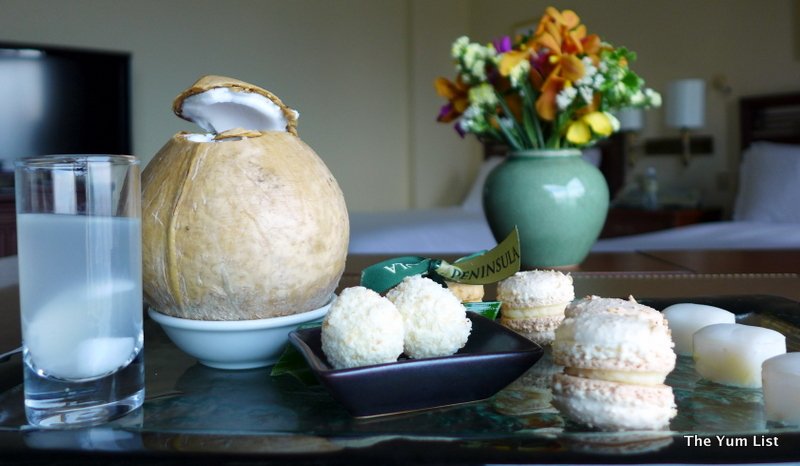 A Suite Within A Suite
For my stay, I was given the Grand Deluxe Room, and boy did I have to keep my composure steady until after the porter dropped my luggage off. I was already squealing on the inside when front desk presented me with a fragrant phuang malai (Thai floral garland) to welcome me to the hotel, which was so pretty I wished it stayed fresh forever, but nothing beats that initial jaw-dropping entry into the room. My first instinct was to open every single drawer, cupboard, and cabinet to see what surprises they hid within their compartments, touch every wooden surface, and sink in the bed, though not before taking a picture of its pristine interior.
As you step into the foyer, you'll see a dressing table and wardrobe to your left, pantry and bedroom to your right, and the capacious bathroom immediately across. Aside from the usual five-star offerings such as an unobstructed view of the glittering capital at night, a desk that comes equipped with a printer, scanner and fax machine, large screen TV with USB ports, and beds that are so comfortable they threaten to swallow you whole, I was astounded by the bathroom.
Completely covered in marble, the bathroom is a retreat of its own with dual vanities, a bathtub, a separate cubicle for the shower and another for the porcelain throne. I doubt anyone would have any trouble living in there if they so wish. With solid wooden double doors separating the master suite from the master suite, you could be belting out Puccini's "Un Bel Dì, Vedremo" or its more contemporary cousin, Adele's "Hello" and your partner would still be sleeping soundly on the other side, regardless if you've been calling him for a thousand times. There's a TV just above the bathtub in case a bubble bath is too mundane an activity for you, and you're also given Oscar de la Renta toiletries so you're literally bathing in luxury every time you step in. Isolation has never been more magnificent.
Aside from the obvious, I really appreciate the thoughtful details that go into creating such a comfortable space for hotel guests, like sockets where you need them (I once stayed at a location where the only socket available was 2 inches above the floor, by the entrance, and away from the table), free shoe shining service, complimentary umbrellas during your stay (which comes really handy in a tropical climate), and high speed wireless Internet access. The only odd thing was that the pantry didn't have any coffee, though I suppose if I need a caffeine buzz early in the morning, I can always head down to The River Café and Terrace and get some at breakfast.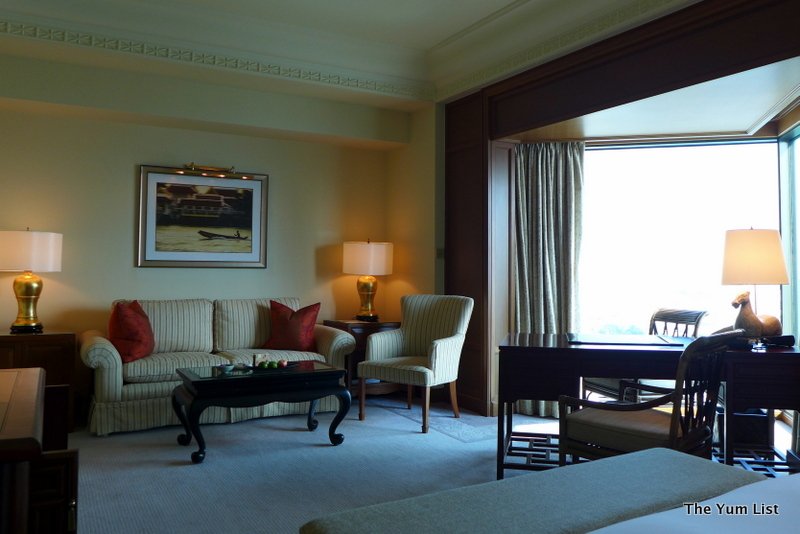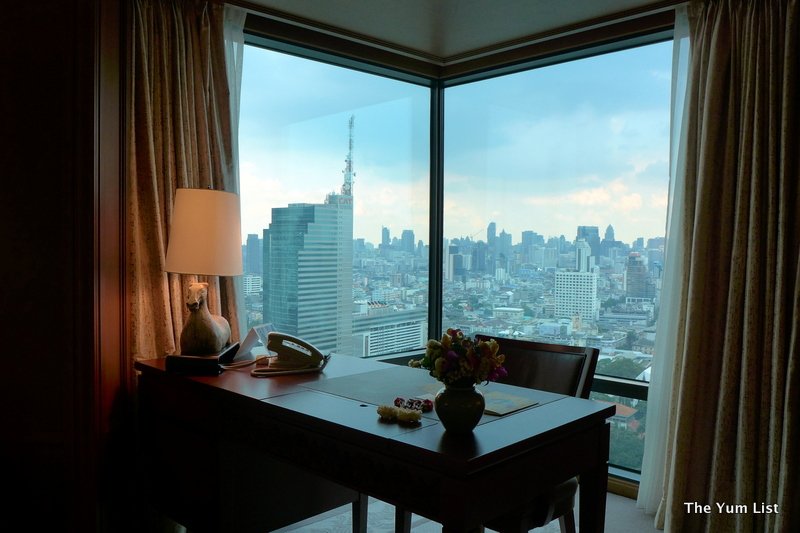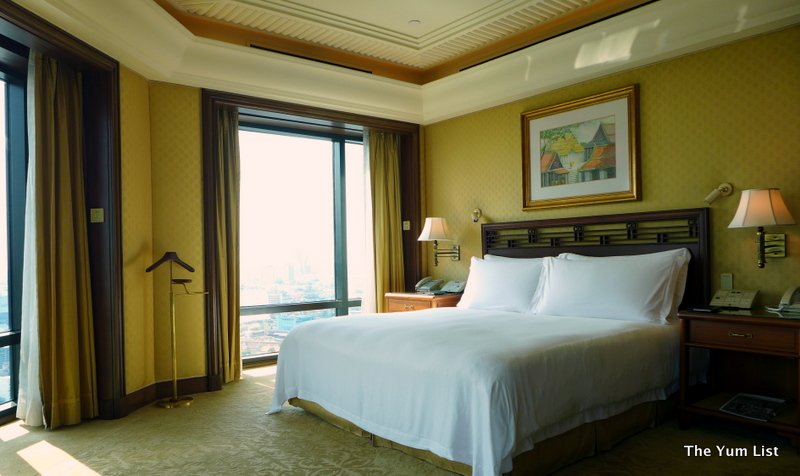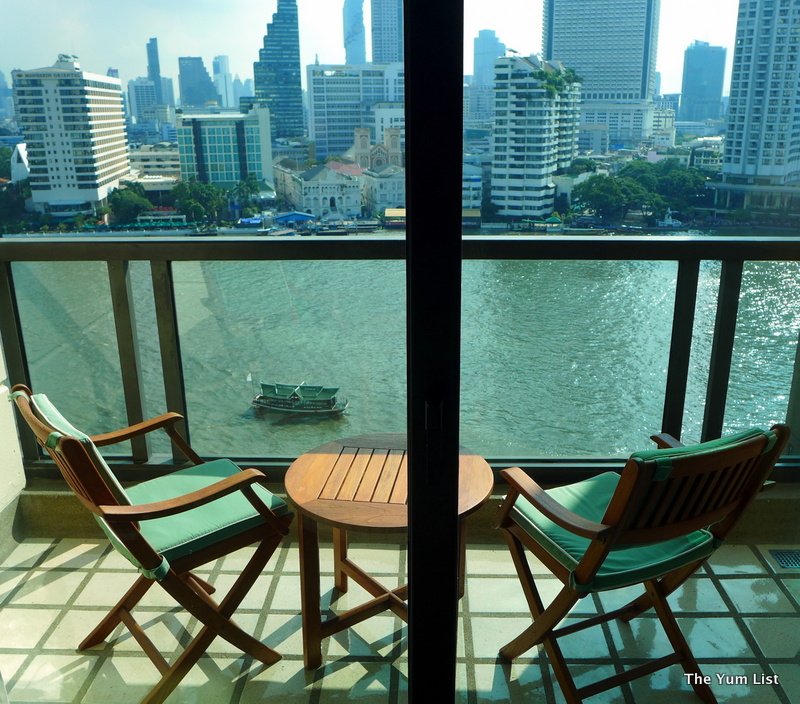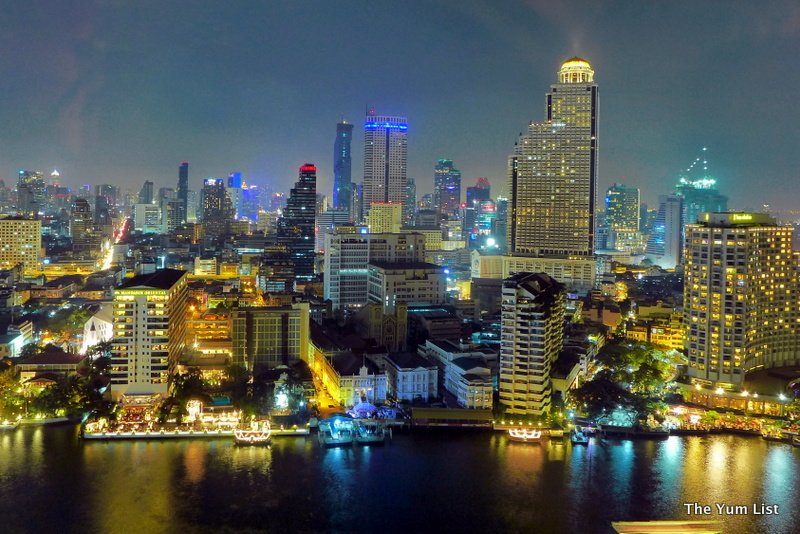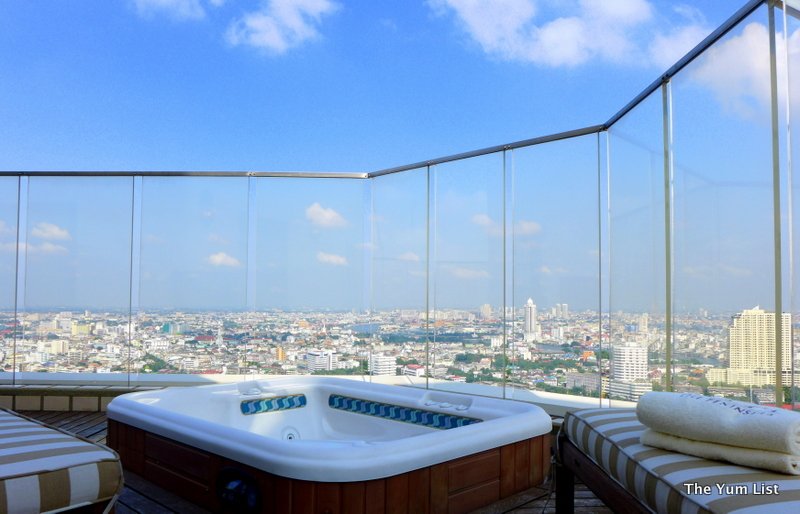 Catering for An International Palate
The Peninsula Bangkok is home to a couple of outstanding restaurants, namely Mei Jiang and Thiptara, the latter of which we've reviewed here. The Lobby is also an excellent option for dining, and a more comprehensive coverage on our experience with their Sunday brunch menu can be accessed here. Thus, I'm dedicating this next section to highlight their buffet breakfast at The River Café and Terrace and provide an overview of what you can expect for your first meal of the day.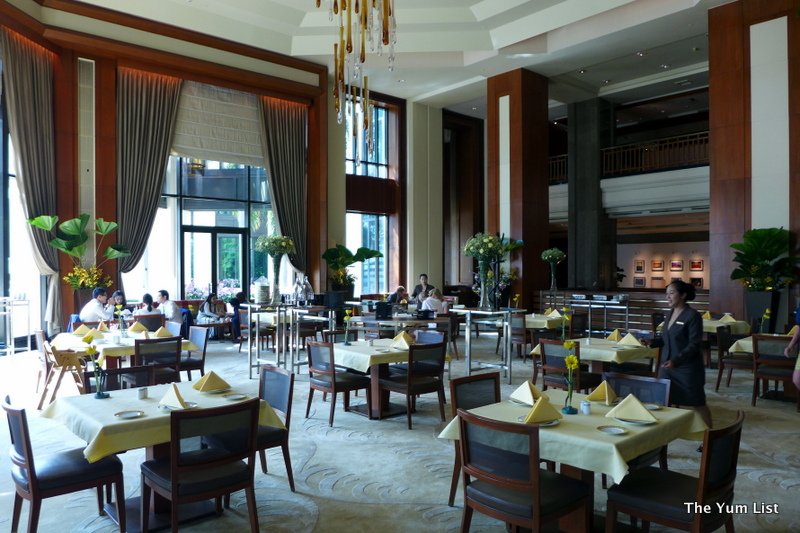 It's rare to find a hotel that does breakfast right and The Peninsula Bangkok certainly impresses with a delightful repertoire of local and international flavours. Inside the main dining area, you have your soups, pastries, cold cuts, cheese, waffles, cereals, and fruits; outside, you'll find an Asian Station and a Western Station offering more wholesome options like dim sum sets or roast ham.
If you wish to start off gentle and easy, there's the chicken congee and miso soup, but if you're incredibly French about your pastries then go wild with their Danishes. I enjoy the localised Longan Danish, and their Passion Fruit Danish really packs a punch with its eye-wincing sweetness. There's also an entire section dedicated to their Naturally Peninsula cuisine, which emphasizes sustainably sourced ingredients that are low in sugar and carbohydrates, though that's hard to believe when you plop down one of their gluten-free Chocolate Banana Coconut Cookies. The cookies were so good you wouldn't think of associating them with healthy living. Still, I appreciate the lengths The Peninsula goes to accommodate the health-conscious and even diabetics with options like sugar-free jams and compotes.
Outside at the Asian Station, you can have a vegetarian dumpling set or the regular one consisting of a Pork Siu Mai, Prawn Dumpling, and Barbecue Bun. The dumplings were decent and the barbecue bun was really appetising, though my favourite item from this station was the Moo Ping, marinated grilled pork on skewers. Aside from these, you can also opt for Stir-Fried Glass Noodles, Fried Rice with Chicken, and your standard Stir Fried Vegetables. Just across this at the Western Station, you can have eggs prepared to your liking, veal sausages, or a slice of roast ham.
Best of all, the breakfast buffet serves freshly cut mangoes. What else would you need when travelling in Bangkok? Incidentally, they were the most popular items at the buffet.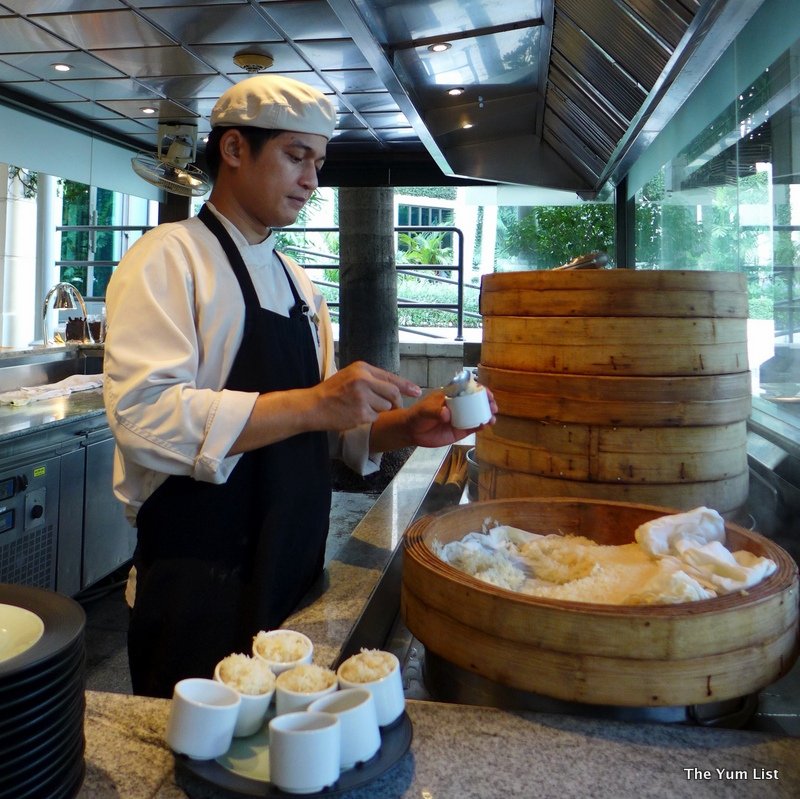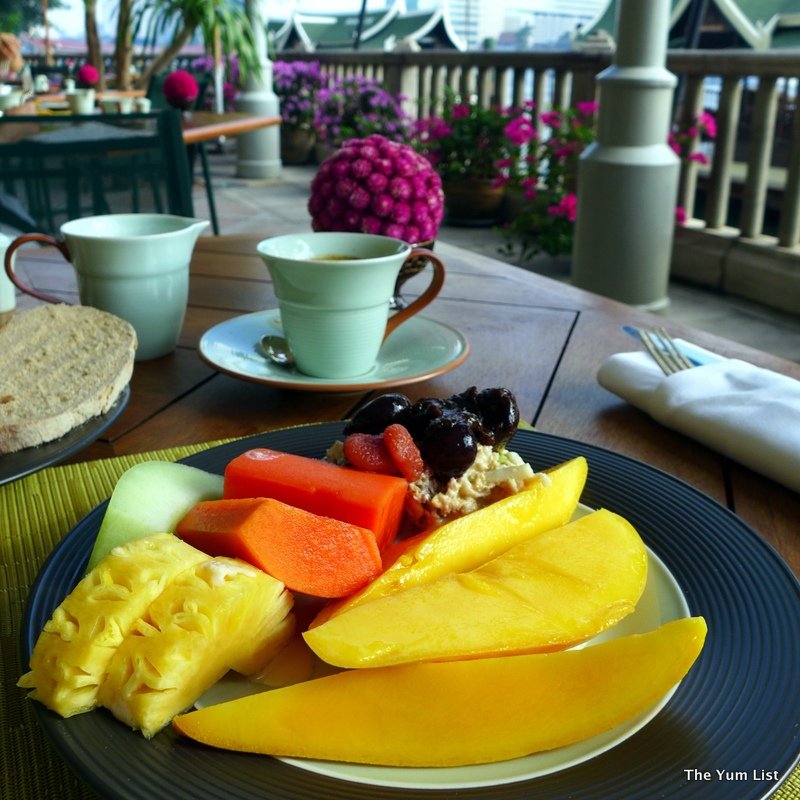 Relax and Unwind
The Peninsula Bangkok was designed to keep you in, so much so that a travel junkie like me would even entertain the idea of just spending an entire day exploring what the hotel has to offer. As a traveller who has never been to Bangkok and with limited time on his hands, that kind of coercion just doesn't exist anywhere. From photogenic courtyards that attract social media savants to strike a pose in their best outfits to bespoke programmes that offer authentic Thai experiences, there are many distractions you can indulge yourself in to make your stay at The Peninsula all the more memorable.
You've already heard about the convenient boat service at the beginning of this piece, but the hotel does more than just provide you with transportation options, they've established an entire academy to culturally edify hotel guests on some of the nation's most cherished traditions. The Peninsula Academy has many programmes on its list to satisfy a diverse clientele, be it a helicopter ride to visit Hua Hin Hills Vineyard where the award-winning Monsoon Valley wines are produced or an introductory course to the high-octane Muay Thai martial art that concludes with a full body massage. There are even a couple of programmes dedicated to children; clearly for parents who need those precious two hours by the pool or at the Peninsula Spa, of which our review of it can be found here.
The three-tiered pool in front of the spa villa is an attraction of its own, and worth the risk of dipping into it with phone in hand as you angle for that grandiloquent shot of Bangkok's skyline reflected in the pool. Many visit the area for its relaxed atmosphere, preferring to lounge in the salas or cool off in the pool instead of doing laps from one end to the other, so if you're looking for something little more intense, there's always the Fitness Centre in the spa villa.
The Fitness Centre is pretty well equipped for its size and there's always a personal trainer on-site to help you with your workouts. Just across it are lockers for your valuables, and beyond that is where you will find the steam room, sauna, and hot and cold plunge pools.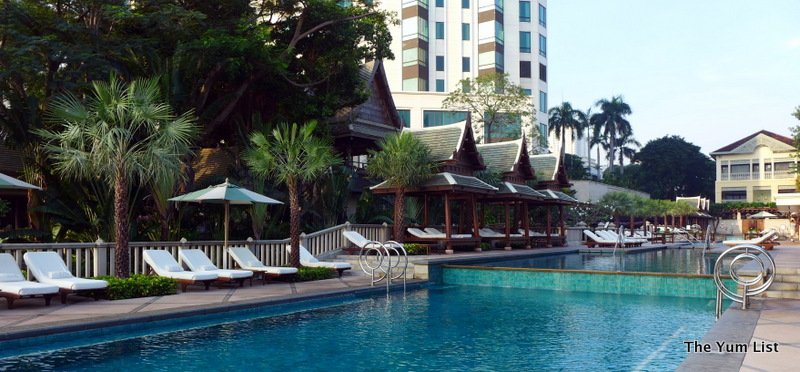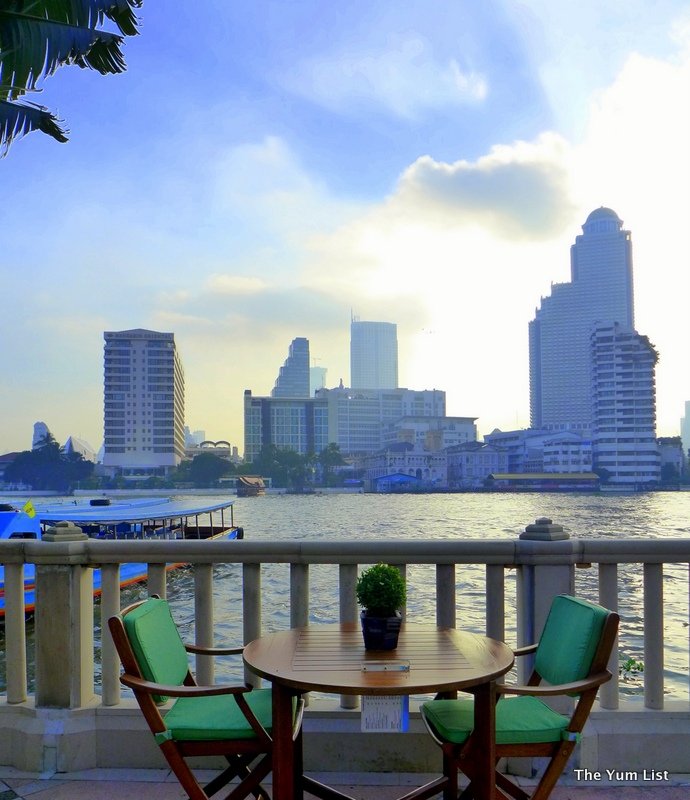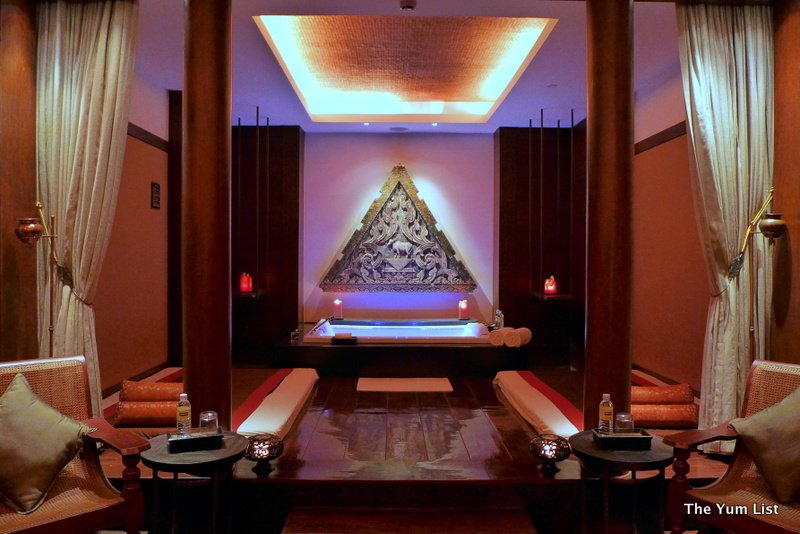 The Hotel for Your Holidays
The finality of your stay at The Peninsula isn't pleasant, especially when the entire length of your time here has been marked by nothing but elegance and comfort. In particular, I mourn for the diminishing phuang malai left on the table, whose listlessness a metaphor for my departure. The best moments of your life are fleeting, and that's why they're the best moments of your life. My time at The Peninsula Bangkok certainly ranks high up in my list of experiences so far, and it's a destination I have marked for future visits to the City of Angels.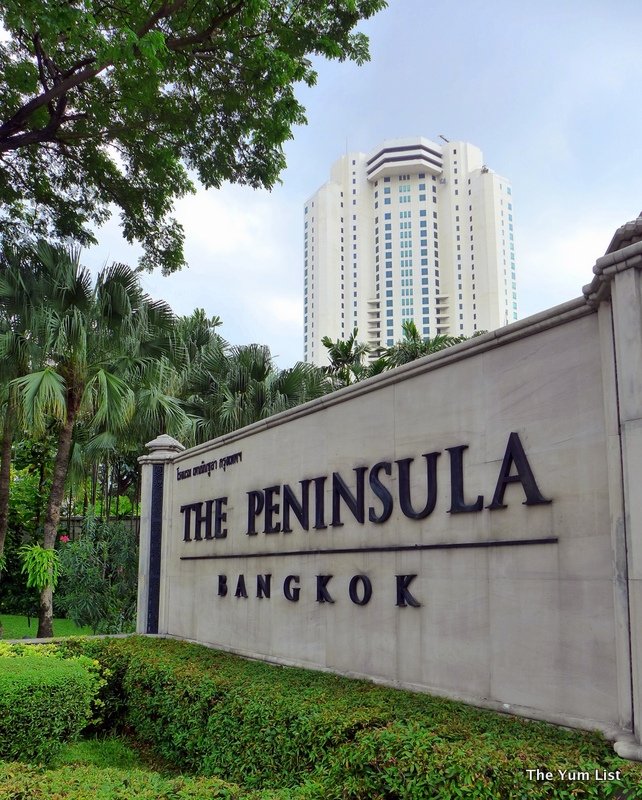 Reasons to visit: Great view of the city's skyline from your room; exquisite dining options; its location along the Chao Phraya means easy access to some of Bangkok's famous landmarks, such as Wat Arun (the Temple of Dawn) and the Grand Palace; thoughtfully designed spaces and programmes to maximise your comfort during your stay.
The Peninsula Bangkok
333 Charoennakorn Road,
Klongsan, Bangkok 10600,
Thailand
+66 2 020 2888
http://bangkok.peninsula.com