Degustation Menu KL
Words: Monica Tindall   Photos: Rich Callahan
Two kitchens, one degustation menu; that's what guests are getting in October when dining at Beta KL. While sister restaurant Skillet at 163 is under renovation, the chef teams have partnered up to curate an impressive degustation menu. With the former known for modern Malaysian cuisine and the latter offering contemporary European dining with an Asian touch, we're excited to see the results.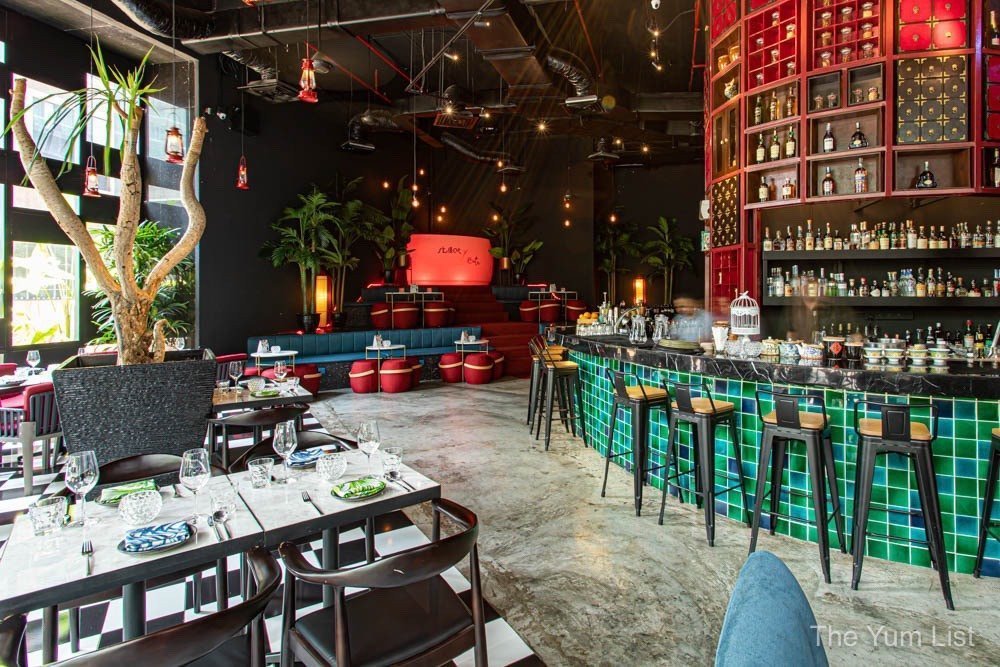 Degustation Menu KL
The seven-course degustation menu is priced at RM350++. Beverage pairing can be included for an additional RM250++. There are several ways to glam up the courses throughout with caviar, striploin and cheese all optional extras.
Snacks
A quadruplet of snacks representing four different Malaysian states introduces the KL degustation menu. The first stop is Kelantan with a fermented anchovy paste dressing a wing bean, fried shallots and anchovy salad. It's held in a betel leaf, making it easy to wrap and pop the entire thing in your mouth. Next stop is Penang with a rojak-inspired tart. Mascarpone cheese is covered with rojak sauce and finely chopped turnips and pineapple. This one is fresh with a great crunch. Number three showcases the rainforest of Pahang with local shitake mushrooms rolled in a truffle ball. Giving a spot of acidity is pickled pumpkin on top. Lastly, we return to Kuala Lumpur with a local snack with the inverted curry puff. The outer layer is crisp potato skin, while the inside is creamy potato and carrot curry. The flavours build in intensity, so it's recommended to eat them in order. These are all carefully crafted pieces, but the pineapple rojak tart is a standout.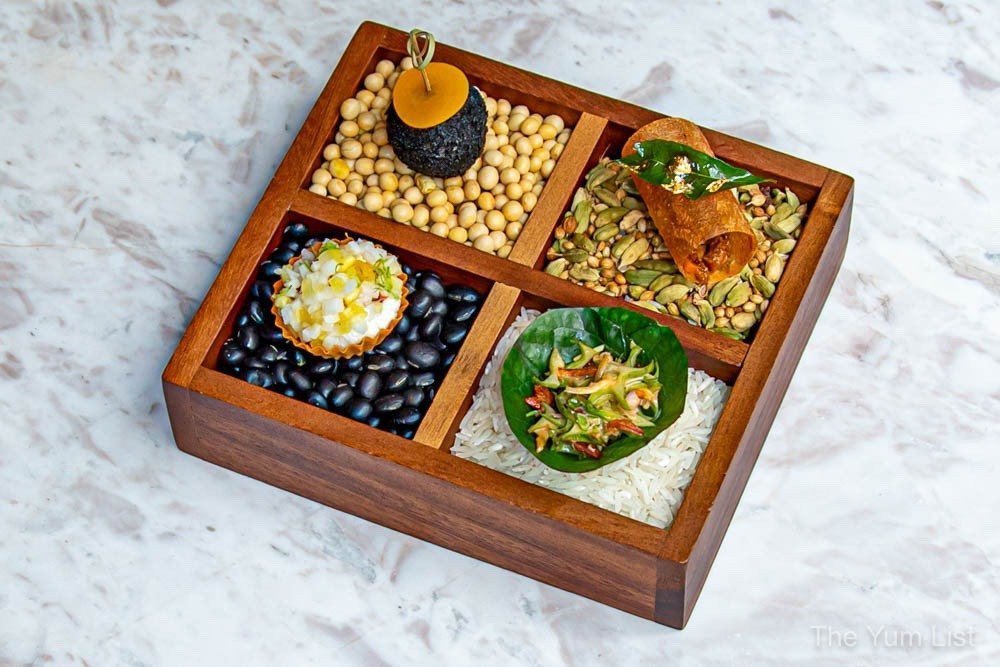 Tawau Conch
Tawau conch from Sabah is lightly blanched and then seasoned with Bario salt in the first course of the degustation menu KL. Avocado cream and kedondong granite provide additional condiments, and thinly sliced turnip conceals what's below. Providing a dollop of glamour is Tanjung Malim caviar and gold leaf on the crest. It's superbly fresh; a fantastic introduction.
Mum's Aubergine
The next course is inspired by a recipe often found in Malaysian Chinese homes. Eggplant is commonly steamed or fried, but at Beta KL is has been grilled. Slices are layered in a tower and finished off with crisp disks of savoury meringue and Parmesan. The soft aubergine is complemented by fermented black beans. Pickled papaya and marinated goji berries lift the profile with a balance of acidity. It's another recipe I highly enjoyed.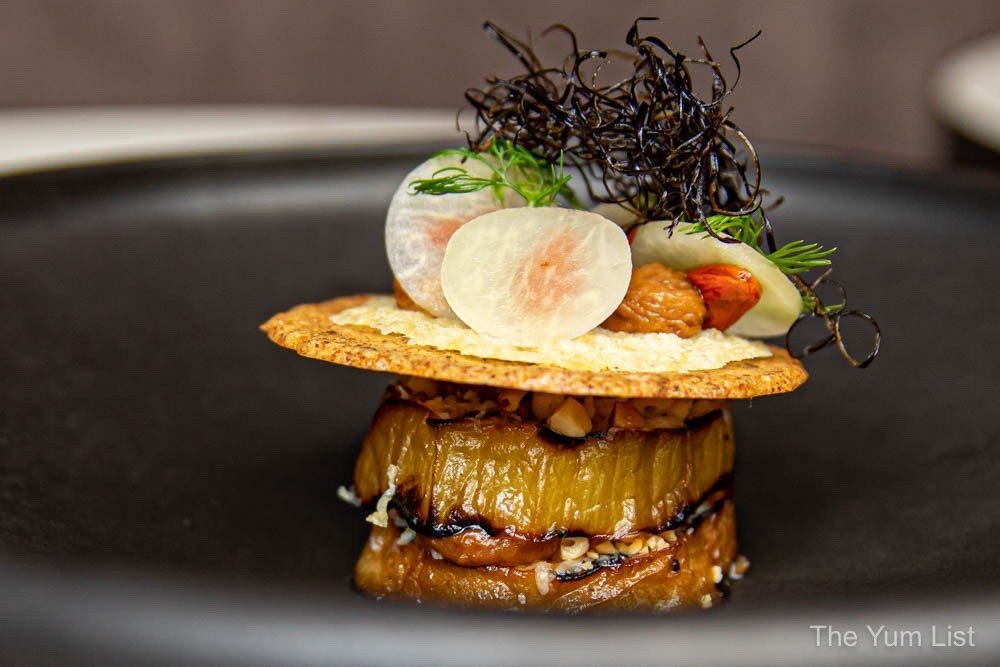 Crab Custard
Bridging the starters is a crab custard presented in a small ceramic bowl sided with a wooden spoon. It's recommended to dig straight to the bottom to catch all the layers. In the base is a baked custard, chawanmushi. The middle is fresh crab meat and the top is a rich and spicy chilli crab espuma. It has quite a bit of kick but the smooth egg custard tempers the heat.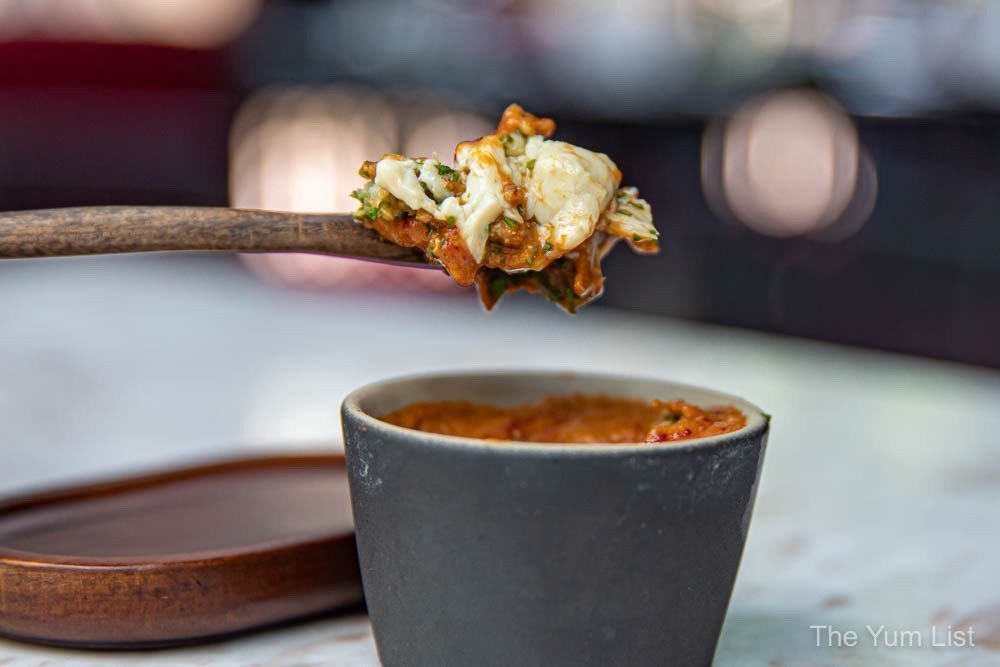 Lawas Highland Rice
The fifth component of the degustation menu KL showcases two types of rice from the Sarawak Lawas Highlands cooked risotto-style; nasi keladi and nasi anad. Only just firm to the bite, the brown rice is accompanied by a tangle of deep-fried cordyceps flowers. The strands have been grilled with truffle oil and a duck reduction. These two are pretty good together, but the chives mixed with a honey and calamansi dressing really elevate the flavours. I find this dish highly satisfying.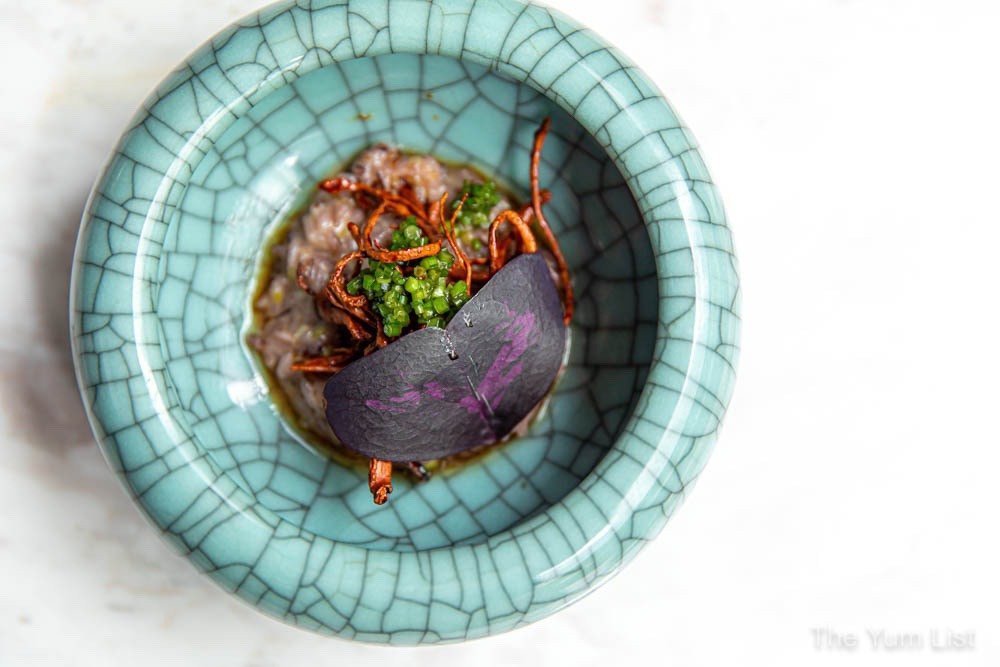 Duck Rillettes
Inspired by the classic French dish, duck rillettes here is made with Bidor duck leg that has been marinated in pongteh – gula Melaka and fermented black beans. The shredded duck is mixed with starfruit gel and topped with charcoal tuile, pickled shallots and balsamic caviar pearls. It's recommended to be eaten with the house-baked sourdough and onion bread. This is a slightly sweeter version than the original; it's pleasant and pairs well with the spongey slices.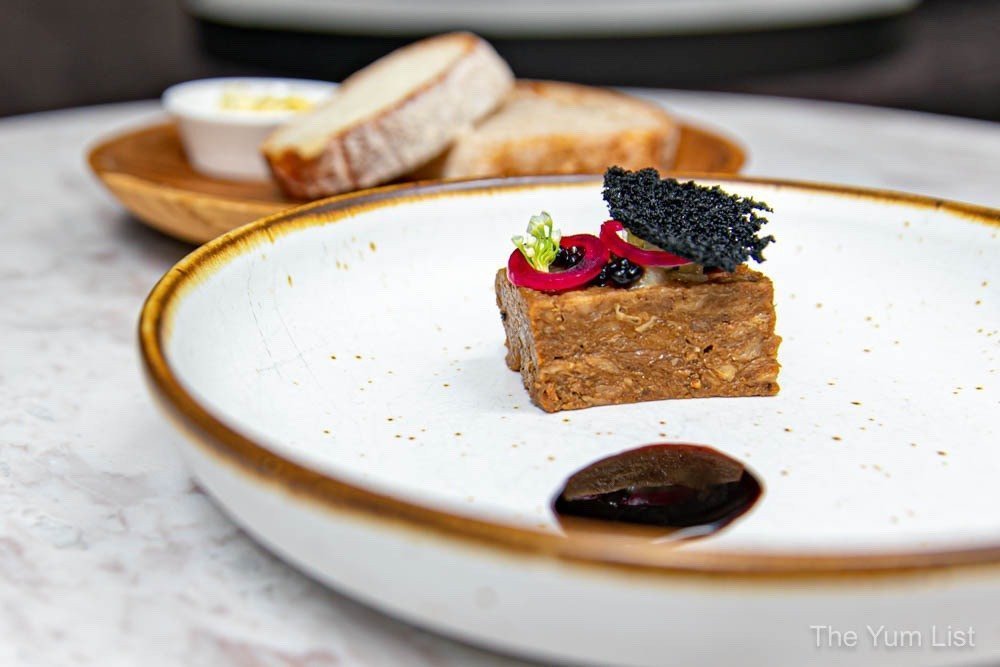 Mains
Guests have a choice of fish or lamb for the mains for the KL degustation menu. We recommend dining as two or more, so you get to order both!
Beta KL might be the first restaurant in Malaysia to serve the locally raised tropical sturgeon fish from Tanjung Malim. This fish is traditionally grown for caviar and not often used as food itself. In line with the team's zero-waste attempts, they take both the caviar and the flesh. The meaty fish is grilled with a topping of tamarind, which caramelizes nicely in the oven giving a balance of sweet and sour. The whole thing is strewn with a medley of leaves and edible flowers, and lastly, Bario salt is grated over the top tableside.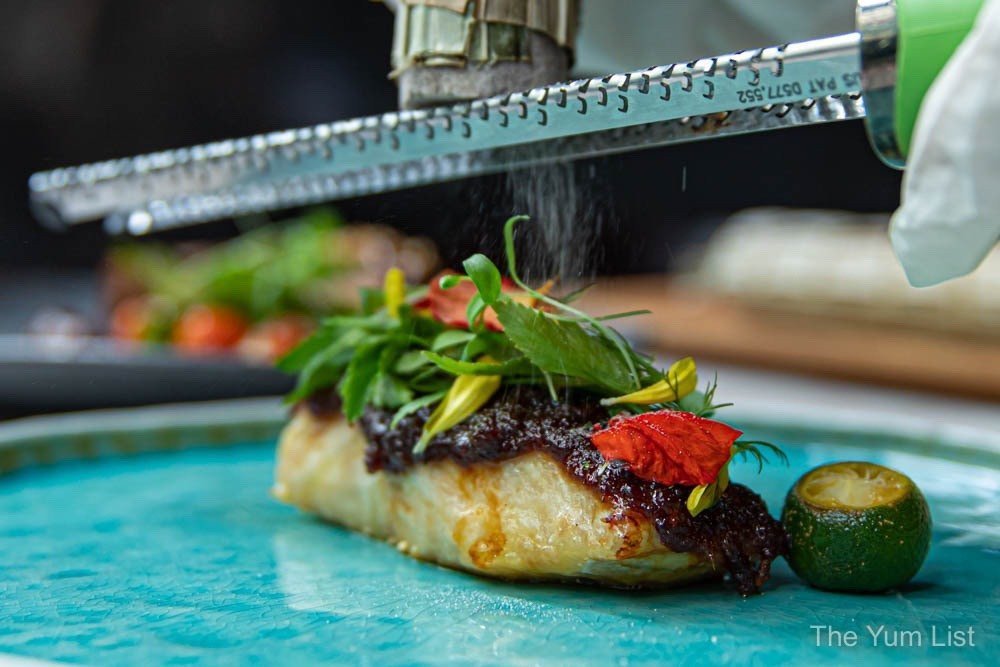 The red meat option, lamp rump, plays with the flavours of another Malaysian favourite, bak kut teh. The sauce is reduced together with roasted garlic puree making a rich and enticing complement. Mashed potatoes are creamy and come along with charred four-angle beans and wilted tomatoes. A drizzle of sauce is poured over just before serving and as we take the first forkful, we notice also fried quinoa on the outer edge appending a crunchy layer and change in grain.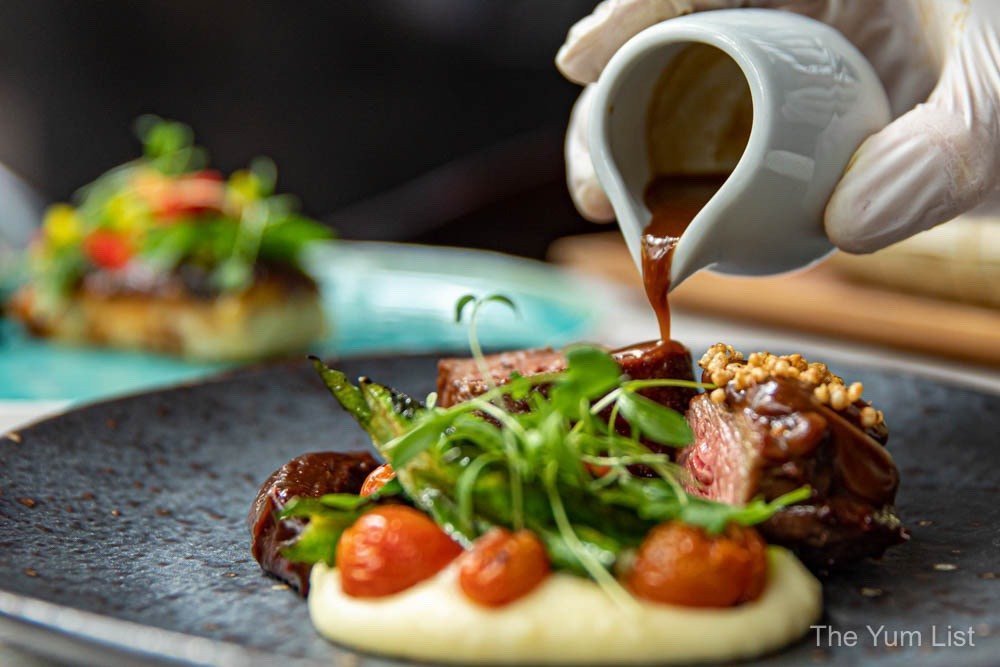 Snow
A little drama establishes a firm break between the mains and dessert in the degustation menu KL with the making of "snow." Our attendant whisks fresh orange juice together with liquid nitrogen to produce instant ice cream. The wild cloud of smoke whirls around the table before the sorbet is scooped into individual coupe glasses. It's tart and refreshing; an ideal intermission.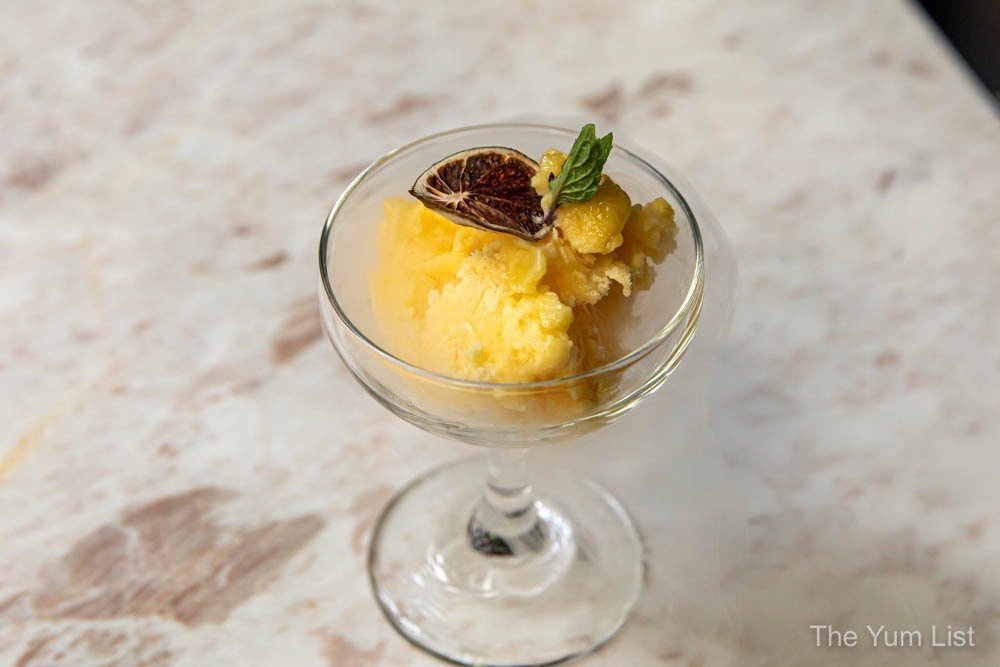 Dessert
Dessert is a choice of Musang King Pahang single origin chocolate or the signature Texture of Chocolate Summer 2019. We didn't try the first (no durian fans here) but hear that it is quite popular amongst those who do appreciate the fruit as it is composed of over 90% of premium durian.
Executive Chef Raymond Tham is known for his magnificent "texture of chocolate" creations that change with the seasons. They always arrive in an intriguing billow of liquid nitrogen smoke with a chocolate sphere centring the plate. In this Summer 2019 edition, white chocolate infused with Earl Grey and lavender fills the ball, with a layer of raspberry sauce underneath. It sits on a cocoa soil, and the outer is encrusted in chocolate petals that have been hand placed just before serving. A metal hammer invites guests to smash the ball open, and finally, a warm chocolate sauce yields a change in temperature to the icy cold dessert.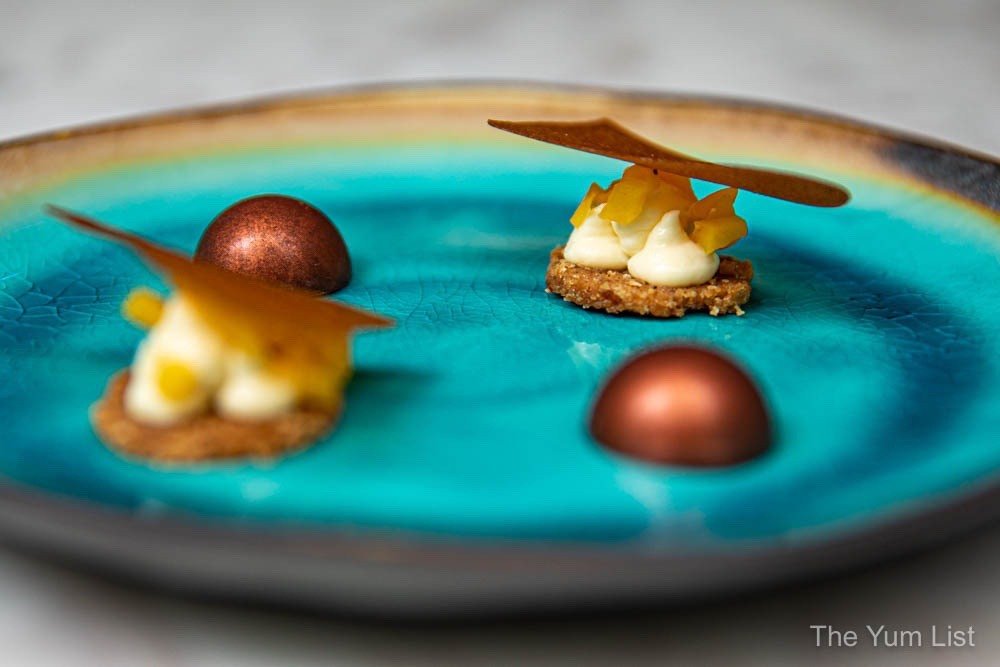 The KL degustation menu collaboration between Skillet and Beta is available until the end of October.
Reasons to try this degustation menu KL: a one-off opportunity to get the best of two restaurants in one sitting; unique recipes that you will not find in any other restaurant in the world; trendy setting.
Beta & Skillet Degustation Menu KL
Restobar – Contemporary Malaysian Cuisine and Cocktails
163 Fraser Place
10 Jalan Perak
Kuala Lumpur, Malaysia
+6 03 2181 2990
www.facebook.com/betakualalumpur
Check out other contemporary restaurants in KL here and more degustation menus here.