Krung Thep Thai at Republik
Words: Patricia Podorsek    Photos: Rich Callahan
How cool that a person can go to Bangkok without ever leaving KL! Newly opened Krung Thep in Damansara's Republik takes its name from the Thai term for Bangkok. The city that embraces traditional culture and modernity in equal parts is not unlike the food to be found at this classy new eatery.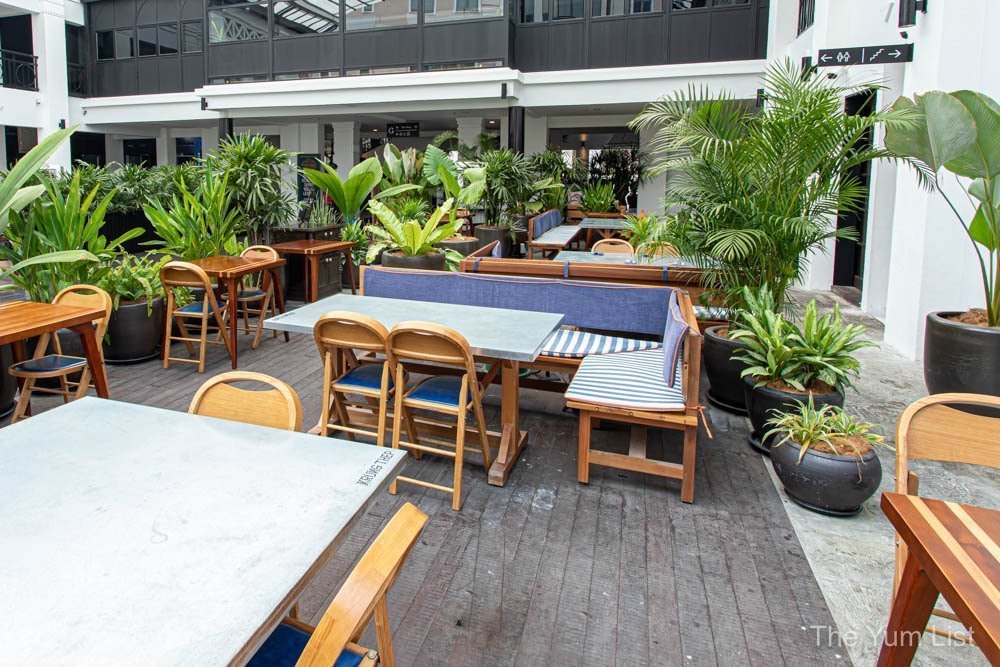 Thai Restaurant Bukit Damansara
Knowing how prolific Thai food is in KL, the leadership team at Krung Thep were interested in creating a more unique Thai experience. Their goal was to feature regional specialities over the standard tom yam and pad thai. The menu features authentic dishes from each of the four main regions of Thailand: the Northern, Northeastern (Isan), Central and Southern areas of the country. Chef Gug, as he is known, creates small plates for family-style sharing. All are made from scratch in-house with an eye toward creating as authentic an experience as possible.
Krung Thep Menu
Soaking up the stylish interior, guests begin with a basket of complimentary garden vegetables and herbs, to be enjoyed with any of three different sauces: classic sriracha, spicier aubergine chilli, and tangy tamarind. Alongside arrives a plate of extraordinarily crisp fried chicken skin, as tasty as it is addictive.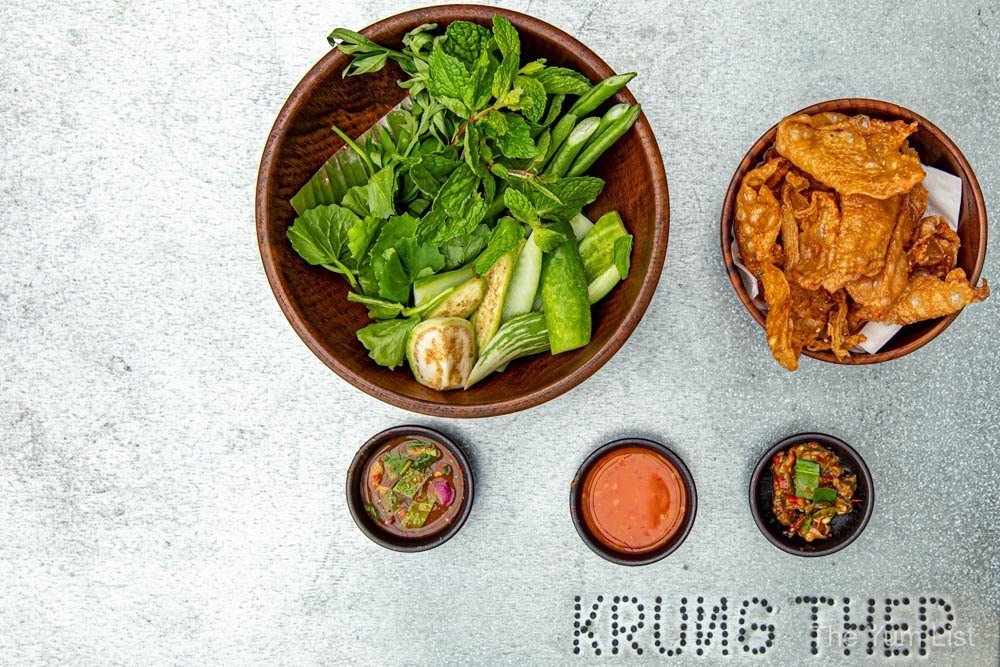 Refreshments
Although we are only here for lunch, being a Saturday means we are easily convinced to try two of Krung Thep's aptly named Boozy Coolers. The Lalu Lemongrass (RM30+) blends a little Stoli vodka with lemongrass and lemon, for a light and refreshing cocktail with a fresh ginger garnish. The Princess Pandan (RM30+) mixes subtle shades of pandan with some Tanqueray gin and Earl Grey tea, for an adult version of an iced tea, perfect to accompany a mid-day meal.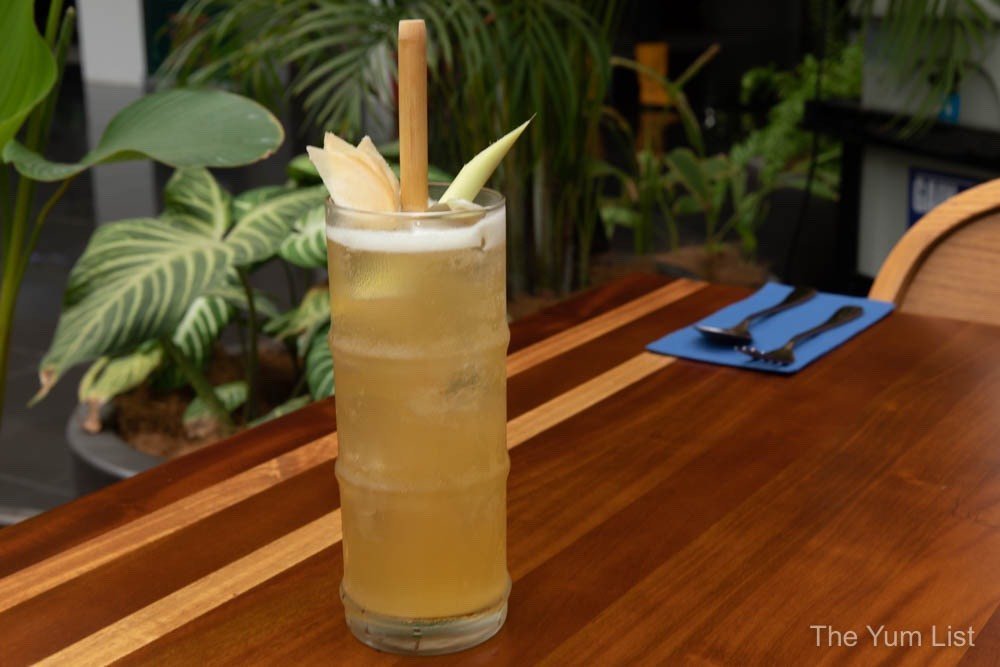 The same bubbly beverages are available in non-boozy fashion as well. The Butterfly Pea Cooler (RM15+) is one example, arriving in beautiful purple fashion and sugary style. Lychee and rooibos tea form the backbone. We are happy to see bamboo straws in all of the drinks instead of plastic!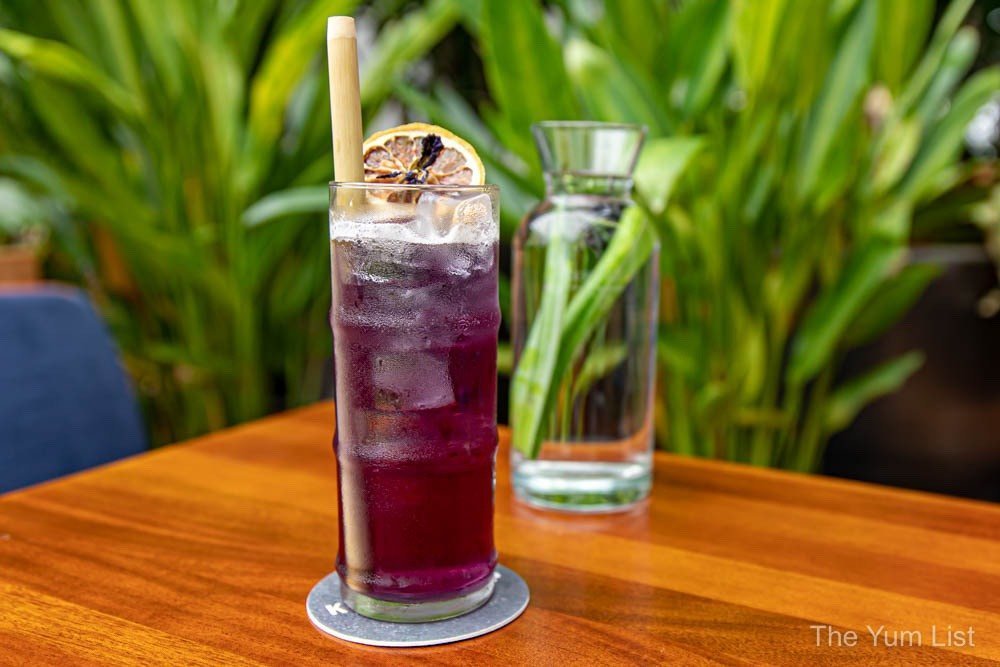 Thai Food – Republik
Our meal begins at Krung Thep with Yam Makreua Yao (RM24+), smoked aubergine salad prepared in northern Thai style. The pulpy texture of the aubergine is enhanced by lime, fresh mint and a bit of spice. An onsen egg sprinkled with prawn floss adds a richness to the dish that helps to bring all the flavours together into one smoky, spicy, citrusy burst. We are off to a good start!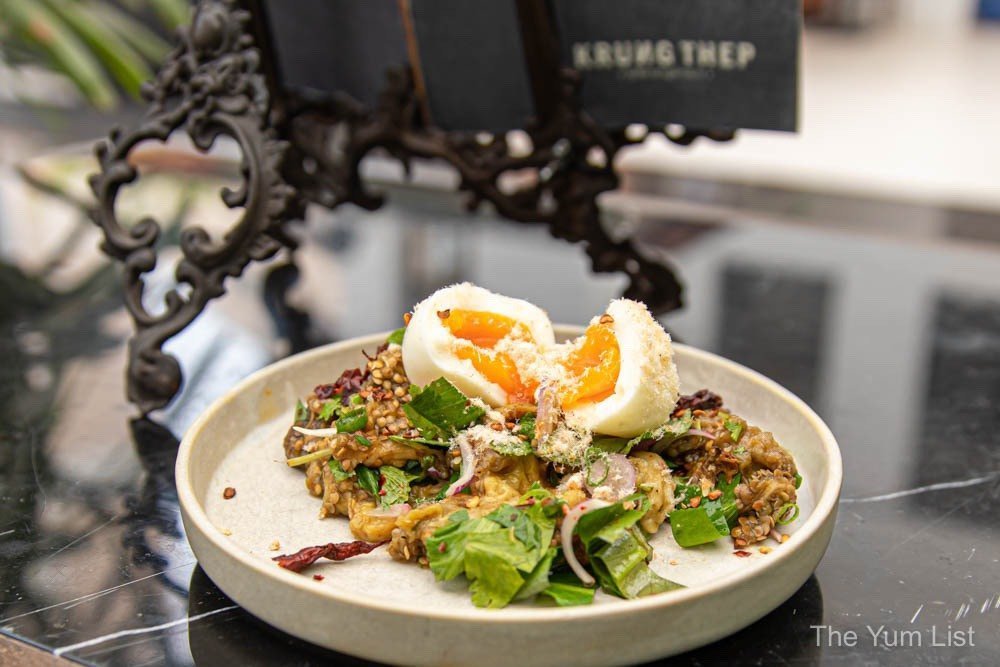 A second selection off the salad menu is the Yum Tua Plu (RM38+). Sweet and sour coconut milk dressing laced with lime and chilli jam dress a wing bean salad tossed with sea prawns, deep-fried shallots, toasted coconut and peanuts, and prawn floss. An onsen egg makes a second appearance, adding further complexity to the existing salty, sweet, tangy nature of this dish. We like the mix of textures: the bean slices a little crunchy and the shallots a little chewy.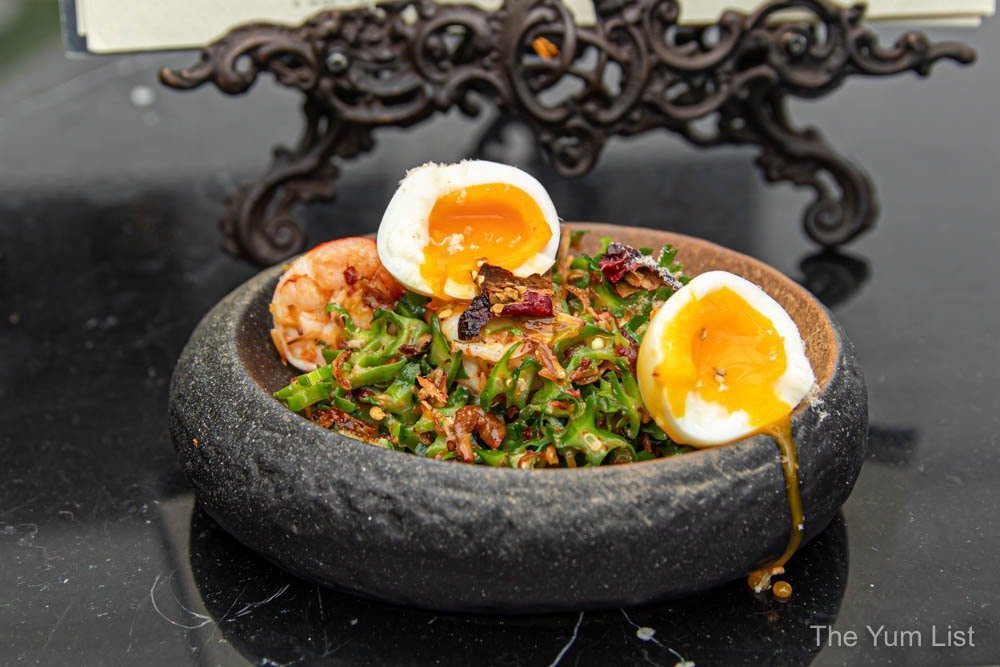 Thai Tea & Coffee
The Thais do love their iced teas and iced coffees, a welcome respite from the heat of the tropics. Gafae Yen (RM13+) is classic Thai coffee offered at Krung Thep, milky and sweet to balance out the bitter. The Cha Yen (RM13+), milky orange tea, arrives with a lovely peach blush and a smooth delivery. Both are reminiscent of the city for which they are named and have me remembering many walks along Soi Sukhumvit.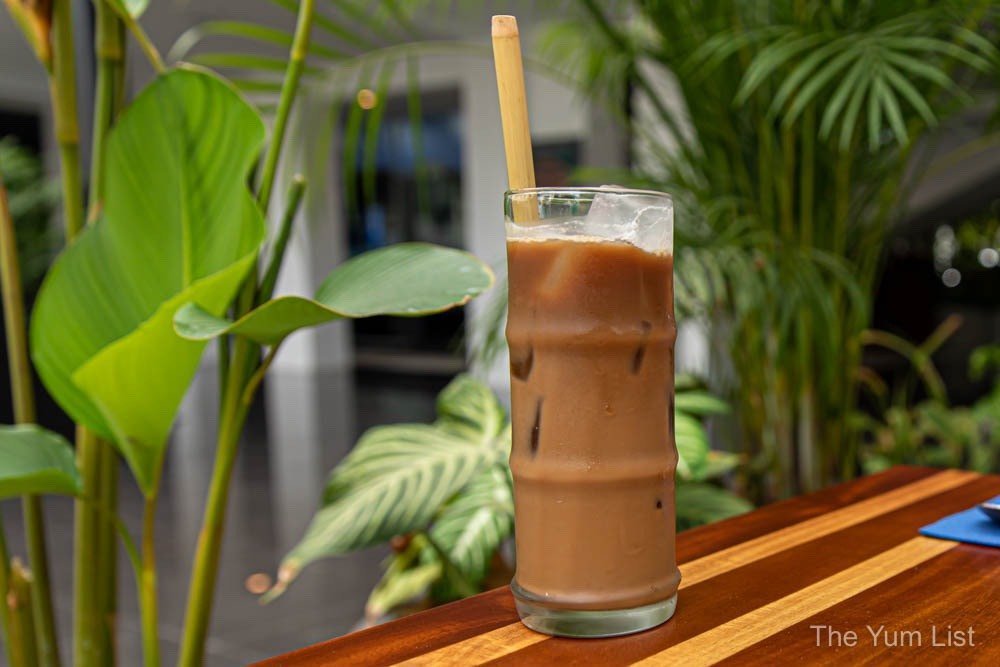 Main Menu Krung Thep
Next stop is the southern-inspired Pla Merk Go Lek (RM26+). Grilled baby squid so tender it's like biting into sponge cake comes bathed in a light sauce that's heavy on the toasted coconut, for a fresh and slightly sweet earthiness. The pickles on the side add a sweet and spicy tang to offset the curry.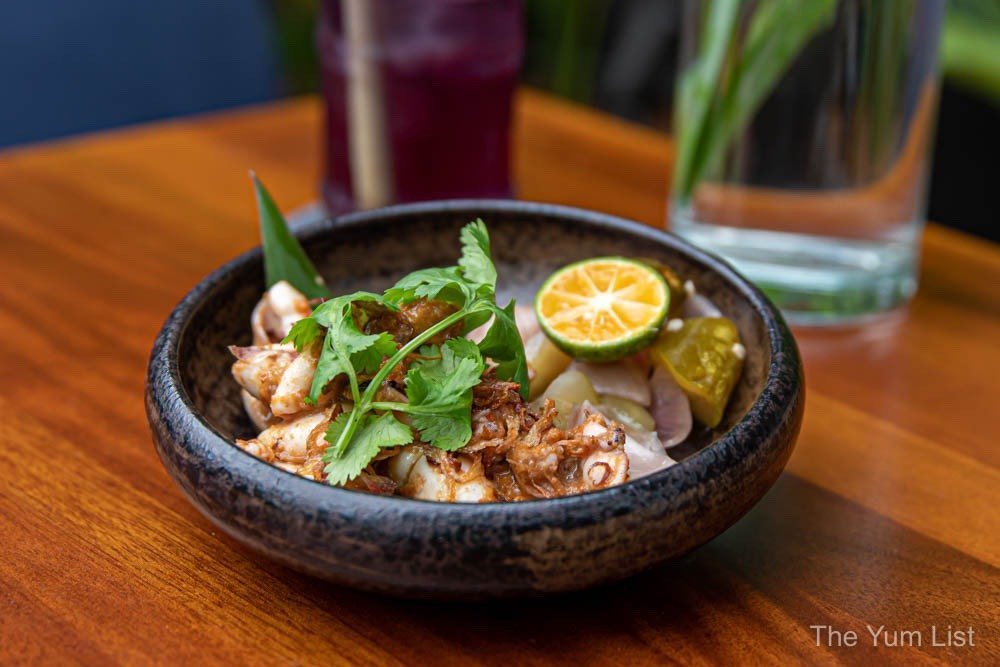 The traditional clay pot serves as the vehicle for the next dish, Gung Orb Woon Sen (RM42+). Sea prawns are baked in its intense heat then tossed with glass noodles and a ginger and green chilli sauce. The ginger adds to the earthiness of the pot and the sauce provides a tangy finish.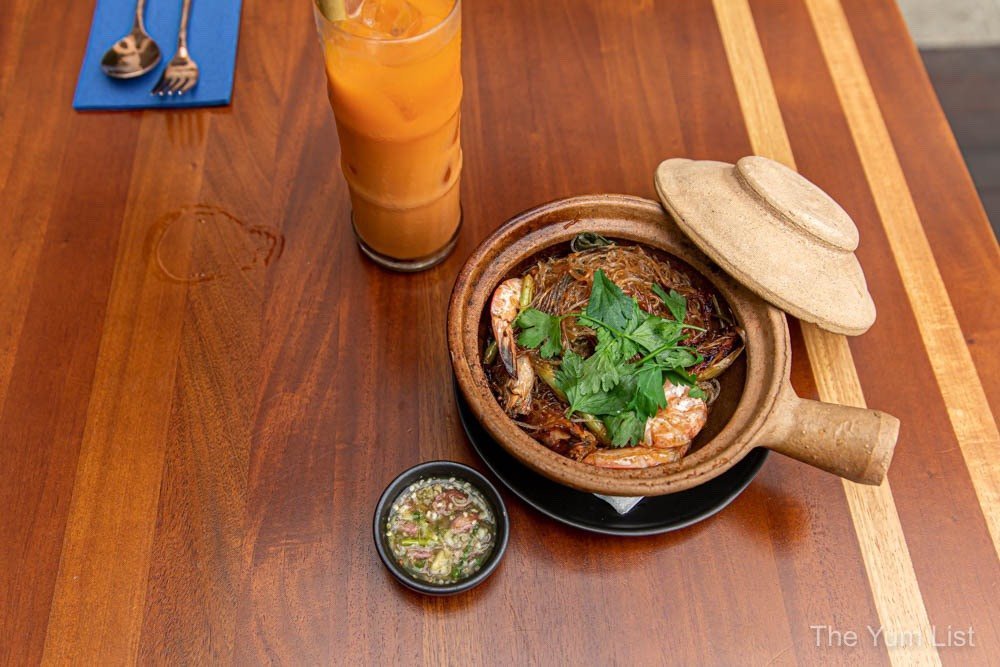 Village tradition continues at Krung Thep with Gai Yang Kao Suan Kwang (RM42+), kampong chicken marinated then cooked in a Thai-style binchotan charcoal grill. Tender, moist and flavourful all by itself, the flavour is enhanced by basting with white peppercorns, lemongrass and chilli-tamarind.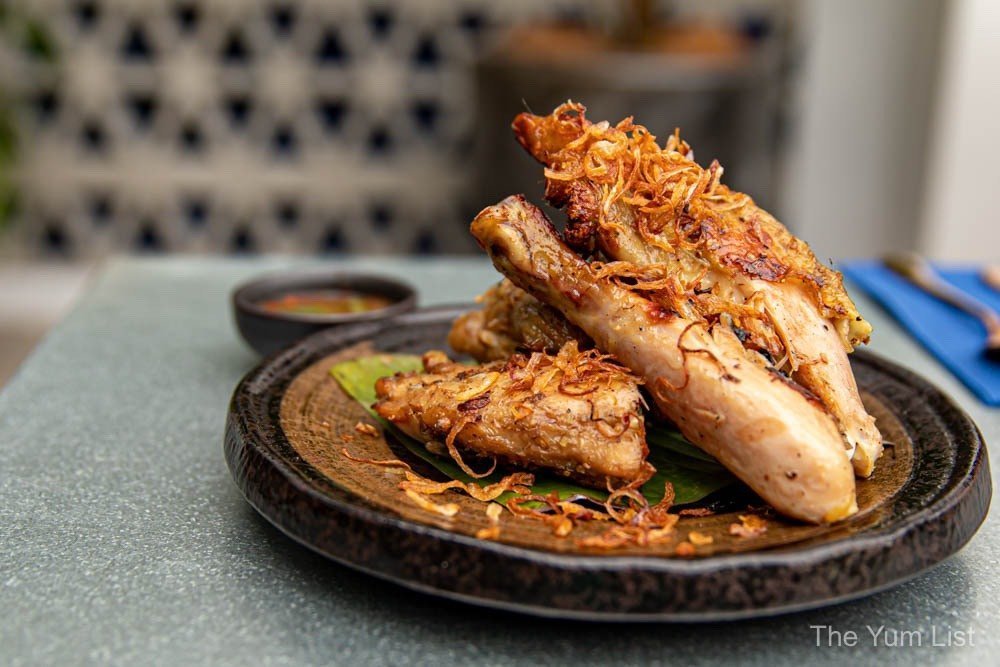 Most people will be familiar with the Geng Gwia Warn Neu (RM36+); Krung Thep's version of the Green Beef Curry is cooked in southern Thai style, a fiery-dry curry. Tender pieces of beef are cooked with the spicy, aromatic green curry that is a favourite of Thai eaters everywhere. Krung Thep produces an excellent version; the coconut milk sweetens but does not overwhelm the other flavours in the sauce. Jasmine rice offers a sponge to soak up all the saucy goodness, but it is the optional brown rice that we reach for again and again.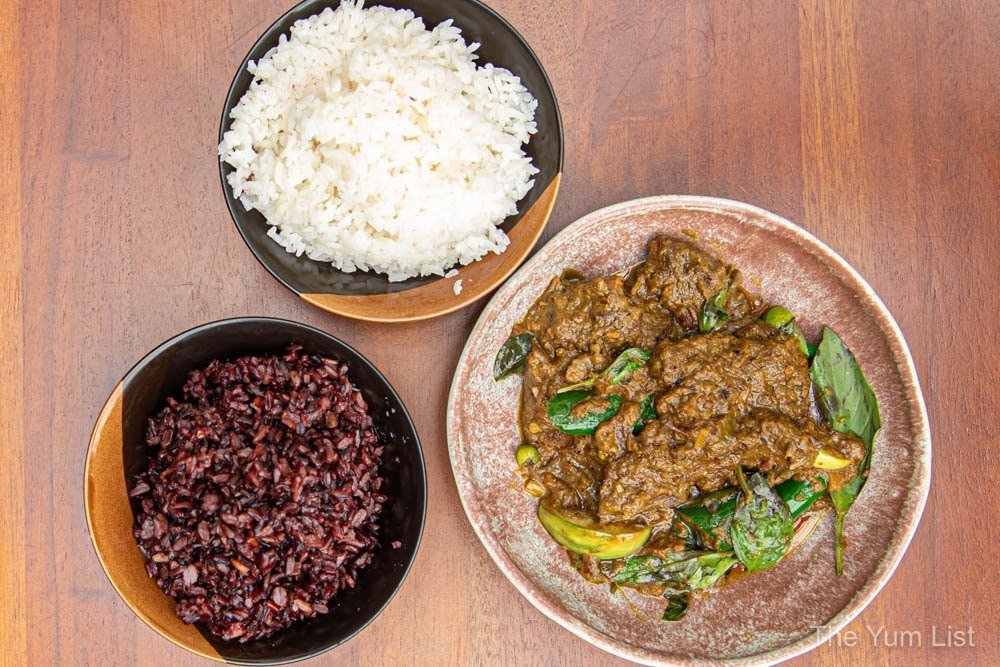 Our last entrée, Pla Tort Sahm Rot (RM56+) crowns a whole extra crispy fried black pomfret with "3-flavor" sauce that is a hallmark of Thai cooking: A little sweet, a little sour, and a little spicy. Chunky in texture, it is the tang of the tamarind that captures my palate the most.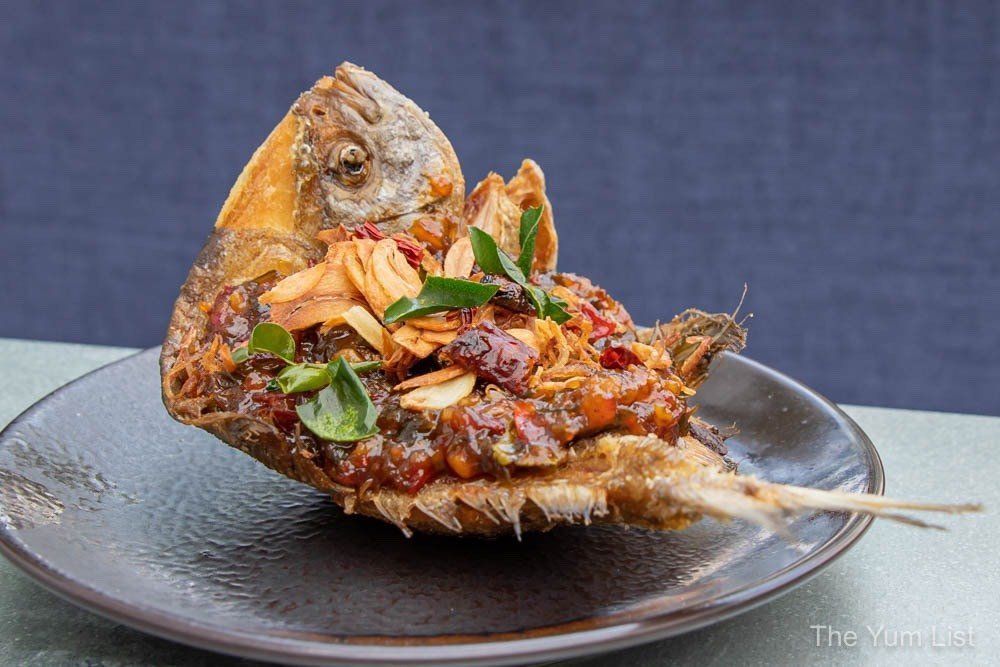 Thai Dessert
Not unexpectedly, our tongues are tingling with all the chilli, ginger and lime. Our hosts suggest two types of artisan ice cream (made by Forty Licks) to cool down the meal. The first is Thai milk tea ice cream, creamy and sweet with just an edge of pekoe. What makes it really interesting, however, is the addition of croutons and fried shredded mushrooms. This seems like an unusual combination to us, but we love the crunch and savoury complement. The second is Coconut ice cream, again served with unusual accessories: black glutinous rice and crispy taro. The result is something like tropical rice pudding with a salty finish. Yum! (These are not currently listed on the menu but you can ask the friendly waitstaff what is the flavour of the day.)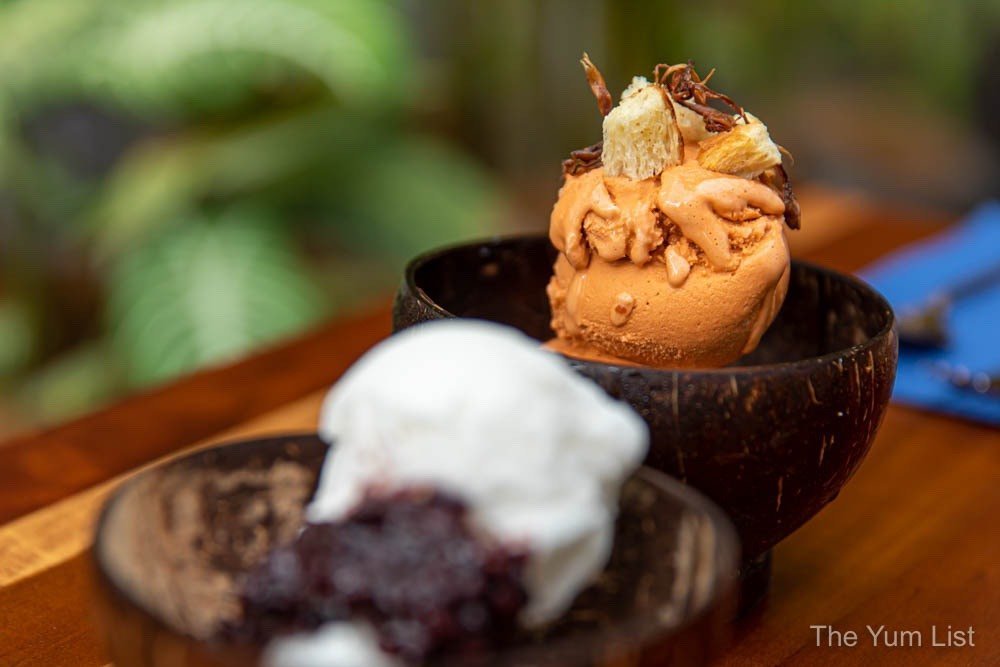 Krung Thep Review
A closer look around the room reveals a variety of textural features that surround the guests with warmth and colour, in a manner not unlike the city for which it's named. Krung Thep is a place where the old and the new converge into something unique and indulgent: Food, friends, and geography all in one place.
Reasons to visit Krung Thep: unique regional Thai cuisine; don't miss the smoky aubergine in the Yam Makreua Yao and the super tender squid in the Pla Merk Go Lek; and, definitely leave room for dessert.
Krung Thep
Lot G05, Republik Damansara Heights,
1 Jalan Medan Setia 1,
Bukit Damansara,
50490 Kuala Lumpur
+60376228760
www.facebook.com/krungthepkl
Krung Thep Opening Hours
Daily
Lunch: 11:30 am – 2:30 pm
Dinner: 5:30 pm – 10:30 pm
Find more restaurants and bars in the cool enclave of Republik here, here and here.