New Craft Cocktails KL
Words: Kitty Noble    Photos: Richard Callahan
KL has a plethora of cool, hip bars whipping up some fantastic craft cocktails. To stay on top of the game, however, they must continually curate and refine menus to remain competitive. Only just over a year old, the team at Woobar at W Kuala Lumpur has proven their creative endeavours changing drink lists and afternoon teas so that they never go out of fashion. We're here to try their latest innovations from the bar.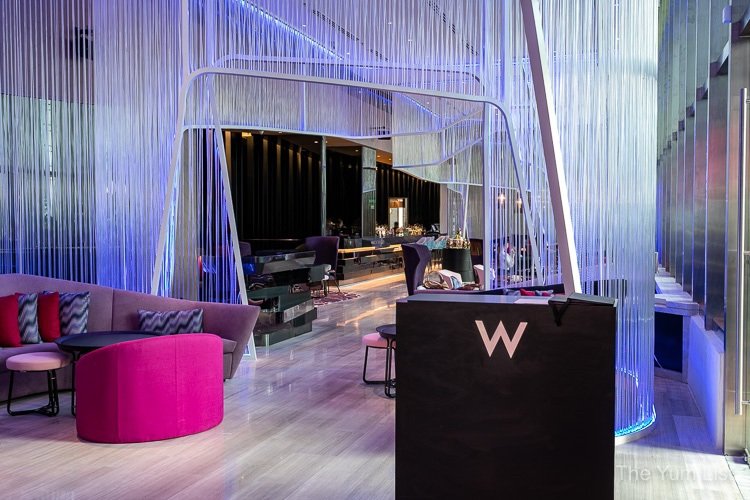 Craft Cocktails Kuala Lumpur
Entering Woobar evokes images of a new-age spaceship with neon coloured temporary installed art on the walls from Gallerie De Artistes (Hersk is the artist a la mode with his signature lollies). An extravagant, long, black sparkling marble bar, is randomly adorned with rubber ducks and other frivolities. Tall, light-reflecting mirrors, along with high ceilings, create an open, airy feel. Large, ostentatious lanterns gently illuminate while complemented by LED lighting, and a juxtaposed jungle of plants outside.
Reflected in the fun environment, is Woobar's Boredgame menu (nope, I haven't misspelt that) for their new craft cocktails KL. If like me, you find it too difficult to choose from the array of unchartered cocktails, you may roll the dice and let Lady Luck pick for you. Each number representing one of their 12 cocktails, is separated into two categories:; six tiger cocktails (strong and stands out from the crowd) and 6 peacock cocktails (flamboyant and designed to shock).
Wanting to recreate the feeling of a traditional living room, Woobar takes the cue from the famous board game; Jumanji! So like the city jungle meeting the funky interior, in the game of the same name we have an ornately carved exterior, with cleverly designed pictures (originals hand-drawn by our very own smiley mixologist, Cam), closely representing the quirky drinks to come.
Woobar's New Menu
Roll the number 2, and you have Tropic Thunder (RM 45) from the craft cocktails KL menu. Pineapple laced with white rum, caramelised lime and fig syrup is served in a tiki mug with a dehydrated pineapple 'hat' and fresh fig. To complete the over-the-top spectacle, over-proof rum is torched while being poured over the fig, in turn, caramelising it and adding to the booziness. Biting into the fig, you get the yummy rum, followed by gooey fig, with a lovely balance and freshness of the drink itself, without being overly sweet. Hats off to this one! (Sorry, not sorry).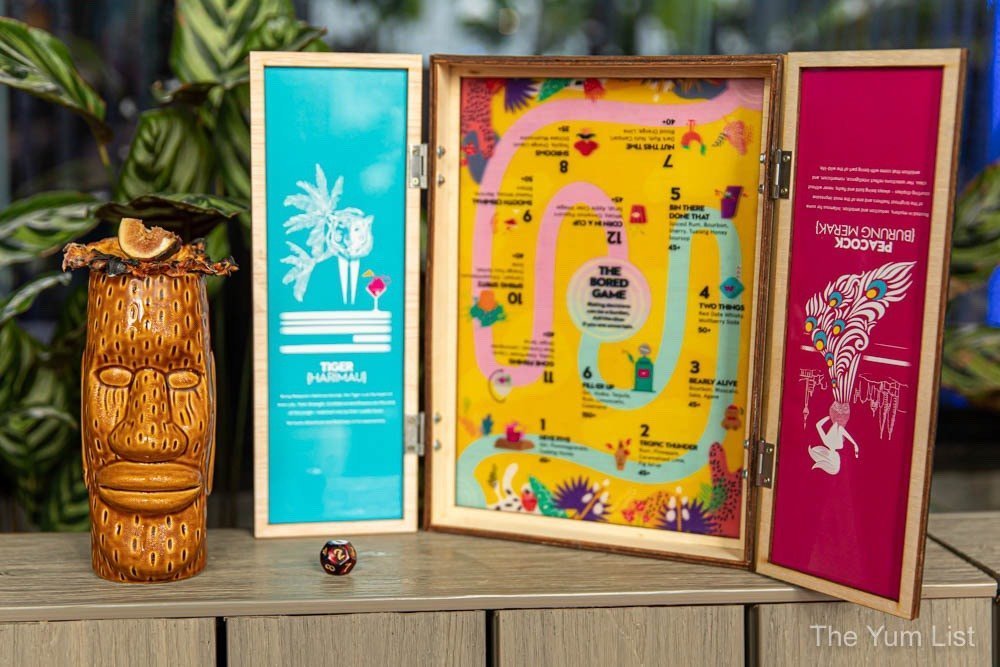 If you were to roll the number 3, you would find yourself with Bearly Alive (RM 45). Taking its provenance from the kitsch bear glass (in much the same way as perfumes are designed around a concept), bourbon is shaken with Moscato, sake and agave. The glass is amusingly topped with a surgical cap and served on a surgical tray. The "bear's brain" made from dragonfruit jelly accompanies the beverage. This one is slightly sweeter than I originally imagined, but again, fresh and well balanced. And, no honey. That would have been too obvious!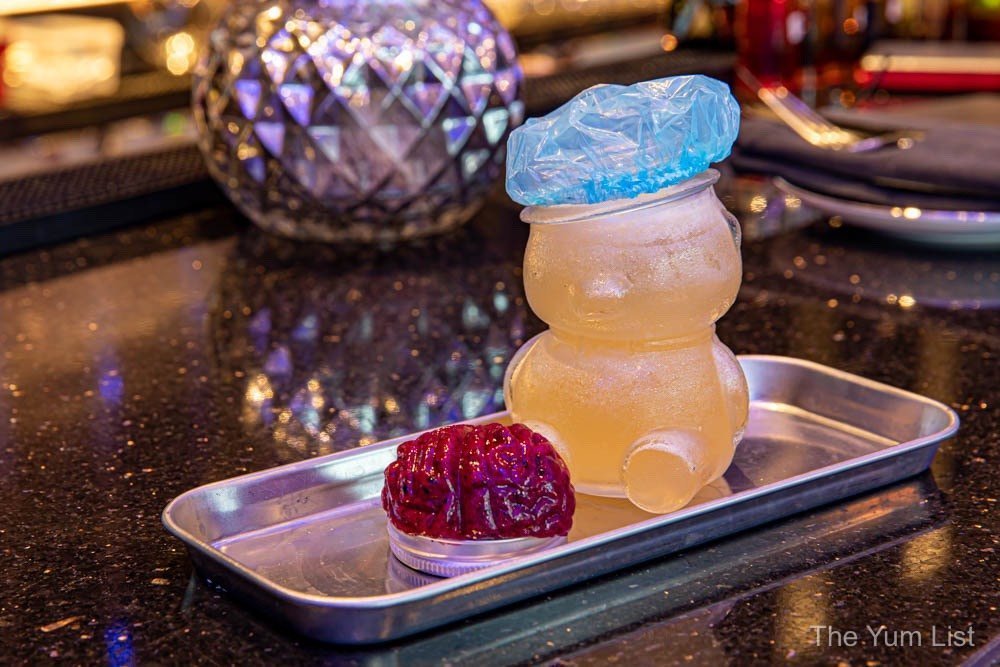 Rolling number 5 next (and at this point, you should really be buying lottery tickets if you could consistently throw in succession like this), gives you Bin There Done That (RM 45). Sailor Jerry Spiced Rum, bourbon, Amantilado sherry, tualang honey and soursop are served in a trashcan in which you will find a robot, casually chilling as the smoke (dry ice)lingers. Tualang honey from Pahang arises from the tallest tree in the world… a challenge for those gathering it. This would normally be far too sweet for my liking, but I was instantly transported back to my youth, standing in a sweetie (candy) shop, gathering my pick-and-mix of Fruit Salad and Black Jacks, which is precisely what it tastes like. Although, I can confirm that the resultant outcome of consuming each is quite different.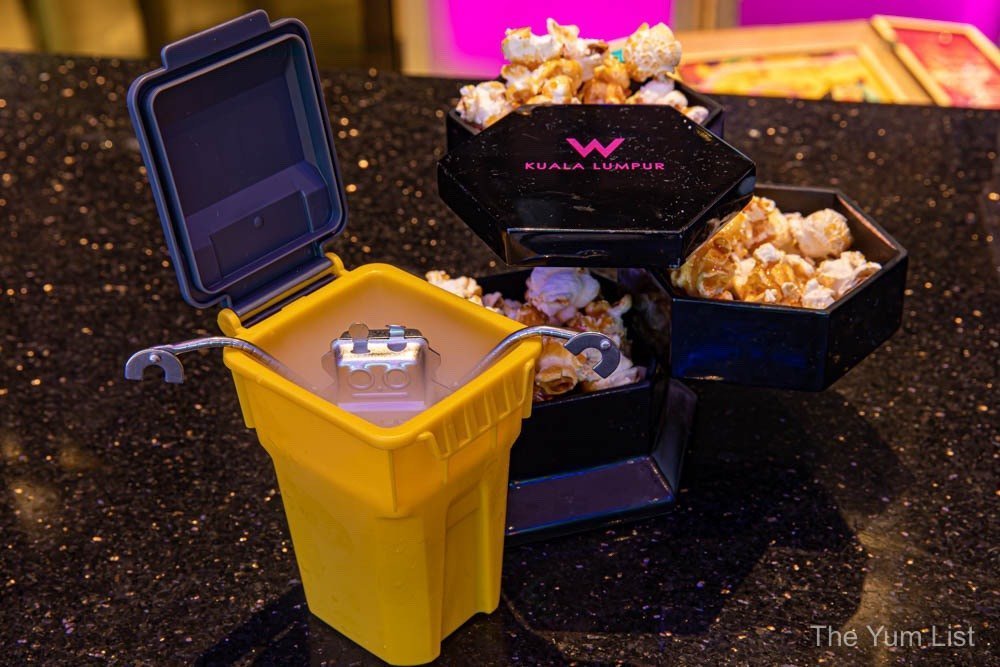 Shrooms ((RM 35) number 8) was the drink I was most looking forward to tasting. Given I'm a fan of mixing Marmite with jam, on toast (try it…), I do like odd flavour combos, so a drink containing mushrooms… yes, please! Tequila is shaken with orange liquor and shitake mushrooms and served in a mushroom-shaped glass. Loosely based on a margarita, the saltiness arises from a secret ingredient (homemade salt, with chilli powder and paprika… not a secret any more). Woobar reuses the mushroom from the syrup to garnish the drink along with kaffir lime leaves. The concept was good, but honestly, I'd have loved EVEN more of the mushroom flavour as it added depth and umami – quite delicious.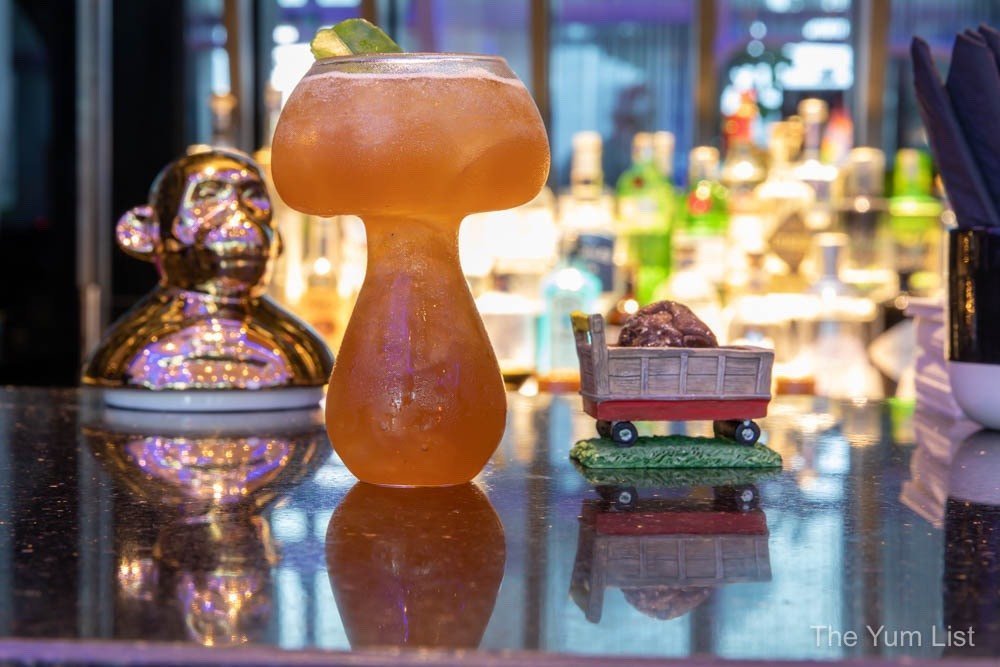 Were you to roll number 9, you would be served the Smooth Criminal (RM 50). It's composed with 10-year-old Laphroaig whisky (a peat-driven single-malt) along with a curious blend of Vegemite and bitters. Served in a coupe glass with a giant ice-cube, the smokiness of the whisky is balanced with the sweetness of the Peychaud bitters. It finishes with the oh-so-subtle Vegemite, a nod to the Australian influence in Woobar.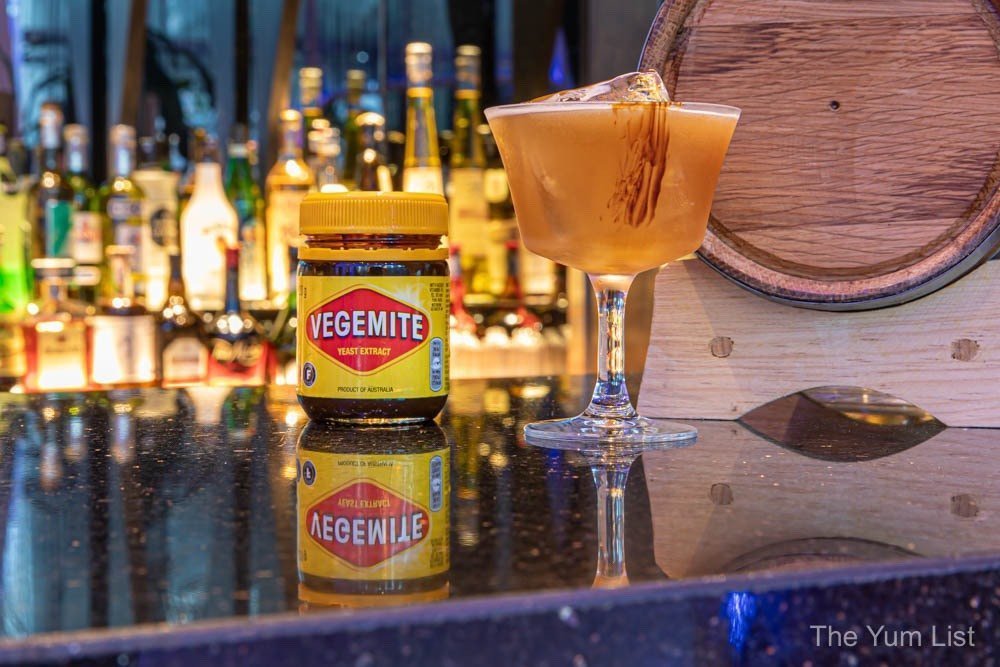 Gone Fishing (RM 45) is what you get for rolling number 11. Vodka, elderflower liqueur, blue Curacao, and lemongrass and ginger syrup are shaken and served in an aquarium. A garnish of dill looks resembles seaweed and 'fish food' (chocolate-coated popping candy), comes apart so guests can "feed the fish." It is a gorgeous turquoise hue with floral and ginger tones. It's definitely for the sweeter-toothed palate but balanced with reasonable acidity.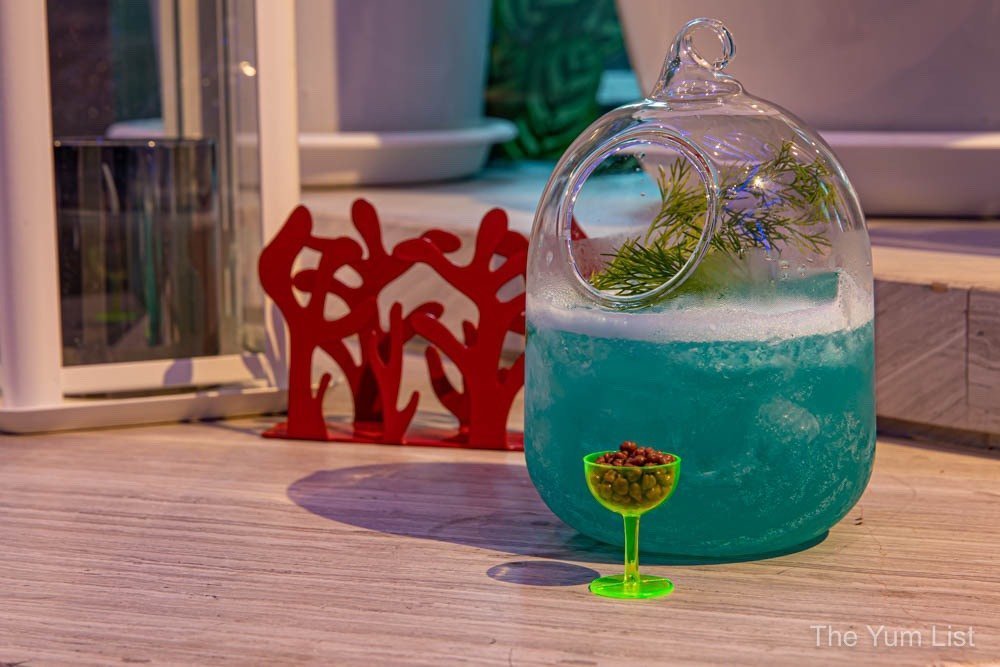 Snacks to go with those Craft Cocktails KL
Señor Quack presents Asian 5-spice confit duck in a homemade taco tortilla. Chilli-corn salsa, tamarind and sprouts are additional condiments. There's a lovely freshness thanks to the salsa and acidity from the tamarind evens out the robustness of the duck.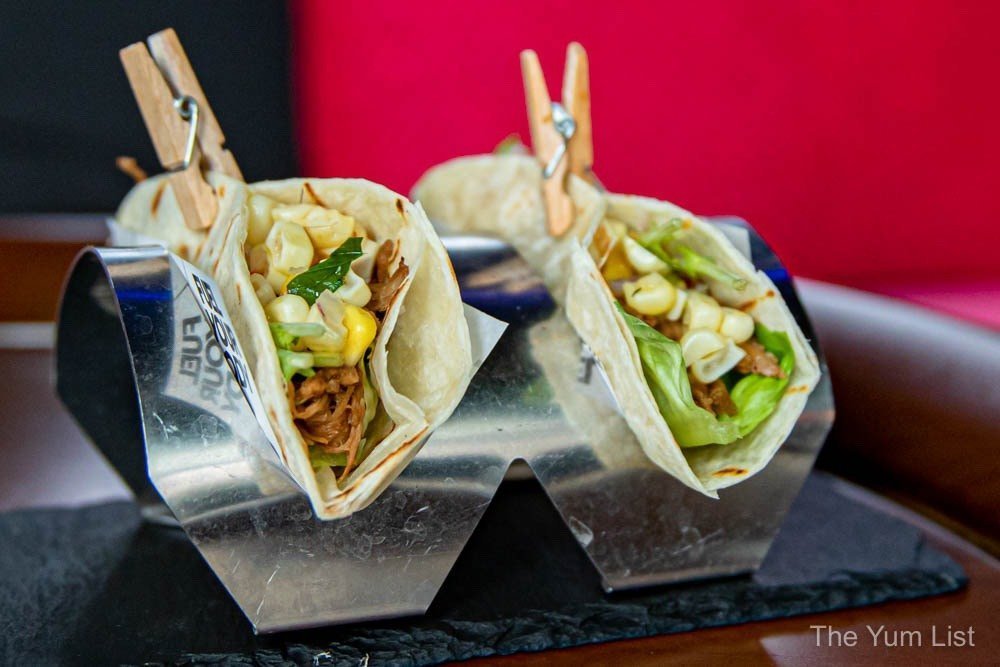 Tempura fish, pico de gallo and chipotle mayo come together in the Bao Bae. The fish sports opaque fleshy flakes, which are beautifully juicy with the light, crisp batter. The fish melts in the mouth with the tartness of the pico de gallo, cutting through the oil. I do have a reasonably modest appetite, so the portion was generous enough that it would have suited me well for a meal.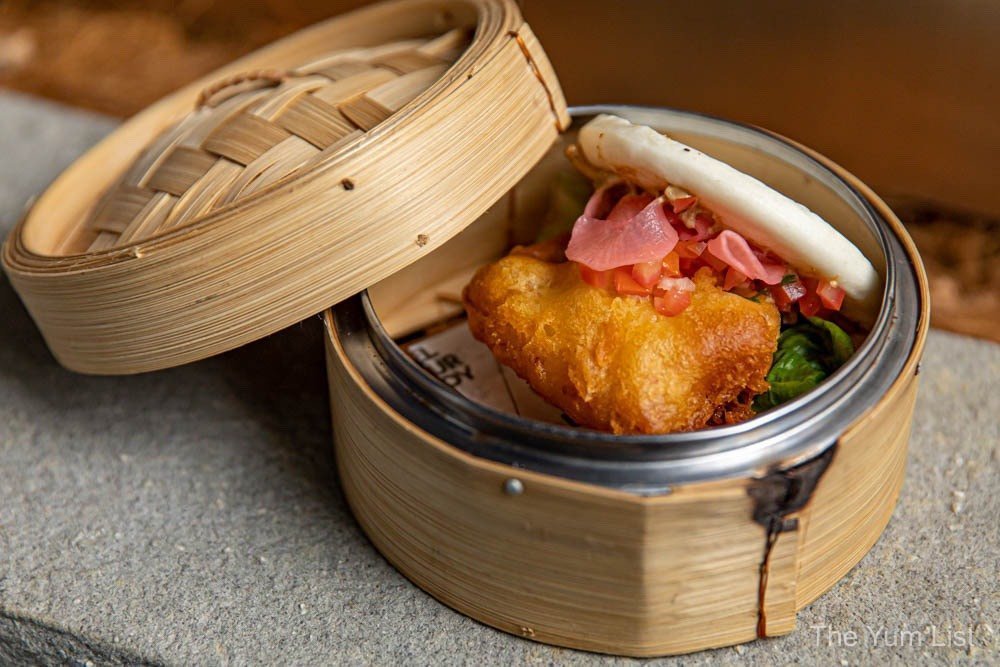 Farmer's Fetch is an organic veg pot; a little bucket of teeny, tiny funky, heritage vegetables. Think purple and yellow carrots and heirloom radish. The bottom of the bucket oozes with locally-made goats' cheese from the Milky Way, accompanied with a fromage bite, and olive liquorice (olive 'soil'). It's lovely, light and nearly guilt-free.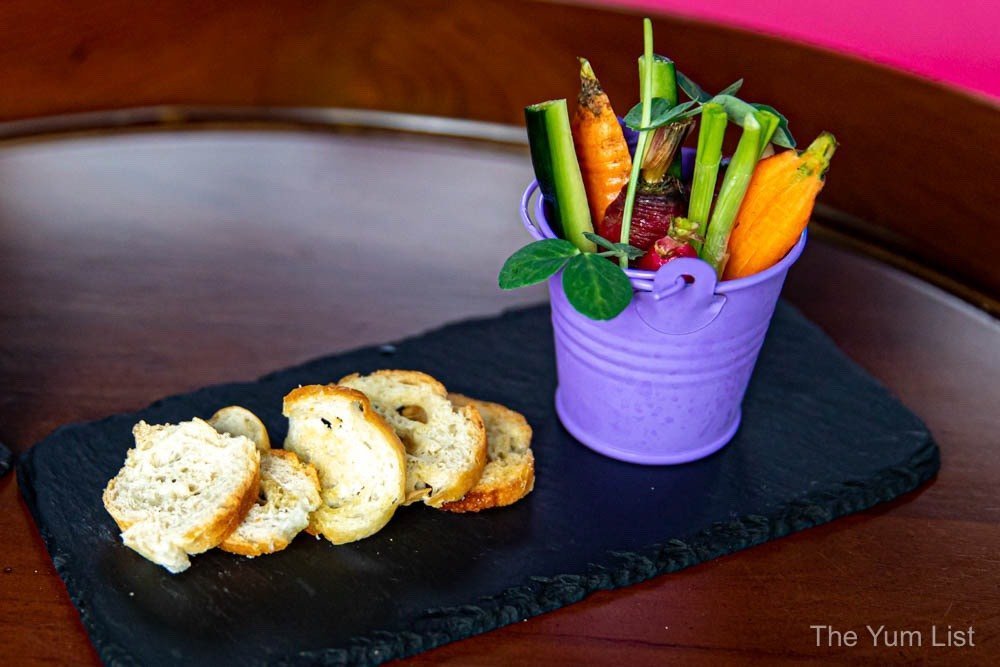 Craft Cocktails KL Review
The new craft cocktails KL menu at Woobar has lifted the game once again. Thoughtfully balanced cocktails provide a range to suit a variety of palates and presentation is sure to ensure that cameras will always drink first.
Reasons to try the new craft cocktails KL menu at Woobar: cocktails that come with crazy imagination; delicious light bites; fun setting.
Craft Cocktails KL at Woobar
W Kuala Lumpur
121 Jalan Ampang
50450 Kuala Lumpur, Malaysia
+603 2786 8888
Website
Get your craft cocktails at Woobar KL between 11 am, and 1 am daily.