Authentic Indian Cuisine KL – FLOUR
Words: Monica Tindall    Photos: Rich Callahan
With every visit to FLOUR, I learn something new about authentic Indian cuisine. Chef Yogi's passion for producing genuine recipes from his homeland is as much an honour to his father (fondly known as the Maharaj) as it is a nod to the rich cultural heritage of India itself.
Today I'm getting an education in kebabs, but it's not Yogesh who is doing the teaching, rather sous chef Balli who has designed this menu. Tikka and kebabs are minced or chopped pieces of marinated meat or vegetables cooked over a grill or vertical oven (tandoor). This November, they are a highlight at FLOUR.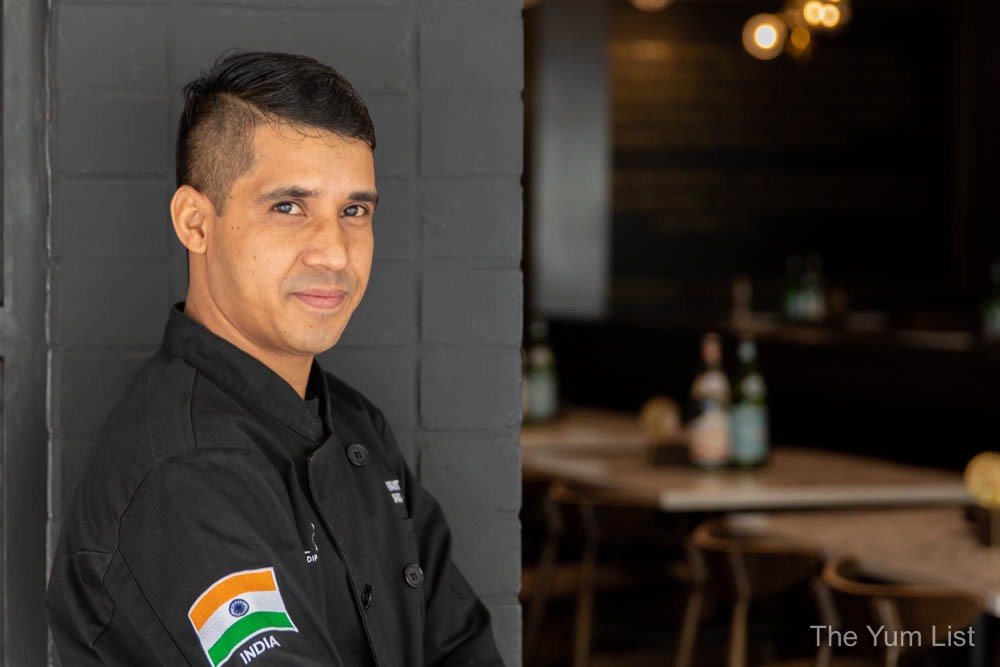 Authentic Indian Cuisine KL – Kebabs
Oft referred to as the "mother of all kebabs," Agneau Farci (RM30) or tundey kebabs were made for a toothless king back in the 1850s. Keeping in mind the ruler's challenge to chew, these stuffed kebabs were designed to melt in the mouth. At FLOUR, they are made from finely minced lamb and curd. The unexpected presentation sees a round of meat resembling a portion of brie (only dark brown in colour) stuffed with curd. It's almost as if slicing into a cake. We take a mouthful and push it to the middle of the palate with our tongue, confirming that teeth are not needed to consume this dish. At first, it is wonderfully smoky, then there are sour notes from the curd, and it ends with a honeyed sweetness. Chef Yogi claims that no one outside of India has ever successfully recreated tundey – if that isn't a challenge for Indian restaurants to raise the bar, I don't know what is.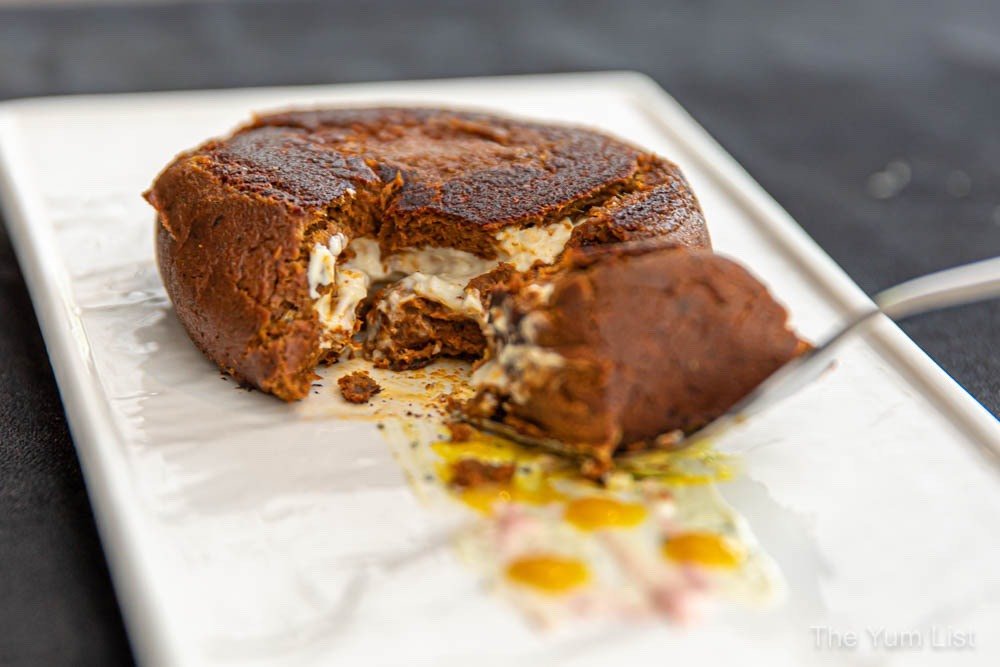 I'm excited to try the Paneer Tikka (RM32) with homemade cottage cheese and fruits cooked in the tandoor. The usual onions, tomatoes and capsicum have been replaced here with avocado, honeydew melon, pear and pineapple, which are thickly sliced forming an alternate pattern with the cheese. The cheese has been marinated in pineapple and kiwi; the additional acidity slices through the fattiness of the cheese as well as adding moisture to the overall profile.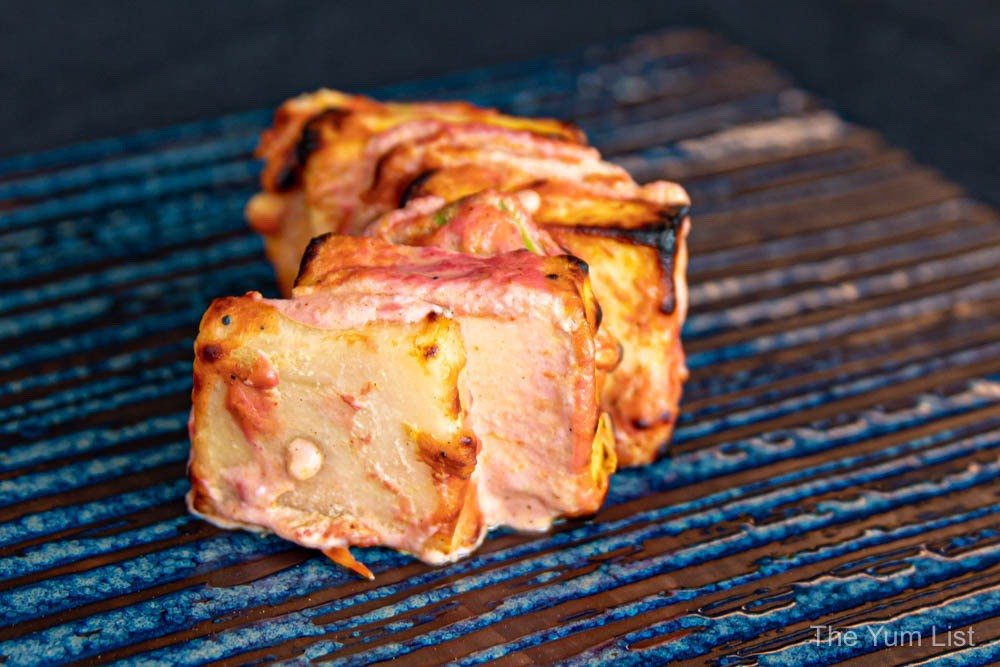 Bhap Aur Mitti Ke Tikka (RM34) presents chicken cooked in a duo of styles: one is steamed and the other done in the tandoor. This tikka is not the anticipated red but instead appears more as a roasted chicken roulade stuffed with beetroot and caramelized shallots. I love the balance of sweetness and earthiness in this recipe, but Rich favours the steamed minced chicken with the spice of green chillies and ginger. Chef Balli tells that the idea behind this November's menu is to know that kebabs can retain the culture and soul of India but still be modernized. Authentic Indian cuisine doesn't necessarily mean it is identical to how it was made 100 years ago but rather recognizes that society changes over time and so too evolves the food.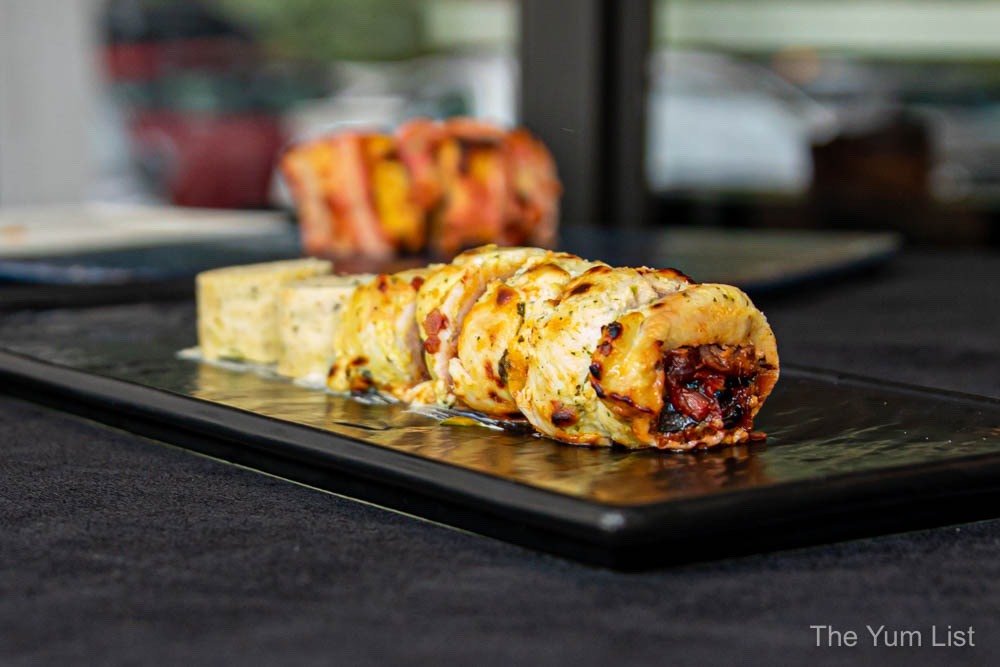 The last item on the November specials menu takes things up a notch with Raan Gigot D'Agneau (RM95 allow 30 minutes cooking time). Spanish baby lamb leg is roasted in the tandoor, coated in a reduced lamb and saffron stock and served with Kashmiri style potatoes. The heat in this dish is given by black and Sichuan peppers and the meat (only being six months old) is succulent and juicy.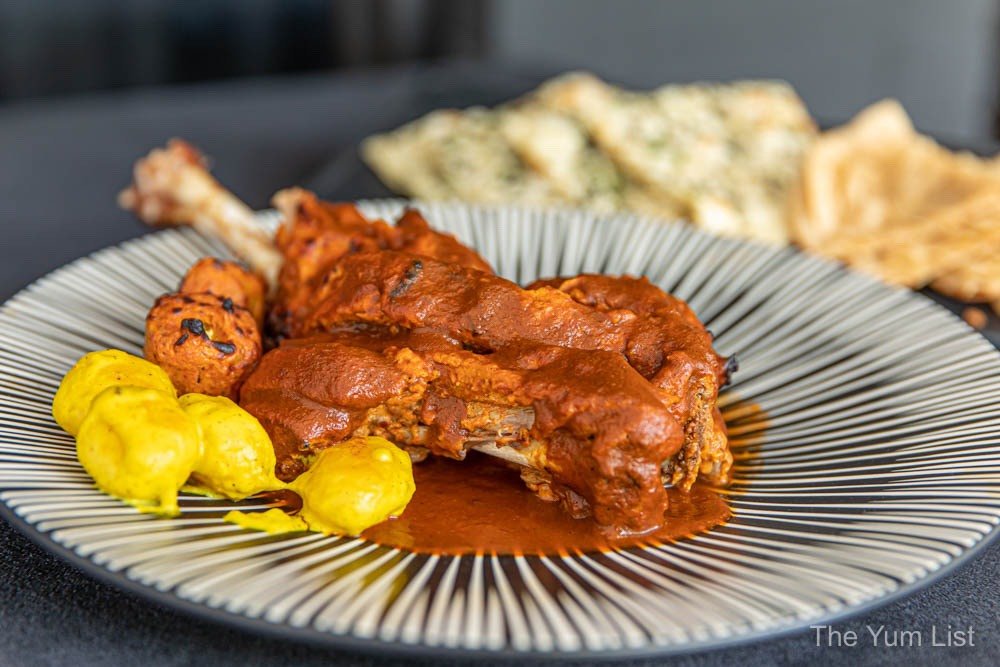 A La Carte Menu FLOUR
Apart from Chef Balli's kebab menu, we try a few items off the a la carte list at FLOUR. Chef Yogi tells that the recipe for Ajwaini Baingan (RM31) is an in-house creation with the crazy mission of building a dish around a single spice, ajwaini (ajawon caraway). The result is a spicy thick brown curry with baby brinjal. There's a dash of cream tempering the spice. It's served on a base of tomatoes and onion and is sour, pungent and bitter all in one mouthful. It's easy eating and highly satisfying.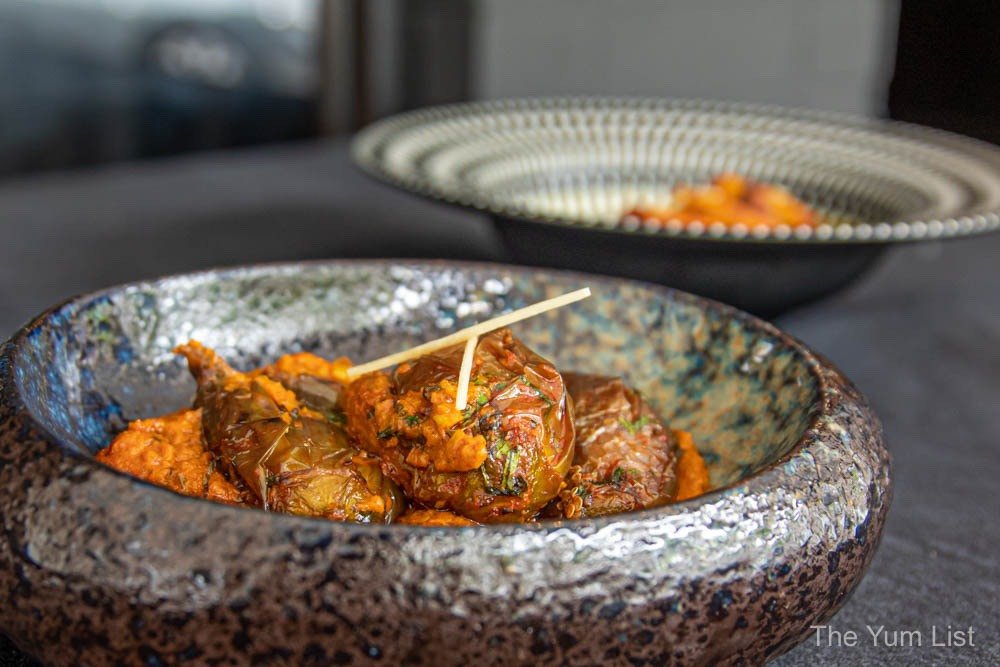 Another original innovation, The Bitter Gourd (RM32), takes advantage of the natural sharpness of this vegetable and balances it with a thick curry of bell peppers and dry fenugreek leaves. It's stuffed with lentils and fresh fennel and staged in a tower of cylinders. The vegetable maintains its bitterness but the supporting ingredients compensate taking the edge off. The sharpness is addictive. Similarly as tom yum soup, the opposing elements make me spoon back for more and more.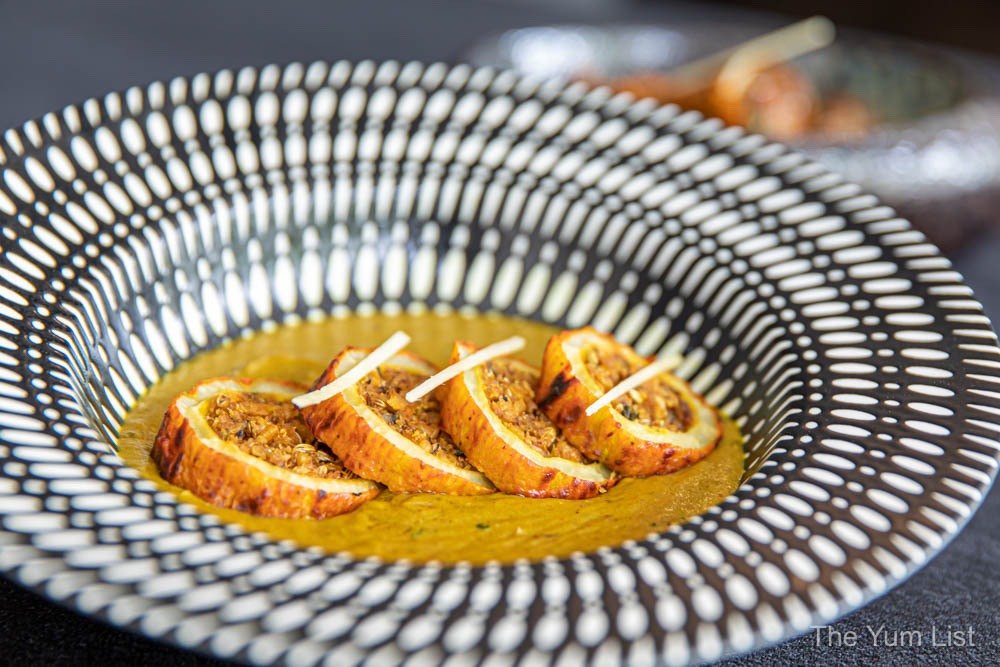 Most orders at FLOUR come with your choice of steamed rice, jeera rice or bread. Today we have brown and white flatbread, Laccha (RM8) and Kulcha (RM10). The former is layered and the latter topped with black sesame seeds and coriander.
Indian Chicken Biryani (RM36) is our last main today. Apparently, there are over two handfuls of different types of biryani that could be called authentic Indian cuisine. At FLOUR, it's a combination of styles from Lucknow and Hyderabad. The aroma that hits your nose as the lid is lifted is Lucknowy in style, while the lovely long grains of rice stem from Hyderabad preparation. The biryani is served in three layers – rice, rice and meat, and rice and sauce. The chicken pieces are lean and moist, and the flavour mild. Raita (yoghurt, cucumber, onion, cumin) is there as a complement softening the dish and contributing additional moisture but is not really necessary.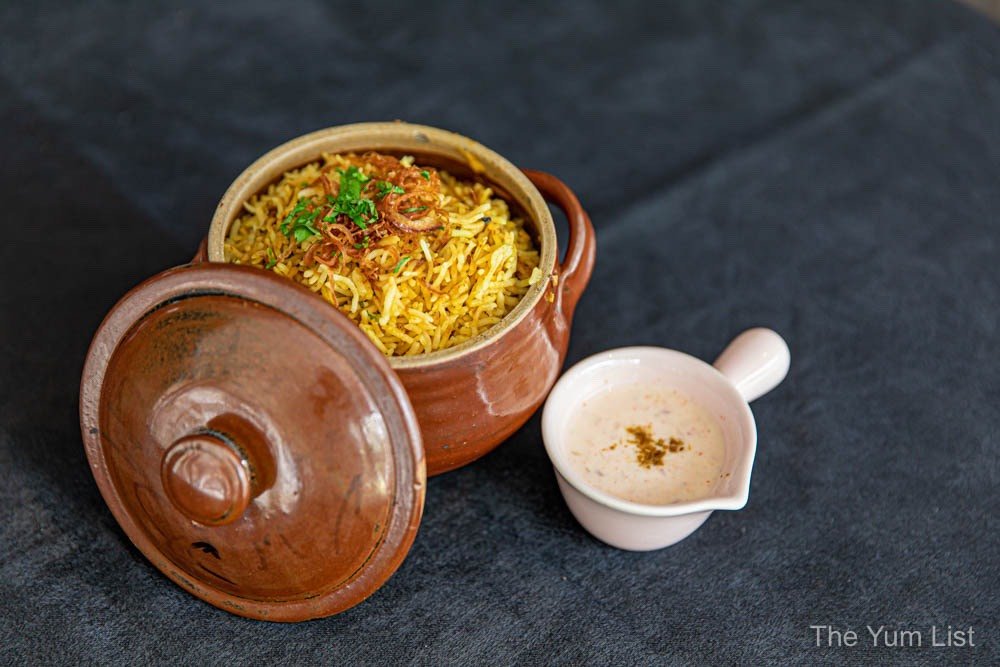 What wines pair with authentic Indian cuisine?
The complexities of authentic Indian cuisine can make wine pairing a challenge. The team here are up to the mission, however, and every dish has been tried with at least 10 different wines. Notes are taken by a panel of experts and the wines chosen are premium in nature with more fruit and lighter tannins to balance the robust quality of the food.
I find the Cuvee St Vincent Bourgogne Pinot Noir (RM300 bottle) delightful both on its own and with food. Stone fruits are well-noted with roundness in the palate, appealing acidity and light tannins.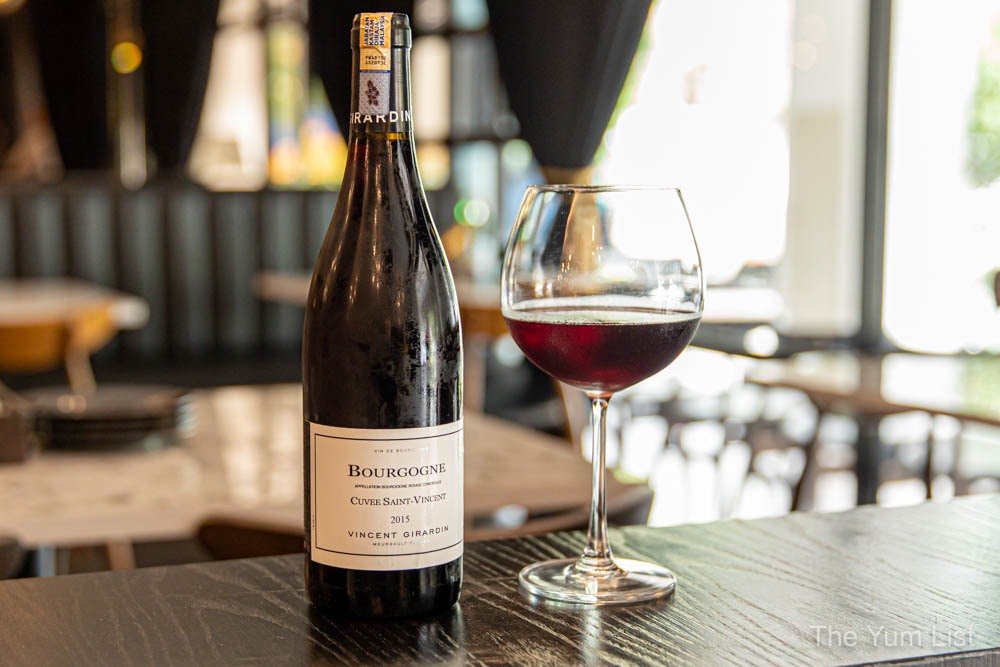 Dessert
Gulab Jamun is undoubtedly classed as authentic Indian cuisine. Initially, I'm not keen on having dessert as I lost my sweet tooth years back. These reduced milk balls, however, are not what I was expecting. Deep golden in colour, the spheres have been soaked in rose and saffron water (not sugar syrup), which offers a mild natural sweetness. I actually manage the whole portion and probably could have taken on Rich's allocation too.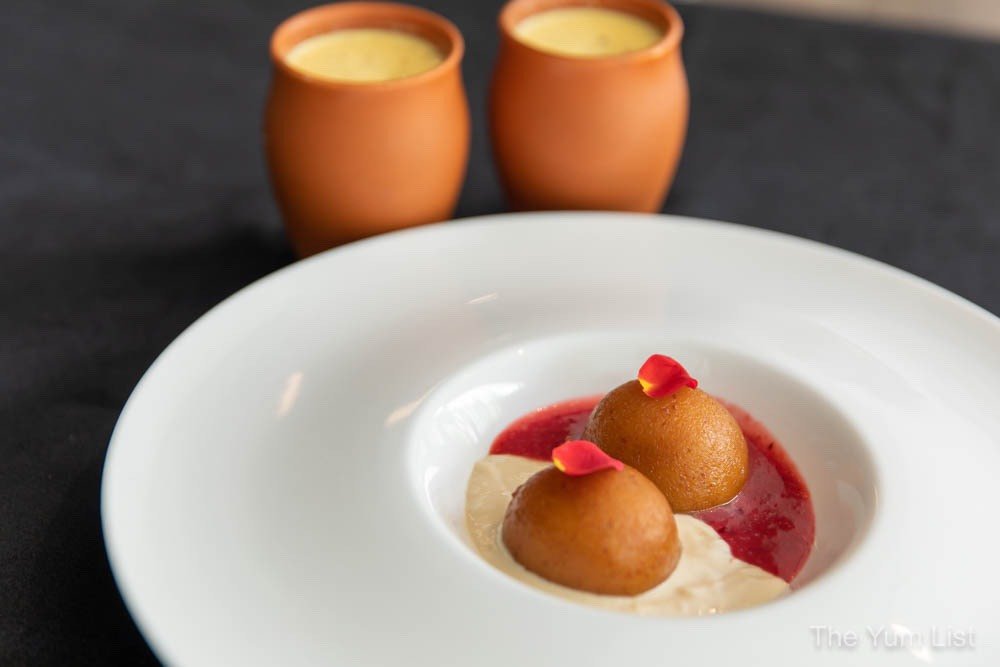 Authentic Indian Cuisine Review
As always, I'm leaving FLOUR with new knowledge and appreciation for the complexities of authentic Indian cuisine. Everything at FLOUR is made from scratch. The kitchen team utilize the natural flavours of quality ingredients without overpowering them with oil, cream, chilli and sugar. So we leave feeling satiated, not sluggish and easily digest maintaining our energy into the afternoon.
Reasons to visit FLOUR: raising the bar of authentic Indian cuisine in KL; must try a biryani and do get in on Chef Balli's kebab menu as it will only be available until the end of November.
FLOUR, Indian Restaurant
Plaza Damansara
71, Jalan Medan Setia 1, Bukit Damansara,
50490 Kuala Lumpur, Malaysia
+6 012 960 0053
www.facebook.com/FLOURRESTAURANT/
FLOUR Opening Hours
Tuesday: 6:30 pm – 10 pm
Wednesday to Sunday: 11:30 am – 3 pm & 6:30 pm to 10 pm