Guest Chef Series
Monica Tindall
The Datai Langkawi's Guest Chef Series continues with one of Malaysia's most famed chefs, Darren Chin. Known for his meticulous attention to detail, sourcing of premium ingredients and running service with choreographed precision, Darren is a household name to gourmets in Kuala Lumpur. For three nights only, visitors and residents of the island have an opportunity to dine on a menu specially curated by Darren for The Datai. The line-up includes several signatures from his restaurant, DC Restaurant by Darren Chin, along with an impressive list of wines for pairing. The menu allows guests to not only gain some insight into DC Restaurant but also enables a look into the fabulous wine collection housed in The Datai Langkawi. We're here for the second evening's presentation along with a full-house.
Guest Chef Series Menu
Tall tables are set on the open pool deck, ideally located to capture the evening breeze and change of light in the transition from day to night. Guests are greeted to the Guest Chef Series with a glass of house Champagne, Michel Roux's own label. It's fresh with notes of citrus and fine, persistent bubbles. It is an excellent lubricant for conversation, and we make some new friends over the aperitif.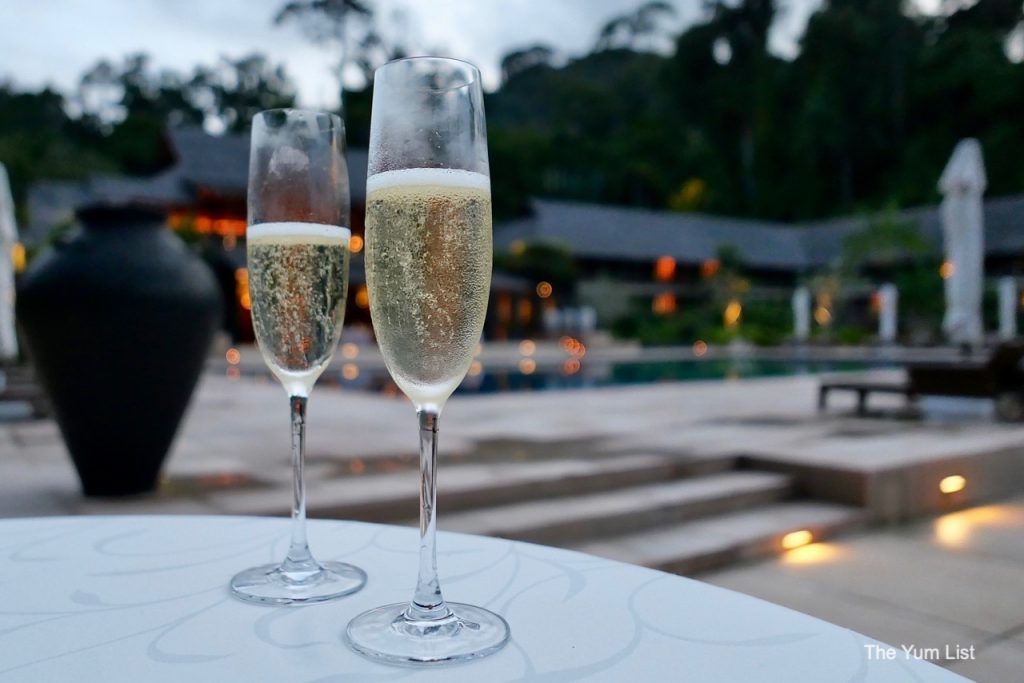 Diners are seated table by table in an orderly and gracious manner; flowing effortlessly from the cocktail setting to dressed tables. As we're accommodated, water, bread and another top-up of Champagne make us comfortable. This is a Darren Chin touch. If you have not yet dined in DC Restaurant in TTDI, I highly recommend you do, at least once, to see the potential the service industry in Malaysia could rise to.
Snacks
Settling in, we're presented with a trio of snacks on a long wooden platter. The first is a warm, savoury bite of pastry filled with pickled kurabi, potato cream and chives. The second hits the sweet section of our mouths with a yuzu meringue topped with crab meat. Lastly, an egg parsley ball wrapped with cured duck and garnished with pegaga (centella asiatica – a local herb said to be particularly beneficial for the skin) rebalances our palate with a harmony of sweet and savoury.
Amuse Bouche
We're glad we have a few sips of Champagne remaining for the amuse bouche as caviar and bubbly are indeed a match made in heaven. Here though, Amur caviar is a surprise to many; it's farmed locally and dubbed 'tropical caviar' by the Malaysian producer, T'Lur. A mascarpone and shellfish coral ice cream is nicely aerated, and the mini bursts of sturgeon caviar and fresh organic bamboo shoots are elegant and exciting. It's an enticing beginning.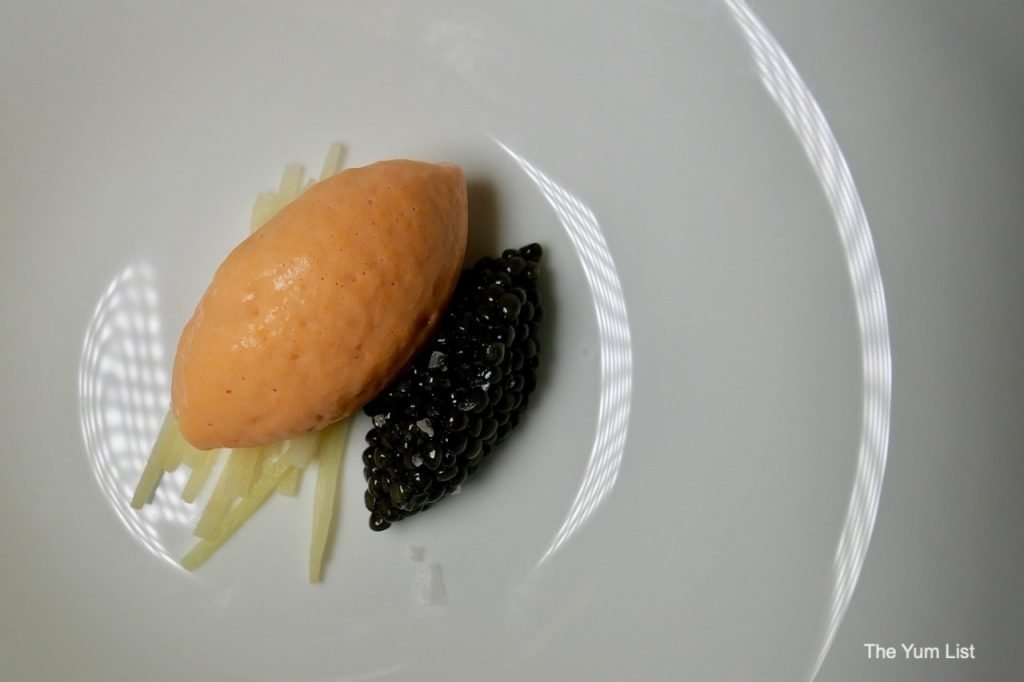 Organic Baby Corn
The menu gets serious with a glass of Dom Pérignon, Brut, Champagne, France 2009. Chef Darren Chin is the chef brand ambassador for the label, and as such, we are fortunate to relish a chilled glass of this beauty. Perhaps the most recognized Champagne in the world, the reputation comes with good reason. Dom Pérignon is only made in years where production is deemed of excellent quality. This has resulted in only 42 vintages between 1921 and 2009. Additionally, vintage Champagne spends a minimum of seven years in bottle before release.
The year of 2009 was one of extraordinarily good weather in Champagne. It allowed grapes to reach their full ripeness before being picked and this is in turn shown in richness in the bottle. Our noses find a fresh tartness in the bouquet layered with vanilla and warm, buttery croissant. On the palate, the fruit is bold and luscious yet very much sophisticated with complexities of savoury and bitterness weaving through. The whole mouth feels this liquid, and it makes an excellent match for the lightness of the first plate.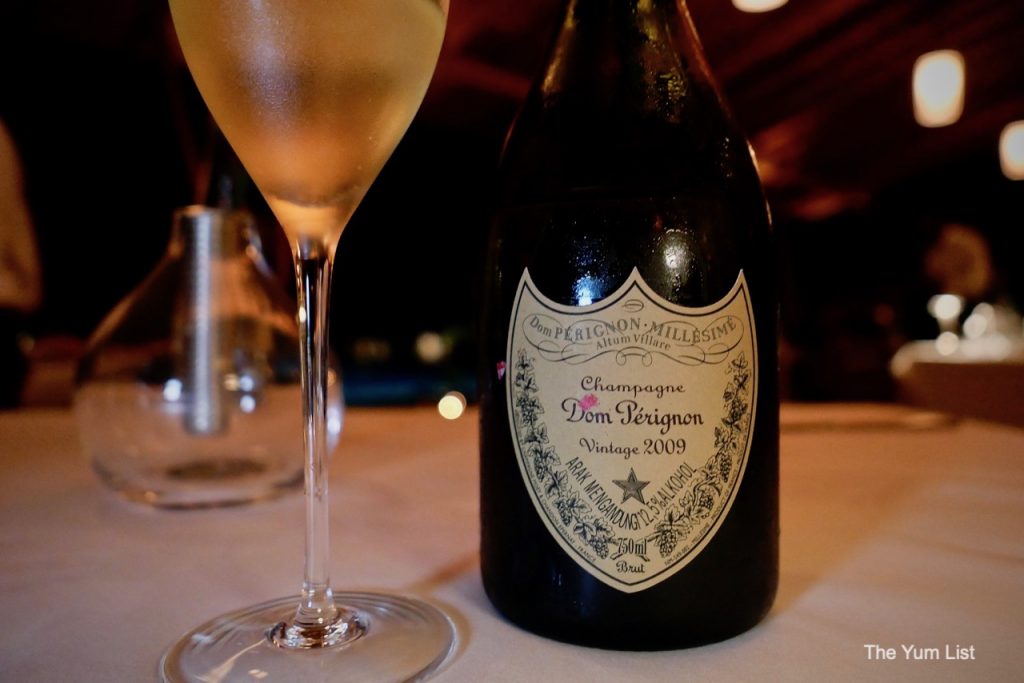 Grilled organic baby corn is superbly tender, coated in a light semolina batter and quickly deep-fried. It's served on the leaf itself, adding a little rusticity to the presentation. On the side, there are local kukur (split gill) mushrooms (from Negeri Sembilan), which sport delicate umami flavours and a meaty texture. A spoon of corn cream links it all together.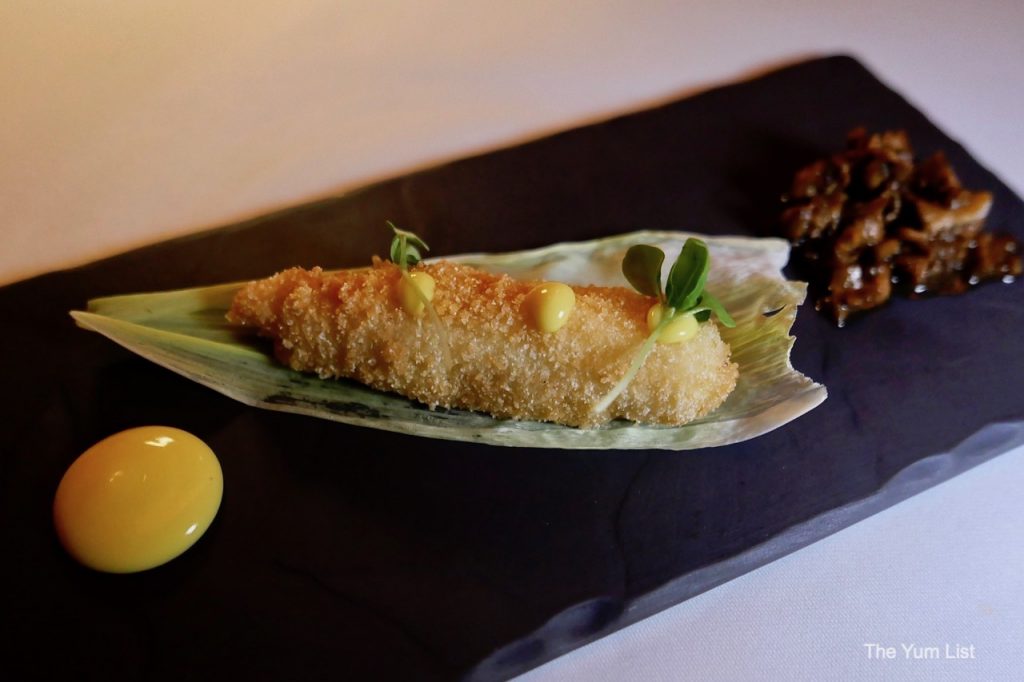 At this point, Chef Darren and his team take a moment's break from the kitchen to welcome all to the Guest Chef Series. He tells that his crew is fusing French training with a lightness that makes it approachable while using the best of local ingredients. With a focus on procuring top-notch regional produce, he hopes to bring Malaysian cuisine to a world-class level. We think he has already achieved this and we eagerly await the rest of the world to recognize it too.
Echo of the Sea – Cold Cappellini
Anyone who has dined at DC by Darren Chin will immediately identify the signature cold capellini. This dish is so popular that it has remained on the menu since creation. Here it's given a luxurious boost with Hokkaido bafun uni, king crab, savoury seafood sabayon and truffled celeriac cream. The toppings are served separately, making a pretty photo. Still, once you've got your snap, it's best to mix them all together into one delicious, mouth-filling forkful.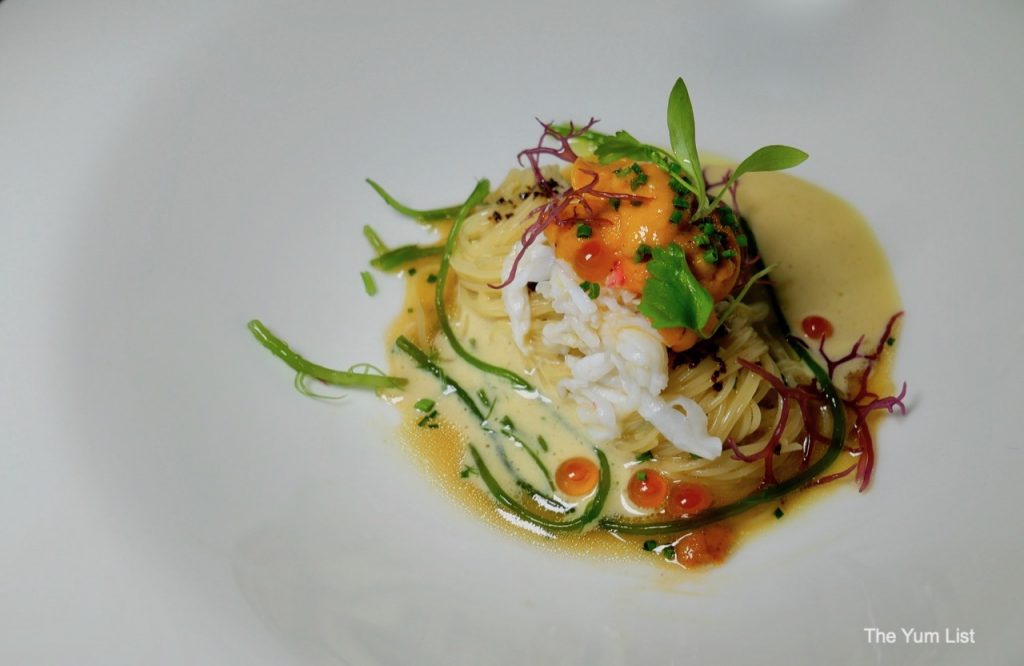 A glass of 2017 Wittmann, Rheinhessen Trocken, Silvaner from Germany supplies an elegant companion. Aromas of stone fruit and herbs in this dry Riesling are followed in the mouth with peach, trace minerals and a long, crisp conclusion.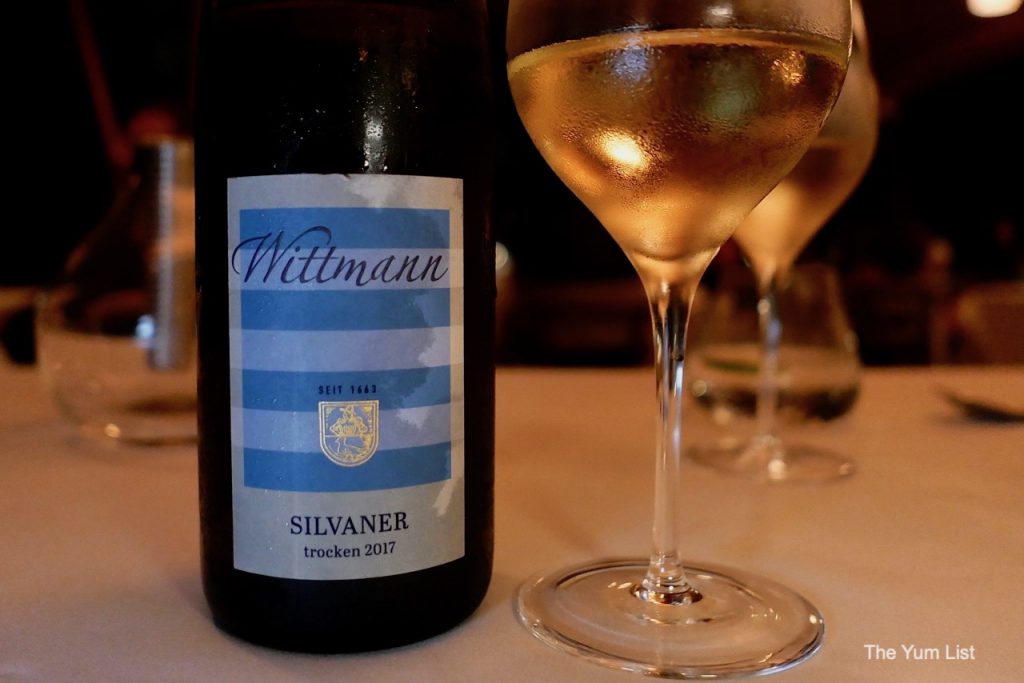 Sturgeon Fillet from Tanjung Malim
Locally sourced and supporting sustainability, sturgeon fillet is the star in the next course. The dense texture of the flesh makes it challenging to get just right, but in this Guest Chef Series, we are in highly capable hands. Darren counters the natural grain of the fish by ageing it for approximately a week in a particular type of paper that absorbs some of the fishy flavours and oils. A day before serving it's marinated in homemade white miso. It is still firm when grilled, but has a pleasant, clean taste. A Hokkaido scallop and roasted hazelnuts work well in furnishing balance. Salsify and whipped beurre blanc provide another layer for contemplation, and the wine match contributes further complexity.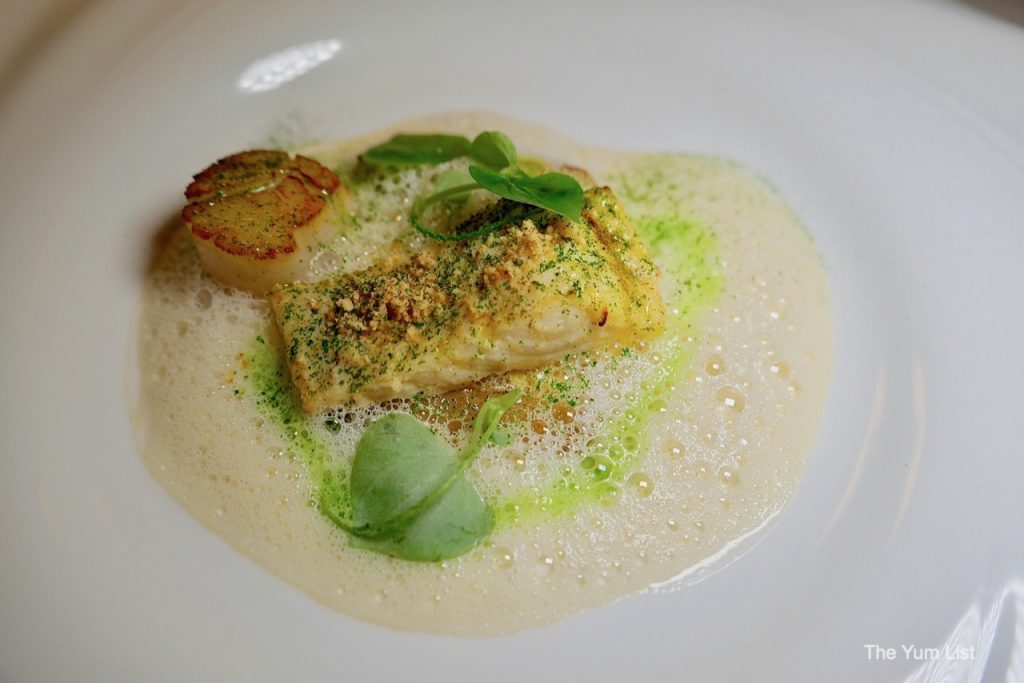 The highly appealing Mercurey, Château de Santenay, Burgundy, France 2012 is round, fruity, floral and a little funky. Coming from one of the largest producers in Burgundy, this plot of land, Mercurey, is dominated by pinot noir. In this case, however, Chardonnay too benefits from the region's long, warm summers and dryer Autumn. We certainly taste the benefits in tonight's mate.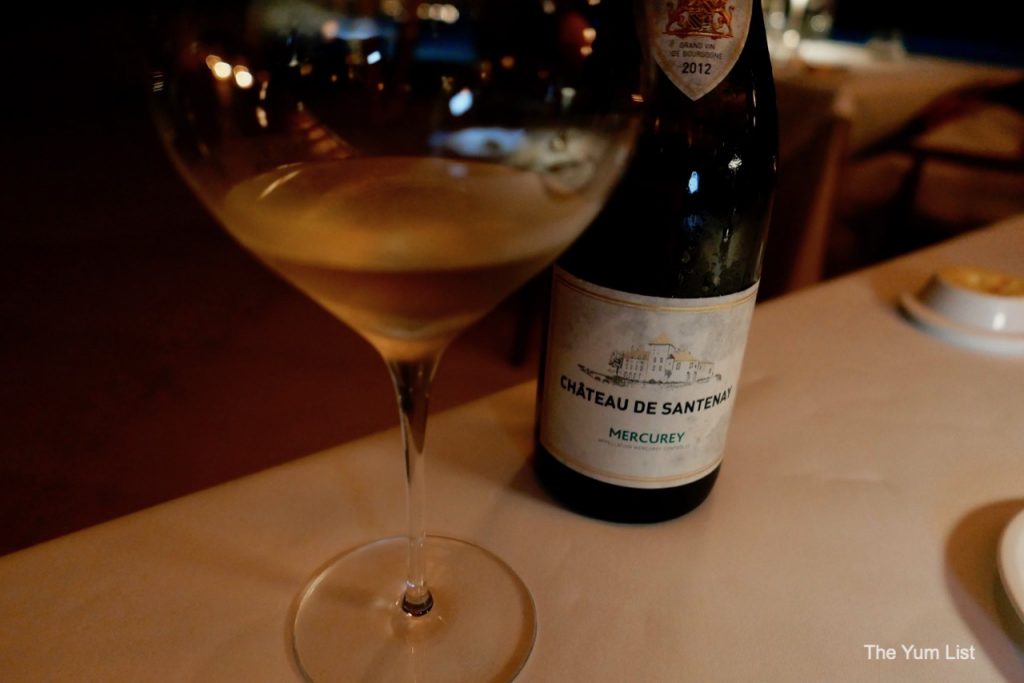 A5 Hida-Gyu
Another signature is accorded with DCs A5 Hida-Gyu as the main in this Guest Chef Series. Known for procuring the most premium of products, it is no surprise that Chef Darren is using this wagyu beef, considered one of the best in Japan. The marbling of meat resembles snowflakes and permeates not only the loin but other cuts too such as the flank, chuck and round. This distribution of fat makes the meat particularly juicy. It has been treated with the utmost care. (I have even heard a rumour that in Darren's own restaurant – DC – he is the only person allowed to handle it!). Fermented cherries sauce, confit black garlic and lime powder offer equilibrium with their acidity slicing through the fat-filling character of the meat.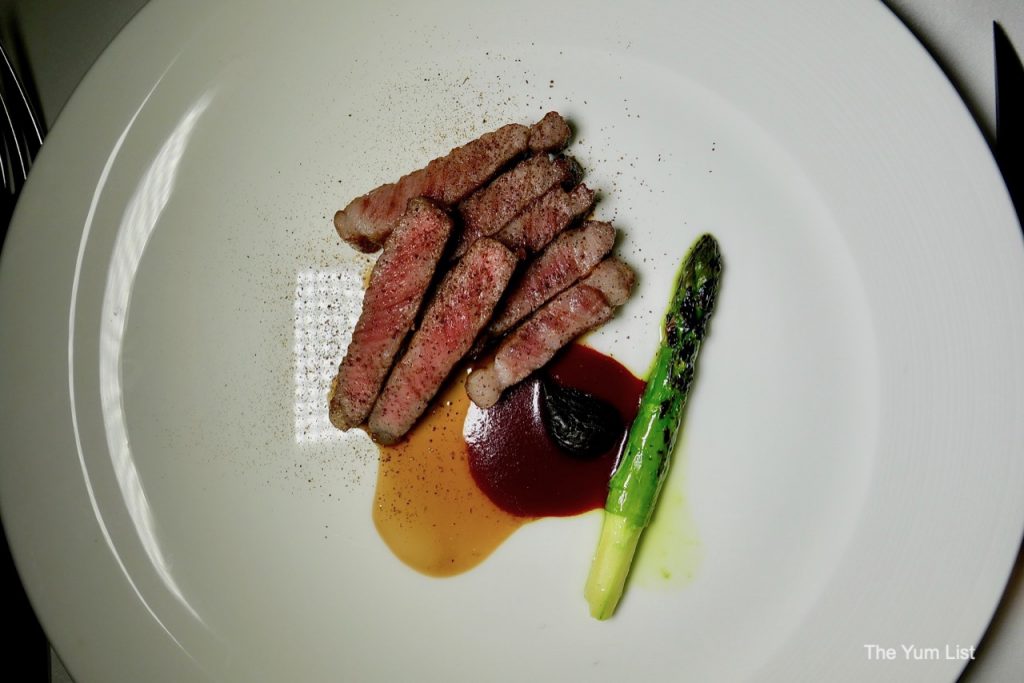 A 2014 Cabernet and Tempranillo blend from Catalunya, Spain – Castell del Remei, 1780, Costers del Segre – mirrors the meat in intensity and works well with the high lipid meal. The Tempranillo submits bold, fruity flavours while the cabernet adds structure.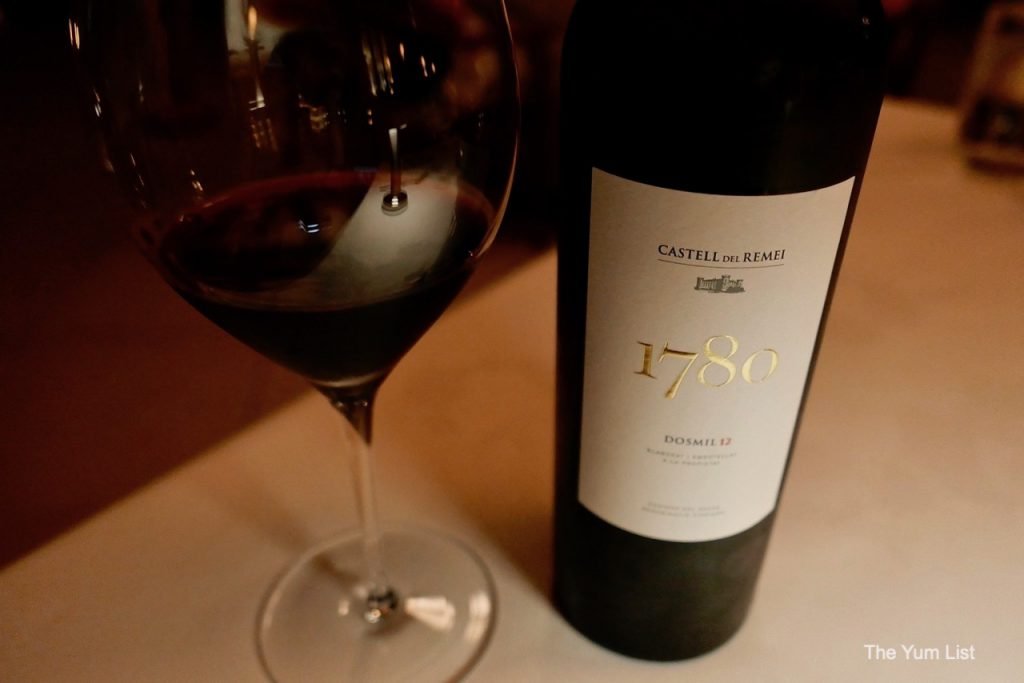 Sorbet
I have had a lot of palate cleansers in my time, but butternut squash sorbet is a first. The pumpkin is complemented by grapefruit granité, hazelnuts and lime zest. There's a smooth creaminess due to the squash, a zippy acidity from the citrus and a nuttiness that is left in the teeth by the hazelnuts.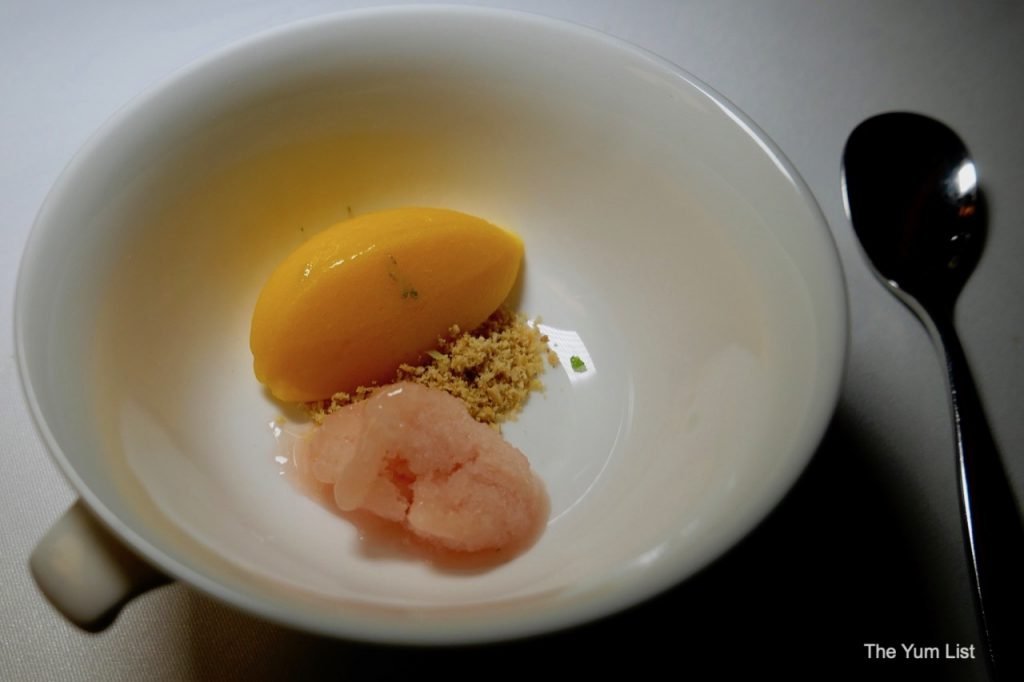 Dessert
The Guest Chef Series menu concludes with crémeux made with local chocolate. Originating from the state of Pahang, the cacao has been foraged by the Semai tribe of Sinderut, fermented and processed in Malaysia. Its superb quality is trimmed with sweet koji (fermented culture from rice) ice-cream and black-rice-water granité. Such a dessert merits a royal finish, don't you think? The last wine for the evening is a 2011 Sauternes from Chateau Bastor-Lamontagne. This estate was once the property of the King of England in the middle ages and later owned by the King of France. This wine is, of course, sweet, but also tenders a vibrant crispness. Stone fruit, pineapple and a dash of honey are found on the nose and in the mouth, and it concludes with an attractive note of citrus.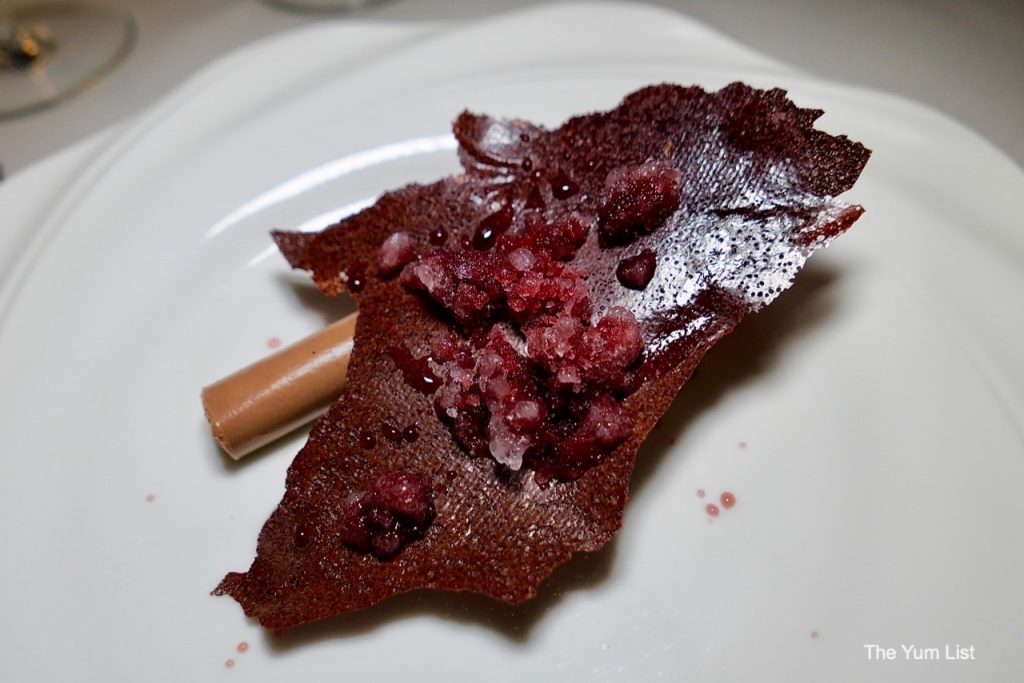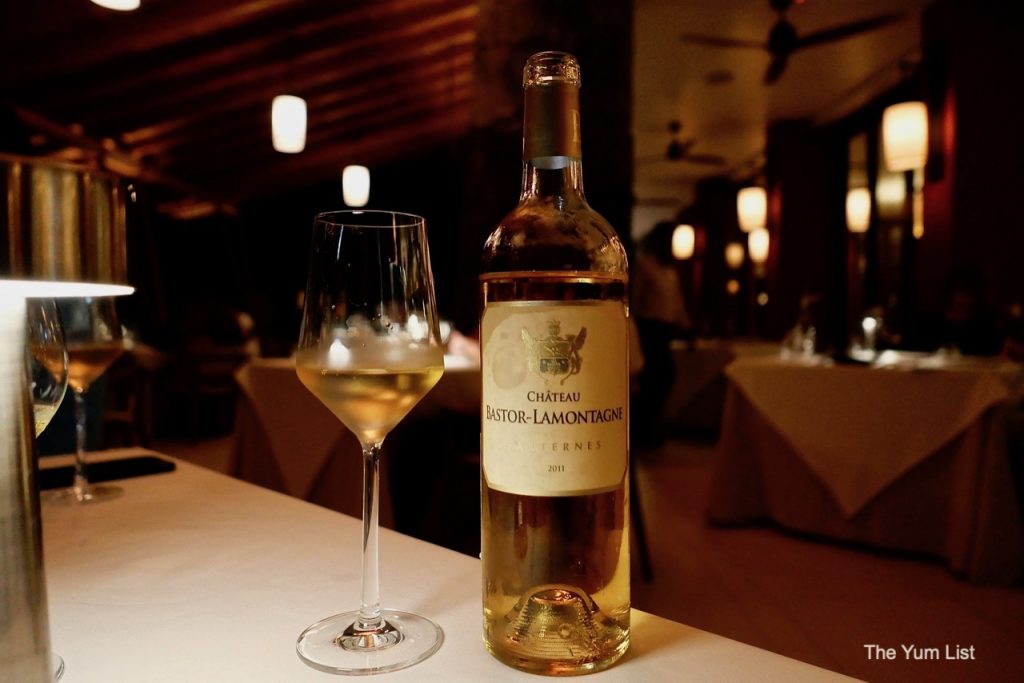 If diners so desire, the Guest Chef Series menu includes coffee or tea and mignardise to wind up the meal. Most tables, including ours, however, are completely satisfied and contentedly end at dessert.
The price of the Guest Chef Series menu with Darren Chin at The Datai Langkawi was RM490+ for food alone and RM780+ including wines.
Follow The Datai Langkawi on Facebook to keep abreast of the latest culinary happenings and do lookout for the next event in the Chef Guests Series for 2020!
Find more on Langkawi's culinary scene here.
Check out more restaurants at The Datai Langkawi here:
The Pavilion
The Beach Club
The Gulai House
And do check out The Datai Langkawi's magnificent jungle spa here.