Valentine's Day Sofitel Kuala Lumpur Damansara
Monica Tindall
Something I enjoy even more than eating is a visit to the spa. Dining on fine food, however, comes a close runner-up. This Valentine's Day, Sofitel Kuala Lumpur Damansara has put both of these loves into one package.
Unwind Together for Valentine's Day Sofitel Kuala Lumpur Damansara
Combining a 150-minute 'Be My Valentine Spa Package' with a bubbly 'Be My Valentine Afternoon Tea,' the hotel satisfies both passions in a luxurious session of pampering. We try out the itinerary today.
The spa experience for Valentine's Day Sofitel Kuala Lumpur Damansara begins with a ginger tea and a cold towel in the spa reception. Following a form recording any personal preferences or injuries, we're led to a couple's spa room.
The facilities at SoSPA Sofitel Kuala Lumpur Damansara are top-notch. Every detail has been thought of. Dressing gowns are the softest lushest pieces of clothing I've come across in a spa. Underwear is of the mesh kind, none of that puffy diaper-looking rubbish. Beds are automatic, and the level and angle can be adjusted at the touch of a button. The space for your face lying prone is covered in a gel pad and a unique towel with a hole in the middle. Bedding covering the massage table is so soft, we immediately sink in. There's even a sauna inside the shower in the spa room.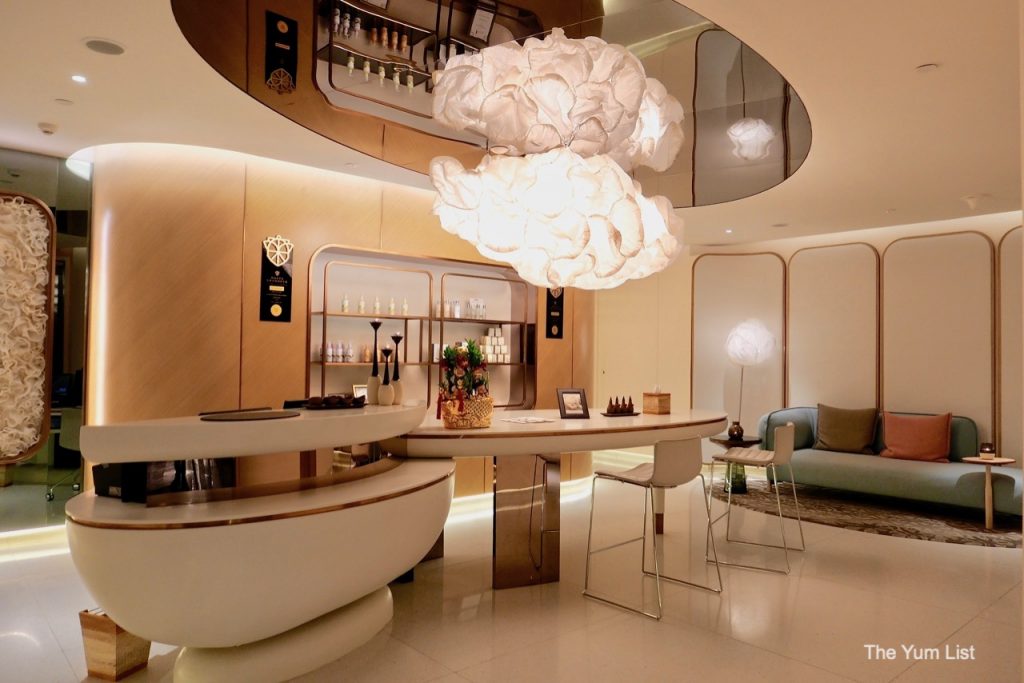 Be My Valentine Spa Package
The 150-minute Be My Valentine spa package at Sofitel Kuala Lumpur Damansara includes a 60-minute So Exhilarating Body Massage, a 60-minute So Rejuvenating Facial, and a 30-minute Lavender Steamy Me.
Beginning in the steam room, our pores open and our bodies relax preparing us to accept better the massage and facial that follows. Adding to the comfort is the fact that the steam room is self-contained in the treatment room, ensuring privacy from start to finish.
Continuing with the manual part of the Valentine's Day spa package, our therapists, Sebar and Ayu show masterly skill. They use thumbs, fingers and heals of hands to knead out knots and respond intuitively to tight spots in our muscles. The facial is another well-planned session, and high-quality products leave our skin feeling refreshed and hydrated.
We take a few moments to relax in the spa lounge with tea, dried fruit and nuts before carrying on with the rest of the package; the St. Valentine's Day Afternoon Tea at Le Bar Cocktail & Stories.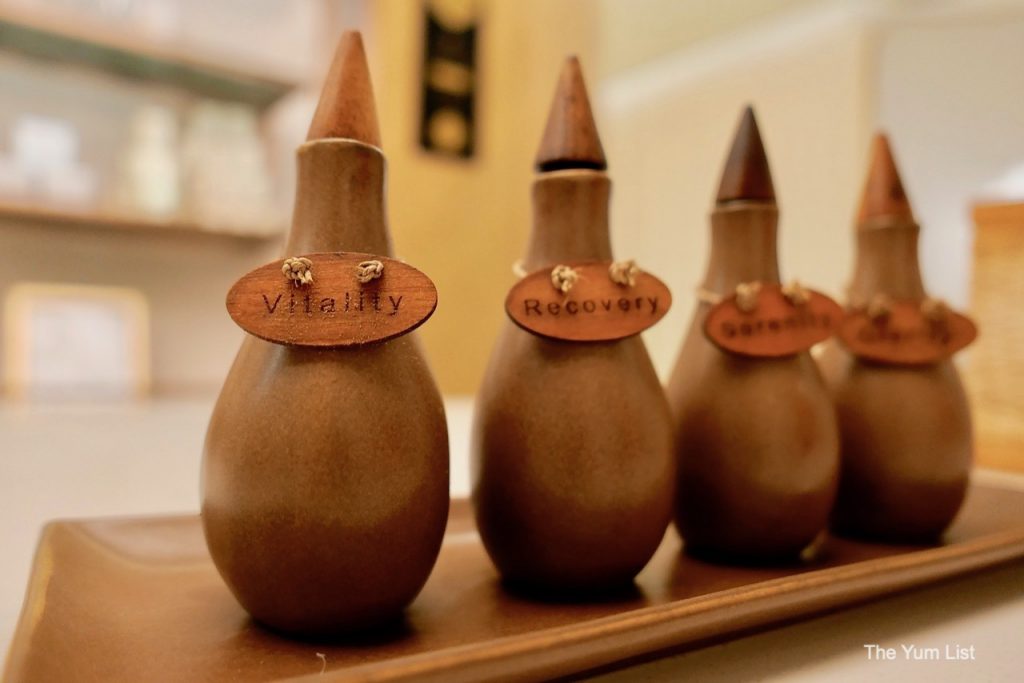 Le Bar Cocktail & Stories
Arriving at Le Bar Cocktail & Stories, we find afternoon tea transformed with a romantic twist. Specially crafted by the hotel's Pastry Chef Abu Hamidy Abu Samah, the exclusive St. Valentine's Day afternoon tea is a concise, high-quality set.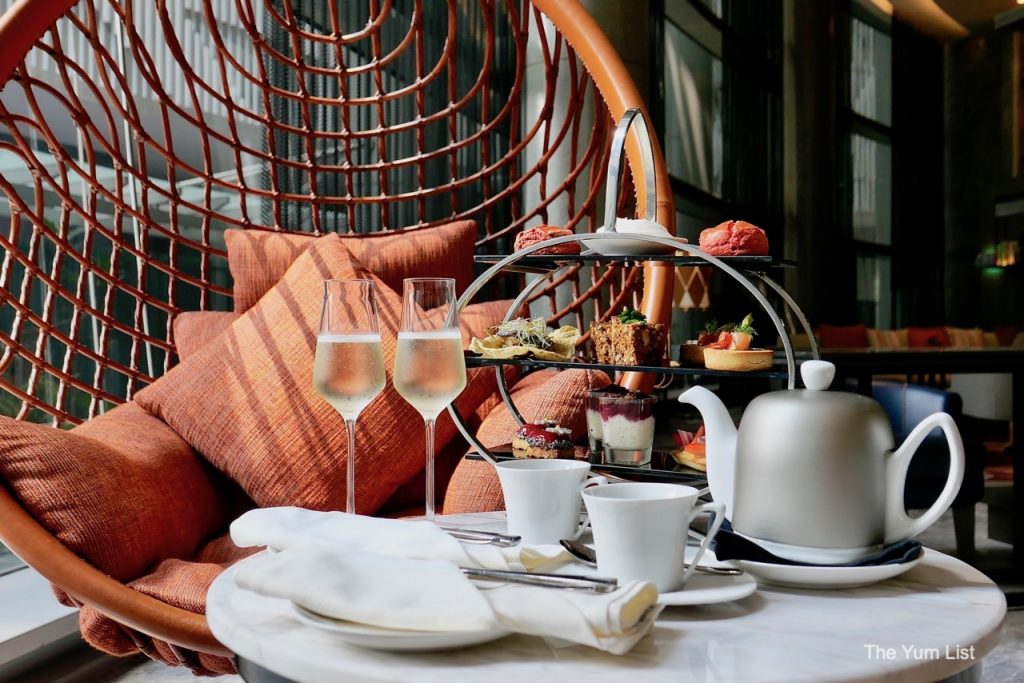 Sweets
First, we dig into the pink cranberry scones that crown the tiered set. They're still warm from the oven. Sporting a thin crunchy casing, they're a capable balance of texture with a dense yet spongy middle. A choice of wild blueberry and strawberry jams, marmalade, honey and clotted cream are for the topping.
Continuing with the sweets, the bottom layer holds a trio of hand-crafted treats by the hotel's Pastry Chef Abu Hamidy Abu Samah. Perhaps the prettiest of the three is the heart "Rocher Coco." It's a complex amalgamation with chocolate ginger mousse, spiced poached pear and a chewy coconut base.
Next is petite blueberry four-quarter cakes. A tangy lemon cream (yum), fresh strawberries and white chocolate triangles top them. Inside there's a surprising thread of blueberries.
Last but not least of the sweet indulgences is the "Riz au Lait." These shot glasses of rice pudding have an interesting minty note. Raspberry jam salad and crushed speculoos biscuits add a fruity tang and crunch to the mix.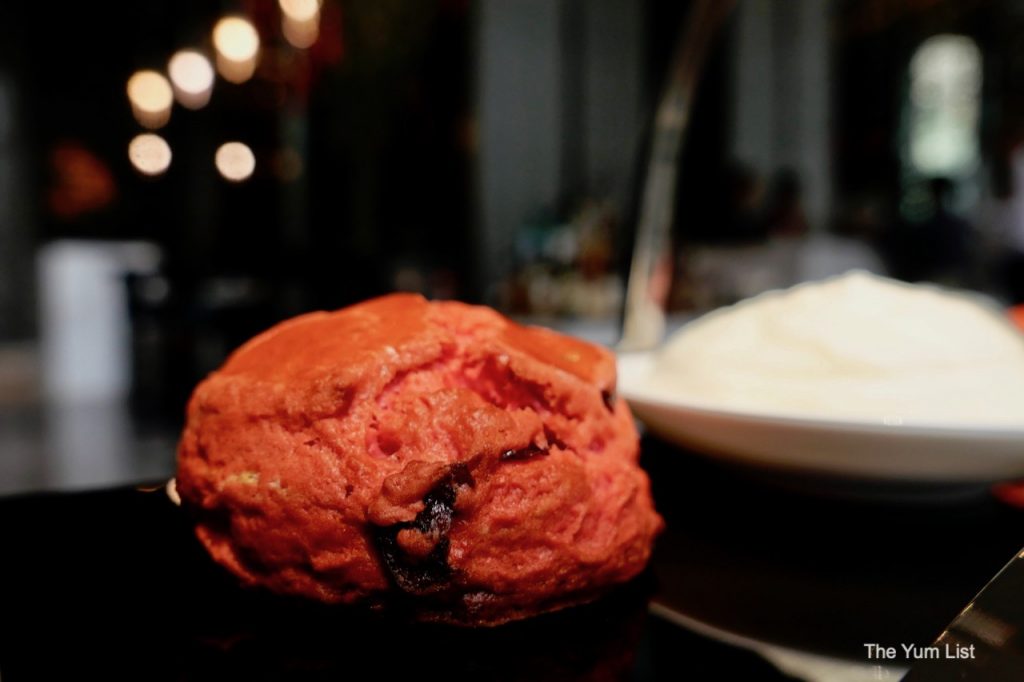 Savouries
You won't find any cucumber on white bread in this afternoon tea. Instead, there is a trifecta of gourmet savouries. Beginning with a blend of local and international flavours, a crisp papadum cracker holds onion compote and marinated Spanish sardines. In contrast, a pesto sauce, pink peppercorns and alfalfa complete the bite.
Sofitel's French influence comes out in the salmon and asparagus quiche. A thin pastry crust encases plentiful chopped asparagus in the egg interior. Semi-dried tomato and smoked salmon are found on top balancing the flavours.
Completing the Valentine's Day Afternoon Tea at Sofitel Kuala Lumpur Damansara, are pumpernickel finger sandwiches. Toss out any preconceptions of dense overly powerful bread. The chef has chosen a rather light version, still packed with grains and seeds, but much more approachable than the traditional recipe. Smoked duck, artichoke sambal cream, coriander and raisins make a tasty filling.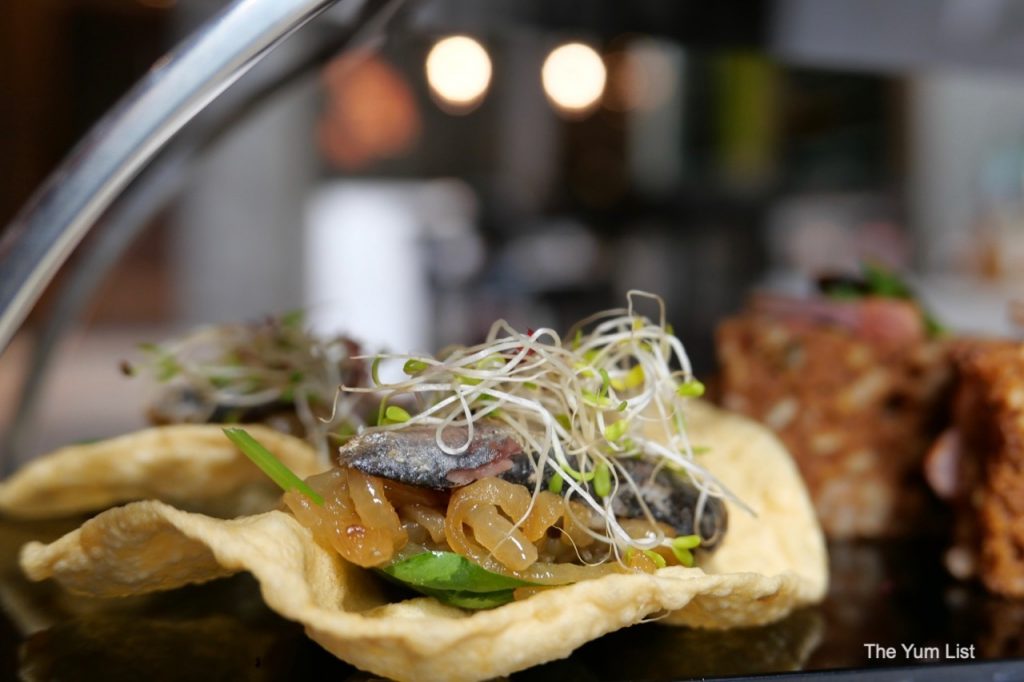 Valentine's Day Drinks
The afternoon tea comes with a pot of tea or your choice of Nespresso coffee. You can lubricate love even more, however, with a Valentine's Day cocktail. Mint to Be Love (RM42) is a bold presentation; pretty pink in a bowl glass and garnished with dehydrated orange slices along with a sprig of mint leaves. Grey Goose vodka forms the base, while white mint liqueur, grapefruit juice, fresh lemon juice, wild honey and Grenadine turn it into a refreshing tipple. If you want to go that extra mile, you can order the afternoon tea set with two glass of Sanfeletto prosecco.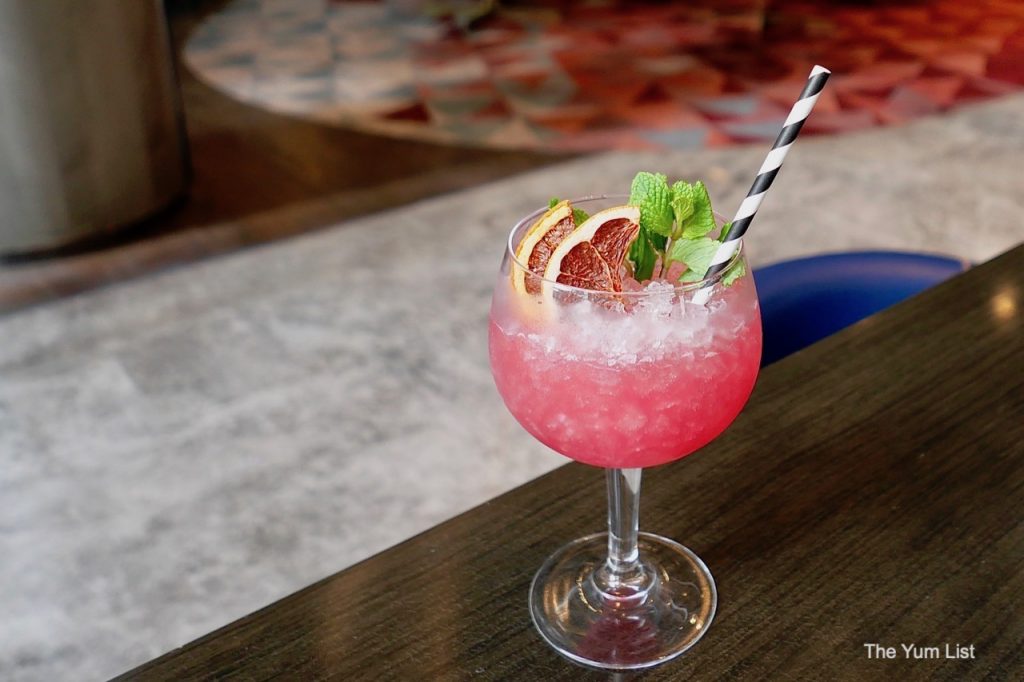 Price and Details
Valentine's Spa & Afternoon Tea Package
Time: 10.00am to 10.00pm
Price: RM1, 978.00nett for two persons inclusive of 150-minute spa package and afternoon tea or RM2, 178.00nett for a top-up with two glasses of prosecco.
Date: 1st to 29th February 2020
Just Afternoon Tea
Date: 1st to 29th February 2020
Time: 12.00noon to 4.00pm
Price: RM128.00nett per adult
* Between February 10 to 16, there will be a live piano performance by Dominique Bodin, the world-acclaimed pianist, and composer to add a bit more romance to the occasion.
Valentine's Day Sofitel Kuala Lumpur Damansara Review
The Valentine's Day package at Sofitel Kuala Lumpur Damansara combines two loves – spa and food into one. The therapists and facilities at the spa are excellent, and the afternoon tea is nicely sized (not overwhelming) and of high quality.
Reasons to spend Valentine's Day at Sofitel Kuala Lumpur Damansara: excellent couple's spa package; spa facilities that are top-notch; skilled therapists; a quality afternoon tea that is a little different to the usual; top it up with a glass of bubbly or Valentine's Day cocktail.
Valentine's Day Sofitel Kuala Lumpur Damansara
6 Jalan Damanlela, Bukit Damansara
50490 Kuala Lumpur
Malaysia
+6 03 2720 6688
www.sofitel.com
Check out SoSPA's fantastic hamman here, find more options for Valentine's Day 2020 in Kuala Lumpur here, and check out the KL's luxury spa scene here.
New to KL? Check out our "getting started" list for ex-pats here.
And, stay up to date on what's happening around Kuala Lumpur here.