Sabayon CMCO Menu
Words: Monica Tindall Photos: Rich Callahan
Sabayon in EQ emerges from the two-month movement control cocoon with several adaptations that guests are sure to appreciate. A revamped area, le petit Sabayon, offers al fresco dining. They've picked up a sommelier. And, a revised menu moves towards elegant dining over fine dining with adjusted prices to match. Unfortunately, chef Hans Boren has not been able to return to Malaysia but the kitchen team is doing their best to pull together and keep things up to standard.
Le Petit Sabayon
Just before the main entrance to Sabayon we find a small outdoor patio with those spectacular views of KL's city centre that EQ has become renowned for. Opening from 4 pm daily, it's a beaut location for light bites and beverages. Come at sunset for a dramatic shift from day to night and benefit from prices that are easy on the pocket.
We enjoy a glass of bubbly here with the amuse-bouche from Sabayon's four-course menu. There is a dedicated list here though, different from the set meals offered inside the restaurant and well-worth checking out if you're looking for a more casual evening.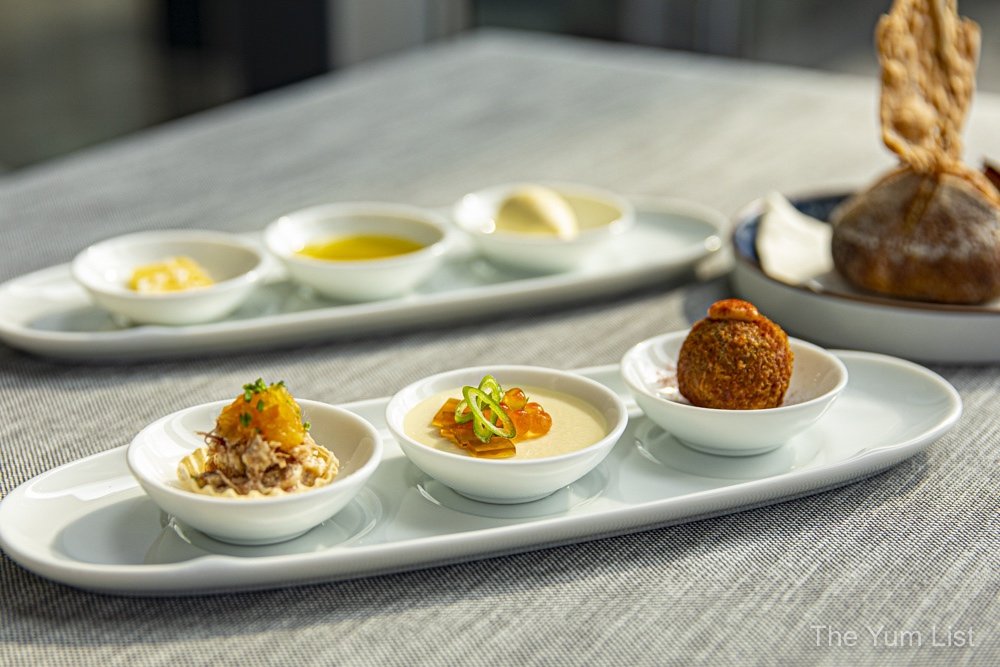 Sabayon's new sommelier, Izzat, is happy to assist with recommendations for our tipples. Italian fizz is an easy start with a fresh, crisp drop of Prosecco DOC by Belstar (RM288). It's fruity and refreshing, perfect for Malaysia's weather. Uncomplicated and cheerful, our flutes toast the professionals at the helm of EQ's hospitality and, at the same time, mirror the Petronas twin towers, which are at eye level.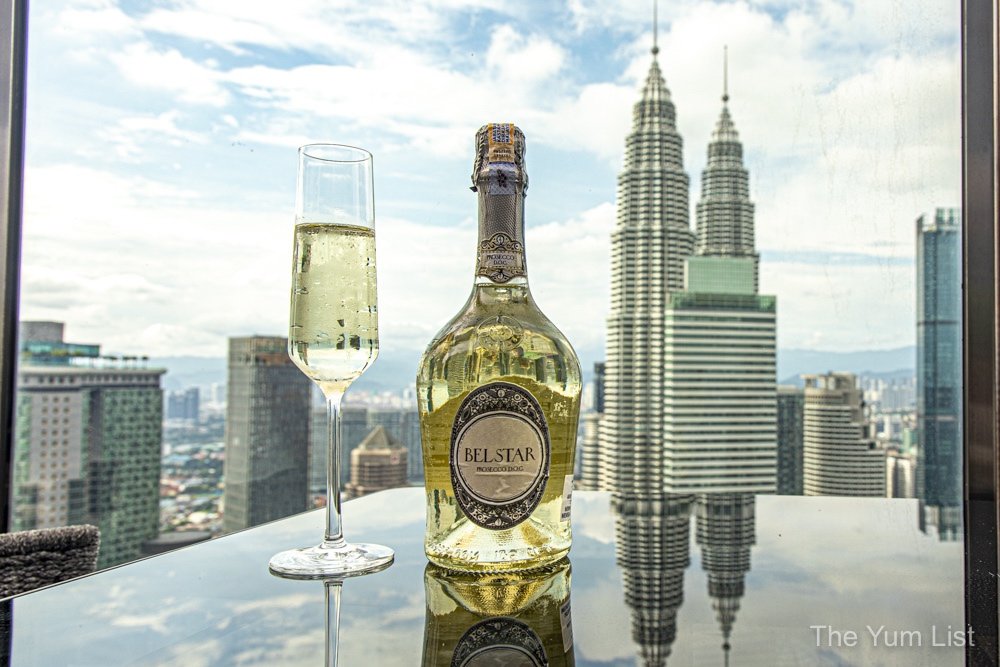 Four-course Menu CMCO Sabayon EQ
As mentioned, Sabayon's CMCO menu has been pared down to three, four and five-course options (RM188, RM285 and RM388 respectively). A select number of a la carte dishes provide additional choice. All meals begin with bread, and you'd be well-advised to try their delicious sourdough. A mini loaf (quite a feat to manage the balance of textures in a crunchy crust and spongy middle at this size) with a Swedish cracker crown comes with olive oil, yuzu butter (yummo) and hand-whipped whey butter with a sprinkle of sea salt.
Appetizer
The four-course direction we're steered on today begins with Spicy Tuna Tartar. Korean influence is seen in the fermented kimchi-style seasoning. It's a light thread though, not overpowering, and just enough to complement the tuna without taking over. Black and white sesame seeds and ponzu jelly top it off, and the provision of crisp tortilla chips for spooning is an attractive contrast to the soft flesh.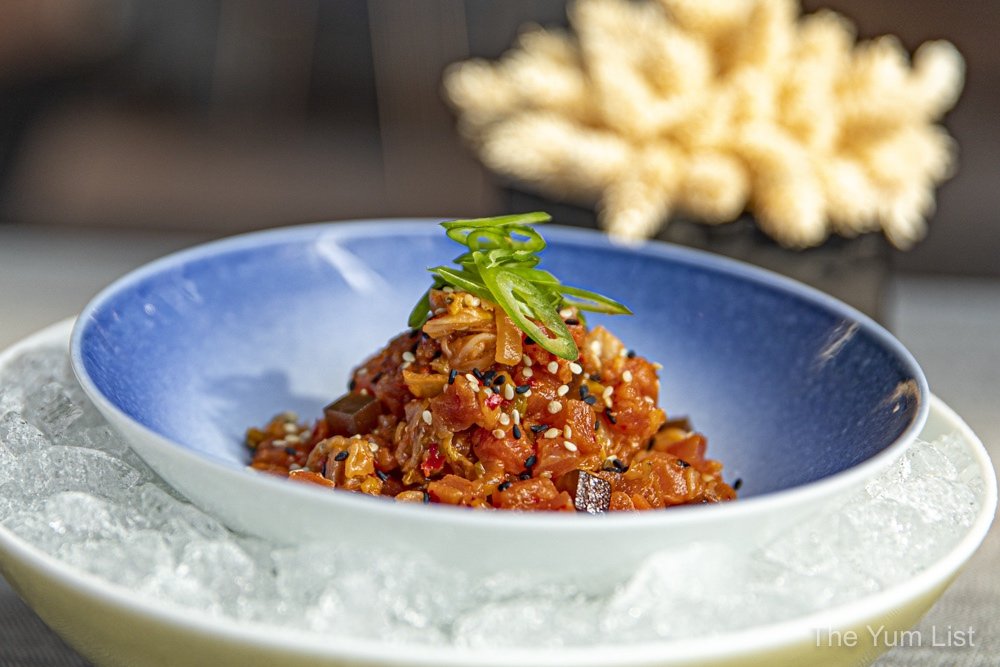 Second Course
A single, perfect Hokkaido Scallop is presented as course number two. Braised leek puree, parsley oil, and home-grown T'lur Caviar serve as companions to the beautifully golden scallop. There's a hint of char and a gorgeous play between savoury and sweet with the onion and shellfish.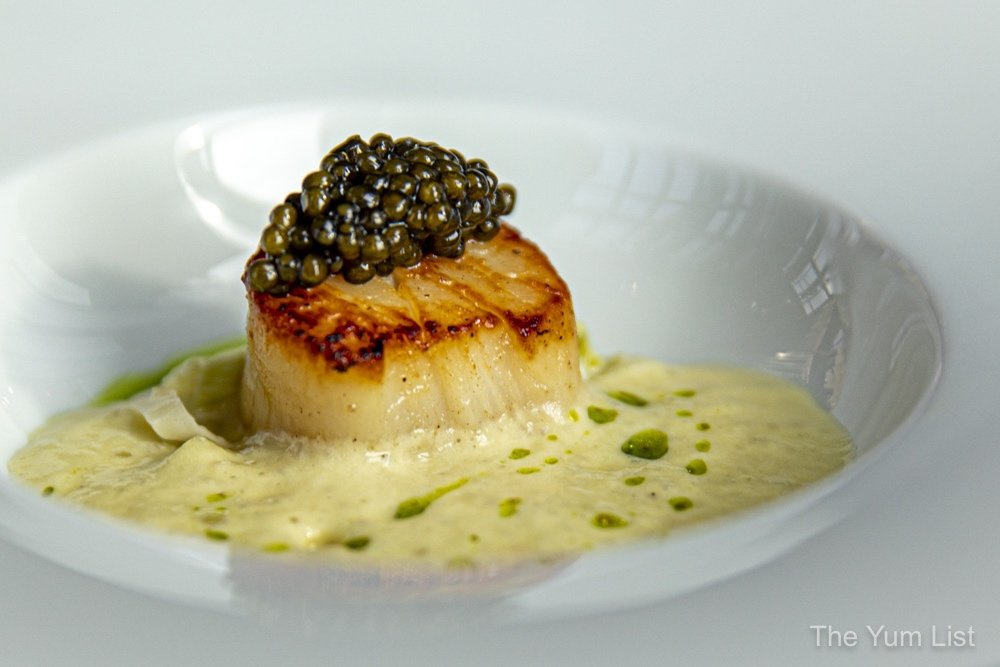 Wine List Sabayon EQ
I do wish more Malaysian restaurants would increase their rosé wine list. There is much to offer in this versatile mate. Besides carrying well over a broad range of flavours, it's superb warm-weather drinking. Possibly the most well-known rosé world-wide, Chateau D'Esclans "Whispering Angel" Cotes de Provence, France, 2018 (RM328) is an excellent introduction if you're considering heeding my recommendation. Aromas of spring blooms, citrus and stone fruit are complemented by freshness in the palate with a medium body. It has enough structure to take on our kimchi starter but also sufficient elegance to not sweep over the delicate scallop.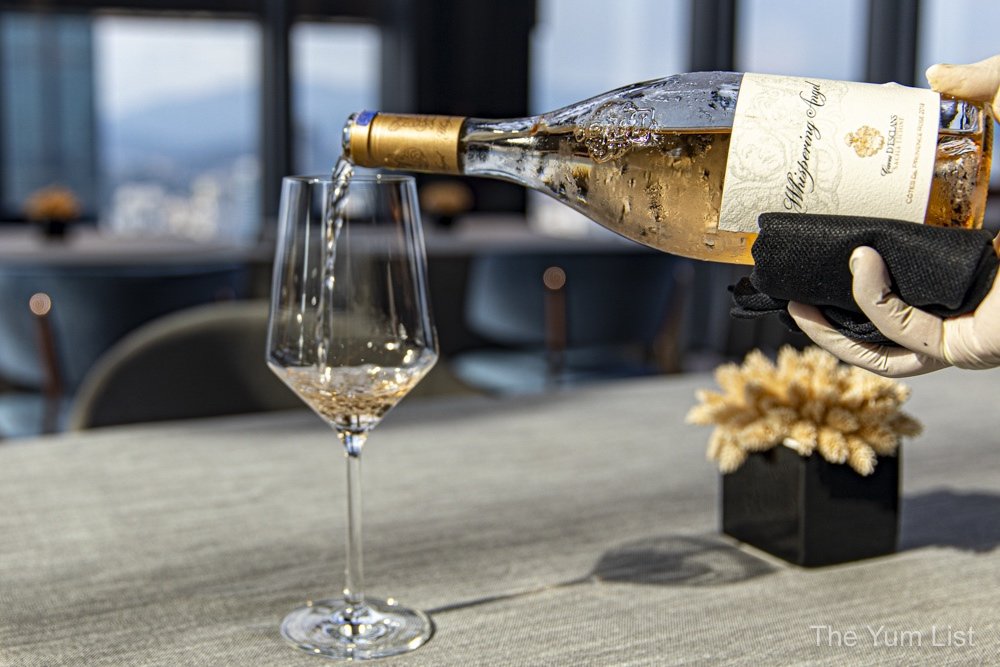 Moving to deeper shades, we switch to Michele Chiarlo "Palas Barbasesco" DOCG 2014, Nebbiolo, Piedmont (RM338) for our main. It's rare to find Italian wine without food and, as such, so many of the most memorable labels are made with food in mind. This Nebbiolo is no different. Its bouquet is rich with cherries, chocolate, a hint of fennel and maybe even some violet. Typical of this grape, it's already started to lose the hue of its youth with mature signs of ochre around the edges. Distinguished tannins and high acidity lead to a lengthy finish. If served with a simply grilled chicken breast, this wine would be too much. Our principal plate, however, is enriched with a dashi broth propping up the poultry to be a worthy partner for the wine.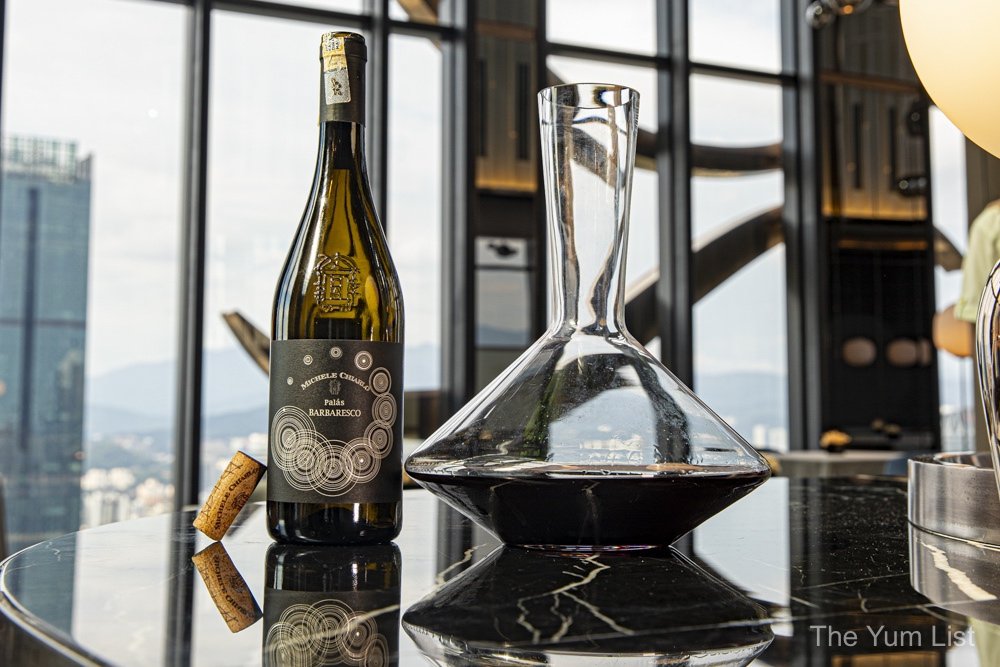 Main
The Free-range Chicken Breast is a hit with all three of us (Rich, hubby and myself). Sous-vide then seared, it sports a superbly thin, crisp top and is sided by a plump sprig of asparagus. A lovely smoky aroma wafts from the dashi broth. It's strewn with slices of spring onions, chicken strips, enoki mushrooms and swirls of parsley and chilli oil.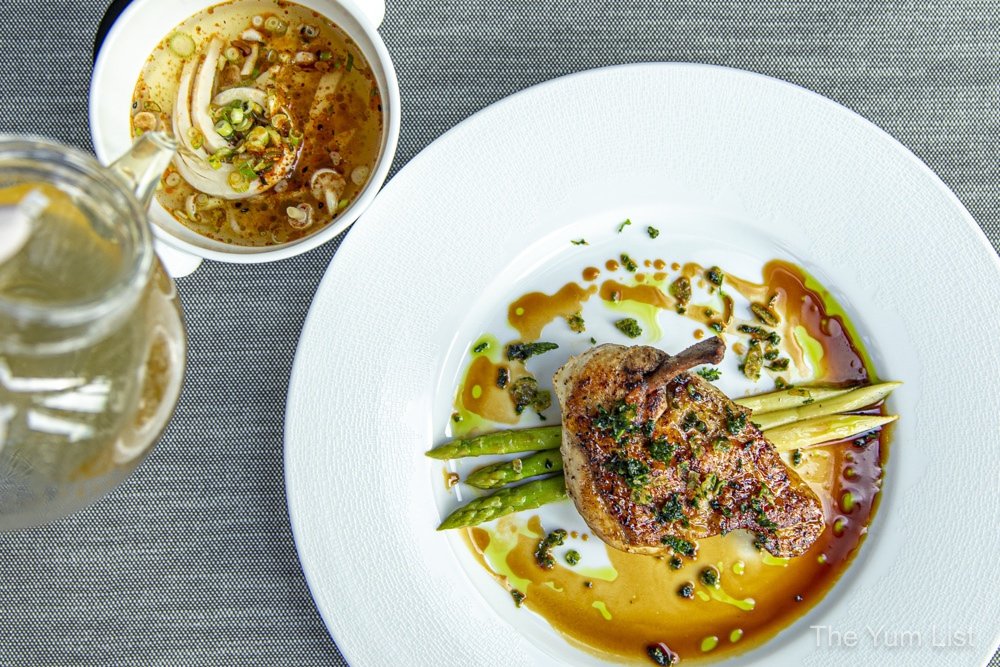 A La Carte
Departing from the set menu, we try two dishes from the a la carte menu. Apparently, Malaysians love to pick and choose so the restaurant, which initially offered only set meals, has added on this a la carte selection.
Winning the prize for the prettiest dish, Carpaccio Botan Ebi (RM95) makes an elegant starter. An edible garden palette of chlorophyll, T'Lur Tropical caviar, pegaga leaves, white crème Fraiche, yellow lobster mayo, parsley oil and red marigold petals top the thinly sliced shrimp in a seasonal garnish.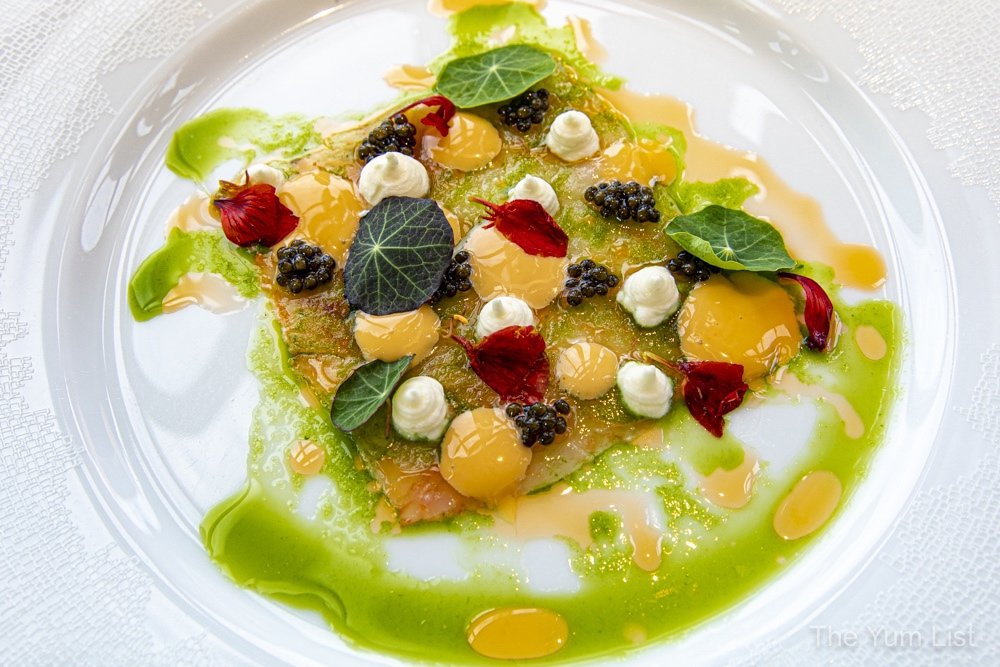 The Lamb Loin (RM138) main is nearly as fetching. The herb-crusted loin is adorned with a rainbow trio of purees – pumpkin, broccoli and beetroot. A rosemary cream anglaise, olive tapenade and slices of potato layered Pommes Anna in style harmonize the plate.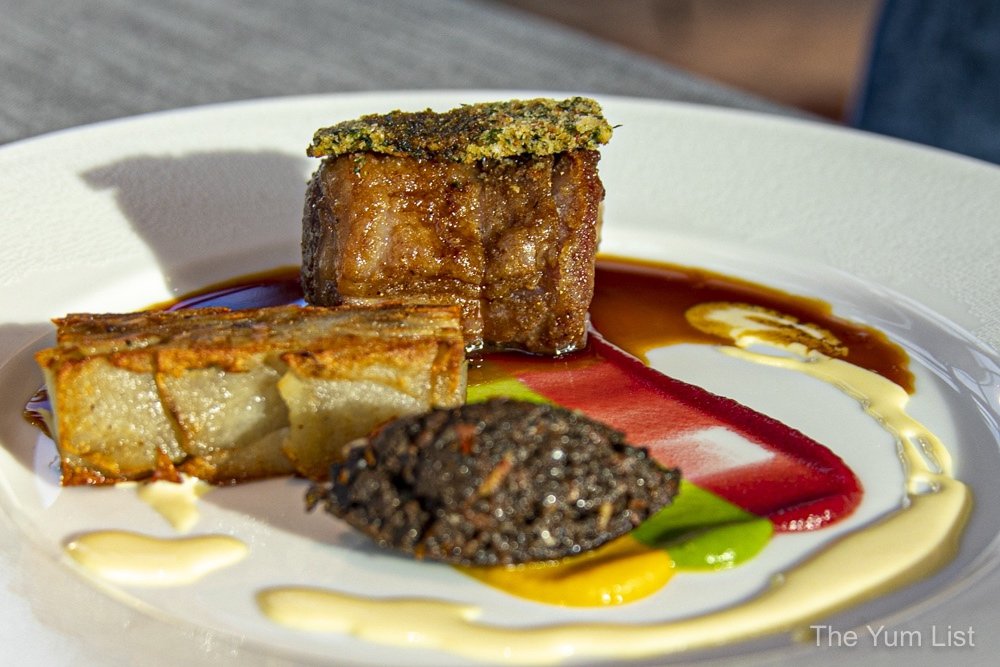 Dessert
Returning to the Sabayon CMCO set menu, we conclude with another eye-catching recipe, Goat Cheese Panna Cotta. The thick cream mould topped with beetroot foam centres the plate with beetroot sponge, yoghurt sorbet, chocolate ganache, biscuit crumble and beetroot puree each adding their own value. It's the sweet version of the popular beetroot and goat cheese salad! You can say you ended the meal nutritiously.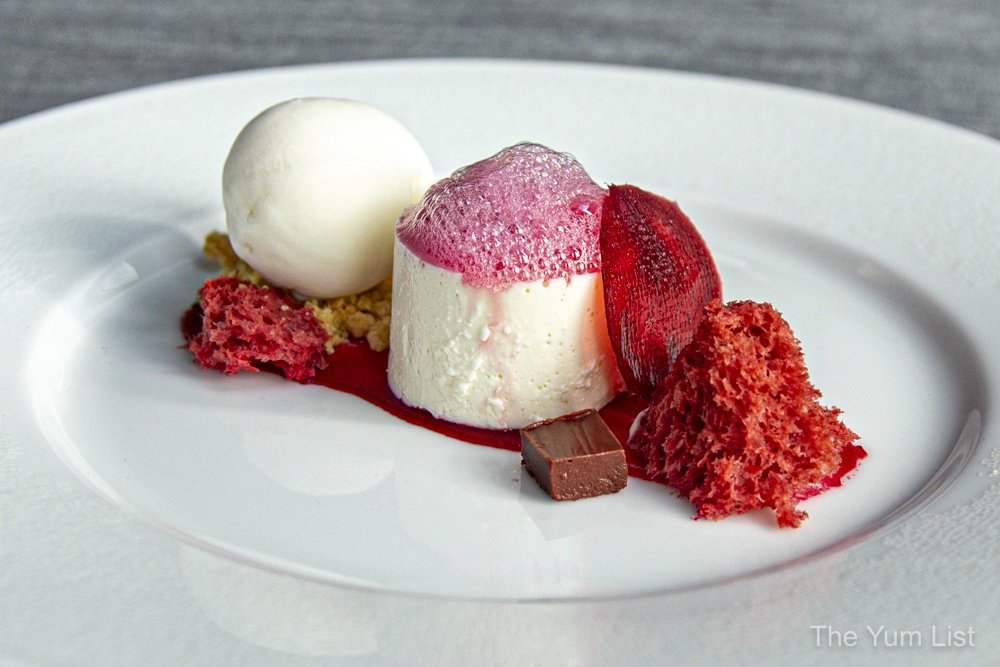 Sabayon CMCO Menu
Sabayon's CMCO menu is set until at least June 9. With new announcements and the fluidity of the current situation, this could change. For now, Sabayon is open daily between 4 and 9 pm (with the last call at 8 pm).
Sabayon CMCO, EQ Kuala Lumpur
EQ, Equatorial Plaza
Jalan Sultan Ismail
50250 Kuala Lumpur, Malaysia
+603 2789 7777
[email protected]
www.eqkualalumpur.com/dining/sabayon
Find more restaurants open during the CMCO here, check out our favourite meals delivered to your door here, read more about food safety and the coronavirus here, and lastly stay up-to-date on KL's vibrant food and beverage scene here.