Shangri-La Hotel Kuala Lumpur – Excellent Staycay Deals!
Monica Tindall
We arrive at the Shangri-La Hotel Kuala Lumpur Friday afternoon following an intense workweek. Just like many others post-MCO, my workload has increased and all reflection about the benefits of a slower pace of life and what's important have been forced forgotten. Needless to say, I am not in the most relaxed state. That soon changes, however, with the commencement of our staycay at Shangri-La KL.
Calming begins as we enter the softly-scented grand lobby. The hotel's signature scent, Essence of Shangri-La, with notes of vanilla, musk, bergamot, tea and ginger, can be recognized around the world. It seems a small nicety but it's one that defines Shangri-La properties, signifying attention to detail and care in forming environments of harmony and beauty for their guests.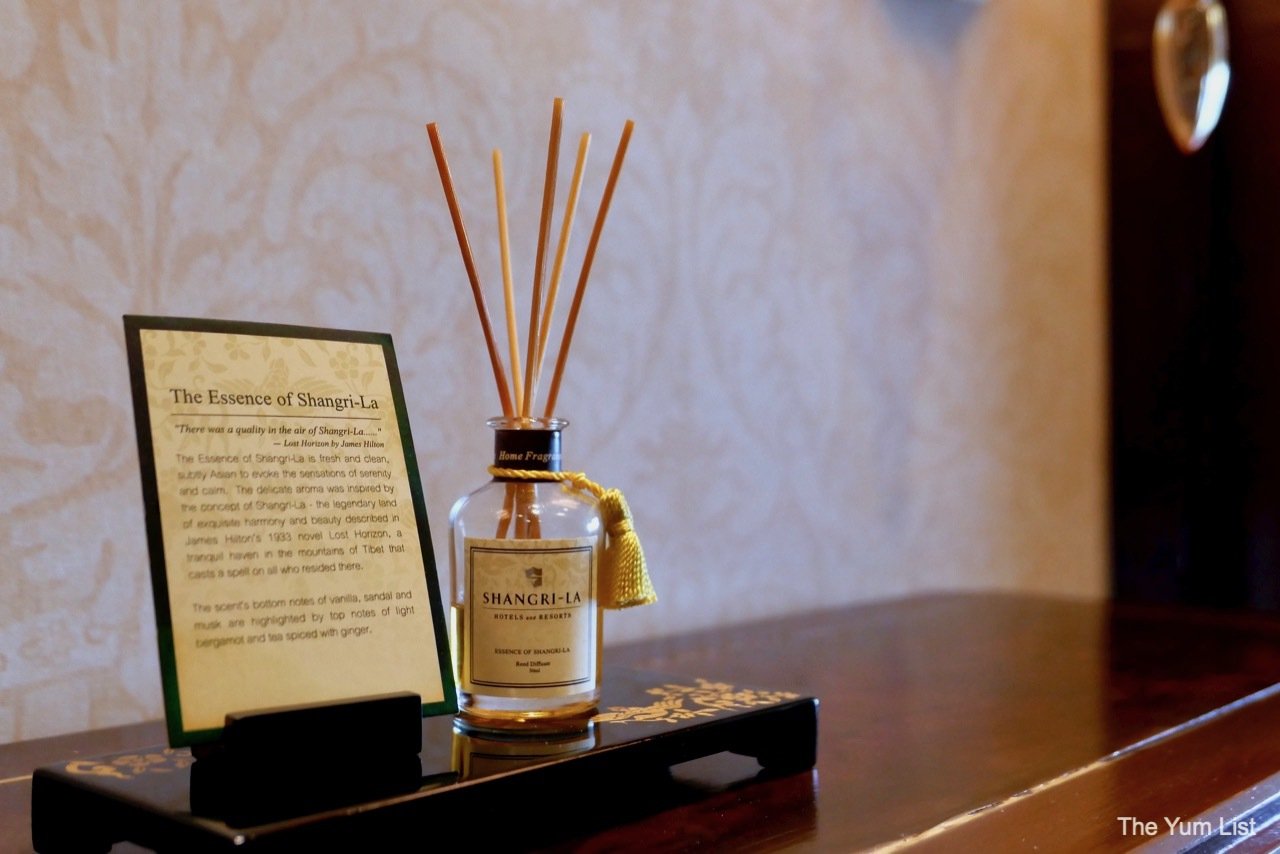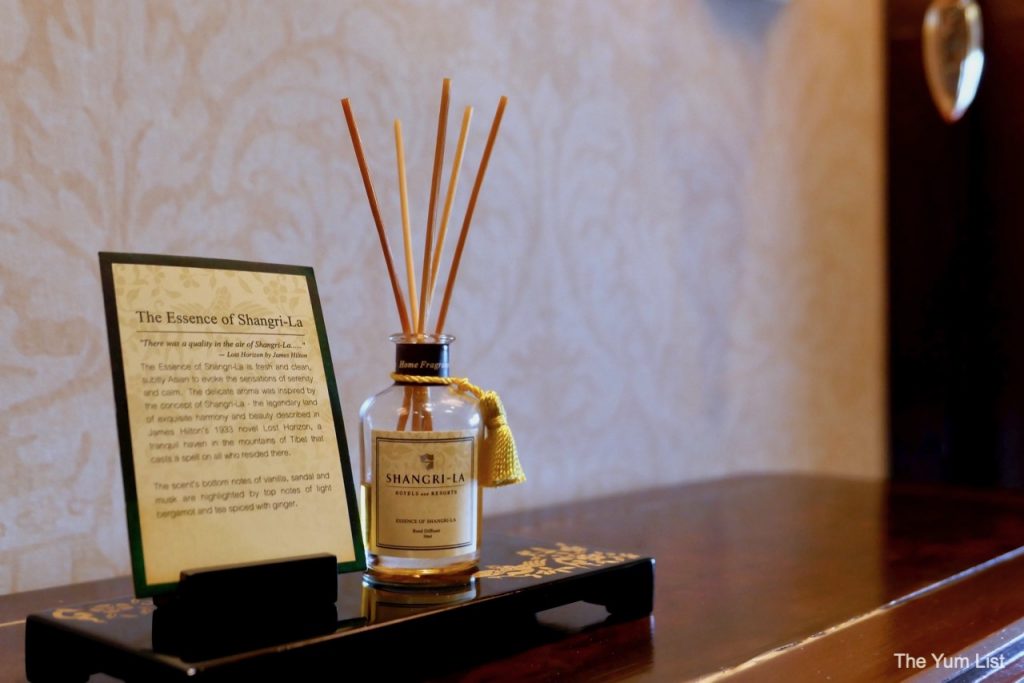 Magnificent floral arrangements adorn a spiral staircase, the centrepiece of the lobby, which leads the eye in a splendid corkscrew motion up to the second floor and strikingly lofty ceiling. There are glass and greenery all around. To the right, the lounge breathes a graceful elegance with its floor to ceiling windows overlooking a fountained pond and lush tropical garden.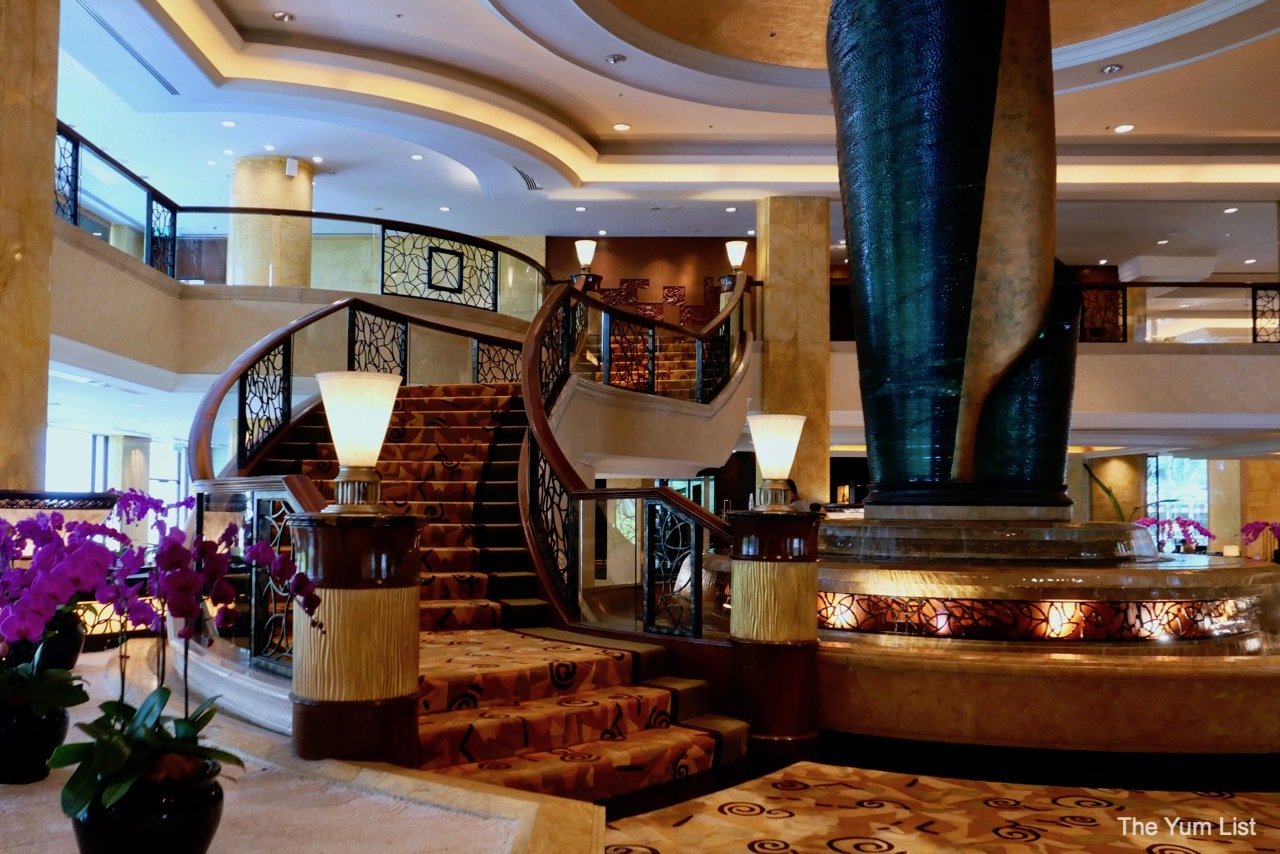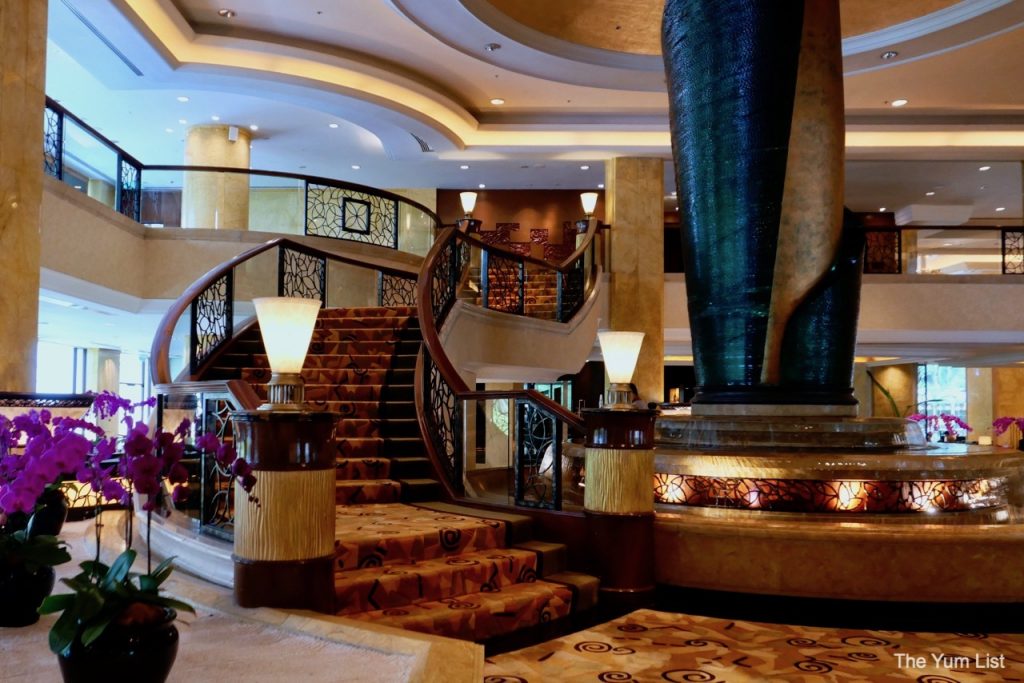 The floor is quieter than usual. It's strange to see one of KL's institutions with so few guests. The odd well-dressed client lolls by the windows sipping cups of tea or engaged in conversation, but the bustle of business and leisure tourists that once commanded the entry is now gone. I know this is not good for the hotel but I take pleasure in the quietude. Striving to keep on all staff members during these challenging times, service is above and beyond even what is expected of the Shangri-La.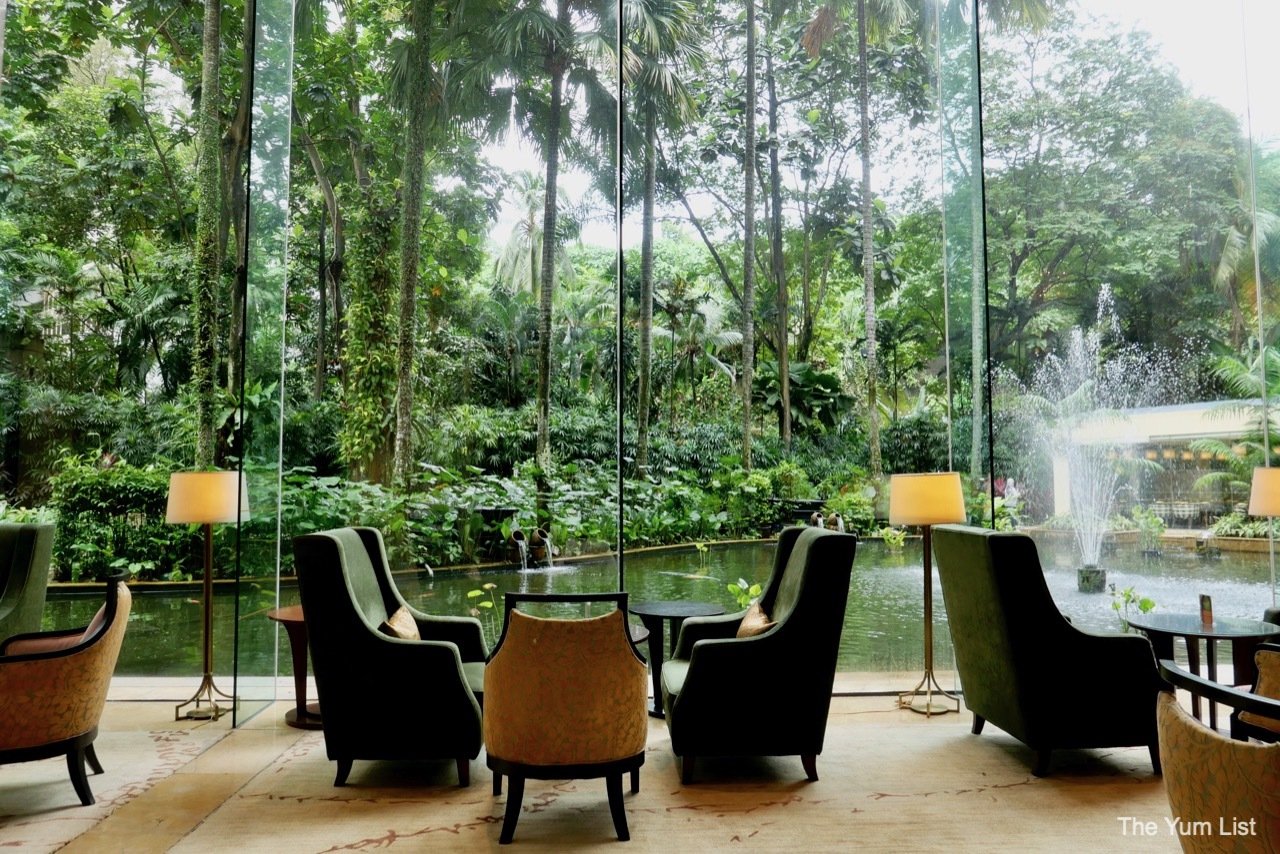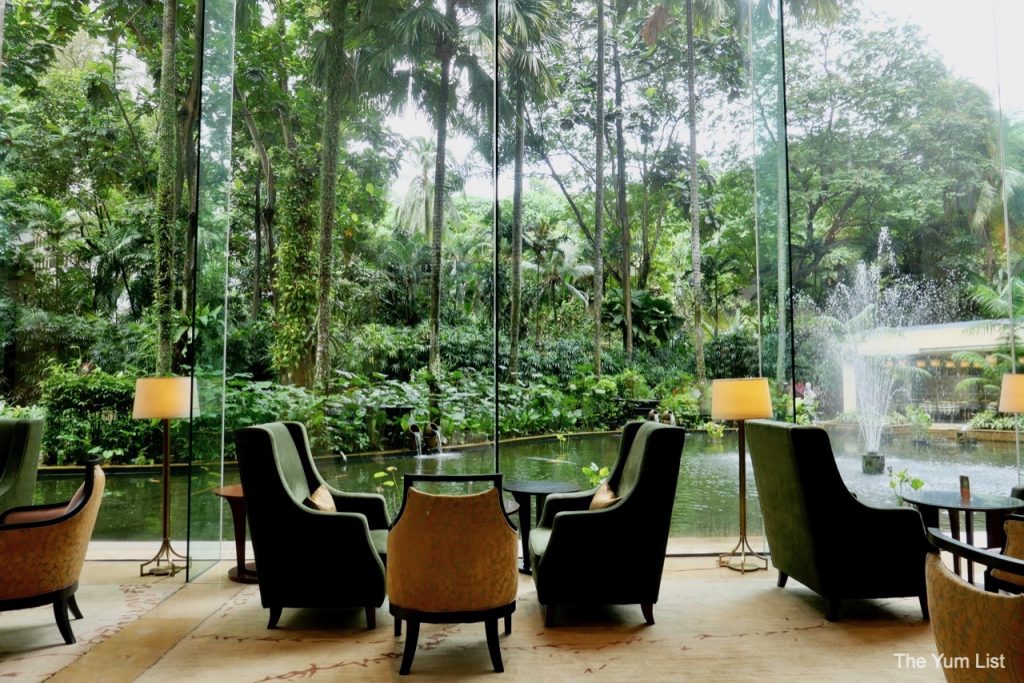 Staycation Deals
Shangri-La Hotel Kuala Lumpur has some incredible deals for staycations at the moment. With various benefits including check-in times as early as 8 am and check-out as late as 11 pm, you're nearly getting two nights for the price of one. In addition, many packages include breakfast for two adults and two children as well as activities for the kids. Follow their Facebook page or go directly to their website for the latest deals.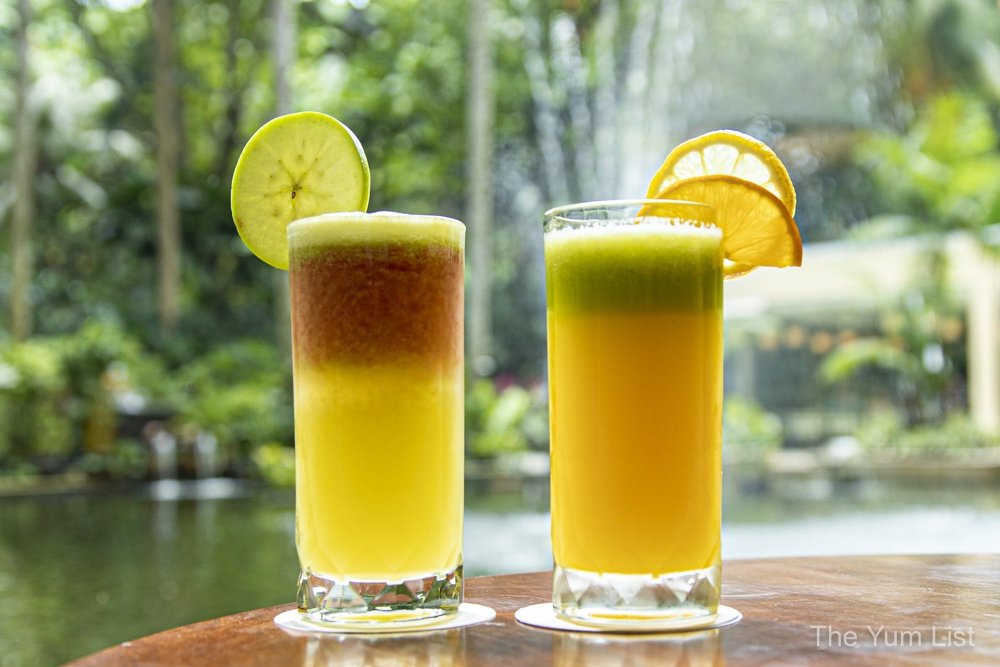 Avoiding the hassle and expense of leaving the city with a staycay, we optimize time and can enjoy the full benefits and facilities of the hotel.
Shangri-La Hotel Kuala Lumpur Rooms
We do recommend taking advantage of the lowered rates and upgrading a stay to a suite. Our room is fresh but of the style of an older generation. It reminds me of a time when things were built to last.
Solid wooden furniture, lavish marble and high-grade carpet provide a sturdy base. Shimmering fabrics, warm lighting and an abundance of mirrors outfit it with a splash of glam. Chandeliers hang from the ceiling and we especially appreciate the separate living, sleeping, bathing and dressing spaces. All are divided by heavy wooden sliding doors meaning minimal disturbance – especially with our different sleeping patterns. Of course, bedding is top-notch (a good balance between supportive and cushioned), and multiple showerheads provide instant, high-pressured hot water.
Every comfort imaginable in a hotel is available: mini-bar; espresso machine; large electronic safe; printer; three TVs (including one in the bathroom); scale; hairdryer; iron and ironing board; magnifying make-up mirror; double basins in the bathroom; full-length mirrors; walk-in wardrobe; multiple light and air-conditioning controls; the list goes on.
I am surprised, however, by the continued use of single-use plastic in water bottles and bath products. You can reduce your waste by bringing your own reusable bottles and refilling them in the gym's water station. And, although tempting to take home because of the luxurious L'Occitane brand, best bring your own shampoo and conditioner too. After all, with a staycay you have no flight restrictions so do your bit for the environment where you can.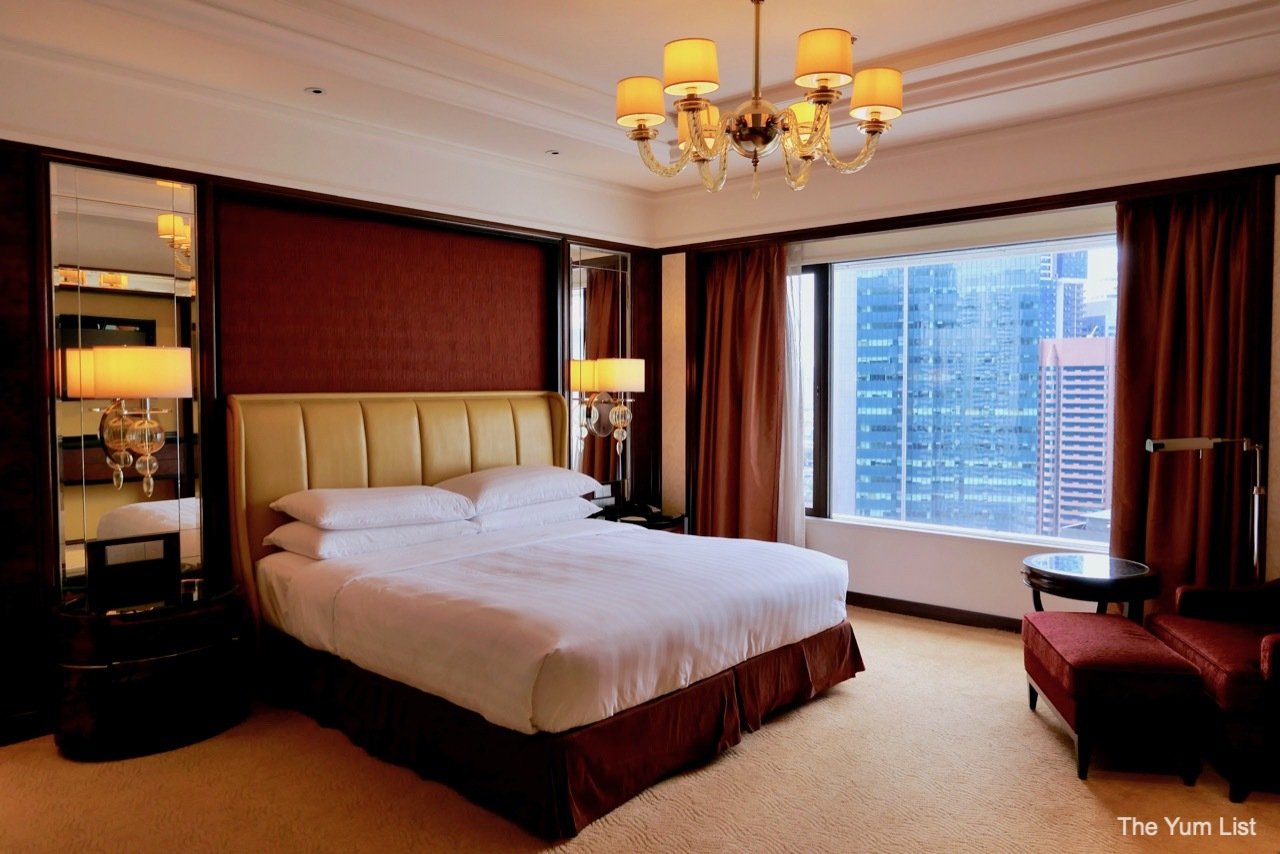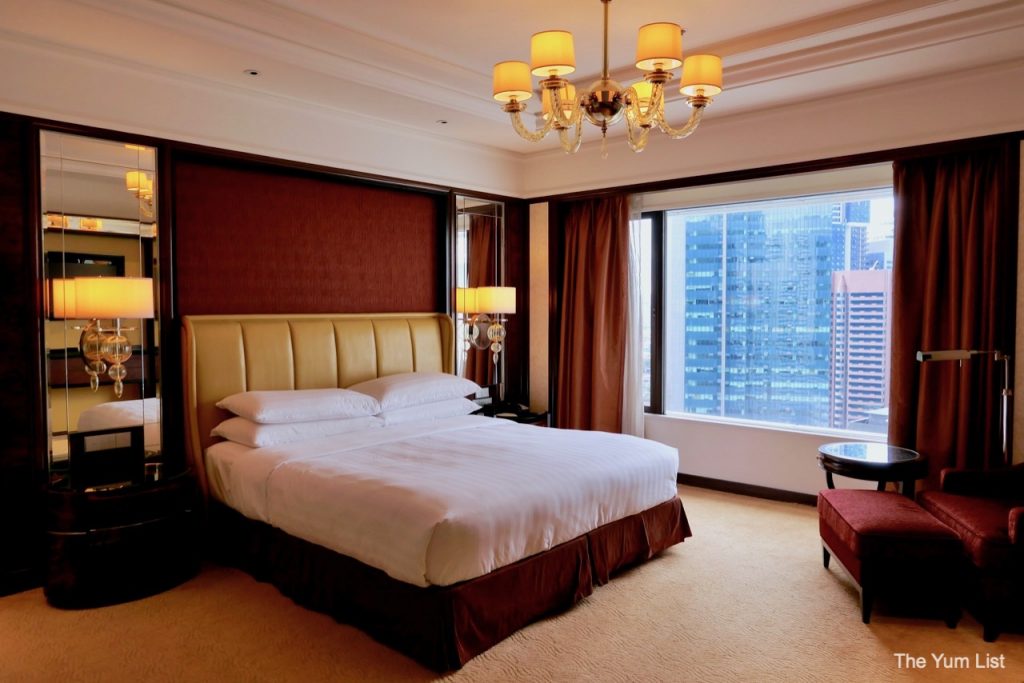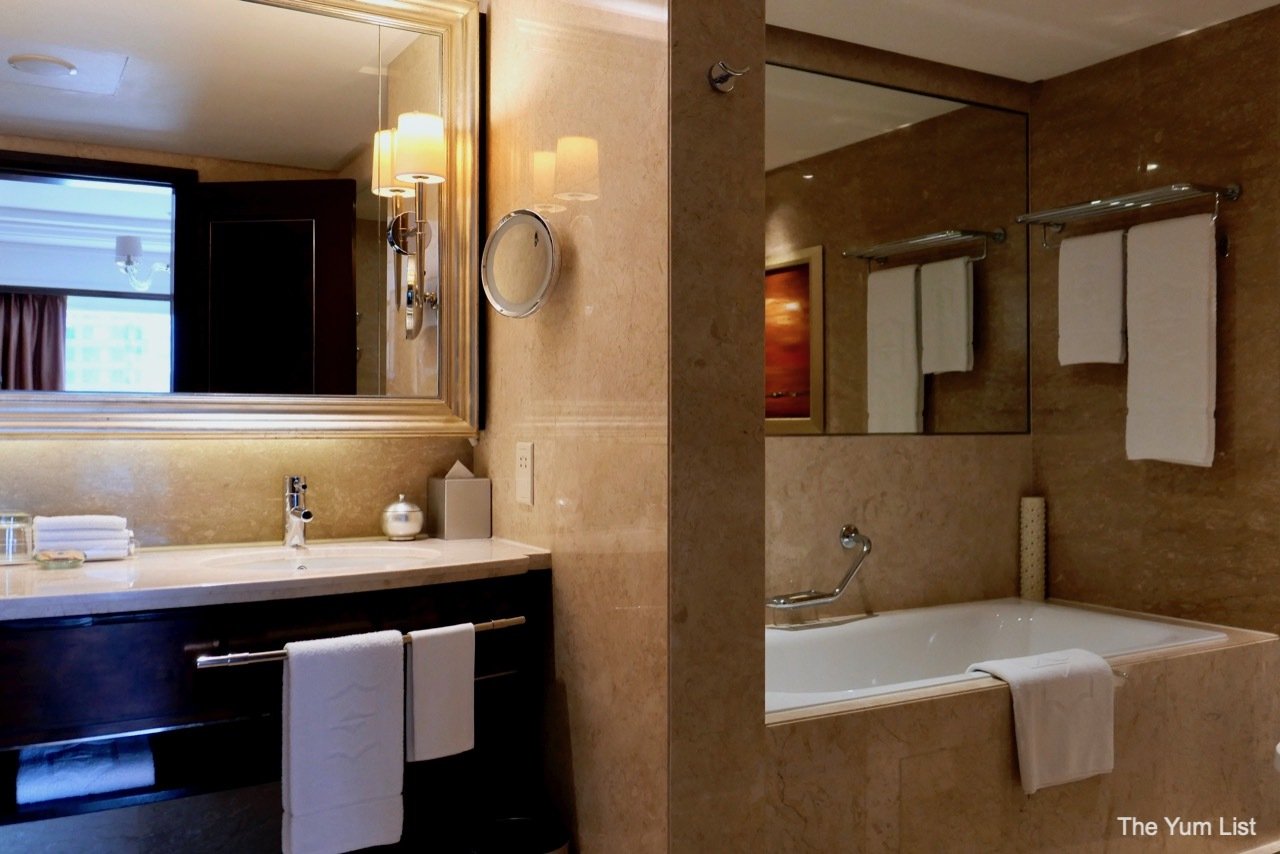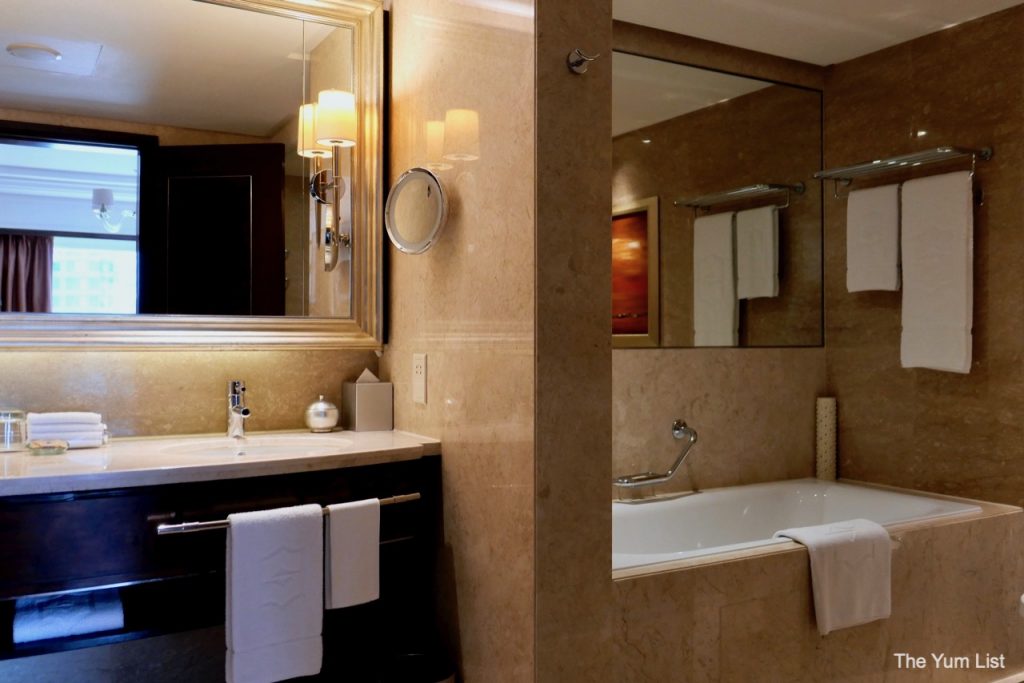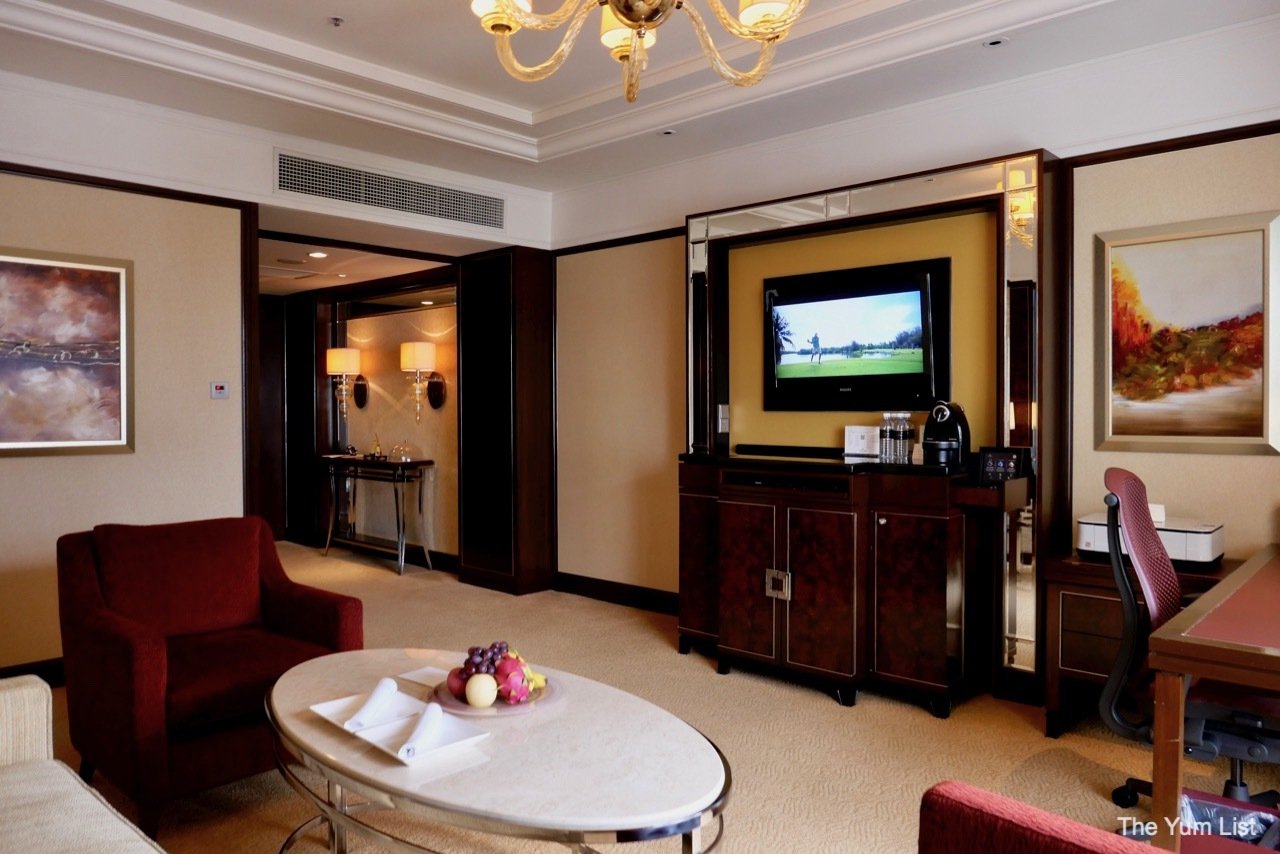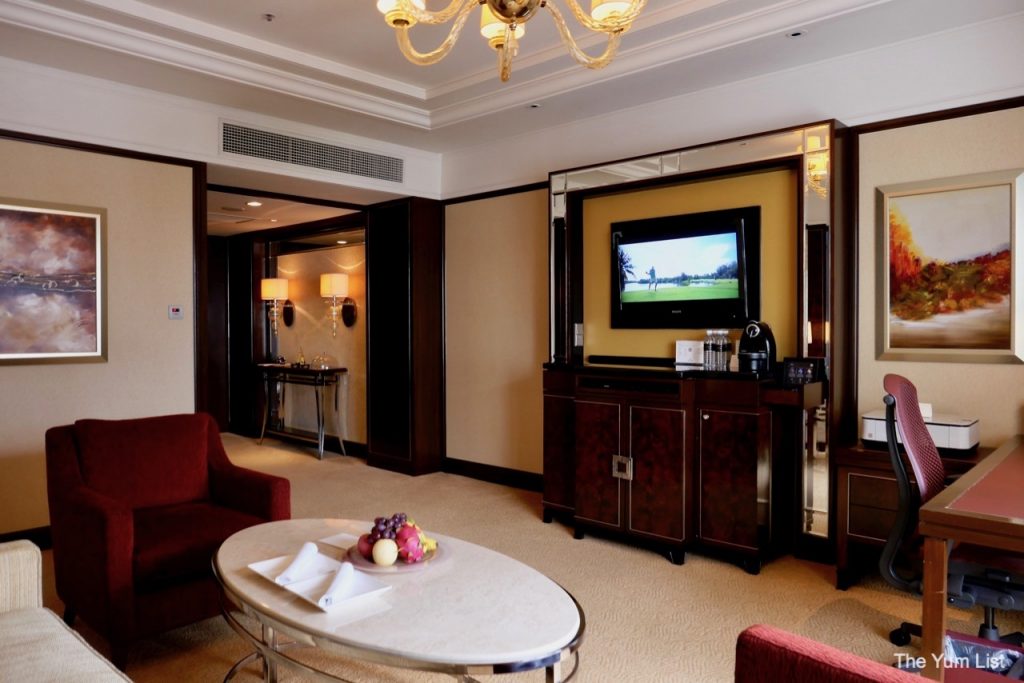 Our room includes Horizon Club benefits, which have been adjusted for the new norm. Breakfast is no longer available in the lounge as it opens later and with more precautions for the prevention of the spread of COVID-19.
Horizon Club
The Horizon Club is filled with natural light thanks to tall bordering windows. It's a large space but separated with ornate dividers that are carved white wood and backed with mirrors. Fawn-hued walls and beige wing chairs provide a neutral palette for the room. Lavender and dark coral lounges and carpet warm the canvas. Giant empire-style lampshades rimmed with silver hang midway between floor and ceiling creating more cozy hubs. It's a soft Art Deco theme with some shiny metallics and geometric lines defining features.
From 12 noon onwards, refreshments flow freely, with both afternoon tea and cocktail hours provisioning small bites. The new norm sees chefs plating food from the smorgasbord, increasing already high hygiene standards. We have a beautiful afternoon tea in the Lobby Lounge but do head up to the Horizon Club for evening cocktails. Six wines are available by the glass as well as beer and spirits along with hot and cold nibbles.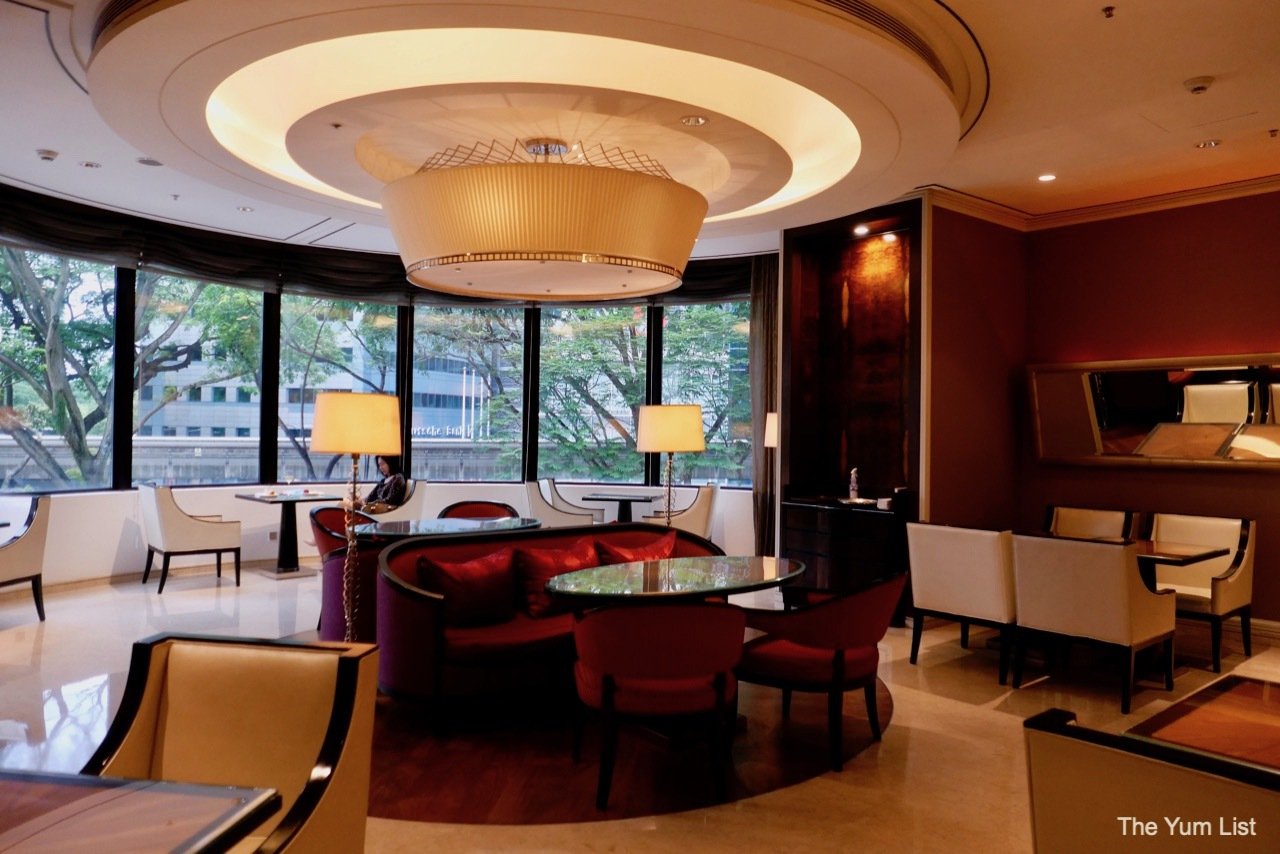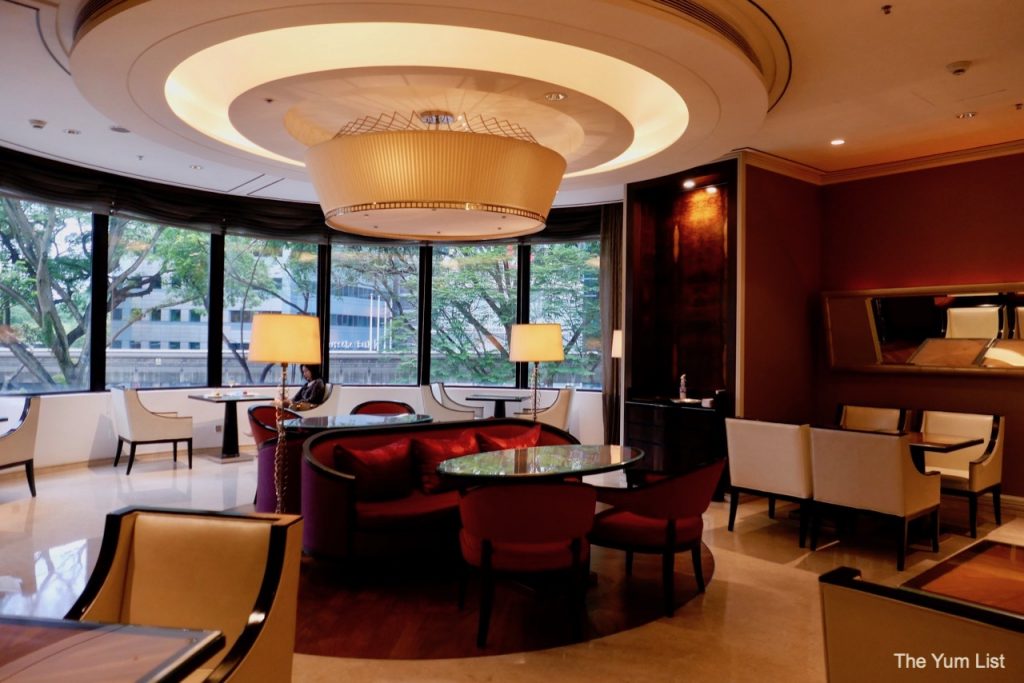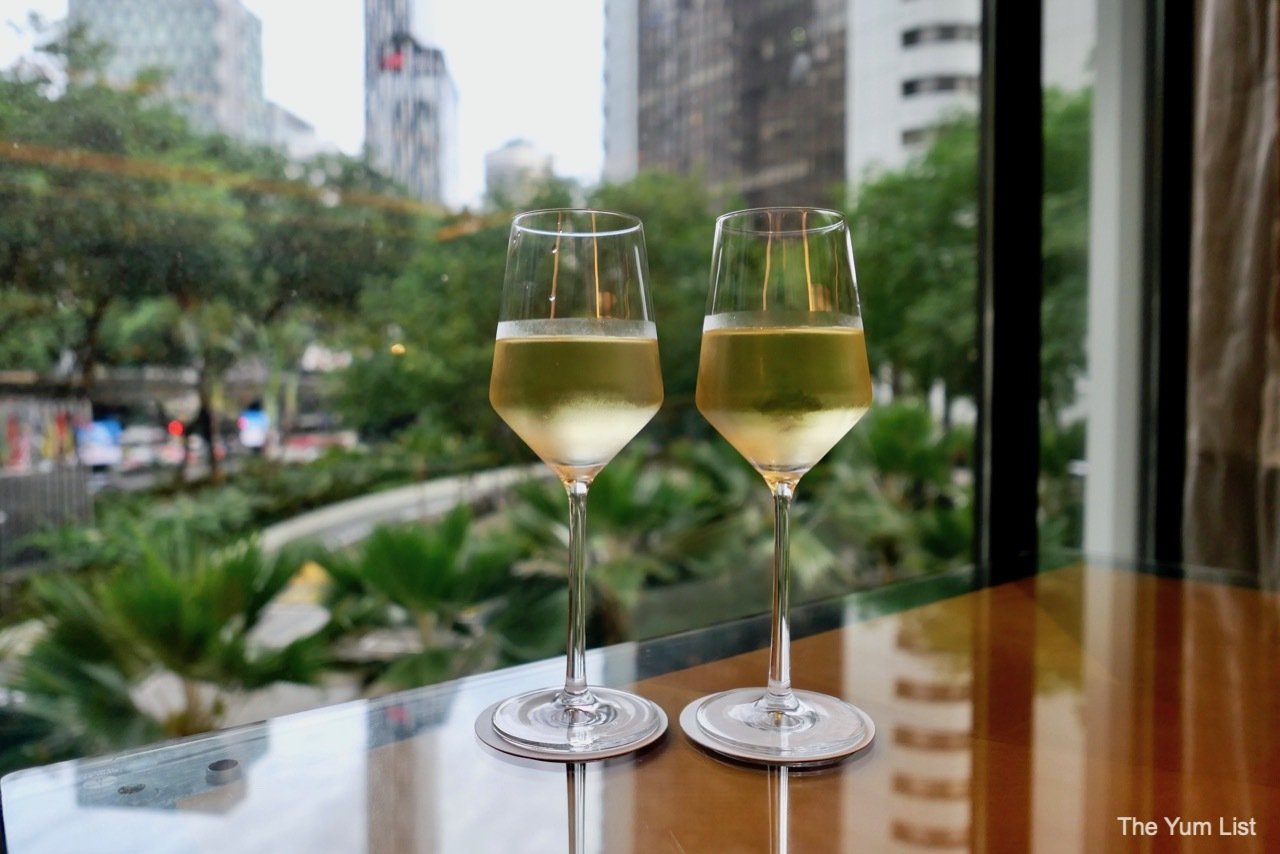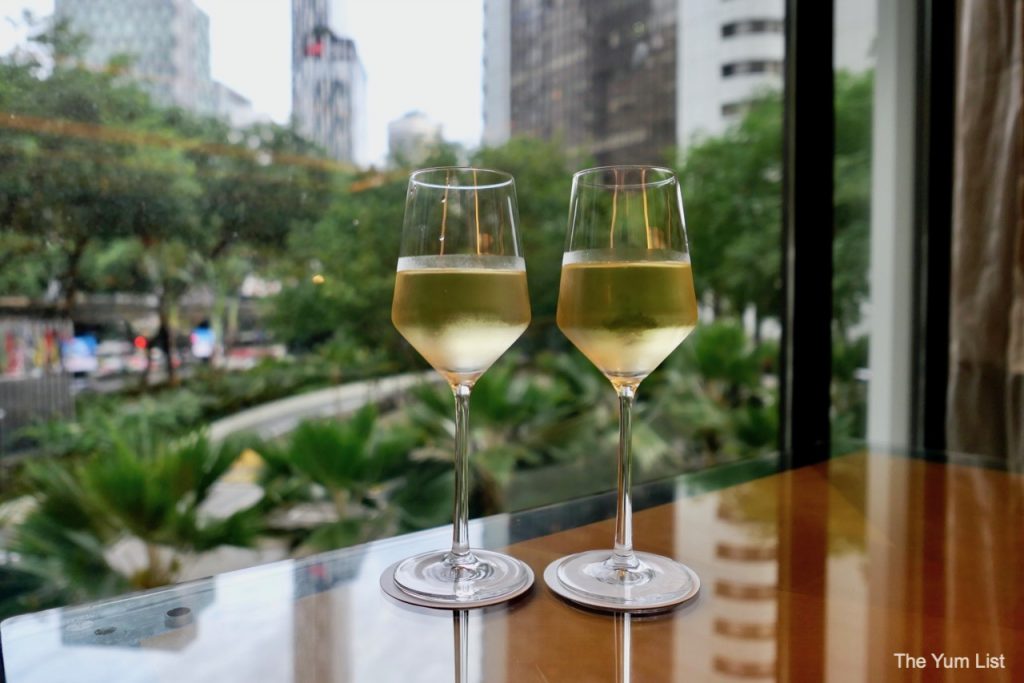 While small eaters might satisfy their hunger from this spread alone, there is plenty more food and beverage options worth checking out at Shangri-La Hotel Kuala Lumpur.
Restaurants Shangri-La Hotel Kuala Lumpur
Lemon Garden serves "assisted" buffets – where, just like the Horizon Club, guests and the food are separated by plexiglass and chefs plate the food per request. Their weekend seafood buffet is extremely popular, and it's here also where breakfast is provided. Local favourites, Western classics and a pleasantly comprehensive bakery section are more than enough to start the day with enthusiasm. You'd be well advised to grab a croissant or pan au chocolate from the latter – they come hot out of the oven regularly and are buttery, flaky and perfectly layered specimens – thanks to master pastry chef Roberto Hernandez.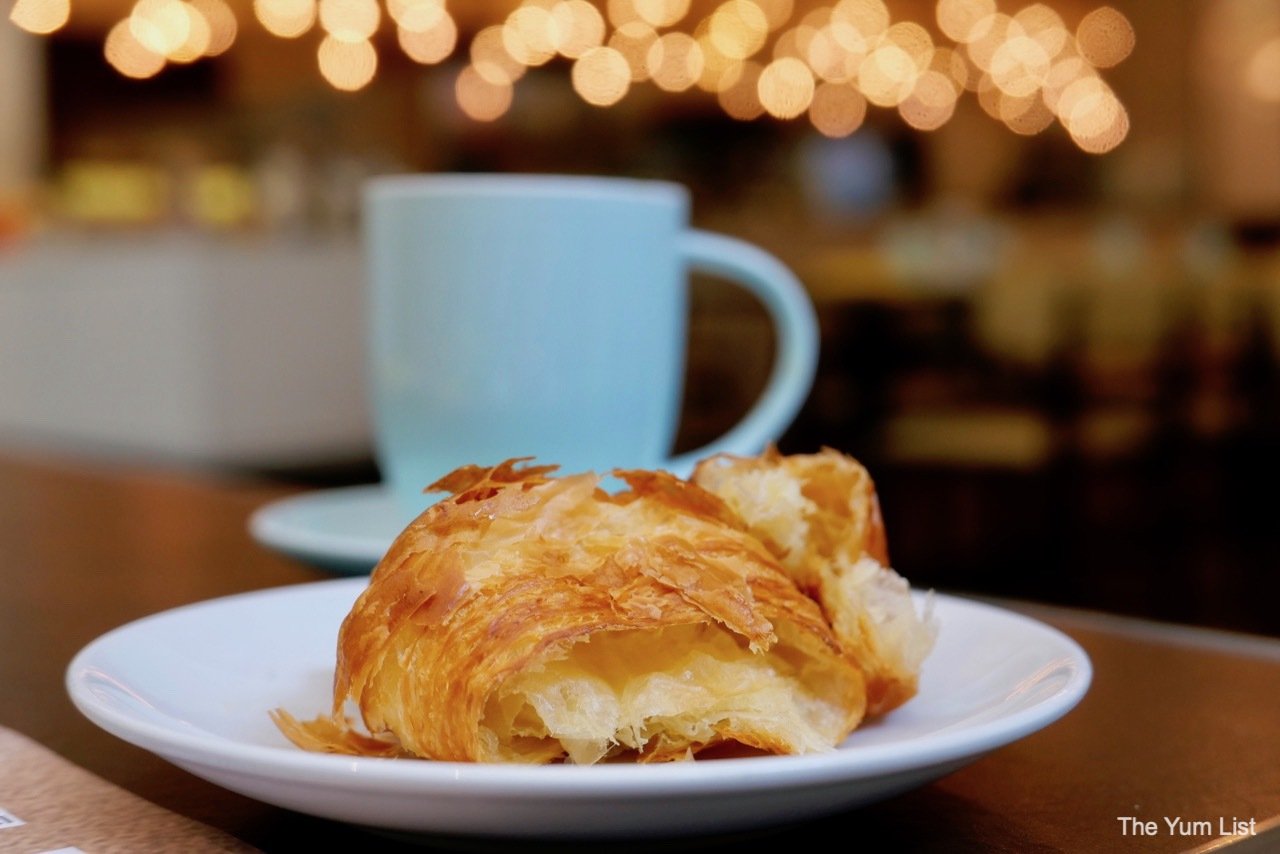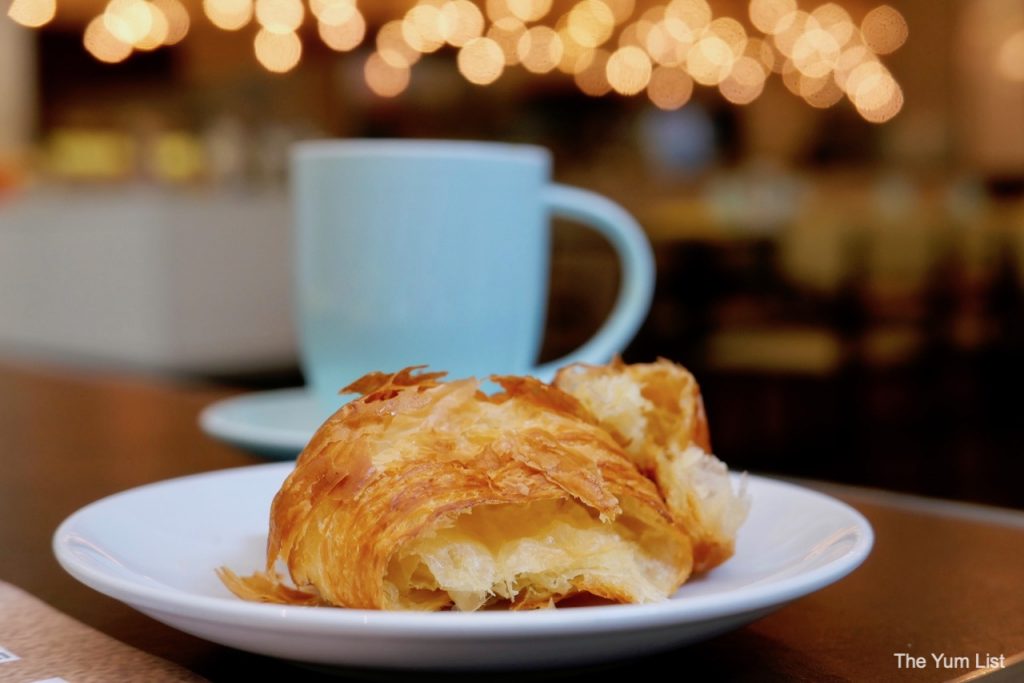 Besides the all-day-dining outlet of Lemon Garden, the hotel has several speciality restaurants too. Shang Palace is not only an attractive location but serves traditional Cantonese food (including an excellent Peking duck) and dim sum. Zipangu has an excellent Japanese menu and also recently launched an Izakaya Saturday brunch, which we highly recommend. Arthur's Bar & Grill has a sports bar with good pub grub and an extensive list of wines by the glass, and do be sure to spend some time in the Lobby Lounge. There are various specials every day (we catch churros made by a "real" Mexican chef – his words 😉 and their afternoon tea has been a classic must-do in KL for decades. Their current promotion, the Pink Afternoon Tea, supports breast cancer awareness.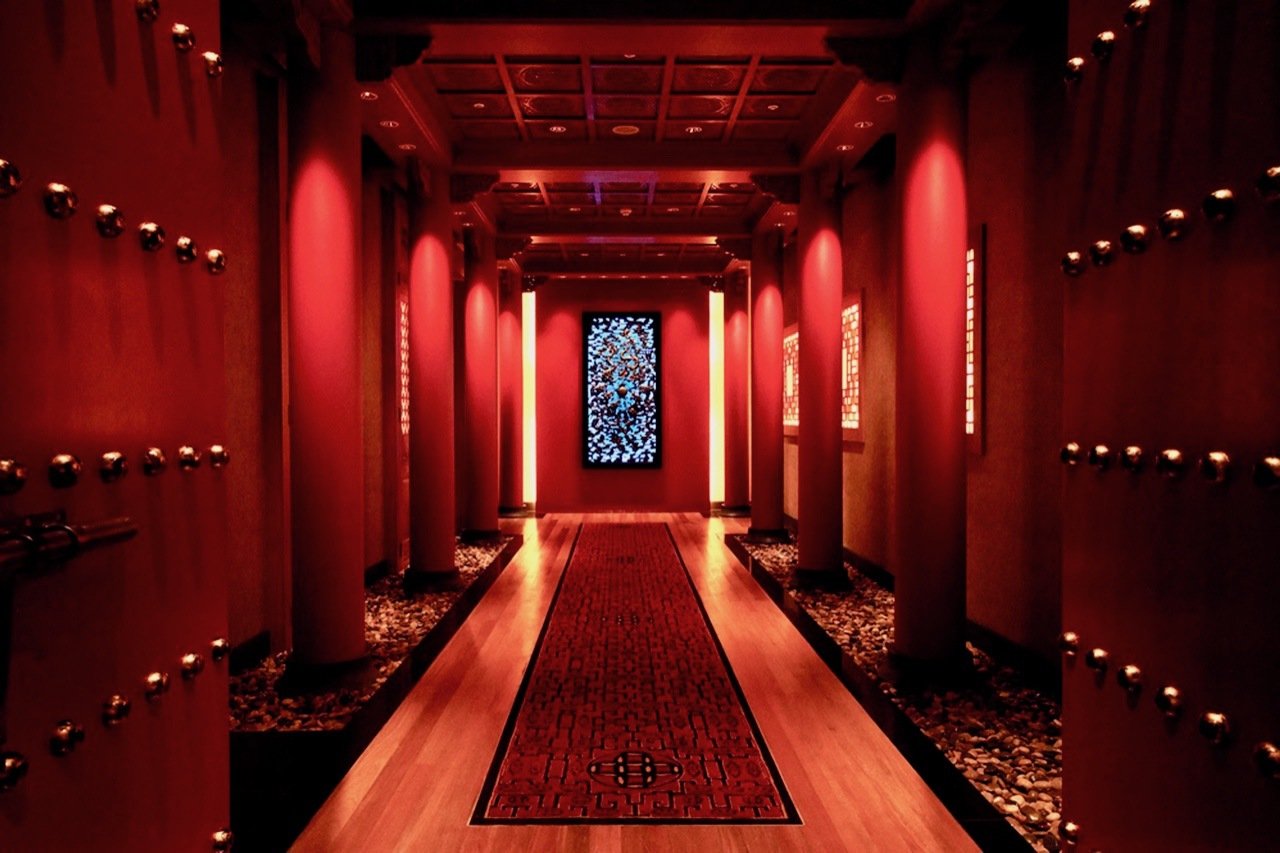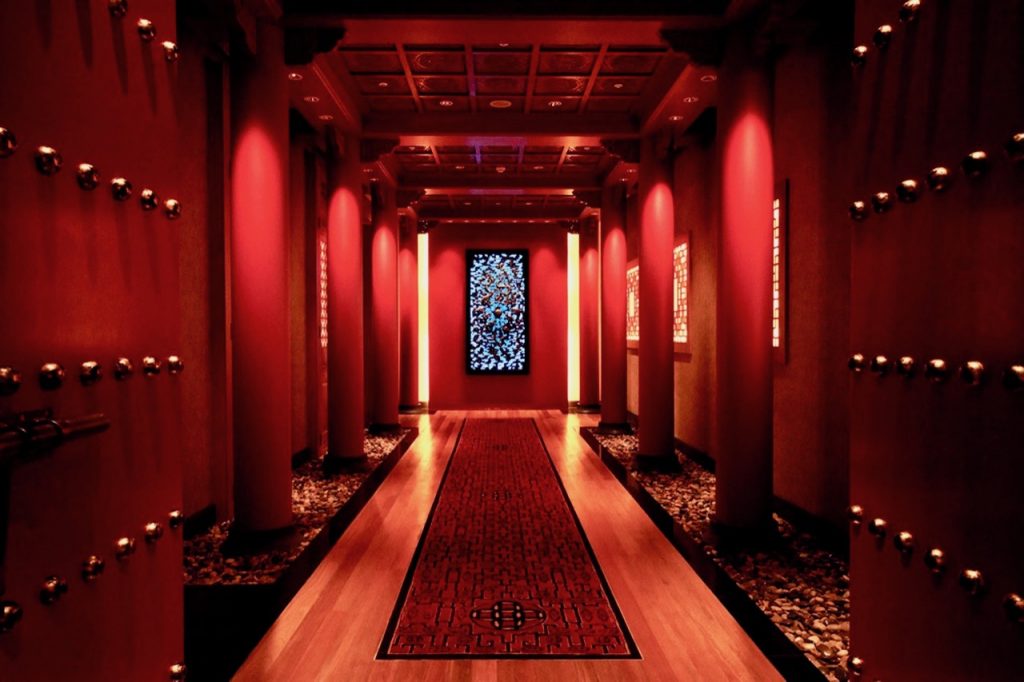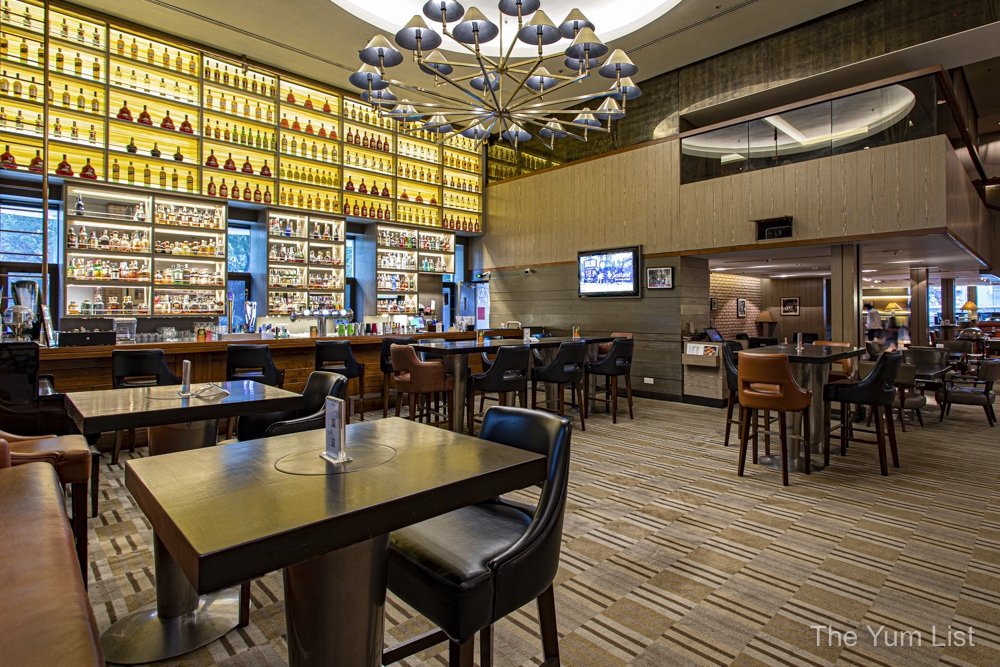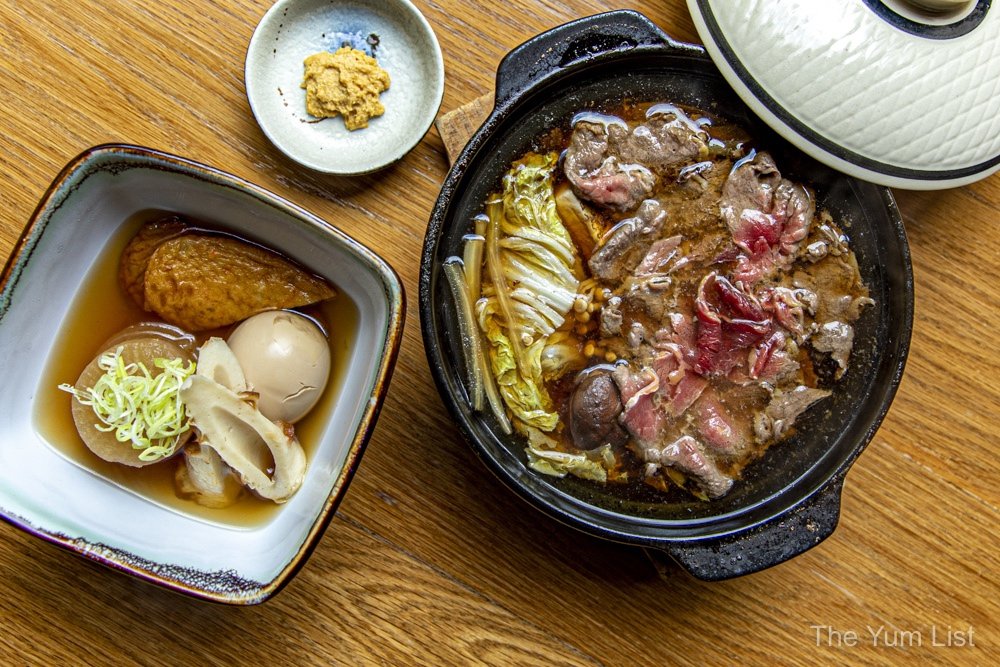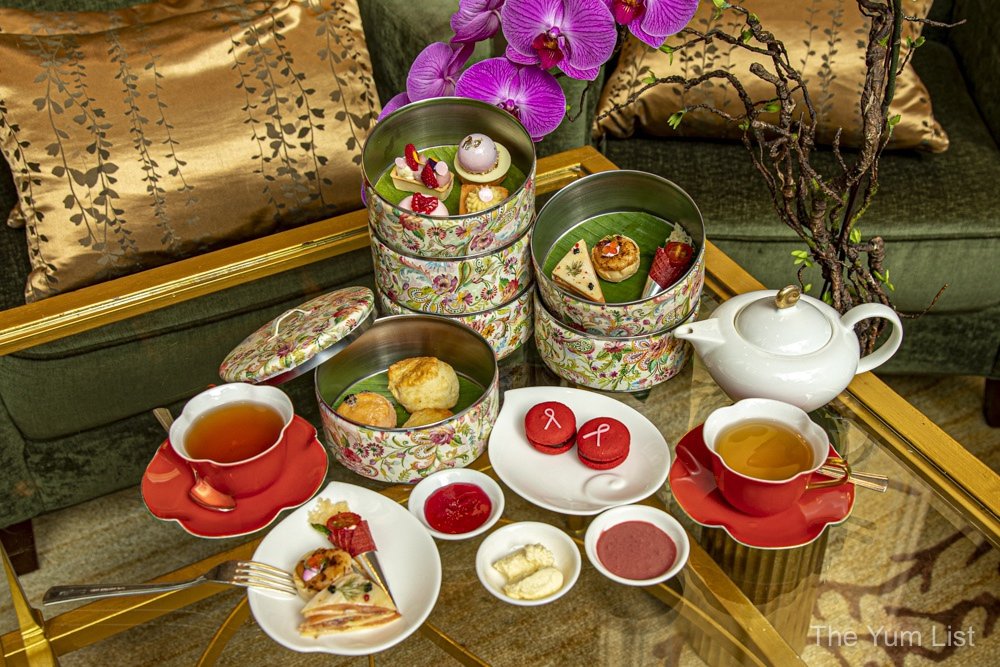 If you'd like a getaway but still want to avoid the crowds, Shangri-La Hotel Kuala Lumpur has an excellent in-room dining service. The night we arrive we have the chef's special of beef ribs and veggies. It's absolutely delicious-fall-off-the-bone meat and so nice to enjoy in the comfort of the suite in our bathrobes.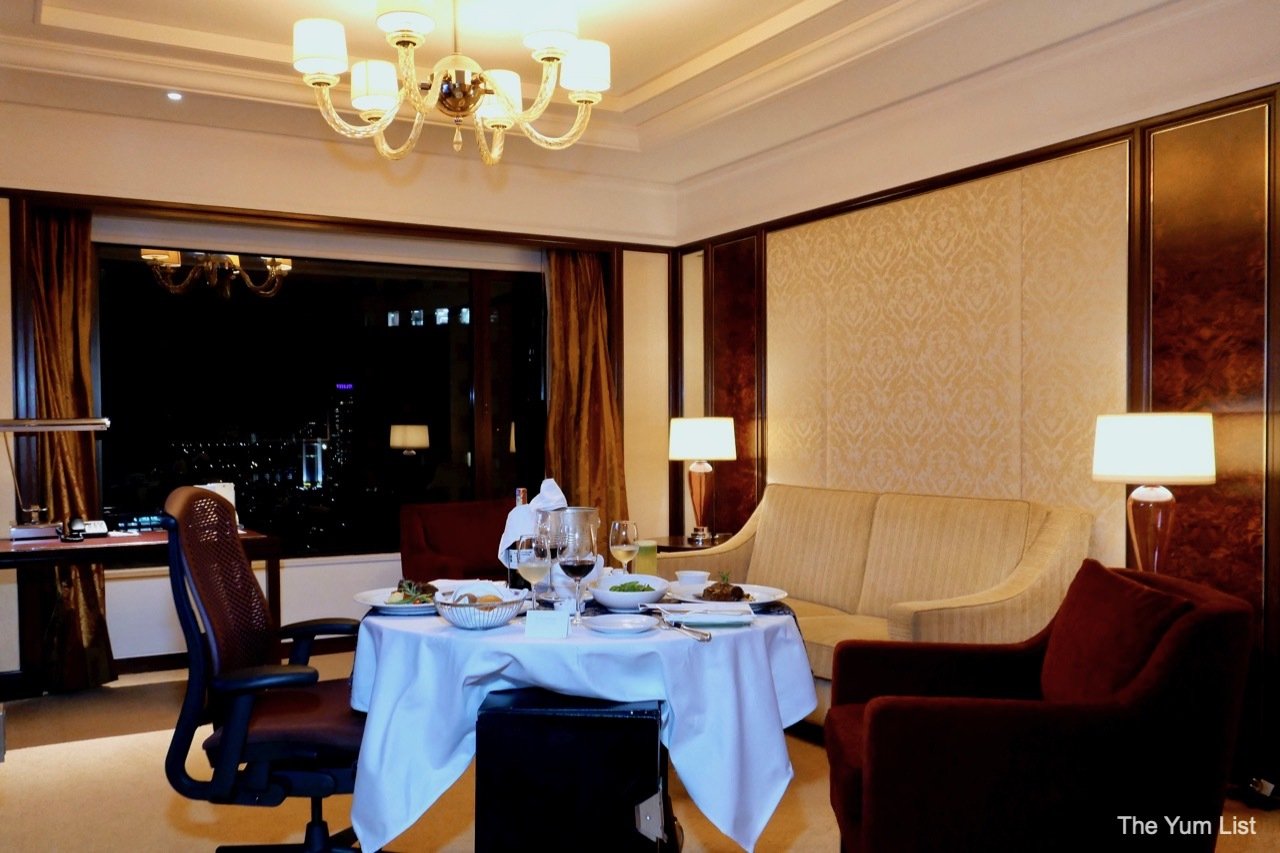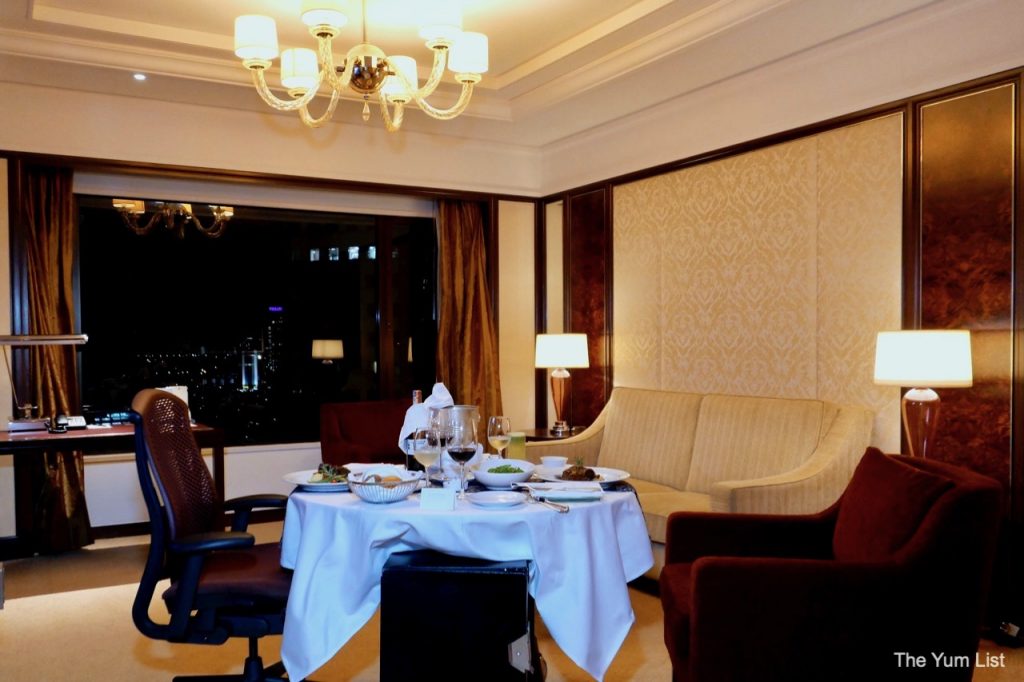 Facilities
Alongside excellent dining options, Shangri-La Hotel Kuala Lumpur has well-maintained facilities. Their health club rates up there with the top hotel gyms in the city. First of all, the space is large and includes a good range of cardio and strength equipment, along with free weights, mats and balls. There's a separate group-class room and the windows look out onto greenery. Sanitizer and wipes are placed all around the facility so there's no excuse for not wiping over your equipment when done. Background music is contemporary and uplifting.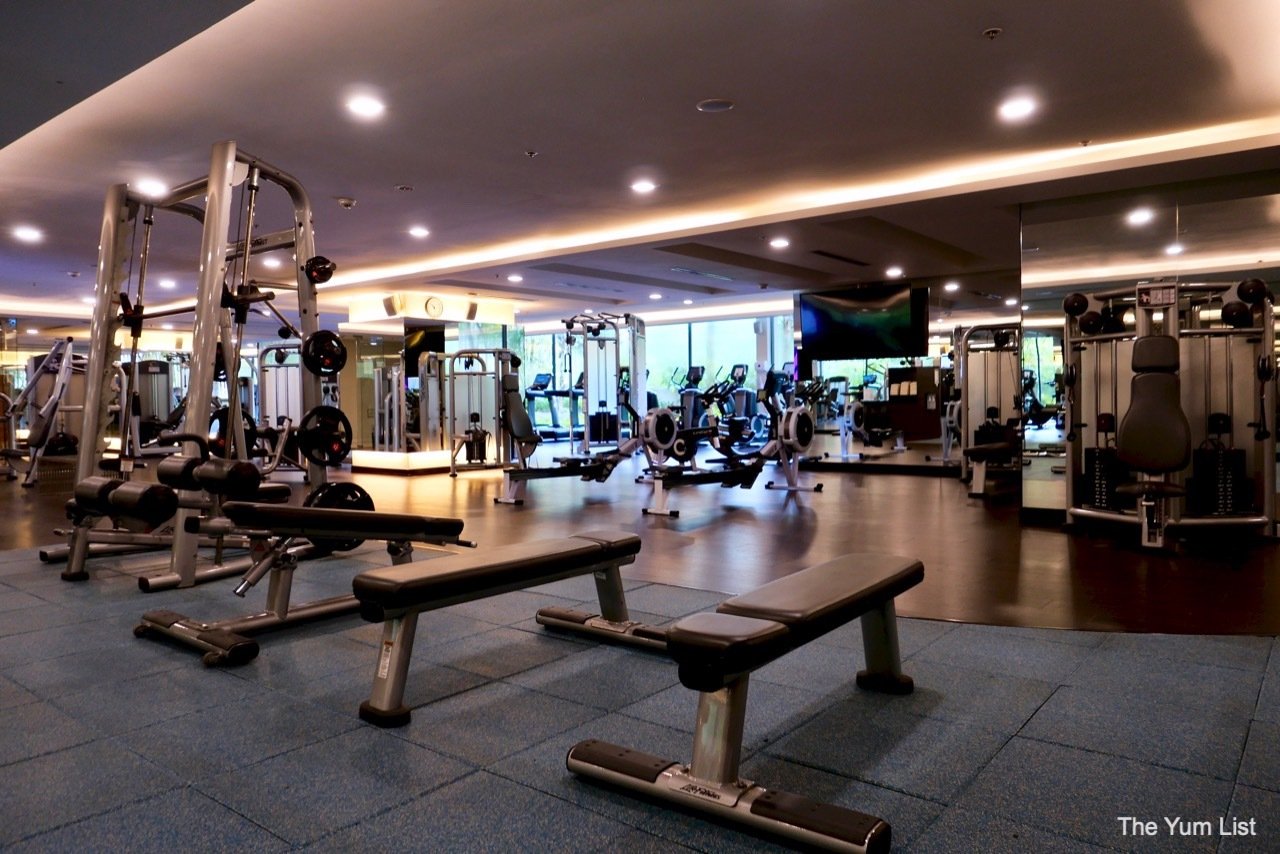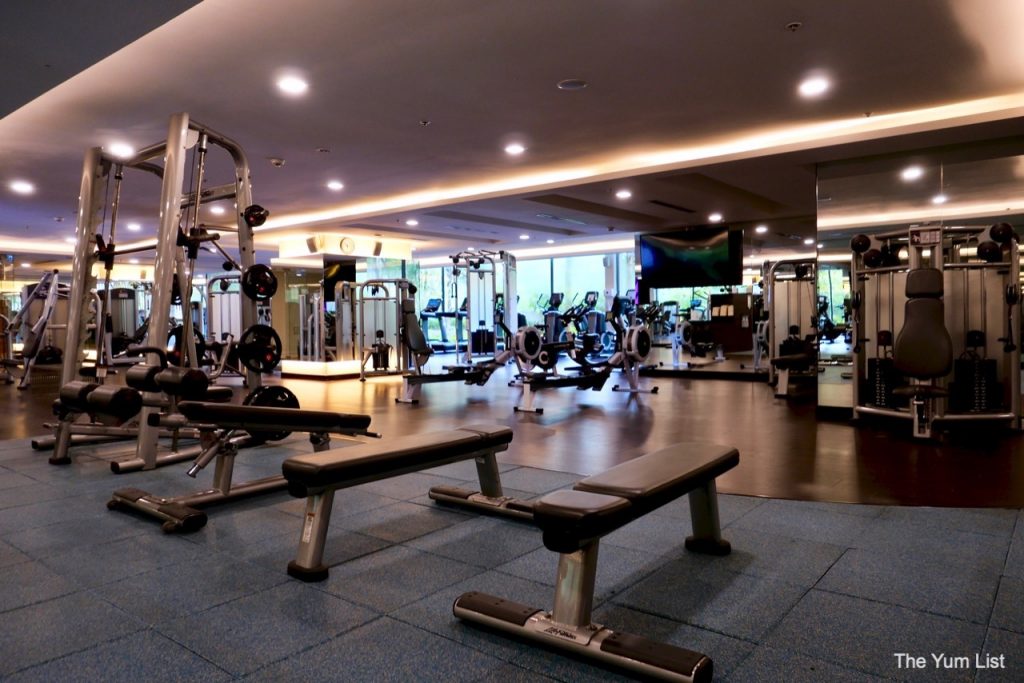 Also housed in the same location is the hotel's spa. A steam room and jacuzzi are located in the locker area giving easy access to the spa treatment rooms. Therapists are highly skilled and we have no complaints about the aromatherapy massages we indulge in. There are some exceptional prices right now too – unheard of for a hotel spa. It's certainly worth checking out their latest offers.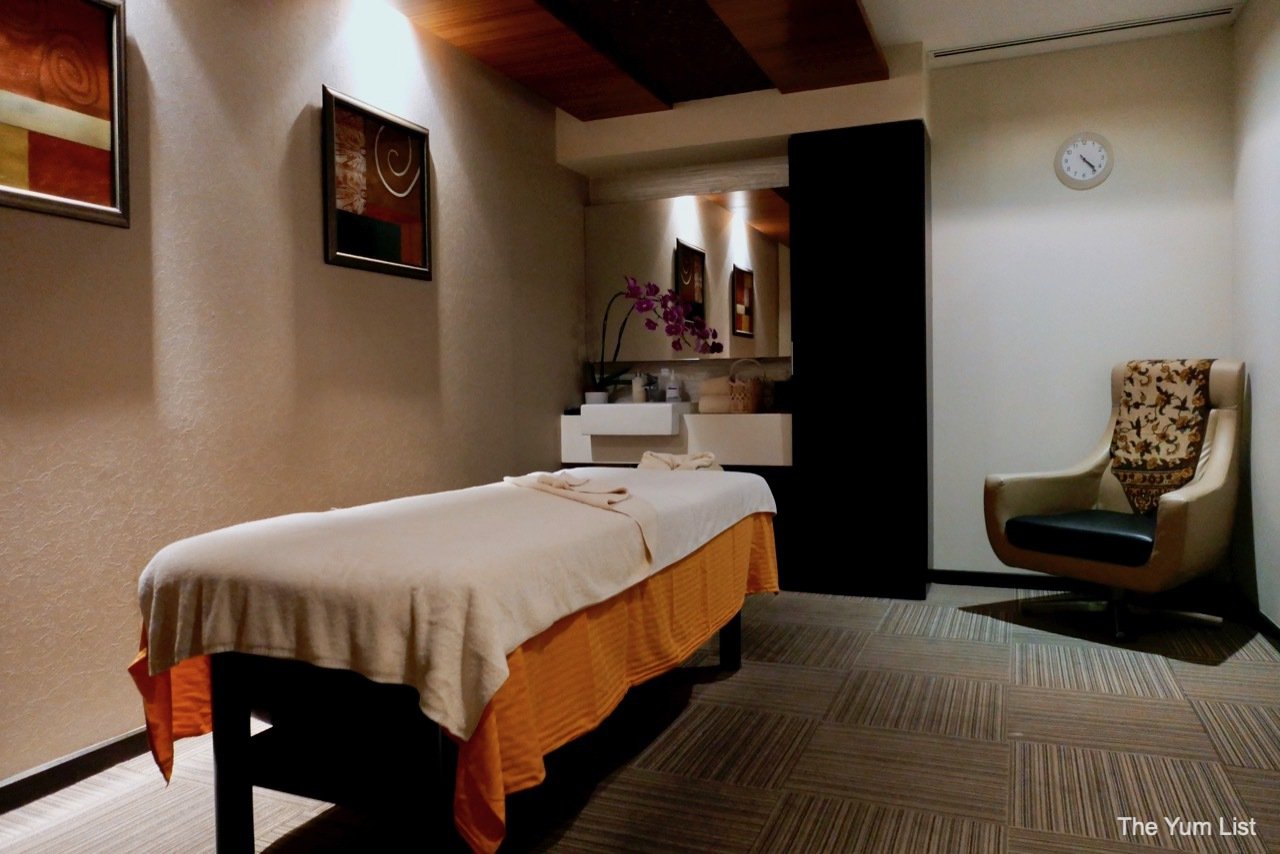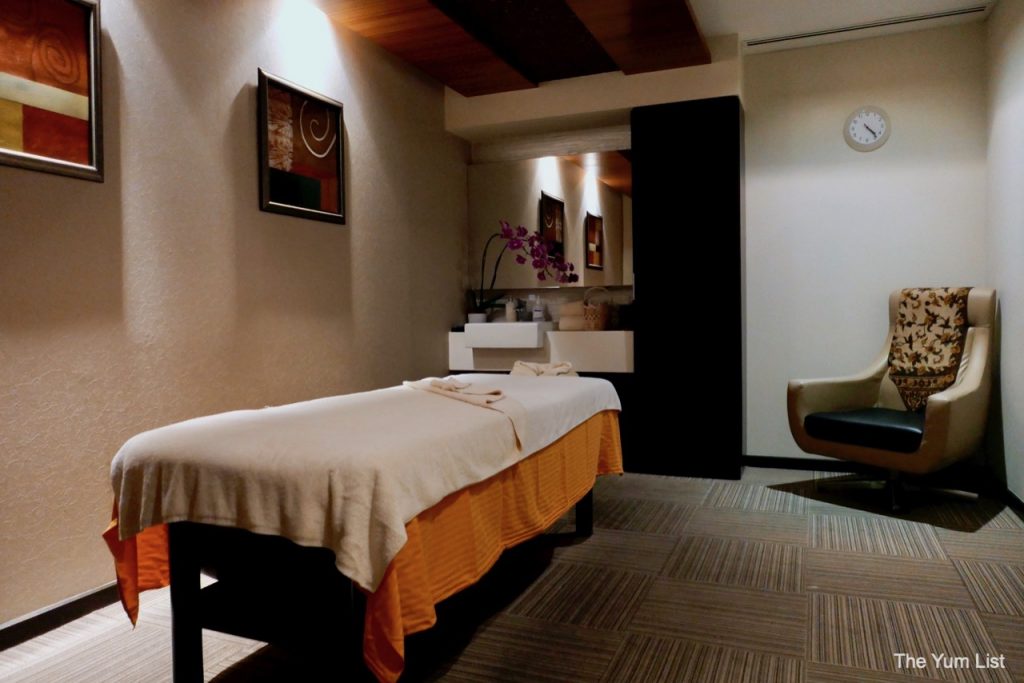 The lagoon-shaped pool is another popular place to pass hours over the weekend. We're blessed with beautiful weather (overcast so just a little cooler but clean air with no haze). Water fountains spurt from the edge and tropical gardens insulate the outdoor space from the surrounding metropolis. It feels like an island escape.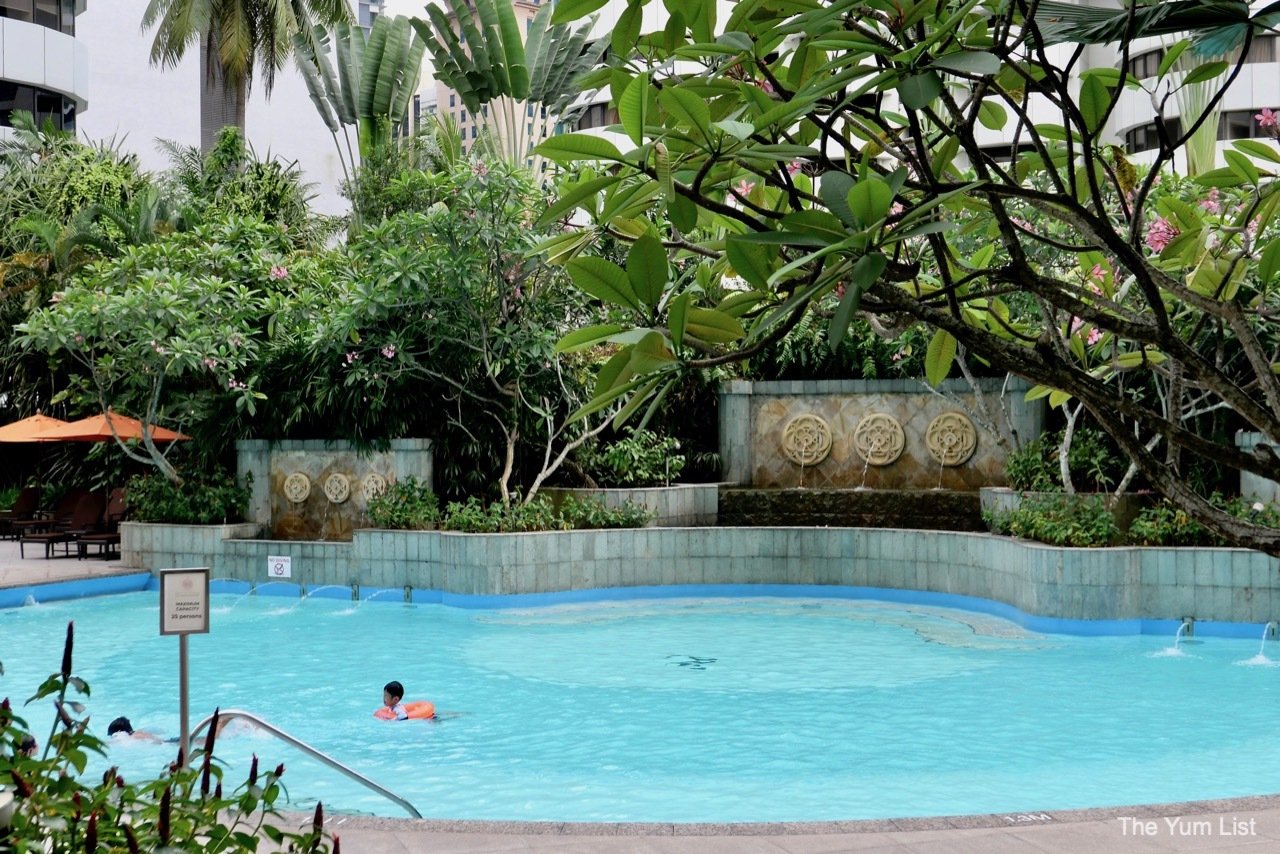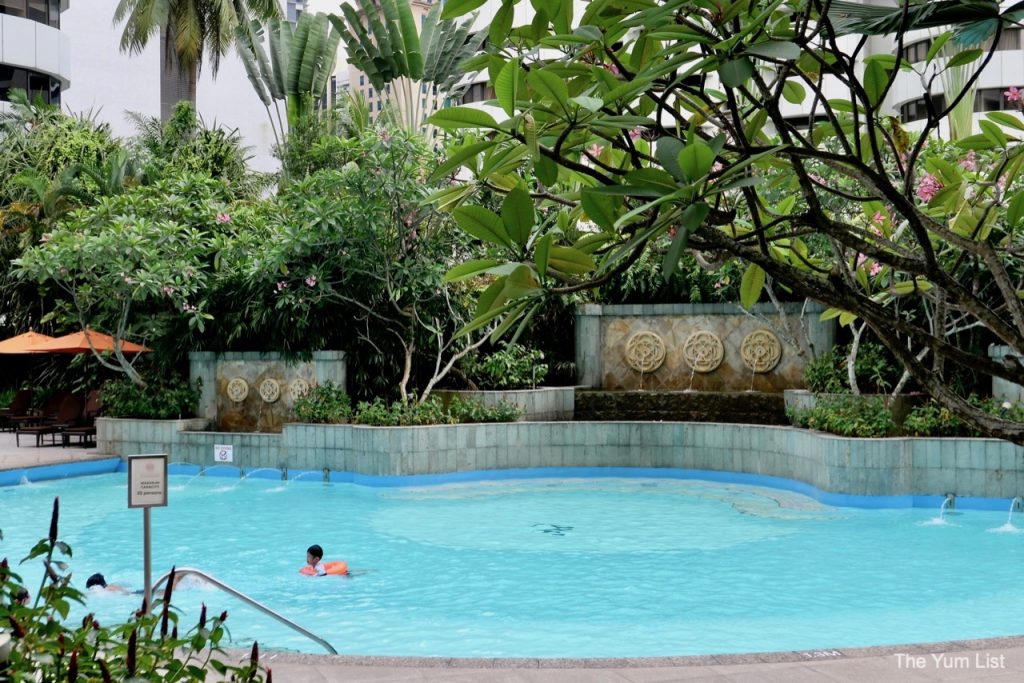 Shangri-La Hotel Kuala Lumpur Review
Now is an excellent time to take advantage of incredible rates for this five-star property. Keeping on all of their staff over these challenging times is certainly reason enough to support the hotel, but rooms, facilities and dining options offer plenty more to appreciate.
Reason to visit Shangri-La Hotel Kuala Lumpur: exceptional service; convenient location; comprehensive facilities; excellent staycay deals.
Shangri-La Hotel Kuala Lumpur
11 Jalan Sultan Ismail
Kuala Lumpur 50250
Malaysia
+6 03 2032 2388
www.facebook.com/shangrilaKL
Find more recommendations for domestic travel in Malaysia here and stay up-to-date on the latest gourmet and travel happenings around Malaysia here and here.