Degustation Menu at The Datai Langkawi
Words: Alison Christ
Photos: Monica Tindall
Tonight is our third and final evening at The Datai Langkawi. Monica and I have had a luxurious stay, and we are very happy that it is not quite over yet. After enjoying a few delicious cocktails in The Lounge, we will head downstairs to The Dining Room to experience the newly appointed Chef de Cuisine Chef Chai Chun Boon's Degustation Menu – RM 480 per person for food only, RM 700 inclusive of non-alcoholic beverage pairing or RM 825 inclusive of an expertly selected wine pairing. Chef educated himself in Switzerland, where he cemented his passion for European cuisine, continuing to work in Michelin-starred restaurants in Spain and the Netherlands. He's most well known in Malaysia for the former Copper Restaurant, which was voted one of the best restaurants in 2020. Chai also worked in Shanghai and Singapore, bringing an eclectic and worldly experience to The Dining Room at The Datai. 
Our man Zul escorts us downstairs through a secret passageway into the beautiful dining room. He leads us out to our table, which is elegantly dressed on the patio with stunning views of the jungle and one of the most inviting swimming pools in the world. We sit down, and Zul swiftly hands us two glasses of Veuve Clicquot, Zul, how did you know? We like Champagne! Zul, the property's Assistant Food and Beverage Manager, who is an awesome mixologist and sommelier (whom may already be familiar to you if you've been following our Datai adventures) has curated the wine pairing and has also created a non-alcoholic beverage pairing. While Monica and I are opting for the wine pairing (shocking, I know), the n.a. pairing looks awesome and handcrafted. I want to do it justice by showing them here in parenthesis in case you find yourself teetotaling on your next visit to The Datai. After a few relaxing moments of soaking up the view as the sun sets, Chef Chai comes over to greet us. Monica has known Chef for several years, and she is very excited that he's moved to The Datai, and so am I.
Chef Chai's Degustation Menu
Tribute Royale
Our journey begins with a Tribute Royale – an Organic Egg, Truffle, Jungle Garlic, and Caviar. The dish is immaculately presented sitting on a "bird's nest", and it's very pretty. The flavours are sweet and creamy with a nice delicate truffle shaving. In case you're wondering, jungle garlic, also known locally as buah kulim, is a local garlic-scented nut. The Weingut Wittmann, Kirchspiel G.G, Trocken, Riesling, Germany 2018 complements this dish perfectly. The Datai import some of their wines so you can get interesting wines that you can't find in KL at excellent prices (duty-free Langkawi and self-importation helps give the consumers outstanding wine/value). German Riesling can be confusing. A good rule of thumb to help you navigate the sweetness level is to check the alcohol content – a lower alcohol wine like 11% will be sweeter than wine at 13%. Also, the Germans may label a dry wine as "trocken." This dry Riesling from the Kirchspiel grand cru site is showing honey, petrol, and passion fruit. With crisp limestone minerality and beautiful spiciness. Germany is rich in winemaking history, and the Wittmann family has been in wine since 1663. They practice biodynamic farming, which embraces some of the philosophies we are experiencing here at The Datai, such as recycling resources, supporting the local wildlife, growing multiple types of crops, and encouraging local fauna to flourish. (n.a. option Limau Gedang ~ grapefruit, cider, sparkling)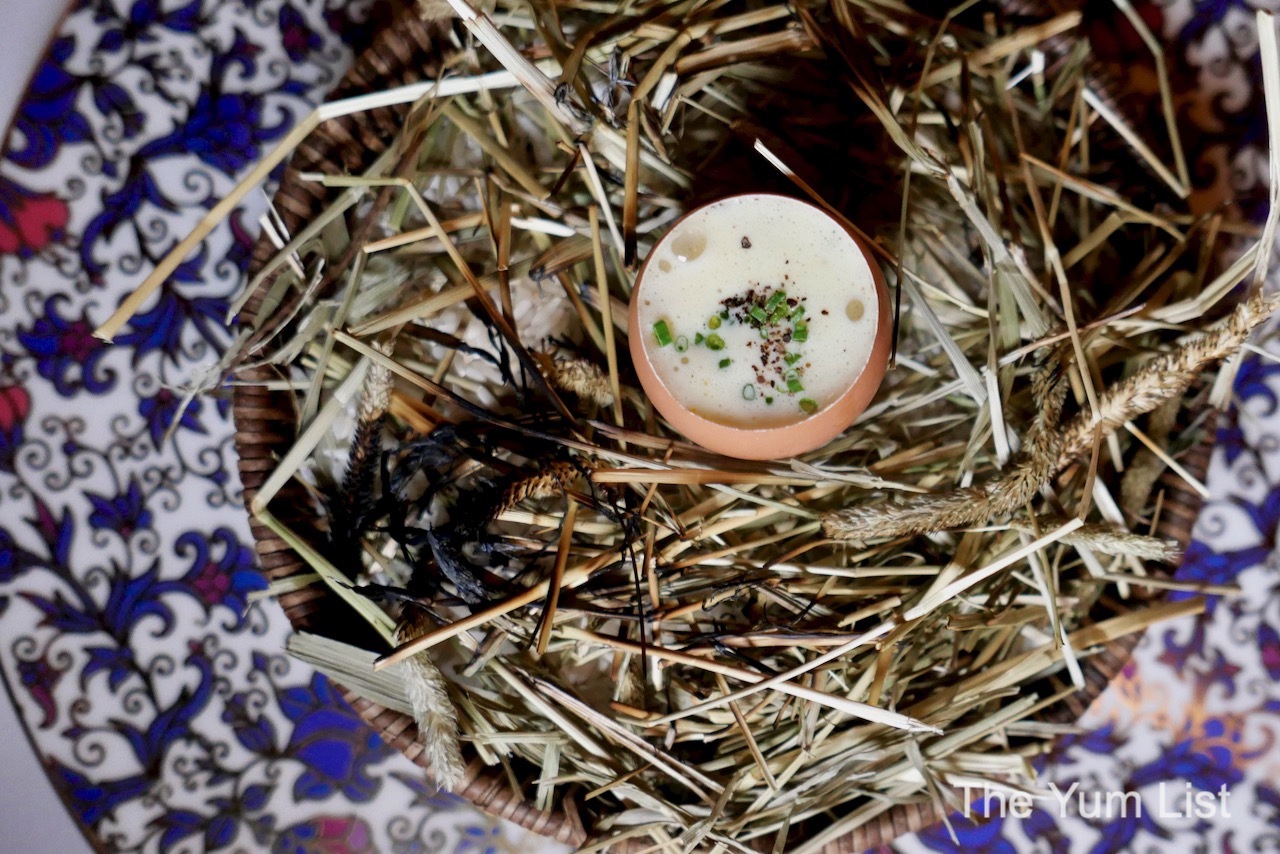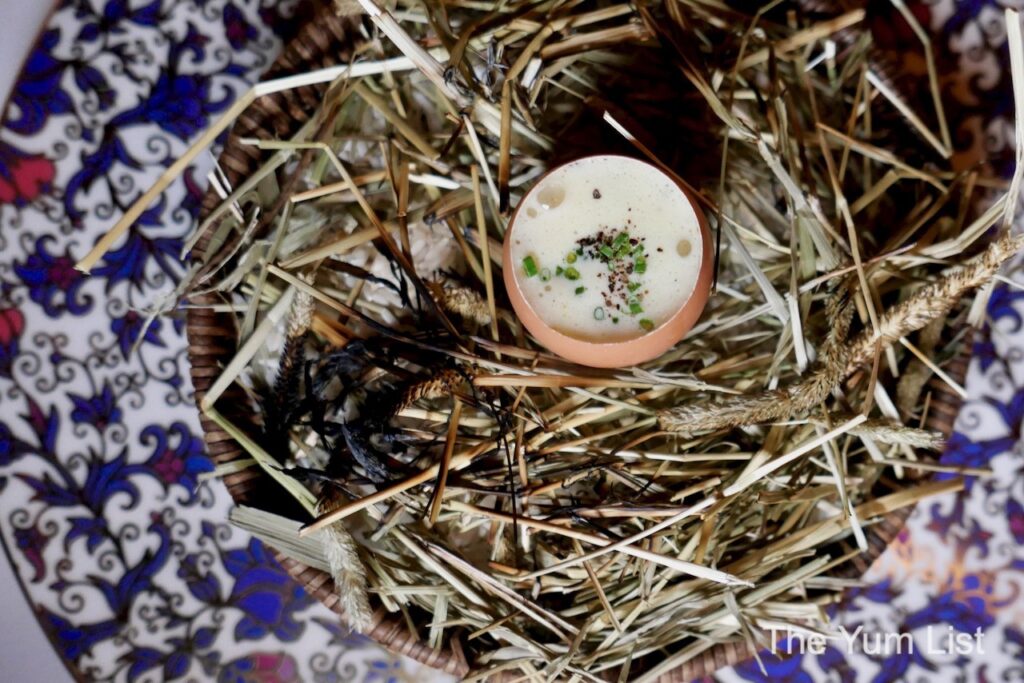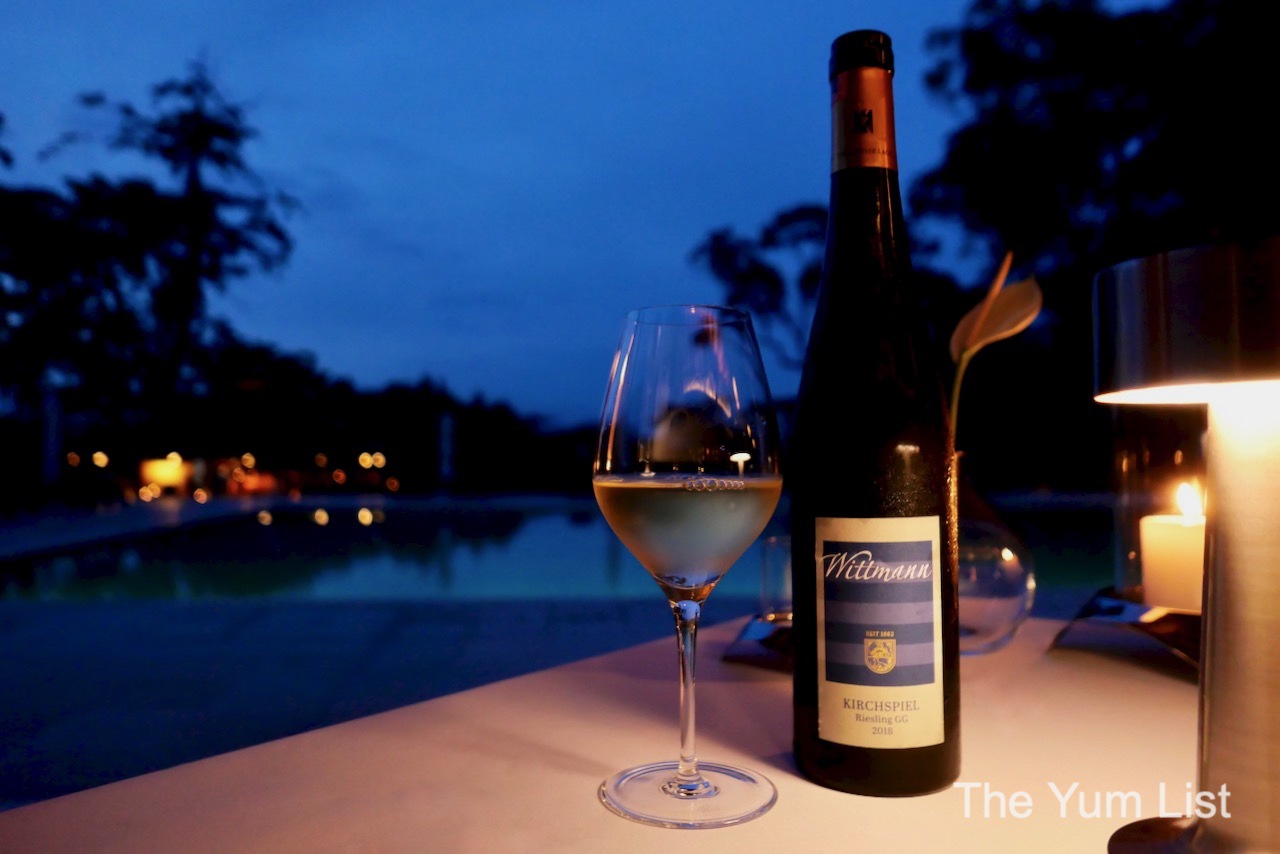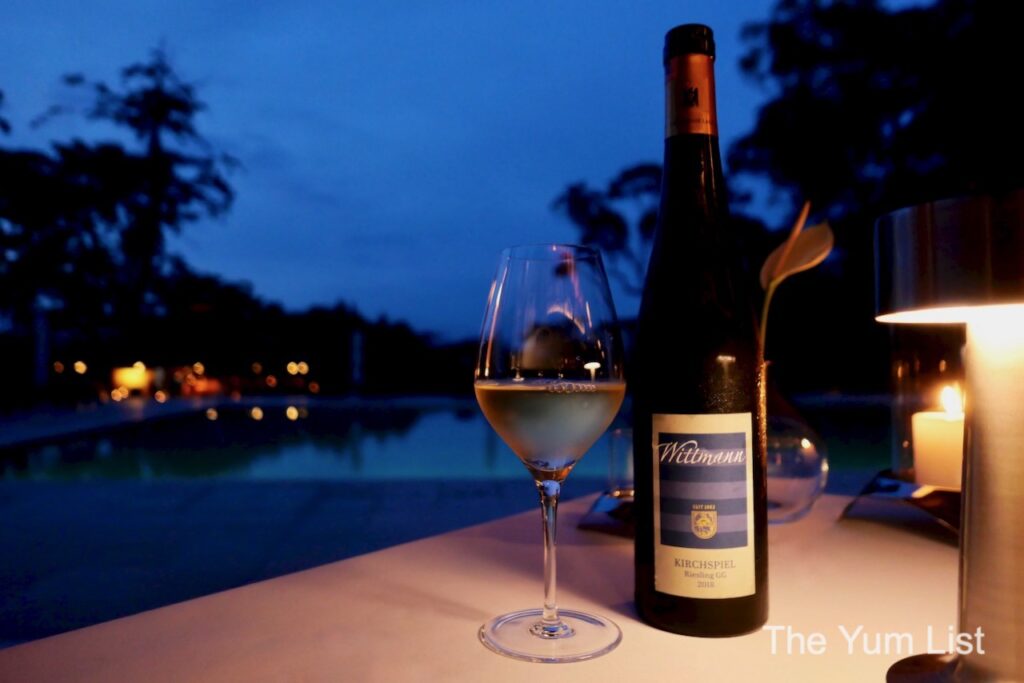 Degustation Menu – Herbs of Datai
Our next culinary delight is the Herbs of Datai with Cucumber, Lime, Chilli Vinaigrette. The presentation is fun; a perfectly round ball that is filled with hand-picked herbs from The Garden. The ball is sweet, crunchy, and herbaceous. We are still enjoying the Riesling with the next dish of Crispy Puff Wheat Bread with Chickpea Cream, Lemongrass Pineapple Compote, and Foie Gras Snow. The shell is paper-thin and delicate, the pineapple crunchy, the sauce creamy and savoury. Monica offers an exaggerated yuuuuuummmm as she eats it. 
Zul serves us Ca' del Bosco, Cuvée Prestige Brut, Franciacorta, Italy NV, a fine method Champenoise from Lombardy, made of Chardonnay, Pinot Nero and Pinot Bianco. Everyone is familiar with Prosecco sparkling wine from Italy, but most people don't know about Franciacorta, which can have the quality level of Champagne. With Franciacorta and Champagne, the secondary fermentation happens in the bottle, whereas in Prosecco, it happens in a tank. Ca' del Bosco has incorporated an interesting process in sparkling production. The disgorgement (the removal of dead yeast cells from a bottle before a new cork is added) is carried out in an oxygen-free environment, which they have patented, the 'Metodo Ca' del Bosco.' It prevents oxygen shock and makes it unnecessary to add additional sulphites.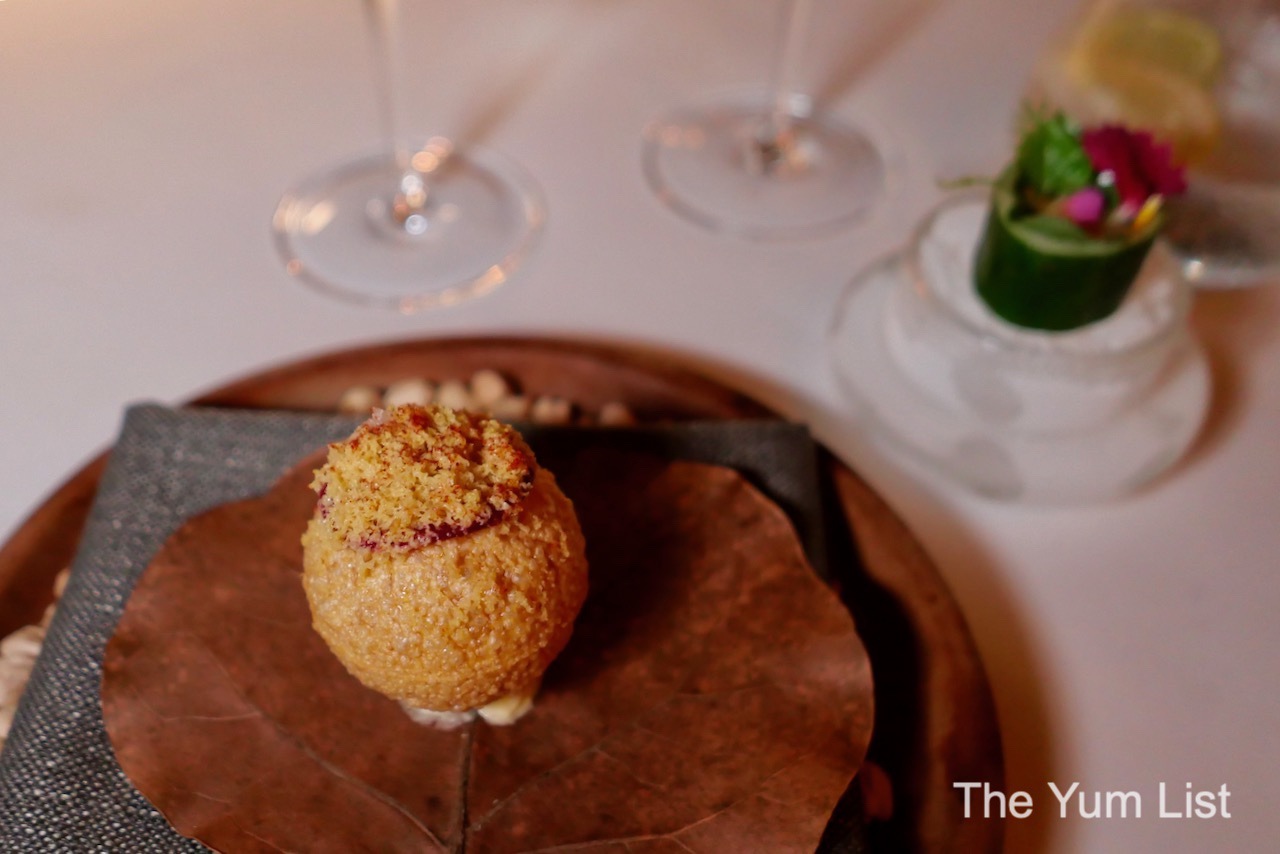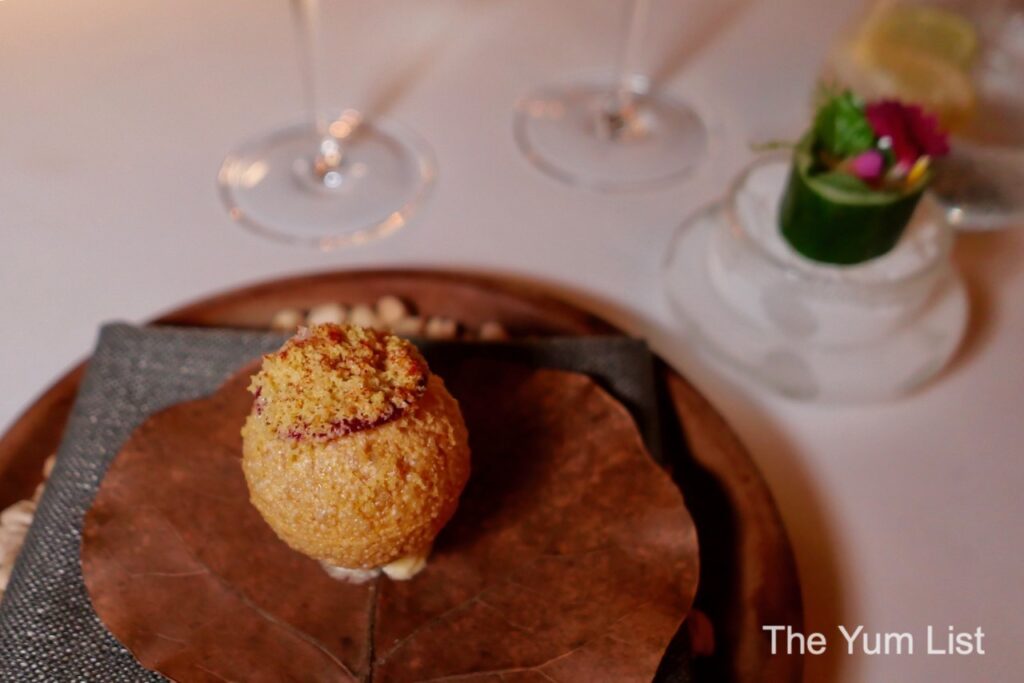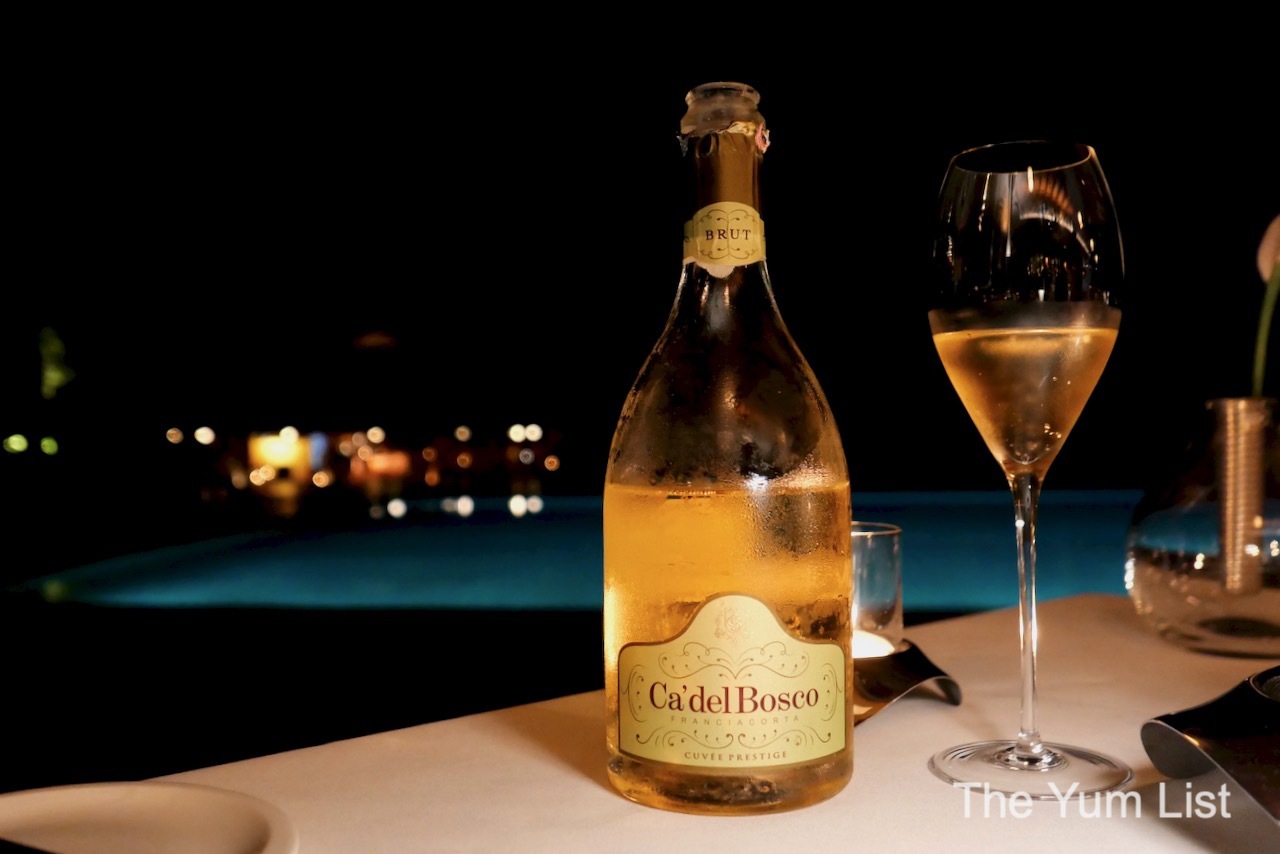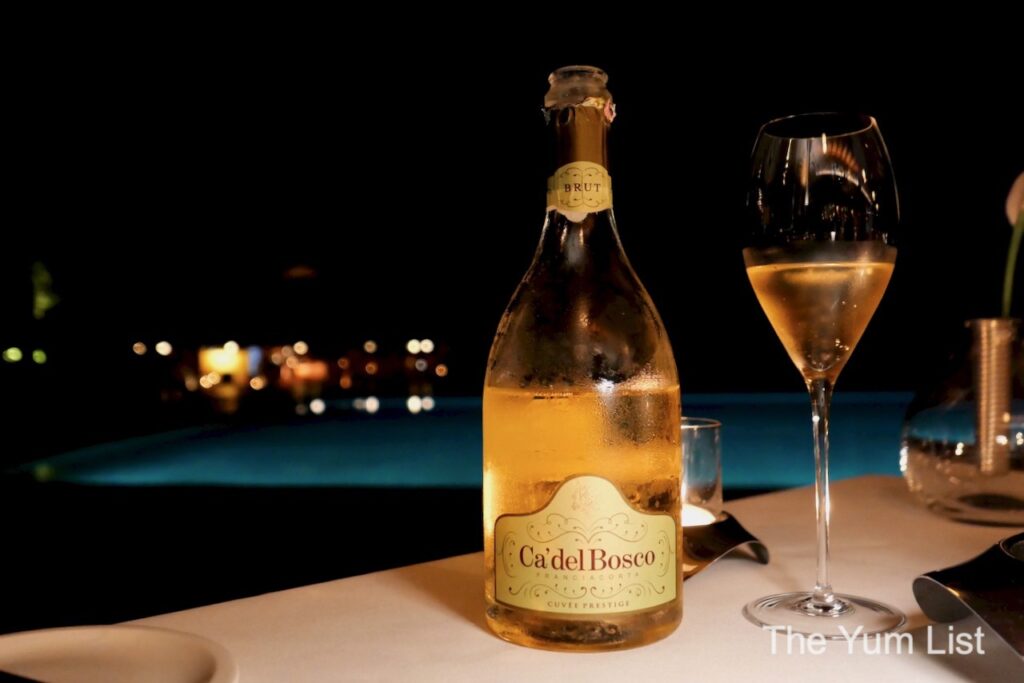 Black & White Iranian Sevruga Caviar
Black & White Iranian Sevruga Caviar with Scallop Umai, Sago Pearls, and Kaffir Coconut Dressing is next. The scallop, along with turnip and pear, is cut into flower shapes which is visually appealing, and the fruit and veggies offer a contrasting textural appeal. The flavour is delicious, and the caviar is very enjoyable, especially washing it down with the toasty, creamy Franciacorta. (n.a. option Ananas ~ Pineapple, mint, kaffir, Indian tonic).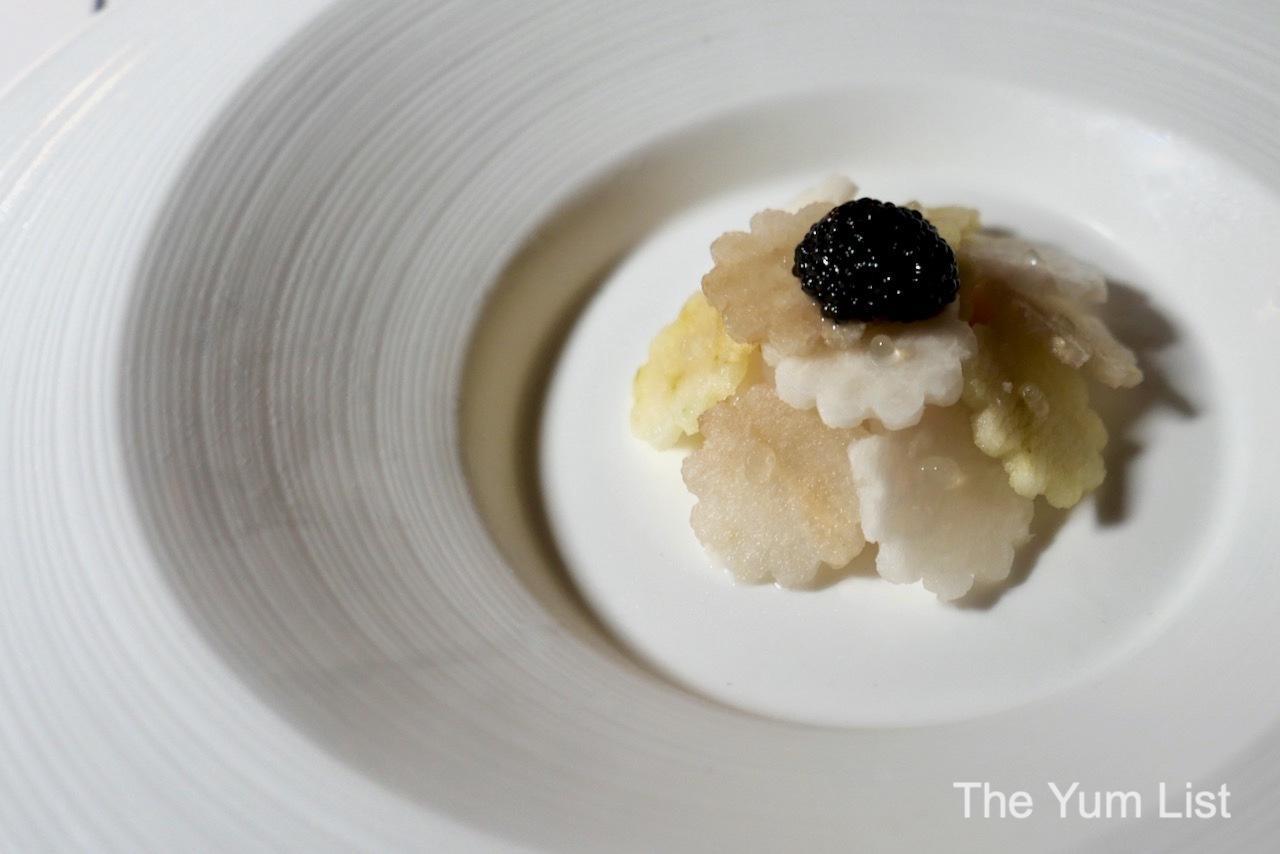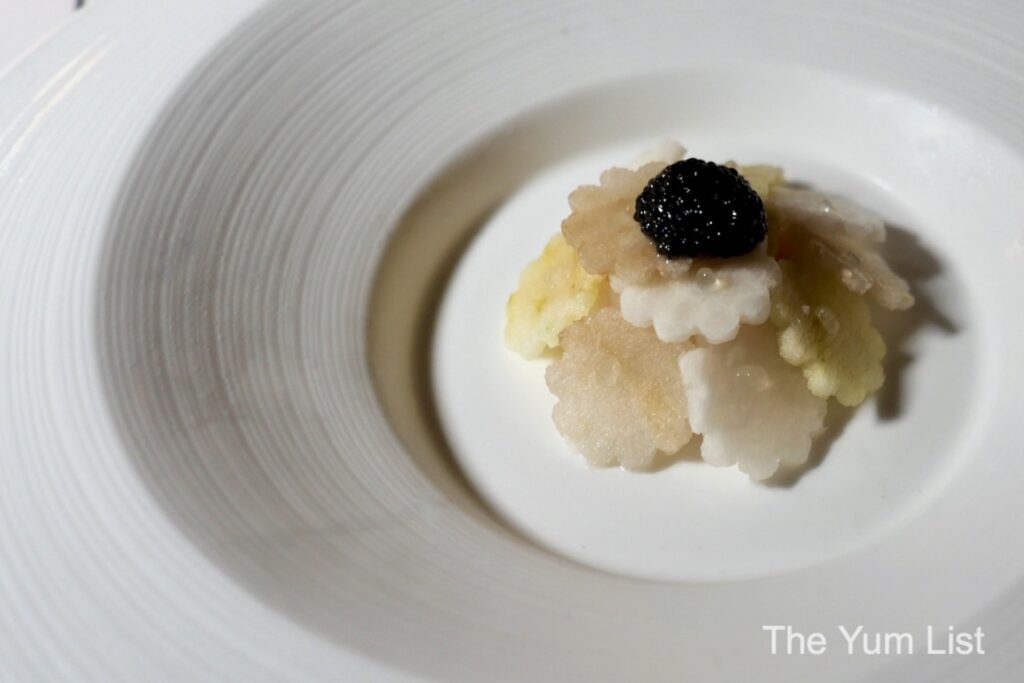 Artisan Bread with Signature Yeasted Butter
We are now served an Artisan Bread Selection with Signature Yeasted Butter, which is almost a course unto itself! Something to note if you are gluten-free, The Datai offers three different types of GF bread, all baked fresh every day!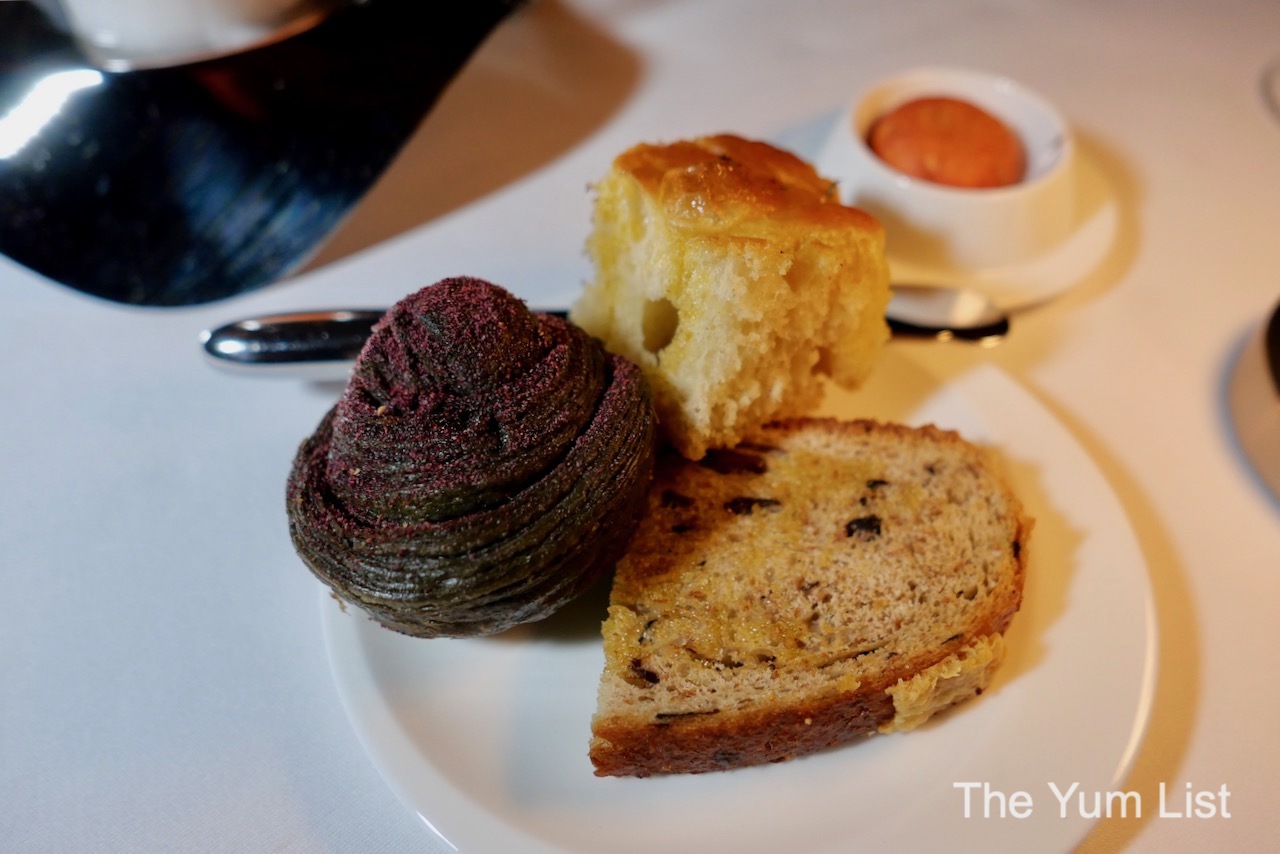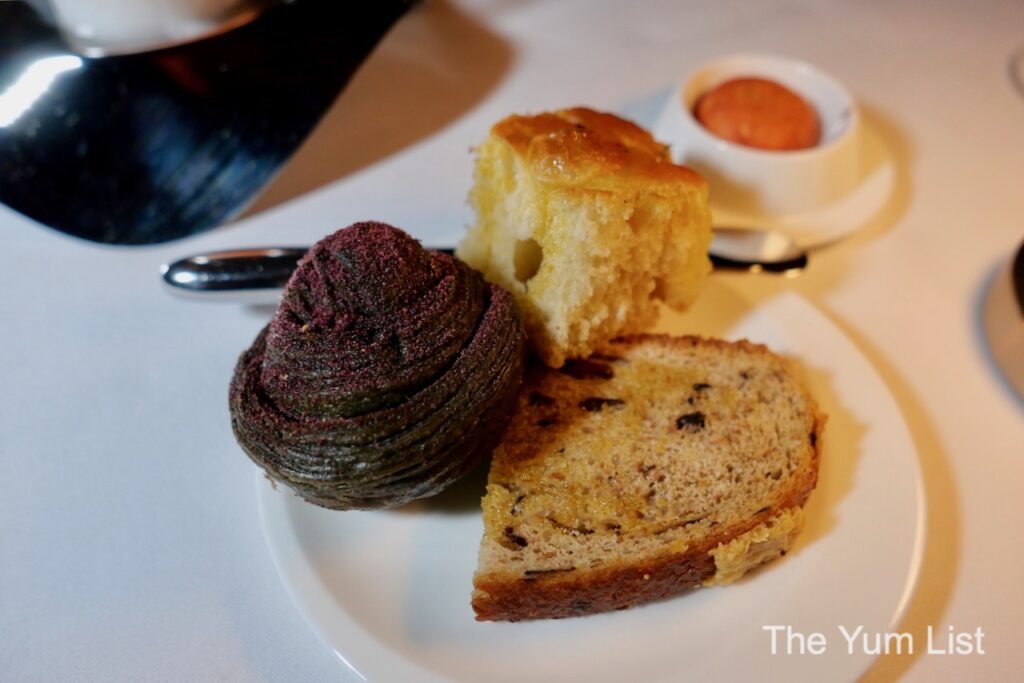 Vichyssoise and the Catch of the Andaman Sea
Up next is hot Vichyssoise and the Catch of the Andaman Sea with Potato Gnocchi, Leek Fondue, Masala Spice Velouté. Lucky for us, the catch is fresh, delicate lobster. The masala spices are mild and complement the crustacean perfectly. We switch to Alain Brumont, Gros Manseng and Sauvignon Blanc, Côtes de Gascogne, France 2015. The winery is located in a mostly undiscovered region in South West France, which benefits from the ancient terroir of the Pyrenees Mountains. I've had this wine young and fresh many times in KL, and I'm very pleasantly surprised at how interesting it has become with a little age on it. The Datai was able to hold onto this one in the cellar. Good decision! (n.a. option Melaka ~ Lapsang souchong, goji, cardamom, ginger)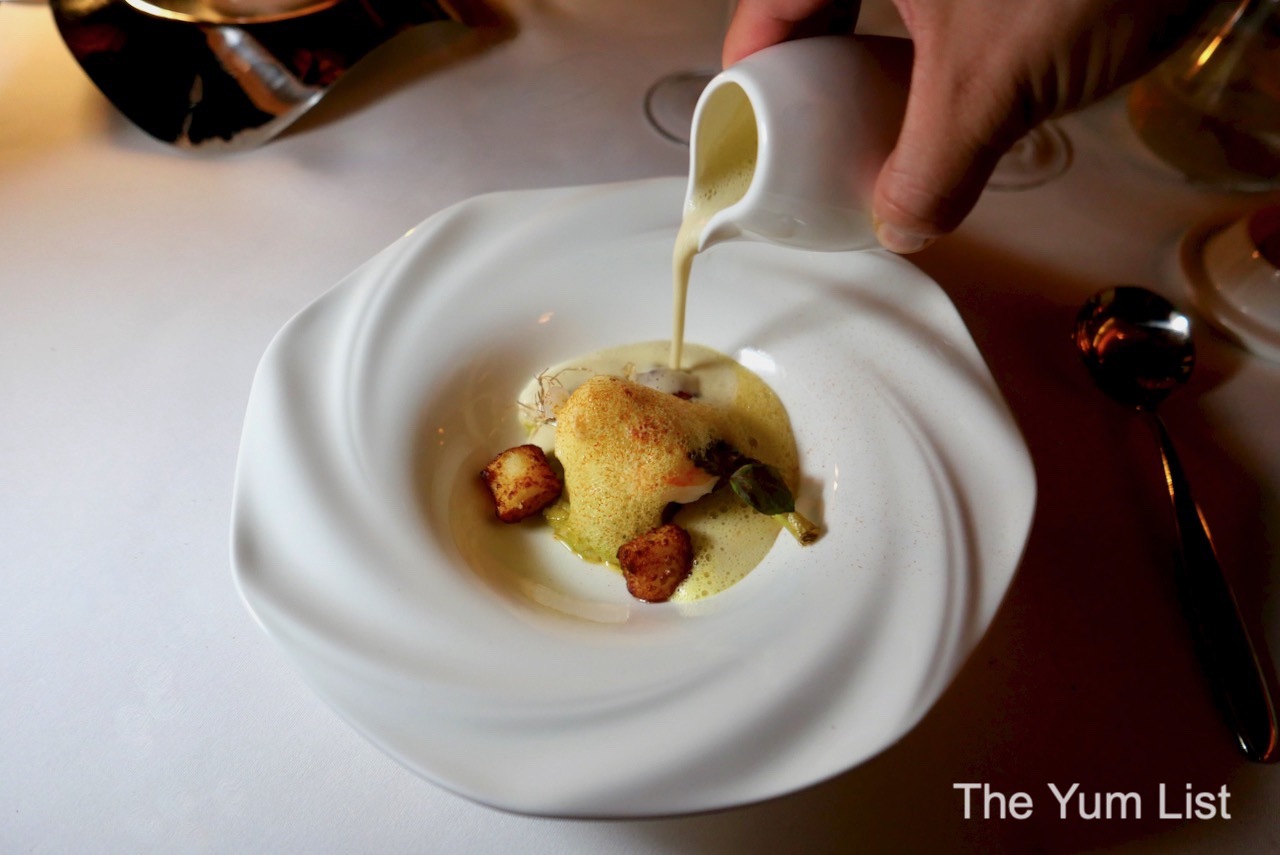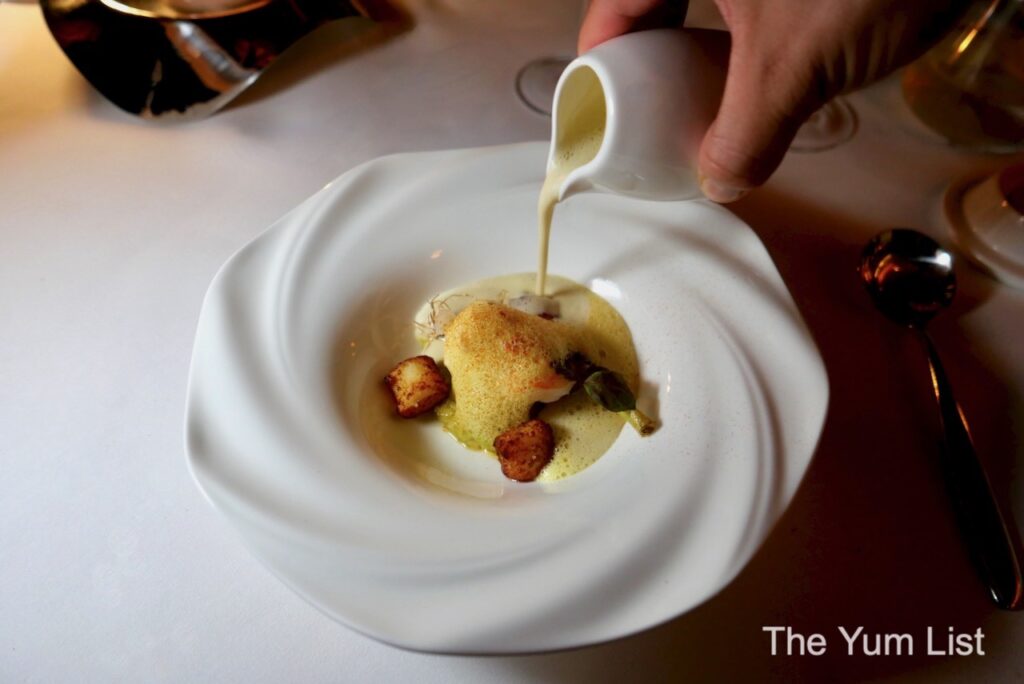 Narrow-Barred Spanish Mackerel
Narrow-Barred Spanish Mackerel with Garlic Confit, Red Cabbage, Ikura Caviar, Seafood Velouté Sauce, serves up fleshy, oily mackerel with a fragrant perfume and a touch of spice. Gavi del Commune di Gavi, Bersano, Italy 2018 is complementing the fish nicely. This is an elegant white wine with stone and tropical fruits. It is produced with the Cortese grape grown in the Gavi village located between Piedmont and Liguria. (n.a. option Kebun ~ Kaffir, citrus, mint, lemongrass).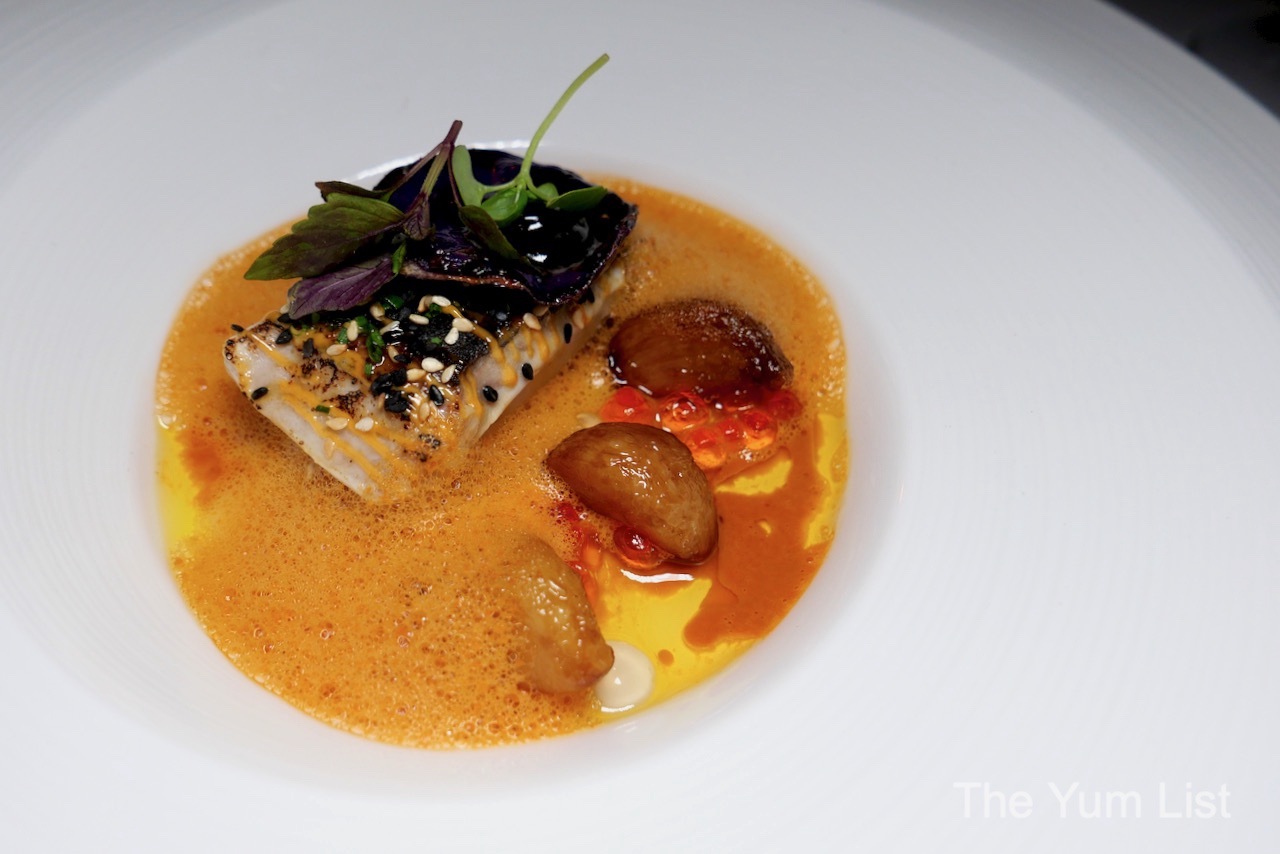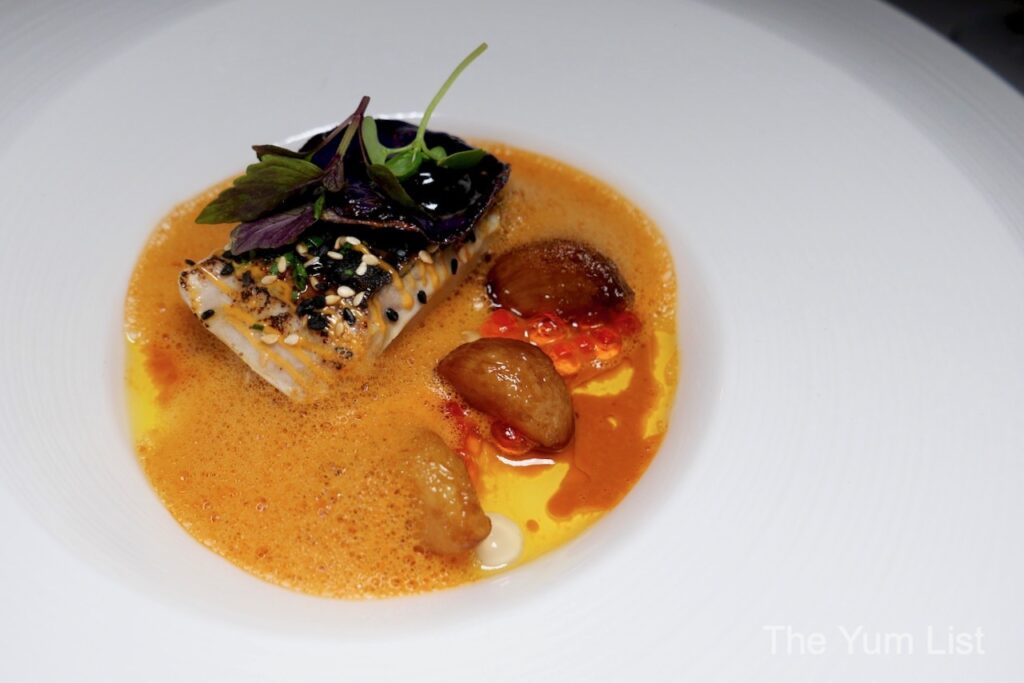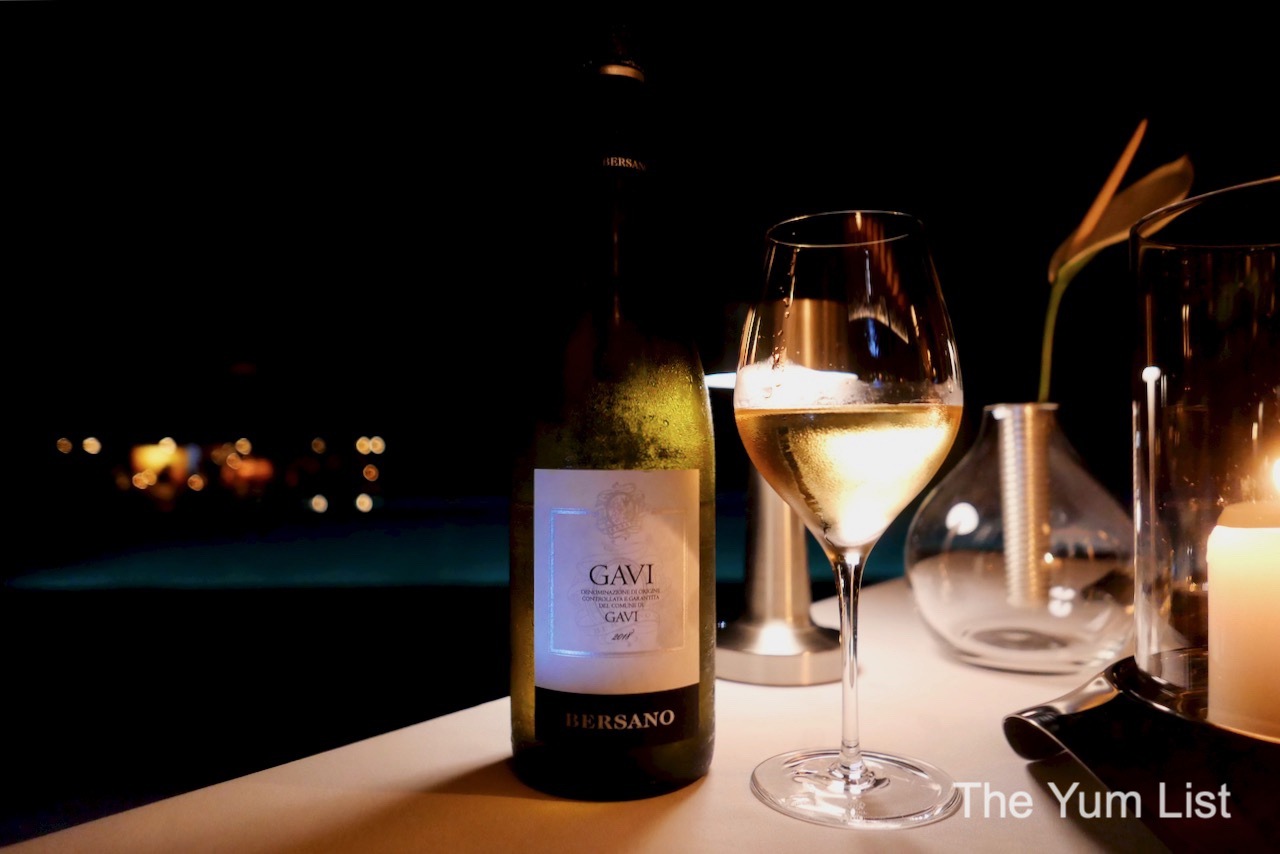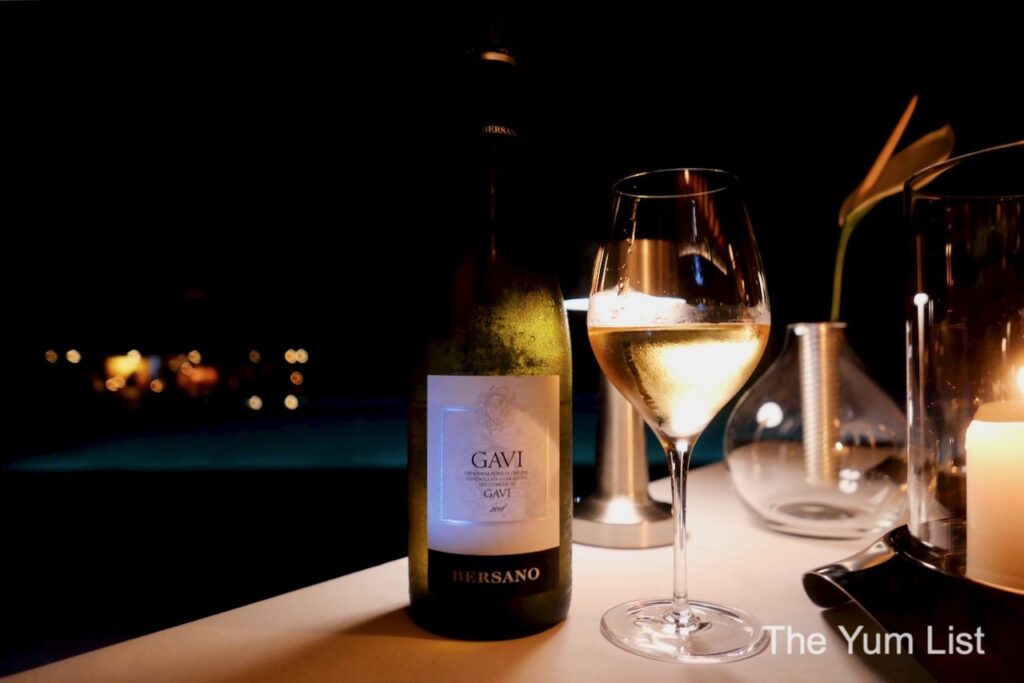 48 Hours Slow-Cooked Oyster Blade
Our dinner is about to switch gears as we move from white grapes and treasures of the sea into red wine and beef! 48 Hours Slow-Cooked Oyster Blade with Parmesan Cream, Charred Aubergine Pegaga Shade, Andaman Aromatic Juice. Oyster Blade is a flavourful cut from the shoulder and, when done properly, can be incredibly succulent. Chef Chai has gotten this right; succulence is achieved! The beautiful Château Sociando-Mallet, Haut-Medoc, Bordeaux, France 2014, a blend of 50% Cabernet-Sauvignon, 45% Merlot et 5% Cabernet-Franc is showing magnificently well. When Jean Gautreau took over the property of Sociando-Mallet, the buildings were in bad shape, and there was no barrel cellar – just a small vat room and garage. With help and advice from Gérard Cler, Jean Gautreau made a good first vintage and a superb second one and has grown to become one of the most popular names in Bordeaux. Today the property is comprised of 83 hectares producing nearly a half million bottles. (n.a option Smashed Pinot – red grapes, blueberry, strawberry, pomegranate, mint, tea)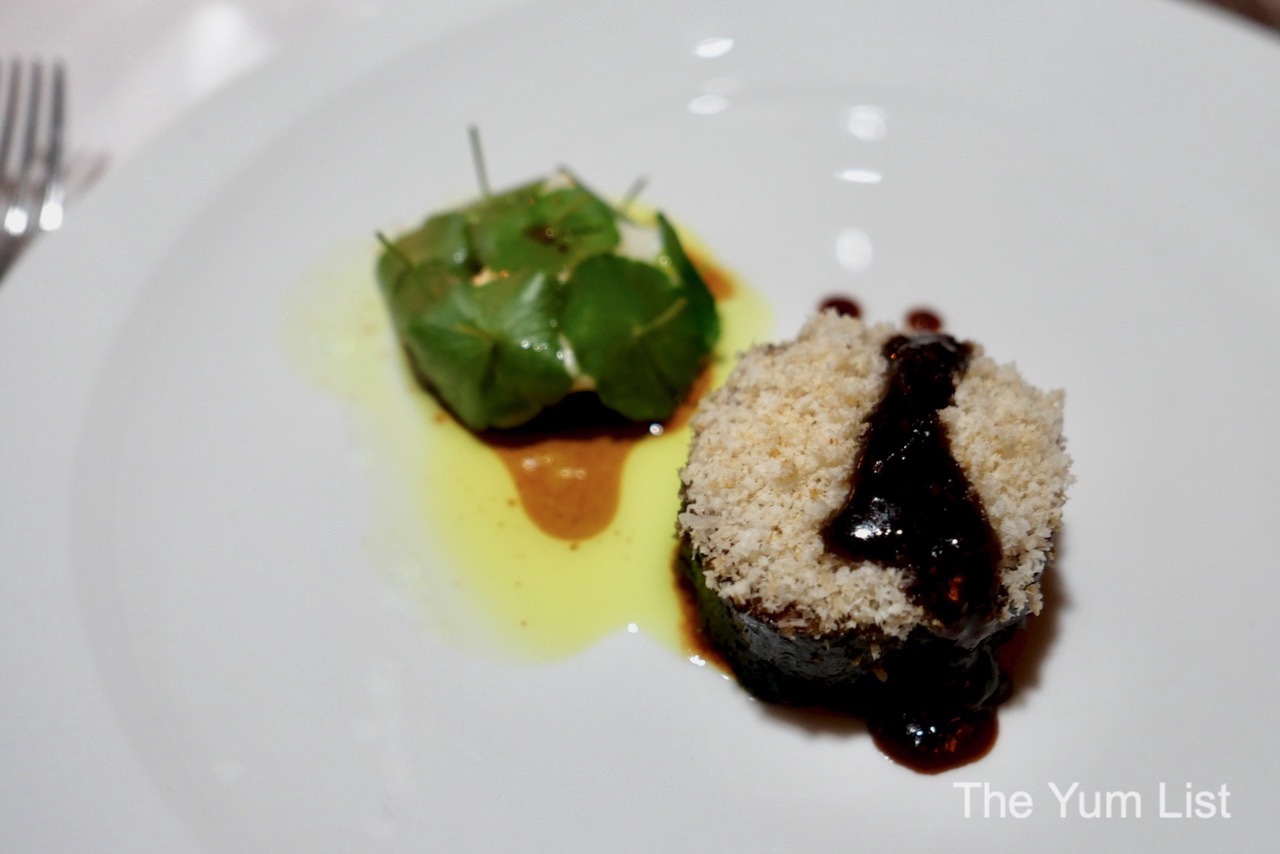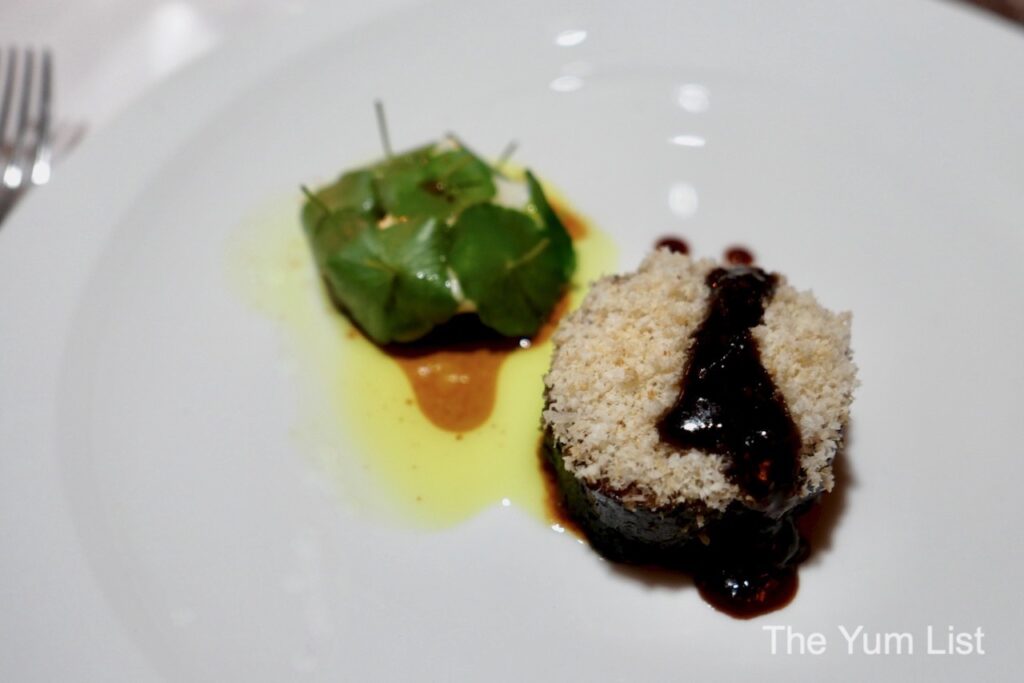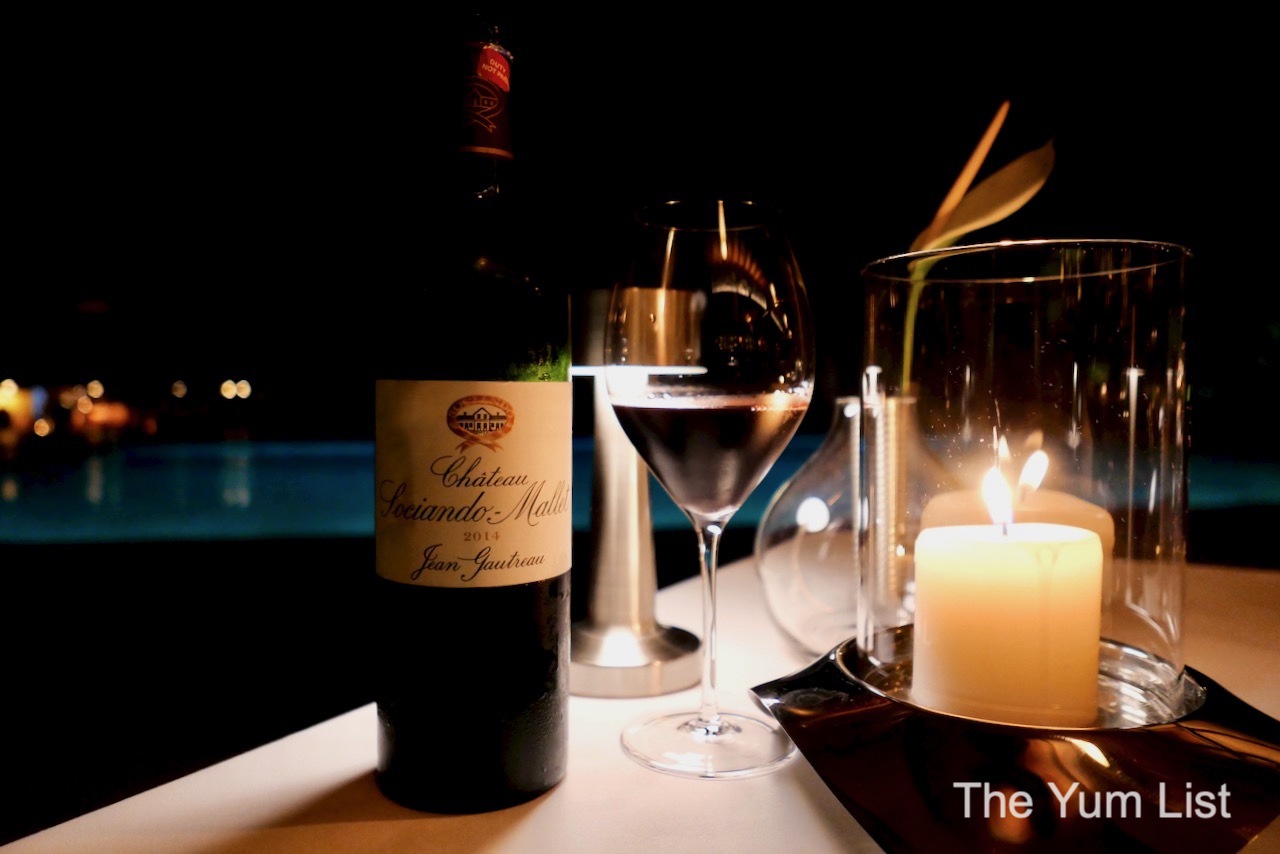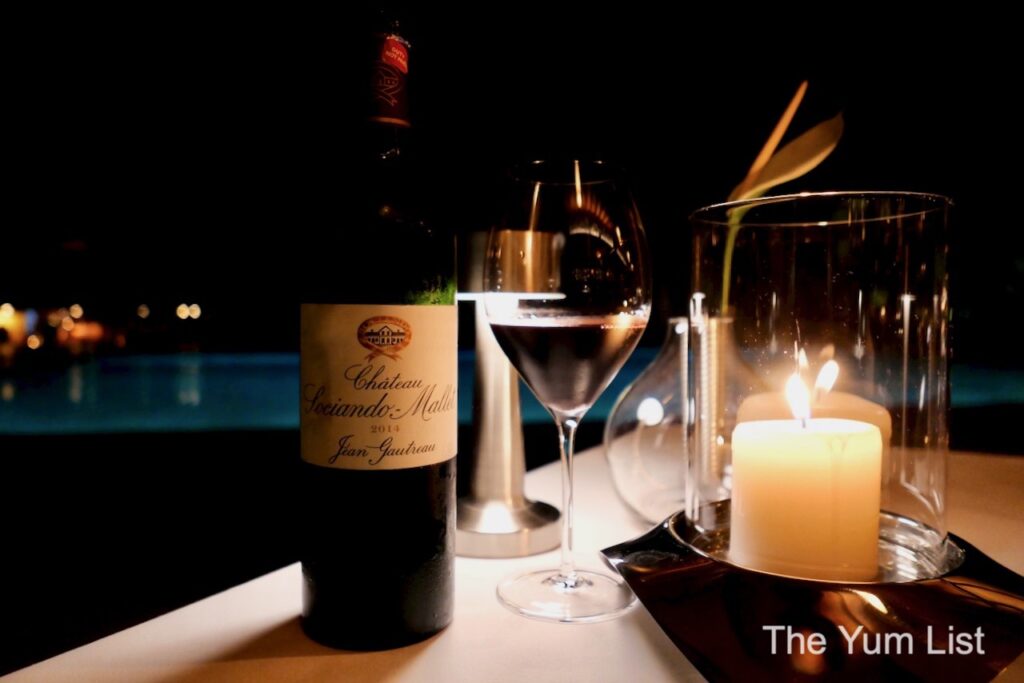 Degustation Menu – Yuzu Pavlova
By now, Monica and I are a bit tipsy and pleasantly full, as is tradition with a degustation menu we are given not one but two desserts. The first Yuzu Pavlova with Calamansi Compote, Lemongrass White Chocolate Cream, Thai Basil Oil is decadent with a unique savouriness.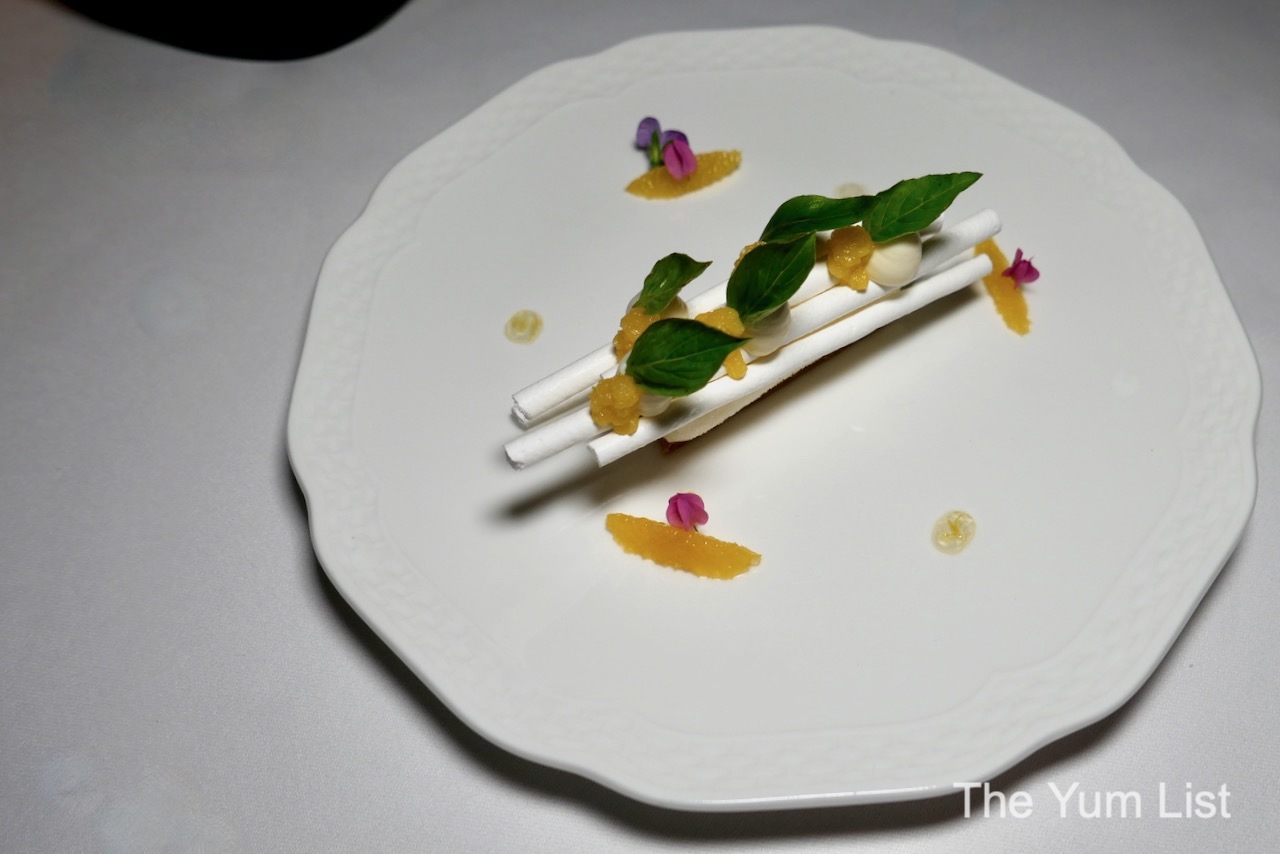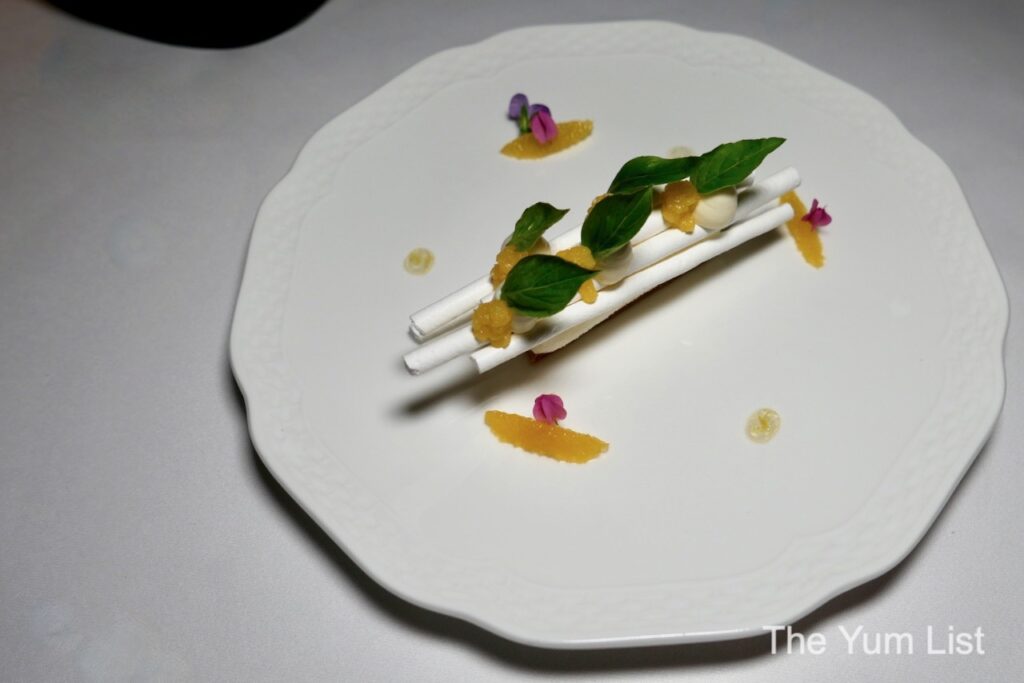 Tonka Crémeux – Degustation Menu
The finale is Tonka Crémeux 70% Dark Chocolate, Piedmont Hazelnut Crunch and Cocoa Sorbet. The texture is velvety, and the richness is to die for. We happily top it off with Offley Porto Late Bottled Vintage, Portugal 2015. Late bottled vintage (LBV) Port is fairly simple to understand. It's a ruby Port from a single year, chosen for its high quality and bottled after aging for four to six years in wood. It is a vintage Port in style, but not in price. As with all reds, the temperature is very important. They should be served chilled between 12ºC -16 ºC. LBV's are fortified, which means they are higher in alcohol than regular wine, so a warm glass of port won't be nice. (n.a. option Teh – Black tea, cardamom, cinnamon, star anise, cloves, ginger, orange blossom)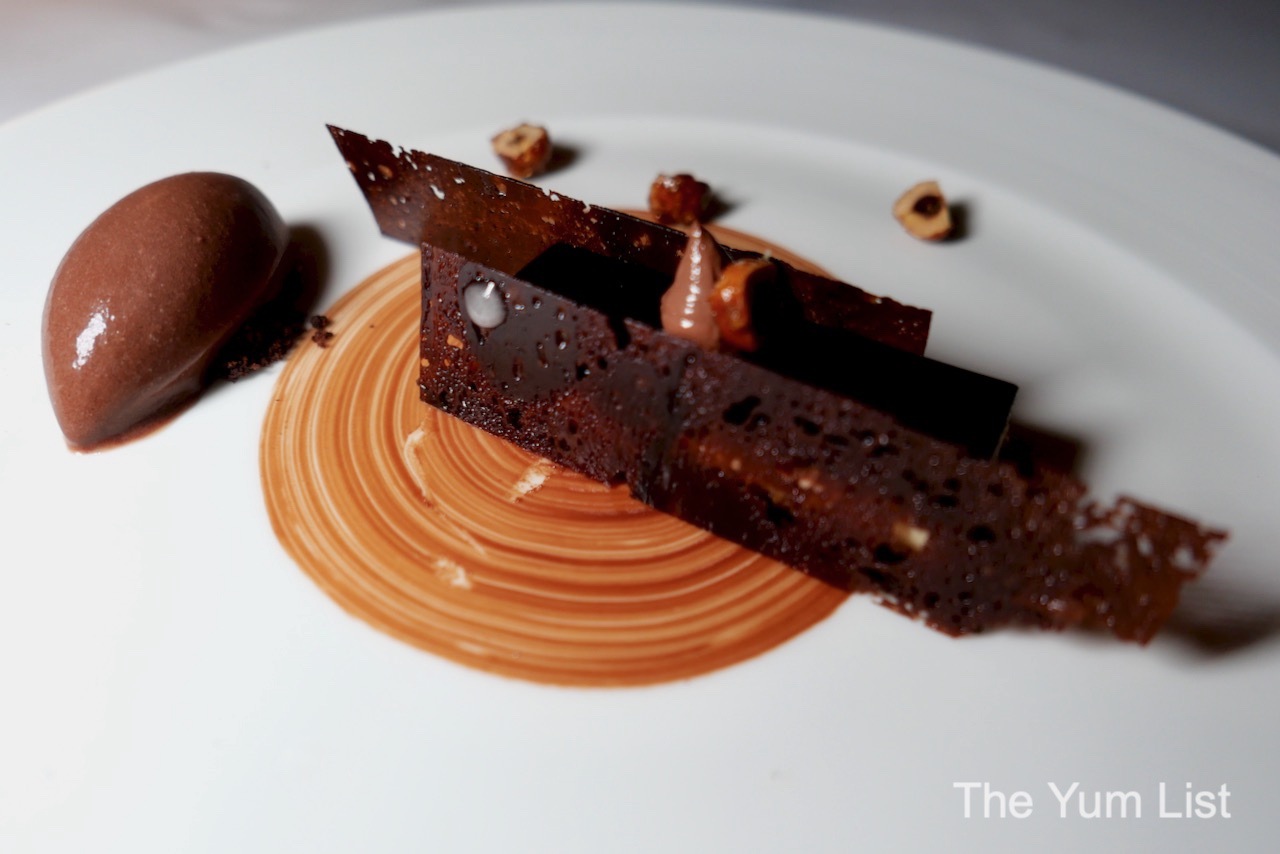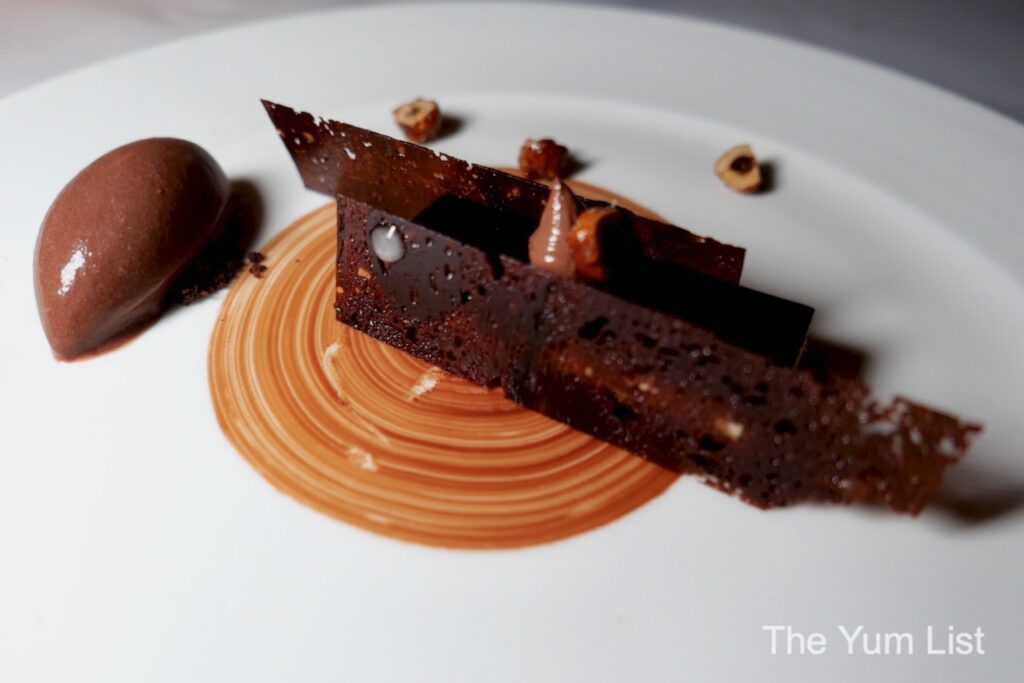 Chef Artisan Cheese Selection
After dessert, there is an option to add on a Chef Artisan Cheese Selection with Fruit Compote, Flat Bread, and Langkawi Wild Honey for RM 98. Cheese is my favourite food group and I cannot believe that Monica and I pass on the offer. We are completely satiated and decide on a top-up of some LBV while we enjoy a leisurely stroll down the hill back to our lovely Rainforest Villa.
Reasons to try Chef Chai's degustation menu at The Datai: a glorious setting, awesome wine selection, beautifully crafted food, romantic dining experience.
The Dining Room at The Datai Langkawi
Jalan Teluk Datai
07000 Pulau Langkawi
Kedah Darul Aman
Malaysia
+60 4 9500 500
[email protected]
Hours of Operation
07:00–11:00 hours (breakfast)
12:00–17:00 hours (lunch)
19:00–23:00 hours (dinner)
Find more recommendations for travel to Langkawi here and stay up to date with the latest gourmet happenings in Malaysia here and here.