Princeps Bistro & Restaurant
Words: Sathya Selvarajah
Photos: Rich Callahan
Princeps Bistro & Restaurant is a symphony of food, wine and good vibes. Set in the first corner lot of The Stories at Bukit Tunku, it has a Gatsby-esque charm. Classy, laidback and well-curated. This little gem has a lot to offer!
The inside is bright and jazzy, with coloured leather chairs at each section and funky furniture. They have more seating upstairs, too, catering for more intimate dining. The patio outside feels like a golfer's terrace at an exclusive club. Of course, we opted to sit outside! The brick flooring combined with the plush seats, surrounding greenery and brass cutlery makes us feel like a Kennedy while dining here, or to be culturally appropriate, a Tunku Abdul Rahman (our first Prime Minister and the man who led Malaysia to independence), as this place is aptly named after. Princeps pays homage to its neighbourhood named after Tunku Abdul Rahman, a Prince (Tunku means Prince in Malay).
I see myself coming here for breakfast with my mum after a grocery run at Qra, day-drinking wine with my friends on the days we don't feel like doing anything else and even having business meetings with associates in the evenings. All-day dining is not an easy feat to achieve, and they've pulled it off with such class.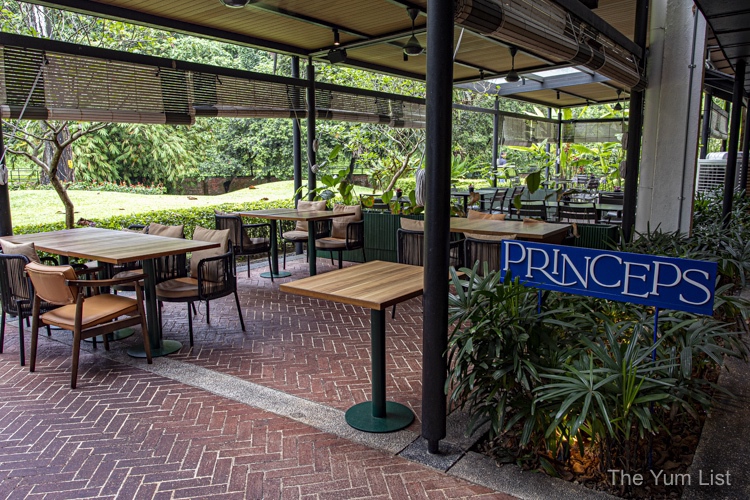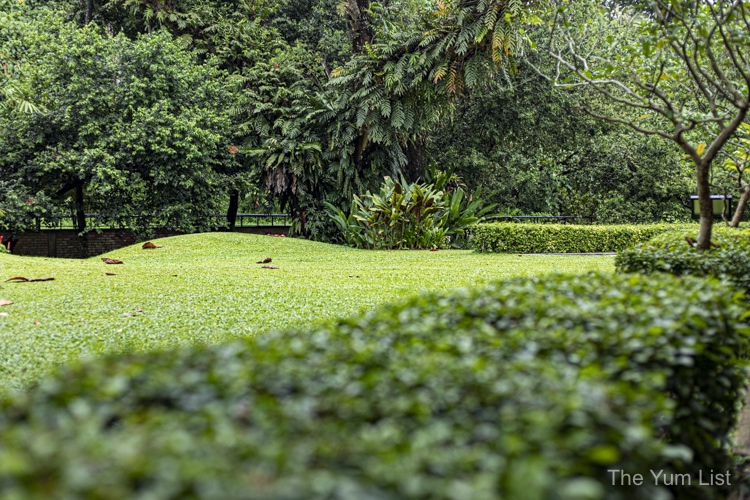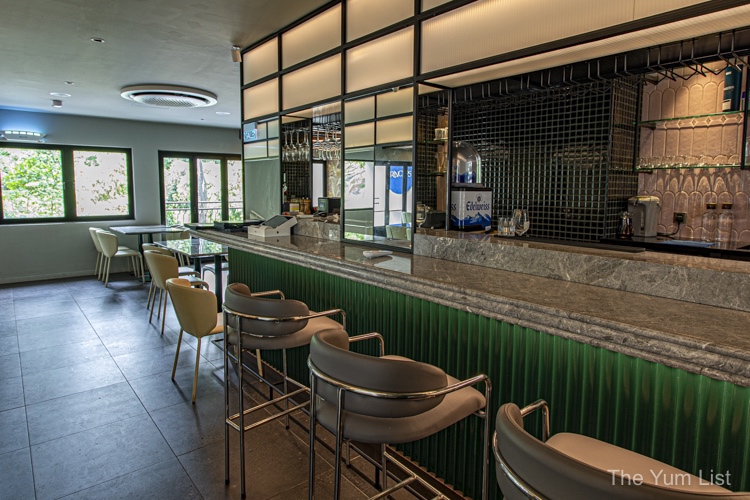 Princeps Bistro & Restaurant
How does one manage to pack all this punch under one roof? We were joined by Wong Yin How, the founder of Princeps and our gracious host for the day. Yin How is a gentleman and a veteran of the industry. He is humble and soft-spoken, and this man is nothing short of spectacular! He owns a wine import company, and after years of tasting the finest wines from vineyards worldwide, good food to go with it was only a natural progression. Princeps will be his 13th outlet under the Tinkermen Collective. Their other restaurants include Proof Pizza, Stoked, and Vintry, just to name a few. Yin How brings a little piece of culture back from his each of visits around the world, and it shows in the details of this place.
Monica, Rich and I were supposed to come to taste their latest Degustation menu that's still in the works to launch in May. We were pleasantly ambushed by Yin How, who ordered a few things off their regular menu for us to try too.
Before we talk about the food, we have to talk about the people. Yin How trusts his team, and they clearly trust him too. The biggest thing I noticed is that this team is tight like a unit. Almost every person we talked to has been with Yin How for years. Lee, the manager of Princeps, welcomed us in like we were guests in his own home. Sohel Rana, or Rana as he's more fondly known, tells us how he's been with Yin How for more than four years, working at previous establishments owned by him too. The head chef Jace Lok, the mastermind behind the food, refused to take much credit as he insisted that the team brings it all together. With a team this strong and this loyal, Princeps is bound for greatness.
If food is like art, like music, then Princeps Bistro is a full-on orchestra. It's a place that brought back a vibe we rarely see anymore. As we sit through our meal, I notice that it's the attention to detail that makes Princeps the place that it is. The quality of the bread, the tenderness of the meat, the freshness of the vegetables. Princeps is reasonably priced for the quality that it delivers. The brass cutlery you're given, the ambience you're surrounded with, and even the plates that everything is served on has been given much thought.
Princeps is spacious and full of life. It's rare to see this place empty on a weekend, so do call or head over to their website to make a booking in advance. They're open from 9am-10pm. The last call is at 9.15pm so do go earlier if you're thinking of dinner! They are closed on Mondays.
Princeps offers all-day dining with something to offer for everyone. And like most people, of course, we start with coffee.
Princeps Coffee
I had the Magic (RM11), which is basically a flat white on steroids. Served in a black mug to show that it's not a drink to play with, The Magic is a double Ristretto (Ristretto is a "short shot" of a more highly concentrated espresso coffee. It is made with the same amount of ground coffee, but extracted with a finer grind using half as much water) with milk. Bold and full-bodied, we were off to a great start.
Rich had a Cappuccino (RM11) that he thoroughly enjoyed as well. Their beans hail from Sumatra and Brazil, with some Malaysian Liberica in the mix. They know what they're doing with their coffee. All their beans are roasted locally at sister bakery Smith-Bread & Cafe in Bukit Damansara.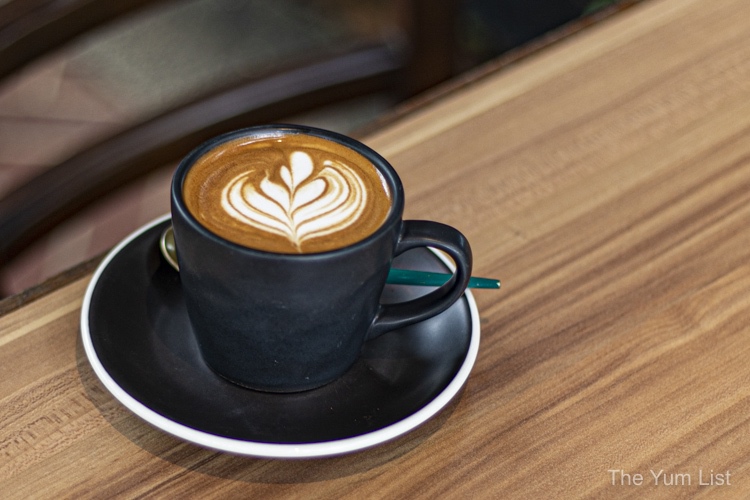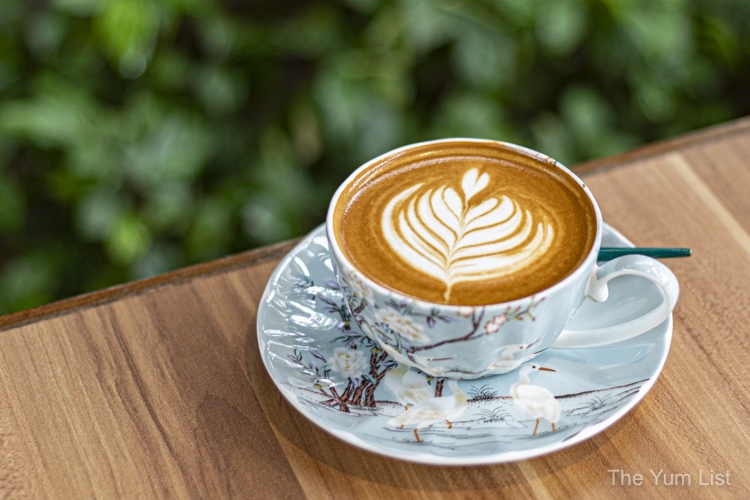 Princeps Bistro & Restaurant Breakfast Menu
We started with their Breakfast Menu, having the Big Breakfast (RM38) and Eggs Lafayette (RM21). Before we talk about anything else, we have to talk about their bread. Crunchy (but not hard) on the outside and soft like cheeks on the inside, exactly how sourdough should be. All the bread served at Princeps comes directly from Smith's. If you know your bread, then you would've already heard of Smith's by now – a household favourite for those in the loop, famous for their wood-fired bread! Fun fact: Their bread is baked in two 2500kg wood-fired ovens directly imported from Germany!
The Eggs Lafayette (RM21) was easily my favourite out of the two – an Eggs Benedict with a twist! Poached eggs atop a thick slice of sourdough with creamed spinach, hollandaise sauce and chunky cuts of beef bacon and microgreens scattered on top. You'll appreciate the crunch of the crust upon the first bite, then comes the silky egg and spinach combo. If the sourness of the hollandaise sauce is meant to push your palate, then the hints of cheese in the creamed spinach is what pulls it all back together. The beef bacon adds the right amount of salt to the whole thing. And that's just the first bite! Dive a little deeper, and the soft middle of the sourdough slice soaks up all that runny yolk and sauce. This is a dish I'll be coming back for.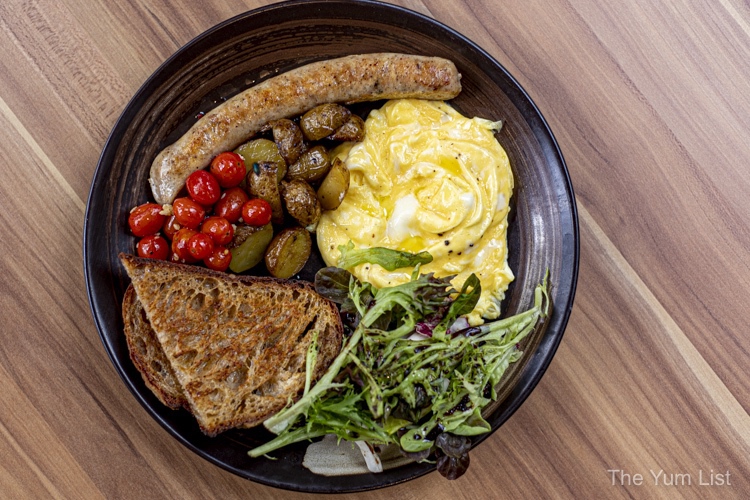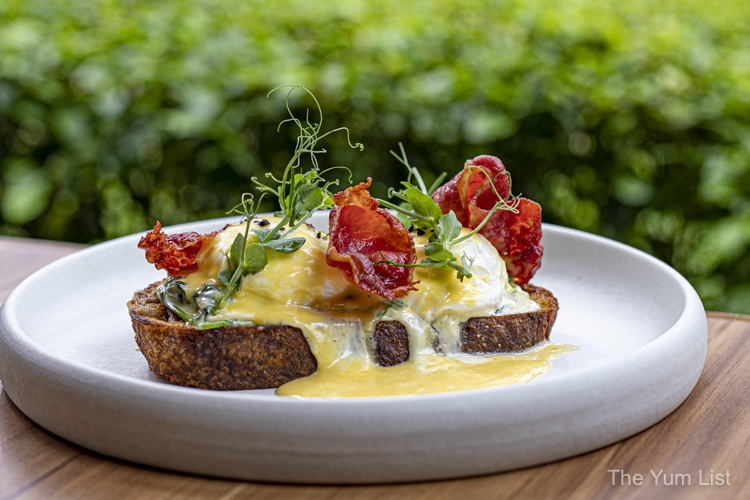 Lunch Menu
Is it weird to start this write-up by saying that their Beef Bacon Bruschetta (RM18) was one of the greatest things I've ever put in my mouth? Dangerous, but I'll dare say it anyway. Thick, buttery toasted cuts of sourdough with chunks of tomato, chilli and beef bacon bits piled on top. A generous sprinkle of parmesan and microgreens and a drizzle of truffle oil to complete it. Bursting with flavour in every bite, the tomatoes give it plump juiciness without being too sour. Keep in mind that all of this flavour comes from no sauce at all!
When the Vitello Tonatto Sandwich (RM35) arrived, I was honestly sceptical before trying it. I mean, how good could a tuna sandwich be? Now, this sandwich though… They managed to turn something supposedly so simple into a gourmet dish. Melted cheese on a buttery sourdough slice and rocket salad served as the baseline of crunch. The tuna was something else altogether. It's made with sage and cream, and truffle oil drizzled generously on top with a crack of black pepper. It's an open-faced sandwich that's crunchy at the bottom, and the tuna just melts in your mouth on top. It comes with a generous serving of sweet potato fries on the side too. Oh god, these fries. Crisp, well-salted and THIN! This means no excessive mush in the middle like some of the thicker ones I've had. It's available on its own too as a side dish (RM18).
The Princeps Chicken Burger (RM40) is their take on the Zinger Burger (if you know, you know). Deep-fried and tender inside, the chicken is well-marinated with Princeps own spice blend. It is sandwiched between a soft brioche bun (from Smith's, of course) and a bed of lettuce and onions. Their house sauce is what takes the cake on this one. Spicy, sweet and tangy! The burger is huge, and the portions are generous. It comes with a serving of herb-seasoned crinkle-cut fries too!
While the gnocchi is not on the current menu anymore, it used to be a fan favourite over here. Due to popular demand, we have insider news that it's primed and ready for a comeback real soon! Freshly made pillowy-soft gnocchi, pan-tossed with beef bacon, mozzarella, parmesan cheese and truffle oil. It's comfort food for the soul on a rainy day, and especially for after one or four glasses of wine!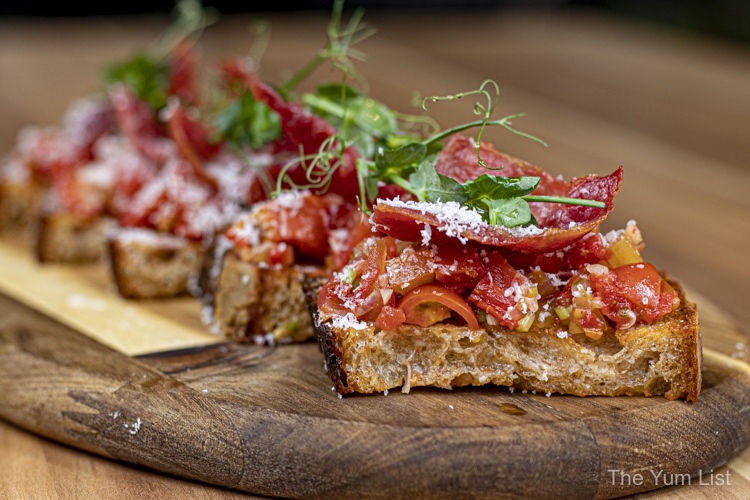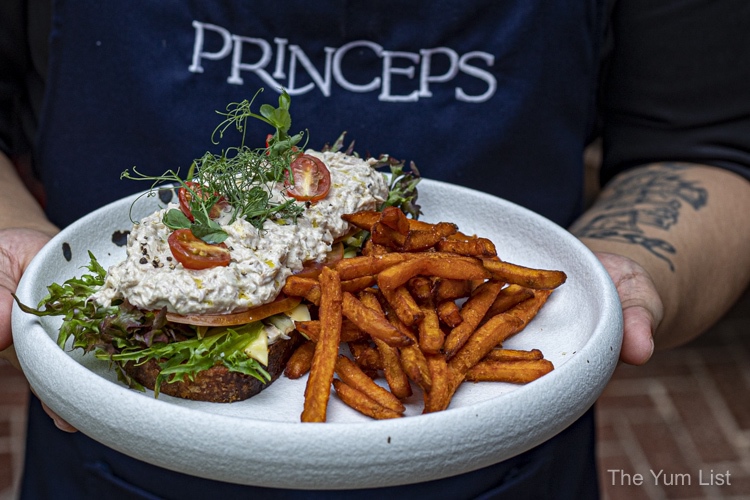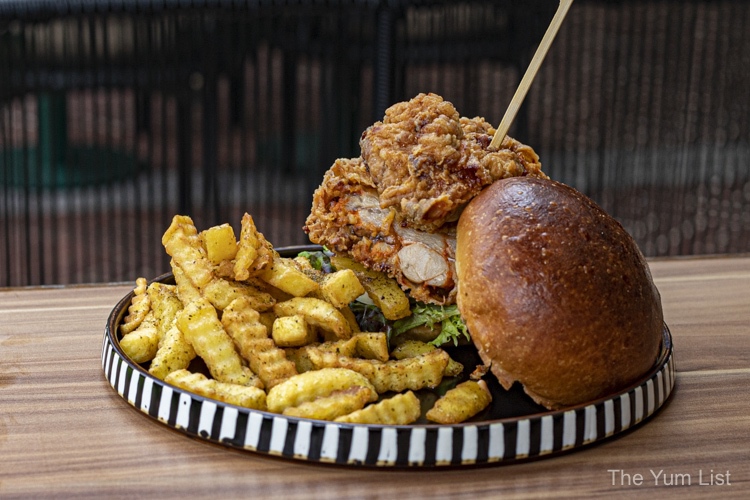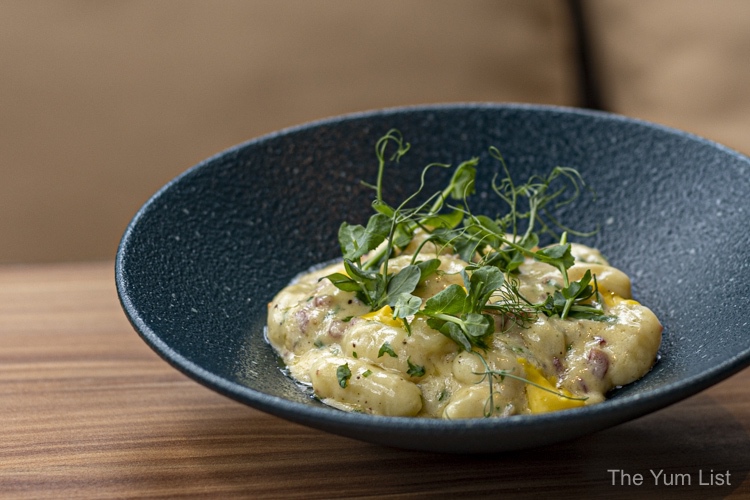 Princeps Bistro & Restaurant Dinner Menu
Dinner offerings begin at 5 pm in Princeps Bistro & Restaurant. We started with the Pan-Seared Lamb Rack (RM132). It was cooked to a medium-rare, coated with herbs and seared to a golden brown on the outside. It's served on green risotto (pesto) and loads of roasted vegetables and jus. Crispy on the outside and tender in the middle without being gamey. Anyone who's a fan of lamb will enjoy this!
With all this meat, the time must come for some vegetables too. Monica, Rich and I had the pleasure of sharing the Roasted Cauliflower Steak (RM36). If I was to ever go fully vegan, this cauli steak is coming with me wherever I go. Crisp on the outside and well-salted throughout, the seaweed powder it's doused with brings in loads of umami as well. Surrounding the cauliflower is cream and a dash of truffle oil. If that's not enough, it's served with a bed of kailan that's also nicely salted and firm to the bite. To balance, it comes with a rocket salad, tomatoes, crumbled feta cheese with a mild drizzle of balsamic vinegar.
The Mackerel Fillet (RM40) is a light dish for anyone who wants a bite but doesn't want a heavy meal. The fillet is crispy throughout and served on some noodles (think wonton-style) that are dark and al dente. Together with chops of tomato too and cream surrounding the dish! It's crispy and light.
The Pan-Seared Barramundi Fillet (RM58) was excellent. Even if you're not usually a fan of fish, you'd like this one! A thick fillet that's pan-seared and with crispy skin on the outside. Buttery and soft on the inside. This was a job well done. The lemon butter sauce that comes with it gives a creamy zing to the whole thing. One of the healthier dishes here, coming with sautéed leafy greens and mushrooms.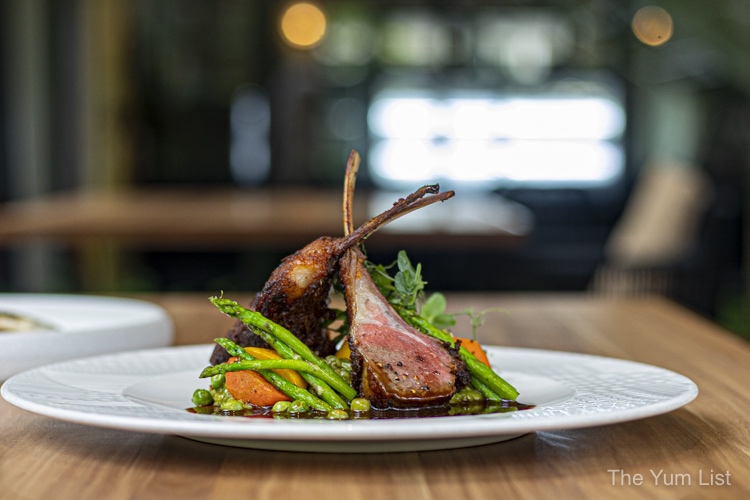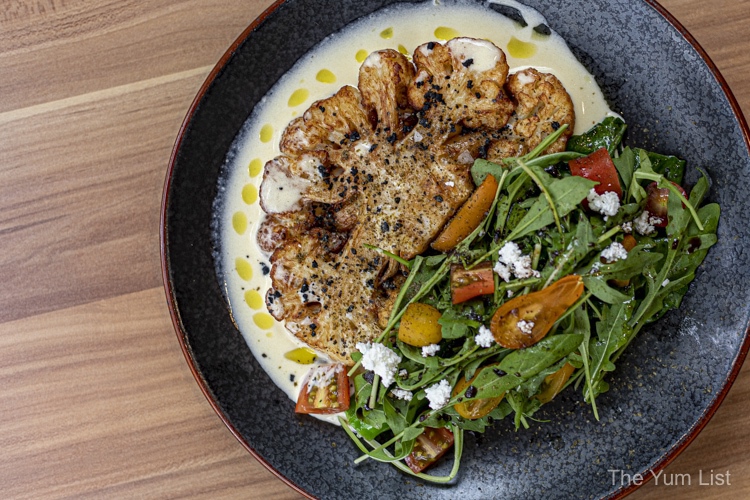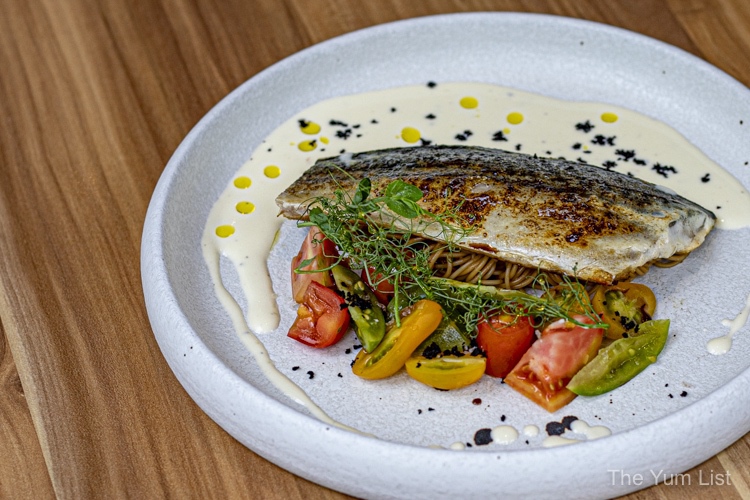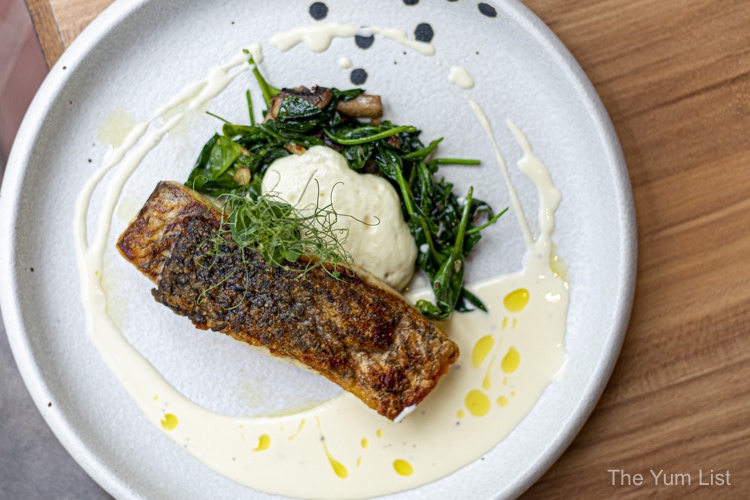 Princeps Bistro & Restaurant Degustation Menu
Princeps has a lot more to offer with their food, and they're doing it at their own pace. Why rush greatness? The menu is ever-changing and often refined. We had the ability to catch a glimpse of what's to come with their Degustation Menu. Prices aren't solidified yet as they're still fine-tuning the menu. It would be an injustice to comment deeper on these dishes as they might be swapped out come to their full launch in May! This is a sneak peek at what's to come.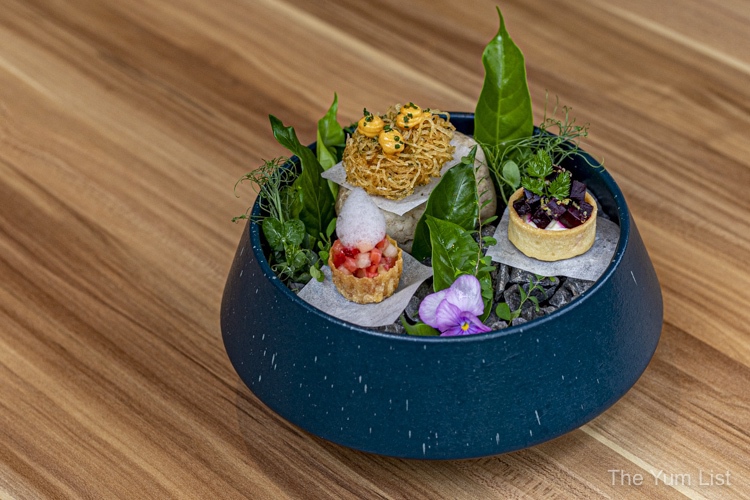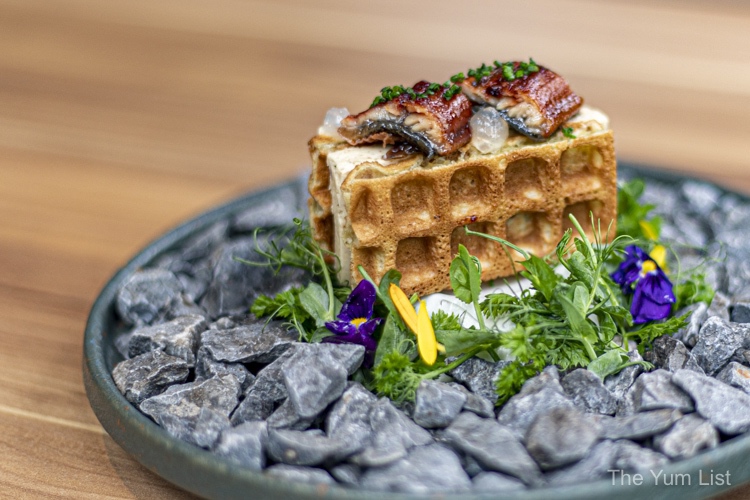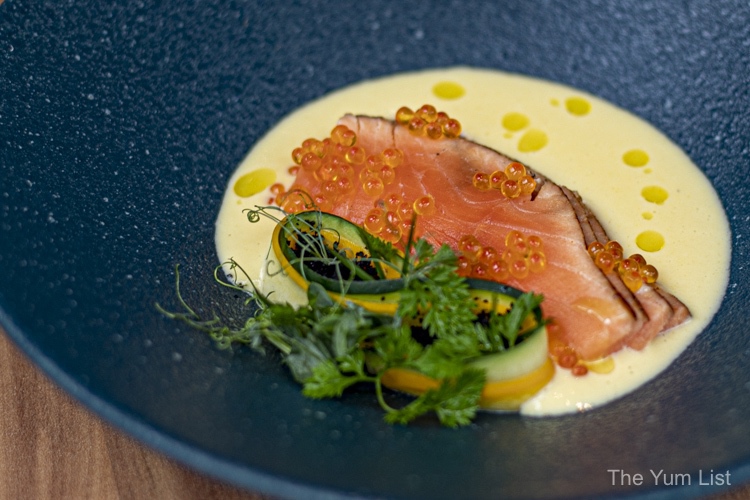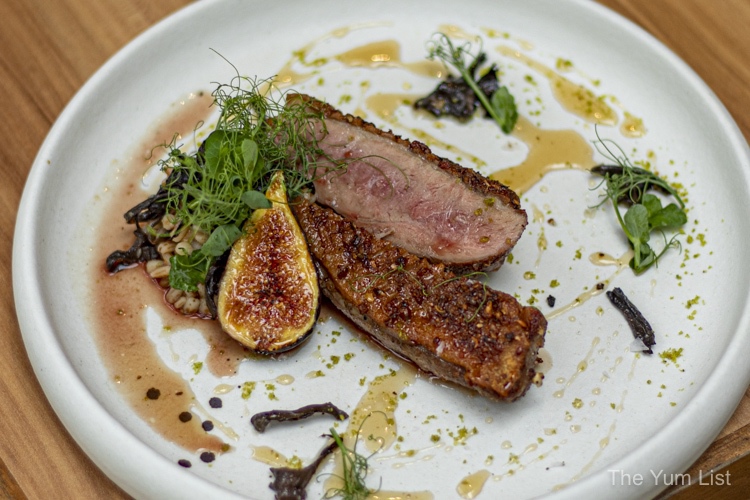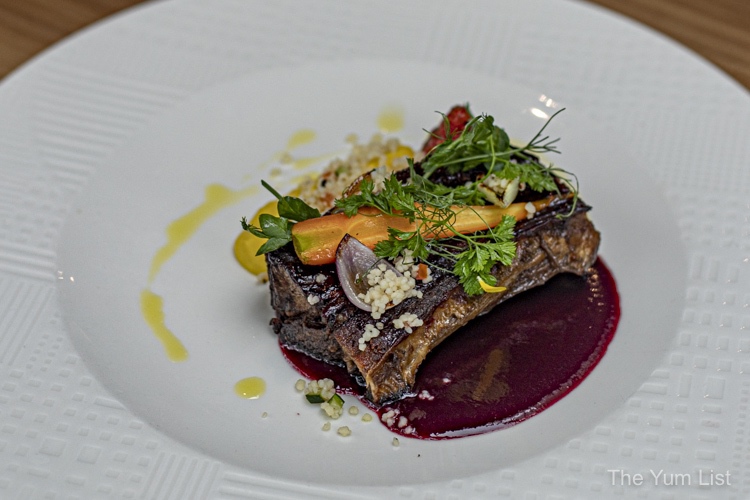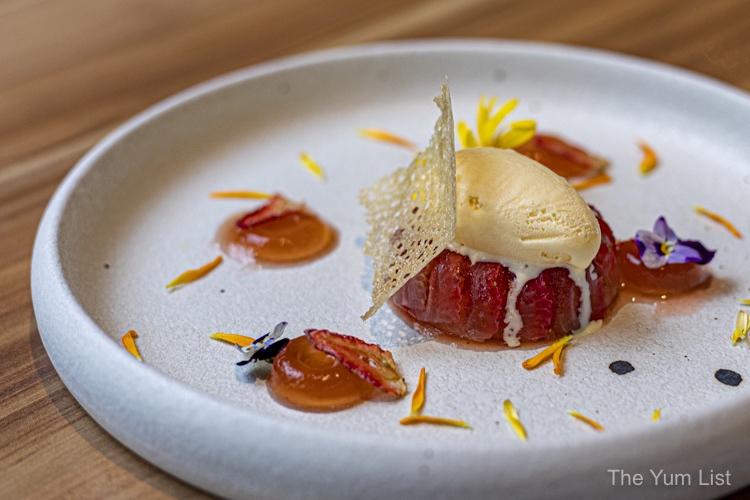 The team at Princeps Bistro & Restaurant are happy to curate a degustation menu based on your budget. Think birthdays, family dinners or any reason to celebrate with good food.
Princeps Bistro & Restaurant Wine List
With Yin How being a wine importer, all of the wines at Princeps and his other establishments are imported directly from owners and vineyards. They have a quality list at reasonable prices (no middle man). Yin How is also on his way to being a Master Sommelier, a title that only less than 300 people carry in this world. His wine compilations are compact and well-respected by those in the industry. Those in the know are always sure to ask for the latest, even if they are not yet on the menu. And, well, our Mon is in the know, so we do indeed get a preview of some lovely drops (and I turn the pen over to her for the wine notes).
Early in the meal, we start with a 2021 Mahi Sauvignon Blanc from Marlborough, New Zealand and a 2020 Quinta de Soalheiro Alvarinho, Vinho Verde from Portugal. Both would make excellent aperitifs but also pair well with seafood and salads. The NZ sav blanc is a lot fresher than what you might expect from this region with hints of citrus, lemon zest and a thread of minerality. It's elegant, reserved and also acts as a fine palate cleanser. The Alvarinho, with its light residual sugar and fruit, stands quite well alongside recipes with a level of spice. There is just a hint of fizz and this becomes a firm favourite on our list.
The next two wines are lighter on the scale of red with the 2009 David Moreau Santenay Cuvee 'S', Cote de Beaune, France and a 2014 Istine Chianti Classico DOCG, Italy. Again, both are excellent in our warm climate and versatile in pairing with a range of cuisine. The lesser-known French Burgundy is best served slightly chilled. It exhibits fresh berries in the bouquet, with a little Kirsch liqueur and hints of cinnamon and cloves. Full-bodied and fresh, we enjoy it with the cauliflower, mackerel and duck. Lastly, we find the single vineyard Chianti precise and feminine. Complex aromas of cherry, tobacco, leather, mint and violets lead to a comforting warmth in the mouth, with great structure and freshness. It's a food-friendly wine pairing well with anything from rich tomato sauces, hard Italian cheese and fattier cuts of steak.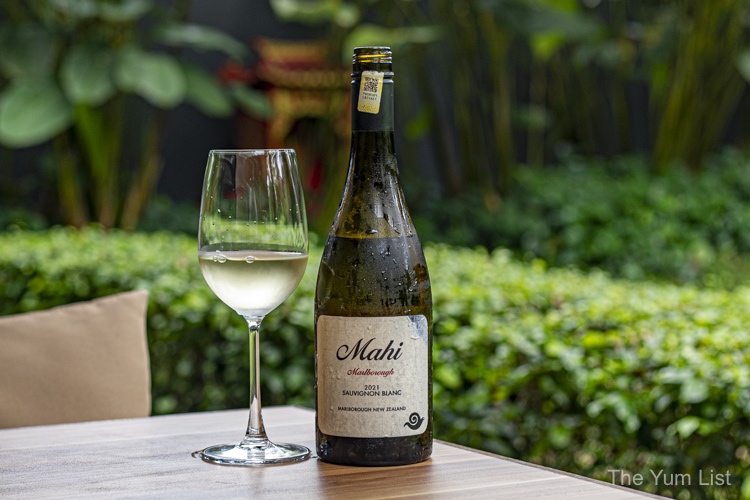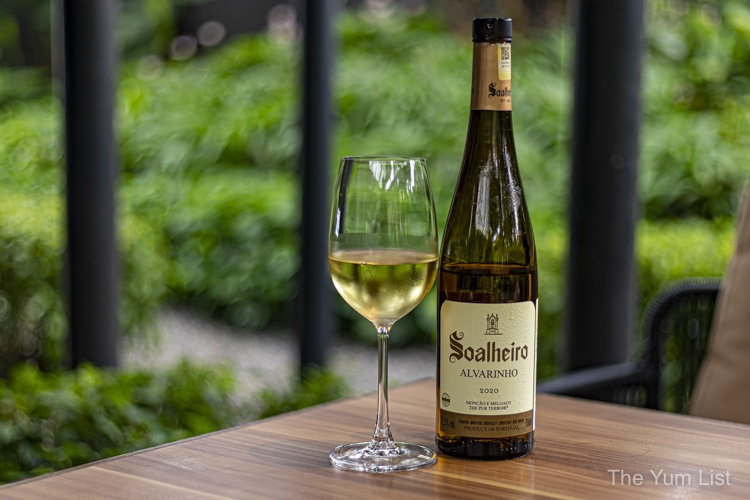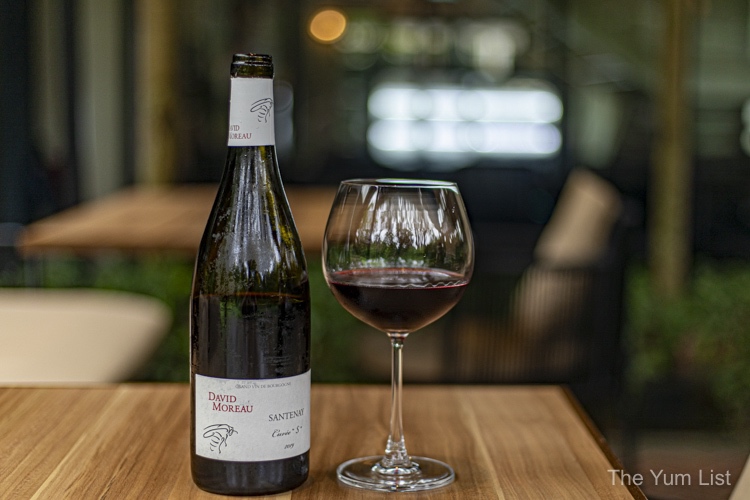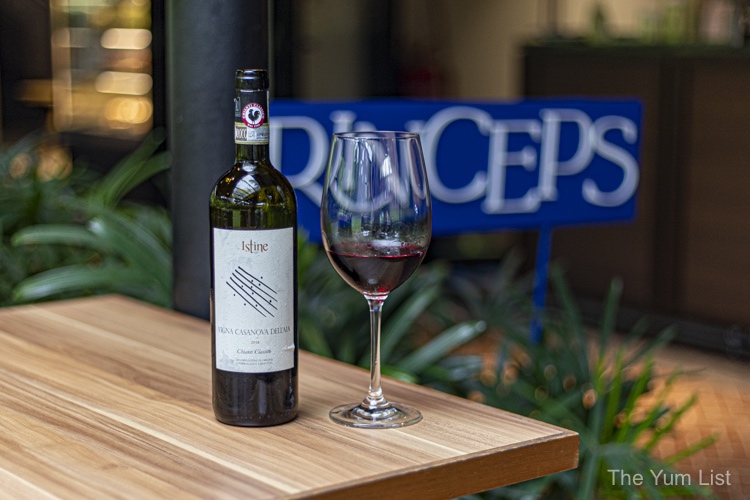 Reasons to visit Princeps Bistro & Restaurant: fantastic alfresco patio with beautifully green views; brekkie is a must (try anything on their sourdough); excellent coffee and a thoughtful and delicious wine list.
Princeps Bistro & Restaurant
The Stories at Bukit Tunku, Unit A1 Taman Tunku,
Off Jln Langgak Tunku, Bukit Tunku,
50480 Kuala Lumpur, Malaysia
+60362111866
www.facebook.com/PrincepsTamanTunku
Princeps Opening Hours
Tuesday to Sunday: 9 am – 10 pm
Find more of our favourite cafes in Kuala Lumpur here and stay up-to-date with the latest gourmet and travel recommendations for the country here and here.