The Chef Series – Chef Masaki Arakawa
Words: Alison Christ
Photos: Monica Tindall
The Datai Chef Series is a signature dining experience offering resort guests a unique opportunity to enjoy the country's best chefs in the beautiful setting of The Datai Langkawi's ancient rainforest. Monica and I are thrilled to attend Chef Masaki Arakawa's Omakase (RM 750) and the most excellent Sake Pairing (RM 1,100 meal inclusive of sake). Chef Masaki, born in Osaka, Japan, spent several years in Australia and has been with us in Kuala Lumpur for five years now. He moved here to open the Japanese dining area at Isetan – Lot 10. Masaki is the Executive Chef of three outlets on the fourth floor, including the Malaysian outpost to lower Manhattan's world-renowned Michelin-starred Sushi Azabu.
The Chef Series at The Datai Langkawi
It's another glorious day when we arrive at The Beach Club for Chef's afternoon cooking demo, where he offers viewers a teaser of what will follow tonight. The plan is to serve dinner on the white sandy beach, but Mother Nature doesn't seem to be cooperating. They tell us rain is on the way, and we will instead dine in the beautiful private space in The Gulai House – the room is usually used for cooking classes, and since this is an Omakase dinner, where the chef will prepare everything in front of us, it's the perfect replacement choice.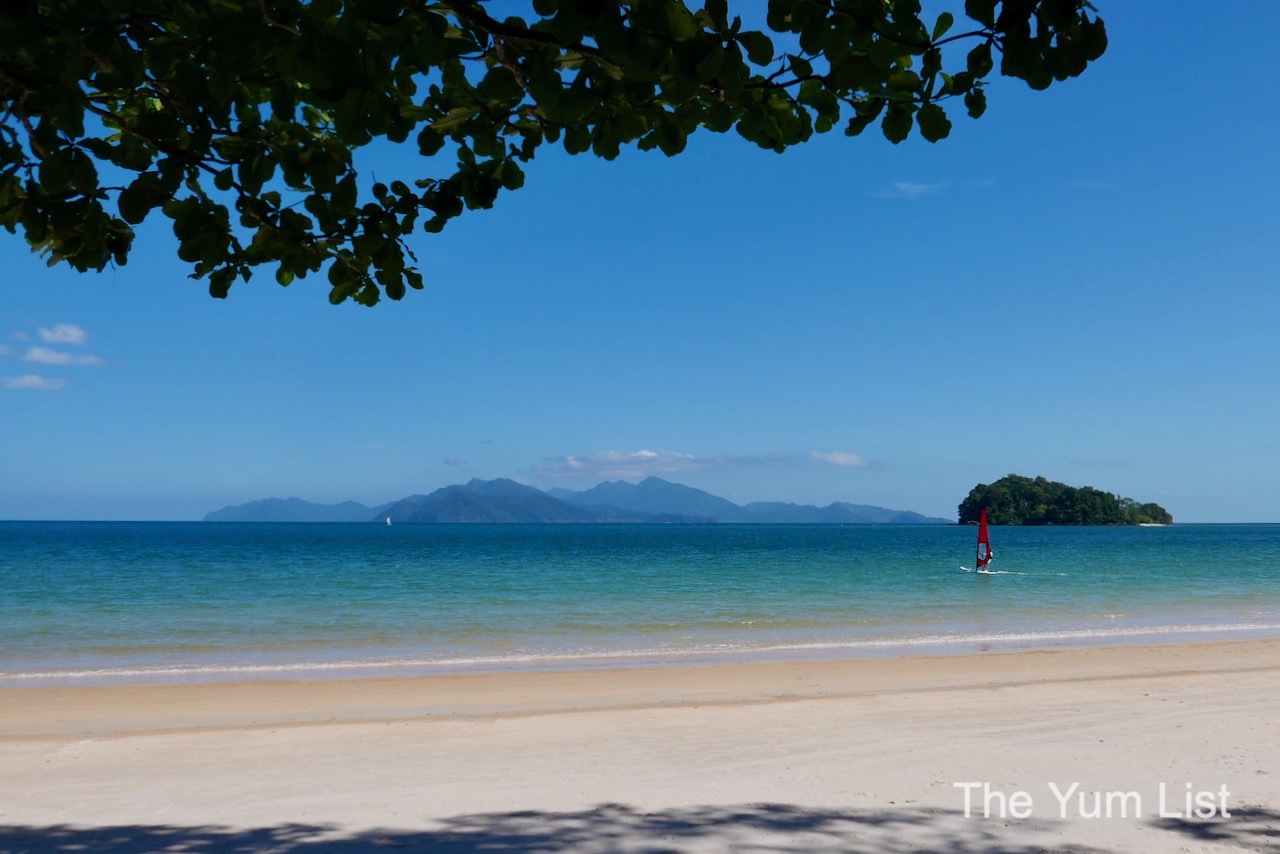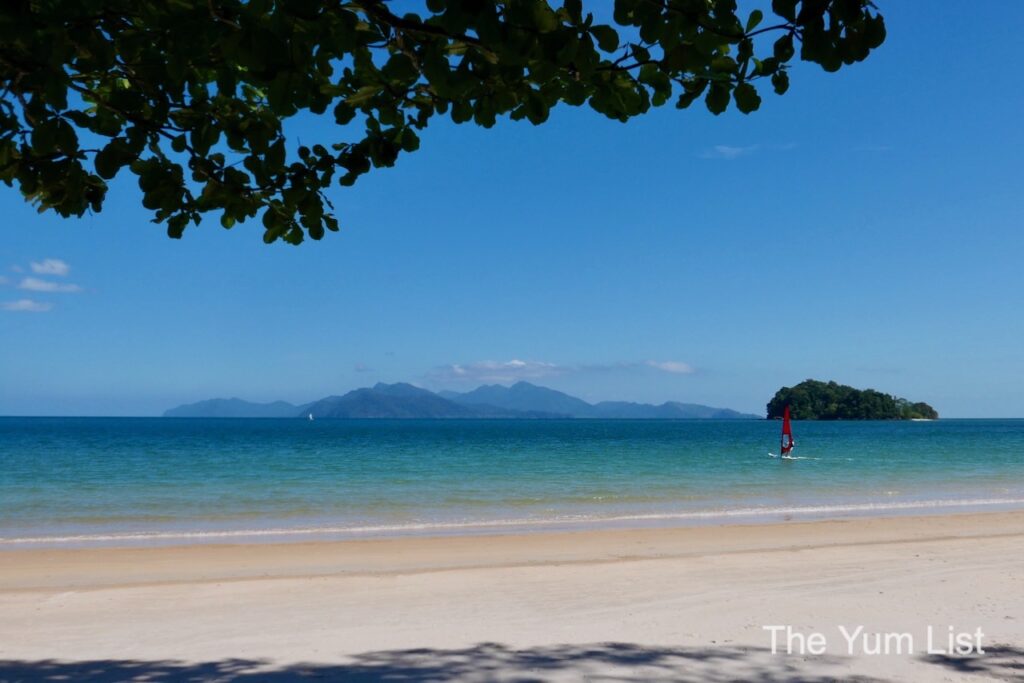 Chef Masaki Arakawa
After the demo, Chef Masaki comes over for a quick chat. He is super charismatic with a seemingly permanent smile on his face. He tells us his dinner tonight will focus on respect for the environment and nature. While there will be, of course, fantastic seafood and specialty ingredients air-flown in fresh from Japan, he is using leaves, flowers, herbs, and seafood from Langkawi and The Datai Garden. Local squid, tiger grouper, and sea cucumbers are on the list. Chef Masaki loves the fish available in Malaysia but comments that for raw fish, the waters are too warm. Japanese waters are the best for sushi and the like.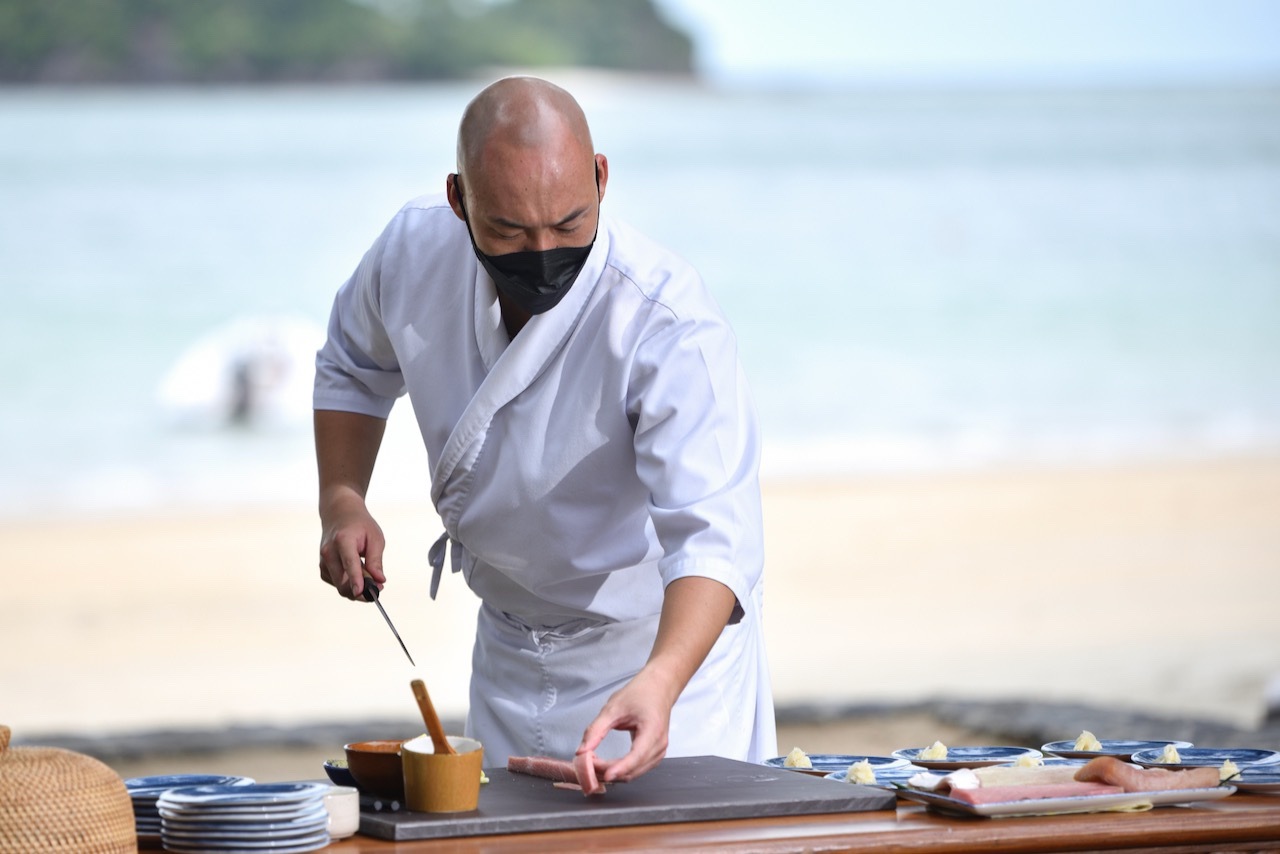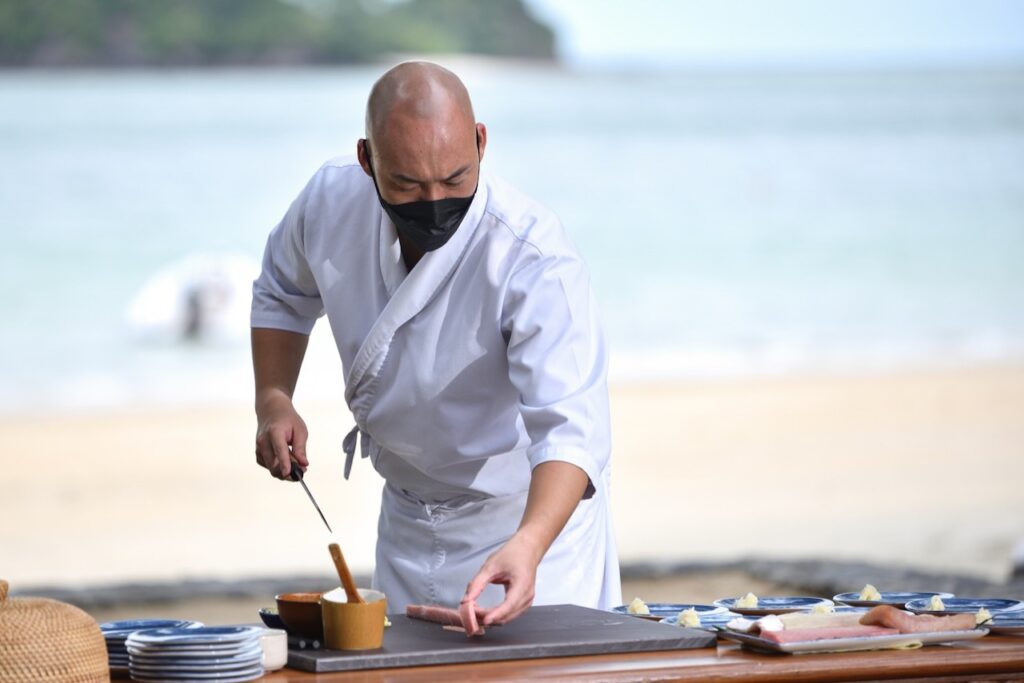 The Chef Series – Omakase
We ask Chef what to expect from dinner tonight, and he tells us, "Omakase means leaving your own intentions and preferences behind and submitting to the judgment of others without reservations." Monica and I are convinced without hesitation. Chef, we are in your hands! First, we must head back to the Villa to meet our friends Bianca and Renee (they've joined us for the weekend) for a little pre-dinner Champagne. Every waking hour at The Datai is pure bliss and pleasure. We couldn't be happier. The 9-course Omakase menu has excited us, and we get decked out for the experience tonight.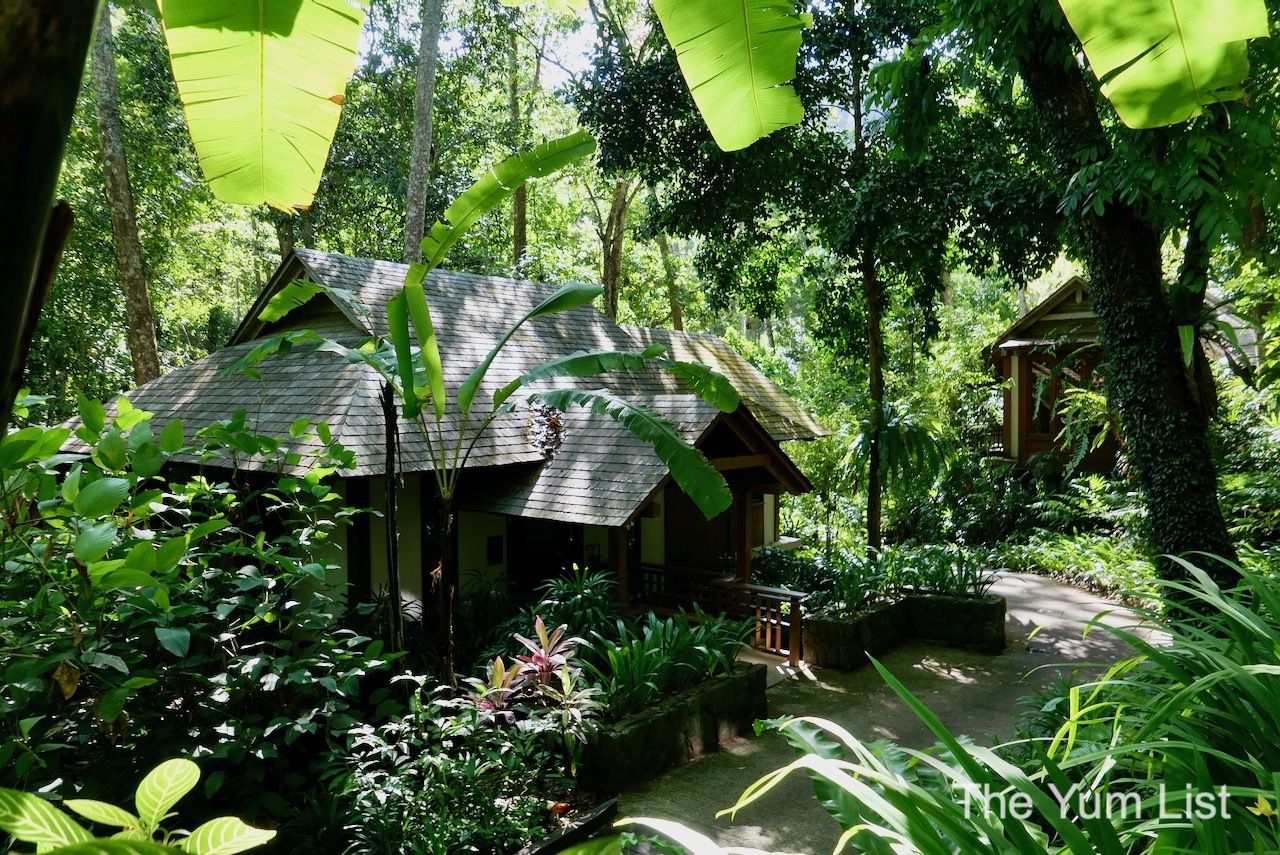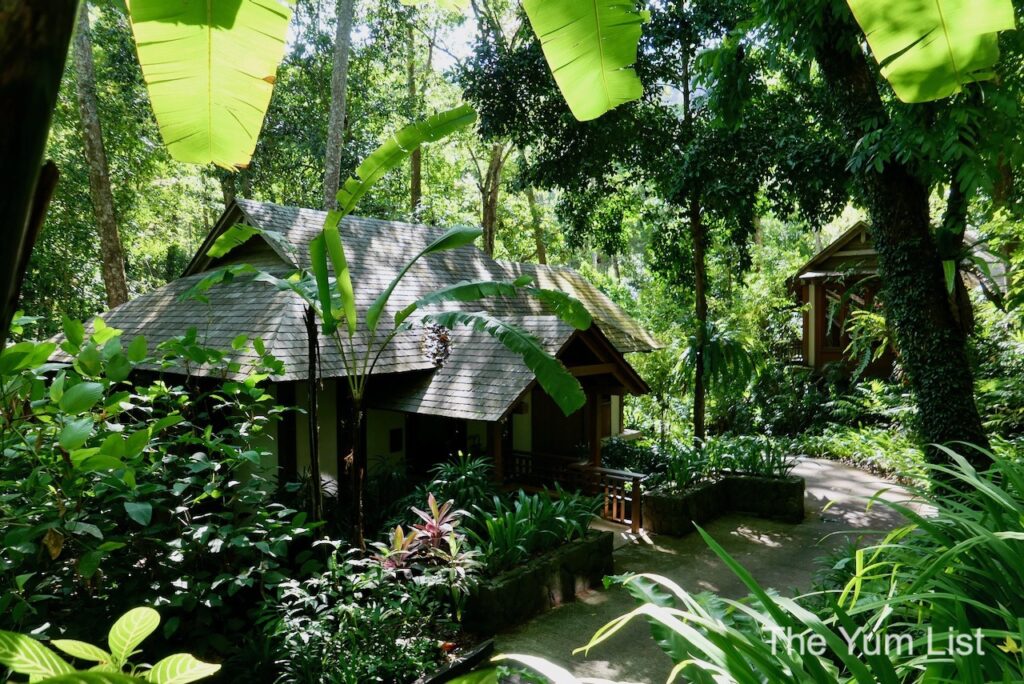 We call for a buggy to drive us to dinner. Upon arrival, we are escorted to what the host tells us is the pre-dinner cocktail area. Yay! Our other friends Simon and Rachel join us in the lovely alfresco nook on the terrace. Our host recommends starting with a Sake Cocktail of sake, vodka, and cucumber. It's refreshing, crisp, and enjoyable. We can all feel the excitement and positive energy in the air. We are escorted into the beautiful private room. The large long tables are arranged in a U-shape, and the Chef's table is set up at the head. We can witness the creations as they are prepared, as is the tradition in Japanese dining.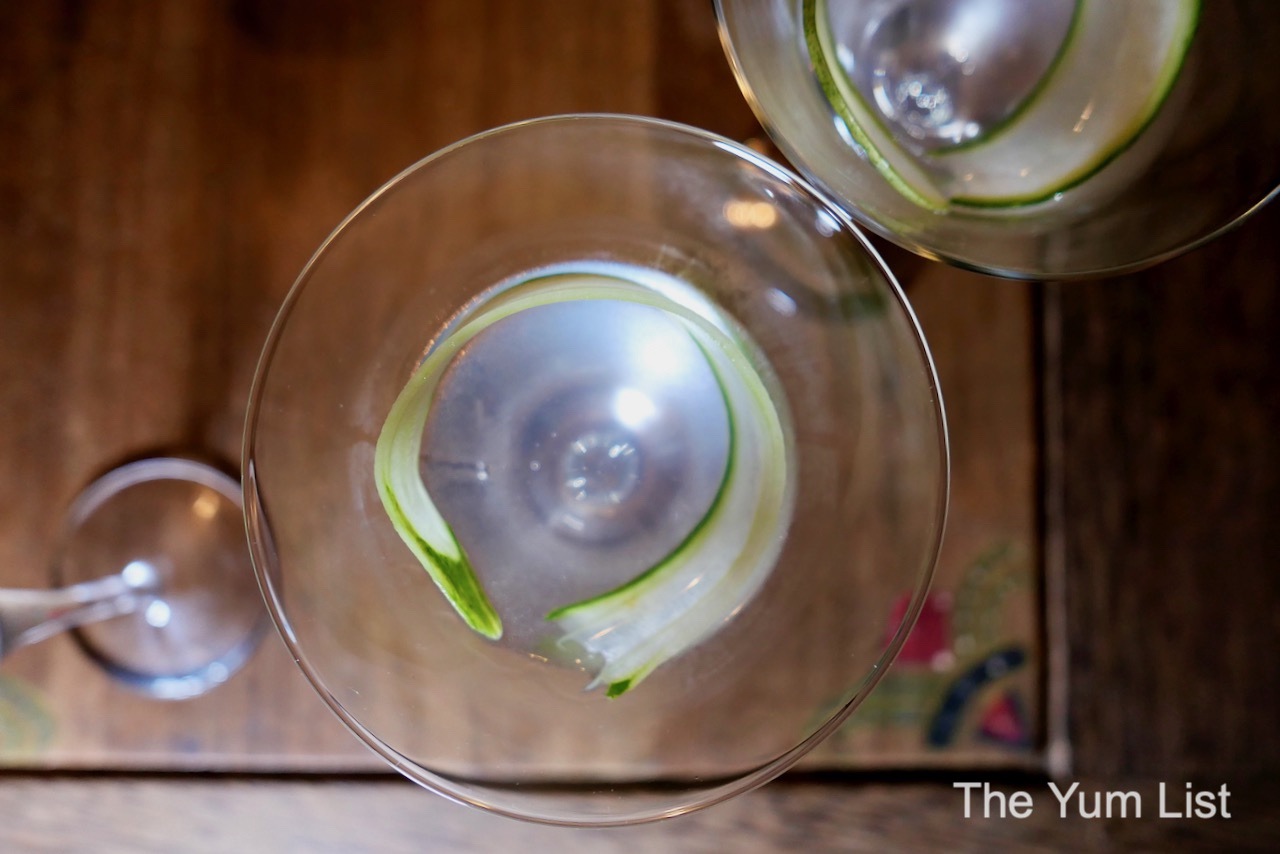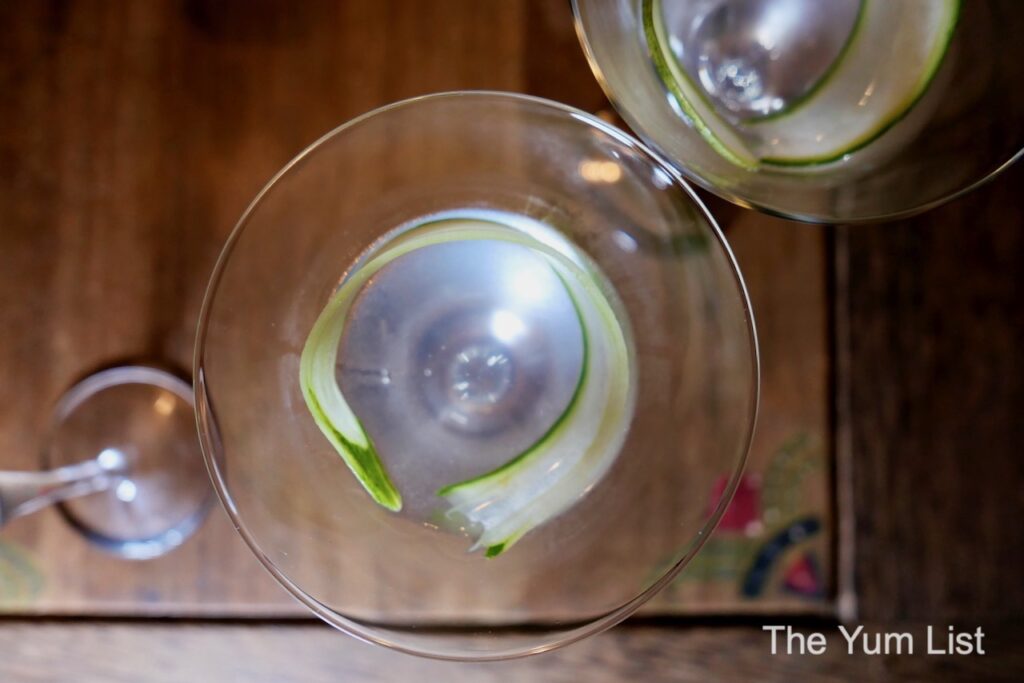 The Chef Series at The Datai – Chef Masaki
Hokkaido Scallop
We start our 9-course sake paired journey with Sparkling Sake from Shichiken "Yama no Kasumi" Yamanashi, Japan. All of us at the table have a weak spot for bubbles, and we've never tried sparkling sake before. Normally I write all my tasting notes, but I can't leave out this beautiful poem the Shichiken Brewery has written to describe what's happening in our flutes. "Particles of rice dance in the glass, like droplets of snow with tiny bubbles – reminiscent of the mists that adorn the peak of the nearby Mt. Kaikoma, the inspiration for this cloudy sake." They say they are trying to establish an entirely new notion of sake for the true sake enthusiast. We all agree they have succeeded in their quest. The sake is light and fluffy on our palate with a slightly salted toasted rice puff flavour and hints of coconut and pineapple. Renee says there's an amazing mango finish, and Bianca literally yells out, "Can I have more? Do I get more of this?" The very accommodating Akito Sakamoto (the GM at Sushi Azabu) is happy to fulfil our wishes (Bianca gets more, of course). 
Accompanying the Shichiken is Chef Masaki and his culinary teams' first creation, Tropical Ceviche of uni, Hokkaido scallop, Japanese tiger prawn, and squid. It's topped with herbs, onions, jalapeño, lime, sweet corn, which we mix together ourselves. A beautiful flower arrangement adorns the top – undoubtedly coming from The Datai Garden. It's almost too gorgeous to stir up, but we do it, and the result is mouth-watering. Perfect sea flavours with tropical notes lingering for a long time on the palate. The sparkling sake is an absolute match.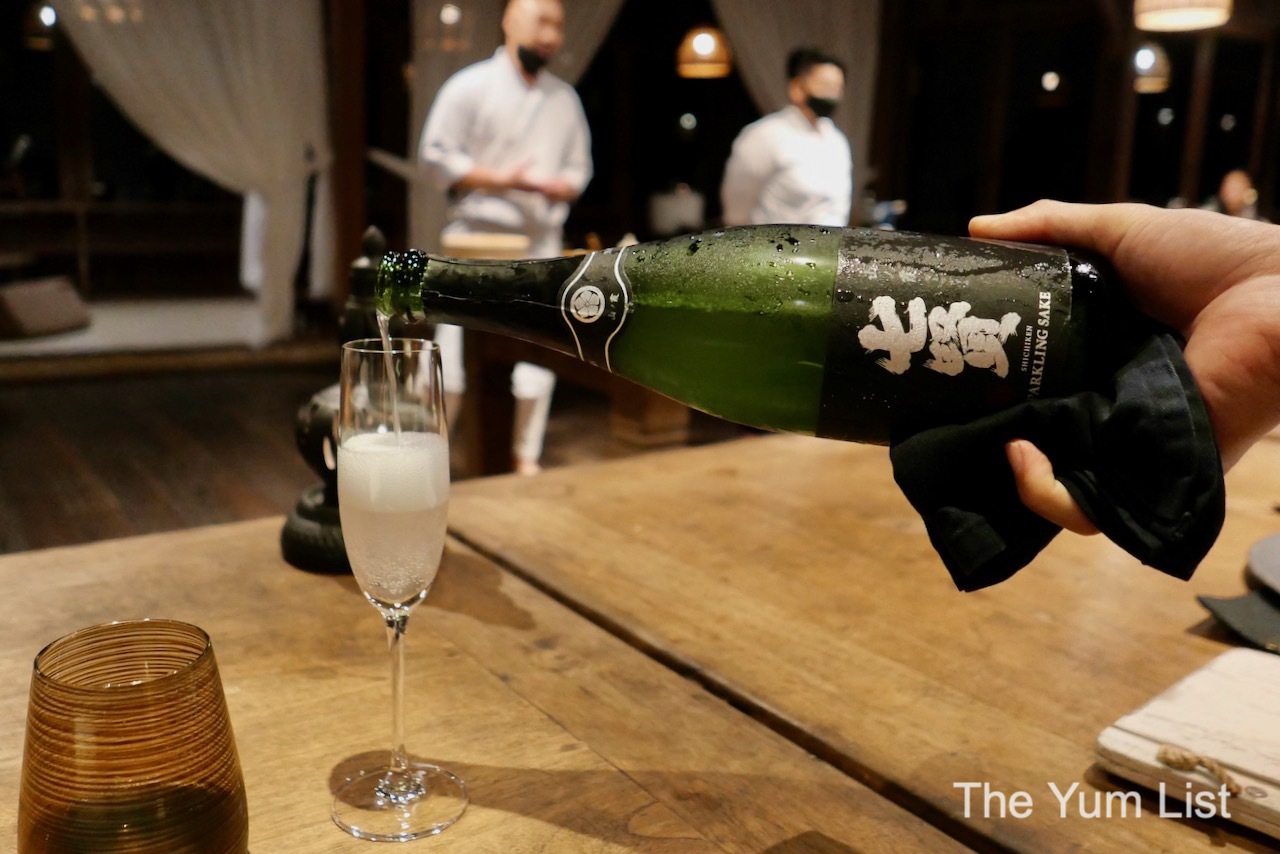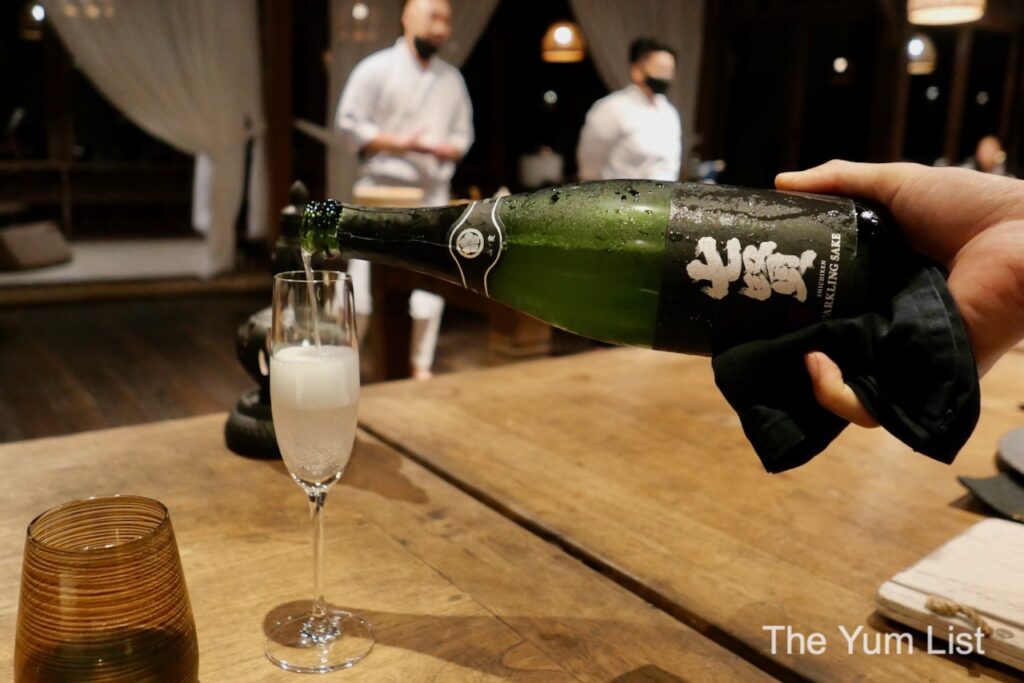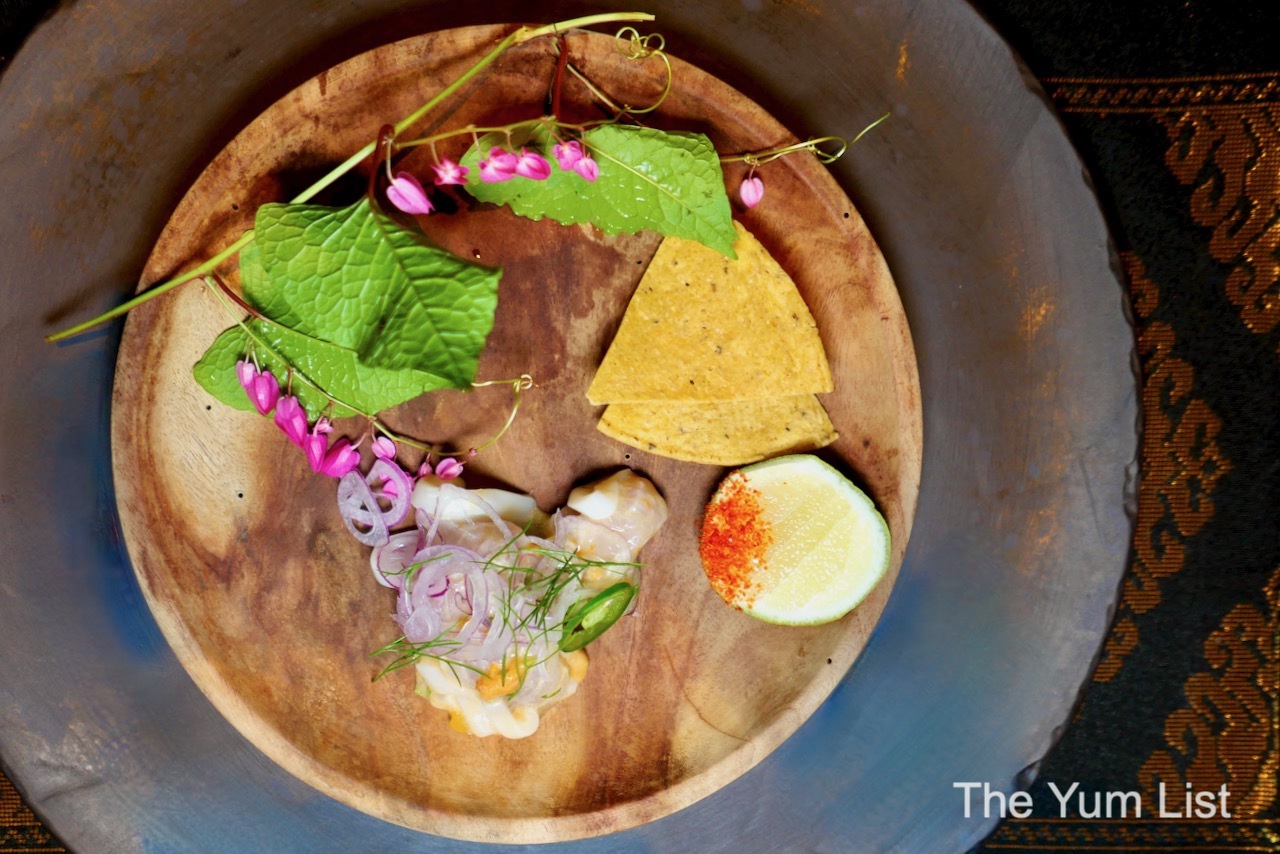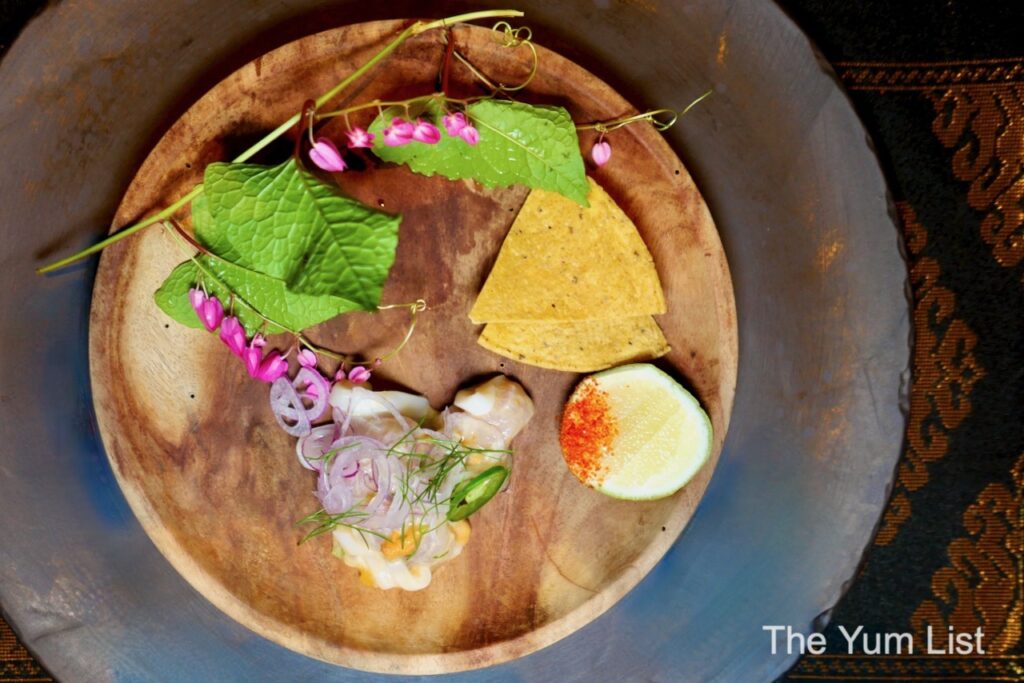 Fresh Oyster
Next, we are served a Fresh Oyster from a farm in Nagasaki prefecture. There is a light sour sauce of Japanese vinegar and soy with delicate chives from The Garden. The oyster has been cut for an easy swallow that we wash down with the Tanaka 1789 x Chartier Sake Blend 001, Junmai, Miyagi, Japan, 2018. Master blender François Chartier and Toji Morikawa work closely together to change the process of making sake at Tanaka 1789. Their goal is to blend sake to perfection as you would a fine wine; this process is unusual in the world of sake. One of my favourite leaders in the wine industry Jancis Robinson said, "I really enjoyed this Tanaka 1789 X Chartier Sake. It had quite a complex mix of citrus and herbal notes on the nose. If one were to nominate a similar wine, it would be a young white burgundy." I am happy to see the Tanaka 1789 will continue on with the next course, so I have more time to examine this concept of the sake acting as a wine.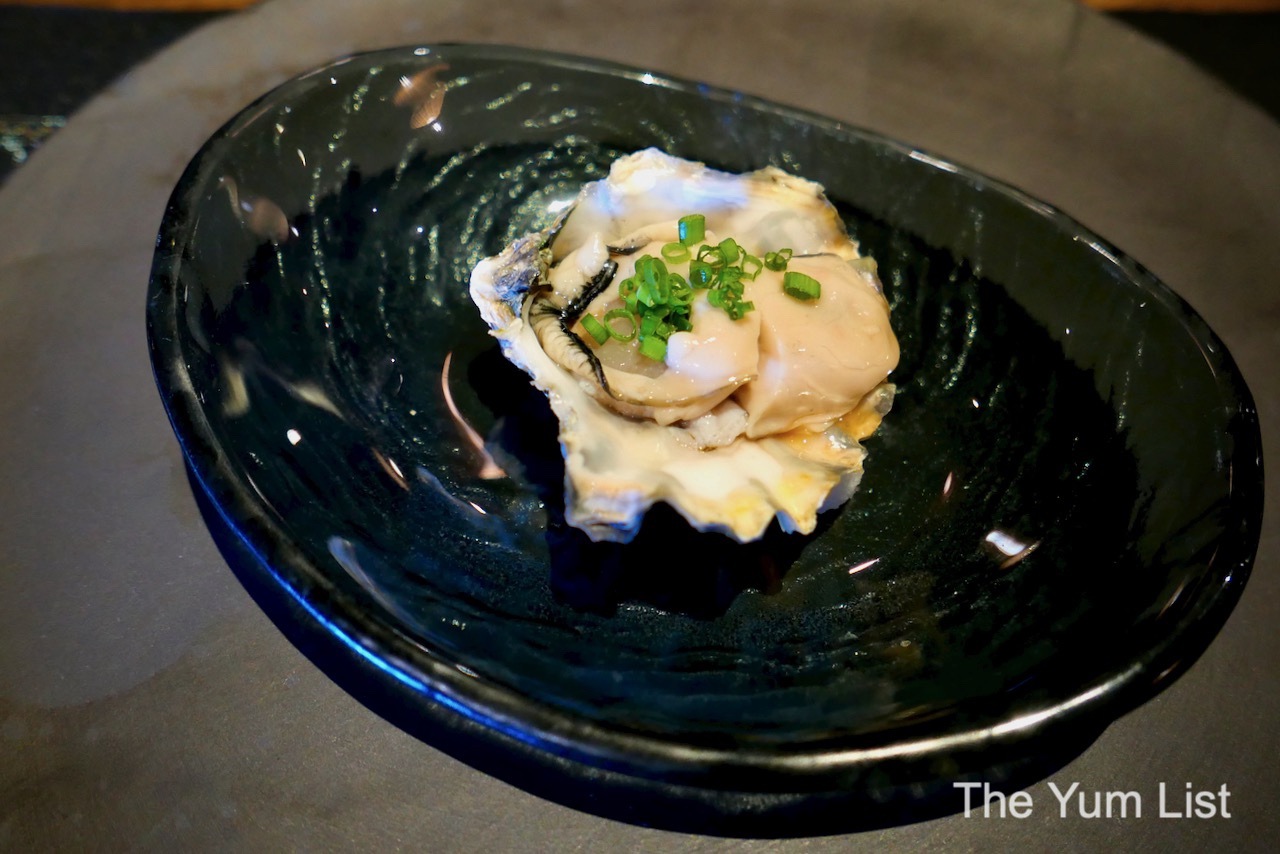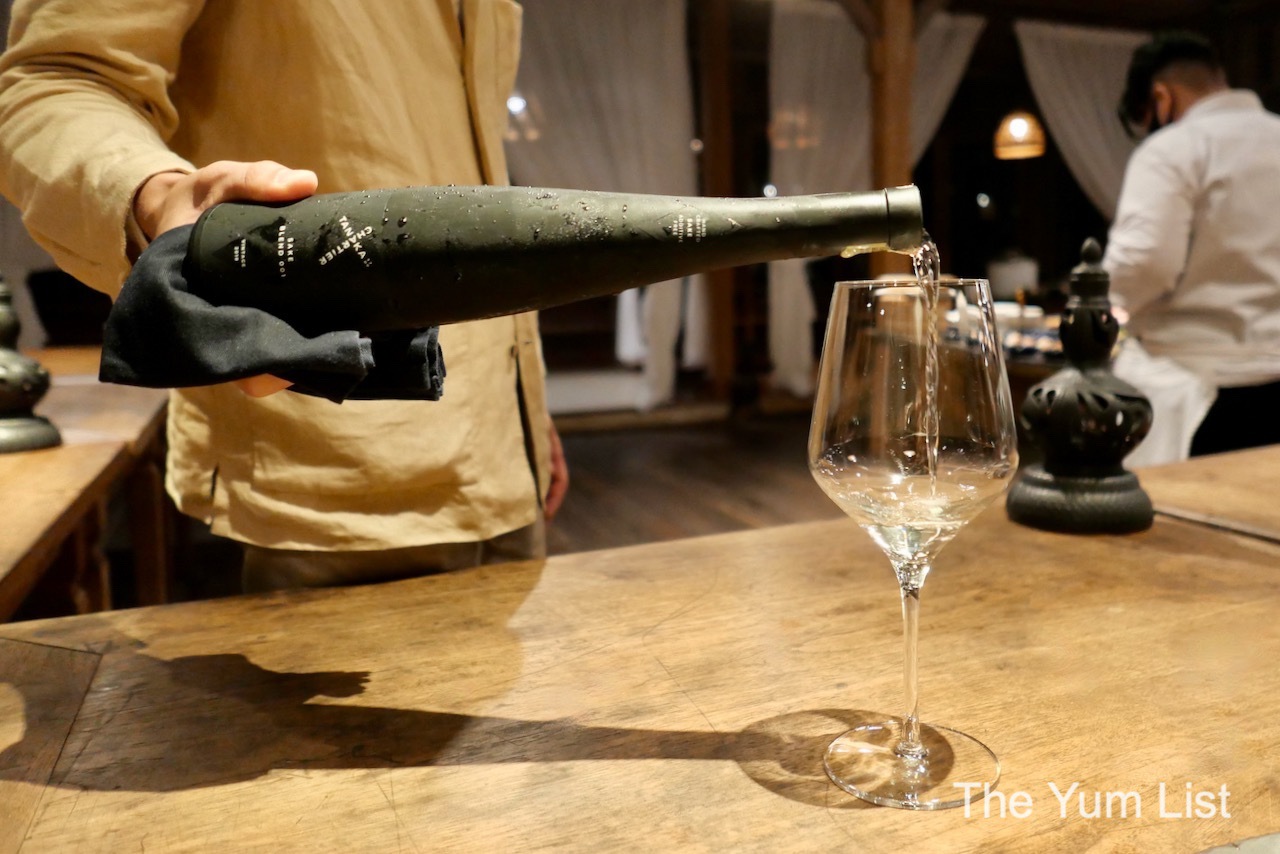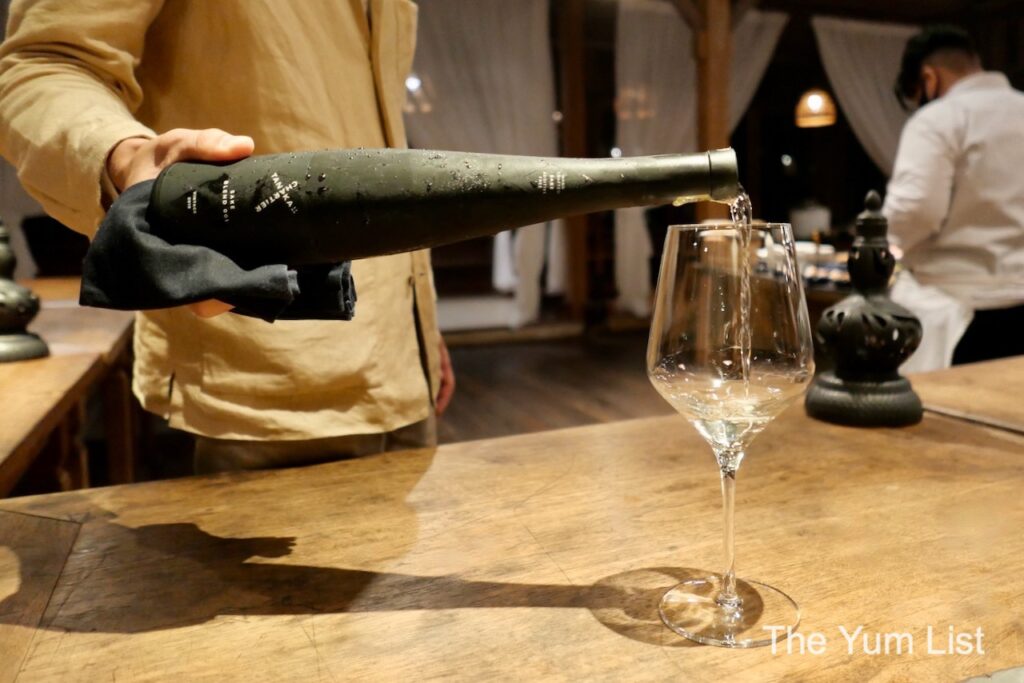 Sashimi
Chef Masaki and his team are ready to serve us a beautiful set of Sashimi with smoked bonito, tiger grouper and tenggiri. Chef comes over and individually places each cut of fish onto a banana leaf in front of us. There's something extremely sexy about this process, and all the ladies around me are a bit giddy and giggling. Simon yells out, "this wasabi is out of control!!" More laughter comes from the peanut gallery. The wasabi is some of the best I've ever tasted. The bonito is a wild catch off of Nagasaki Iki Island, Chef adds a touch of soy, and the fish is creamy with a hint of smoke. The tenggiri is a local South East Asian fish, and this one has been salt-cured for an entire week to add complexity and texture to the fish. Local tiger grouper is almost translucent and as fresh as can be. The Tanaka 1789 is showing smashingly well with the fish. I can't find a wine I want it to be, but I really love sake, and maybe I love it even more for it not being wine. We are enjoying ourselves beyond our imagination. Sake gives me a euphoric kind of high, very different from wine and spirits. I always recommend people to give it a fair try. It needs to be in the right setting with the right food, and best not to mix it with other alcoholic drinks to enjoy its full pleasure.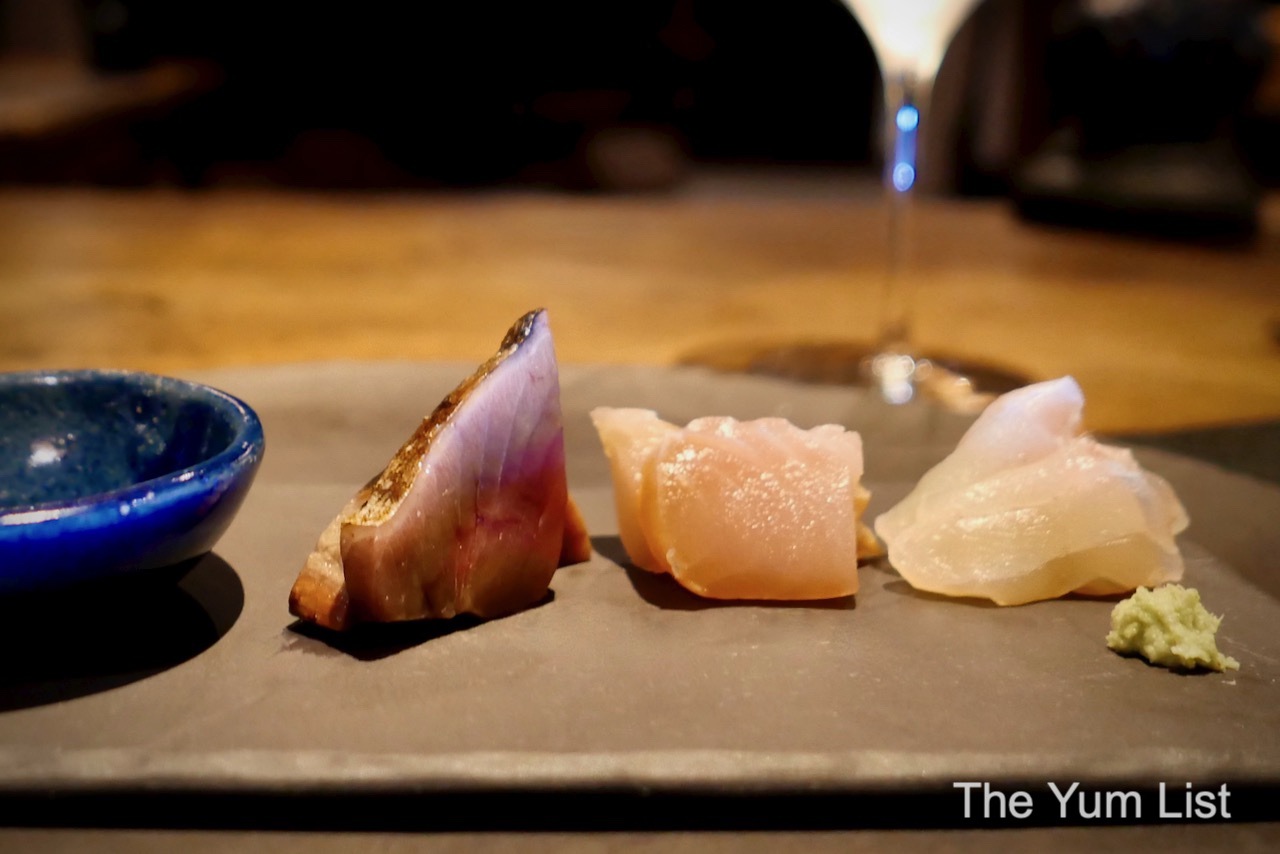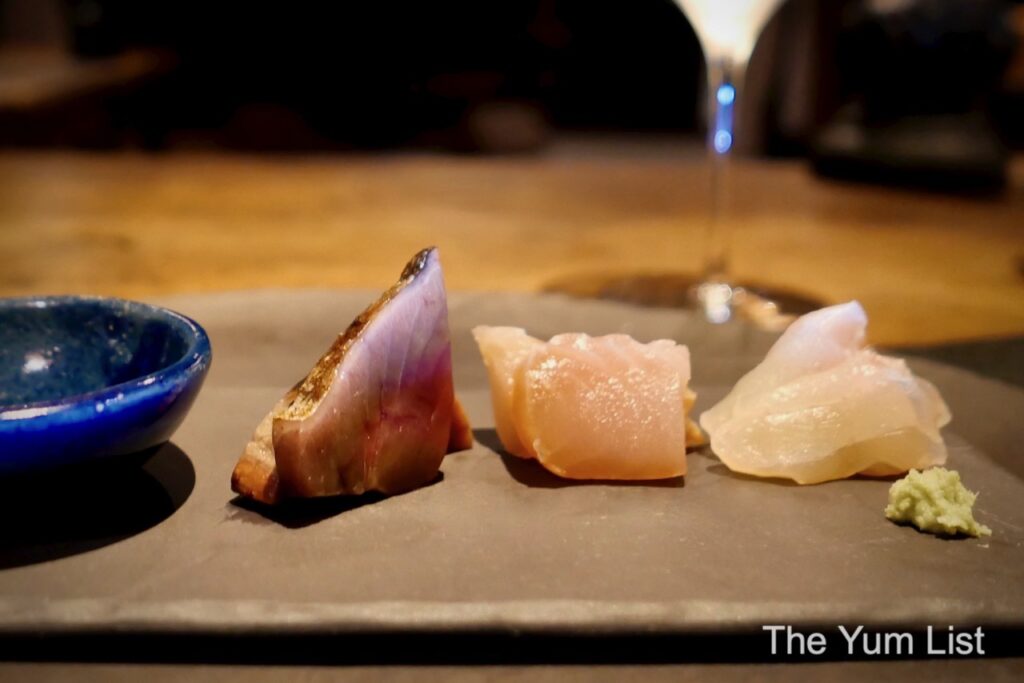 Wagyu Sukiyaki
Speaking of pleasure, we are about to dive into our first hot dish of the evening, the Wagyu Sukiyaki. At first glance, the dish that has been placed before me seemingly cannot be hot; the egg is raw, and the beautiful Kobe Wagyu looks raw as well. We are instructed to break the bright orange yolk and mix it with the Waygu. After stirring, I am about to put one very long piece of meat into my mouth, admittedly a bit apprehensively; Renee on my left feels the same way, so we agree to do it together. The result is completely the opposite of what we expected. The meat is warm, flavourful, and is literally melting in our mouths. We pause and take a sip of the "Kid" Sake, and within three minutes, everyone has cleaned their bowl. There is an orange/red liquid remaining at the bottom of my bowl, and I feel I must drink it. I ask Chef (more like scream out across the room) if it's okay for me to drink this liquid from the bowl. He smiles, laughs, and says, yes, absolutely! Down the hatch. I drink every last drop, like a child with a chocolate chip cookie dough bowl left to clean. This is one of the greatest culinary treats I've ever experienced. I love how it made us outside of our comfort zone and ended up satisfying us in such a pleasurable way. Just like Chef told us, in the beginning, to leave our intentions and preferences behind, I'm so happy we have.
I now take a few moments to appreciate the "Kid" Junmai Ginjyo from Wakayama Prefecture, brewed by Heiwa Shuzo. It's showing a different kind of fruit from the other sakes we have enjoyed. There is an explosion of fruit and honey, maybe even a hint of yuzu (that could be subliminal). Kid, hmm, what's the Kid for? The Japanese can be elusive, and I think that's part of their sex appeal, so to the best of my ability, I have concluded that this sake is created especially for the younger generation – let's say millennials, aka Kids. I think it's great, and anything that can help people on their journey to love and admire sake is all right with me!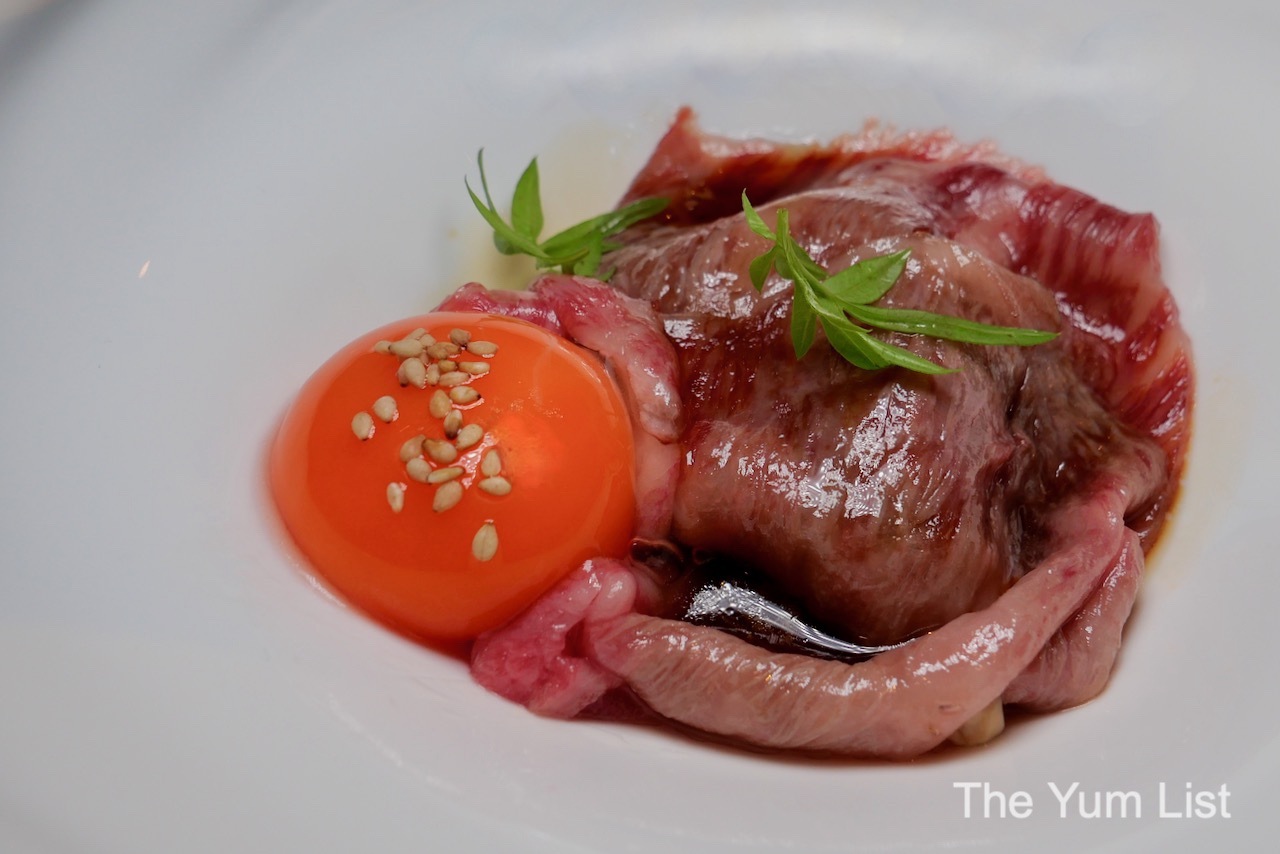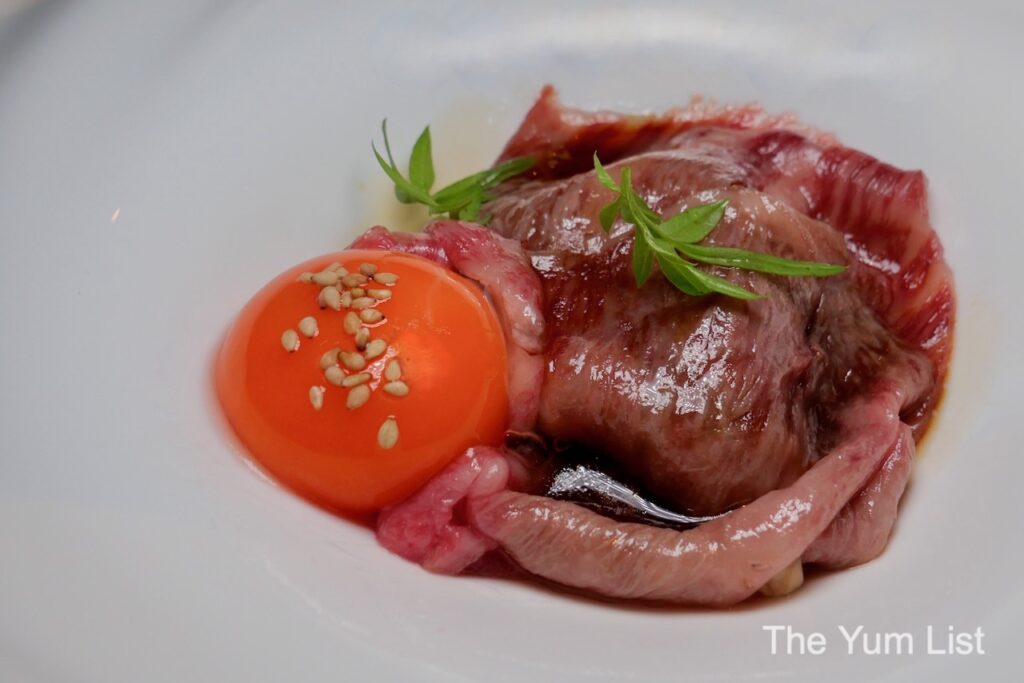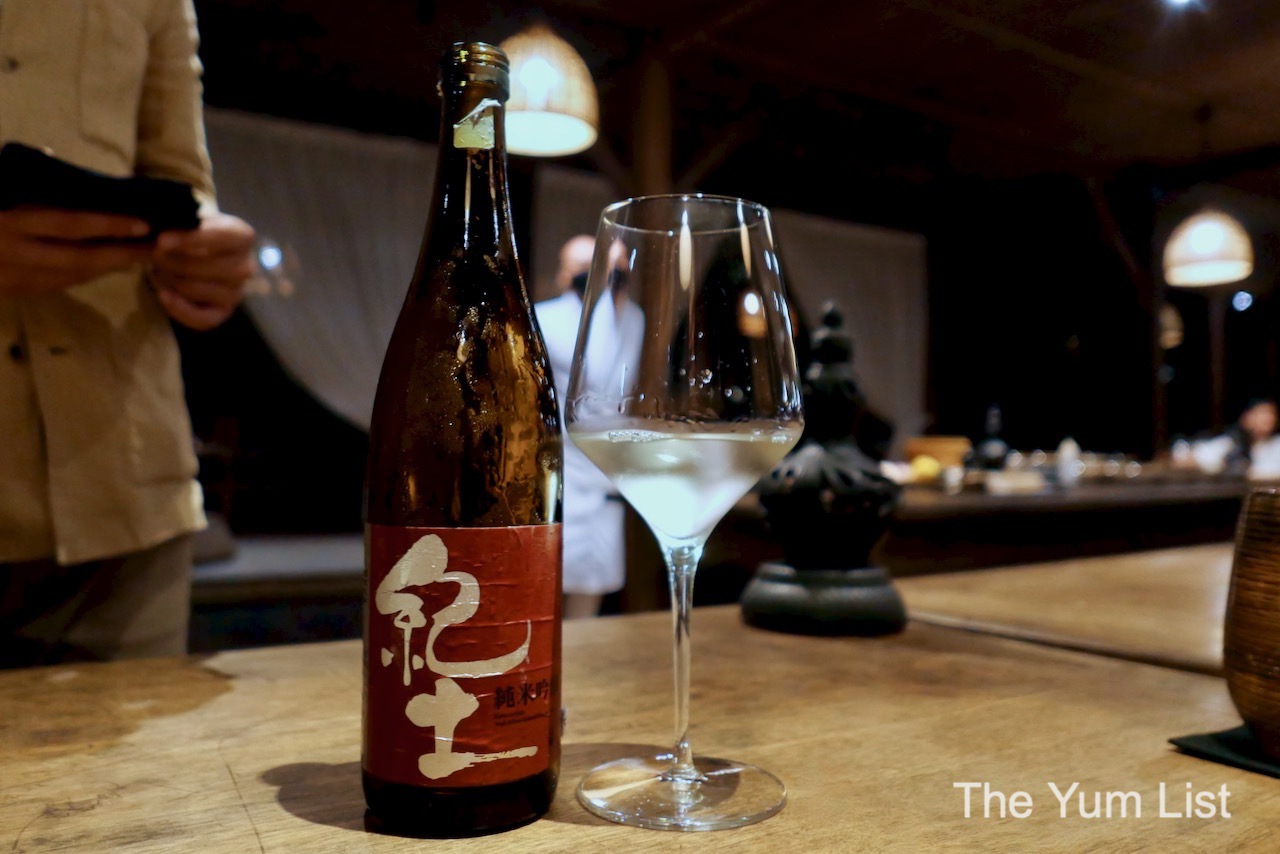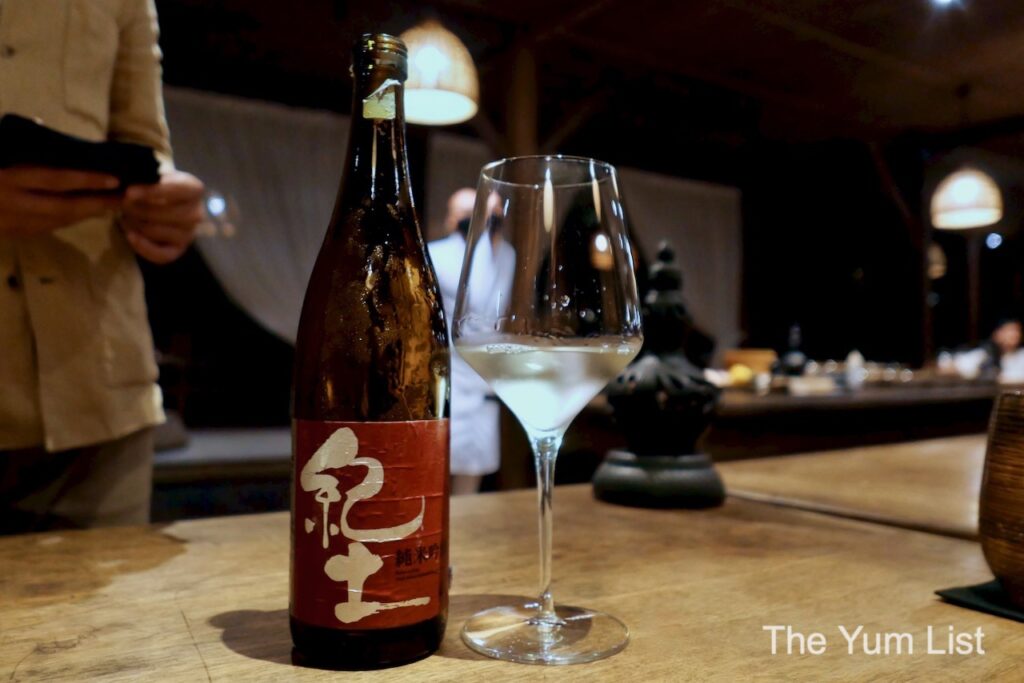 Sea Cucumber with Grated Japanese Turnip
Now the menu is telling us a palate refresher of Sea Cucumber with Grated Japanese Turnip is coming next. While we are a little nervous about the sea cucumber, which was freshly plucked off the Andaman Sea Floor at Langkawi Island this morning, we have only experienced these guys floating around while snorkelling. I am confident in Chef's ability to please us and remind Renee about our duty to submit to the judgment of others without reservations, she agrees, and we once again trust Chef completely. Of course, he doesn't let us down or more specifically, Haruka Hokune from Sushi Azabu, the first female sushi chef I have ever met doesn't let us down! The flavour is umami, and the consistency is something like celery, quite enjoyable, and indeed a palate cleanser.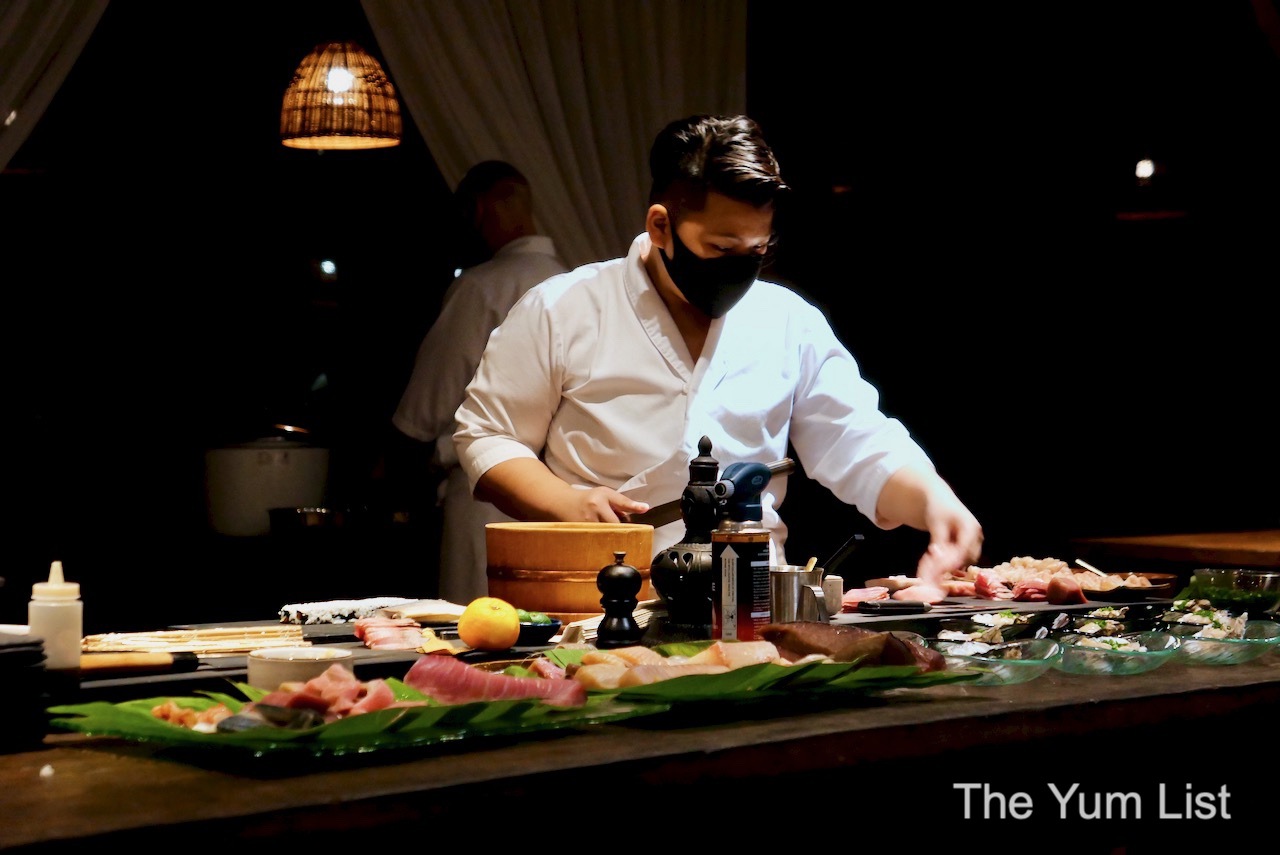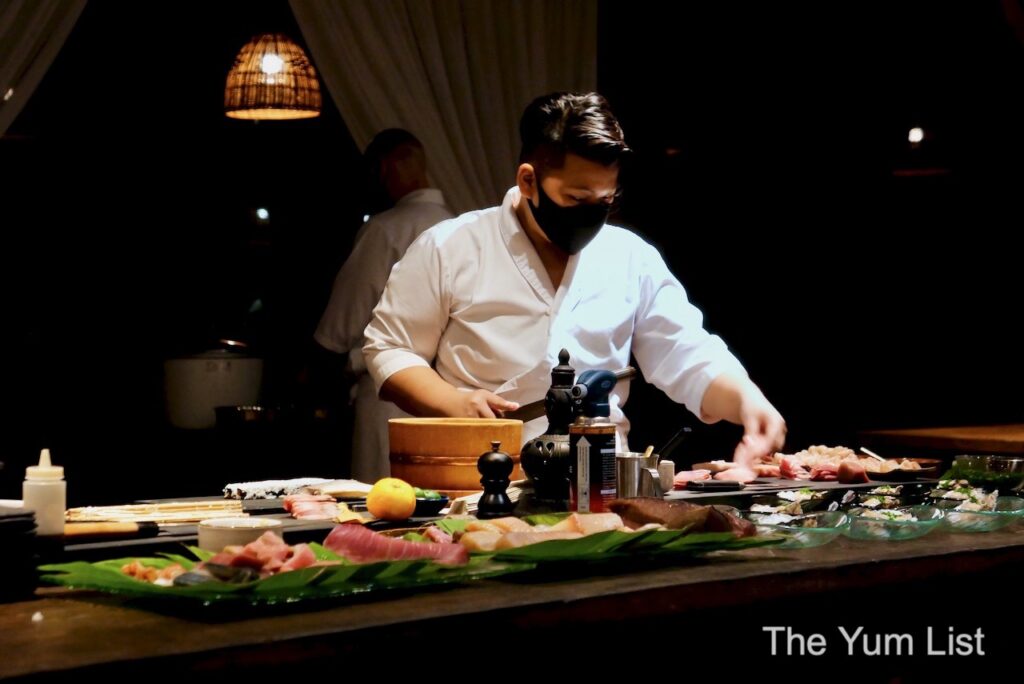 Sushi – The Chef Series
My favourite part of our journey is about to start… Sushi! We will be spoiled with yellowtail, lean bluefin tuna, fatty bluefin tuna and mackerel accompanied by Yamamoto, Pure Black, Junmai Ginjyo. All the fish is served nigiri style, placed over perfectly cooked Japanese rice. The word nigiri comes from the word nigirizushi, which translates to "hand-pressed sushi." Nigiri is my all-time personal favourite way to eat raw fish. The Yellowtail is a wild catch from Nigata prefecture while the Bluefin is a wild catch Nagasaki, the Mackerel is farmed from Nagasaki. Flashback to reality… as I am going over my notes to write this, I see only two words here in the sushi section… sex and orgasm. I apologize in advance if I have offended anyone, but seriously sex and orgasm are the best words to describe these fish that have been so handled with love and care and hand-carved hours before we get to worship them.
Over the last year, I have made a drastic reduction in my consumption of all seafood (especially tuna). So when I'm eating these fish as a special occasion, I am not feeling terribly guilty (let's face it, the sake has given me a glorious sense of euphoria and it's only now writing this that my conscious is saying hi). Okay, let's get back to the Omakase!
With the sushi, we are blessed with Yamamoto `Pure Black,' a modern, fresh style of Junmai Ginjo by maverick brewer Yamamoto Shuzo. This sake is bottled just a few days after pressing, leaving a slight fizz on the palate. Apparently, Pure Black is very hard to get in Japan, so we are fortunate to have some tonight at The Datai in Malaysia. The Pure Black is full of kiwi, grapefruit, and minerality with food-friendly acidity.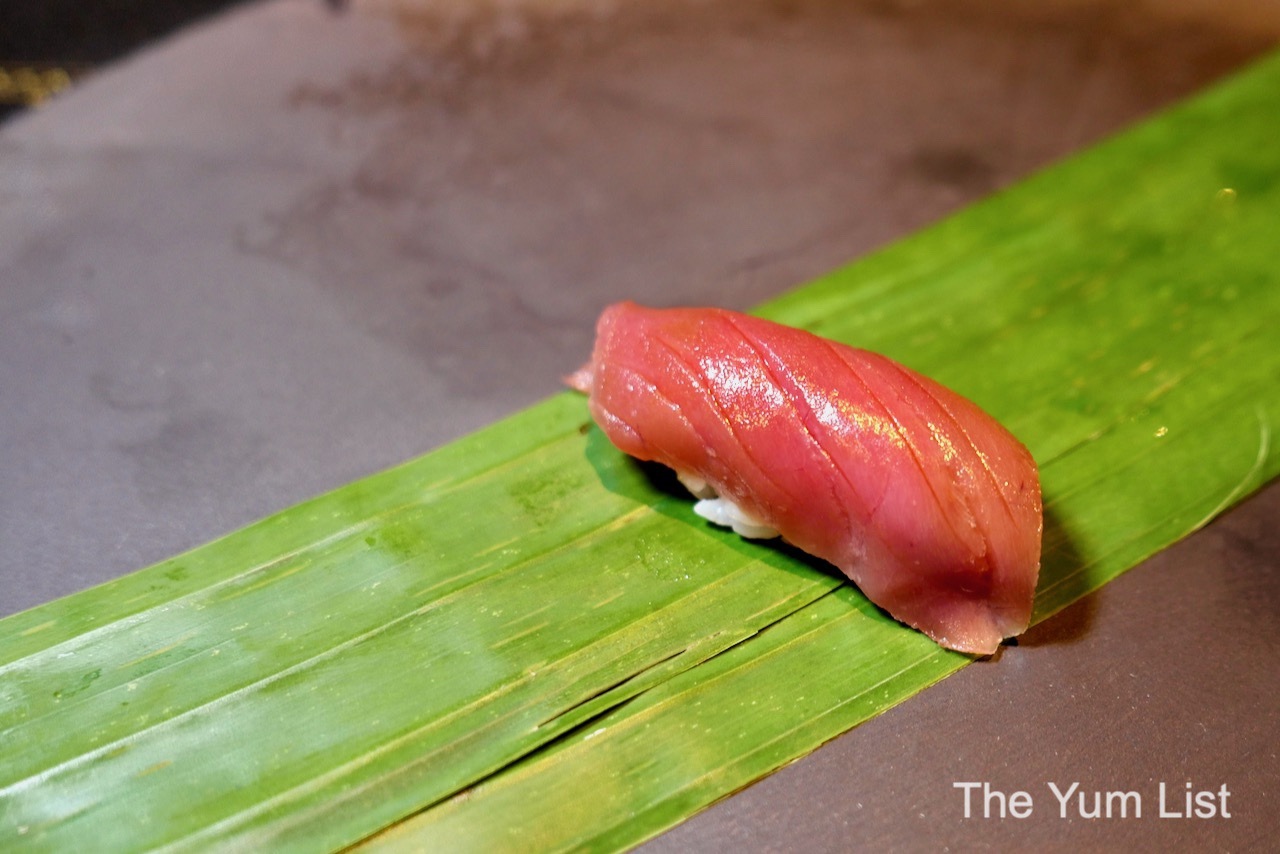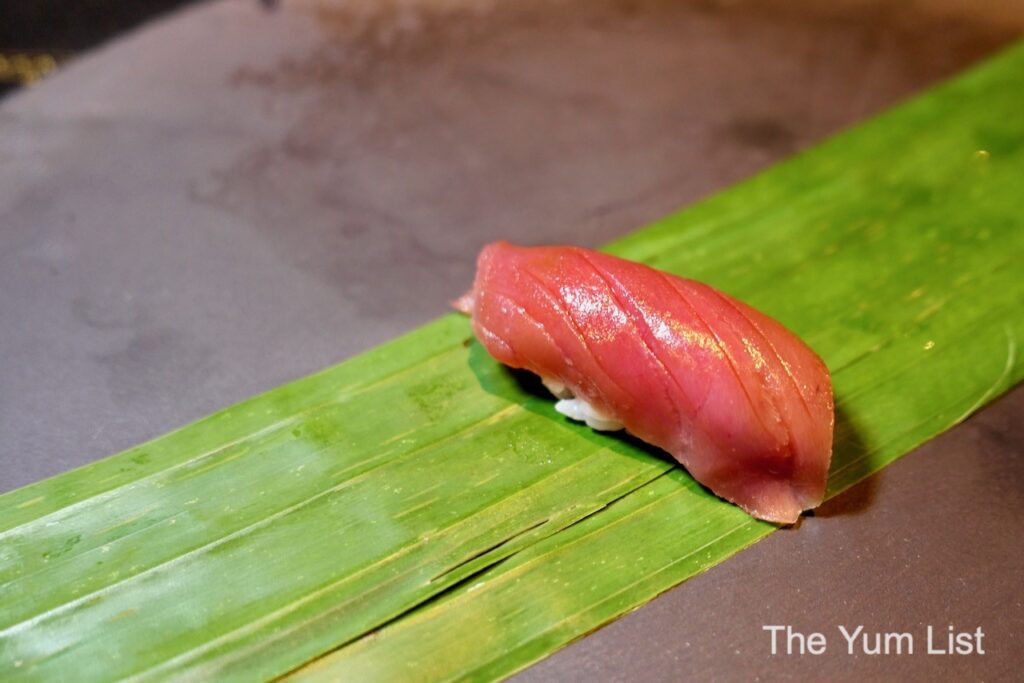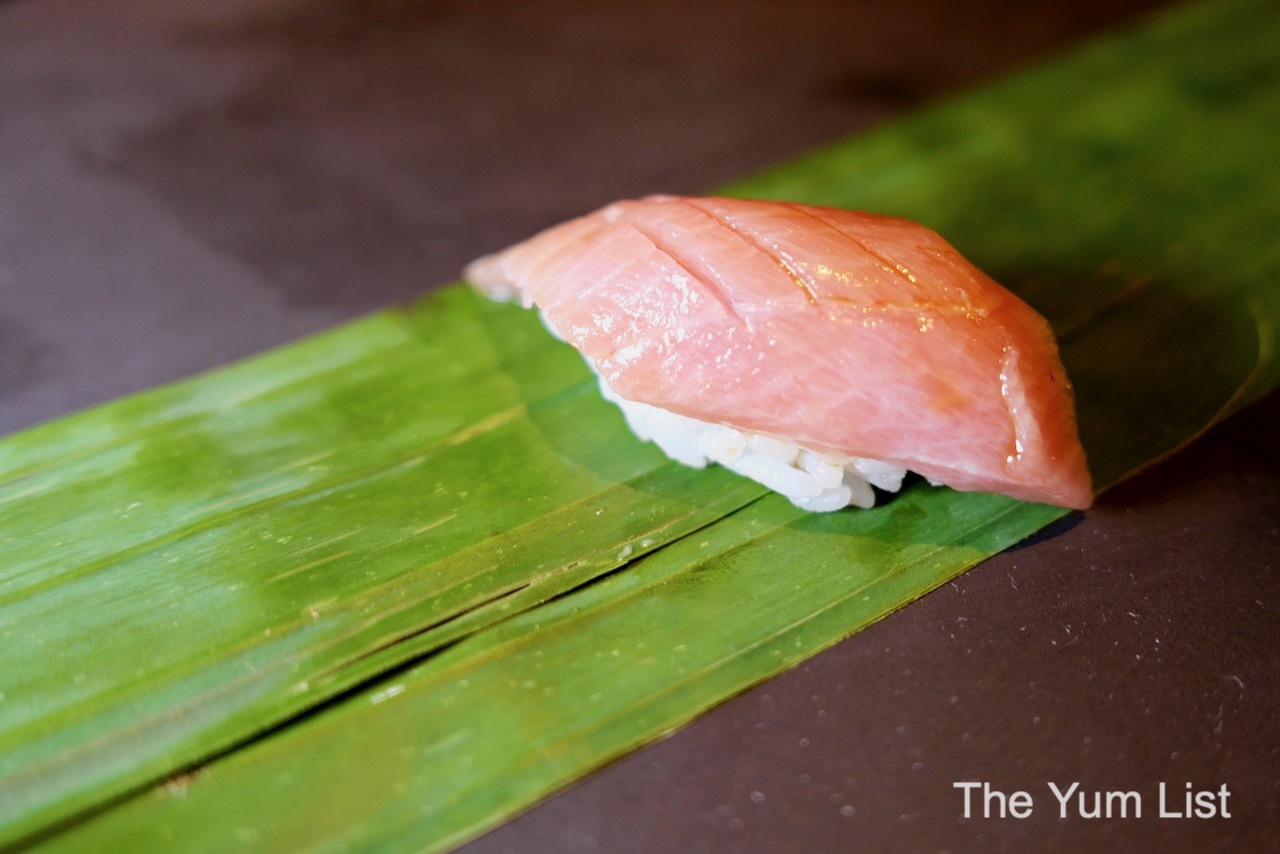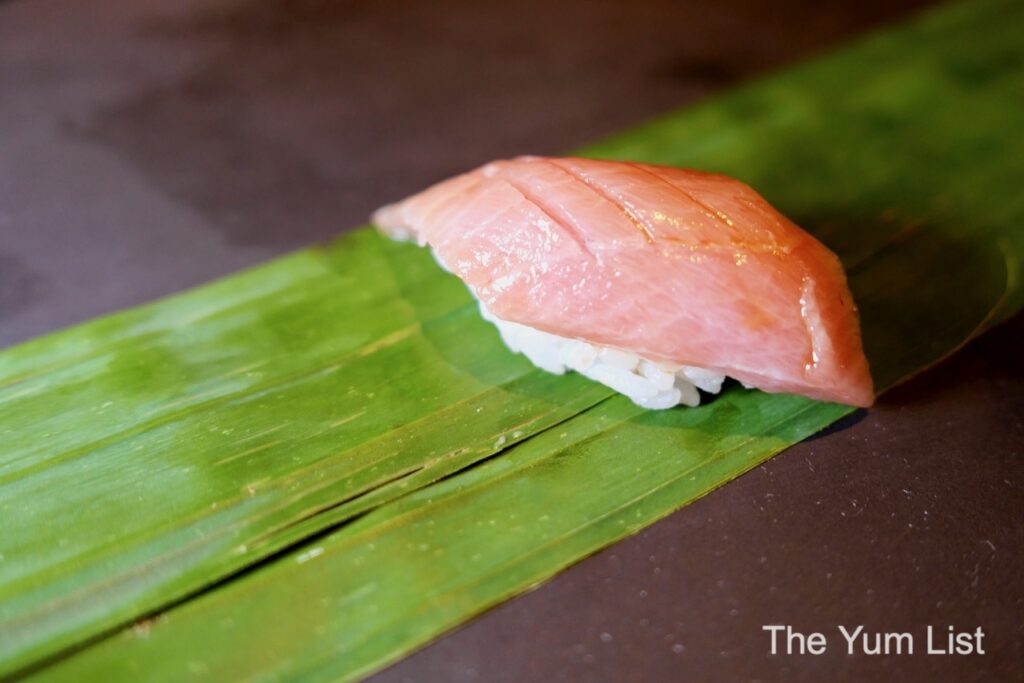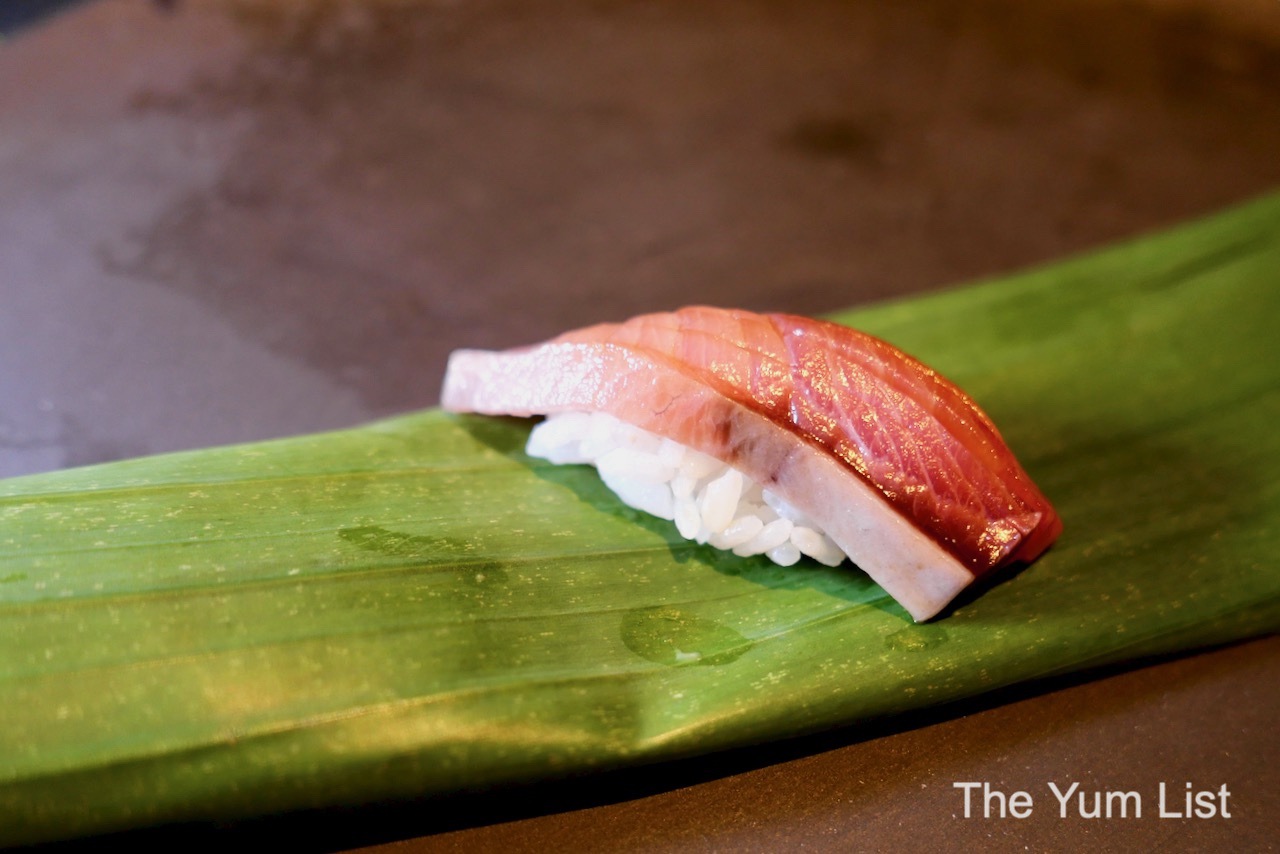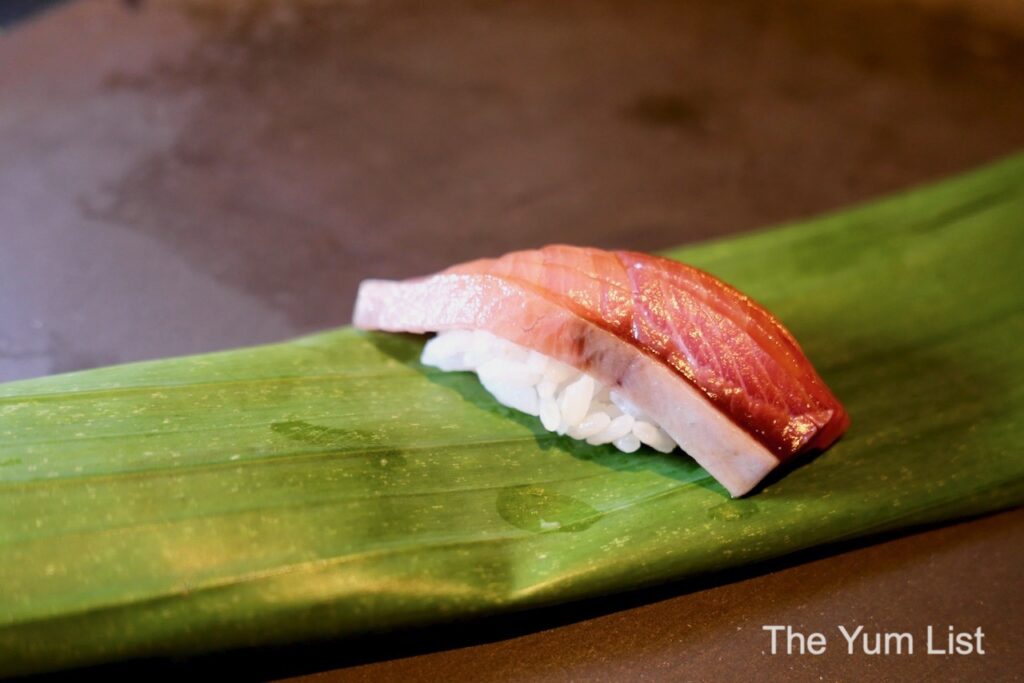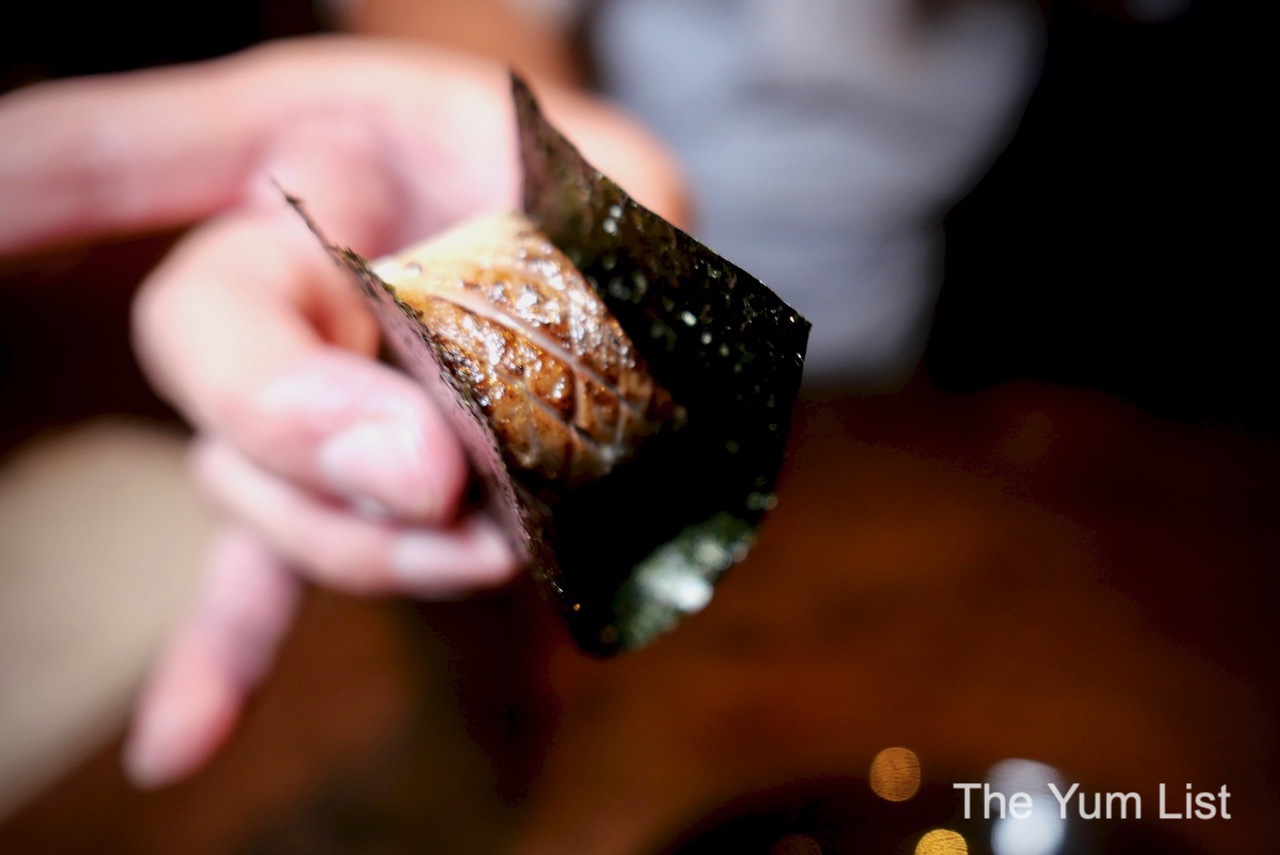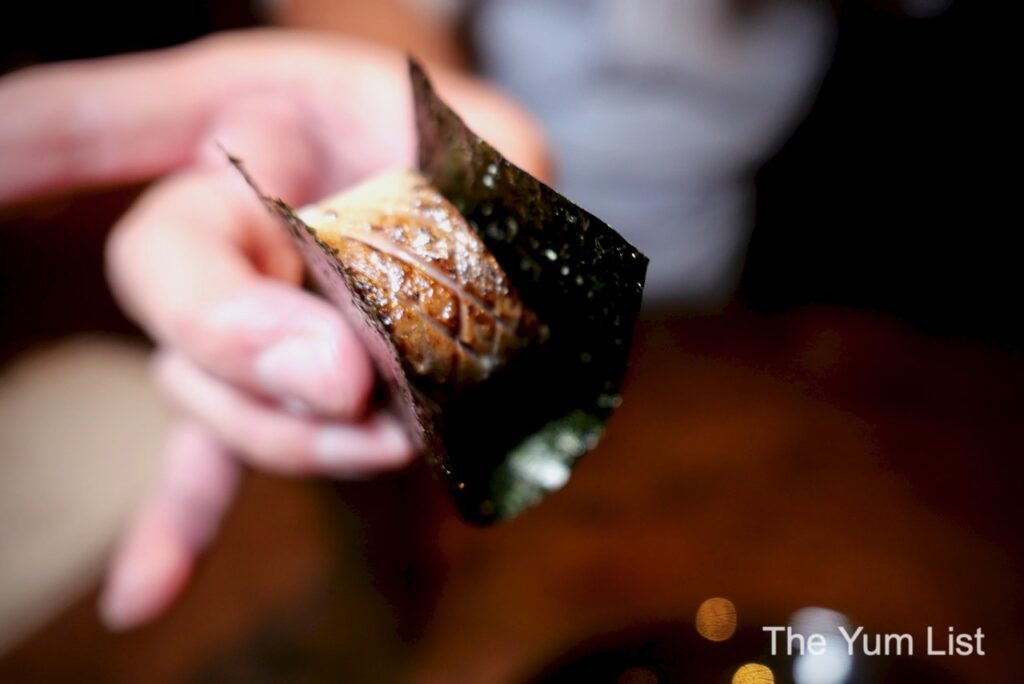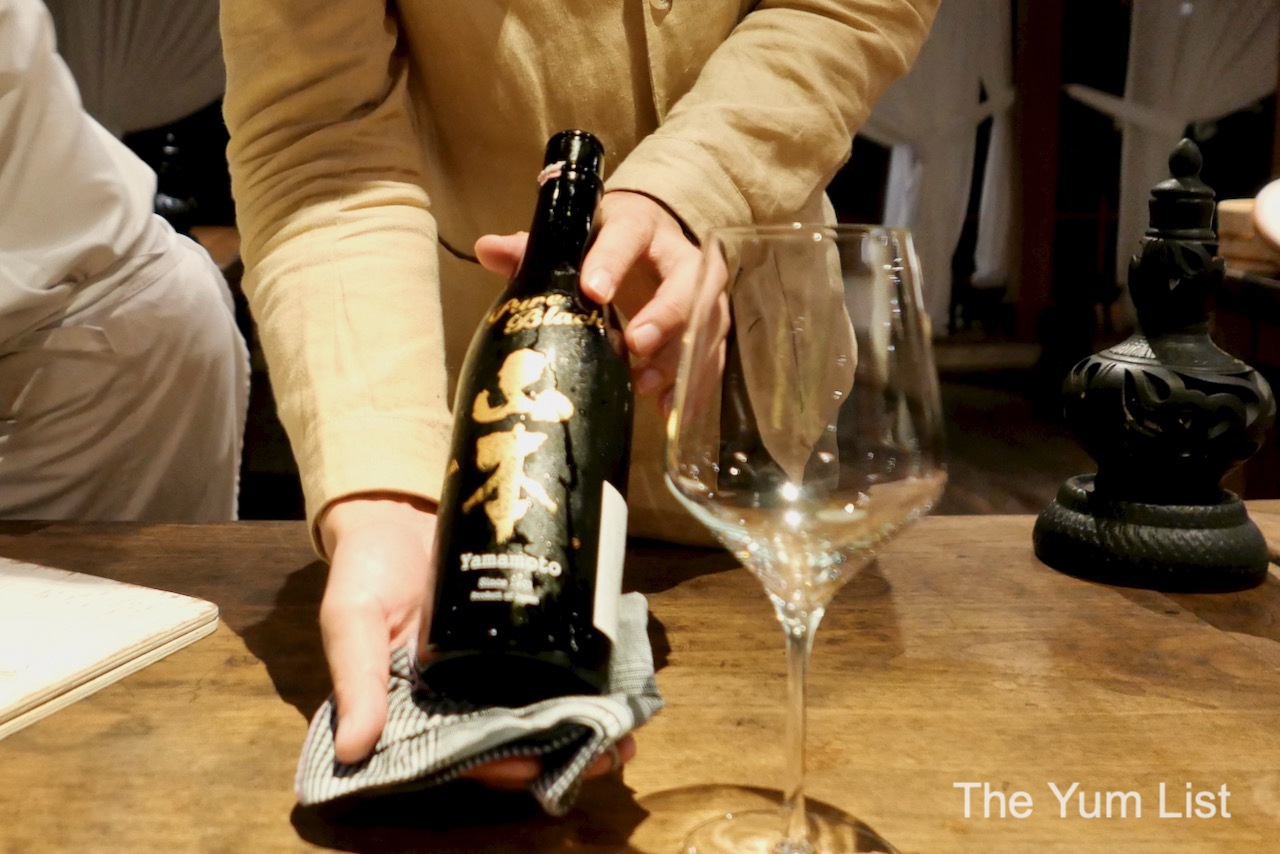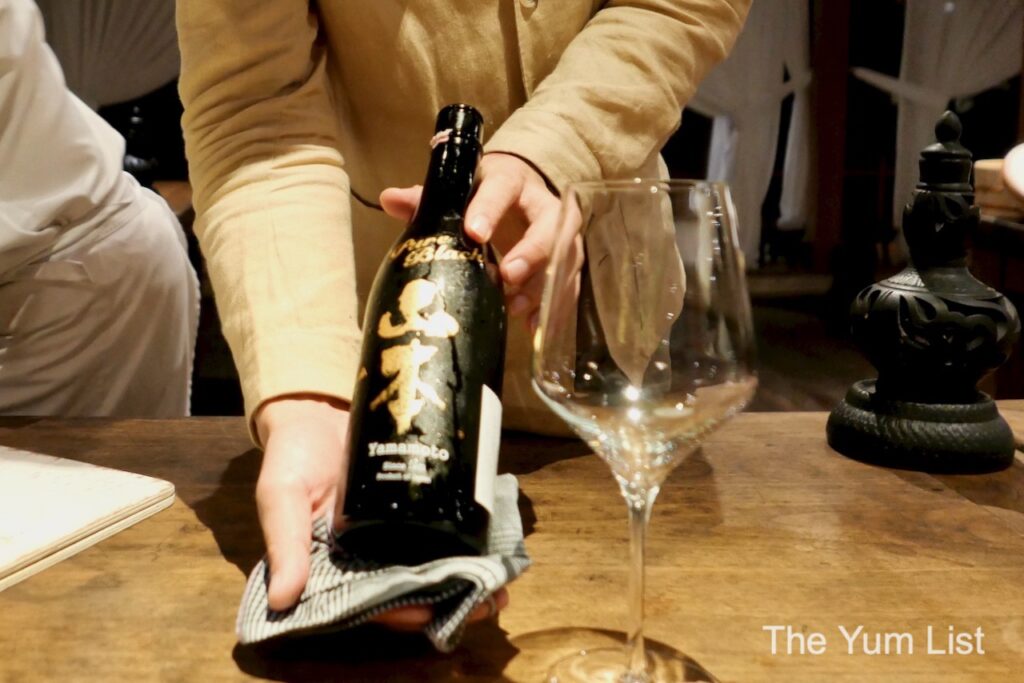 More Sushi
More sushi is coming – scallop, Japanese tiger prawn and two kinds of sea urchin. Yes! And more sake. Yay! The Hokkaido scallop is delicate and smooth. If a prawn could ever be considered beautiful, this one will win. Testing the boundaries of trust, we move to the urchin two ways. The first of the uni is mild, creamy, and delicious. While the other might not be for the faint of heart, it's intense and masculine (I think Simon defiantly got Renee's portion of uni). I have to hand it to Renee, though; as she is one of my usual dining partners, we have never had sushi together and only once when we first met tried an omakase menu. She is not a fan. We convinced her to join us for this dinner. Renee said, "Well, I will come. At least the company will be good." So far, she has finished everything and loved it (except the uni and maybe a sea cucumber). Her expectations were blown away.
It is with true gratitude that I receive the final sake pairing of the night the Tatenokawa `Seiryu' Junmai Daiginjyo, from Yamagata, brewed since 1832. Seiryu could potentially mean stream, referencing the crystal clear waters that fuel the rice that makes sake.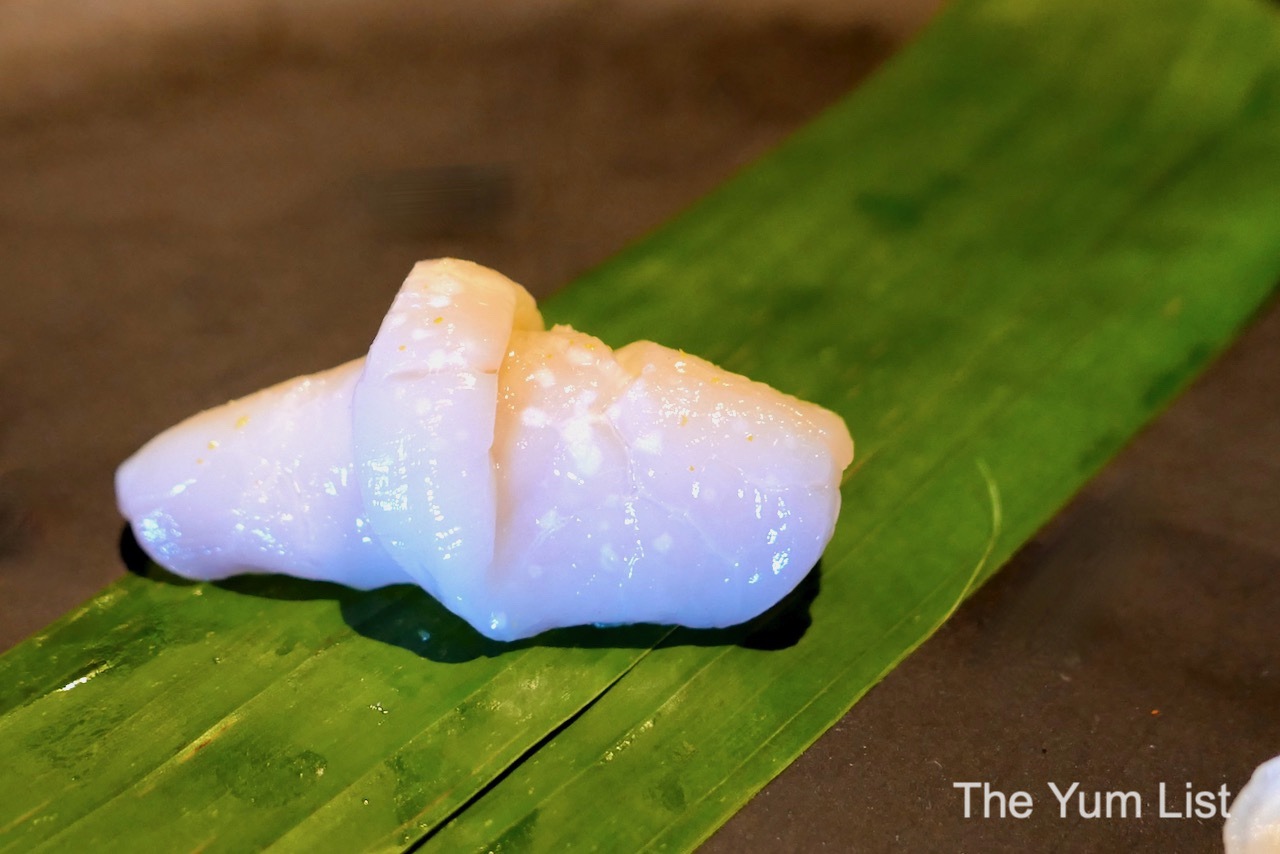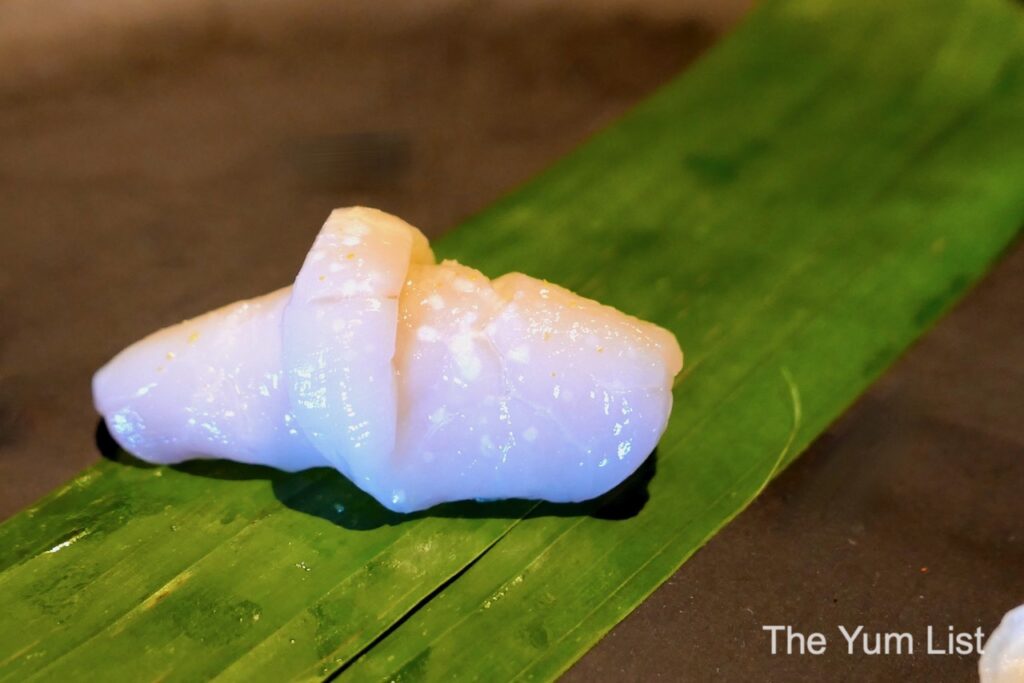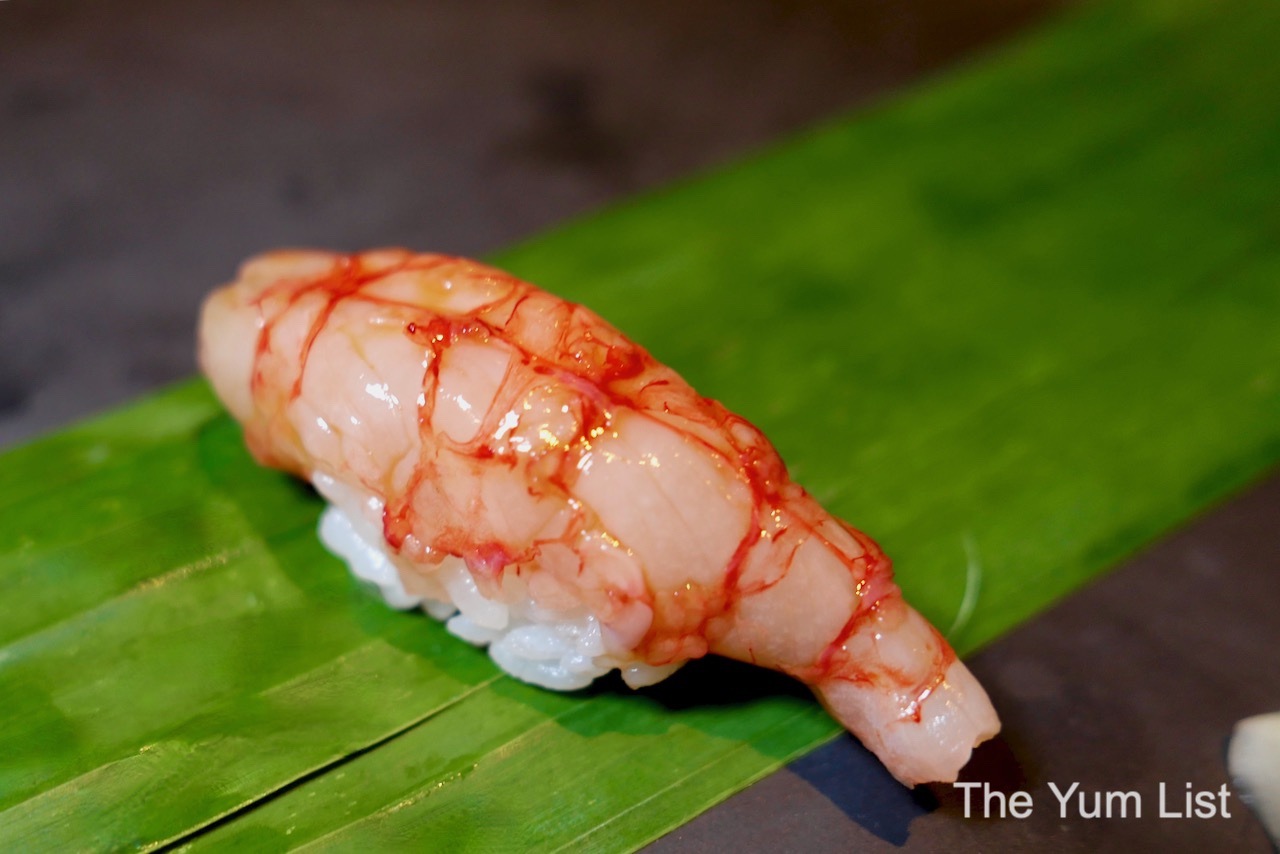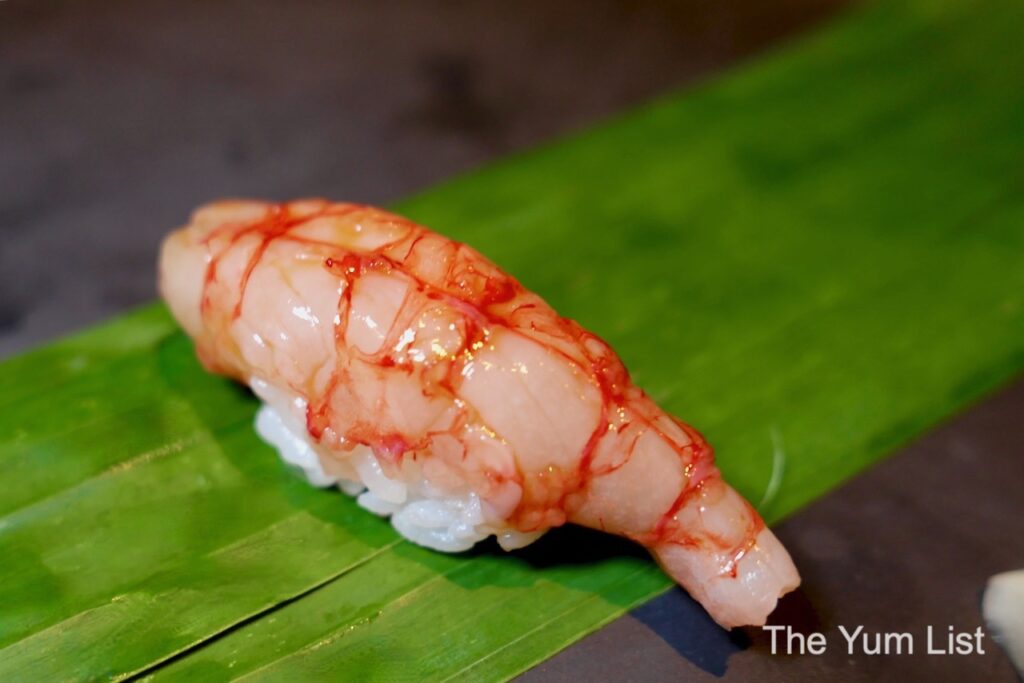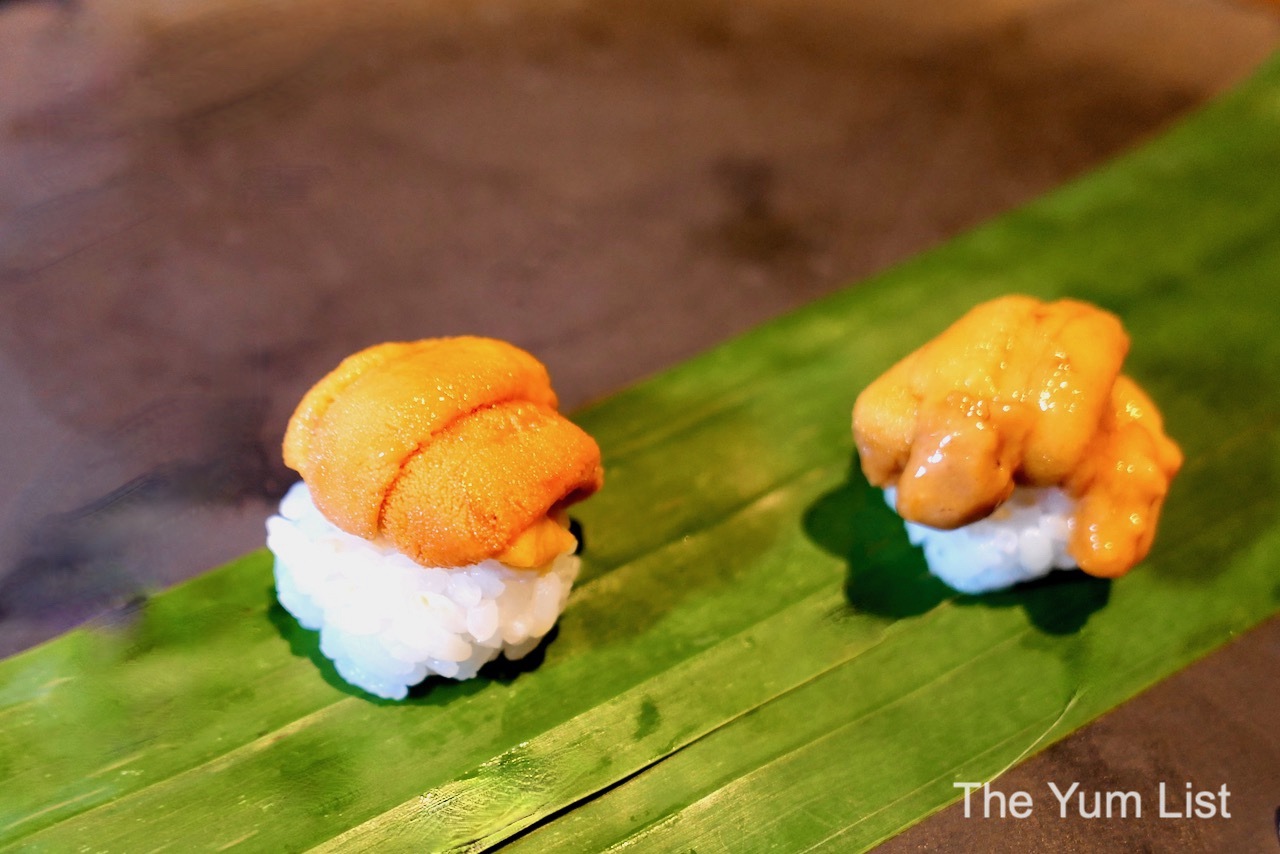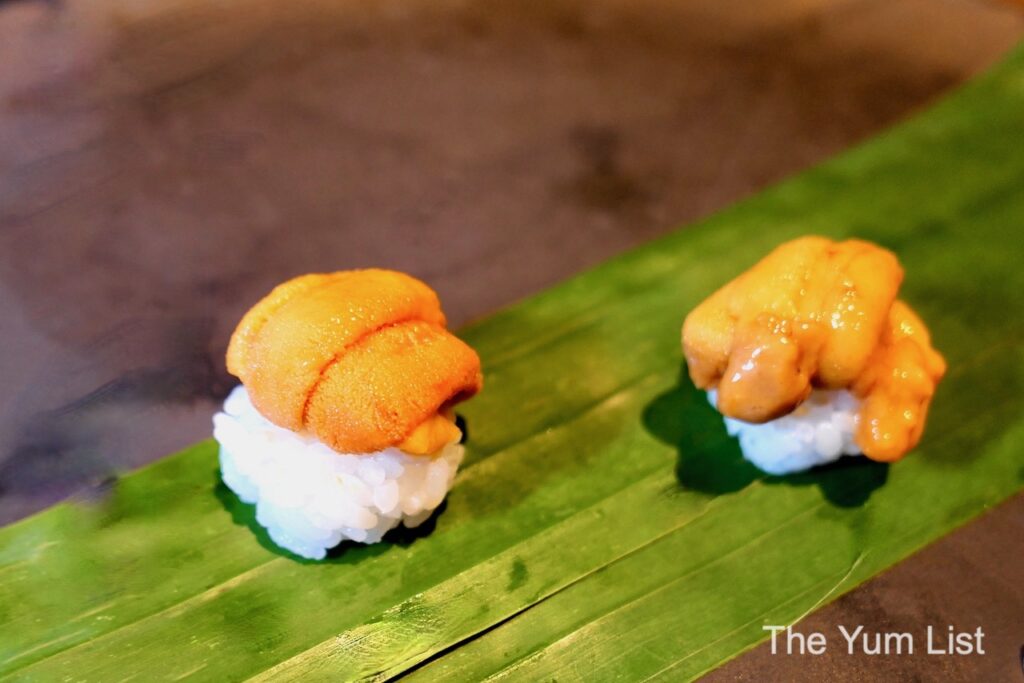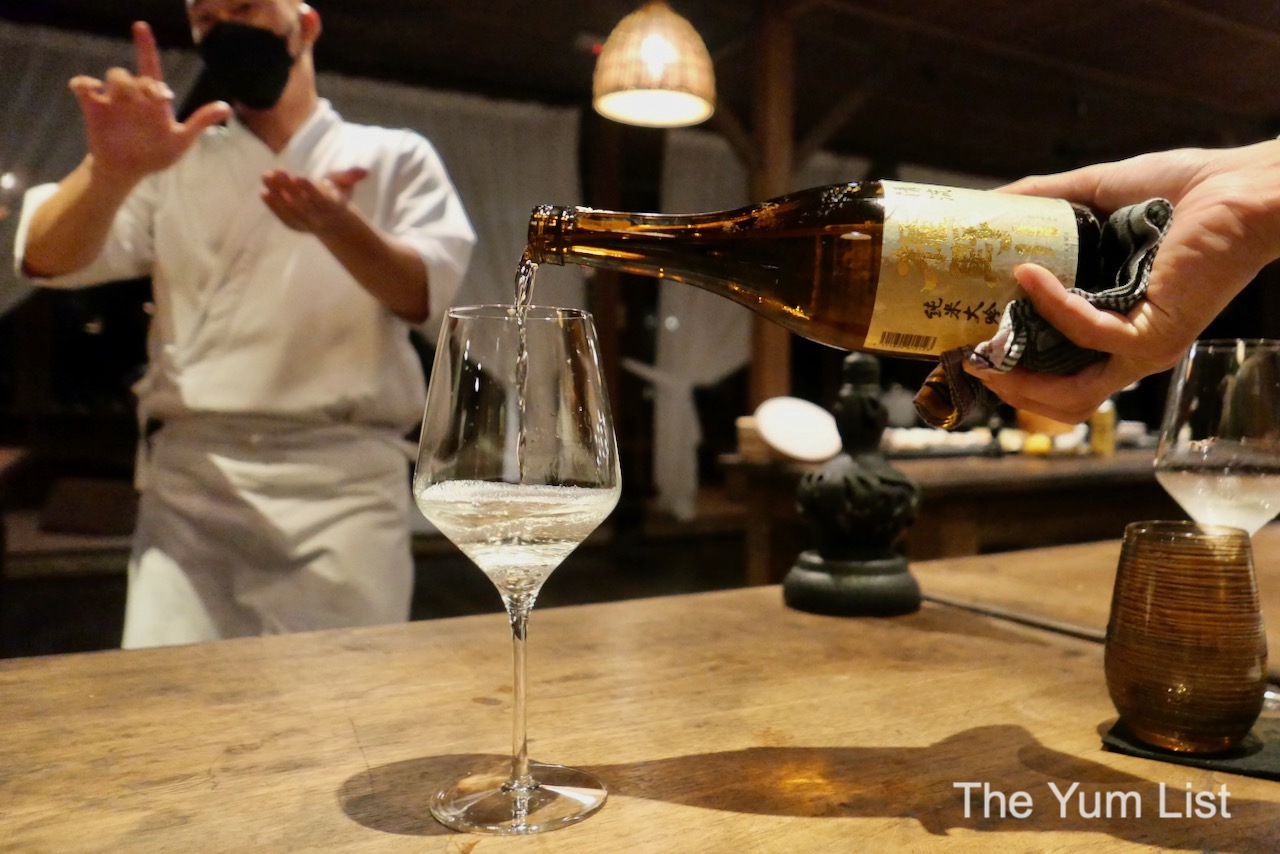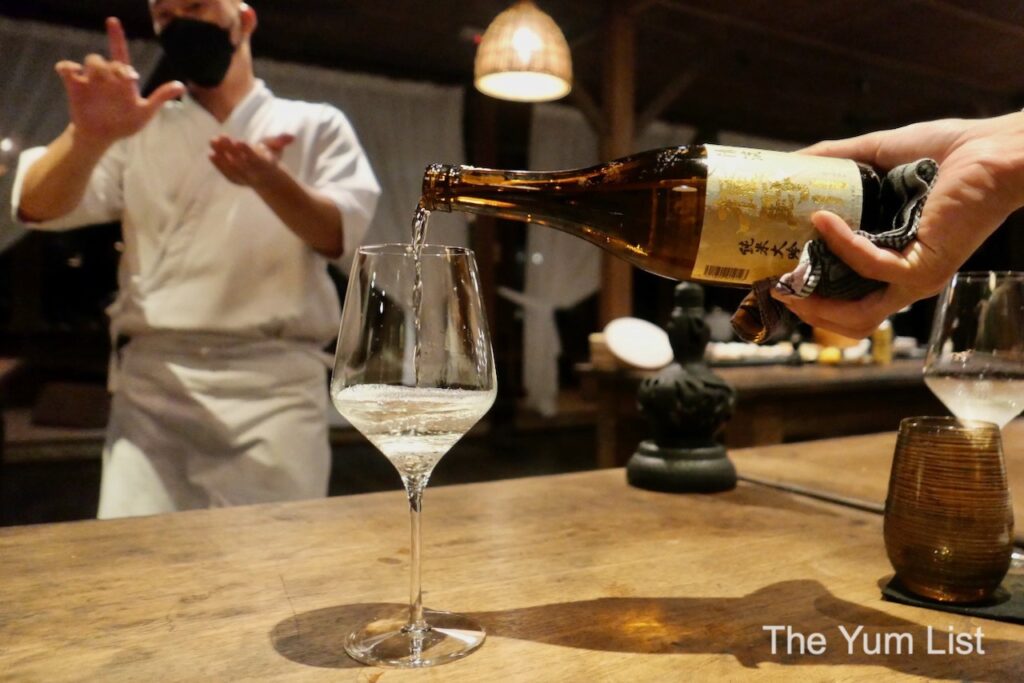 Sushi Roll of Chopped Toro with Sea Grapes
Chef is now preparing our very own Sushi Roll of Chopped Toro with Sea Grapes. It's really a performance rather than a preparation. He goes individually around the table, one by one, lining the delicate seaweed wrap with a scrumptious spoonful of wild-caught tuna belly from Nagasaki prefecture and Langkawi sea grapes. He rolls it to perfection and places it lovingly in our palms. Somehow I feel like this is popcorn, like a super special salty treat you only get at the movies. Are you wondering what sea grapes are? Let me tell you… a sea grape is a tropical fruit that grows in the sand near the sea, not actually a grape, but looks just like them (only teeny tiny versions). They tend to have a seaweed-like flavour with a consistency of caviar, fascinating.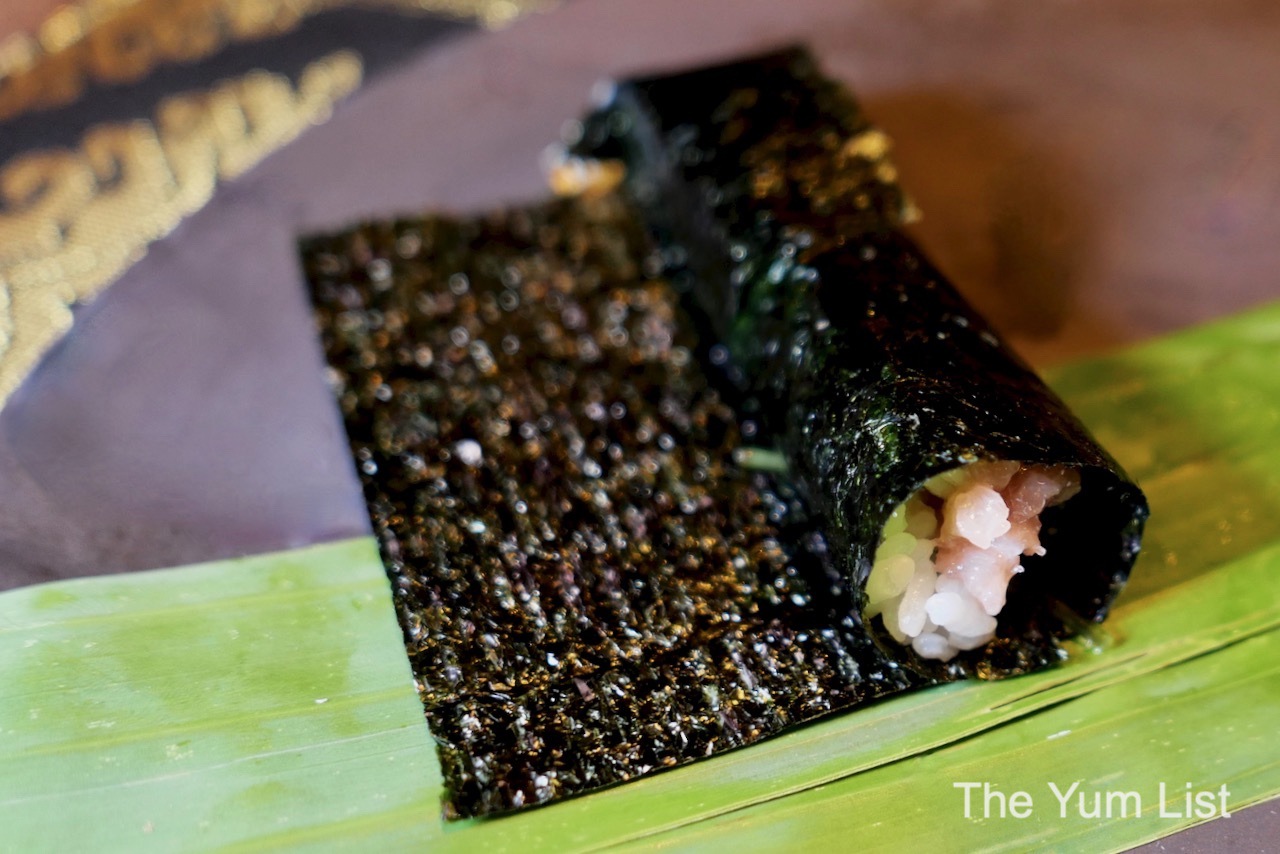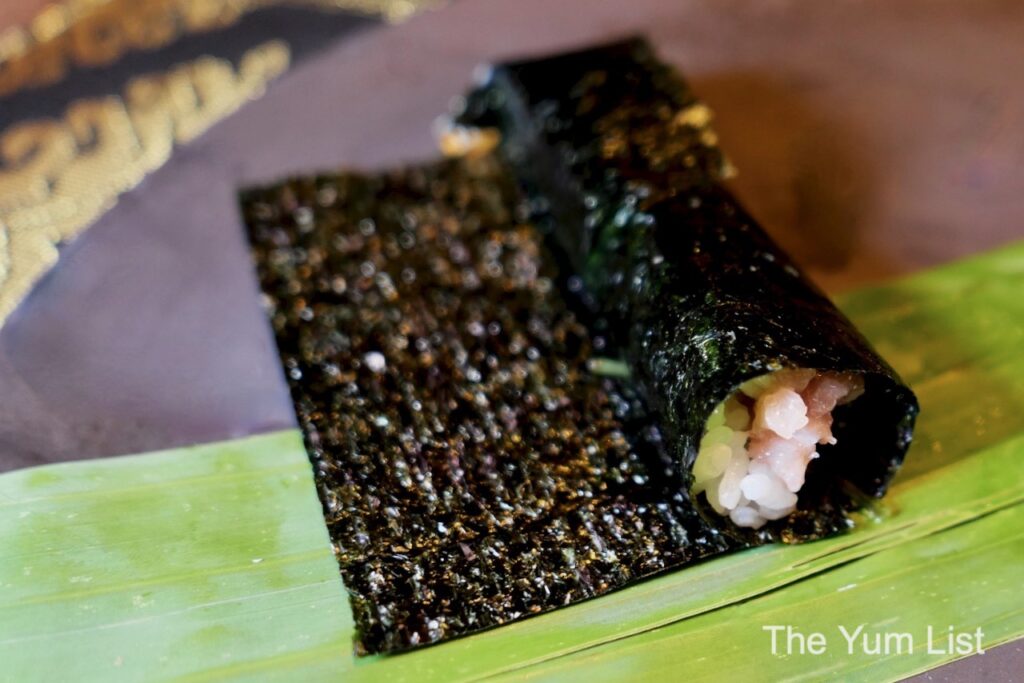 The Chef Series – Miso Soup
After all of the wonderful food and sake, we are reeling with delight, and happily, it's not over yet. We are served a beautiful glass bowl filled with Miso Soup so rich with umami and filled with a surprise of tiny delicious baby clams at the bottom. Miso is supposed to lower your risk of cancer, strengthen your immune system, alkalize the body and help to settle food after you've eaten. I'm not a sweet tooth kind of girl, so miso is my perfect dessert.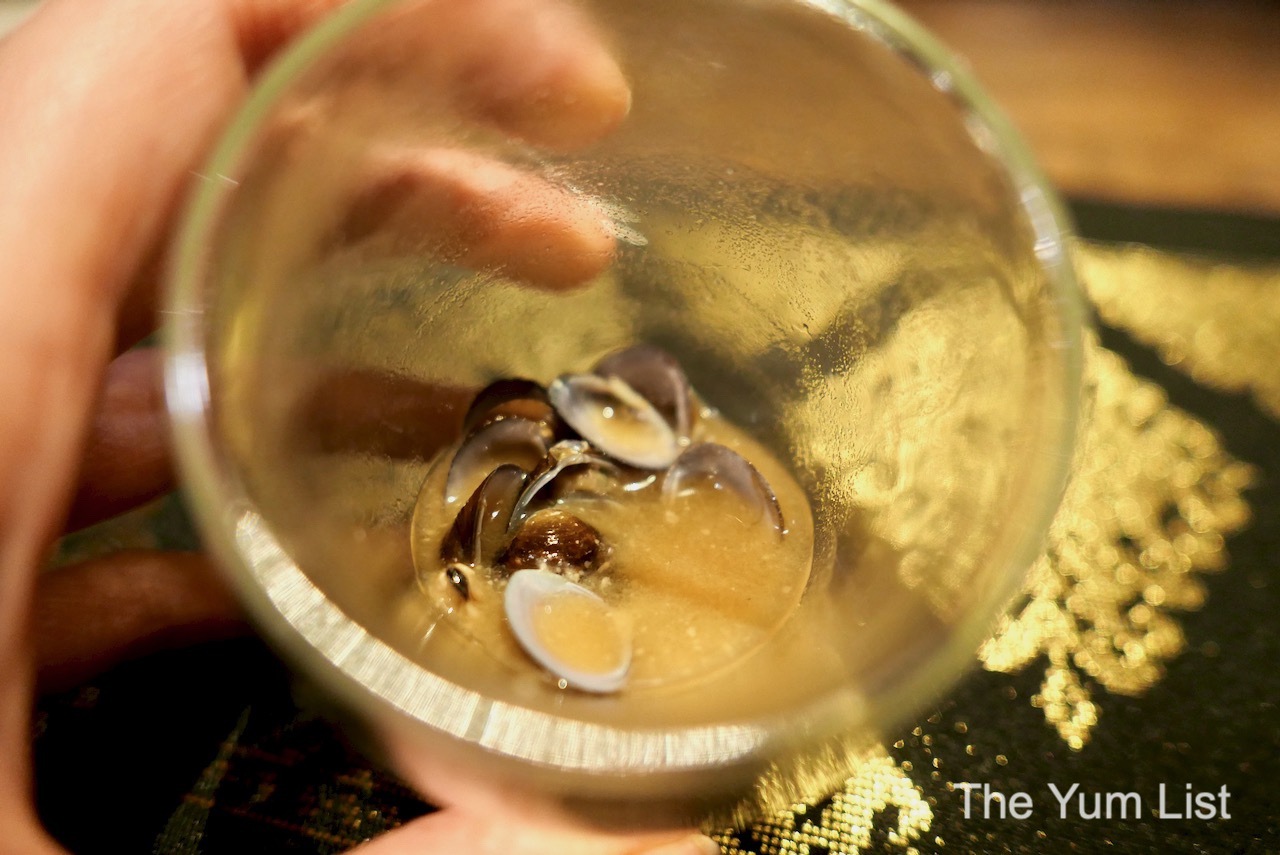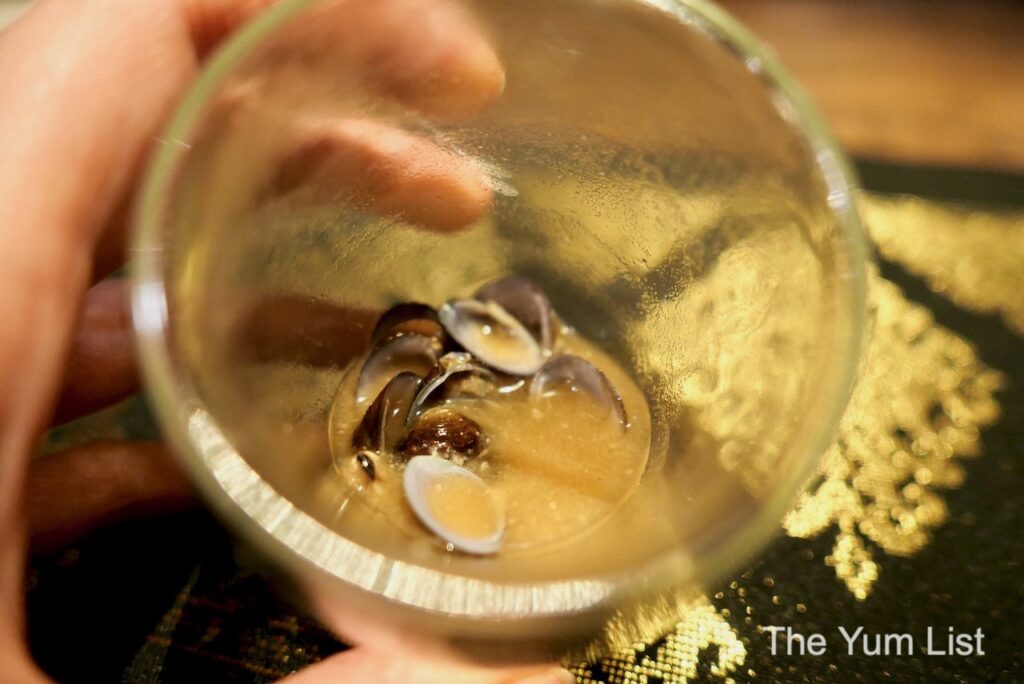 Seasonal Fruits
We don't complain, though, when they insist on a simple yet perfect dessert of Seasonal Fruits with Amao Japanese Strawberry from Fukuoka prefecture alongside Earls Melon from Shizuoka. We all ask our generous hosts to refill our favourite sake which varies from person to person. Mine being the Tatenokawa `Seiryu.' Simon is happy for more from the sultry black bottle, the Tanaka 1789 X Chartier. And, the ladies, of course, want more of the sparkling Shichiken, which helps us ease into the fact that this must all come to an end! Until next time, when we can come back for another Chef Series at The Datai. I'm 100% on board recommending The Datai as a luxury beach getaway, and if you can come during a Chef Series, do it!
Have I convinced you? I hope so! The next three Chef Series are April 22-23 with Chef Azli Ahmad from Open House in KL, June 17-18 with Chef Raymond Tham from Beta & Skillet in KL, and 18-19 August with Chef Masashi Horiuchi from Entier in Kuala Lumpur.
Reasons to visit during The Chef Series: five-star service, Malaysia's top talented chefs, a culinary journey (not just a meal), gorgeous rainforest surroundings, produce from The Datai Garden.
The Datai Langkawi
Jalan Teluk Datai
07000 Pulau Langkawi
Kedah Darul Aman
Malaysia
For Reservations
+60 4 9500 500
[email protected]
Find more recommendations for travel to Langkawi here and stay up to date with the latest gourmet happenings in Malaysia here and here.