Luxury Villas Kuching
Monica Tindall
Embraced by Mount Santubong to the west and the South China Sea to the east, the new luxury villas at Cove 55 just outside Kuching are in a picture-perfect location. Their setting, minimalist design with a thread of tribal influence, alongside food and beverage innovating on local flavours, makes these lodgings a boutique and unique stay.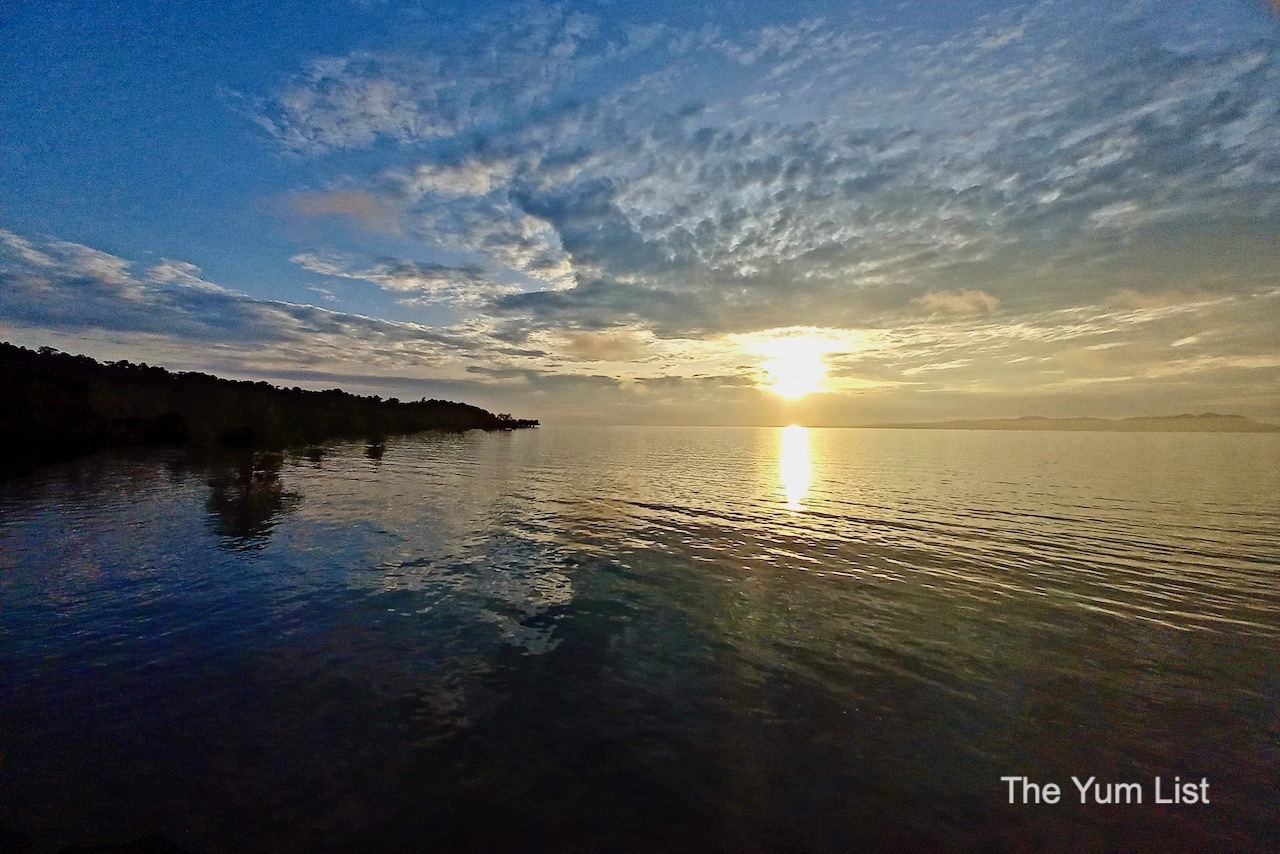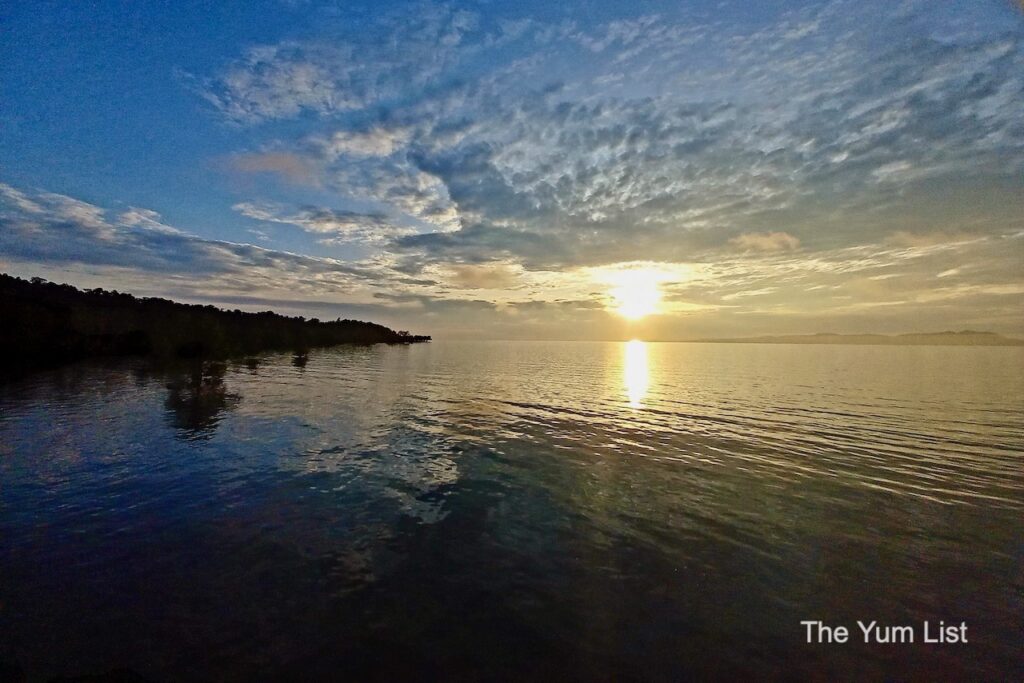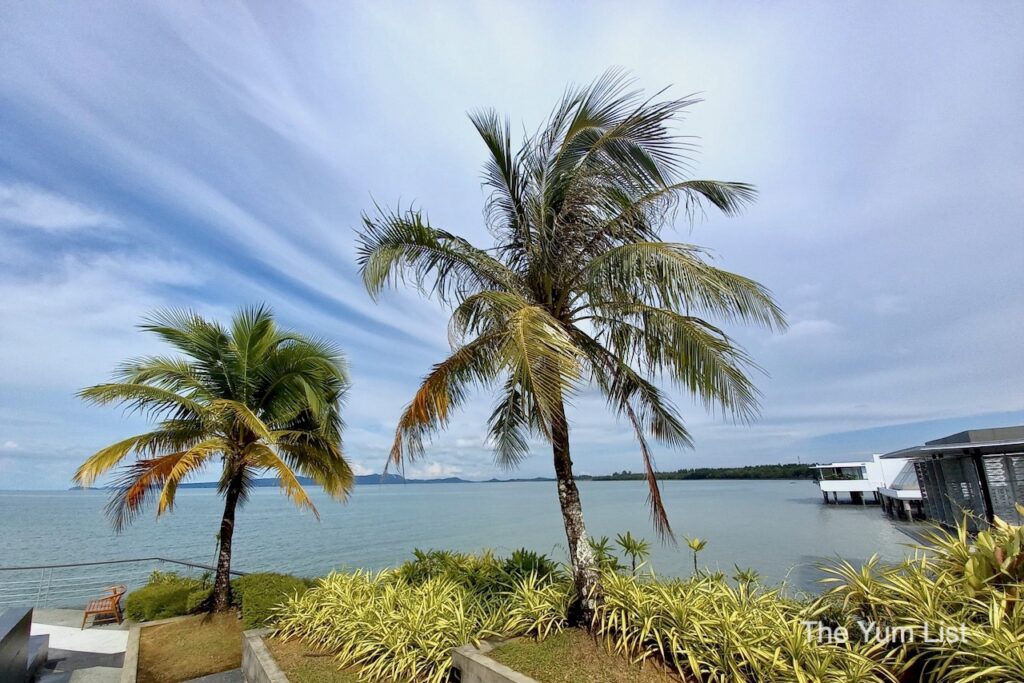 Cove 55
Cove 55 was initially built as a retreat for a local Iban family composed of 13 rooms, two suites and one villa. The property near Kuching has since grown to include 12 new luxury villas nestled in the mangroves and on stilts over the sea.
A 30-minute drive from Kuching airport, Cove 55 is found in the coastal town of Santubong. The latest collection of luxury villas celebrates the area's stunning natural beauty, with some villas nestled in the mangroves surrounded by greenery and others will private pools looking directly out to the sea.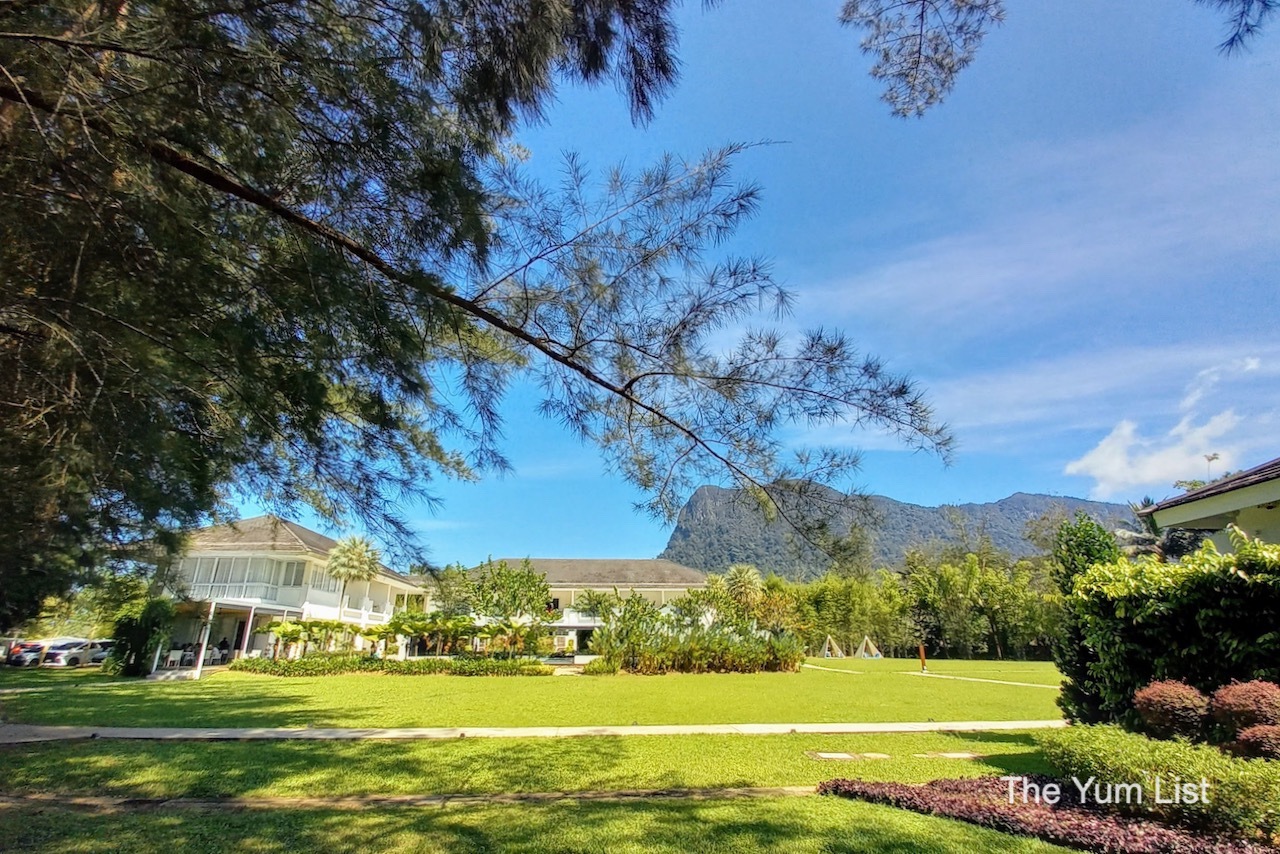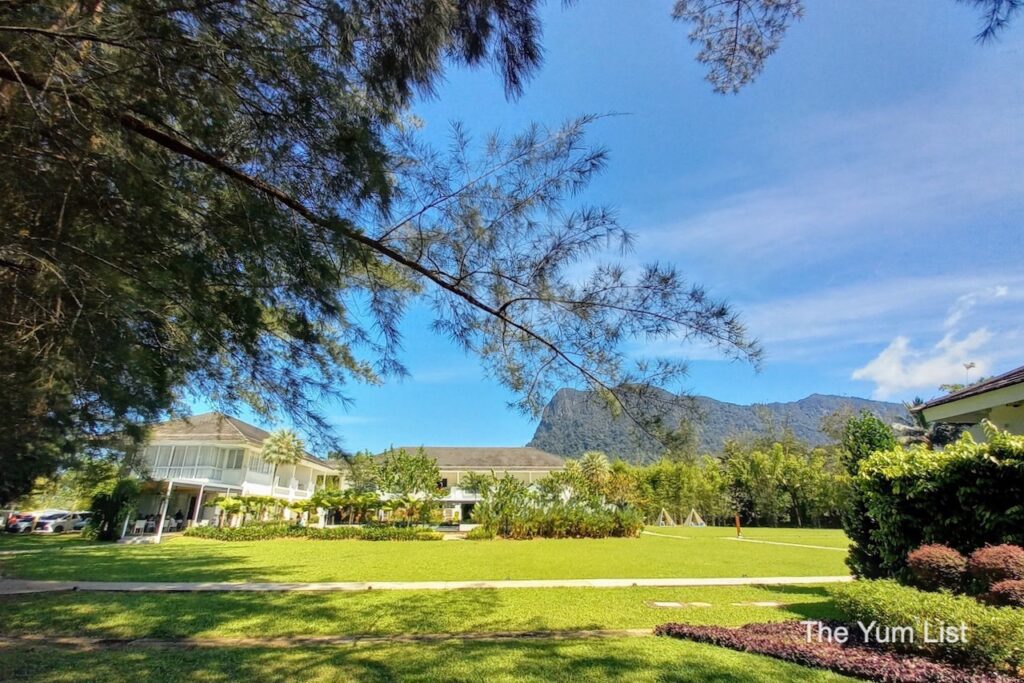 Luxury Villas Kuching
Accommodation is a combination of one and two bedrooms, with most affording the opportunity to book interconnecting rooms – great for families or groups of friends. Additionally, rooms can be made up with twin or king beds with the option of a fold-out sofa bed for a third person or small children. Beds are superbly snug, like cuddling in clouds, with their mattresses covered with a triple-layer soft top. I'm fortunate to enjoy both the Ocean Pool Villa and Mangrove Villa. Both are private retreats of serenity, stylishly fashioned to offer the peace of streamlined design with elements of local Iban culture providing interest.
Floor-to-ceiling sliding doors open up to spacious verandas and either a private pool and the sea or lush greenery of the mangroves beyond. All are furnished with a smart TV, espresso machine, large sunken bathtub and dual vanities. The bath towels are so soft and fluffy, and I think the body wash is scented with citronella, a great insect deterrent. Netflix and YouTube stream on the TV, and for the somewhat remote location, I'm surprised at the speed of the connection.
The room amenities are packaged in recycled cardboard, and shampoo and soap come as refillable pumps. The Cove 55 team is planning to also switch out single-use plastic water bottles for refillable glass instead. Furthermore, a complimentary welcome platter comprises native fruit and Sarawak chocolate.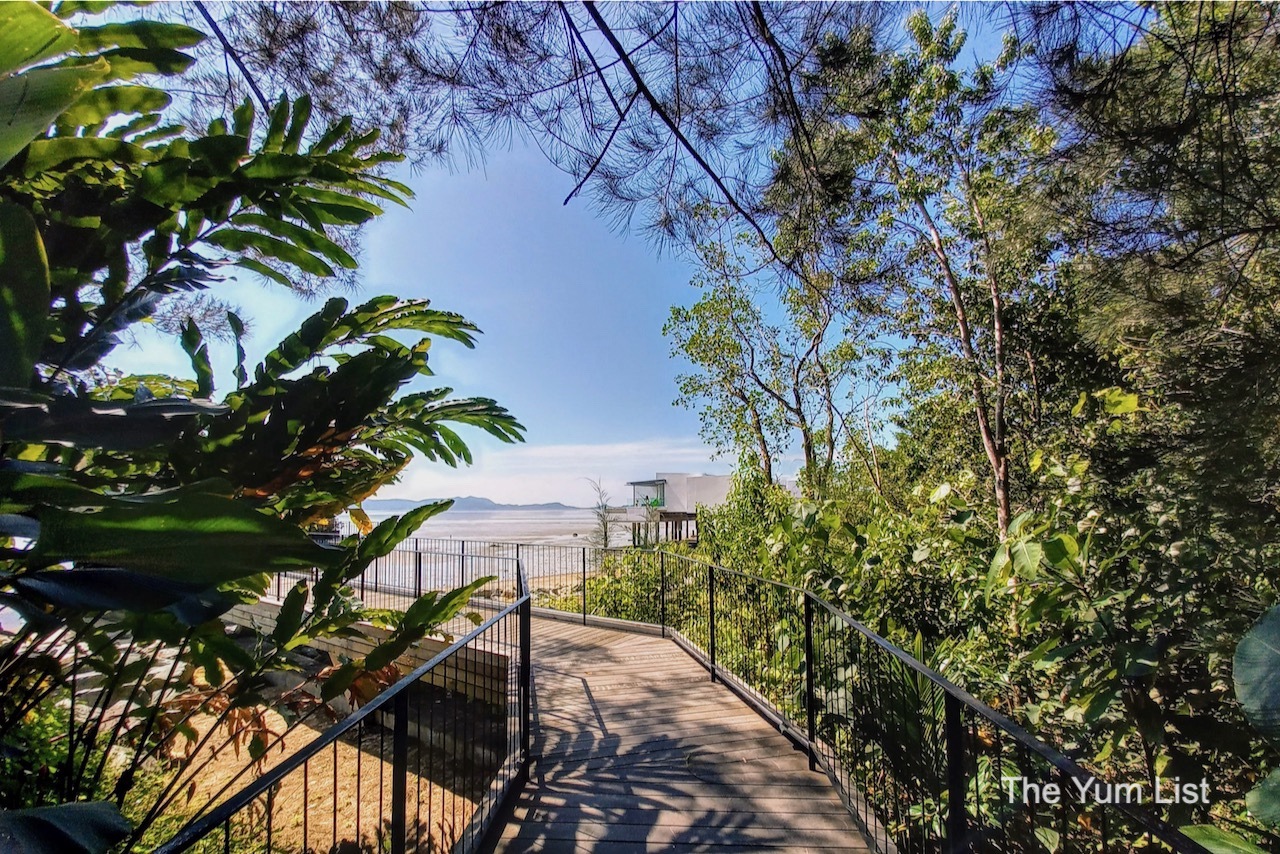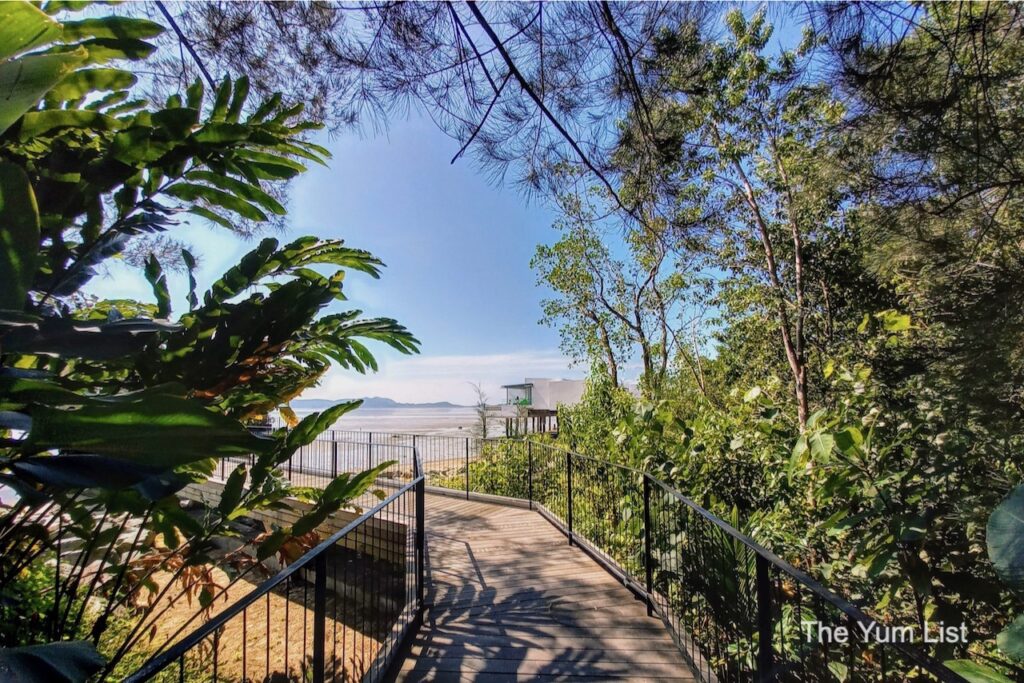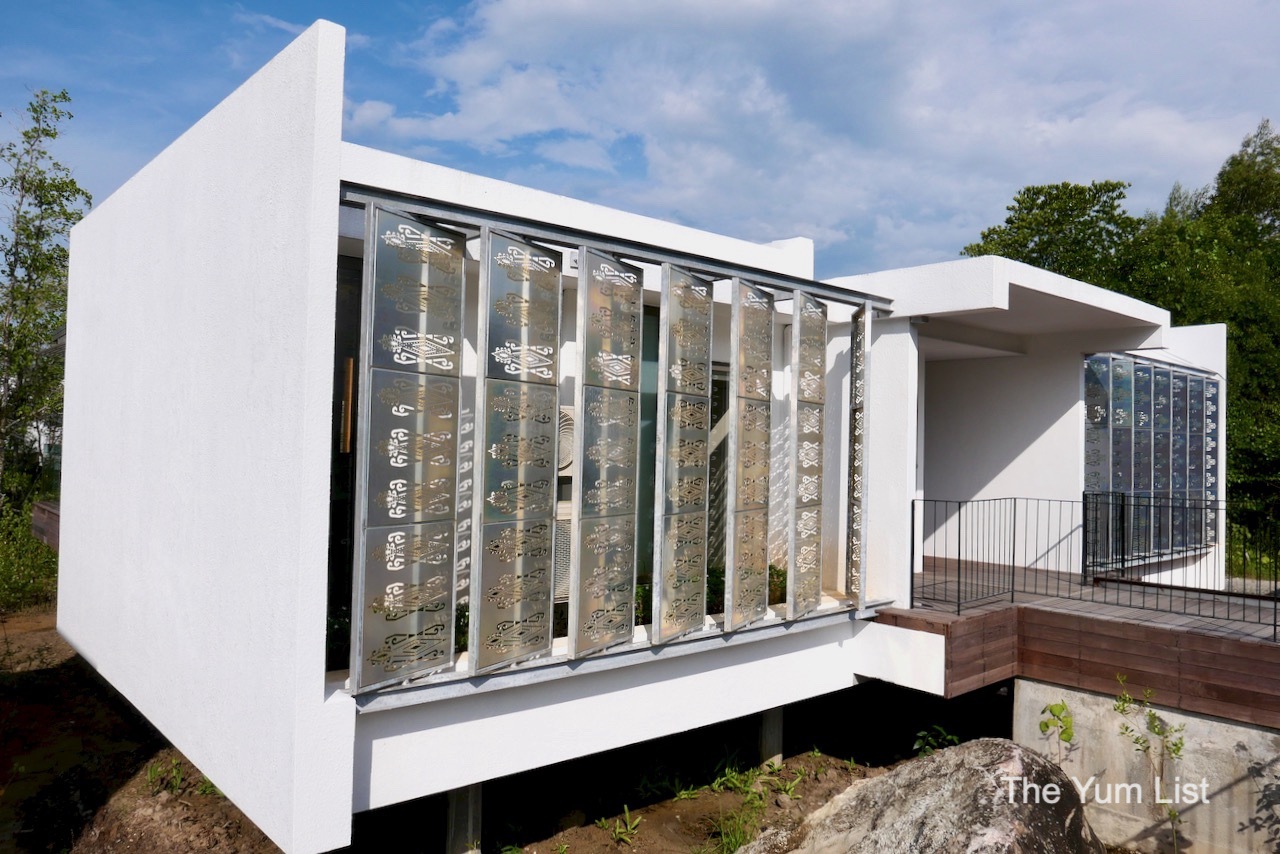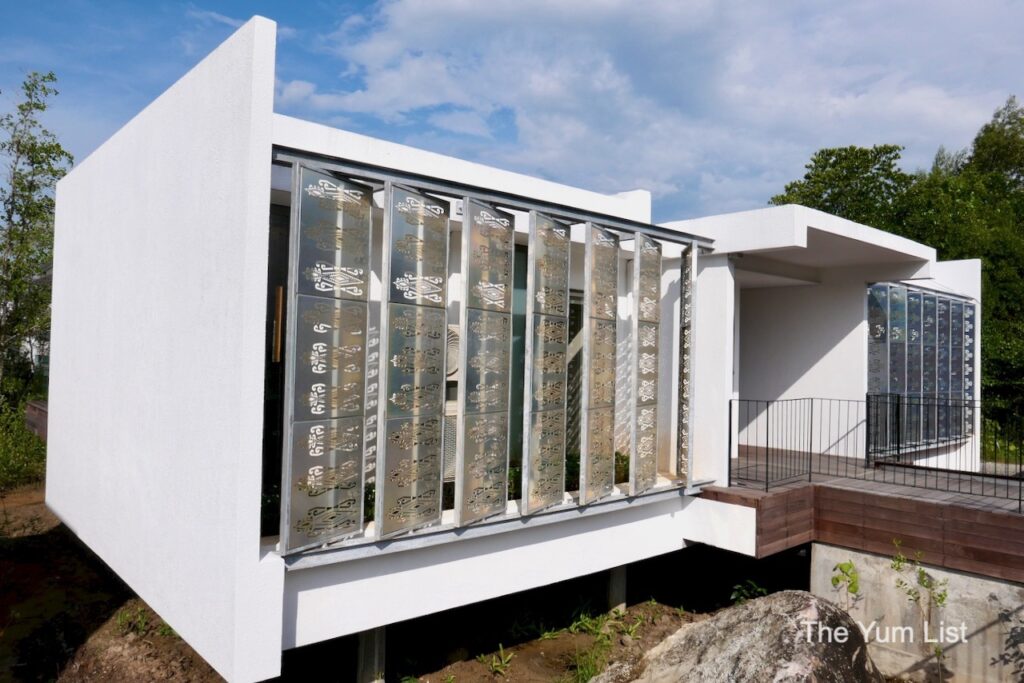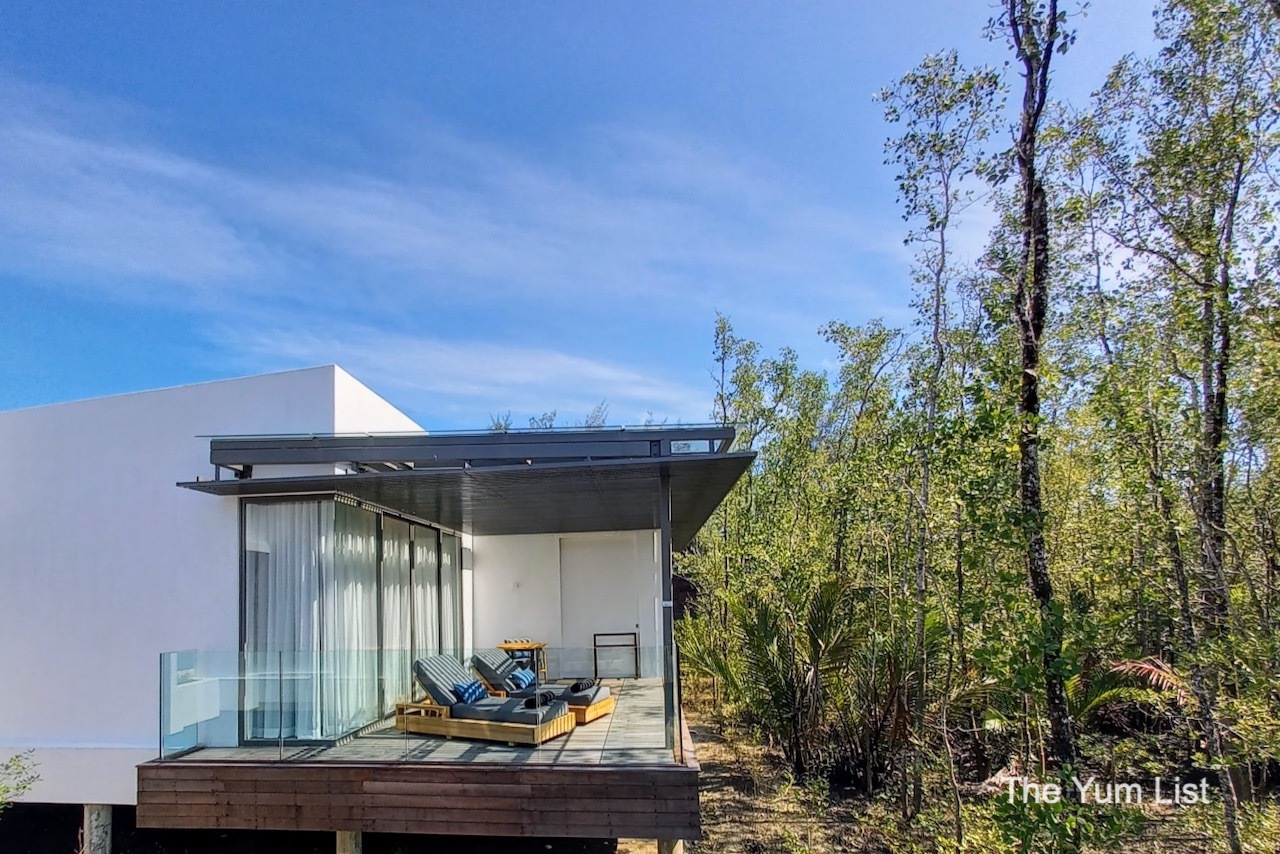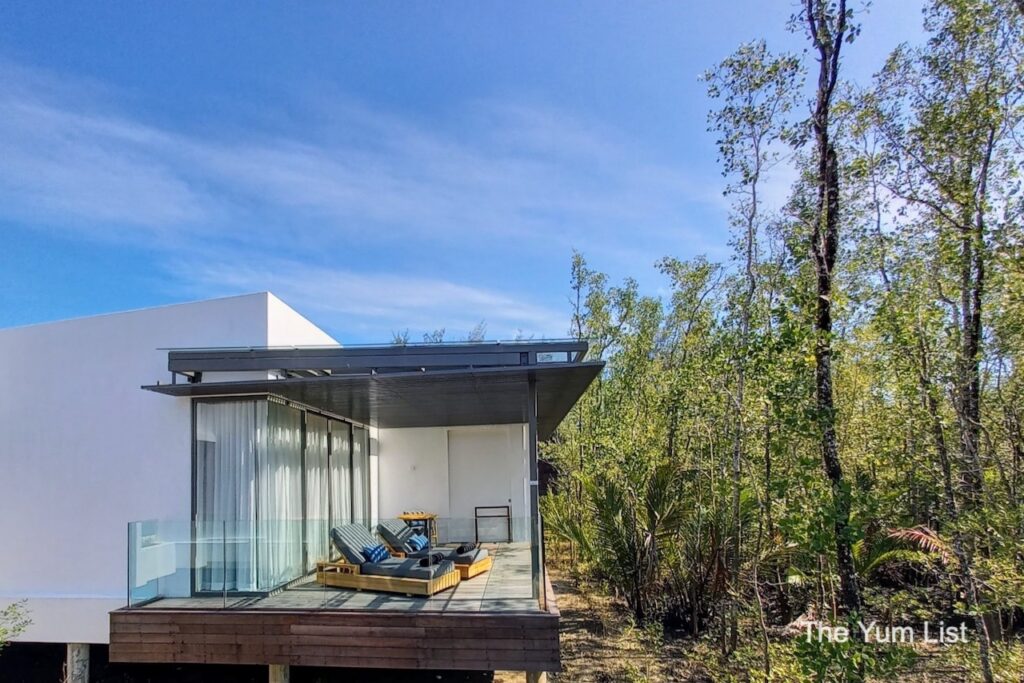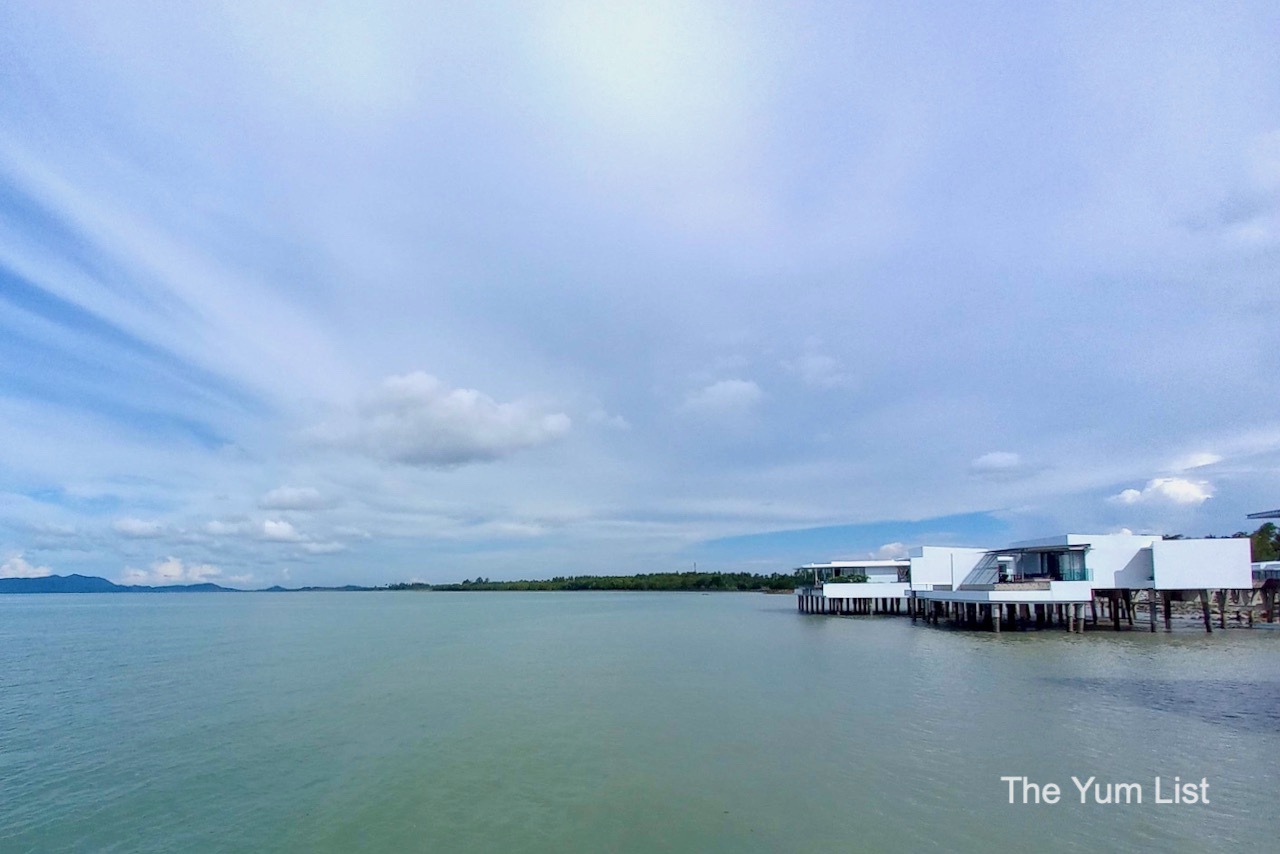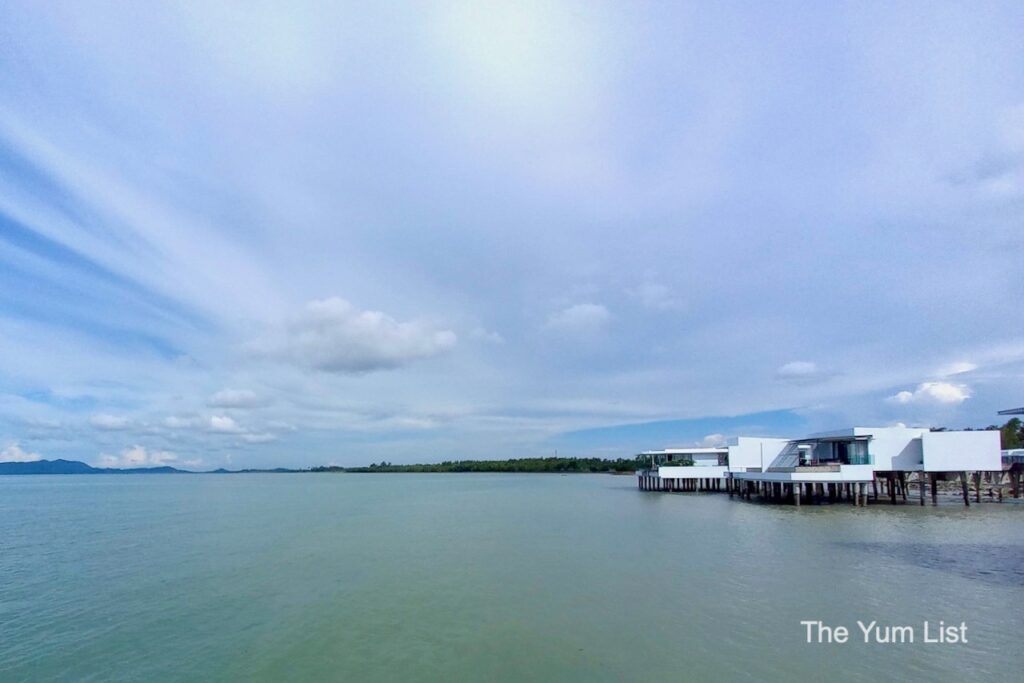 Celebrating Iban Heritage
Each room is given a name rather than a number, representing Iban beads, jungle produce or fish endemic to the nearby waters. Note also the laundry basket and beach bags provided in-room. They're woven by members of PENAN, an aboriginal semi-nomadic tribe of the Borneo Rainforest. You can further support the endurance of their craft by purchasing their wares from the hotel reception.
Besides the Iban's fearsome reputation as head hunters and sea pirates, they are also skilled artisans. This is seen in the rich culture of intricate body tattooing, wood carving and weaving. The traditional woven cloth, Pua Kumbu, is central to the tribe's culture in special events and ceremonies. It's also widely used as decoration, and we see reflections of this in the room and around the property in motifs on bed boards and walls.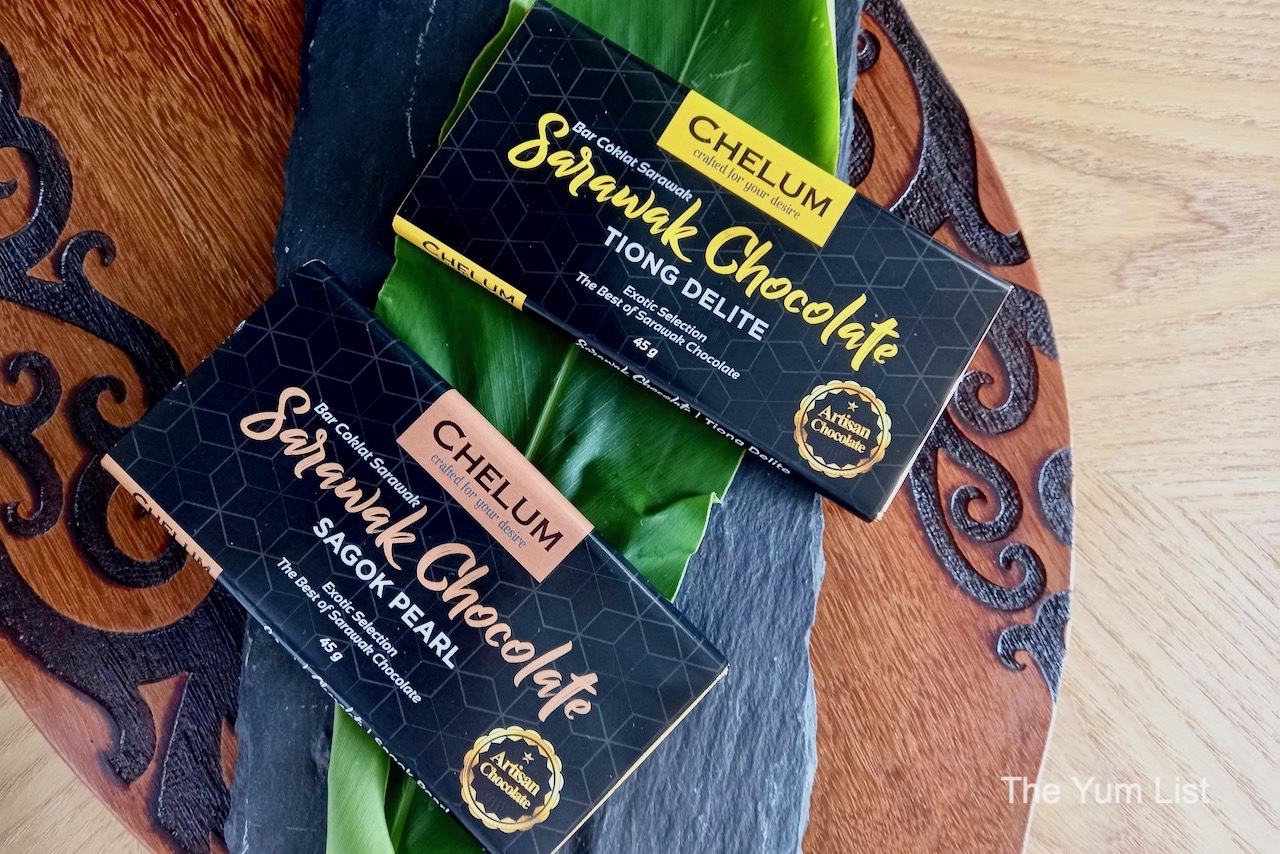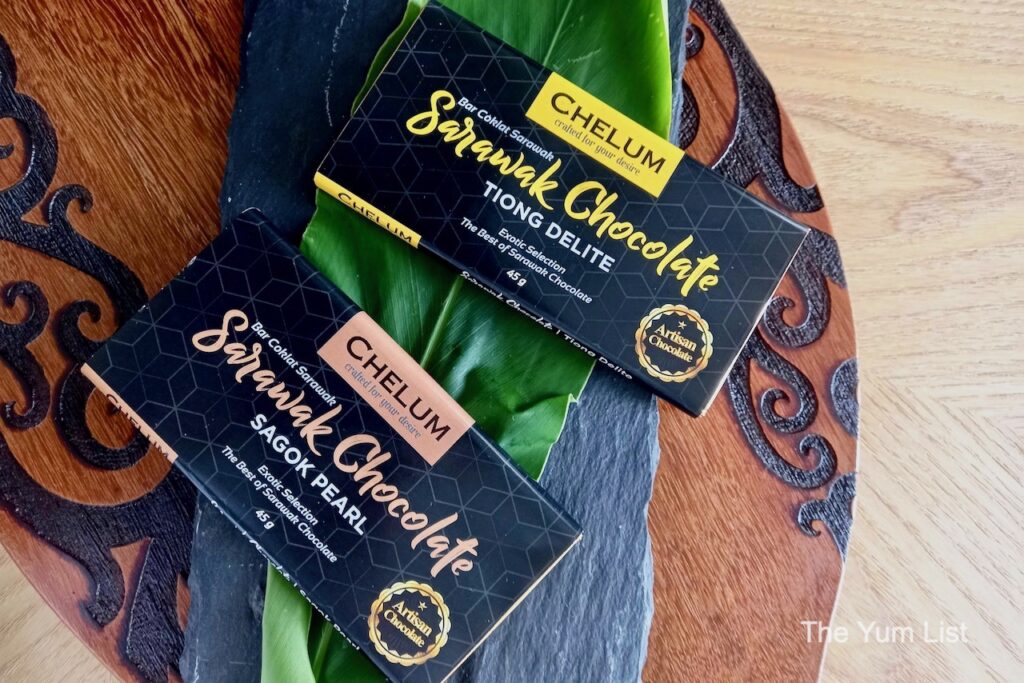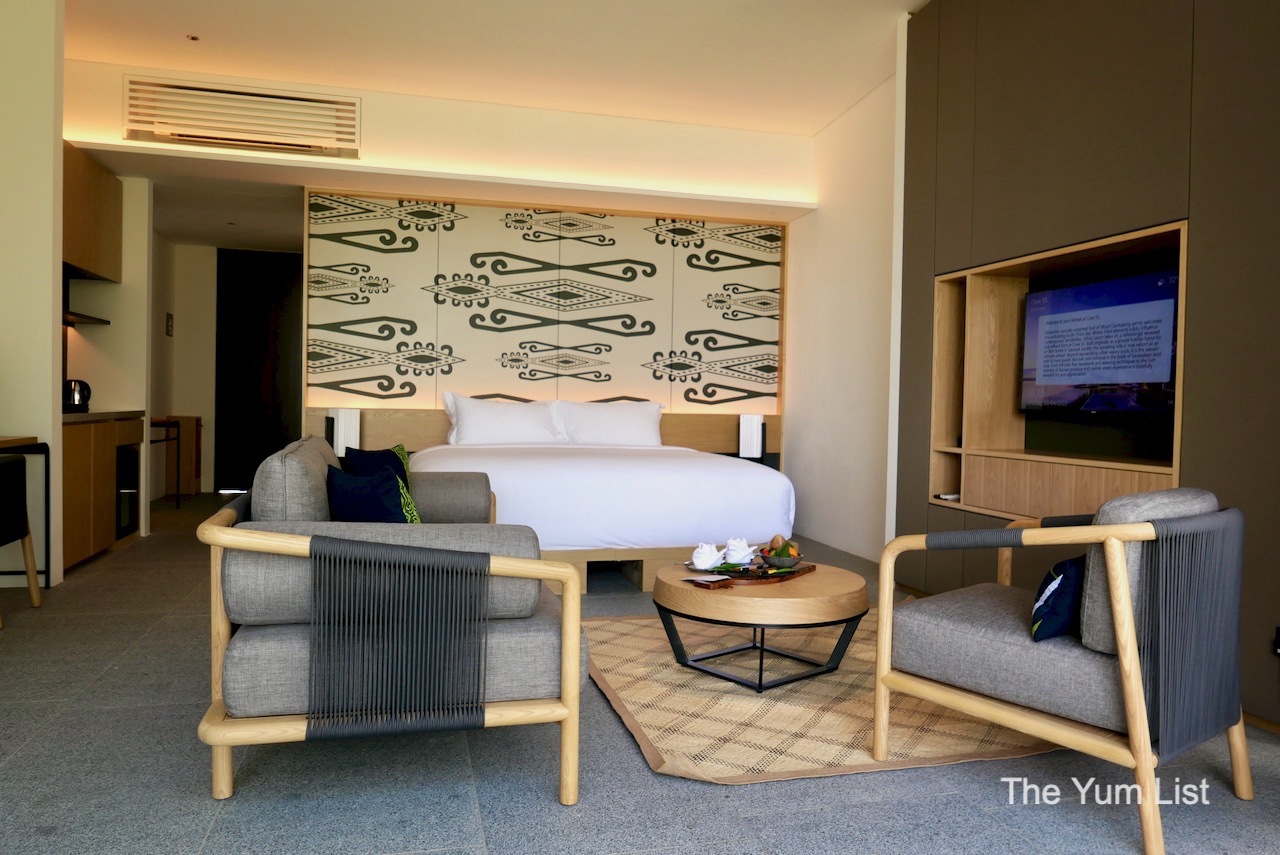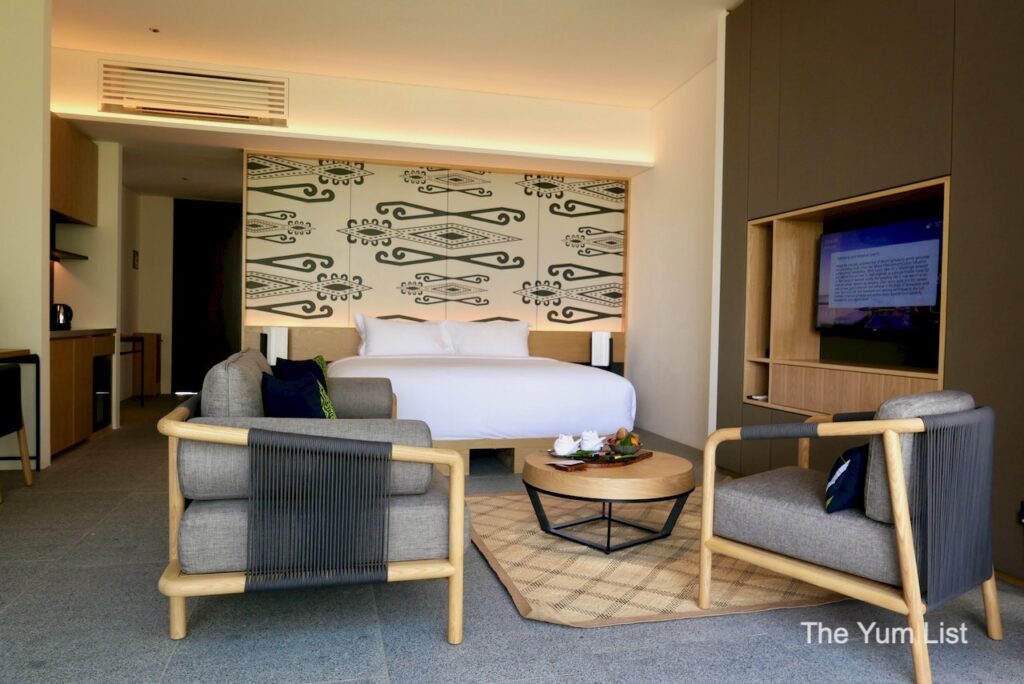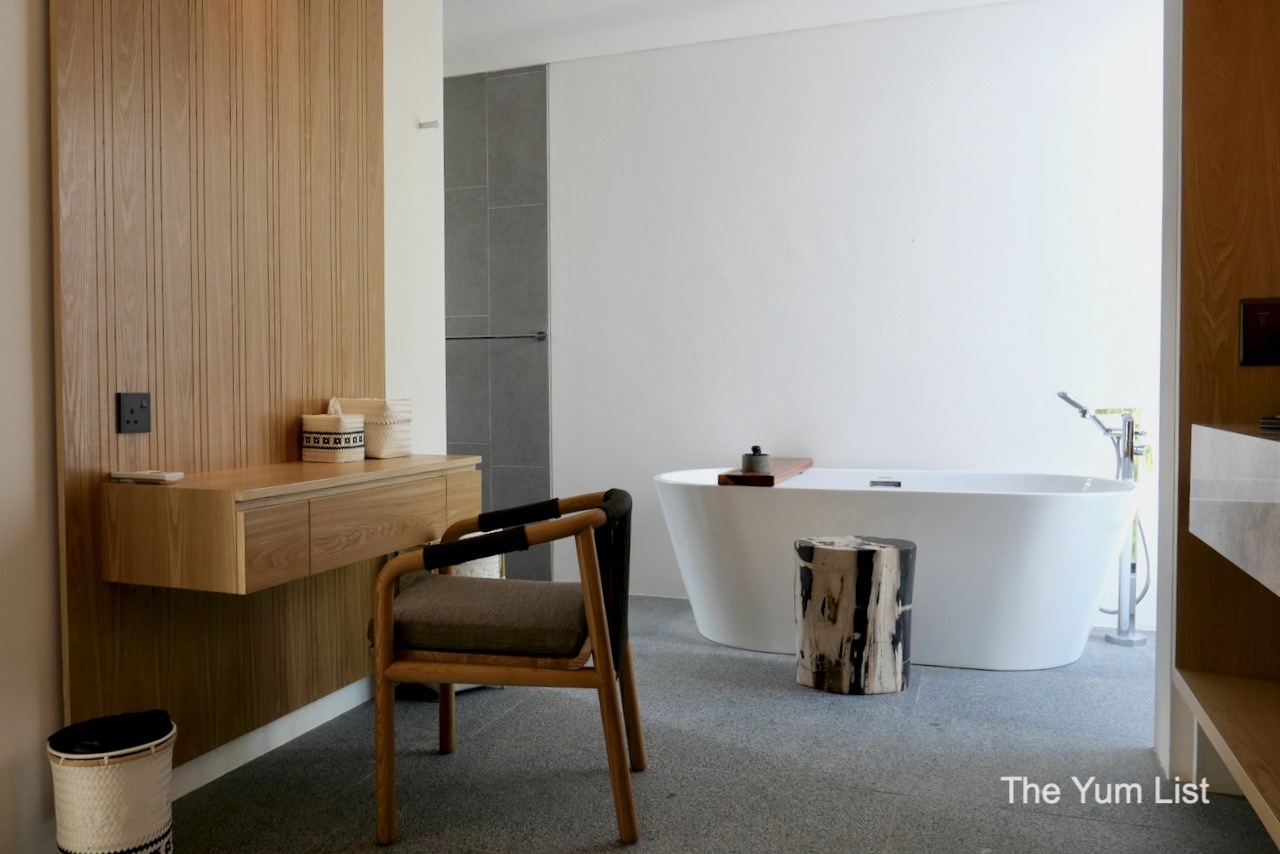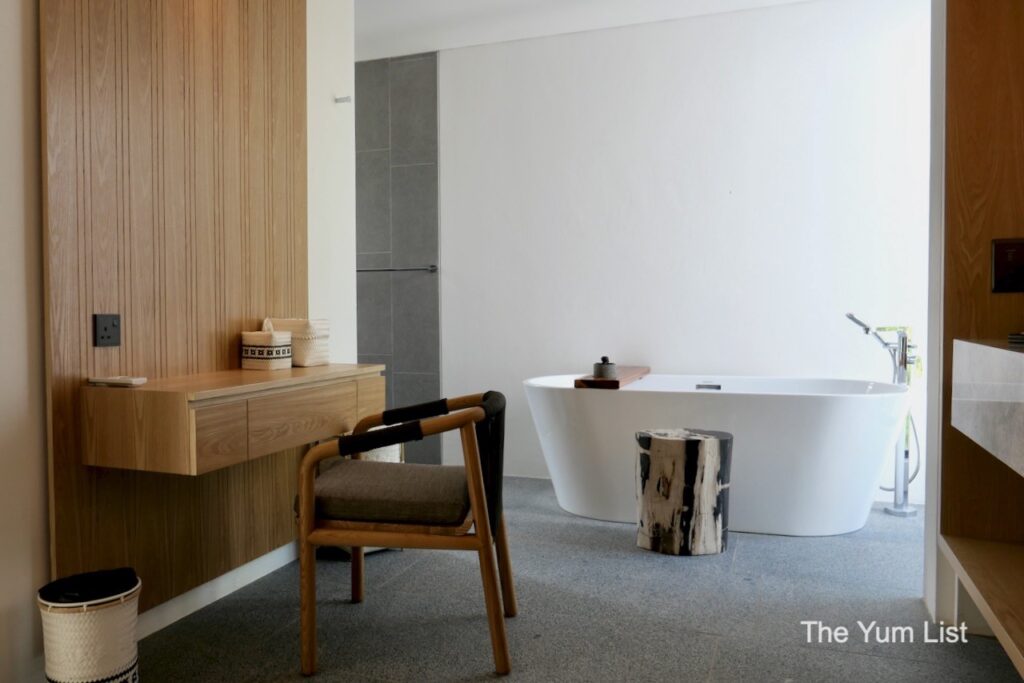 Food & Beverage
Cove 55's luxury villas in Kuching are serviced by the property's in-house restaurant and bar, Kechala. Both the food and the drinks menu focus on using local ingredients in modern recipes. Take a closer look at Kechala restaurant here, and dive deeper into the fantastic craft cocktail menu here. I highly recommend spending an afternoon on the sea deck by the pool and getting to know house mixologist Keppel over a few of his innovative creations.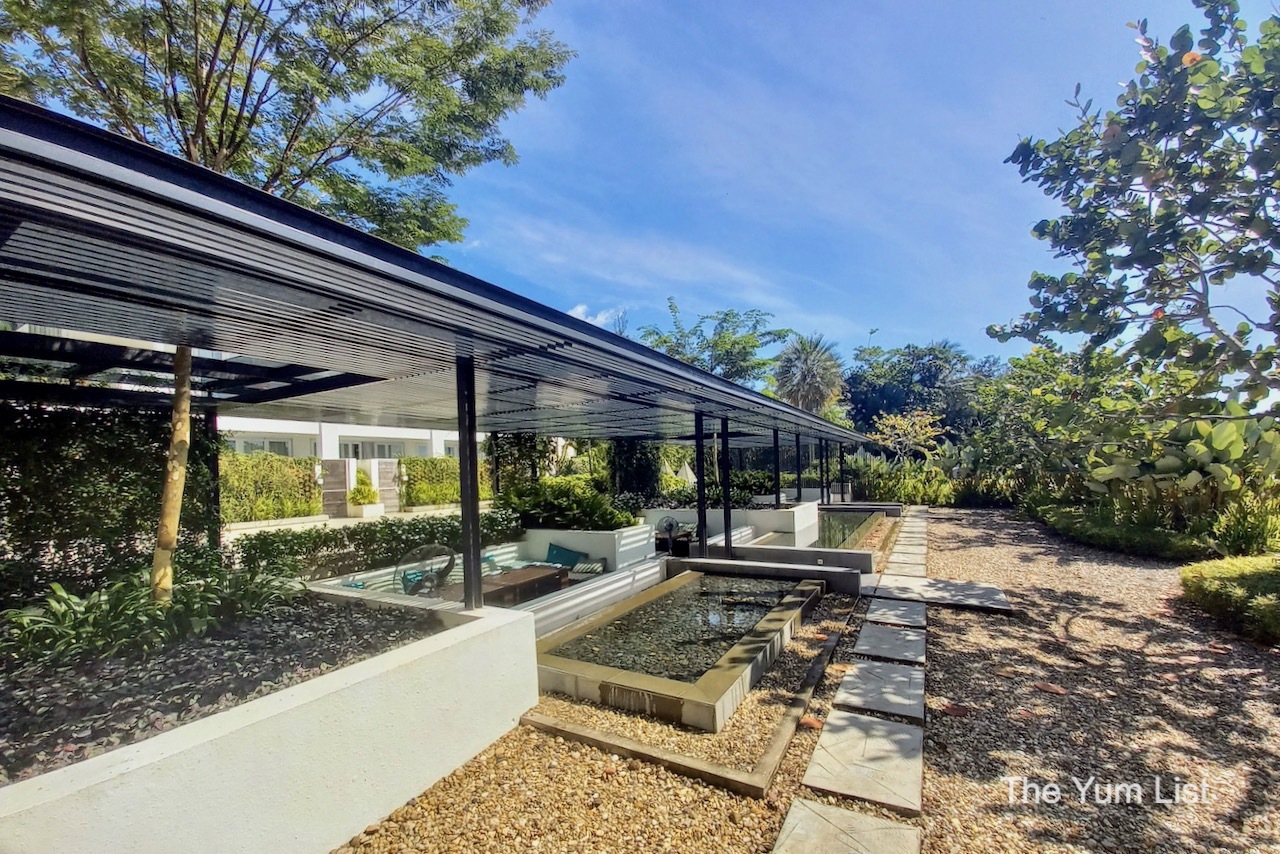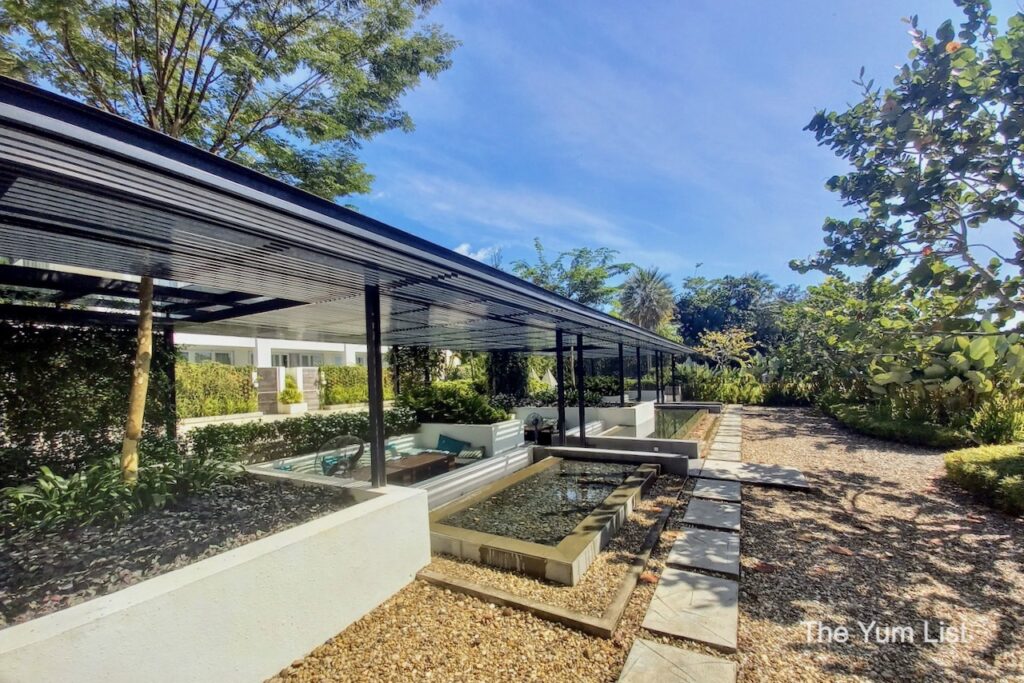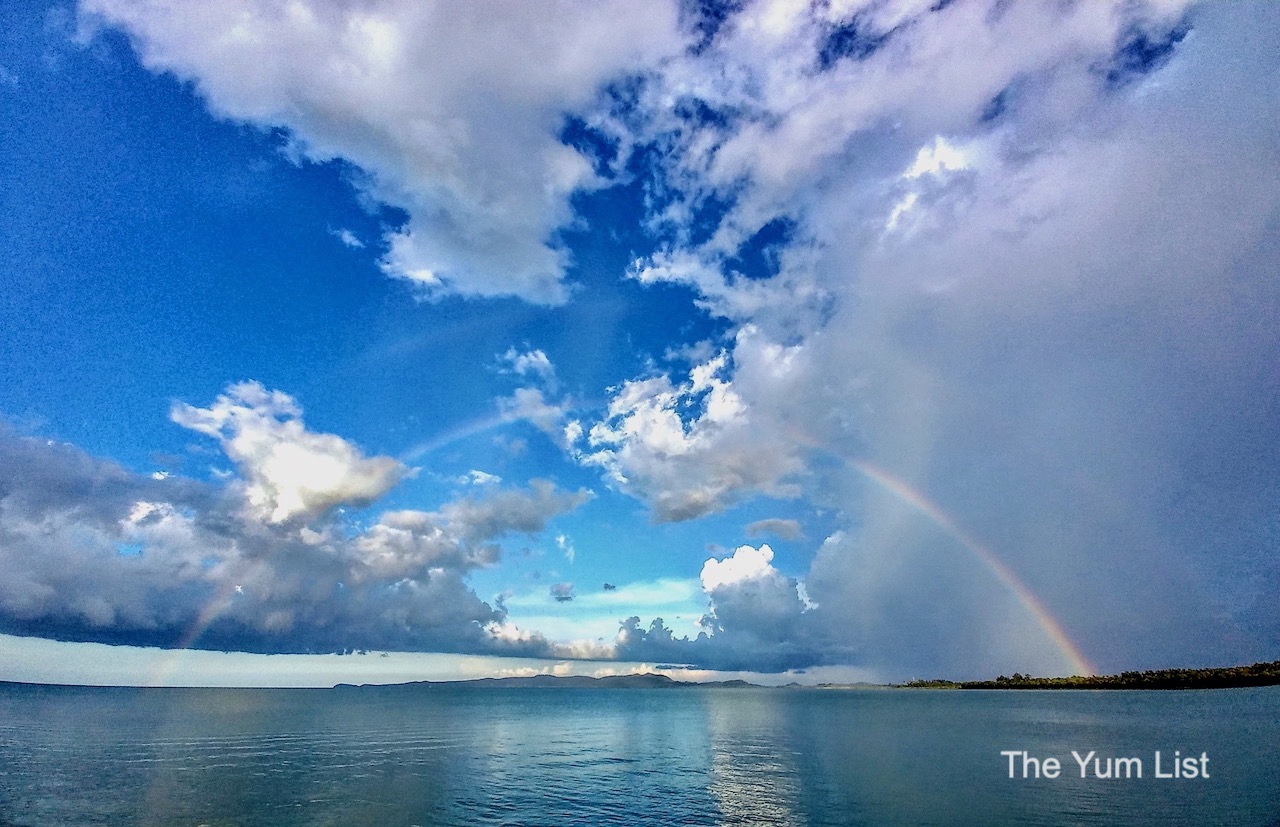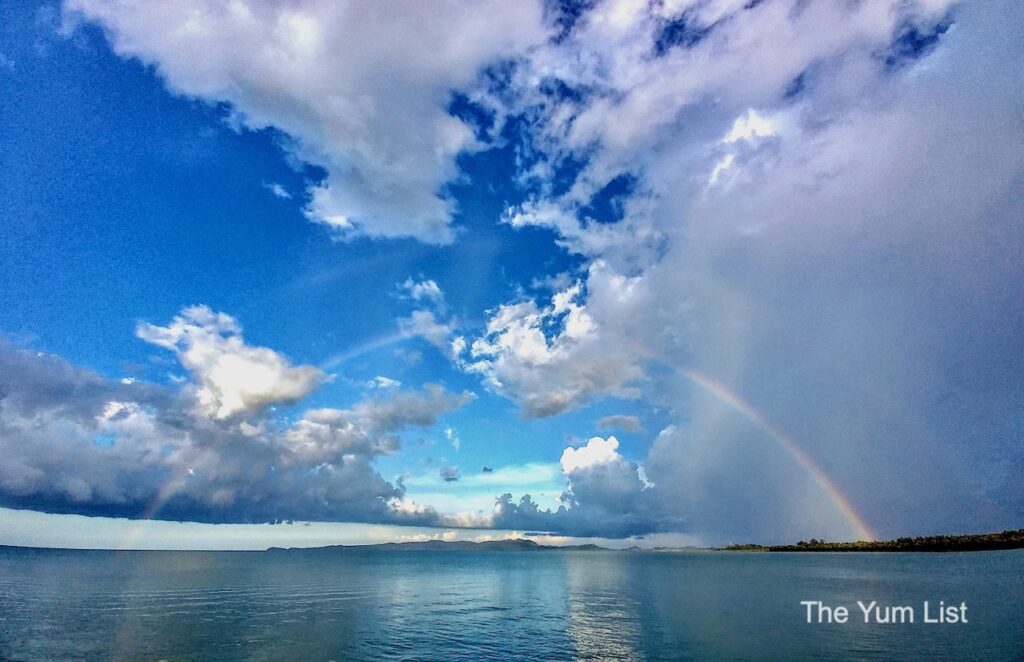 Facilities
On top of beautifully landscaped gardens and a lawn that makes even grown adults want to run or throw a ball, Cove 55 houses a gym, yoga pavilion and incredible infinity pool. Even if you choose to stay in one of the luxury villas with a private pool, the temptation of the 25-metre long sea deck sided by a tropical cocktail bar is almost irresistible. The large pool drops down to the sea in the east, the mangroves to either side and the grand Mount Santubong behind.
Also benefitting from the next-door-neighbour location, the yoga pavilion is a beautiful place to launch your day at sunrise or conclude it as the sun sets. I imagine it could make an equally fabulous function room for a small event in the late afternoon or evening. Further adding to the wellness aspect of the resort, a spacious gym equipped with cardio and strength machines, as well as free weights, is positioned to provide inspiring views of the sea.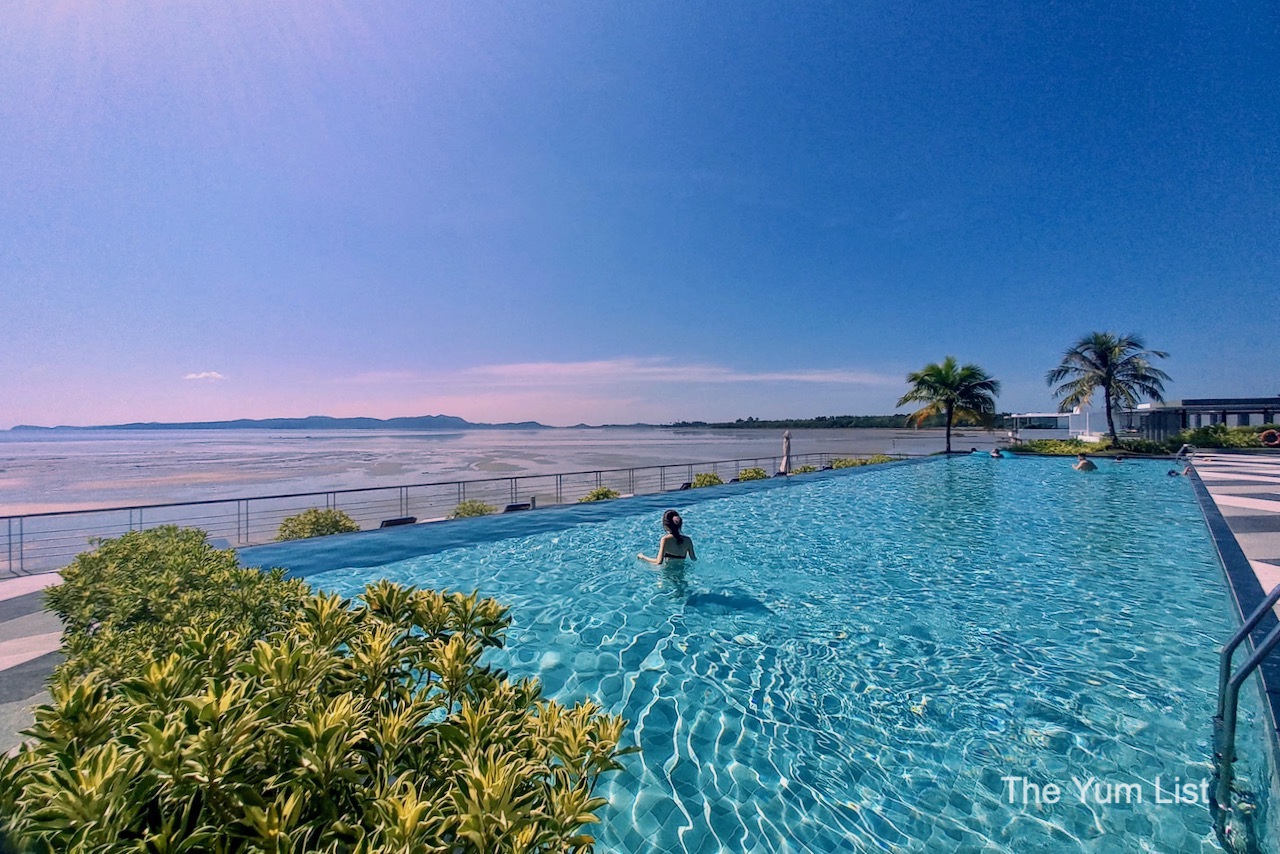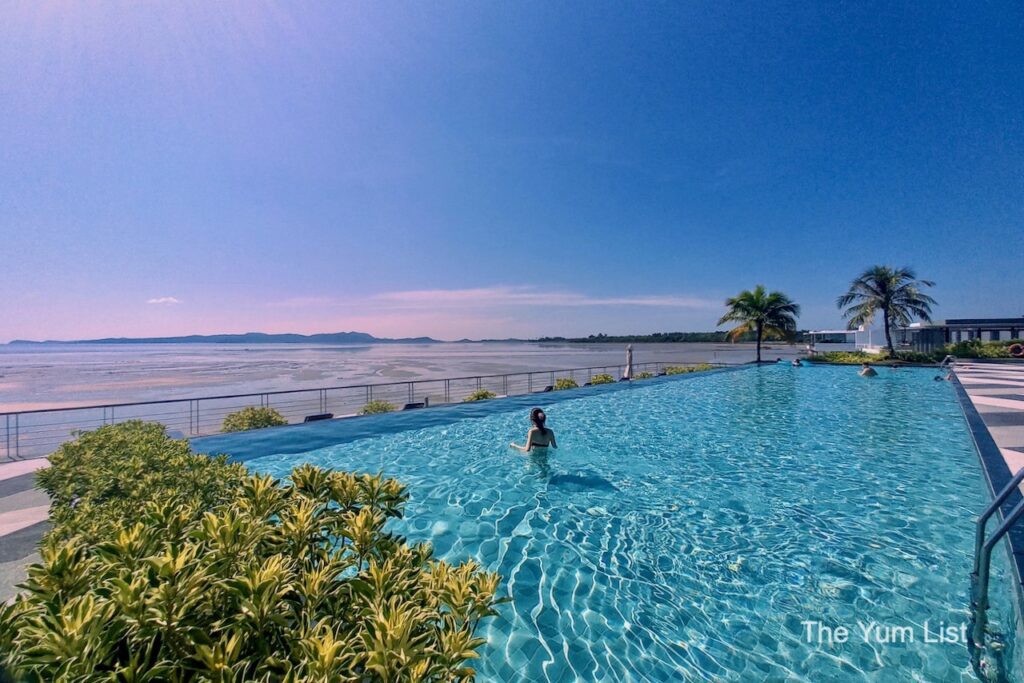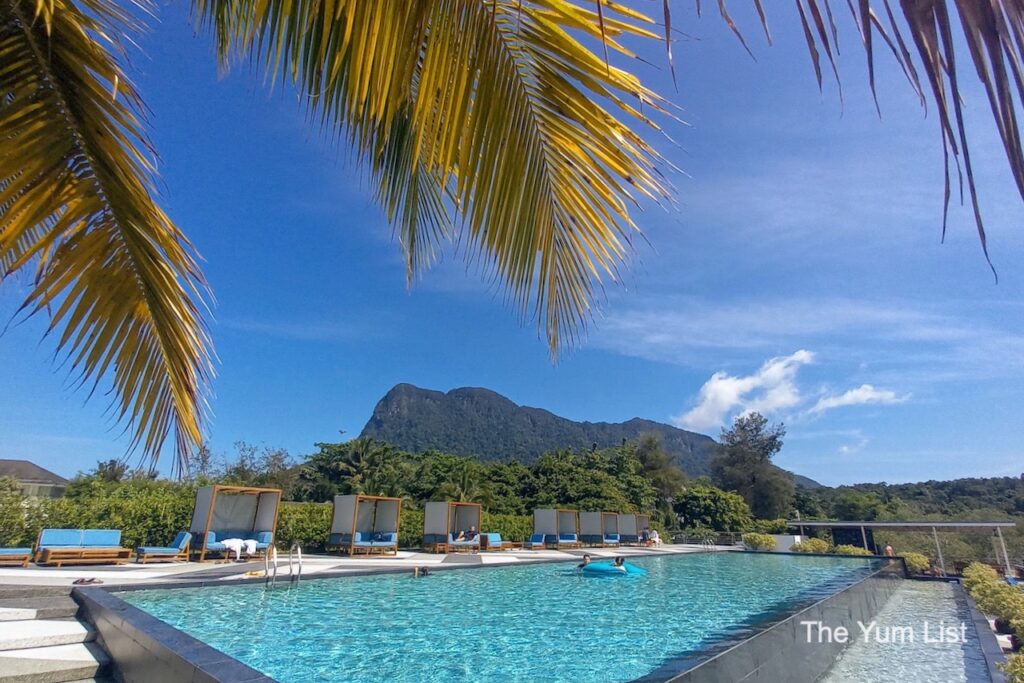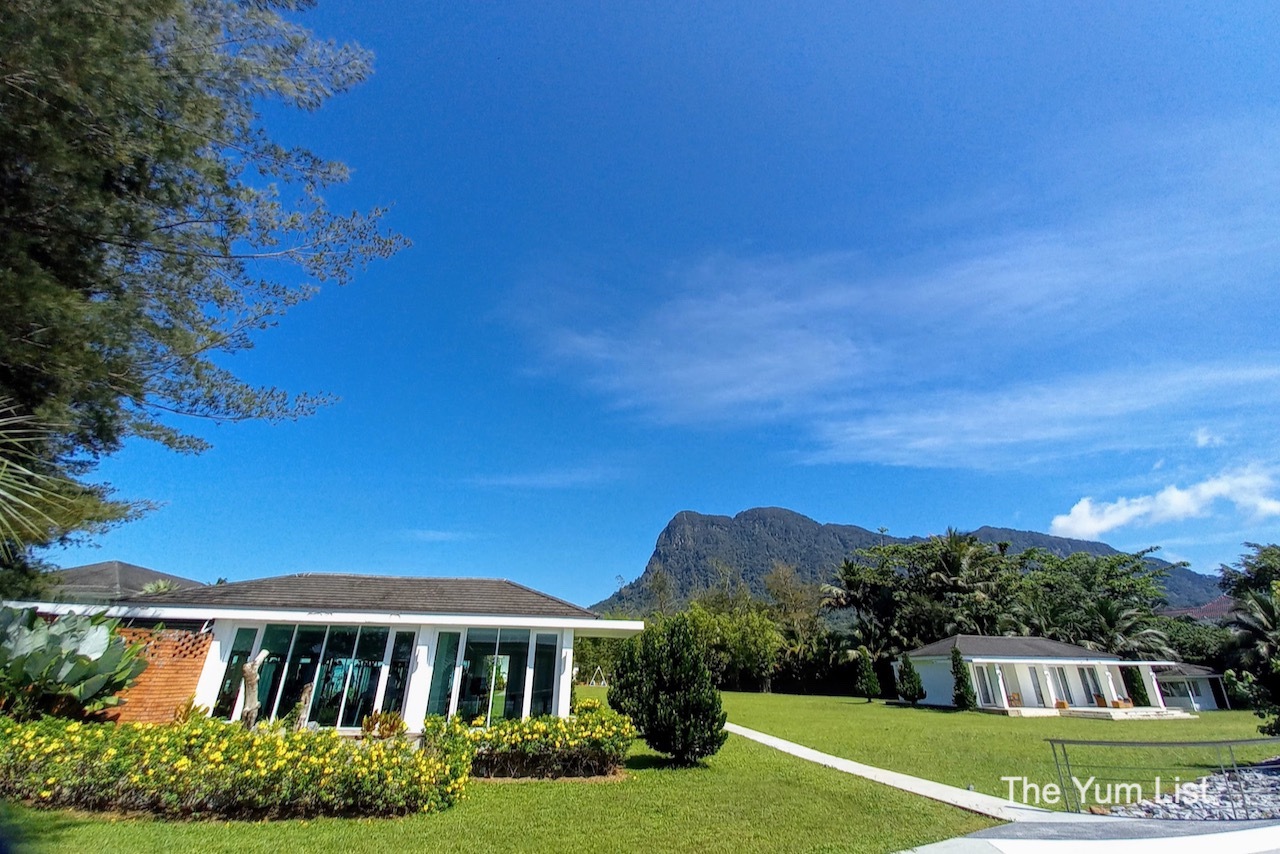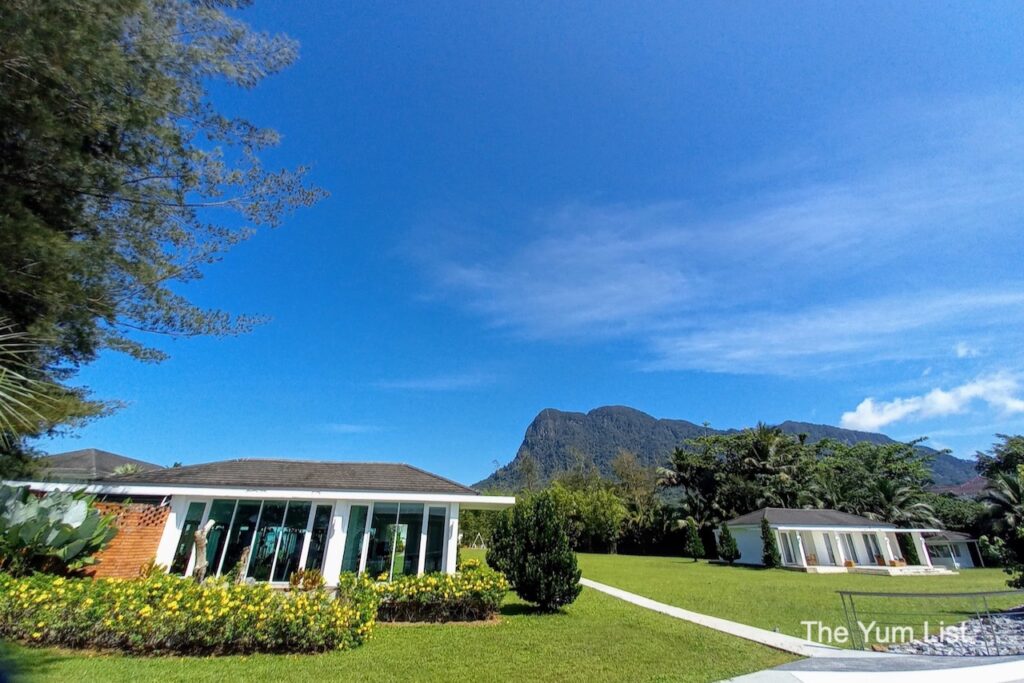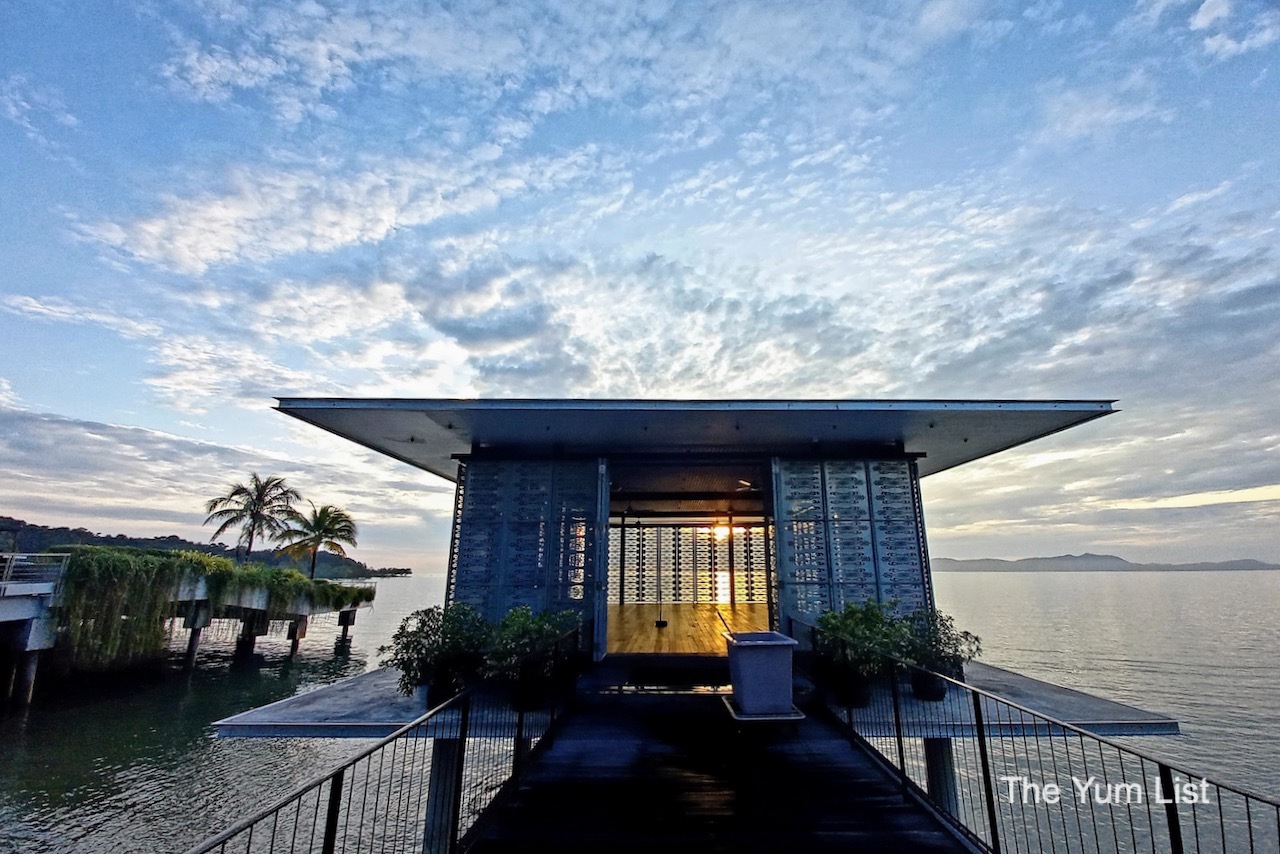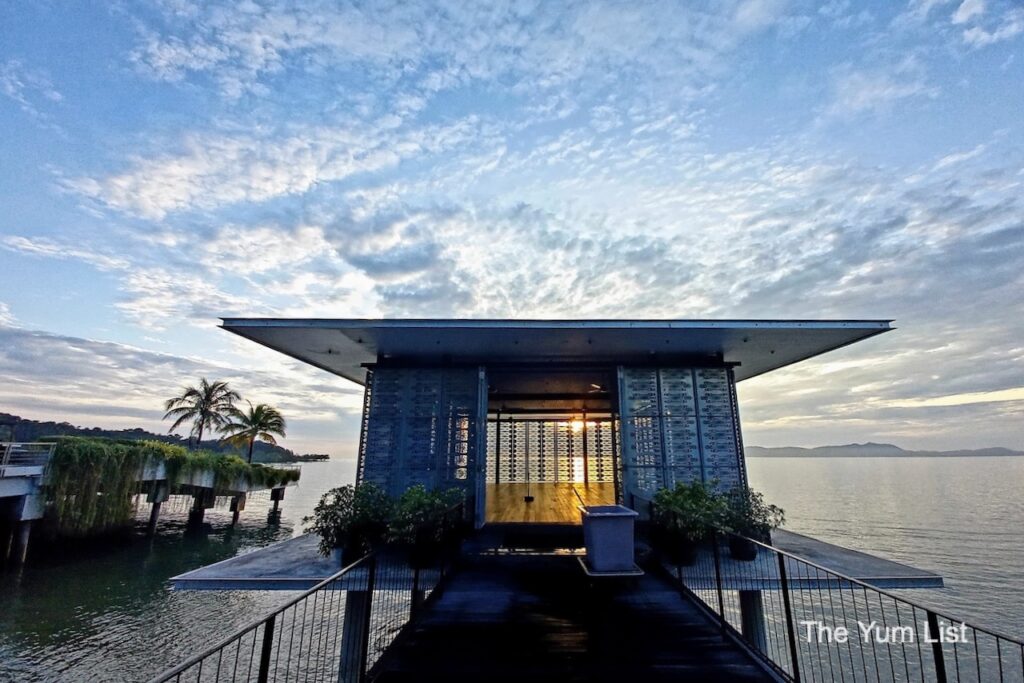 Luxury Villas Kuching – Cove 55
I'm sure living so many years in the city centre has made me near-sighted. With the view blocked by tower upon tower, there's never any chance to increase my range of vision. At Cove 55, I feel that I just can't stop gazing. Admiring greenery, the sea, the mountain but also just increasing my field of vision with nothing to obstruct it until the sea sinks down to the horizon. An eagle circles above, a kingfisher laughs, and the tide flows in and out, revealing diverse life with each rise and fall. Life is abundant here, and it makes me grateful for how full my own is, as well as the chance to slow down and appreciate it at Cove 55.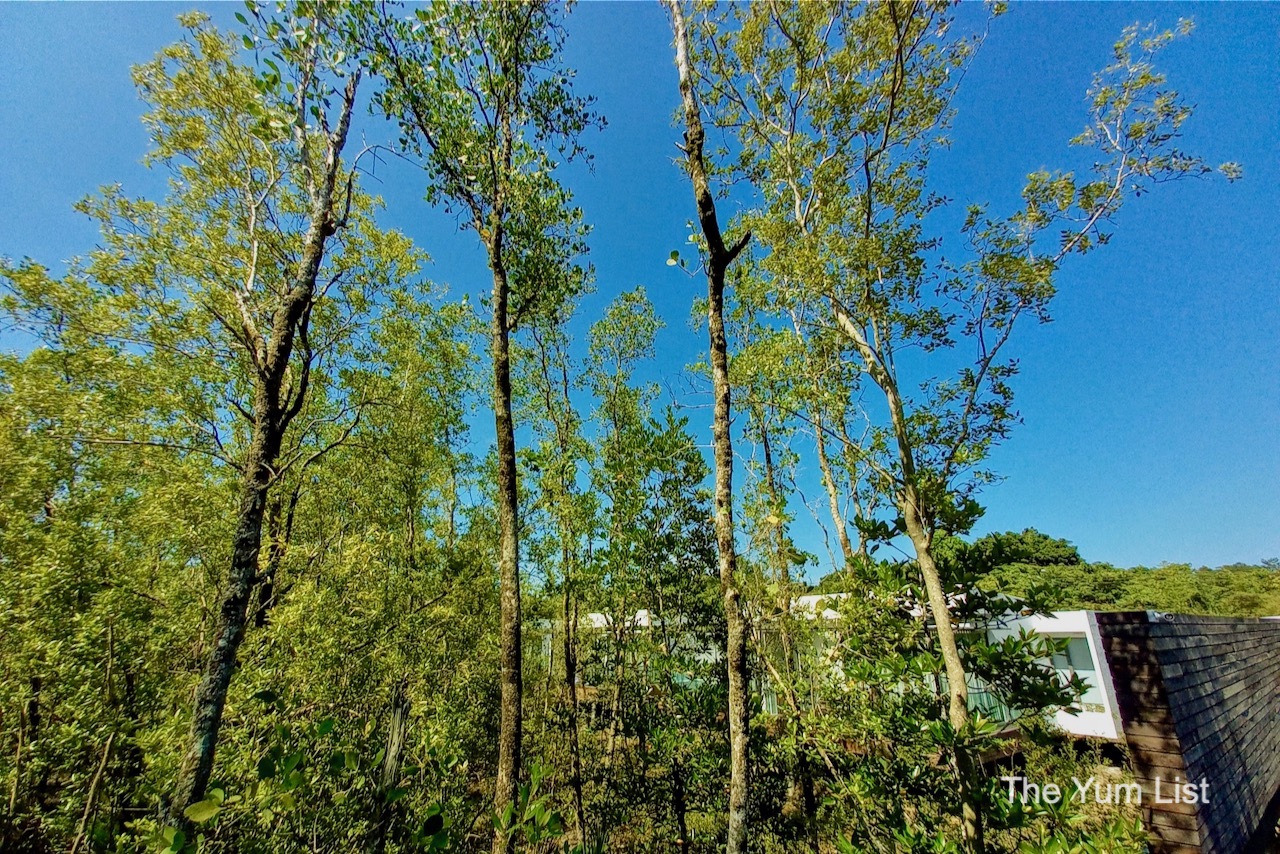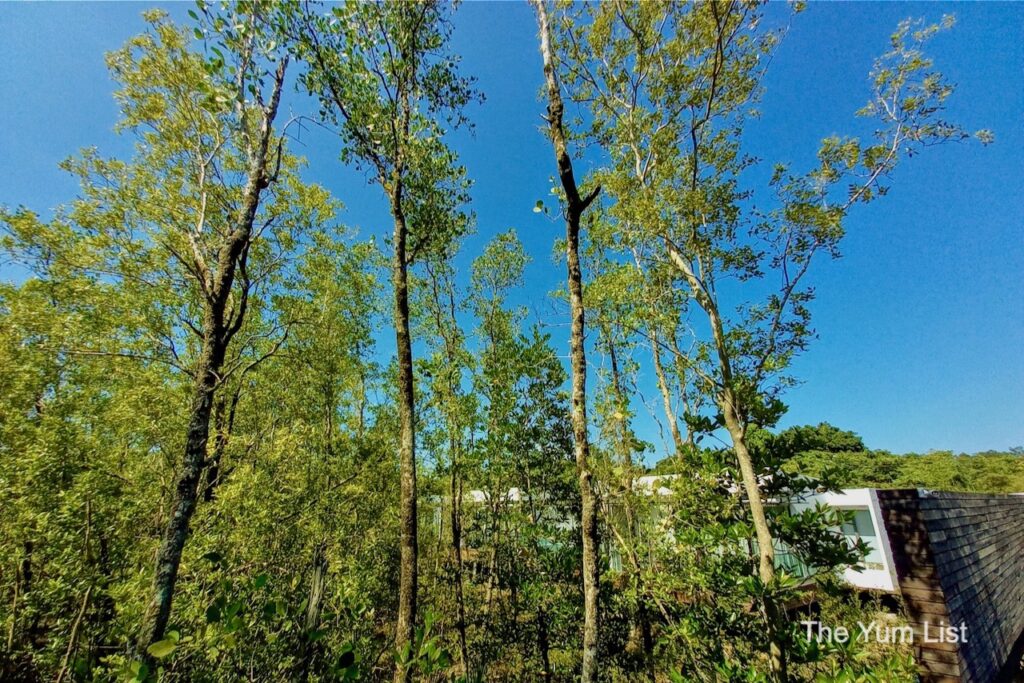 Reasons to visit the new luxury villas at Cove 55: boutique accommodation in a beautiful environment; quiet, luxurious nature retreat only 30 minutes from Kuching; lovely ocean and mangrove views; pretty grounds; fantastic infinity pool; excellent craft cocktails; friendly and genuinely kind and caring staff.
Luxury Villas Kuching at Cove 55
93010 Kuching, Sarawak
+6 082 846 068
[email protected]
www.facebook.com/cove55
Find more recommendations for Sarawak here and stay up-to-date on the latest gourmet and travel happenings around Malaysia here and here.