W Singapore – Sentosa Cove
Monica Tindall
Chic contemporary design, popular culture and fun are at the core of W Singapore – Sentosa Cove's philosophy. This creates vibrant spaces and hip experiences that inspire an upbeat vibe and a guaranteed good time. Couple that with exceptional service, upscale facilities and a premium location, and you have one of Singapore's hottest addresses.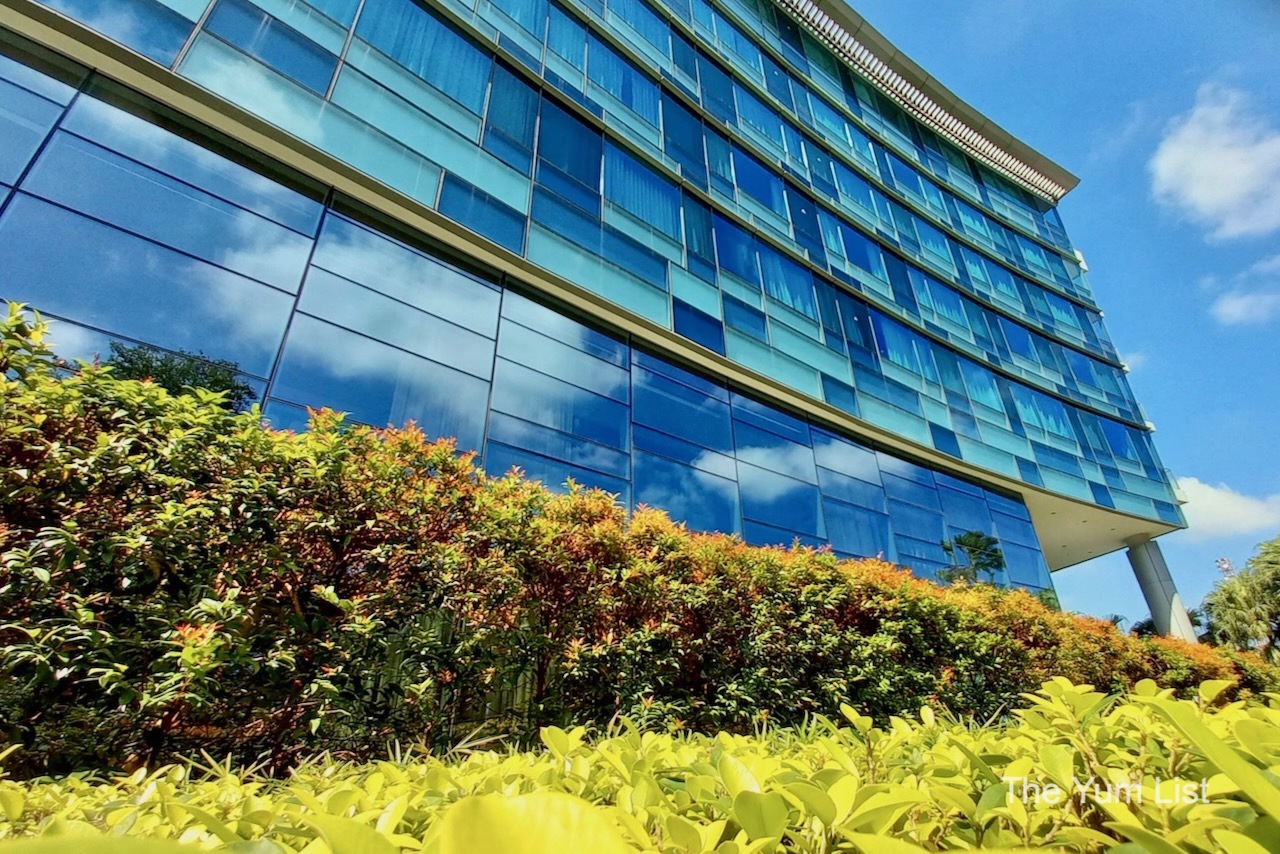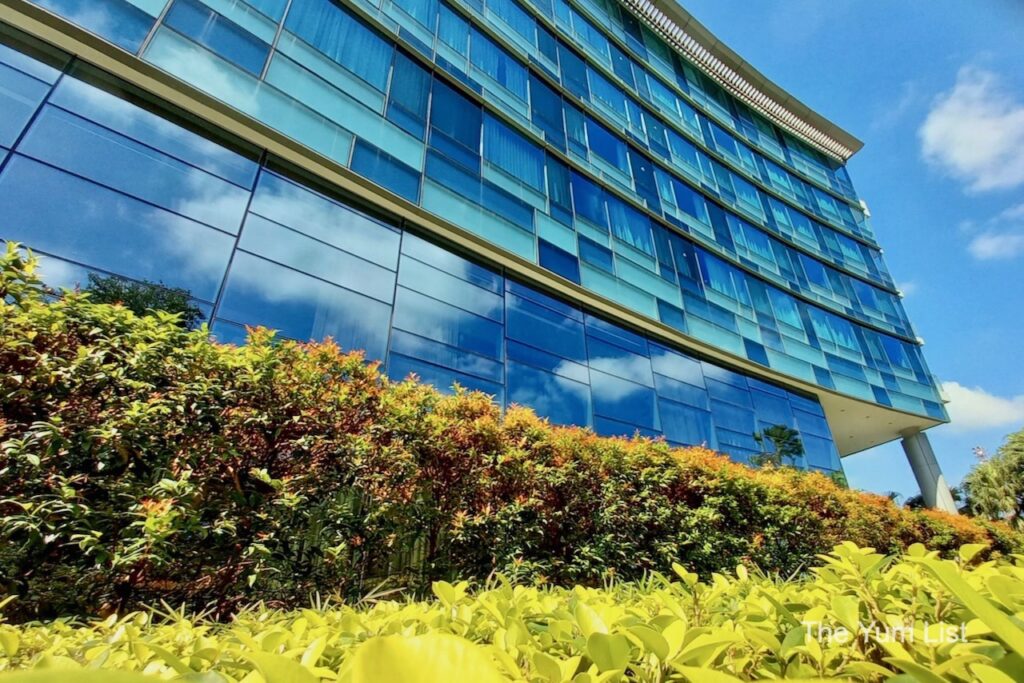 W Singapore – Sentosa Cove
This is our first weekend in Singapore since pre-pandemic. Popping down from KL on the one-hour flight, we make it door-to-door in around four hours (carry-on luggage only, so there is no waiting around). All is smooth. *Tip: fill out the Singapore e-arrival card within 24 hours before you land to save time at immigration. A Grab from the airport takes less than 30 minutes to reach the hotel.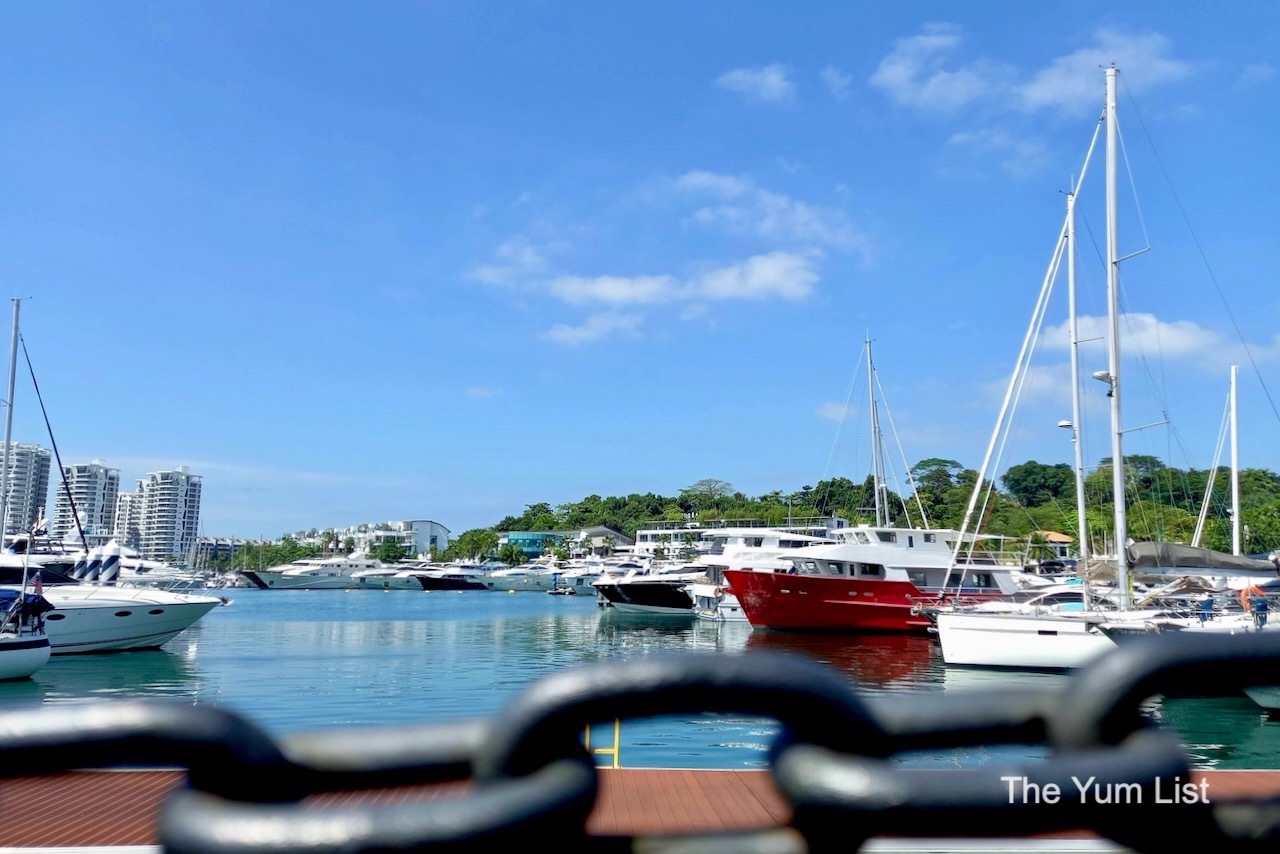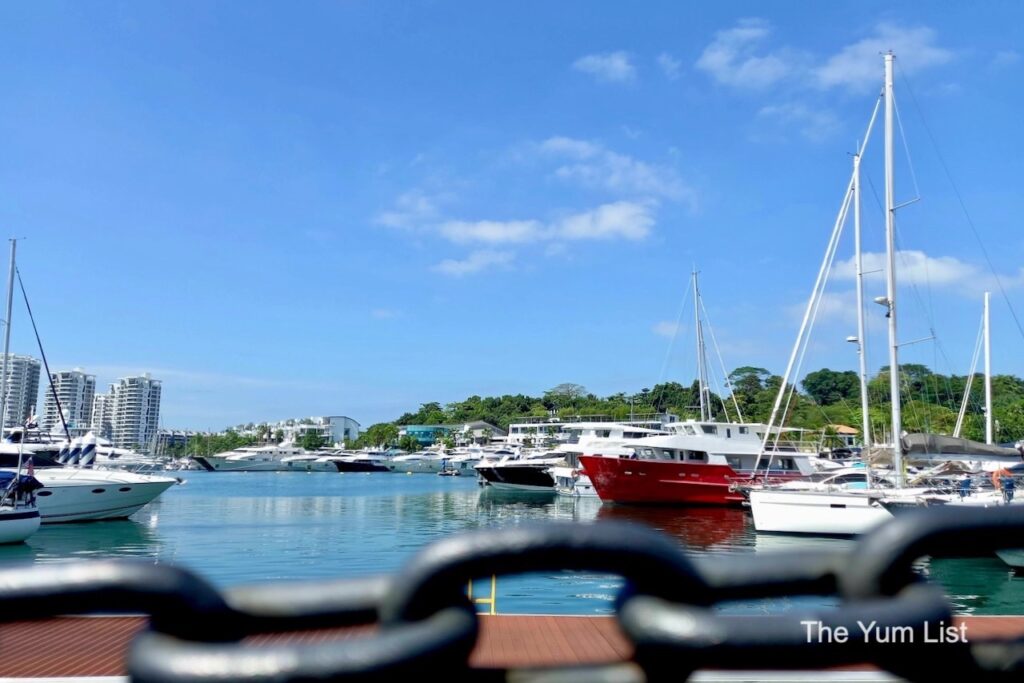 Location
Located in Sentosa Cove, W Singapore is embraced by lush tropical foliage, water views and a prime position adjoining the marina filled with luxury yachts of the rich and famous. It's an easy stroll to the dining hub of Quayside Isle, and those who enjoy exercising outdoors will appreciate the footpaths bordered with natural and man-made beauty that go for kilometres around the island. Universal Studios, beach clubs, museums and much more are also just minutes away.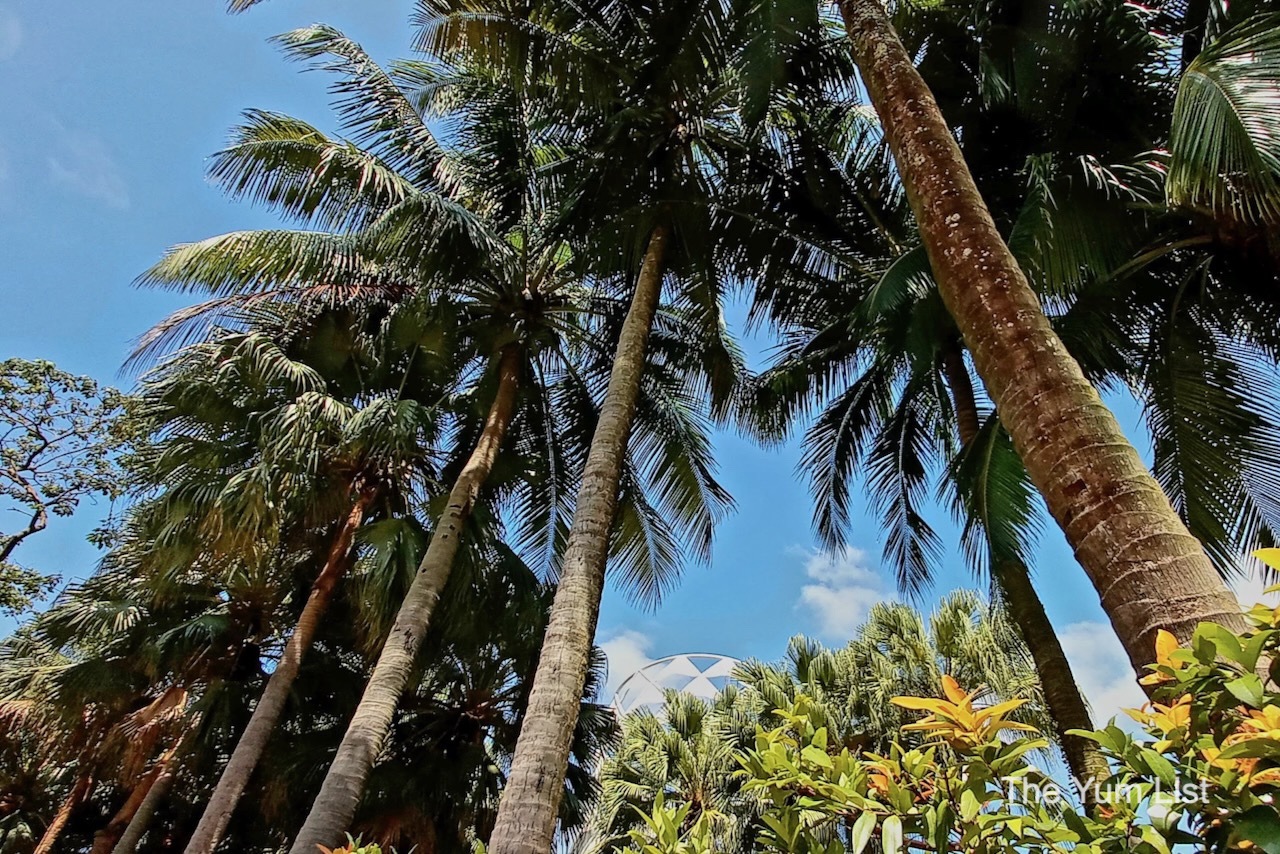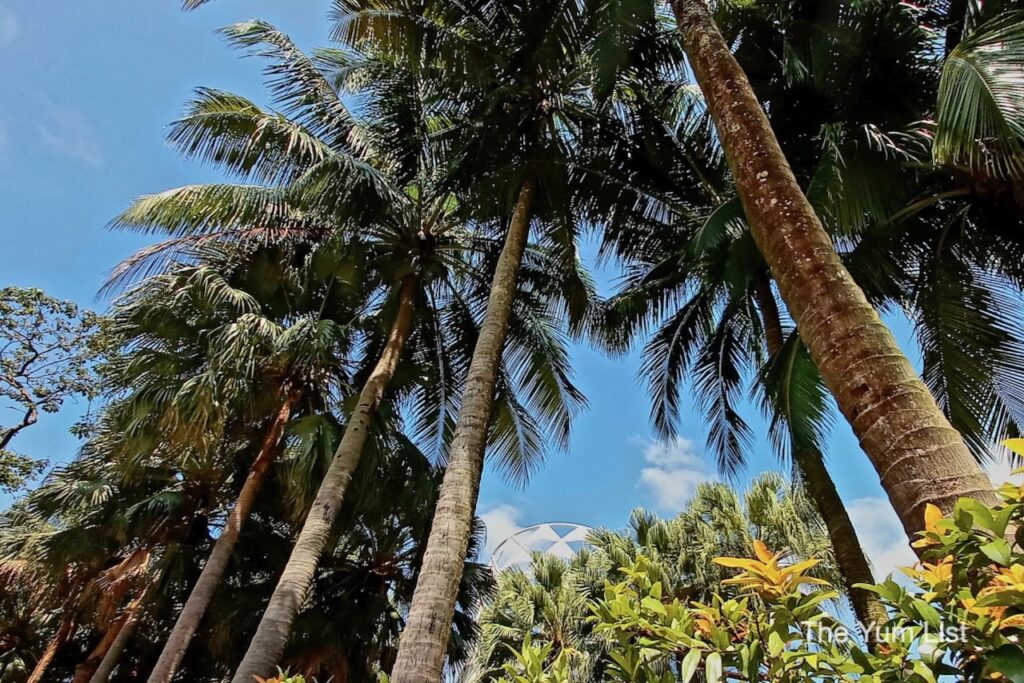 Tropical Resort Sentosa Island
Even with the many entertainment opportunities on Sentosa Island, W Singapore has enough to keep guests occupied for a weekend, giving them no reason to leave. For starters, the resort hotel boasts one of the largest free-form pool in Singapore, WET Pool, a whopping 1,338 square metres. It's open 24 hours and has 24 underwater speakers! The W Slide down one end is newly constructed, and the swim-up WET Bar is popular in the late afternoon. Sunchairs and cabanas surround the garden-lined pool. Alternatively, pull up a beanbag on the lawn! 
W Lawn adjoining the pool is made good use of with special activities such as morning yoga (free for guests with advance reservation) several times a week. We take a Sunday morning class. The instructor really knows her stuff, guiding us through a class suitable for beginners to the most advanced.
Move inside from the garden, and there's a well-equipped fitness centre, FIT, decked out with state-of-the-art Technogym free weights and cardio and strength machines. It's one of the most comprehensively set up hotel gyms we've encountered. Additionally, anything you might want that's not already there, such as exercise bands, boxing gloves or even a hair tie, is just a call away. The gymnasium is also open 24 hours – no waiting around for me to start my 5 a.m. day.
On the same level as FIT is AWAY Spa. We didn't have time to visit on this trip. Still, we have had memorable positive experiences with the brand in other parts of the world, such as Kuala Lumpur, Taipei, Koh Samui, Bali and Hong Kong. Even if you don't book a treatment, guests can access the rainforest design decompression area, sauna, steam room, whirlpool, vitality pool and experiential shower.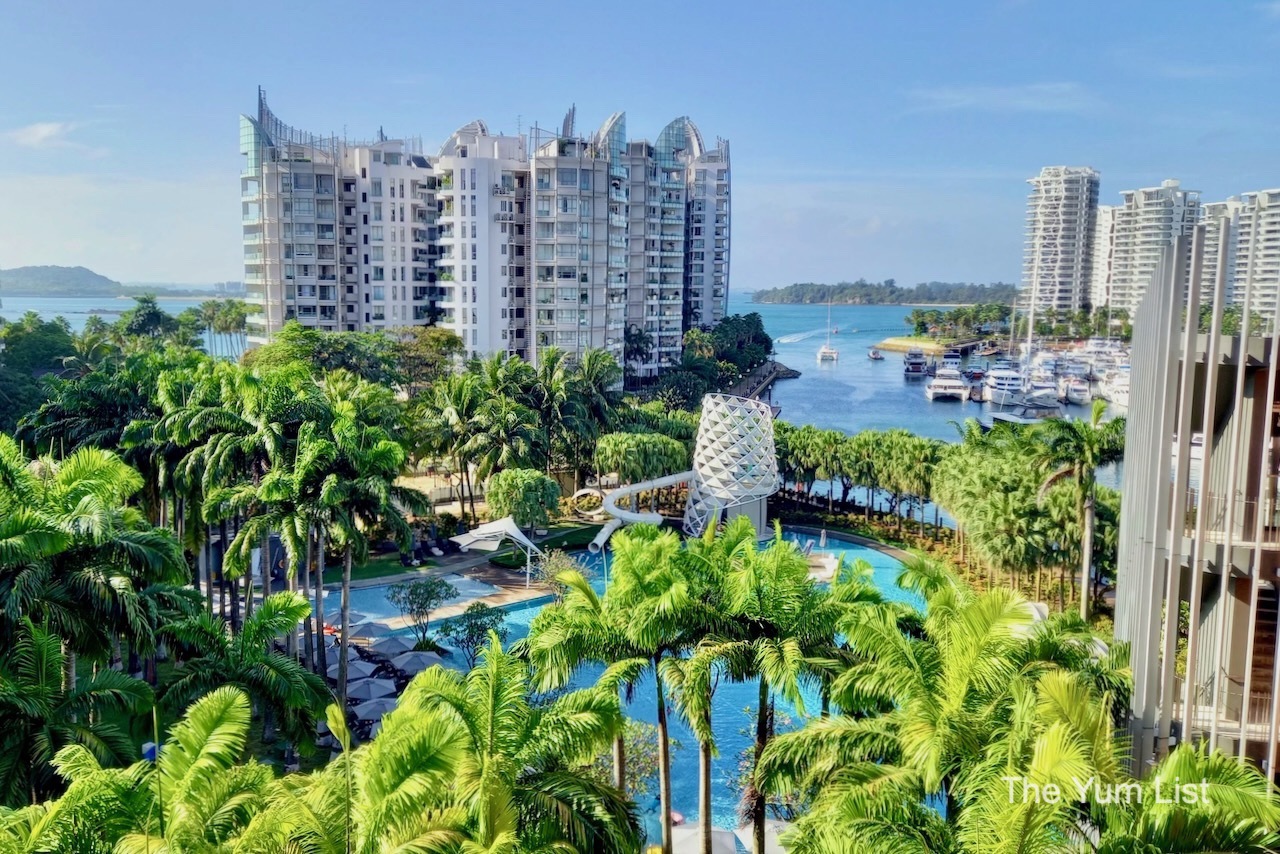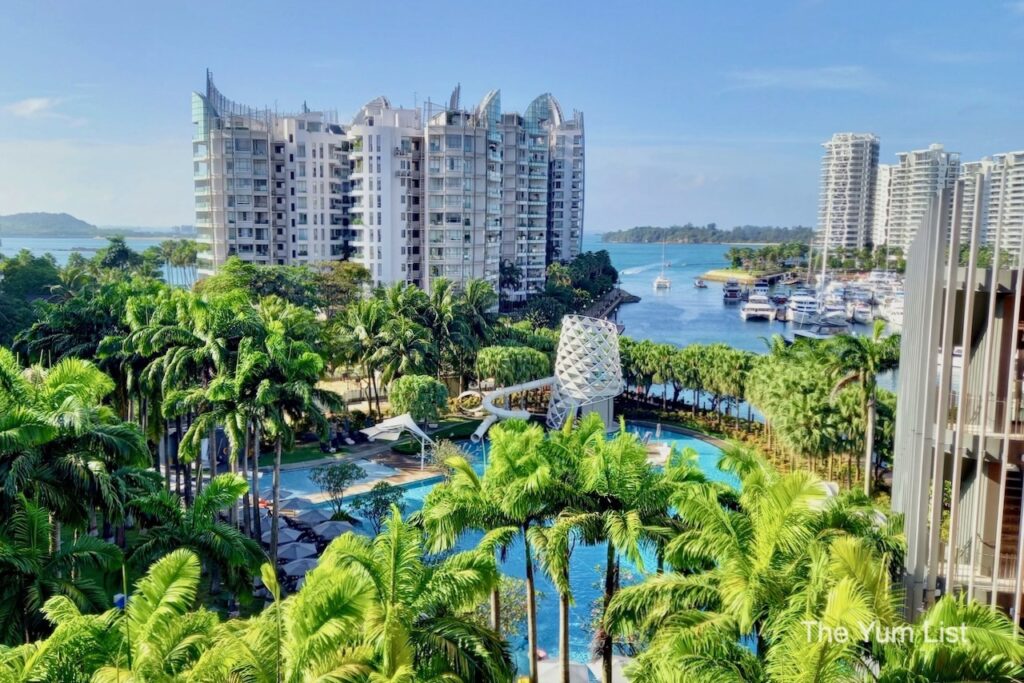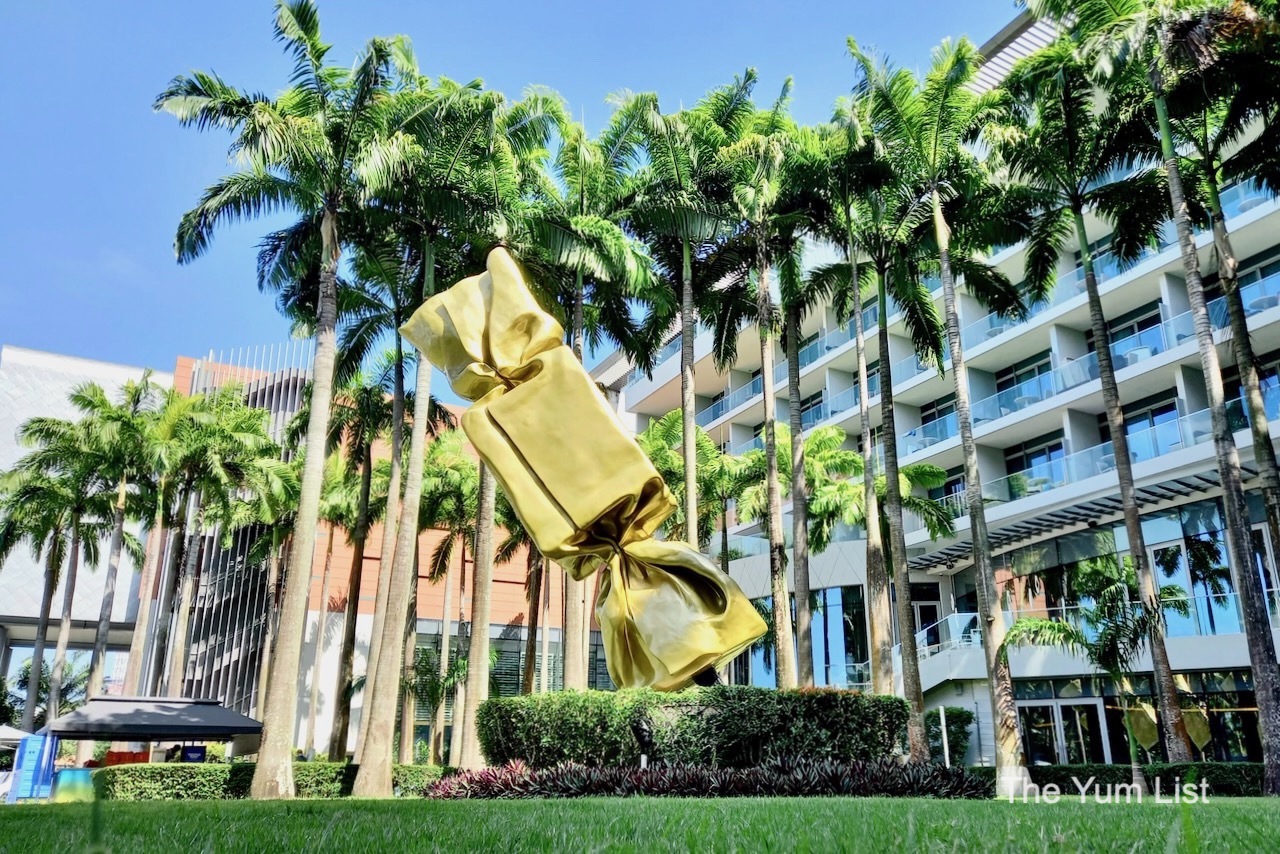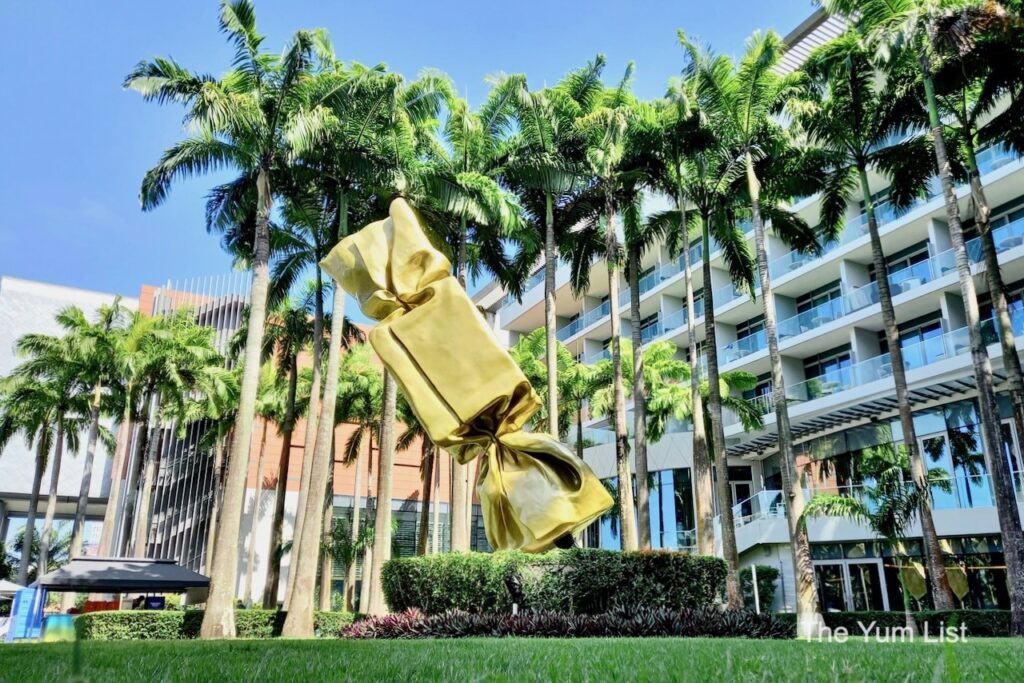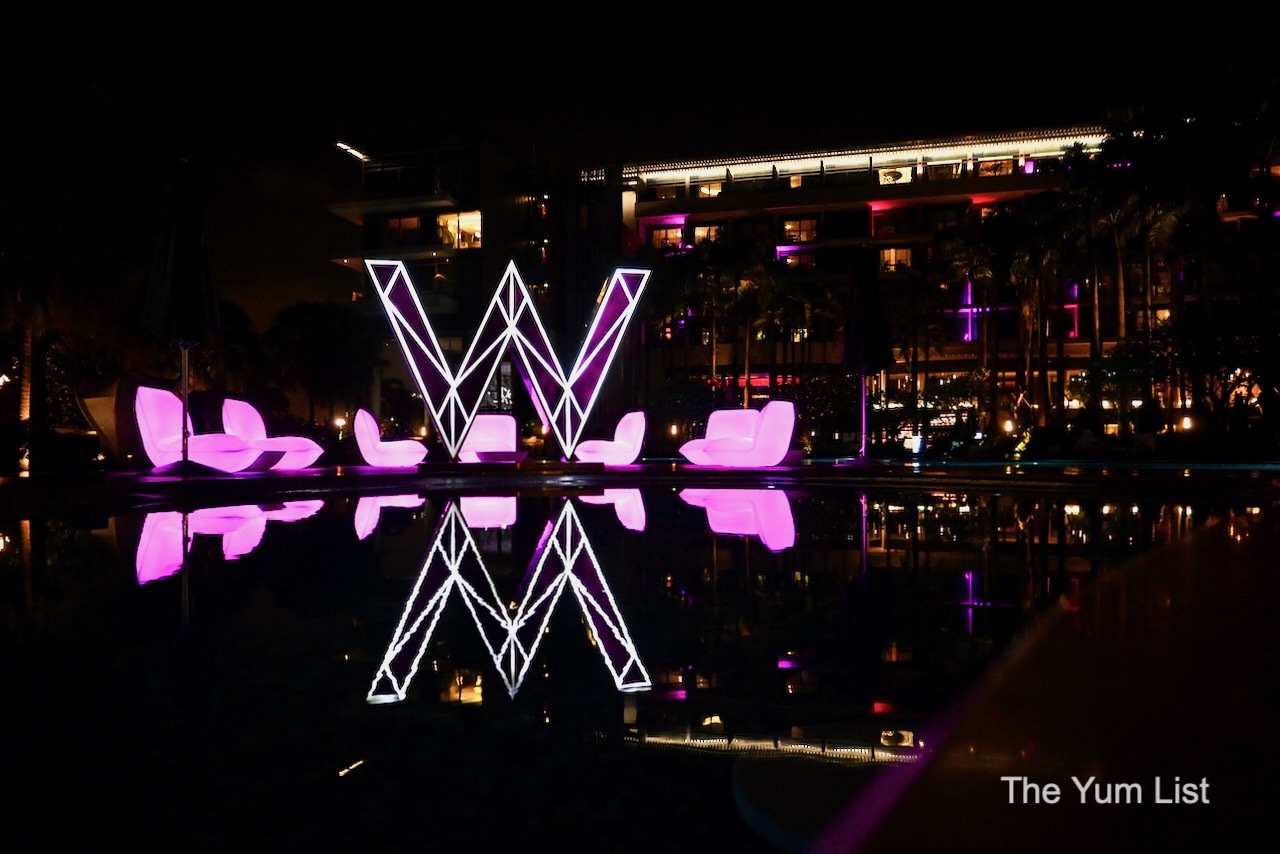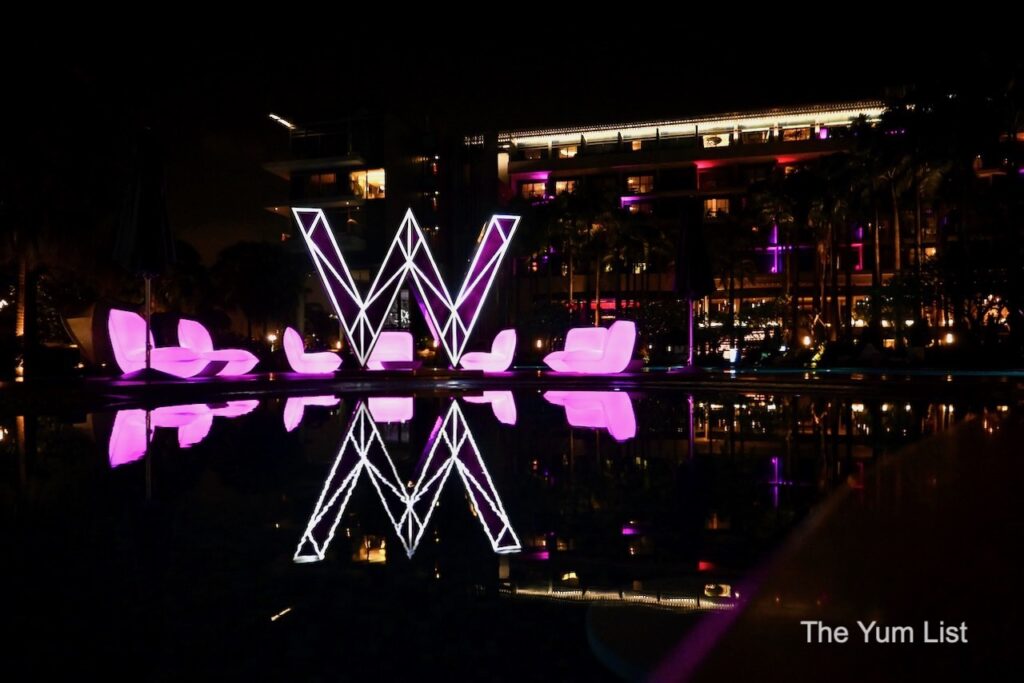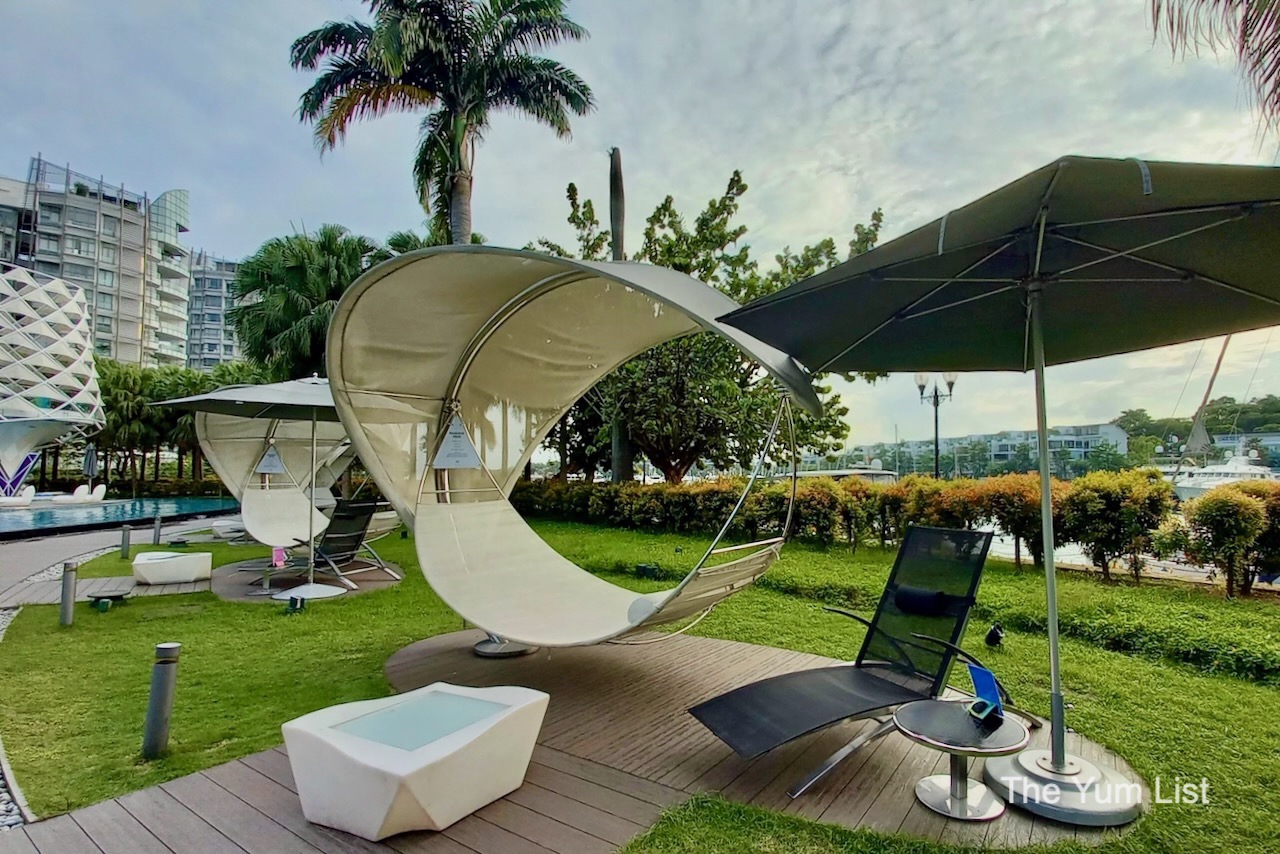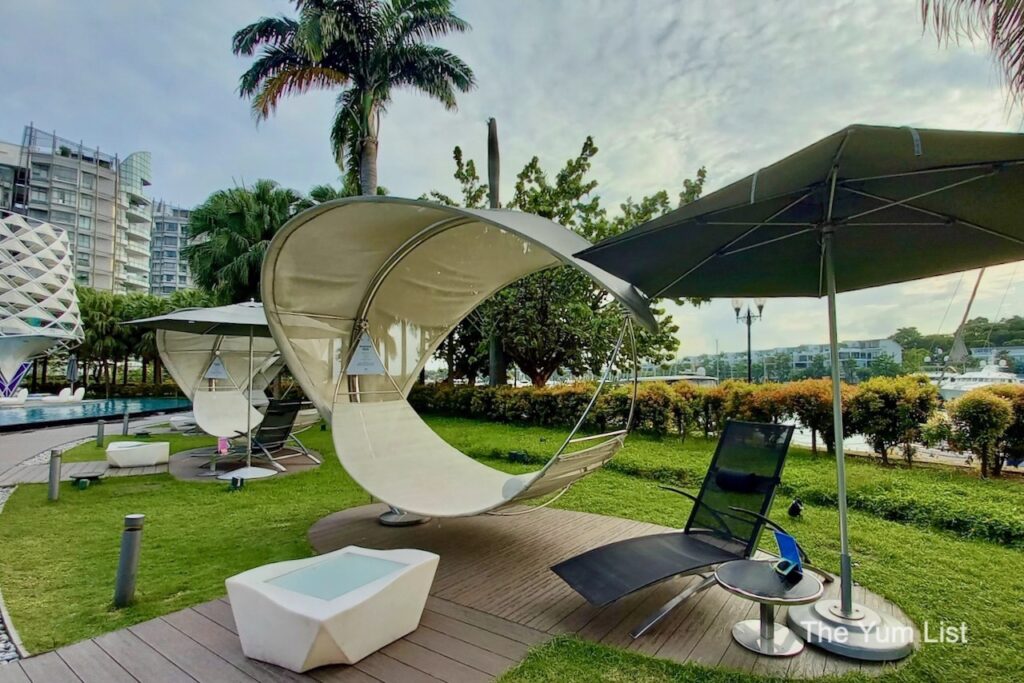 Food & Beverage
Furthermore, the food and beverage options at the W Singapore – Sentosa Cove are so enticing that you could easily spend a weekend satisfied here with the variety without the desire to leave. First off, the brekkie is fabulous at the kitchen table. A combo of buffet and a-la-minute orders, the selection is a vibrant mix of local and international flavours. Highlights are the noodle station, egg station and juice bar (freshly squeezed, nutrient-dense blends). You can also make your own Bloody Marys and Mimosas. Pork bacon and sausages washed down with prosecco or a vegan smoothie bowl accompanied by a detox juice and oat milk latte – the Whatever, Whenever motto is exemplified here.
We also indulge in a terrific Sunday brunch at the kitchen table and afternoon tea at WOOBAR. I highly recommend both – find more details on each here and here. With new GM Christian Metzner and Food and Beverage Manager Maxime Pfister, the hotel has some exciting changes to look forward to. Several dining outlets will see a revamp in the next six months with menu updates included. The advances promise to be exciting enough to warrant a revisit.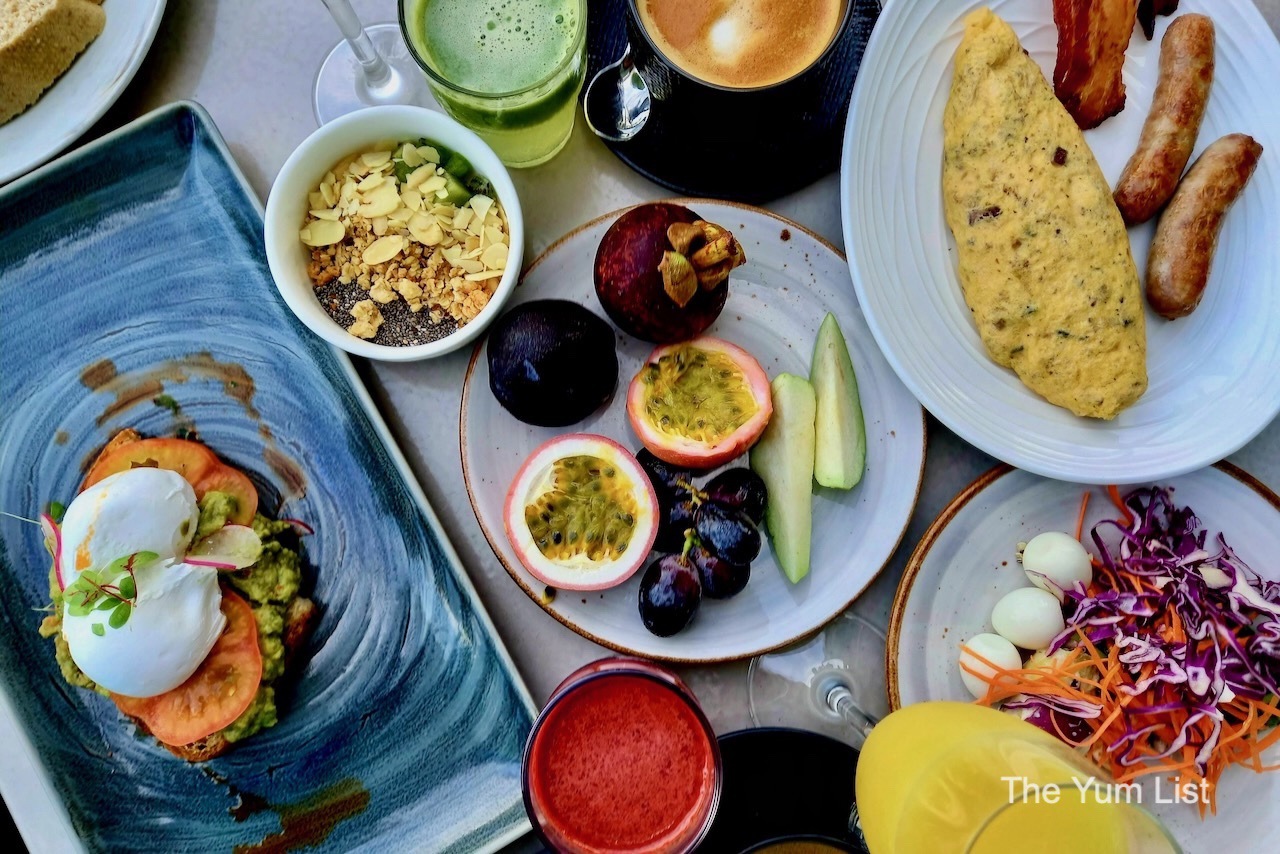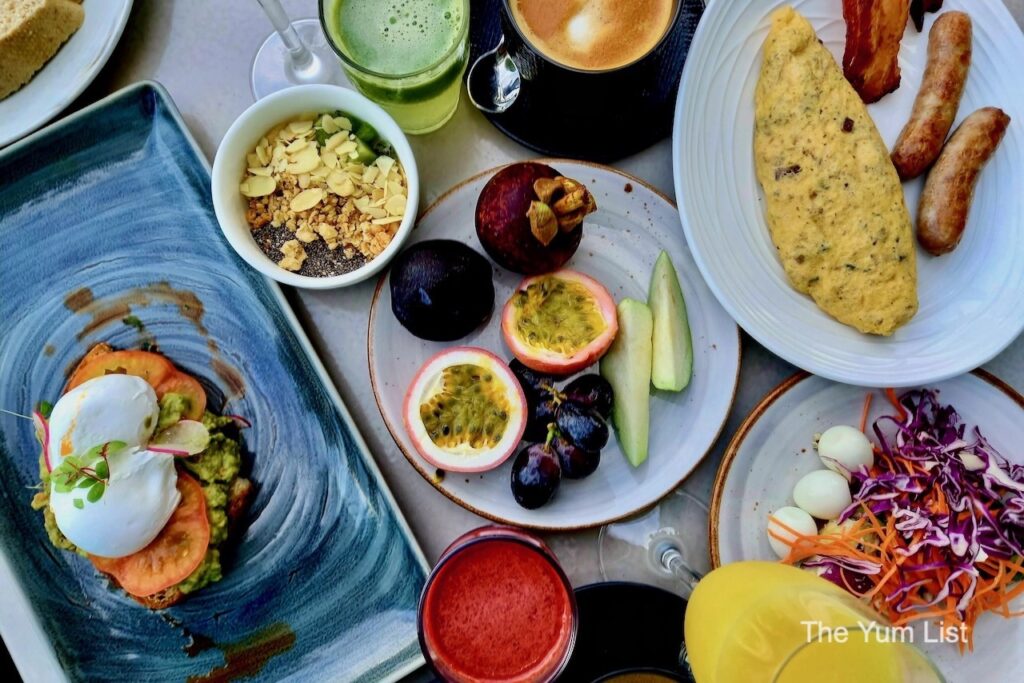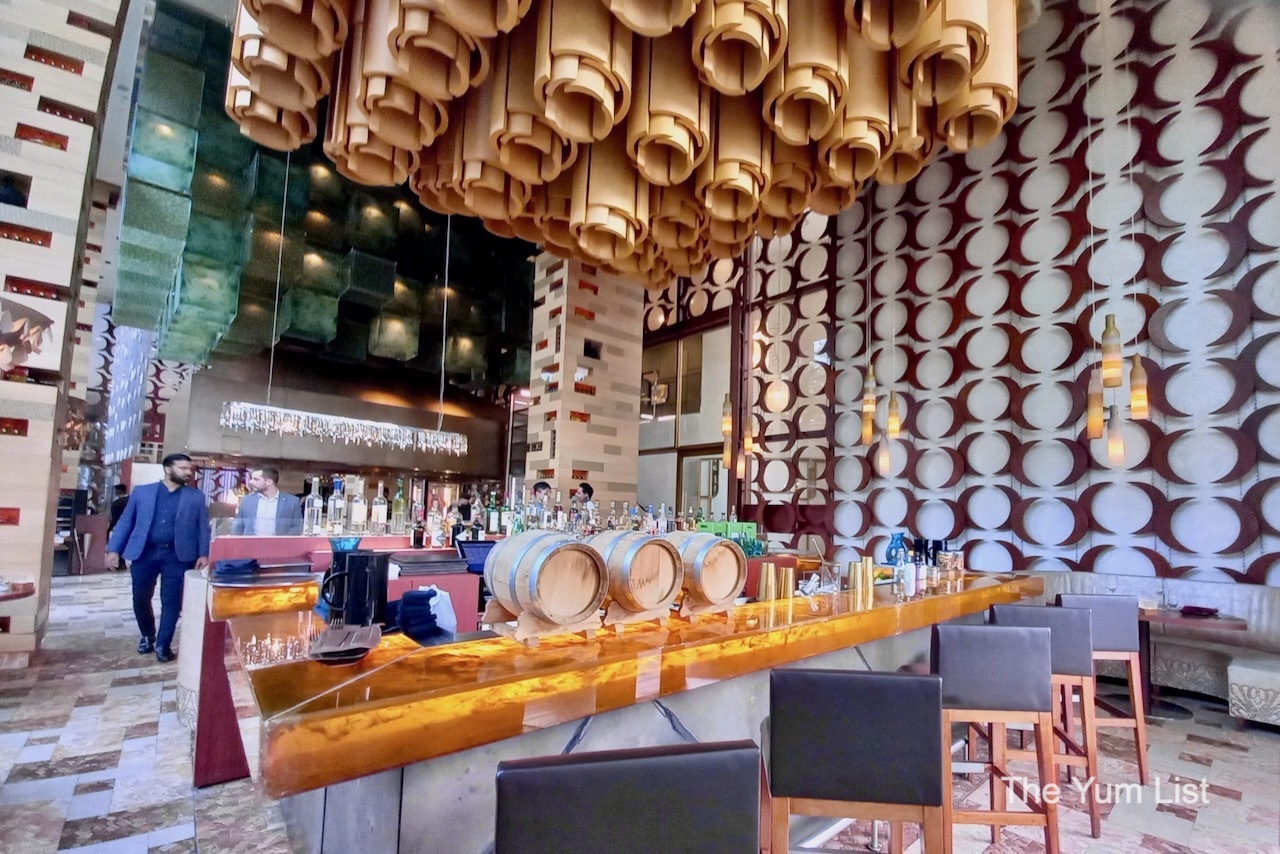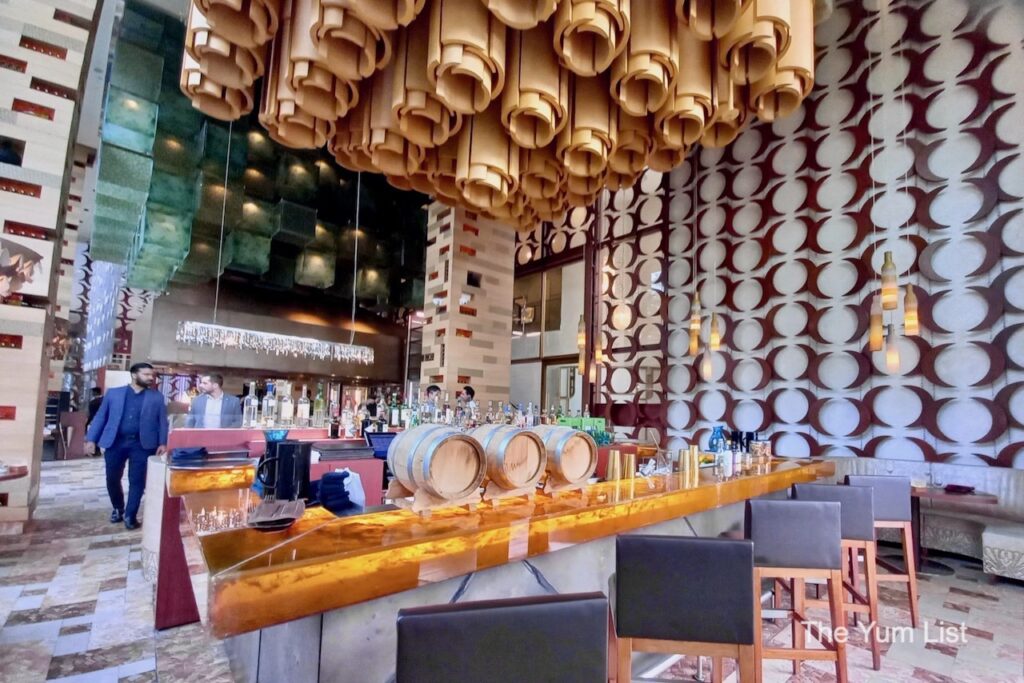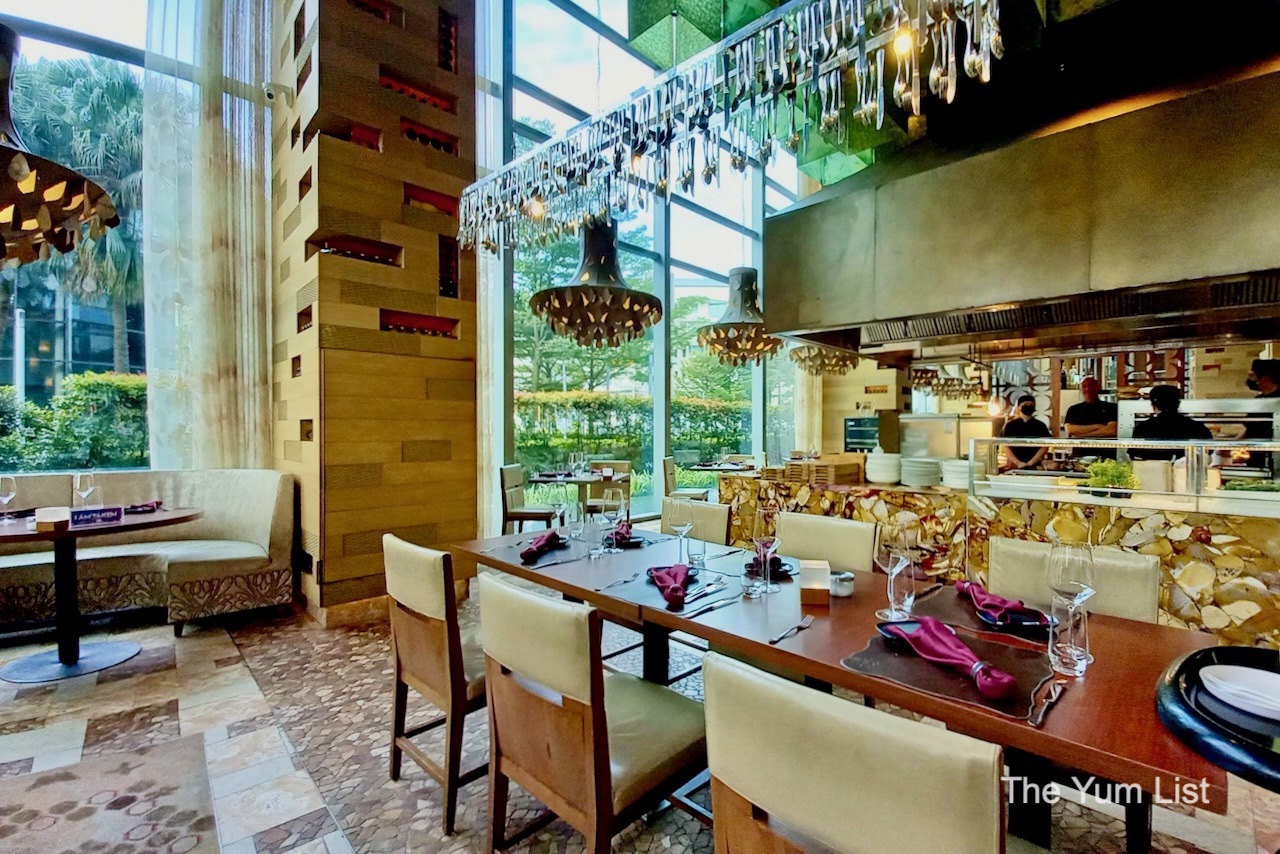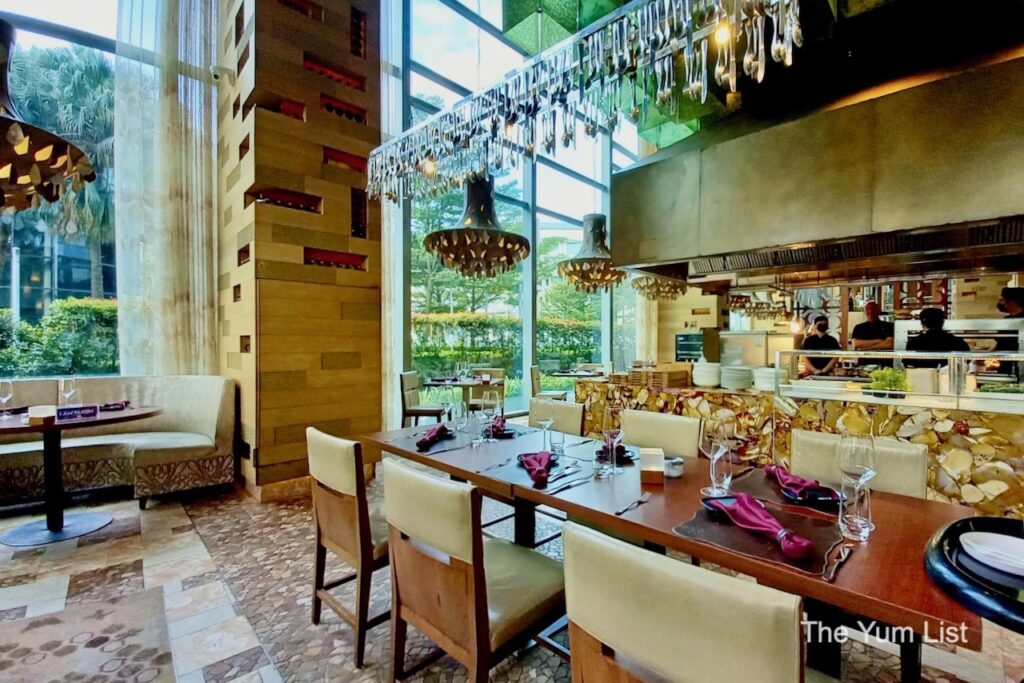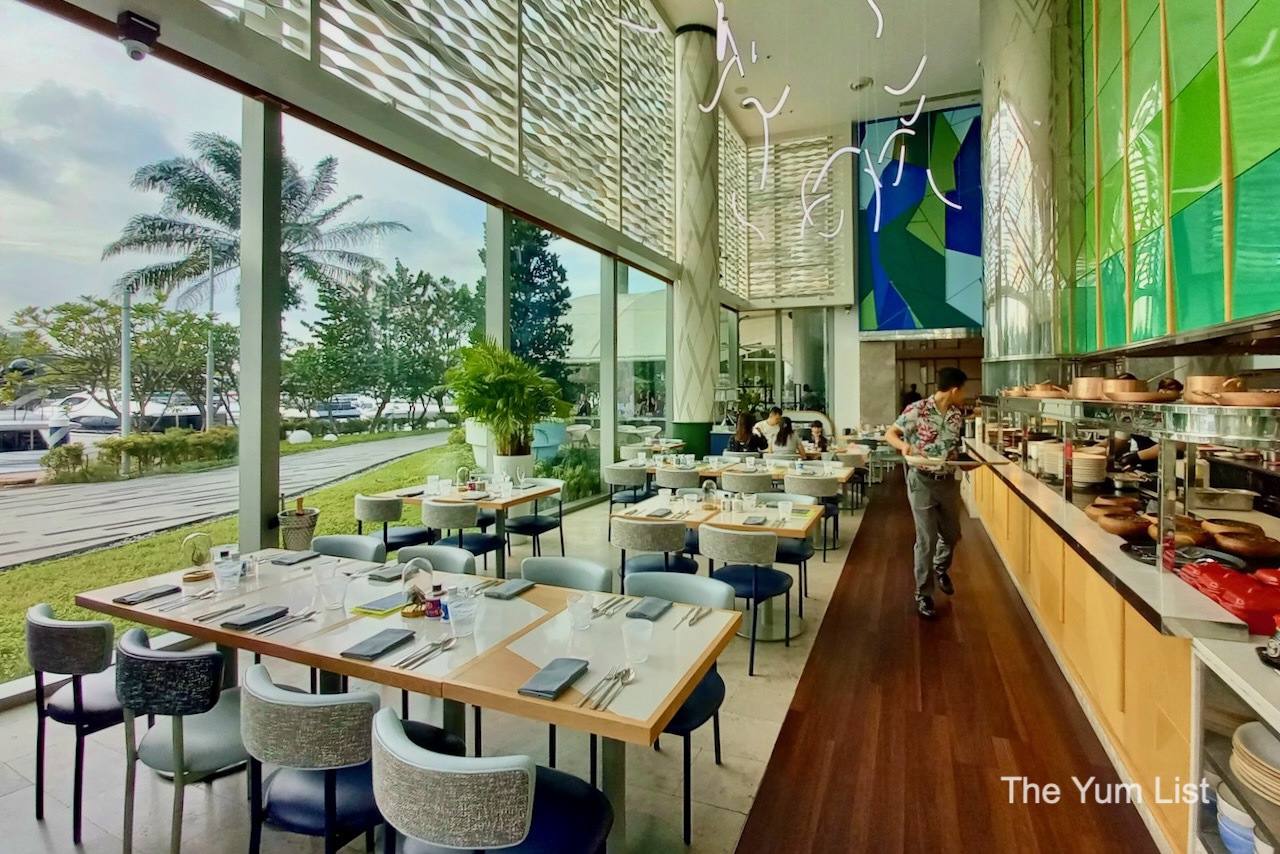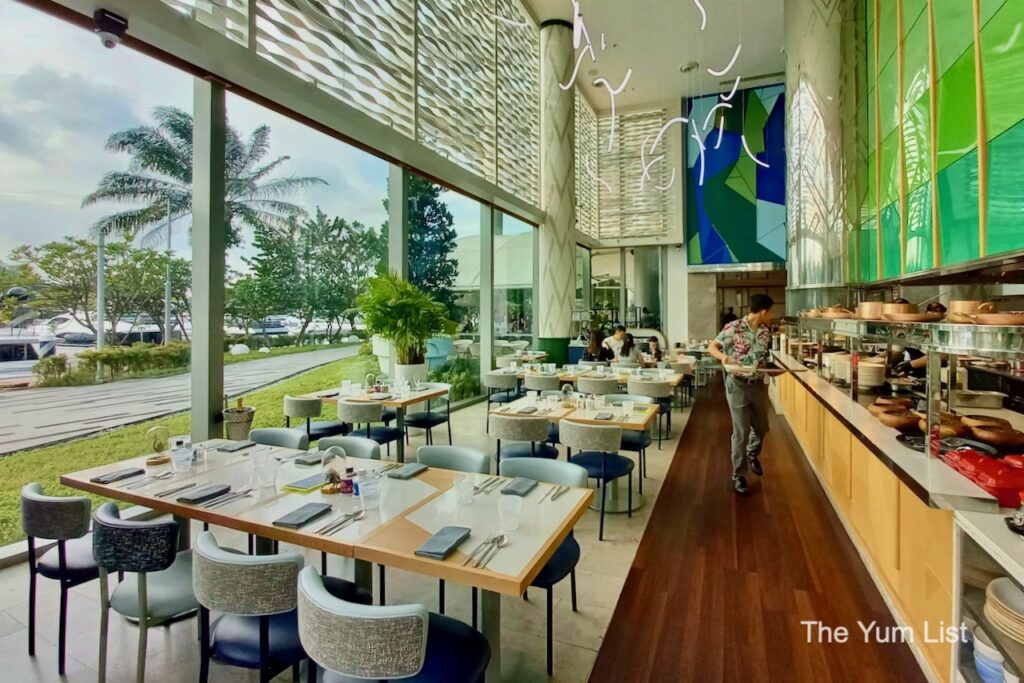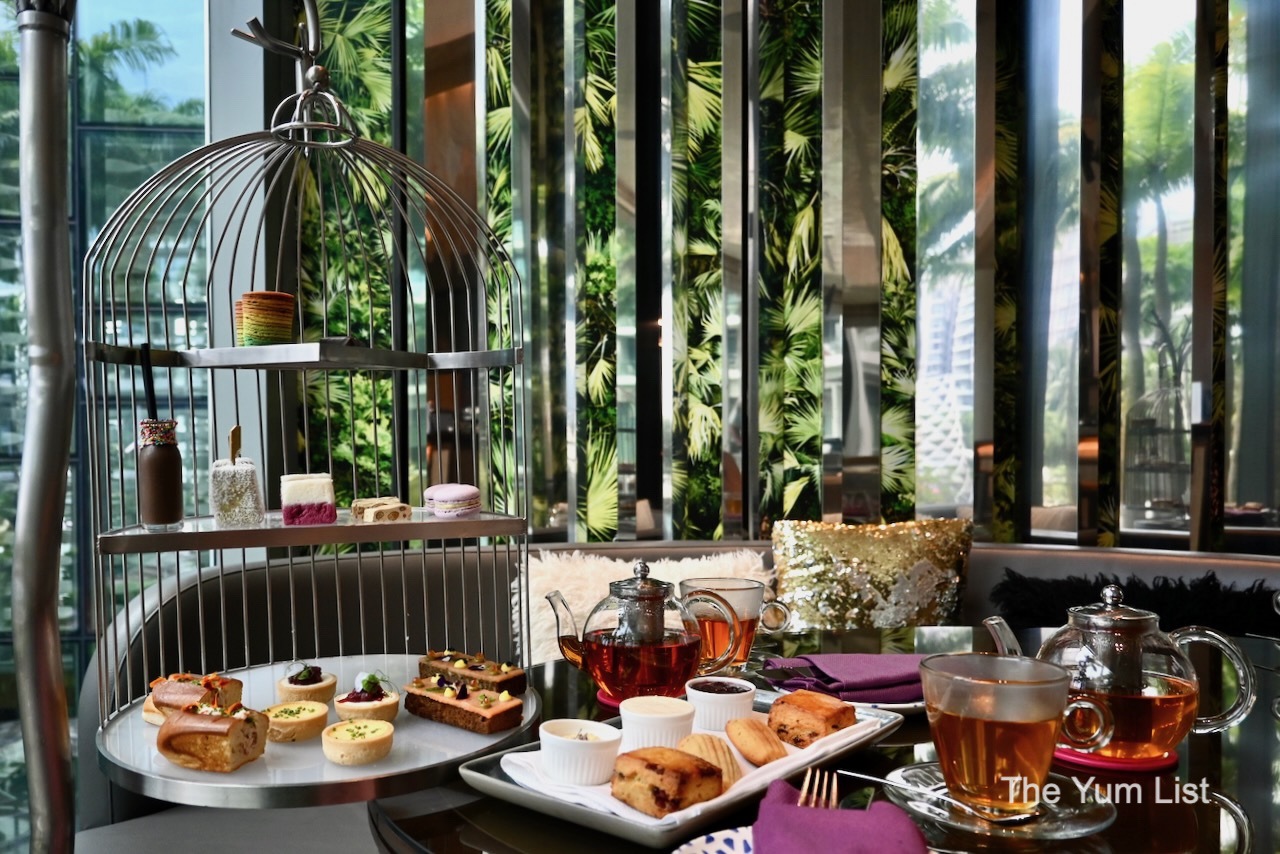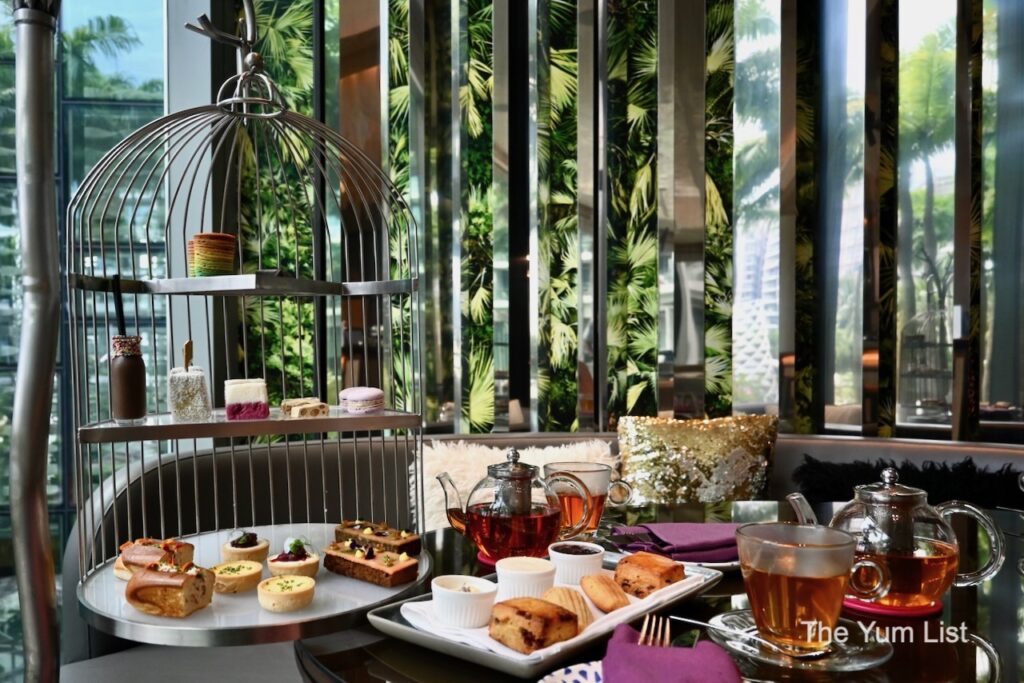 Rooms & Suites
There's much to see, eat and do at W Singapore – Sentosa Cove, but their 240 pool or marina-facing guest rooms and suites are so nice we could also curl up inside for a few days. The interior design reflects nature in appearance and materials yet is bold and energising. Singapore's national flower, the orchid, is seen in flooring, bed heads and its attractive hue in lighting. There are quirky touches everywhere, both subtle and obvious. They catch us by surprise even up to the end of our stay when we realise the entryway room mirror has a moustache in the middle, making for fun selfie opportunities.
We love the balcony (non-smoking) overlooking the pool, garden and marina in our Fabulous room. Private outdoor space is always a sought-after feature for us in the tropics. Morning coffee, lounging with a book, wine and cheese at sundown – we love the convenience and the chance to be outdoors without having to fully dress.
Everything is set up for comfort. The bathtub is positioned so you can slide open the bedroom divider and have a full view of the screen while soaking, with speakers in the bathroom, ensuring you don't miss a thing. Refillable pumps for bath products are much appreciated. There's even face wash included. However, water still comes in single-use plastic, so bring your own drink bottle and fill it up at the water station in the fitness room.
The W bed is one of the best in the industry, supportive yet oh-so-soft with a feather-top mattress, goose-down comforter and enormous pillows. A walk around the marina, some time in the pool, good food, a hot high-pressured shower and this bedding is a flawless recipe for sound sleep. Oh, and the robes score Gold for "Most Comfortable Hotel Bathrobes." We've had light cotton, silk robes, kimonos and sarongs of all sorts in our travels, but the dressing gowns at W Singapore are as soft as clouds. They make us want to turn the temperature down low, drink mulled wine and snuggle in their comfort all day.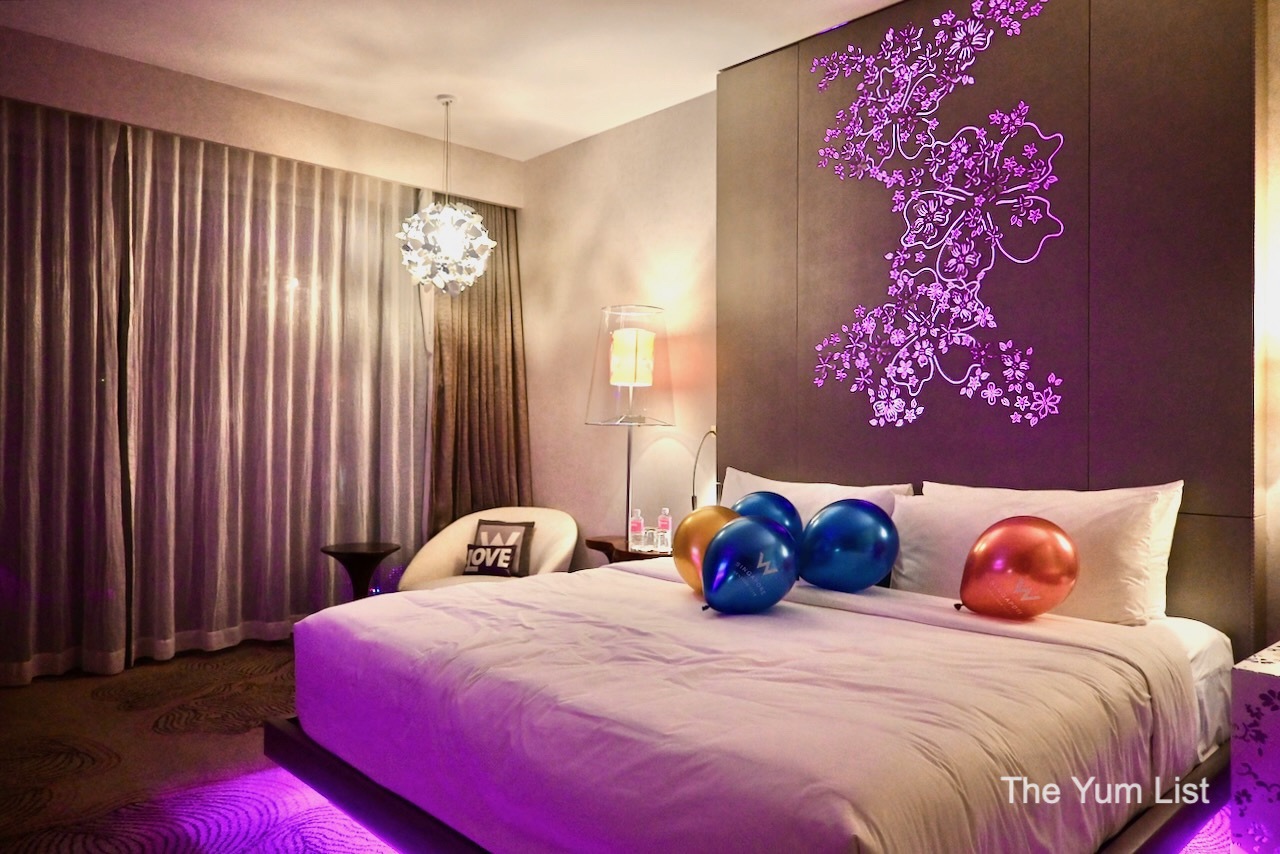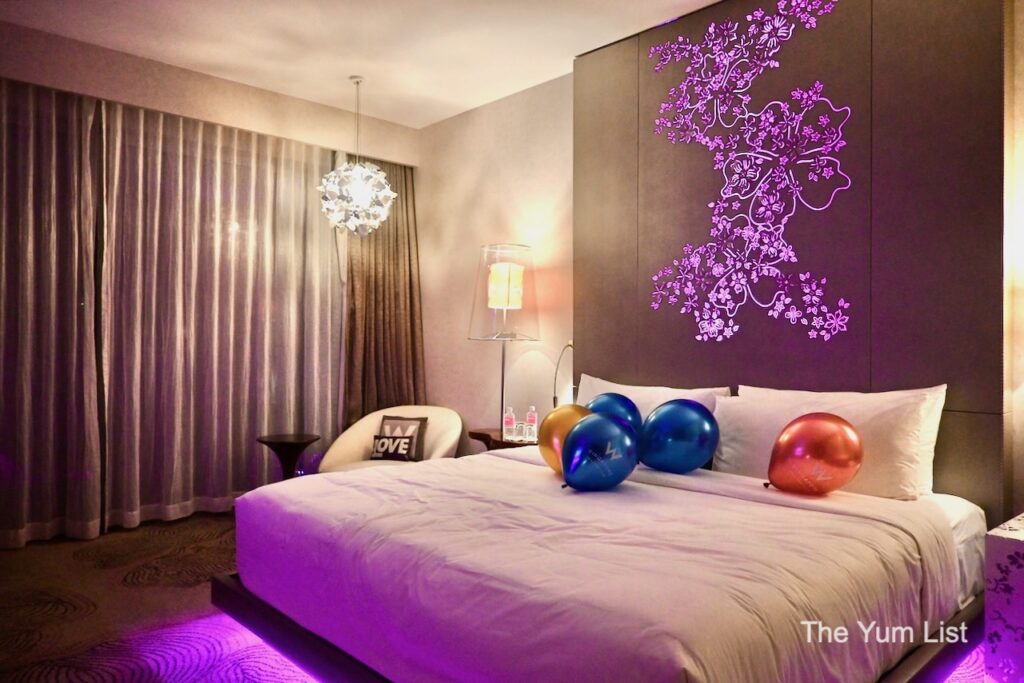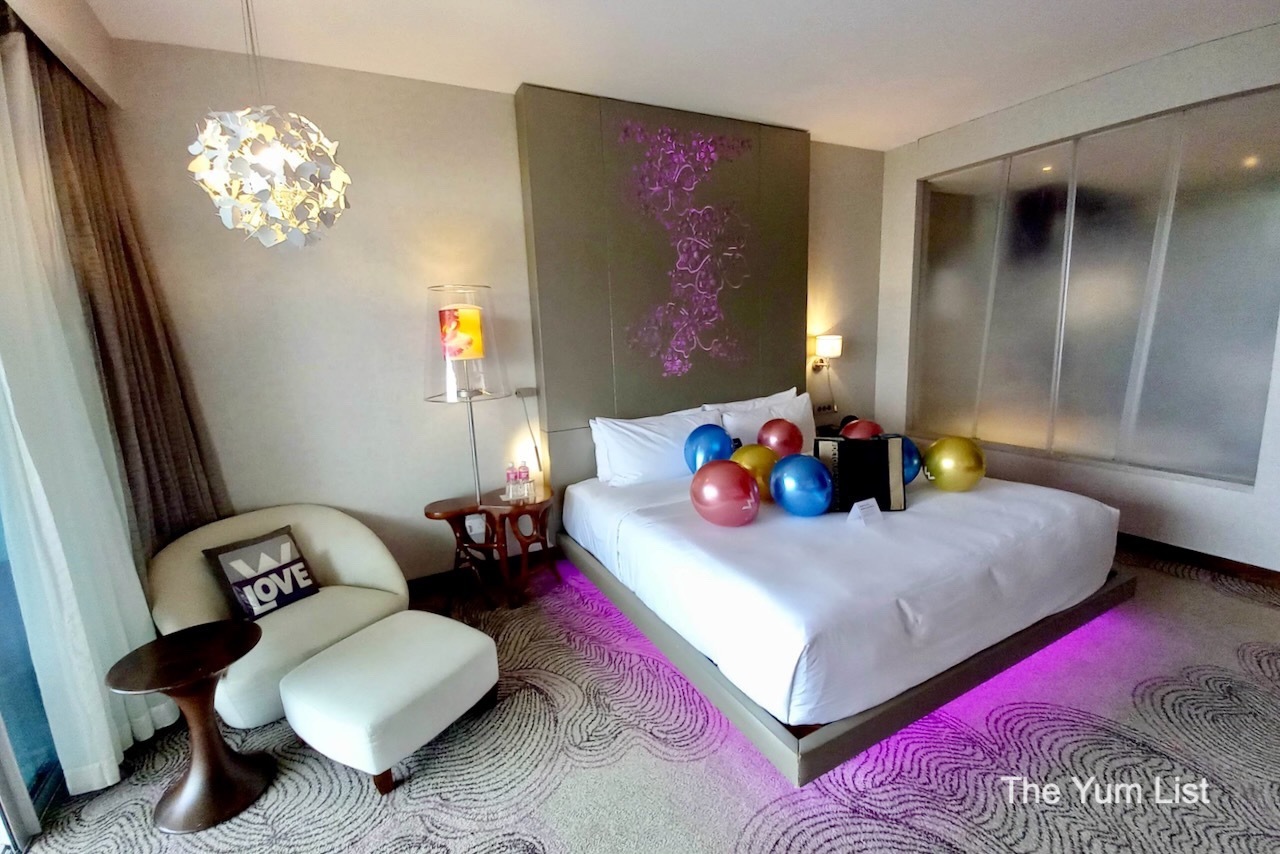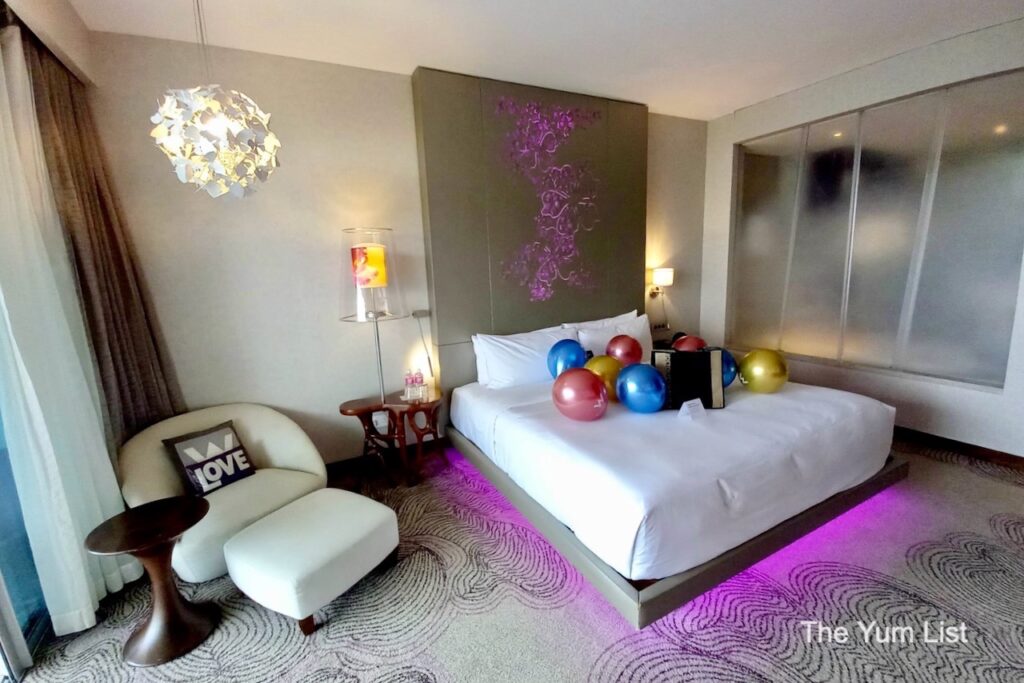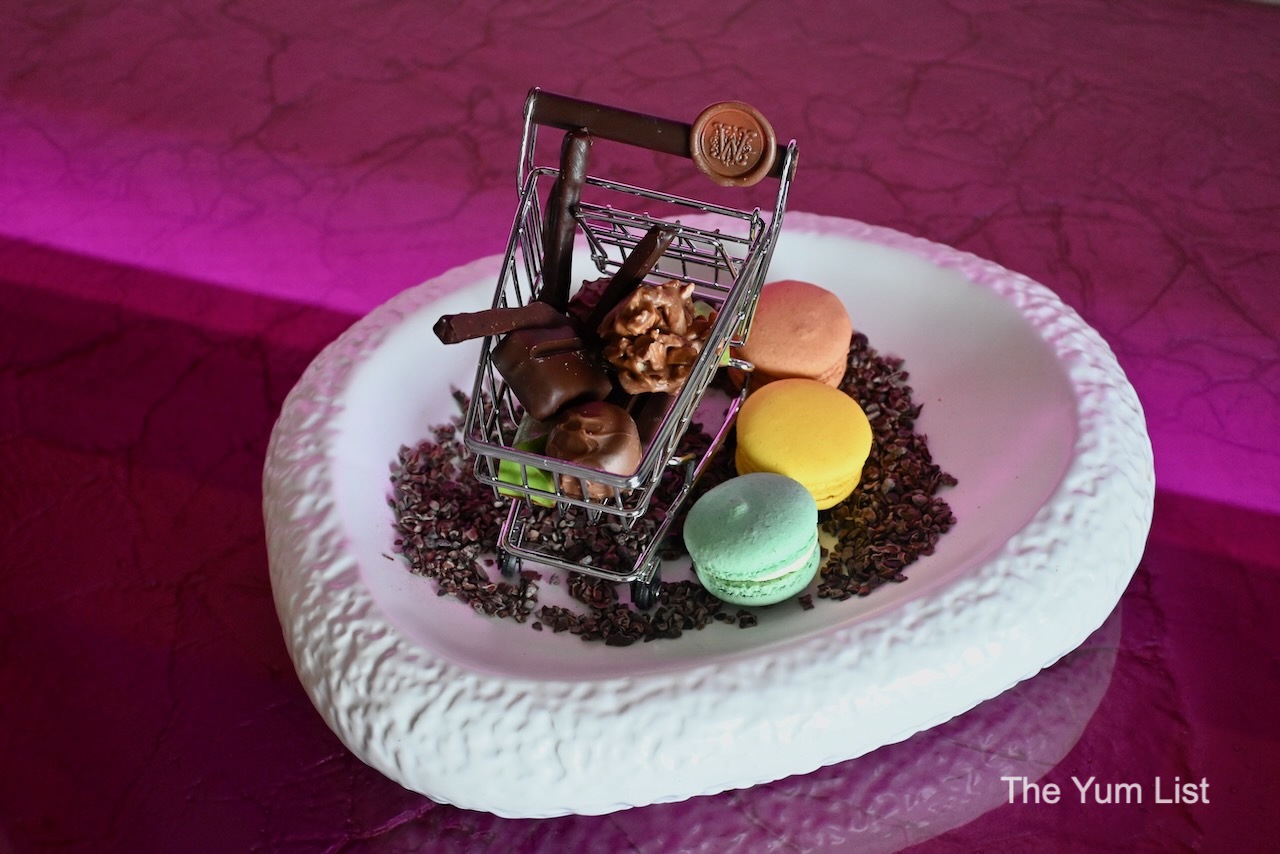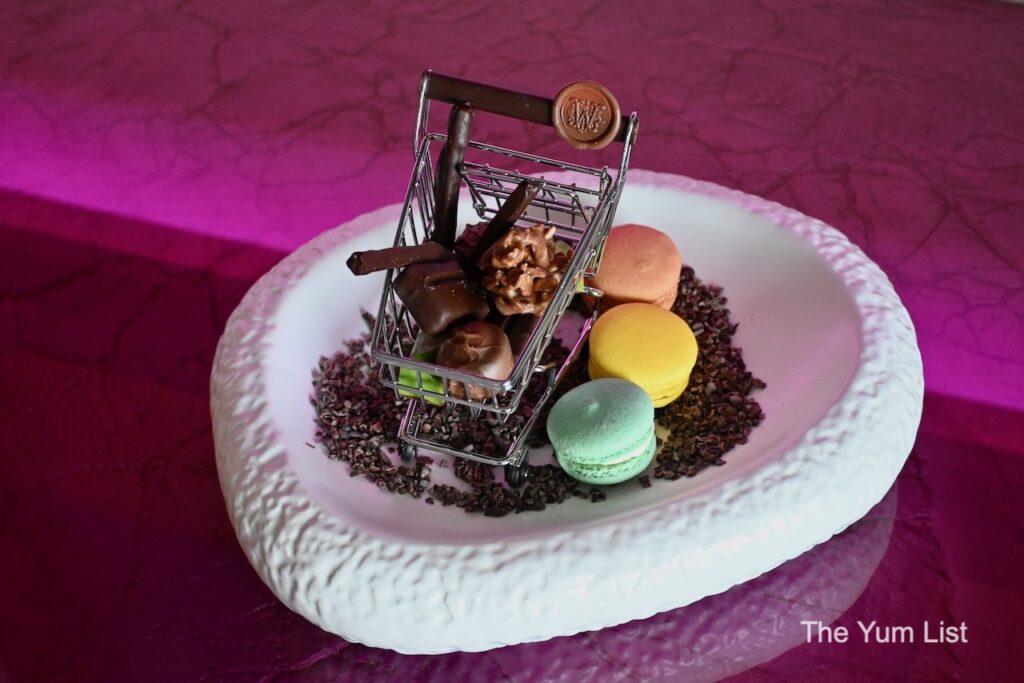 W Singapore – Sentosa Cove Review
Reasons to stay at W Singapore – Sentosa Cove: contemporary hotel with a vibrant design and an upbeat vibe, exceptional service, prime location in the lush tropics next to a beautiful marina, fab food and beverage options, some of the best bedding in the industry.
W Singapore – Sentosa Cove
21 Ocean Way, Singapore 098374
+65 6808 7288
wsingaporesentosacove.com
@wsingaporesentosacove
Find more Singapore restaurants, bars and hotels here and stay up-to-date on the latest culinary happenings around Malaysia here and here.