Bali's exclusive gated community of Nusa Dua is home to the Grand Hyatt Bali. Celebrated for its laundered sandy beaches, aquamarine shallows, restricted access and proximity to the Convention Centre and Golf and Country Club, the location is transparently upmarket.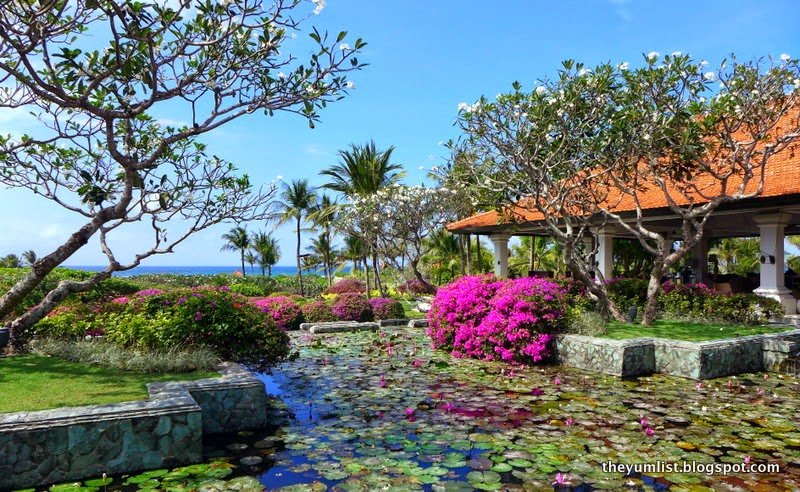 Beautiful Garden Grounds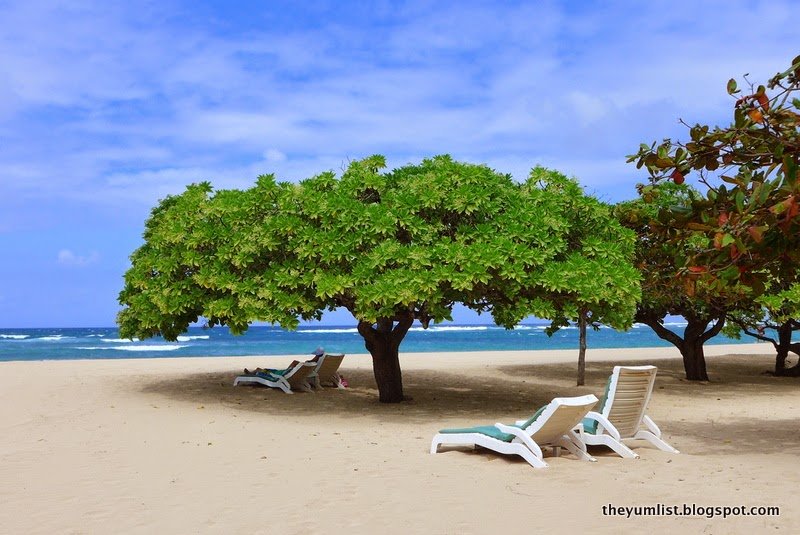 Shady Spot
Our Ocean View King Room is just under 50sqm and features a spacious living/ sleeping area, bathroom, walk in closet, and patio. From this spot we have an uninterrupted view out over a lily covered pond teaming with fish and birds, and out to the Indian Ocean and well-kept shoreline.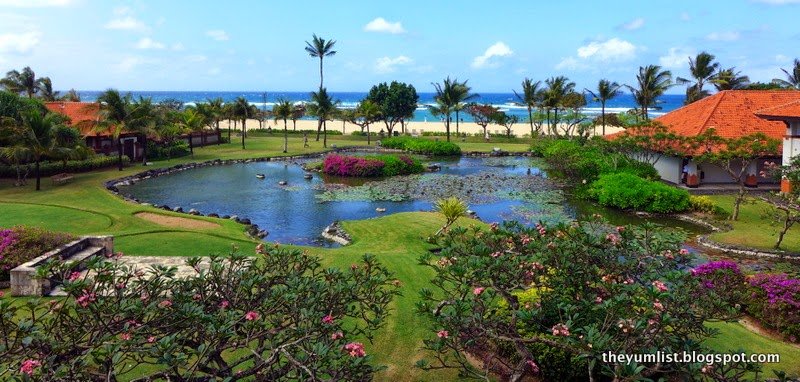 View from Ocean View Suite
Throughout the day the balcony is a splendid perch but mornings are particularly breathtaking. We see and hear powerful breakers surging onto the beach as well as a profusion of various bird species chirping, crooning and warbling in their daybreak chatter. Paying obeisance to the day, the dark withdraws and first light coruscates across land and sea. The world is ours from our terrace and we find it hard to leave.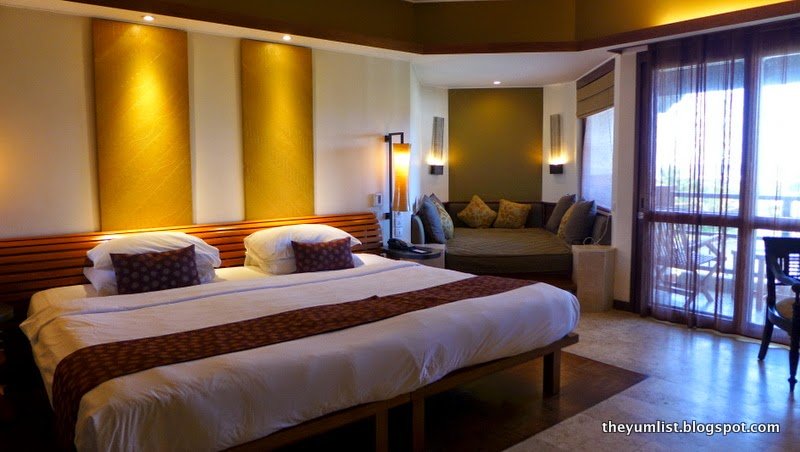 Ocean View Suite
Teakwood floors, sturdy wooden furniture, light linens and walls, and local textiles and artworks, paint the room with a conventional image of a Balinese resort. All the required technology and modern conveniences though such as: cable TV; dataports; high speed Internet; mini bar; in room safe; et cetera, are neatly concealed behind sturdy furniture.
Pale marble covers the bathroom, and a slatted window to the bedroom lightens a potentially darker space. Separate shower, bath and toilet divide the area, and the sink is supported by open shelving and a magnifying mirror.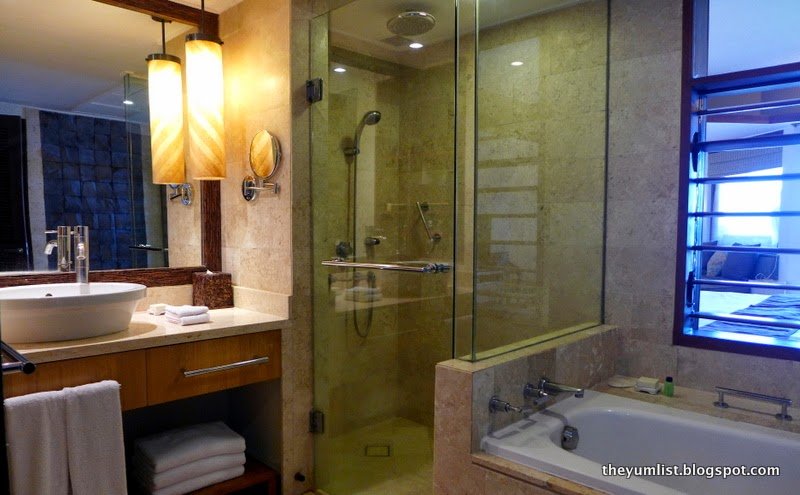 Ocean View Suite Bathroom
Grand Hyatts around the world have a reputation for a strong focus on quality food and beverage. The brand's practice of sourcing first grade produce from local sources where possible, has given them good standing in consistently providing high quality cuisine across the brand. We're fortunate to try a number of restaurants and bars during our visit and are pleased with all of our experiences.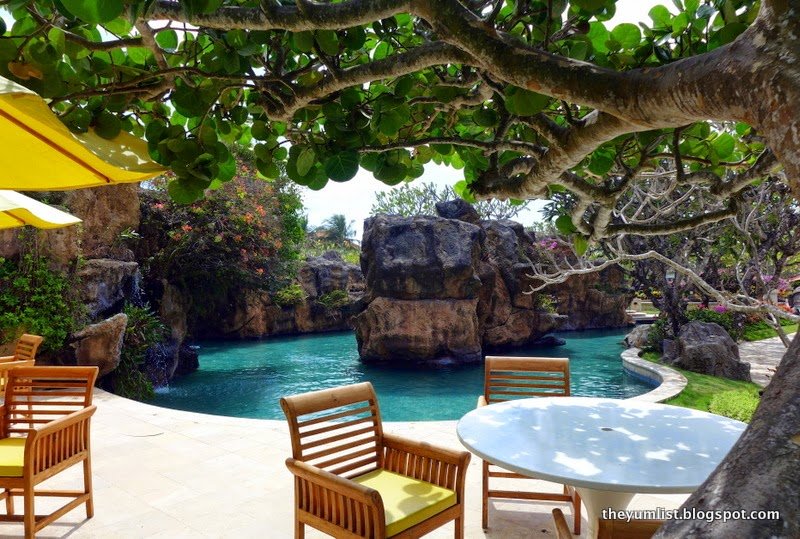 Table by the Pool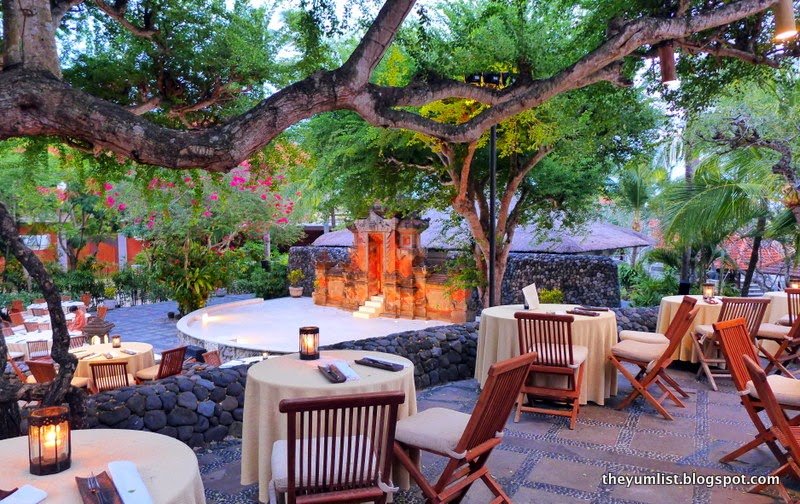 Pasar Senggol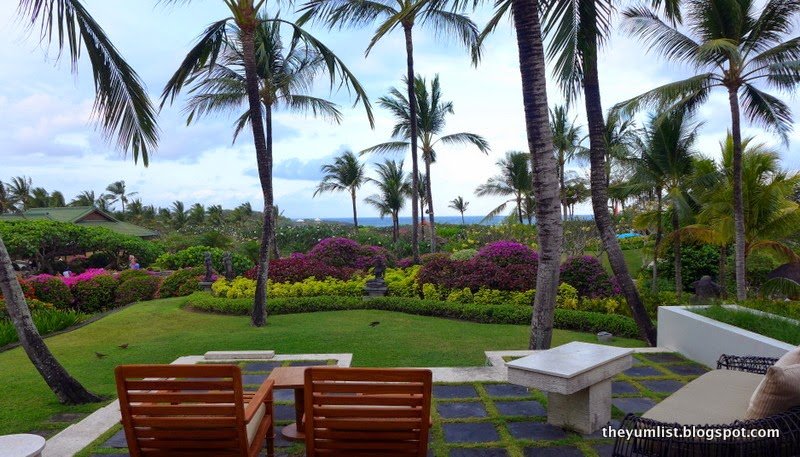 Pesona Lounge
Clearly this multitude of food and beverage alternatives is the benefit of a large resort. The blessing of a big hotel too is ever so evident in the Grand Hyatt Bali's extensive assortment of bathing options. Not one, not two, nor even three or four, but five (!) swimming pools are set around the grounds. Each is unique in style and there's something for all ages and predilections.
The large Lagoon Pool allows a dip in the safe calm waters of a swimming pool, but with views of the sandy beach and at times tumultuous sea. Children ruffle the waters of the River Pool with a slip down the waterslides a popular splash. Inspired by the fabled Balinese water palaces the Balinese-featured Pool, enclosed by green and running water is a peaceful venue.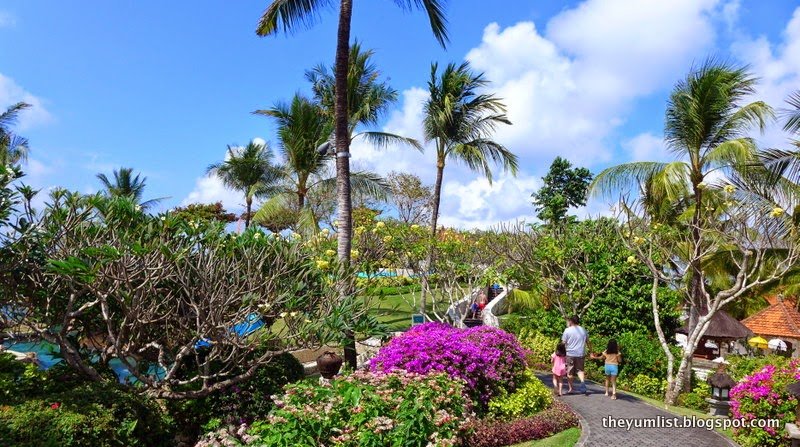 Pathway to the Waterslide
The Grand Club Pool provides a quieter, more exclusive ambience, permitting entry only to those staying in a Club Room. Nibble and drink service from the Grand Club Lounge just next door is rather convenient too. Lastly The Bay Club Pool, which is part of the fitness and health complex, is a fine location for doing some laps or just cooling off after a pounding workout.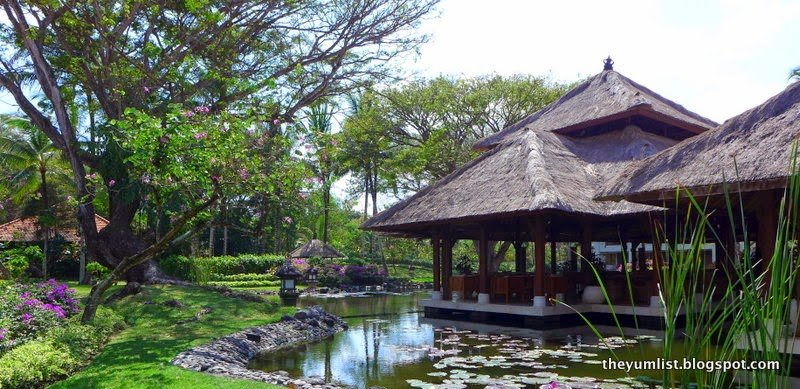 Grand Club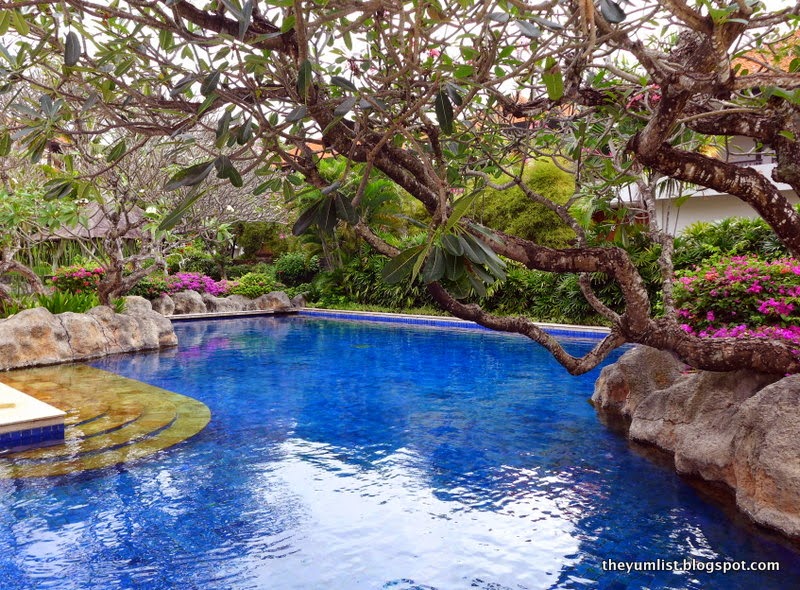 The Bay Club Pool
And… workout we CAN at the Grand Hyatt Bali! A well-equipped gymnasium provides cardio and strength machines as well as a good range of free weights. It's supported by an aerobics studio that holds regularly scheduled classes and a number of other activities such as: aquacize; social squash; kite flying; powerwalking; beach games; and many more.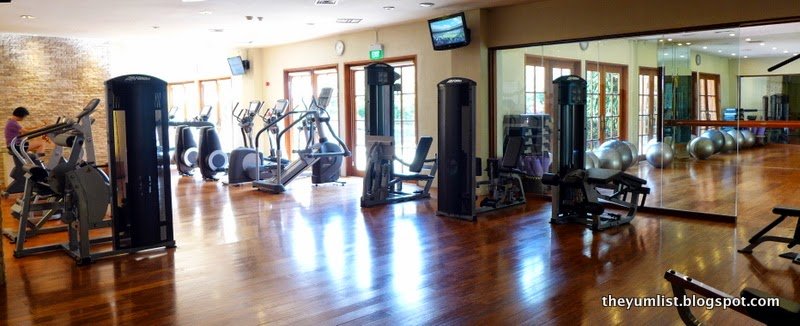 Gymnasium
Hubby's pleased to know there are three floodlit tennis courts and glass-back squash courts. He's feeling adventurous on this holiday and even tries out the putting green. I'm ever so happy for the jogging trail. I love to run outside but am not always so brave in an area that's unknown. Having a path all mapped out for me makes me very happy.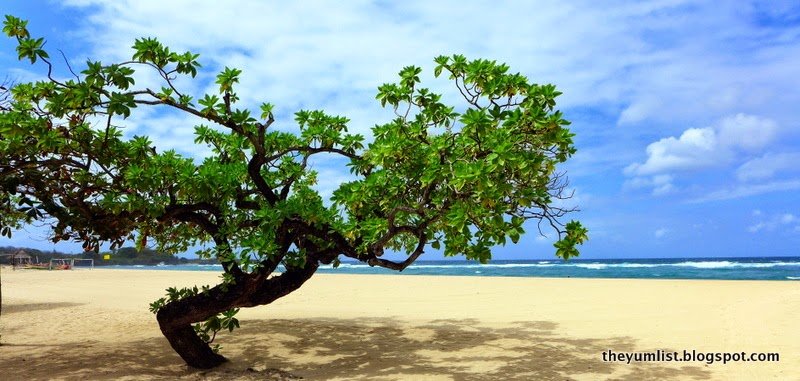 Stunning Beach in Front of Grand Hyatt Bali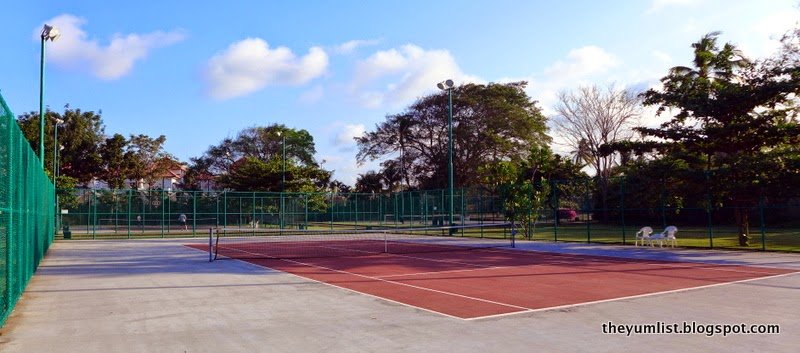 Tennis Courts
Knowing many of my friends travel with their children, I peak into the resort's childcare facilities, Camp Nusa. Run by trained professionals, it looks like oodles of fun. Arts, crafts, sports, games, excursions and even cooking classes are sure to occupy any youngster between 3 and 13 for hours on end.