Monica Tindall
When I recall the highlights of 2017, The Ritz-Carlton Kuala Lumpur's Guest Chef Dinner Series consistently returns furnishing some of the year's most memorable evenings. Hosting award-winning chefs from around the globe, the team present KLites with fantastic opportunities to dine with these recognised names right here in their own backyard.
Chef Francisco Araya, Guest Chef at The Library
To my delight, the Guest Chef Series kicks off the 2018 line-up with award-winning Chef Francisco Araya. Currently based in Shanghai at NAPA Wine Bar & Kitchen, Chef Francisco has had a star-studded career with noteworthy stints heading Alegre restaurant in Chile, 81 Restaurant in Tokyo where he was awarded one Michelin star, and he's even spent a season at the legendary three Michelin-starred El Bulli in Spain under the tutelage of world-renowned Chef Ferran Adrià. A Chilean native, Francisco has curated a seven-course menu highlighting modern European recipes with seafood as the principal ingredient; a prime product his homeland is known for.
We're here on the first evening of the five-day promotion hoping to report back in time for you to decide if you'd like to try it yourself.
Seven-Course Seafood Menu by Chef Francisco Araya
The evening begins with an amuse-bouche of four petite bites of art: crispy scallop and herbs, smoked celeriac hen egg, shrimp with tomato and watermelon, and a beetroot tartelette. A simple, easy drinking San Feletto Prosecco Brut cleanses the palate and works as a fine partner to open appetites.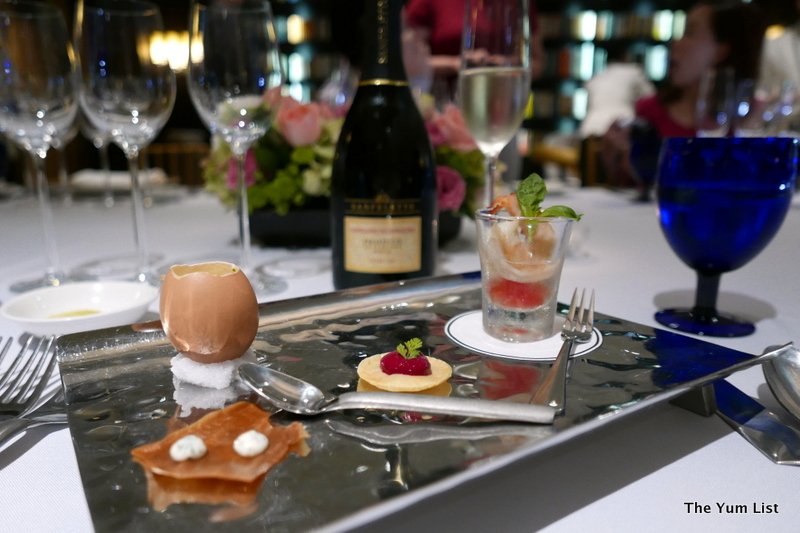 Oyster follows with a glass of Vionta Albariño Blanca. The oyster is enriched with a scoop of caviar and lightened with a cauliflower espuma. A bouquet of tropical fruits in the Spanish white wine gives way to fruitiness and soft acidity in the palate with a persistent finish. The two are a match made in heaven with the salty creaminess of the oyster complemented by the tart and fruit character of the wine.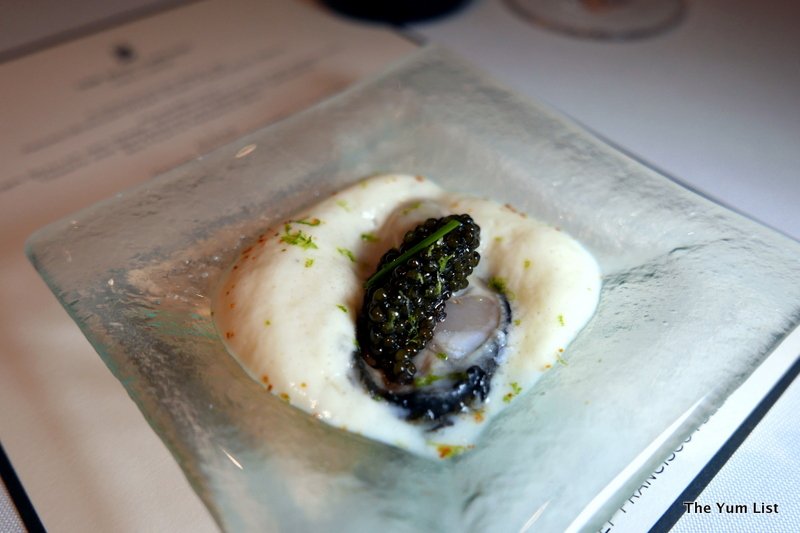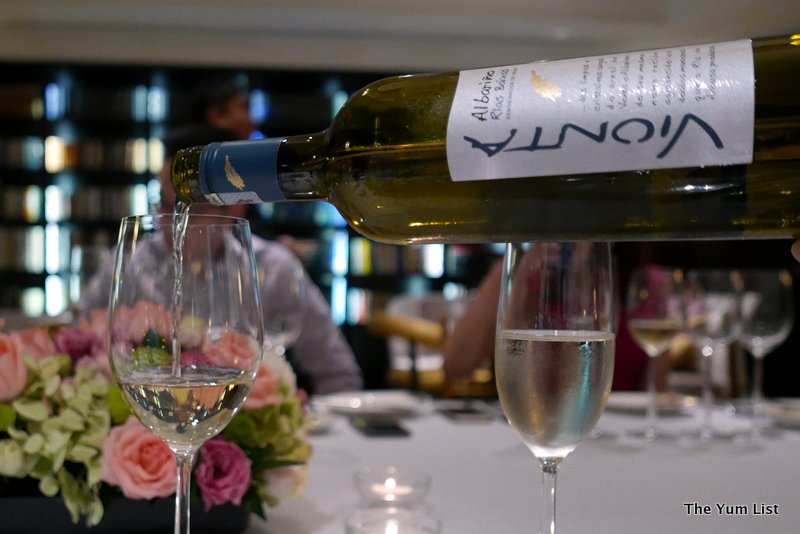 A favourite dish of mine is found in the next course, Scallop Ceviche. Seasoned with ginger and cilantro the fresh shellfish flesh is given both spice and herbiness. Of Chilean origin, the Ventisquero Reserva Sauvignon Blanc, offers a graceful nose with fruits and flowers in the aromas. Its crisp acidity and citrus notes serve to further brighten the marinated scallops.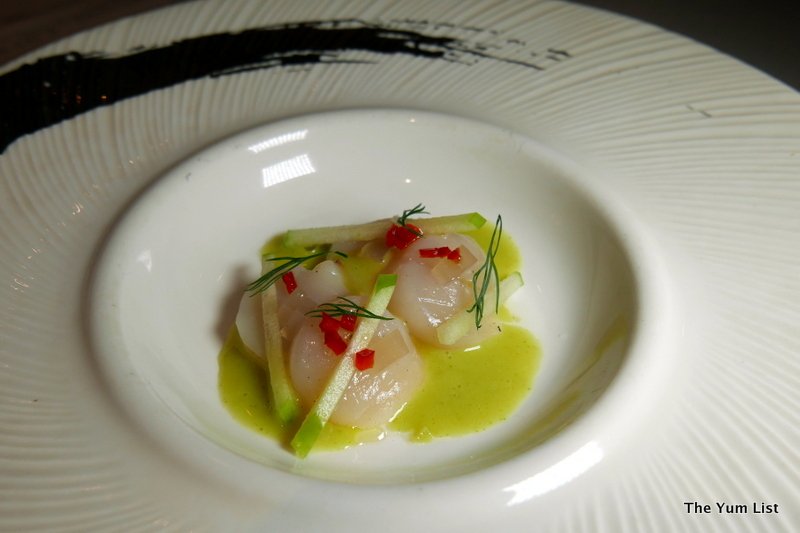 Arroz Verde sees Arborio rice gifted a green hue with spinach and a whole bunch of flavour with carabineros shrimp. These prawns were given their name due to their strikingly bright red colour similar to that of the uniform of the carbineros or Spanish customs police. Not only are the prawns bolder in colour but so too are they more robust in flavour. We return to Spain for the wine pairing with a glass of Viña Muriel Reserva Blanco Viura. This multi-award winning vintage brandishes a bouquet of citrus, spring flowers and a mild spice. It's both fresh and soft in the mouth and large enough to accompany the gradual intensity of flavours in the courses.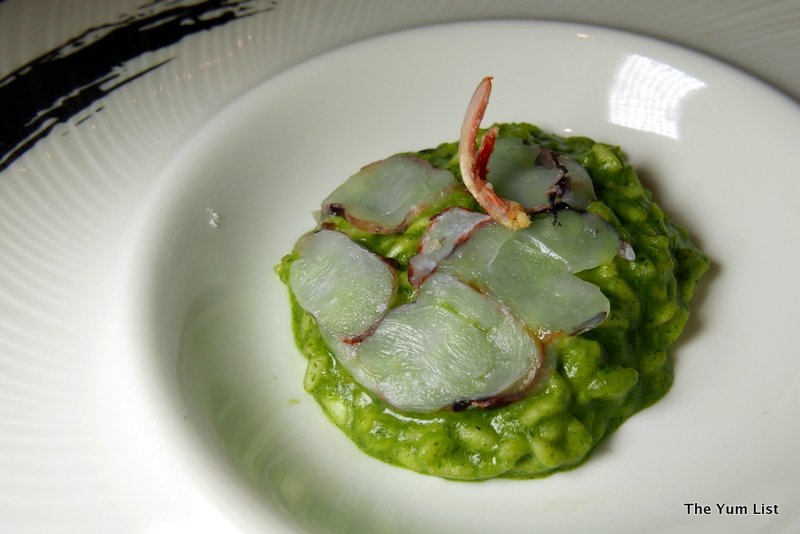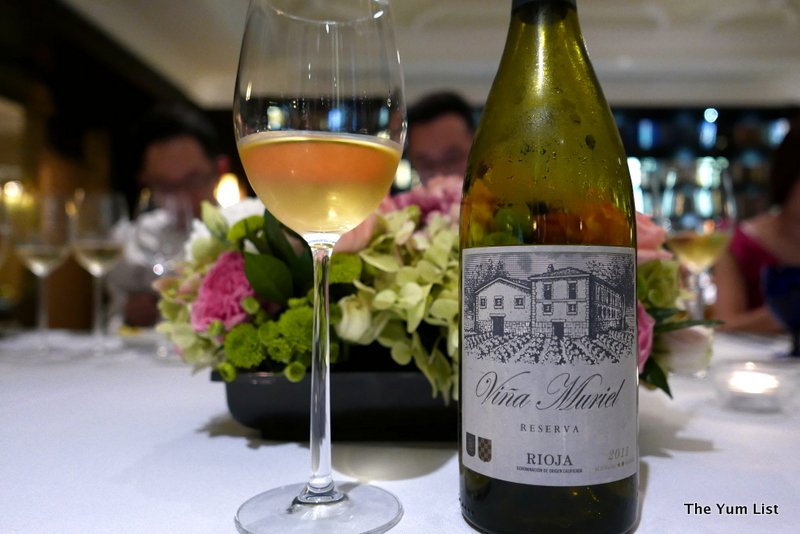 The star of the night (in my opinion), another shrimp dish (poached this time) follows, this time accompanied by yuba (soy milk skin), caramelised onion and dill. The sheet of yuba hides a velvety celeriac puree and red and white radish side the plate adding both crunch and a surpising juiciness. As the Spanish viura did so well with the shrimp in the previous course this is what is continued as the wine pairing.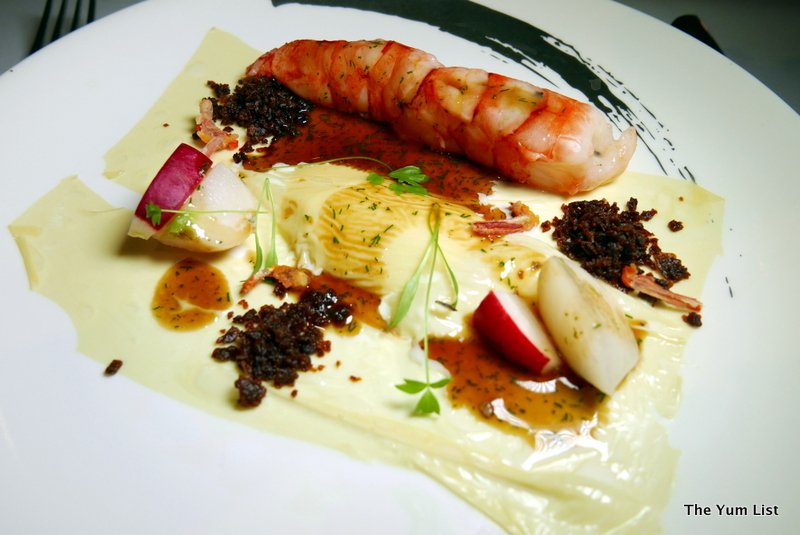 The main, Japanese Orange Sea Bream, is bedazzled with calamari, zucchini blossom and baby zucchini slices. The fish on its own is flavourful enough to not need any seasoning but, if you want something more powerful, dip it in the squid ink (black) and prawn (brown) sauces for robust flavours of the sea. Heading back down to chef's homeland, the Ventisquero Reserva Chardonnay brings with it a bouquet of papaya and pineapple with a whisper of pomelo. This wine is significantly greater in volume than the preceding wines, nicely round and rich.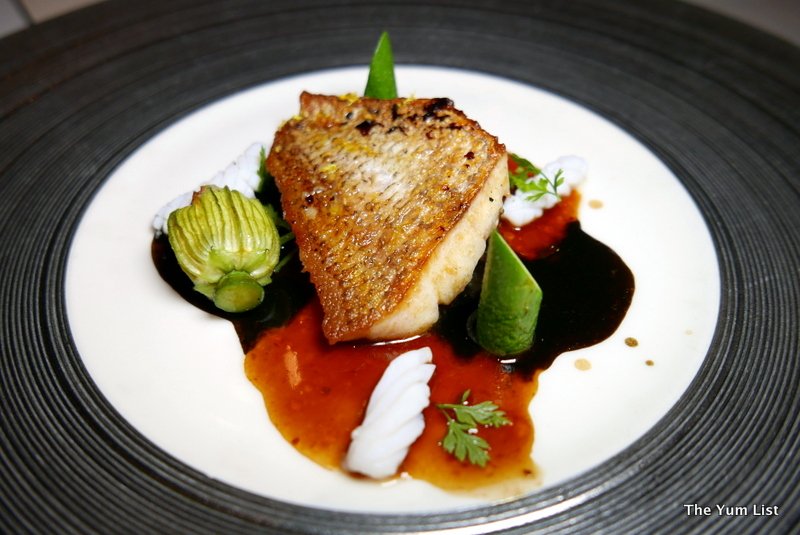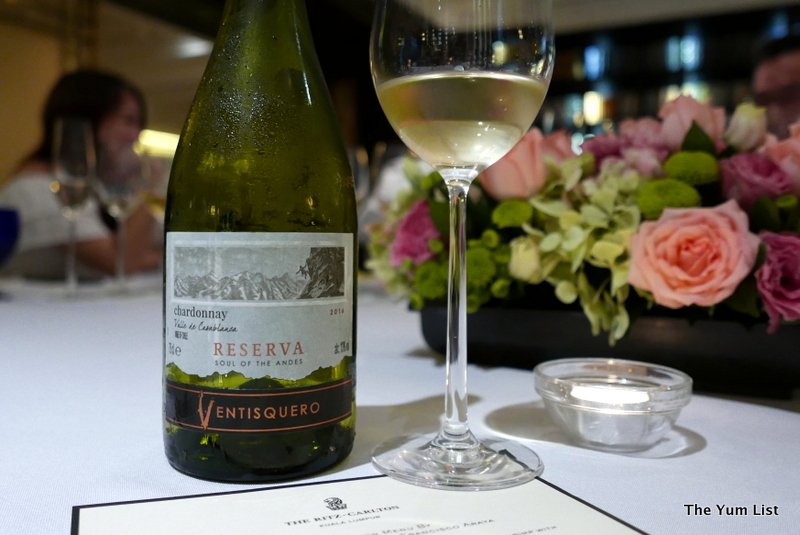 A touch of local concludes the meal with a Pandan Financier. It's topped off with pandan ice cream and furthered sweetened by its accompanying wine mate from Australia, the Roustabout Late Harvest Viognier. Dried apricots with a subtle steeliness first greets the nose and continues in the mouth with a soft stickiness and honeyed elements.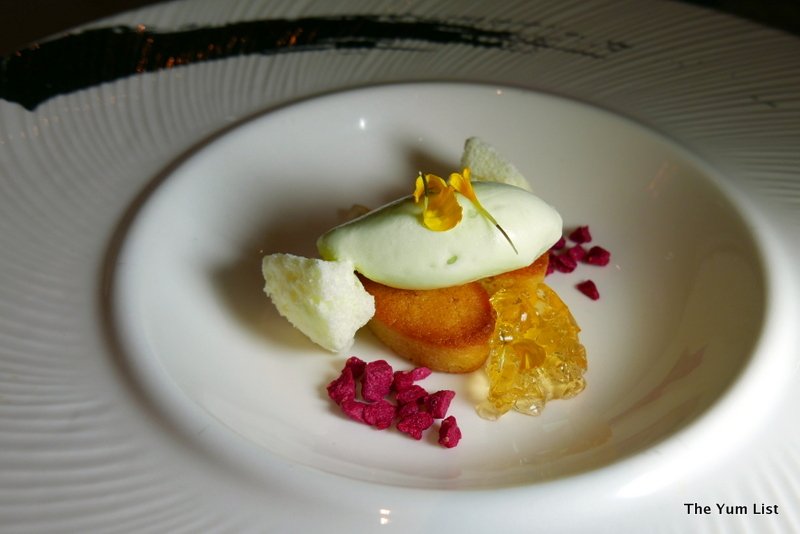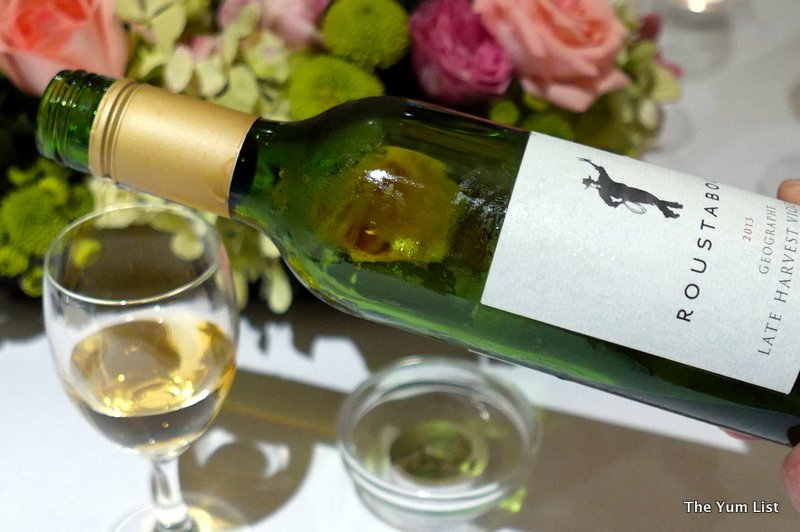 Freshly brewed coffee or tea concludes the evening with a moment of pause to reflect on the beautiful line-up Chef Araya and the Ritz-Carlton Kuala Lumpur team have provided this evening. If you are a fan of seafood this is one dinner not to miss.
Available from the 6th to the 10th of March from 7 pm until 11 pm, the seven-course dinner is priced at RM 350 nett per person with an option of wine pairing at RM 500 nett per person. For reservations and enquiries, please call +6 0 3 2142 8000 or email [email protected]
Reasons to visit: a rare chance to dine with an internationally renowned chef without the need to travel; one for seafood lovers; good wine pairings; intimate setting.
Check out some of the Ritz-Carlton previous guest chefs by following these links:
Christopher Millar
Lino Sauro
Jose Alonso