Words: Kirsten Durward   Photos: Monica Tindall
Splendidly situated directly on the beach front, in what many consider to be the country club area of Bali, Sofitel Bali Nusa Dua Beach Resort makes the most of an eight-hectare tropical forest plot of land. Our experience starts with a short 30-minute drive from Denpasar airport, in a luxury vehicle, complete with mineral water and handmade chocolates. Soon we are through the gates to paradise, enveloped by shady trees surely encompassing every tone of green, surrounded by tropical blooms, and most importantly, ever attentive service.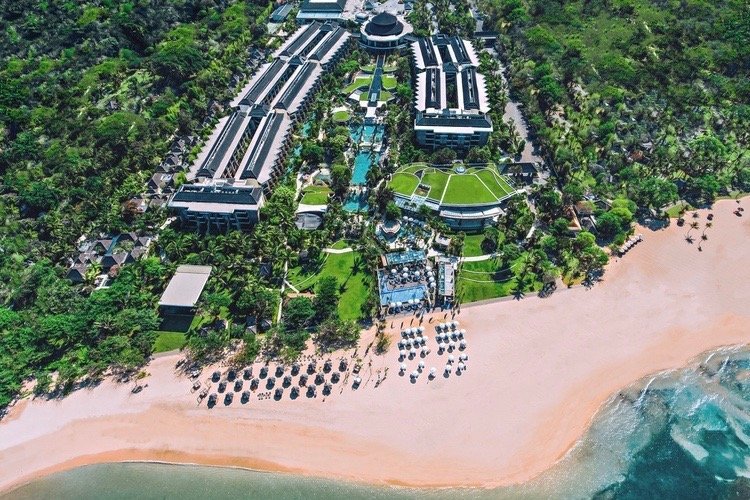 The 415-room luxury resort takes full advantage of the natural beauty of Bali's east coast elements incorporating them into the colonial-contemporary blended design. French-style meets Balinese beauty, as clever use of curves, natural carvings and authentic artefacts break up long wall spaces, high ceilings and wide-open doorways allow light to flood through. The rooms are in capsule blocks, each with its own flowing water features, so despite the size, you are wrapped in a sense of serenity.
Although Sofitel Bali Nusa Dua Beach Resort is a large property, each area has its own special vibe and energy, giving a feeling of intimacy and seclusion. The overall mood is one of tropical relaxation, with winding walkways, shady nooks, seemingly endless water features, soft sea breeze and above all, smiling Balinese faces. It's a constantly welcoming, caring approach for the guest experience.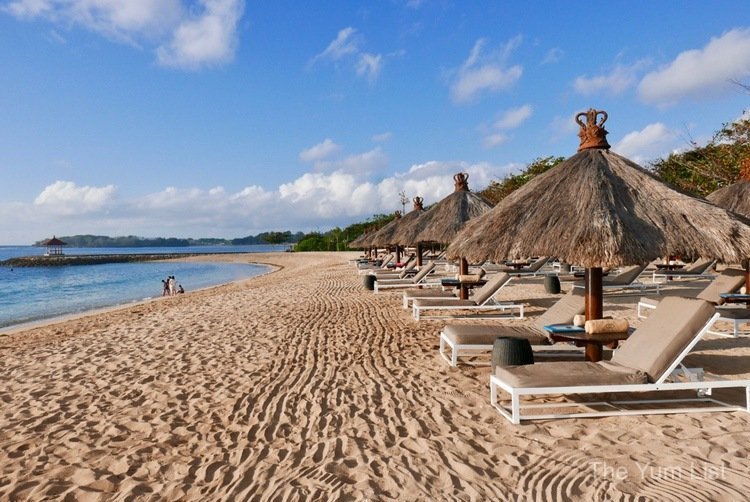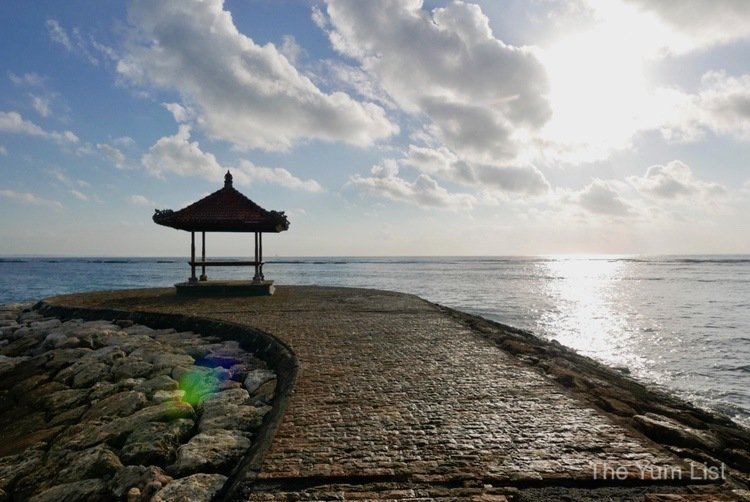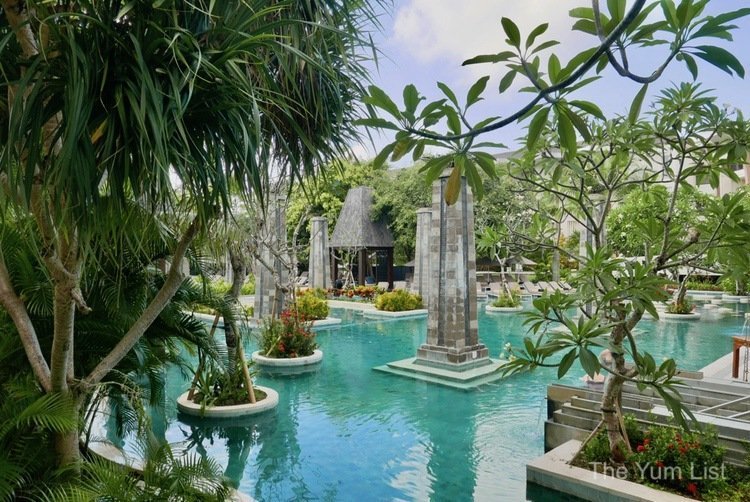 Rooms at Sofitel Bali Nusa Dua Beach Resort
Every room in the property is spaciously created, with private outdoor seating area, deep-soaking baths and tropical rain showers as standard. There are flat-screen TVs for those who prefer indoor entertainment, a coffee maker and a cleverly hidden minibar. The room design echoes the resort's blend of contemporary and classic. Subtle details, tones, textures, wood choices, everything is very natural with just a pop of colour to draw the eye. We are wowed by our pool access room. Divine dipping is only a step away and we can wade or swim under a bridge directly into the main property pool. The welcome treats are no less spectacular, I am not sure we would even manage all the fruit in the bursting bowl over our three-day stay.
Room types range from a commodious standard, through private pool rooms and private butler-serviced one and two-bedroom villas, to the jewel in the crown, the 1000 square foot presidential villa. Complete with private pool and entertainment area, on-call cheffing, and spacious garden, this is a perfect space for a private function, as well as an exclusive option for a more reclusive family. With the unique glass-walled beachfront chapel just steps away, I imagine this a divine location for an intimate wedding, one where every need is easily met.
Of note is that the mineral water at Sofitel Bali Nusa Dua Beach Resort is provided in refillable glass bottles provided by local company Balian and a free-flow supply of either still or sparkling is always on hand. The room servicing is meticulous and the fruit bowl refreshed daily. Turndown service presents a range of teas left caringly bedside, bed covers turned down as well as slippers laid out for us.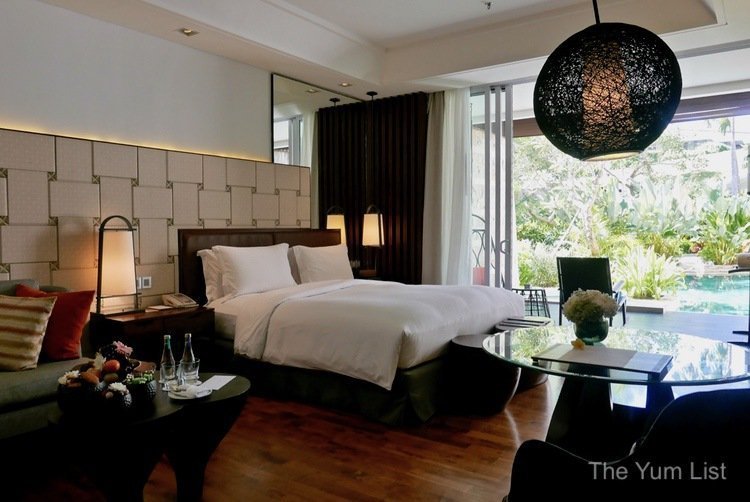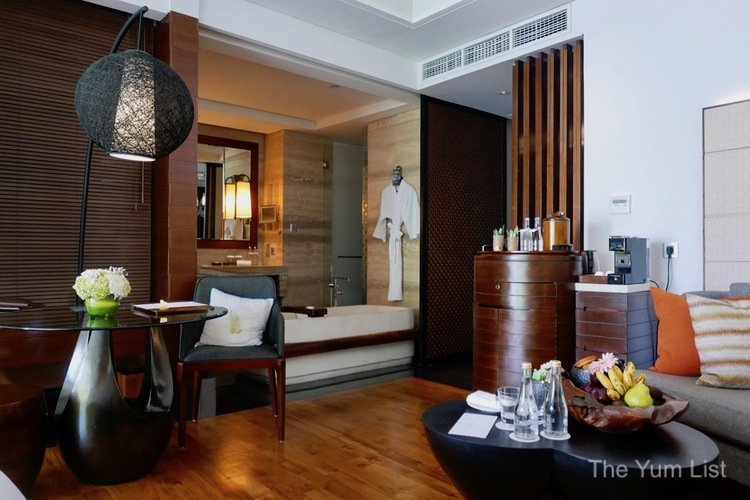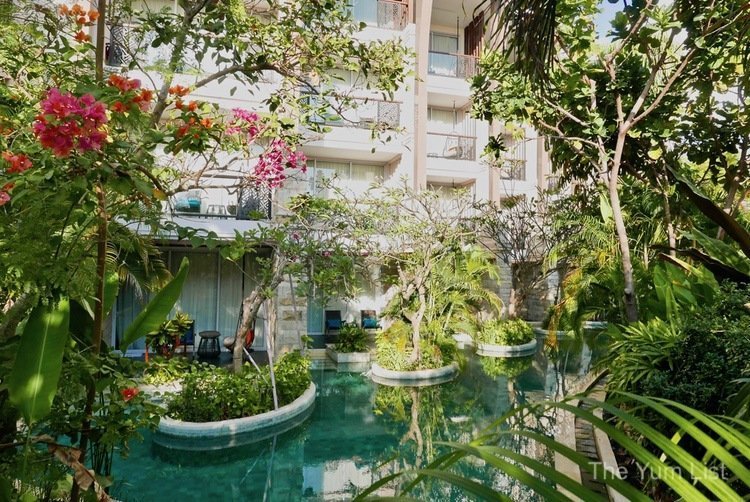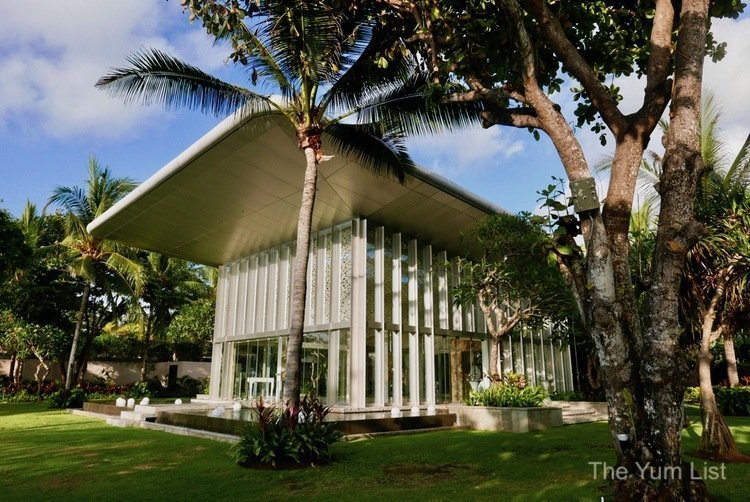 Breakfast Sofitel Bali Nusa Dua Beach Resort
After a night sinking into our soft pillowed king-size bed, our first delight of the day is a floating breakfast in our pool-access room. This unique experience is room service extraordinaire, with freshly poached eggs, fruit smoothie bowls, sparkling wine and a range of bakery items. Room service is, of course, available in all rooms. Do make time though to feast on the amazing range of breakfast options from the plethora of patisserie, fresh fruits, cold cuts and live cooking stations in Kwee Zeen. Read more about our breakfast experience, and be prepared to be envious here!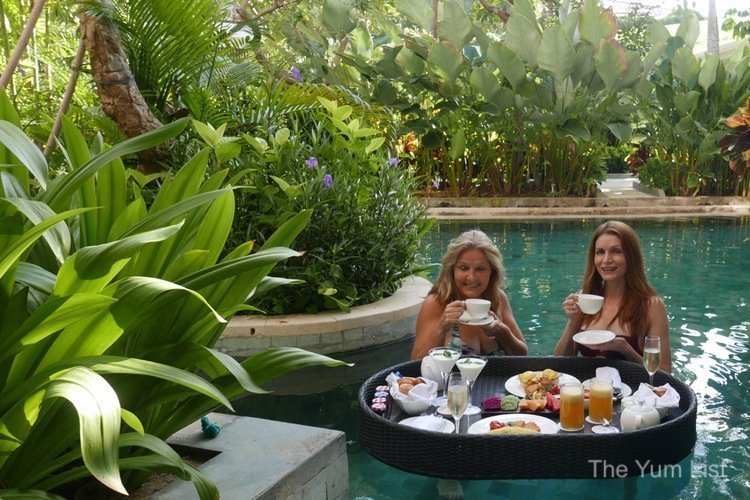 Executive Rooms – Club Millesime
Our Club Millesime room comes with in-room check-in, and I cannot tell you how delightful that is after an early morning flight. If you are flying long distances, it is surely even more welcome. It's straight to your room, a swipe of a card, a signature and done. Executive check-out in Club Millesime is equally pain-free. Executive Club guests have all-day access and here we find a library, pool table, lounge, dining tables and an outdoor balcony. Club Millesime is spacious, offering restful calm and comfort. From breakfast through afternoon tea to evening cocktails with canapes, there is much to enjoy.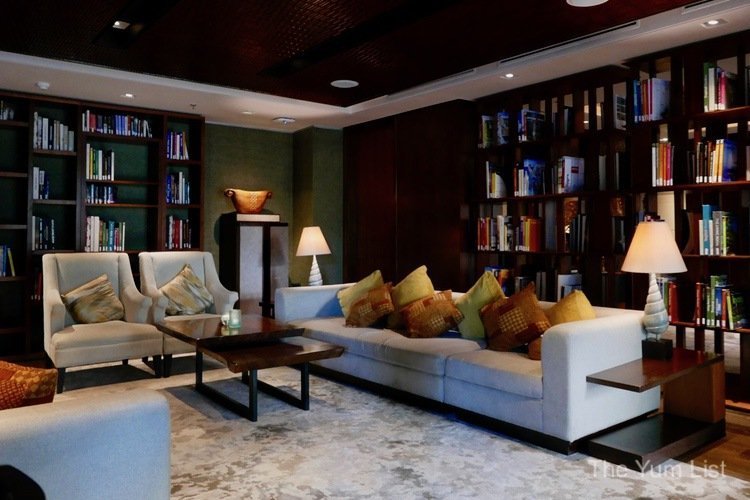 Facilities and Activities
It is a cliche, but there truly is something for everyone at Sofitel Bali Nusa Dua Beach Resort. Whether you prefer to relax by the pool, sink your feet into the sand or want to keep active, you will find your wishes granted here. A well-provisioned gym, with daily exercise classes, kids club, a range of pools, tennis courts, bike hire, archery, watersports… the list goes on and on. We do have a shot at archery, which is a great arm workout. We felt our shoulders after only 15 minutes! No bullseye from these Yum List archers, but happily, red and blue zone targeting, rather than nearby trees or passers-by! I had romantic notions of featuring in a 'Game of Thrones' remake, but we had to conclude with our skills it would be more likely the 'Go Hungry Games.' Our tutor was patient, encouraging and also, fortunately, had a great sense of humour.
As a family-friendly resort, Sofitel Bali Nusa Dua Beach Resort has a colourful kids club, offering a range of fun-filled activities to keep energetic little and not-so-little ones happy all day. There is also a shallow pool with water spurts and fountains where we saw many families enjoying their time together. For a fun day out, families can take the free shuttle to the nearby water park 'Waterboom.' If holiday shopping is your preference, there are also shuttles to 'The Bali Collection' and 'The Beach Walk' malls.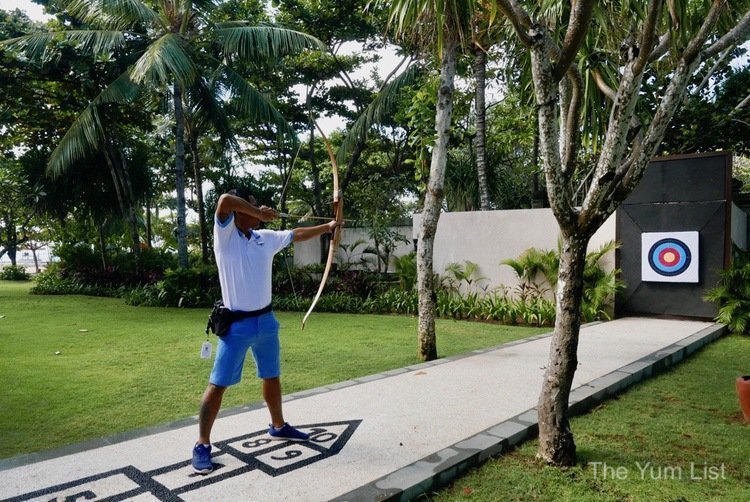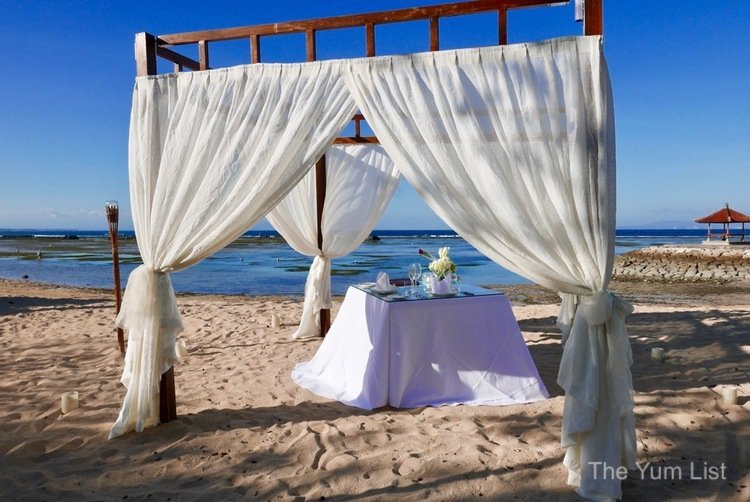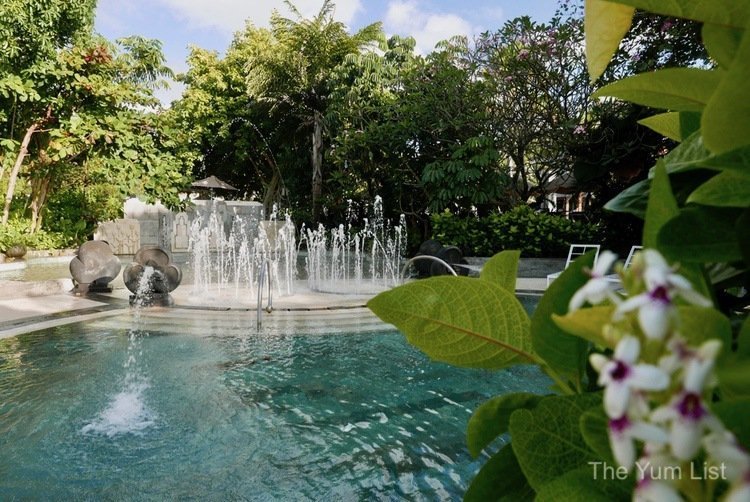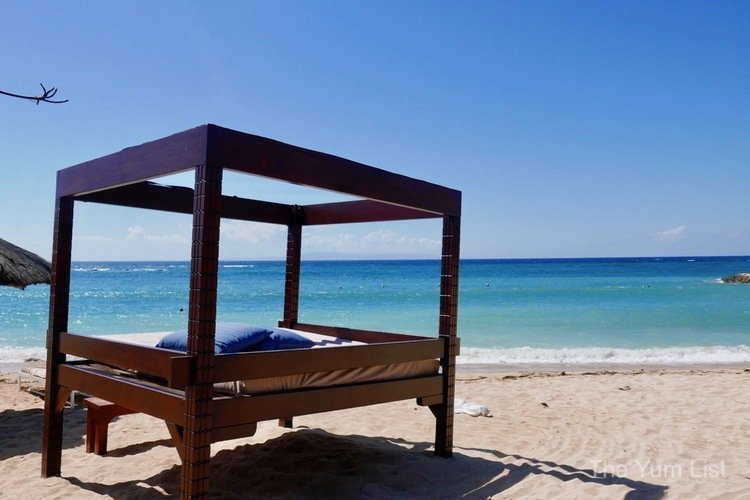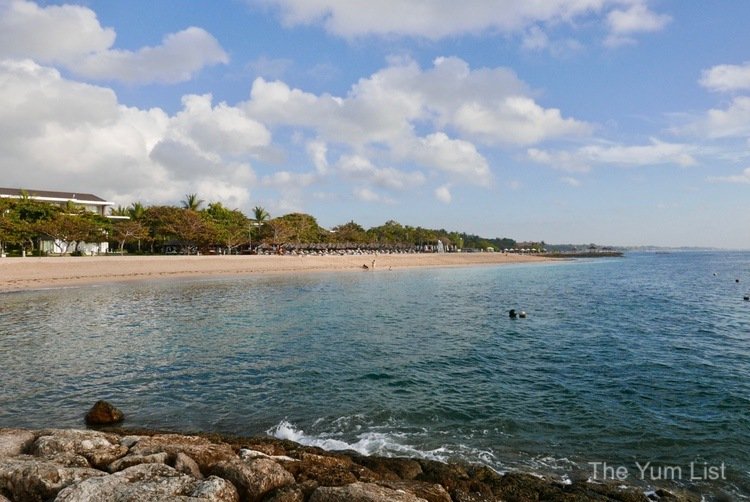 SoSpa
Regular readers will know that some of our favourite experiences include pampering at a spa. Sofitel Bali Nusa Dua Beach Resort excels on the indulgence front. SoSpa spoils with a range of massage, beauty and therapeutic treatments in their dramatically designed space, by the pool, at the beach gazebo or in your room. The Shampoo Lounge next door has us looking glamorous with signature Wash, Blow and Glow and CellScience Solitaire is a premium aesthetic clinic, giving our skin an added boost. Check out some of the best-sellers on their menu and a comprehensive article on a day spa experience here.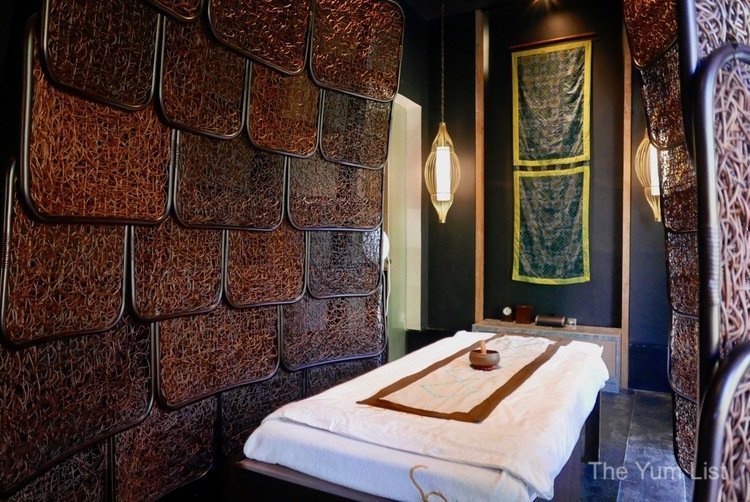 Sofitel Bali Nusa Dua Beach Resort Restaurants
Dining options are plentiful. The main restaurant, Kwee Zeen, serves up an eye-catching array of international cuisine in colourful smorgasbords alongside live-cooking stations for buffet breakfasts and dinners. A la carte is also available throughout the day and here we enjoy a light lunch on our arrival. Toya Beach Bar is justifiably famed for its signature Balinese seafood barbecue in the evening, while Cucina Osteria e Enoteca is an Italian-themed restaurant with white-clothed tables in a romantic setting by the pool.
If you are only to choose one outlet though, the Manarai Beach House, located within the Sofitel property itself, is a must-visit. With beachfront loungers, two pools, one with a swim-up bar and an air-conditioned restaurant, Manarai Beach House adds a little something extra to the Sofitel experience. A menu with both decadent and healthy options, a sublime list of signature and classic cocktails, and surely one of the best wine collections in Bali with 200 labels being stocked, means that it is truly worthwhile experiencing a day in this wondrously welcoming environment. Menu, photos and prices here.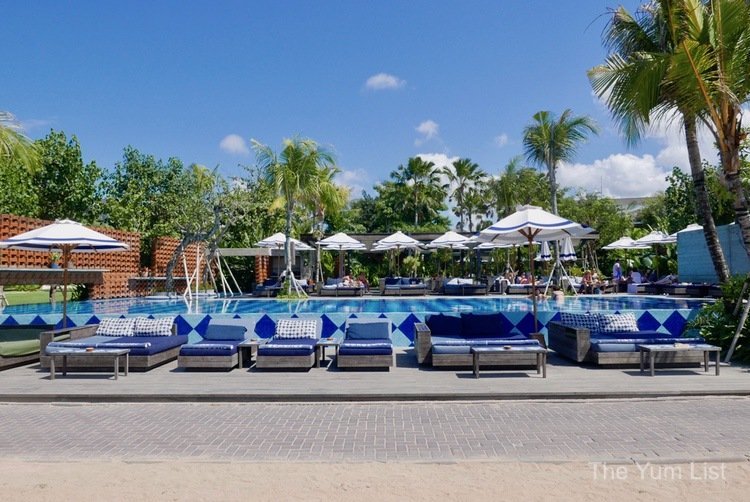 Cocktail Bars Nusa Dua
Whether you prefer beachfront, pool bar, hotel chic, or room service on your own private terrace, you have plenty of opportunities to enjoy beverages during your stay. Toya Beach Bar, Kwee Zeen, L'Oh and Le Bar all have different happy hour offerings, and there is a free-flow package for a very reasonable price, which includes selections from all of these locations. During our visit, we were honoured to taste some of the premium signature creations by expert mixologist Wirawan. One was a relaxed poolside afternoon of light tropical concoctions at L'Oh, and the other was a chic early evening experience of elegance at Le Bar. They were two of my favourite cocktail tastings of all time, and I don't say that lightly.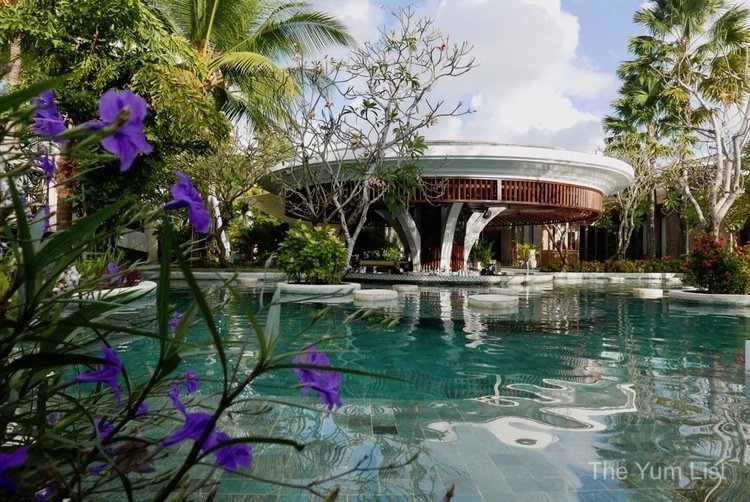 Sofitel Bali Nusa Dua Beach Resort is a truly enjoyable beachside experience. We loved being enveloped by the warm and genuine care that seeped from every corner and every staff member we interacted with. We were cocooned from the wider world and enjoyed exceptional service. It seems that AccorHotels know how to take care of their staff, for true happiness cannot be faked. And their staff certainly know how to take care of their guests. Nothing beats those Balinese smiles!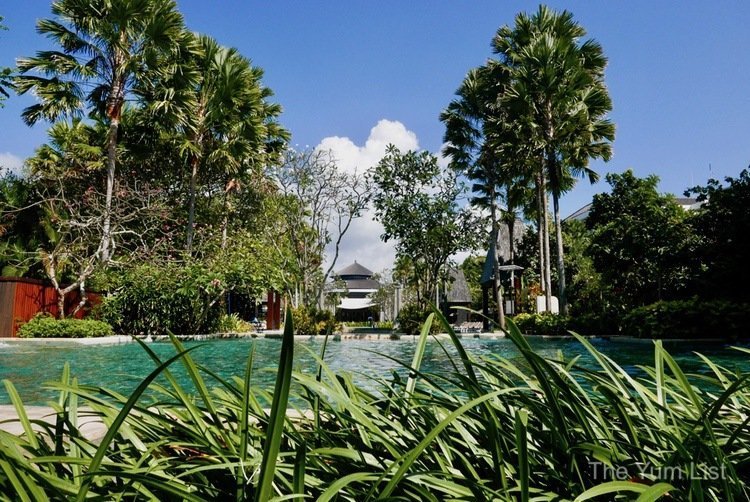 Reasons to visit Sofitel Bali Nusa Dua Beach Resort: stylish rooms – our top pick is the pool-access room with Club Millesime benefits; beautifully landscaped grounds; attentive friendly service; excellent craft cocktails; good free-flow alcohol package; Manarai Beach House is a must; direct access from the garden to the beach; located in the pristine safe haven and tranquillity of Nusa Dua.
Sofitel Bali Nusa Dua Beach Resort
Lot N5 ITDC Tourism Complex
Nusa Dua, Badung
Bali, 80363, Indonesia
(+62) 361/8492888
[email protected]
www.sofitel.com