Tengumai Sake Paired Dinner
Words: Patricia Podorsek
Photos: Monica Tindall
The collision of cultures in Malaysia makes it a terrific place to learn about new cuisines and the culinary traditions of faraway places. Nowhere was that more apparent than during a recent Tengumai Sake pairing dinner at Nadodi. It's quite possibly my very favourite place in KL to experience "engaging nomadic cuisine," just as their tagline promises. I always learn new things about food when I visit them, and this time I had the added bonus of learning about Japanese craft sake at the same time. Tengumai's Sake Paired Dinner features an array of artisanal brews. They complement the regional flair of Nadodi's subcontinental fare. I am ready to feel the impact of this new encounter.
Beverage Pairing at Nadodi KL
Before we get to the Tengumai sake; however, master mixologist Akshar Chalwadi presents one of his newest concoctions. I take a peek at his workspace behind the bar. With its distillers and dehydrators, it looks a little more like a science lab than a cocktail lounge! For this drink, he has infused gin with the tang and salt of goat cheese and paired it with clarified grape and strawberry juice. He then adds a touch of floral bitters, and the result is a drink that appeals to nearly all of the taste receptors. It is a refreshing start to our evening, and we are particularly delighted by the unique ice cube keeping it cold.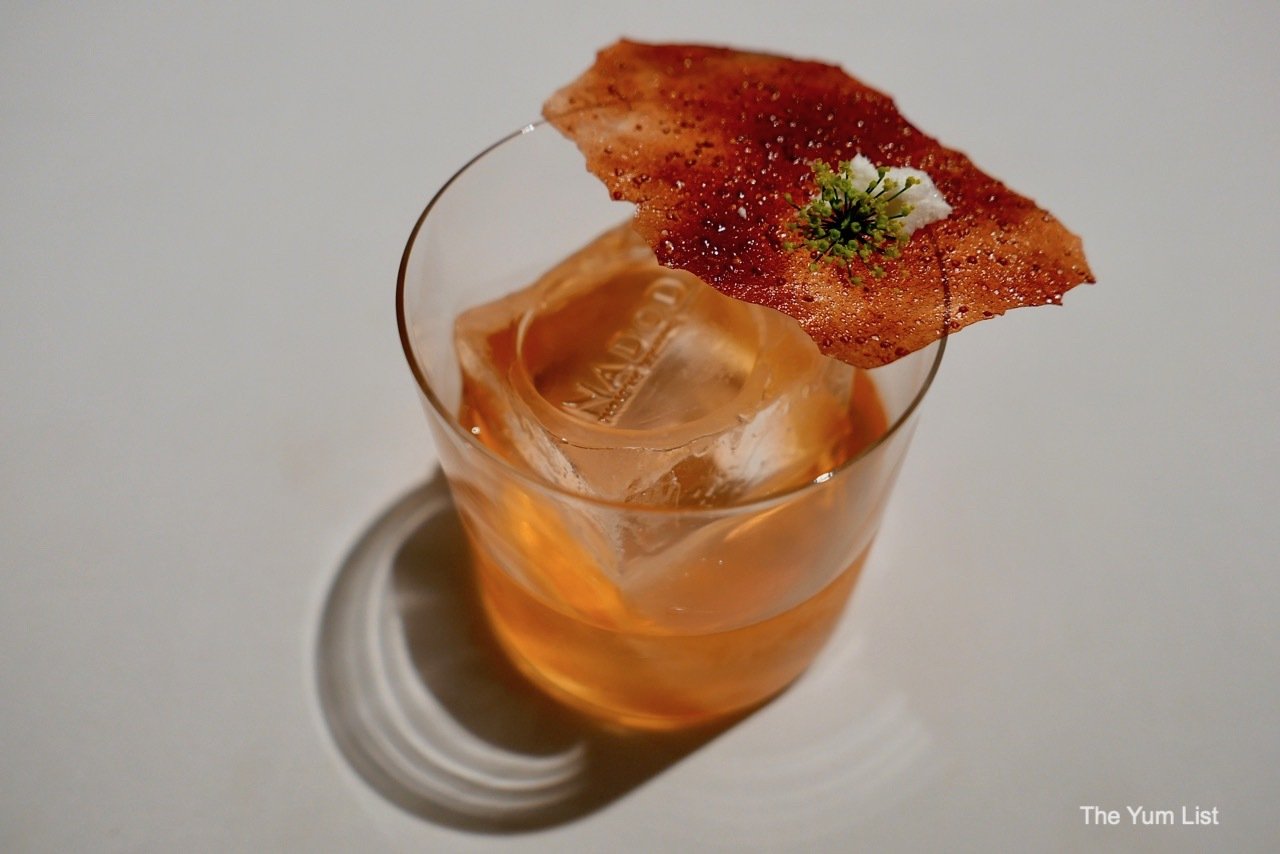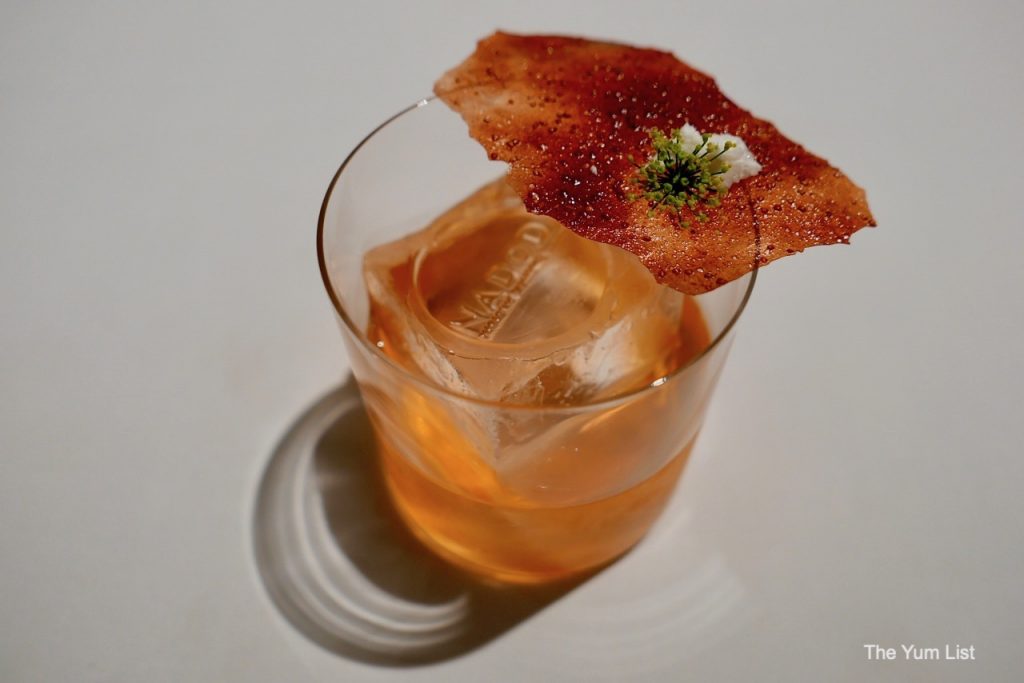 Nadodi's 11-Mile Journey
Nadodi typically opens its degustation menus with a trio of tasty treats. Tonight we start with the refreshing pink guava pani puri, a burst of tropical fruit underlaid by a little black salt and chilli spice. The second bite inlays the tang and spice of jackfruit pickle and mustard oil into a tiny charcoal bun, crumbly and a little sweet. Lastly, and most adorably, is the nasi lemak burger, spicy sambal and cucumber inside of a rice meringue bun. I am always amazed at how these small packages can contain so much surprise and delight. It's a little like winning the Amuse Bouche Trifecta.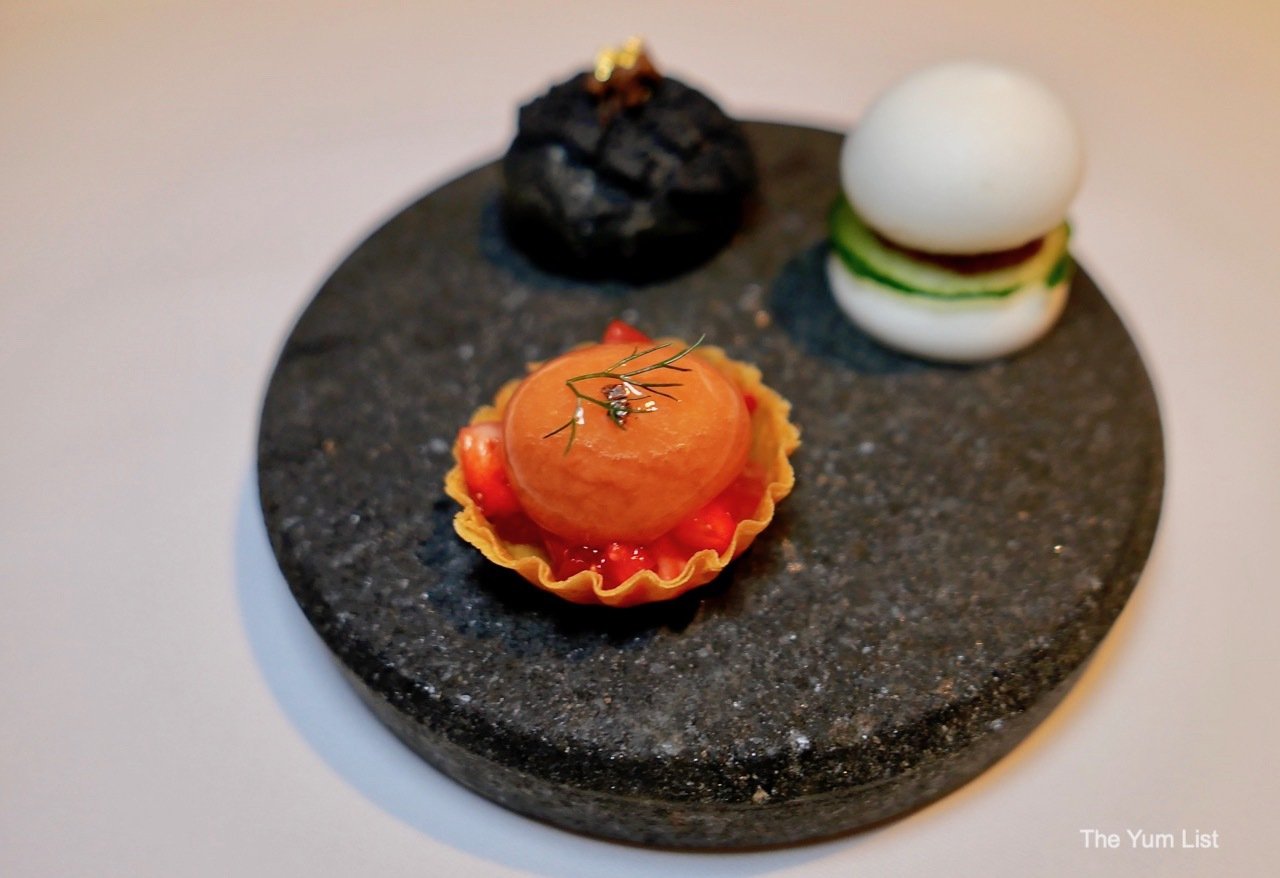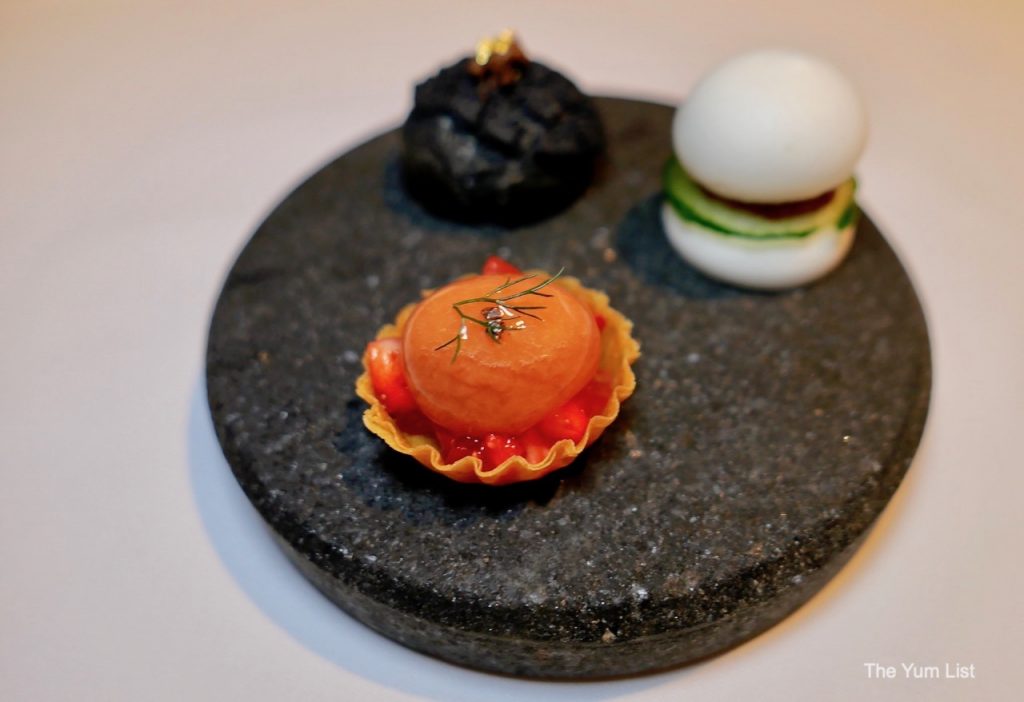 Street Staple
More nibbles arrive as part of the stopover called Street Staple on our 11-Mile Journey. In the spirit of Dosai, the chefs at Nadodi have fashioned a cone out of the same rice batter as our old favourite and filled it with luscious coconut chutney and a dollop of sambhar. Alongside is the Fish Rava Fry, humble fish trimmings mixed with semolina into a little cake then dressed up with caviar and cream cheese. Beautifully presented as an offering on wooden hands lies an unpretentious Chicken Puff. Except, like everything at Nadodi, there is nothing modest about it. The layers of the pastry are light and flaky and what might pretend to be ketchup is actually delicious homemade tomato chutney.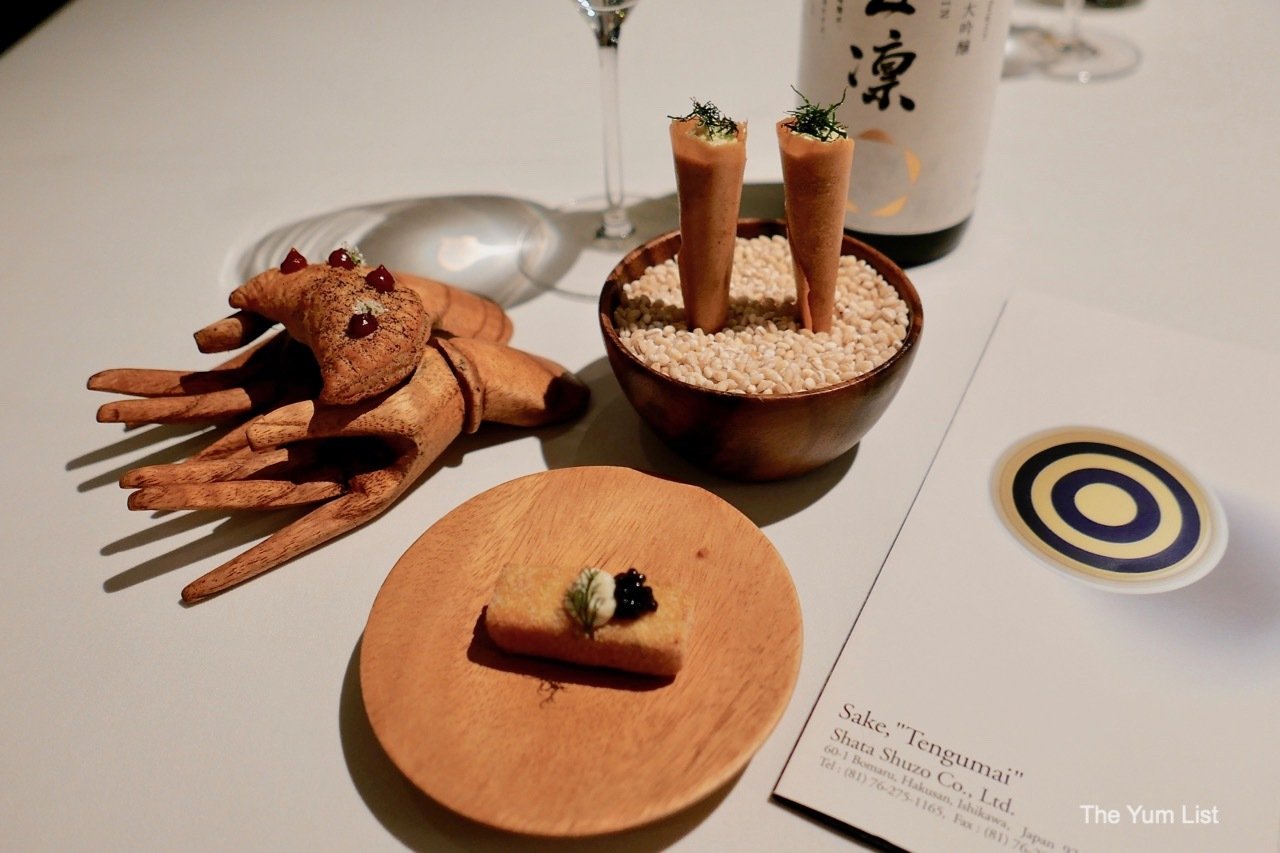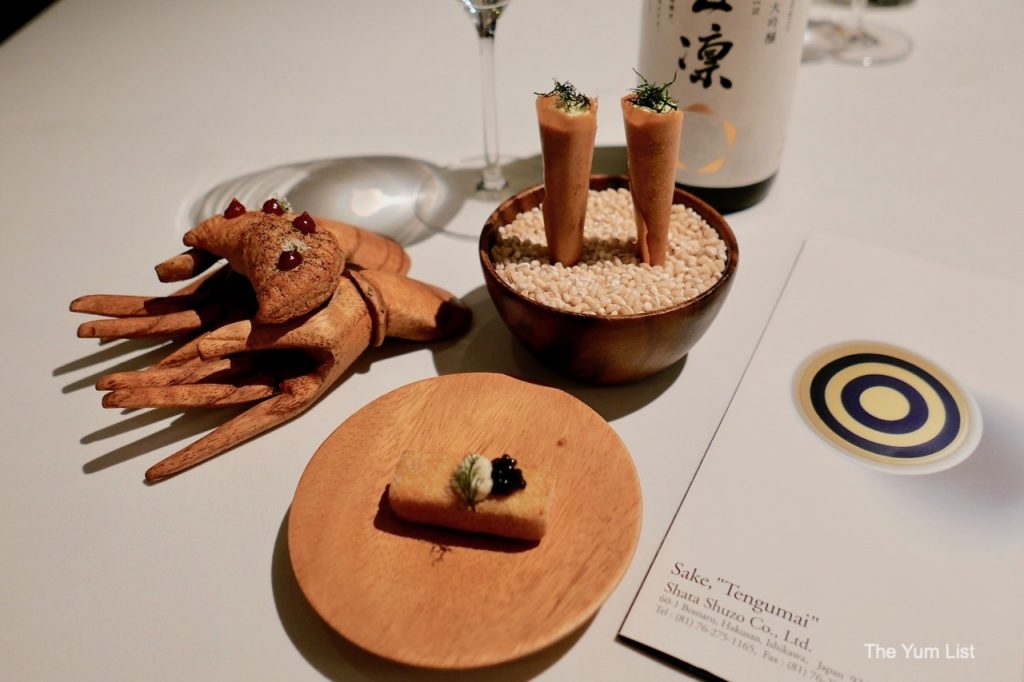 Tengumai Sake – Gorin Junmai Daiginjo
It's time for Sake Lesson #1, and traditional sake house Tengumai is my teacher for the evening. With a name that translates to "Dancing Devil", I foresee that these will not be passive lessons! This family of brewers has been making sake since the end of the Edo period, for more than 200 years. My first lesson is a glass of Gorin Junmai Daiginjo. This varietal blends 45% polished rice with strands of Koji and yeast for a light and clear sake with a slightly fruity aftertaste. Some of Tengumai's best sakes are brewed using a traditional fermentation process called the Yamahai Method.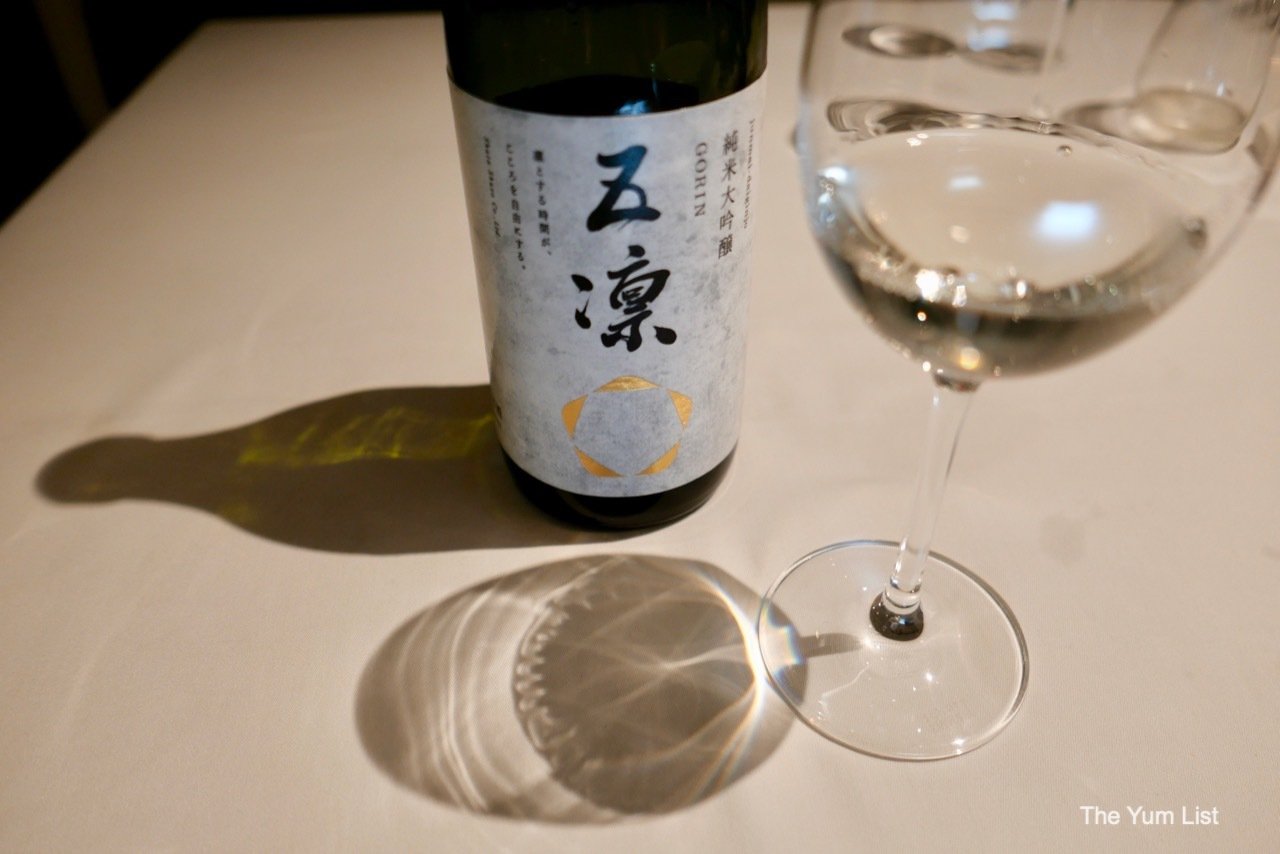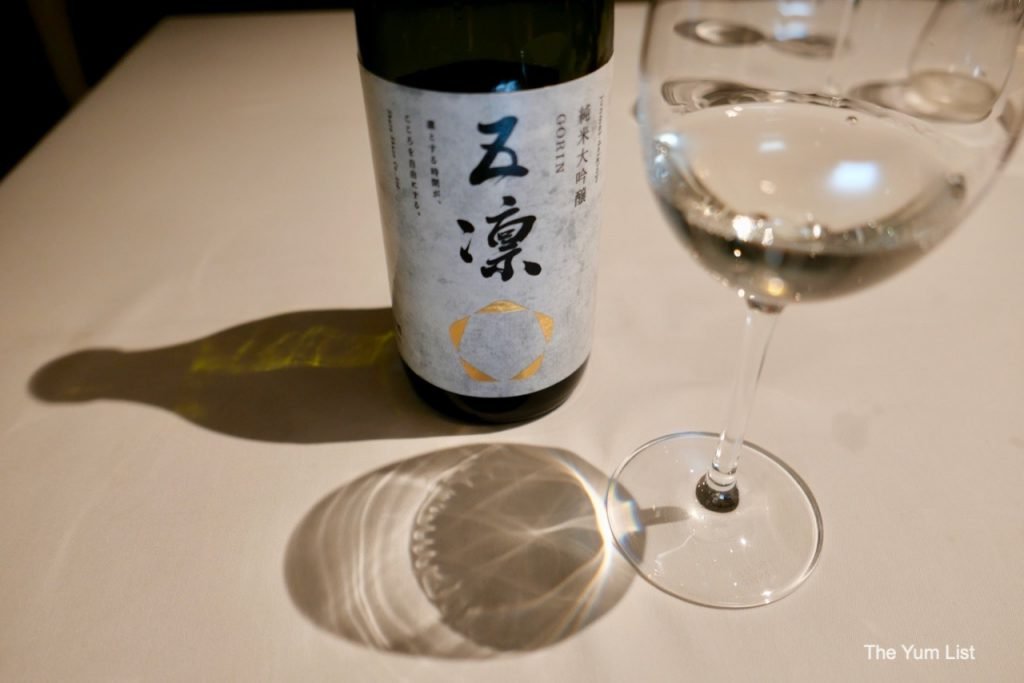 Memories
Fans of Nadodi know that the chefs love to remake their childhood food memories and dress them up in culinary finery. The course called Memories captures a few of their whimsical makeovers. I learn that Puttu is a typical breakfast food from Kerala that forms a cake out of coconut and rice. In this case, it's a lovely variety of red rice that retains a richer texture as it's chewed. It is served with an avial puree, which I further learn is a vegetable dish prepared with yoghurt and coconut. I can taste hints of turmeric and feel more than the heat of a little green chilli.
Companion to the puttu is a panniyaram, a round dumpling made of lentil and rice batter that is fermented to give the dough lots of lift as it cooks. The whimsical side to the bite lies inside, where stringy smoked scamorza cheese stretches across the pockets. It is topped with a dot of peanut chutney that adds an earthy crown to the smoke.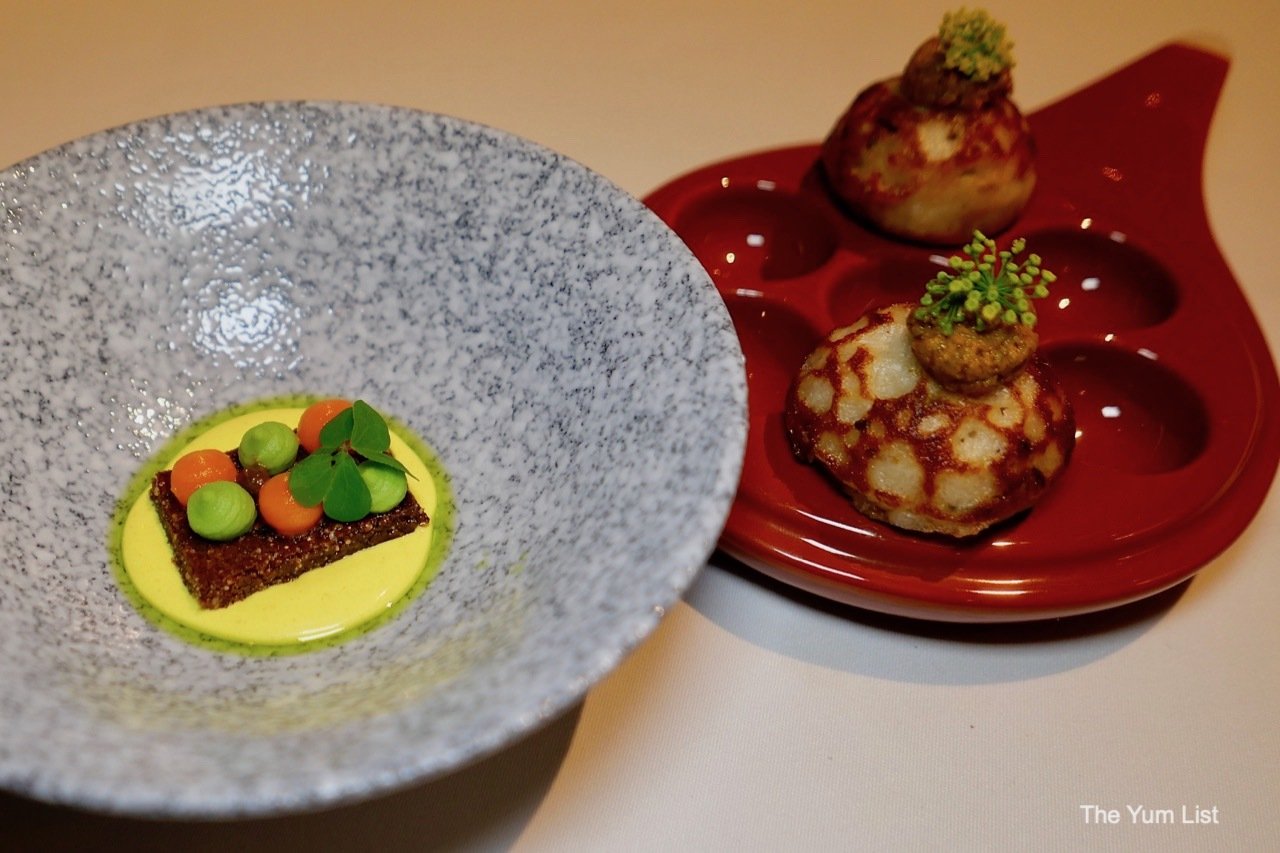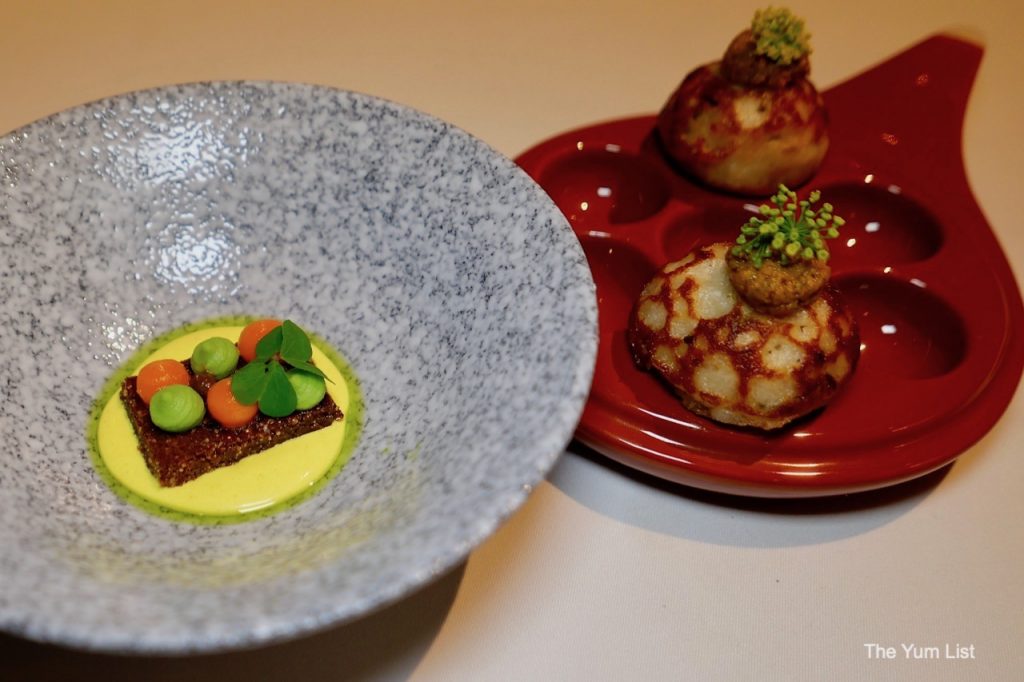 Alchemical Creations at Nadodi
Akshar is back with another alchemical creation for us. This time he has taken his own mango kombucha and paired it with super smoky peated whisky and tempering of vermouth. I like the natural effervescence against the grounding of the Scotch, and detect a playful hint of ginger in the background.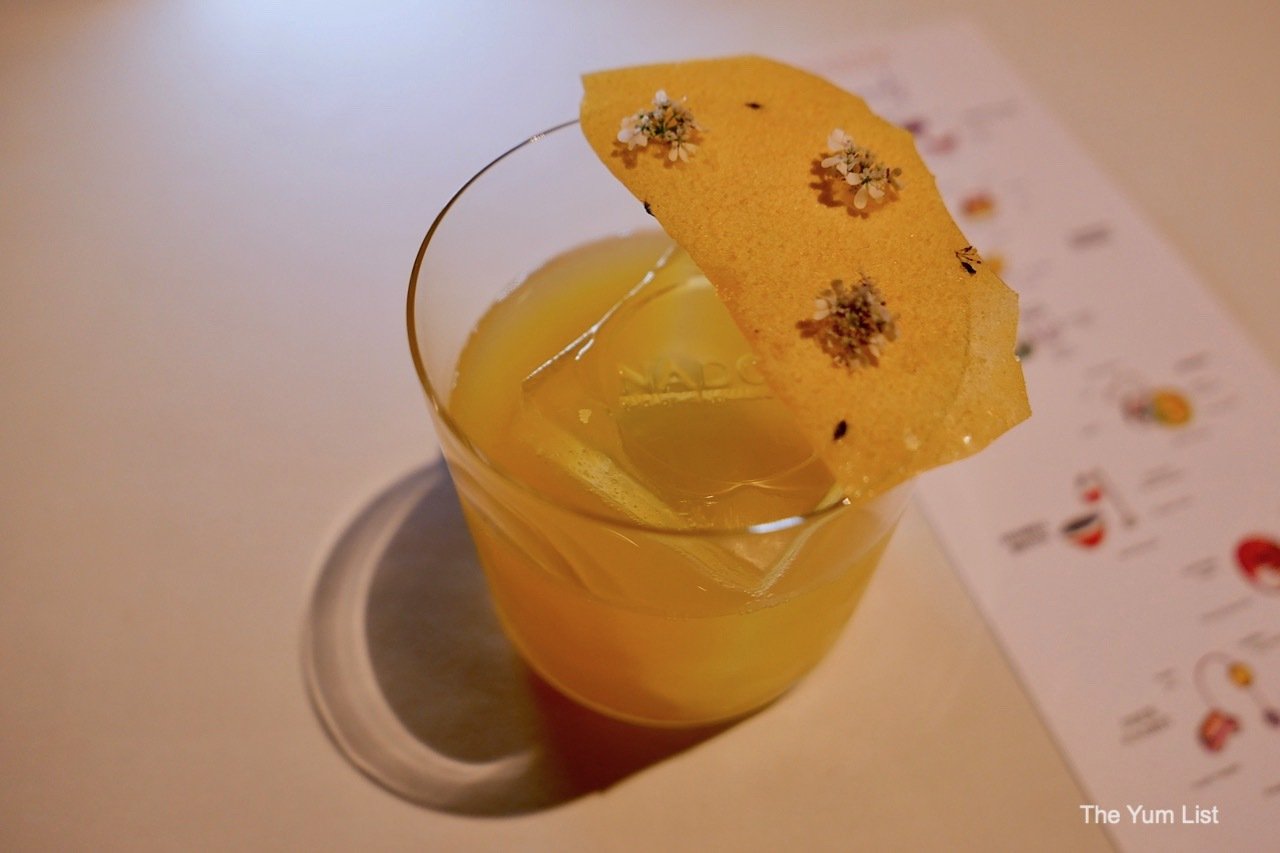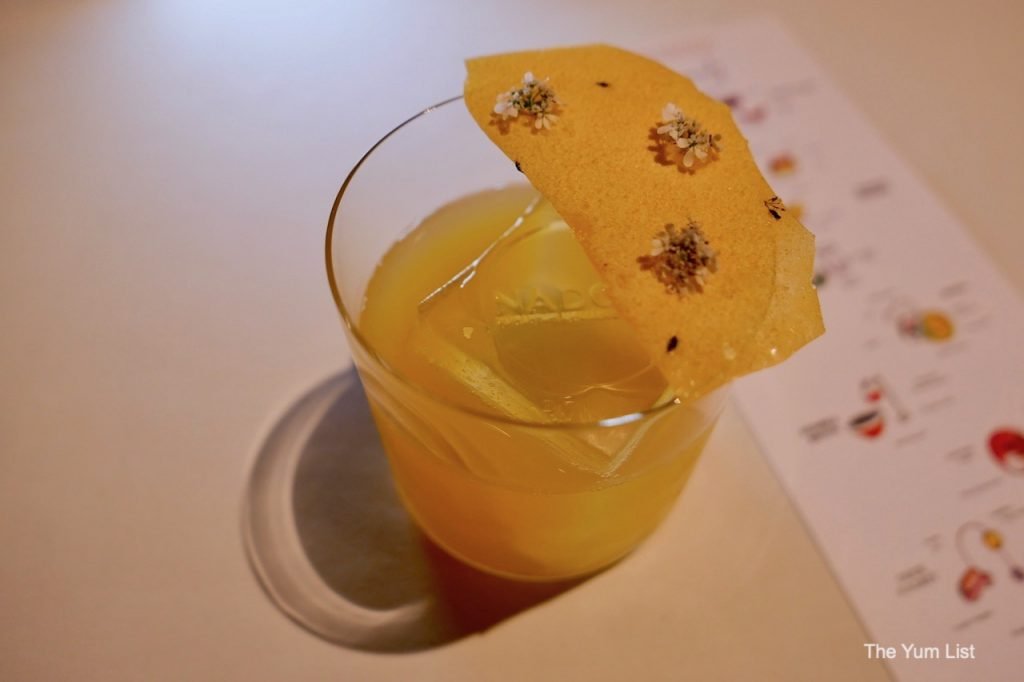 Red Kari
Probably the most beautiful dish of the evening arrives with Red Kari. Beetroot presented in four dimensions – dust, sorbet, leather, and jelly – is worth taking your camera out for. It looks so much like an art piece on my plate, I almost don't want to take a bite. I'm happy to say I get over that sentiment pretty quickly and indulge in the earthy tidbits enhanced by coconut curry. I especially love the lingering wisp of cumin among the powder.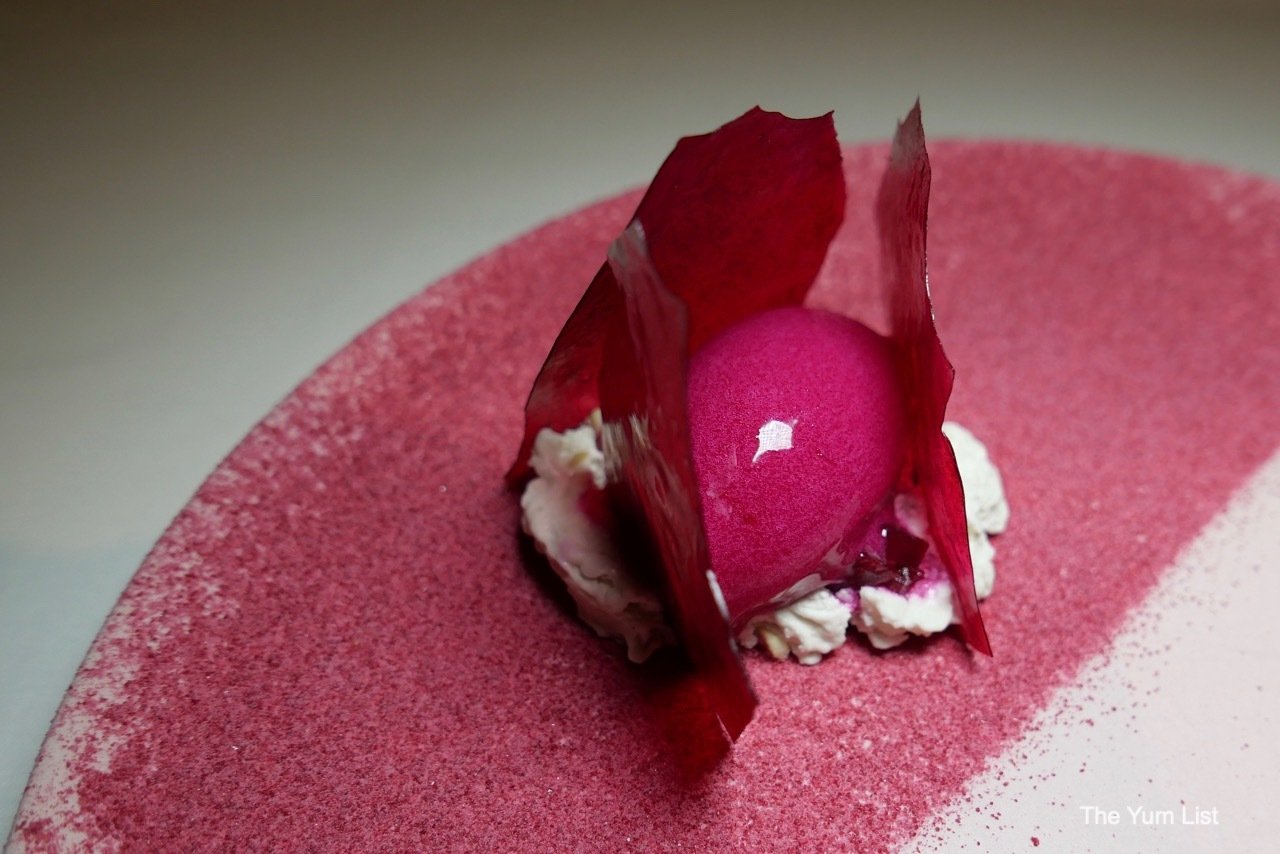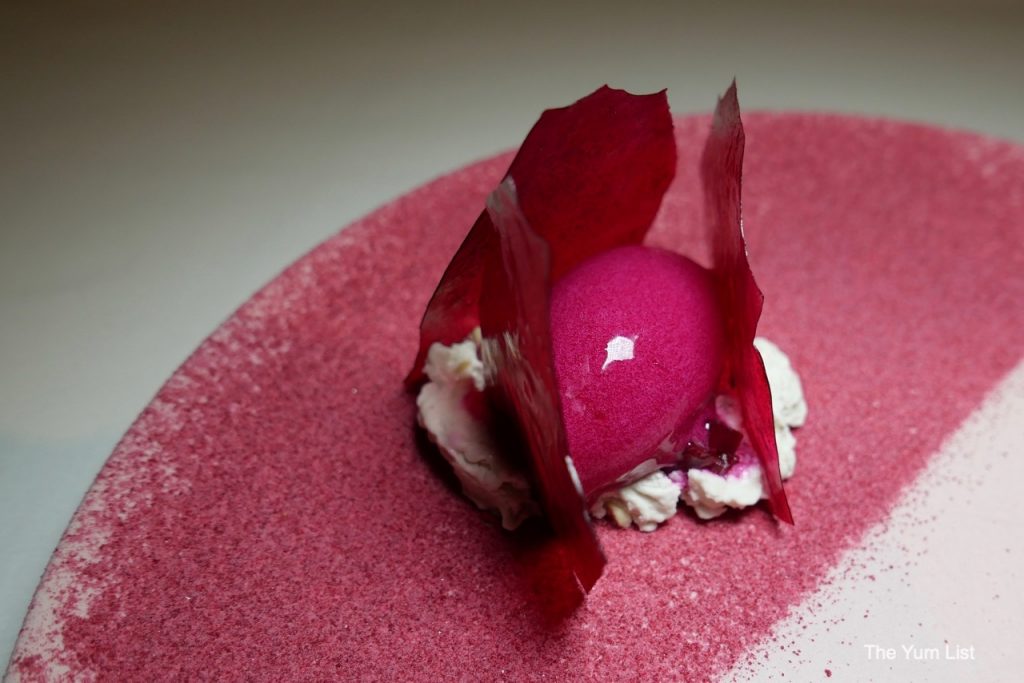 Tengumai Sake – Yamahai Junmai
Ready for Sake Lesson #2, I learn from our charming sommelier, Andre Chalson, that rich sake, usually the junmai and junmai ginjo sakes, open at room temperature. Therefore, letting it warm is as important as giving it time to breathe. This second pairing, a Yamahai Junmai, is a dry sake with a rice polishing ratio of 60%. It pours golden into our glass and unfolds with a sophisticated, earthy aroma. Its creamy, slightly sweet, flavour and acidity make it a great pairing with the seafood.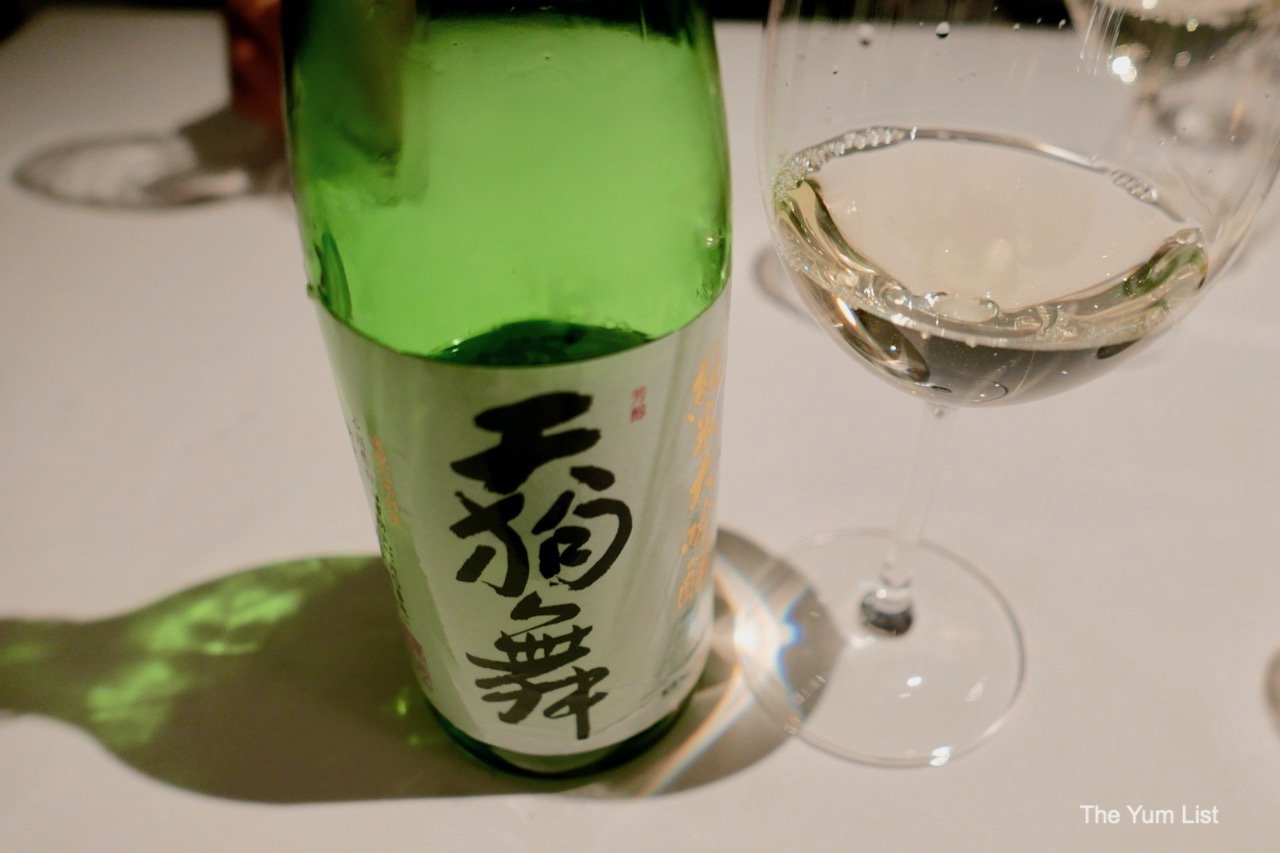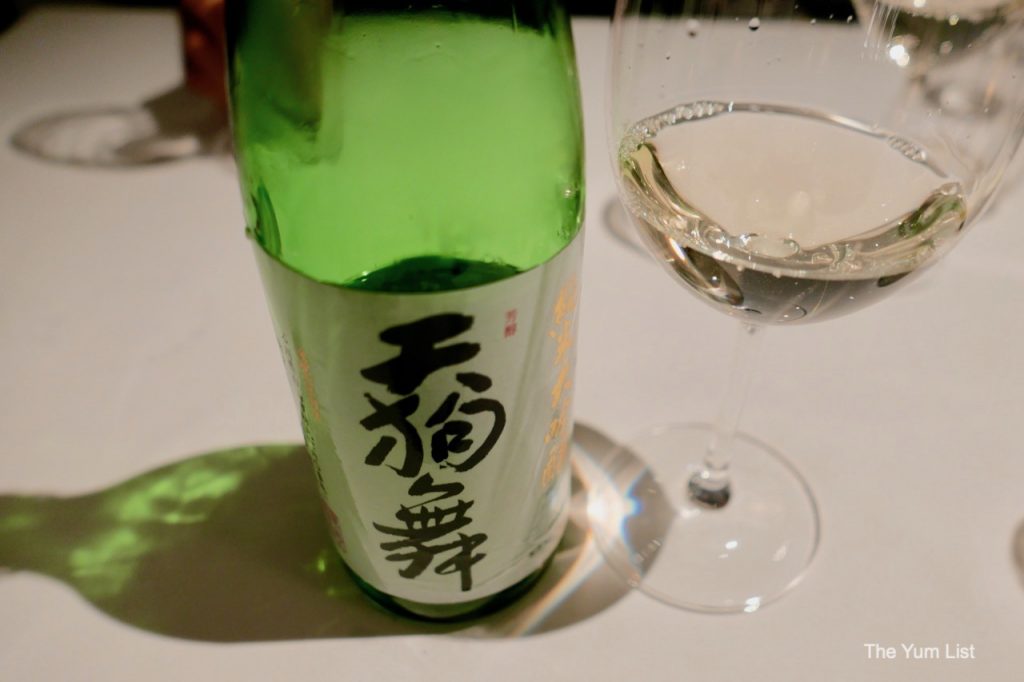 Hokkaido Scallop
The menu takes a more serious turn with the arrival of the Hokkaido Scallop. The delicate pan-seared morsel is nestled in a bed of Sakura ebi and shredded spinach with a pillow of garlic puree and a sheet of thinly pressed enoki mushrooms. As if this wouldn't all be delicious enough in its own right, a bath of dashi is lovingly poured around it. The broth is a complex consommé built from salty anchovies, curry leaves, and raw peppercorns. Noting the dried baby Brussel sprouts floating in the bath, Monica describes it as 'perfect and tiny like dollhouse food.' I find it perfectly 'umami'.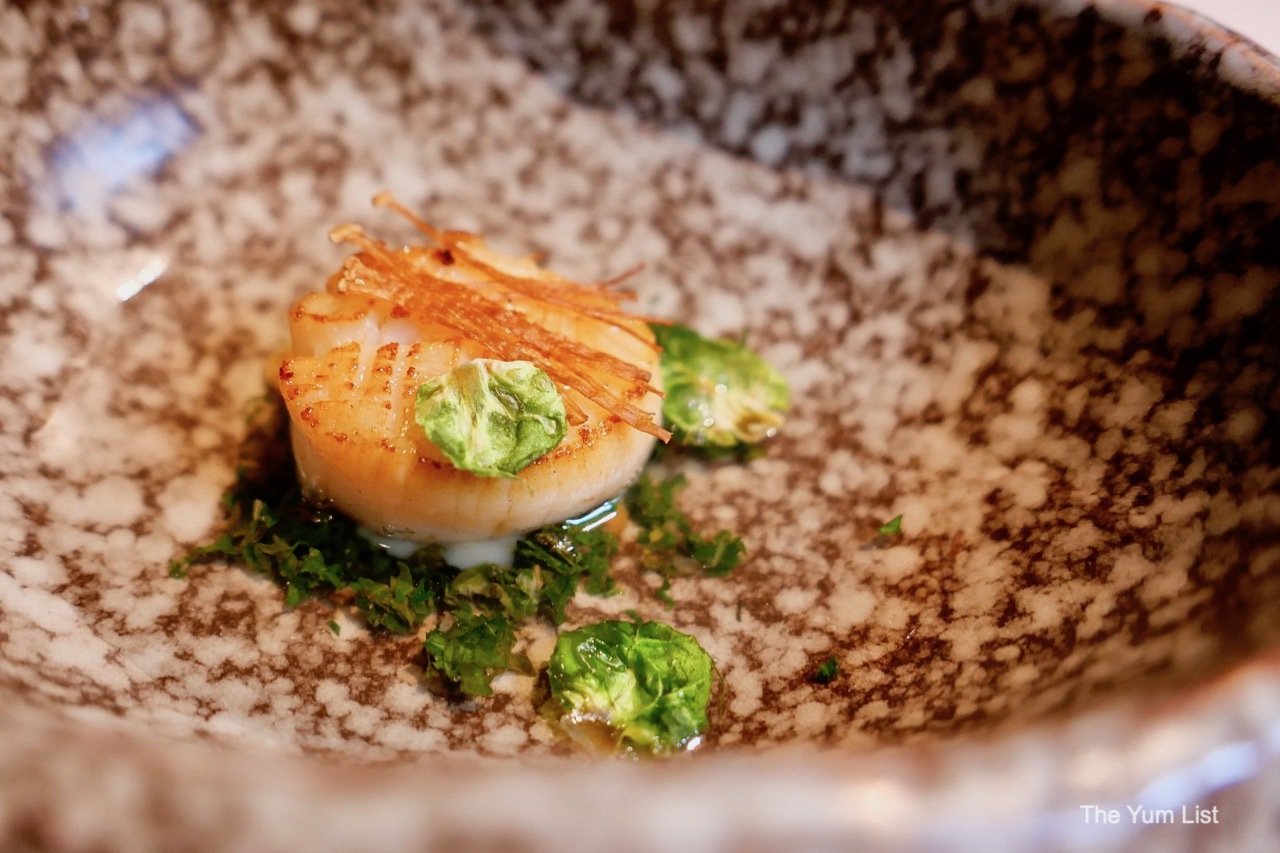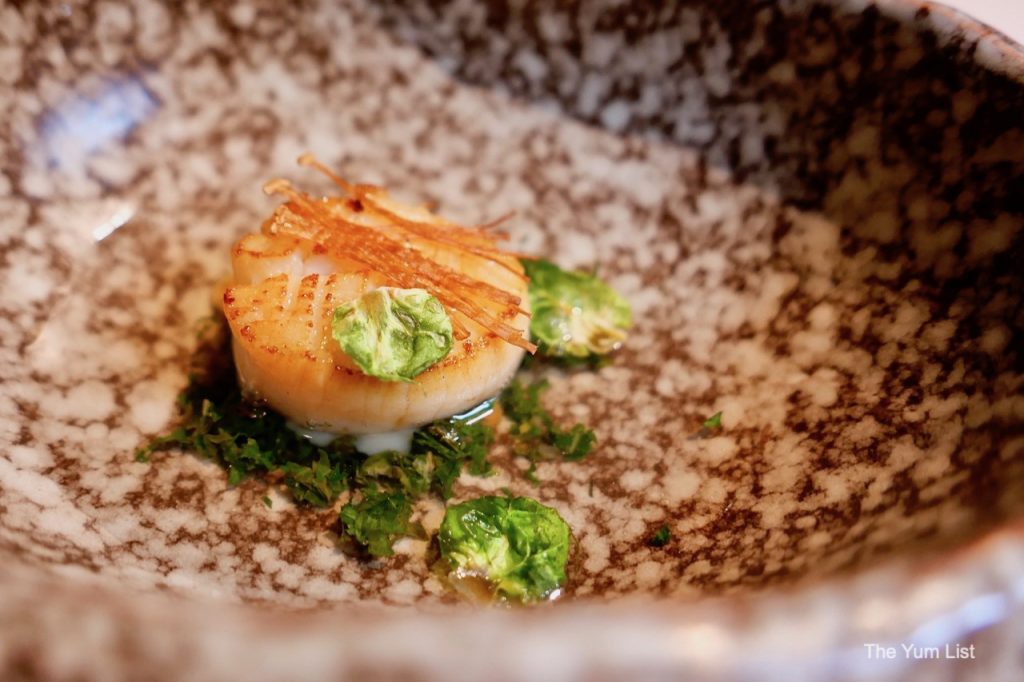 Kombucha Cocktails
Continuing in the experimental vein, Akshar unveils more of his latest concoctions with a cocktail that blends raisin-soaked rum with his own plum kombucha and banana vinegar. The result is a sweet-and-sour drink with a natural effervescence and ripe sweetness.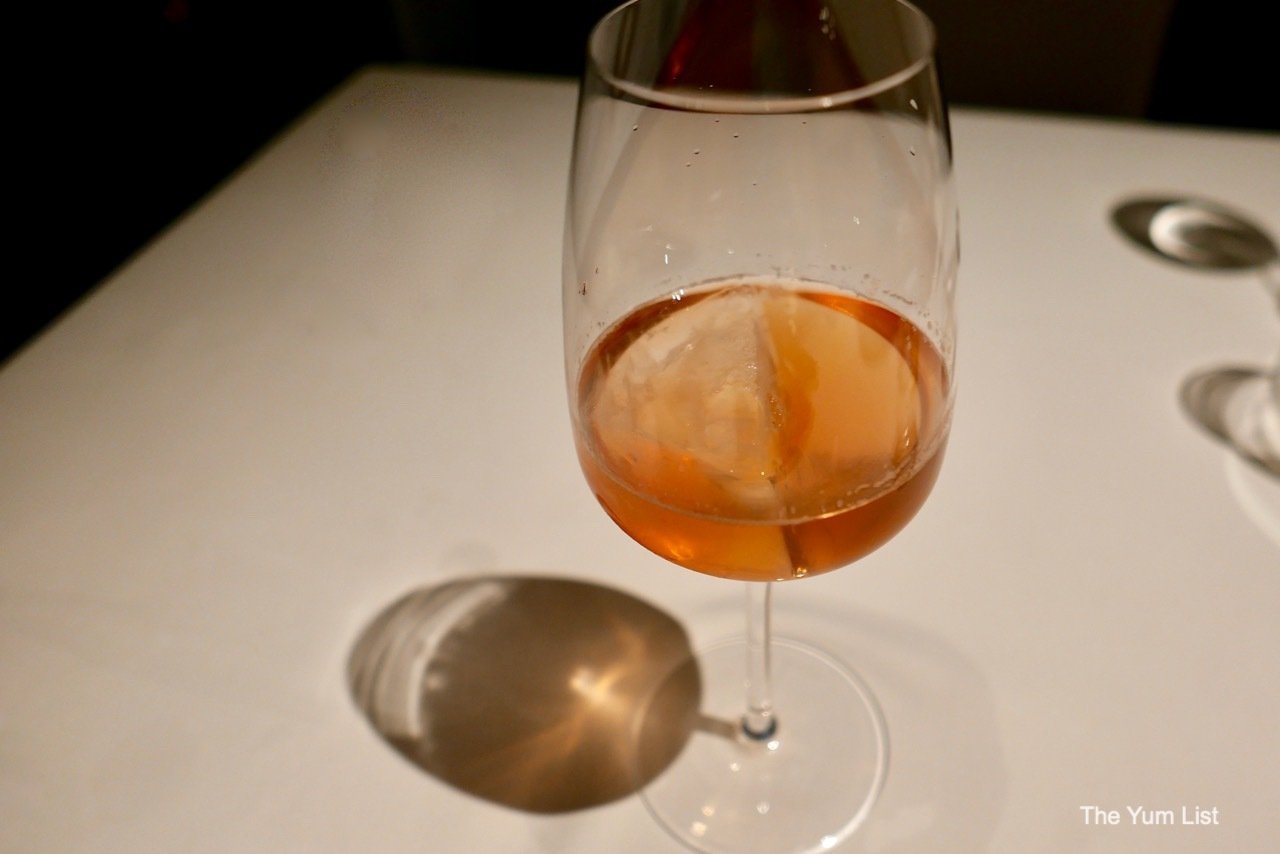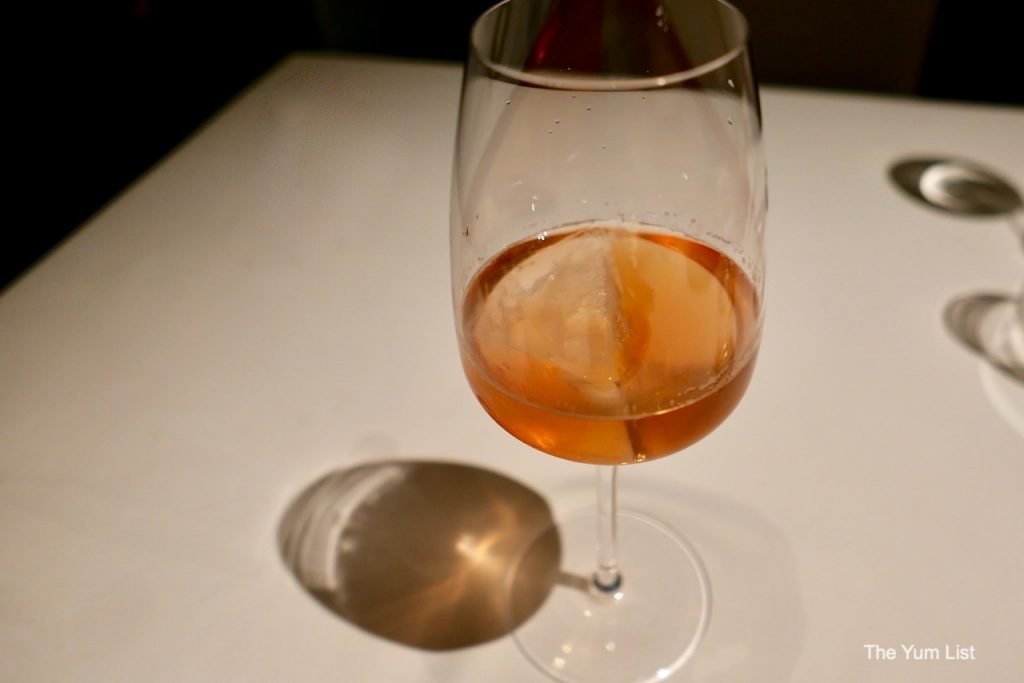 Madai
The culinary journey makes its next stop with the Madai. Spice-crusted Japanese sea bream settled into a lemon and Comté sauce is eclipsed by curry leaf oil and topped with nori crisp. Here, the nomad in my heart meets the nomad in my stomach: A little Japan and a little India and a little Europe all on one plate. Of course, it's well-prepared. Of course, it's amazing.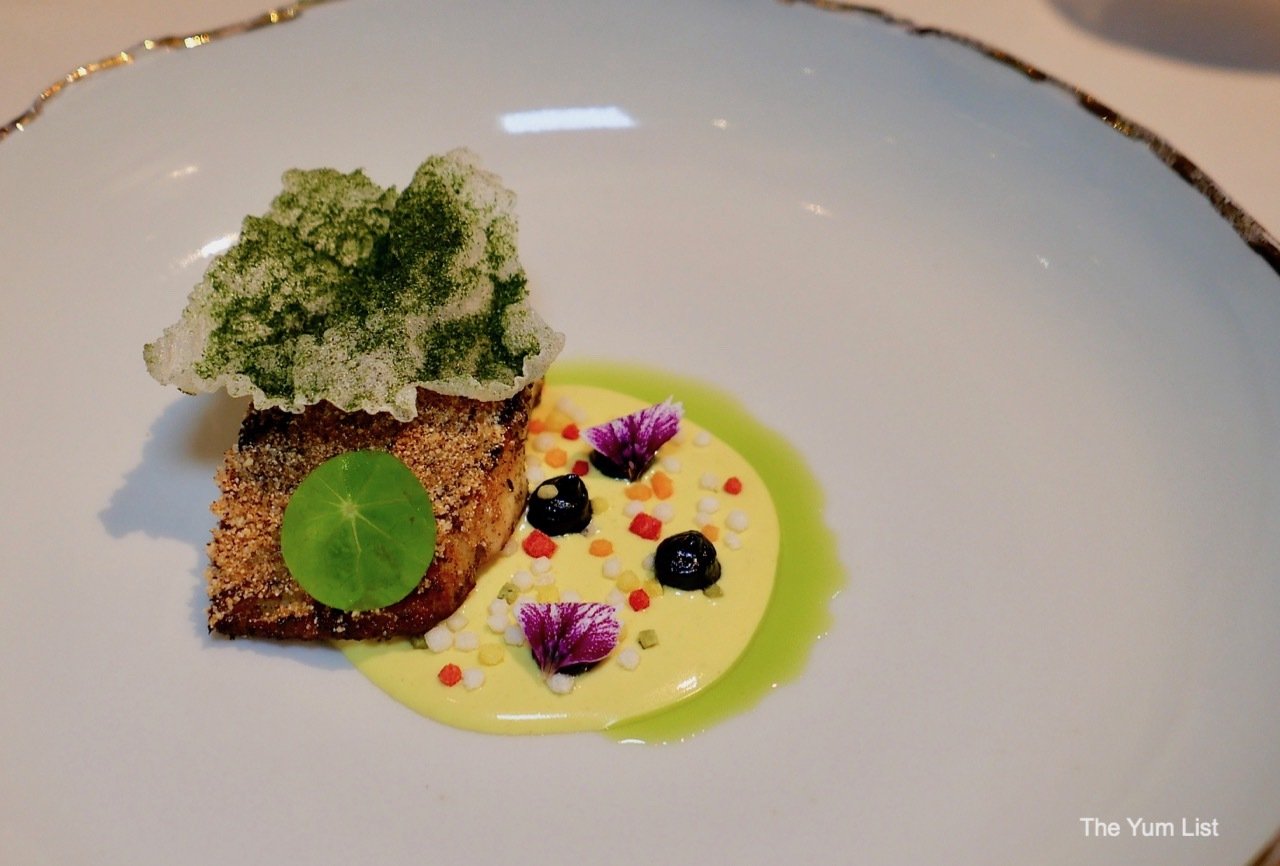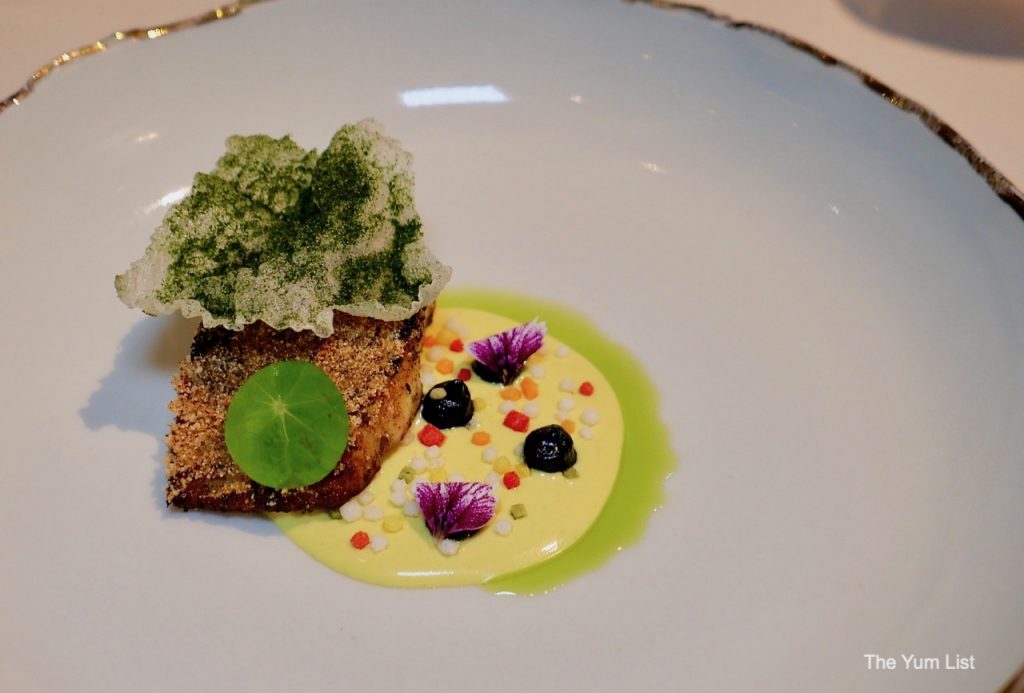 Tengyumai Sake  – Umajun Junmai
Graduating to Sake Lesson #3, we taste the undiluted Umajun Junmai, drier and less sweet, made from Gohyakumangoku rice. Its 60% polishing ratio gives it light umami that prepares our palate nicely for the nuanced flavours in the courses to come.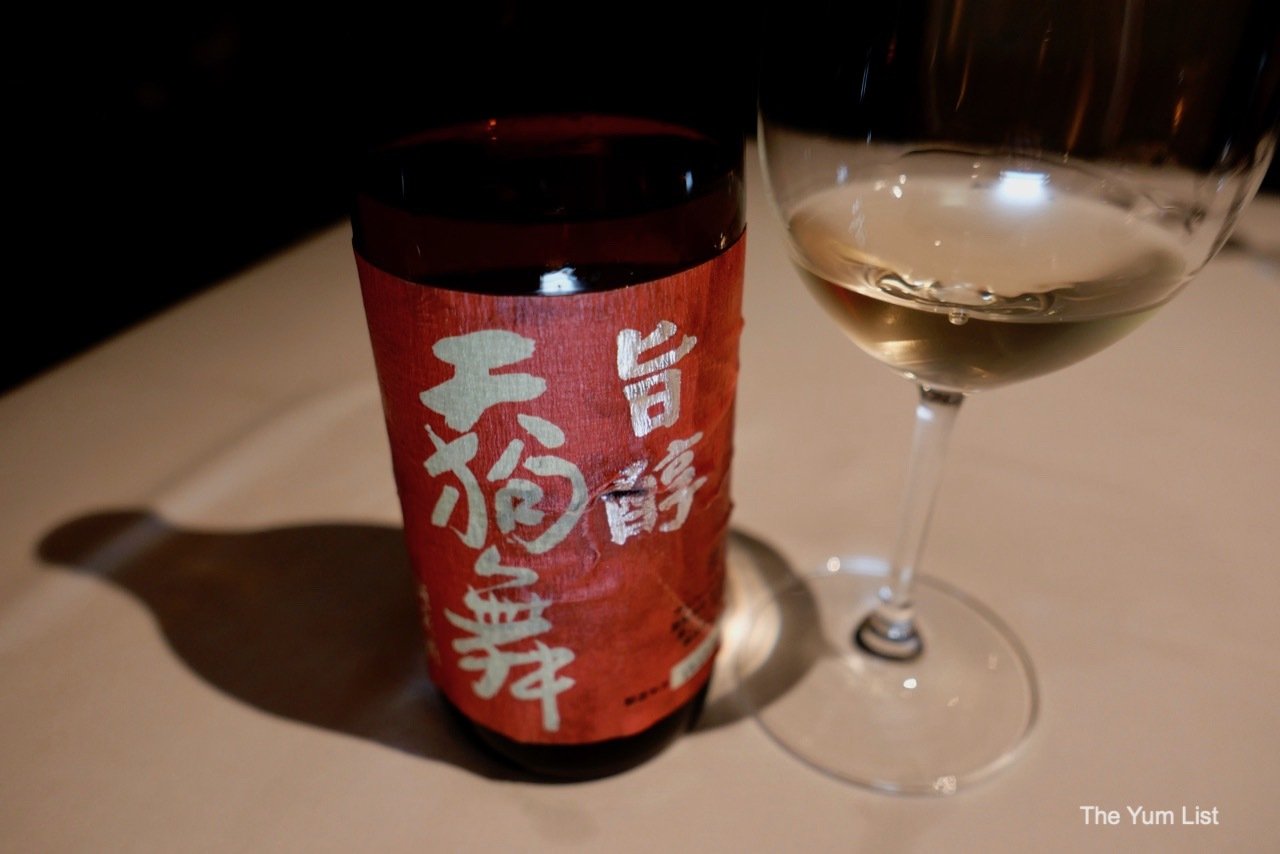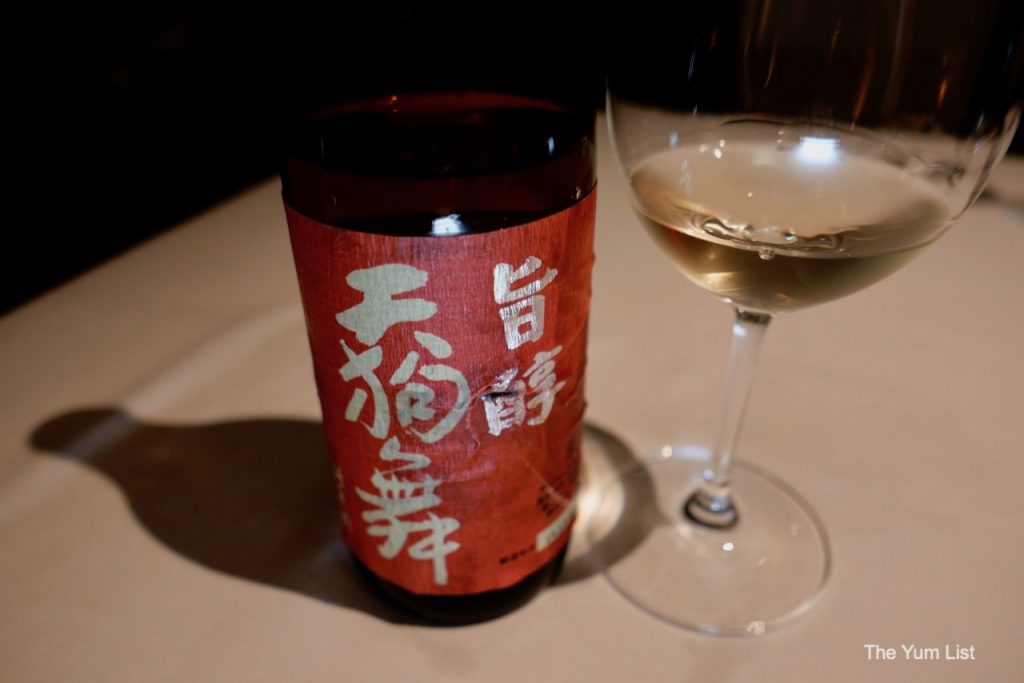 Humble Broth
A misnomer, to say the least, Nadodi KL's Humble Broth is anything but. Delicious rasam made from heirloom tomatoes arrives dramatically in a Florence flask. It is poured over red quinoa and finger lime gel. We pick up the cup with both hands, in homestyle fashion like a warm mug on a cold day. This course is warm, indeed: warm in temperature, warm in rich smoky flavours, and warm in the way it snuggles into our hearts.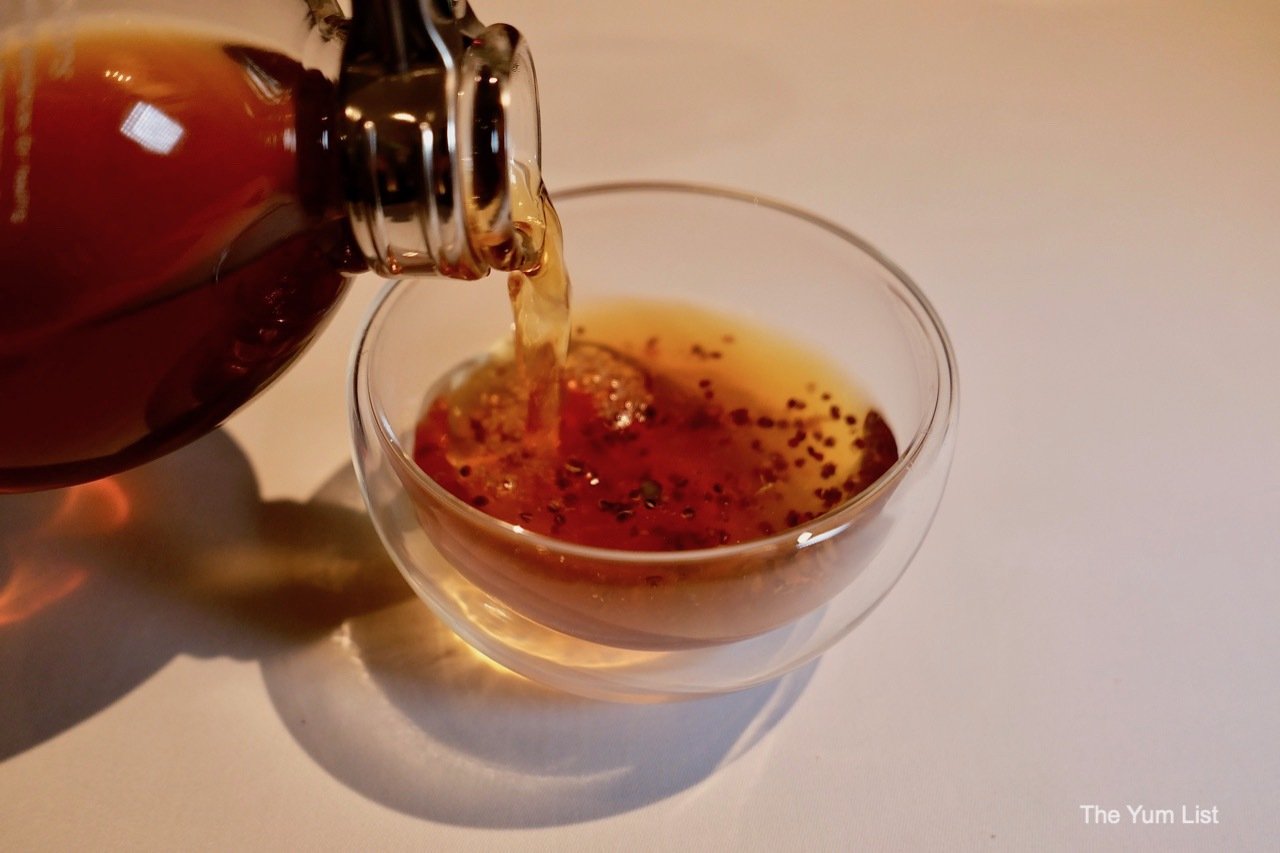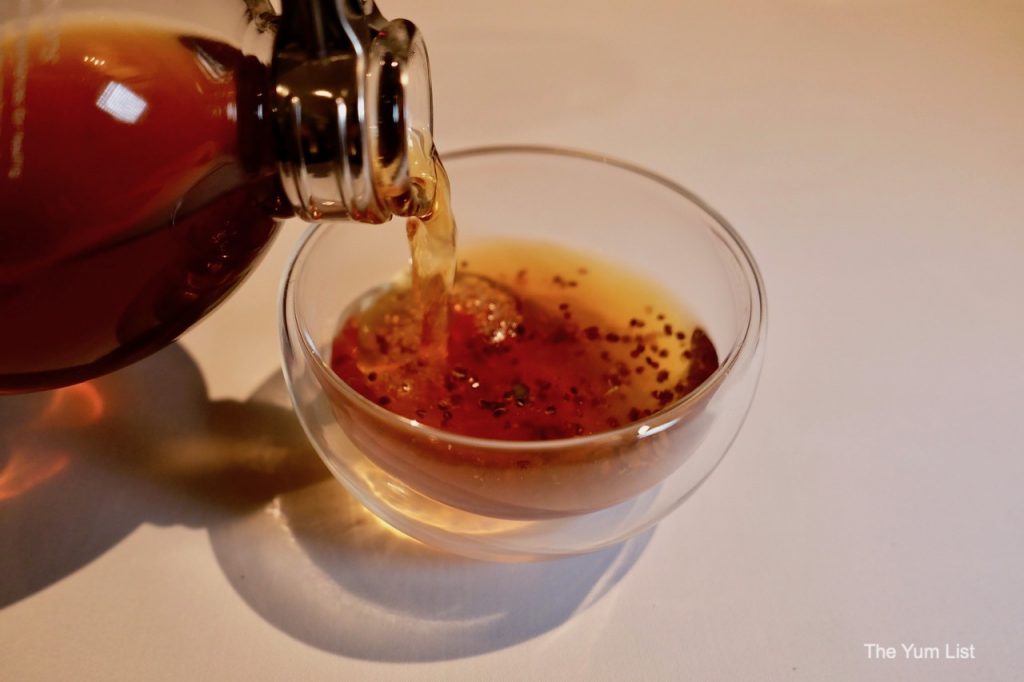 Scampi
More warmth is shared in the course called Scampi. Here, an Indian Ocean crustacean lounges in a lagoon of roasted red pepper dotted by slices of dried taro. The heat this time spurns not from chilli, but by shimmery clove oil that catches the back of the palate at the finish. Naturally, the langoustine is tender, meaty, and juicy.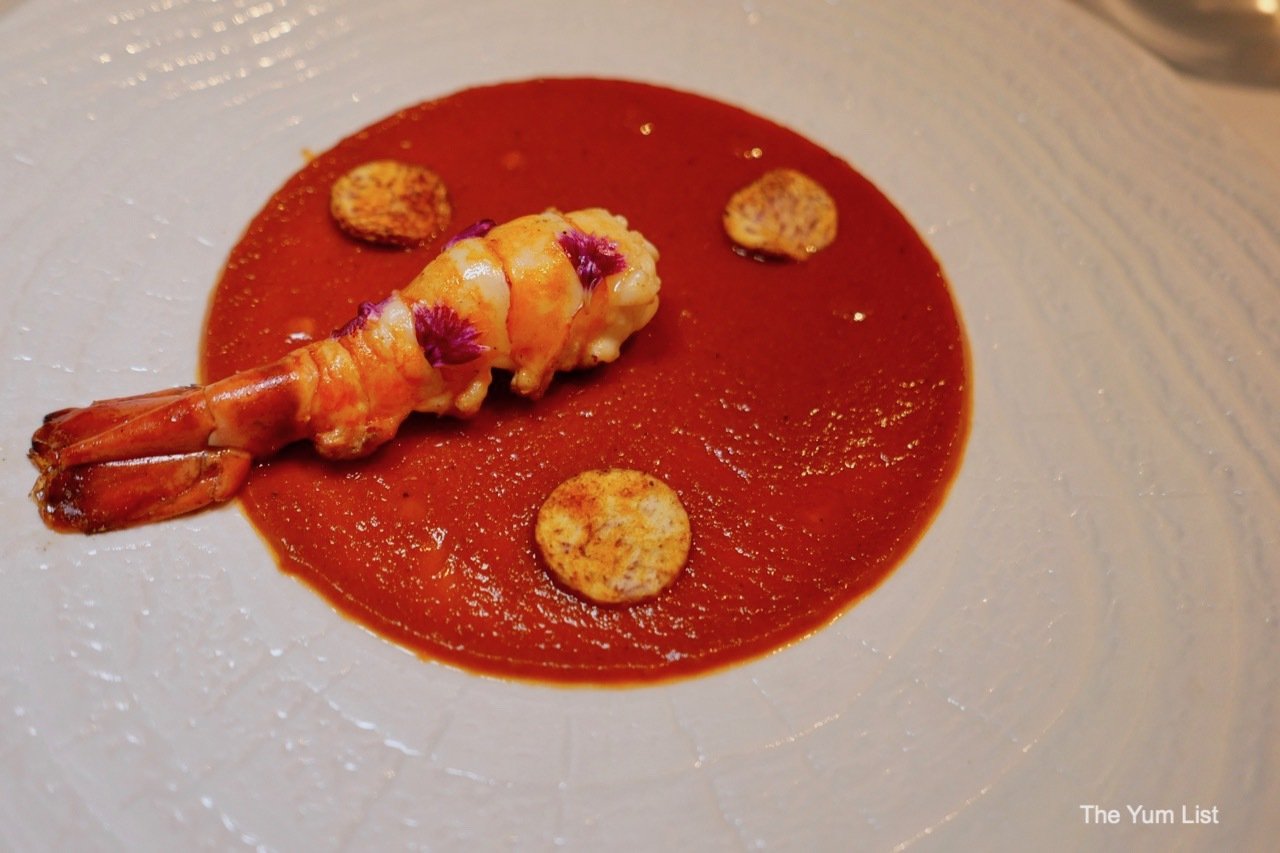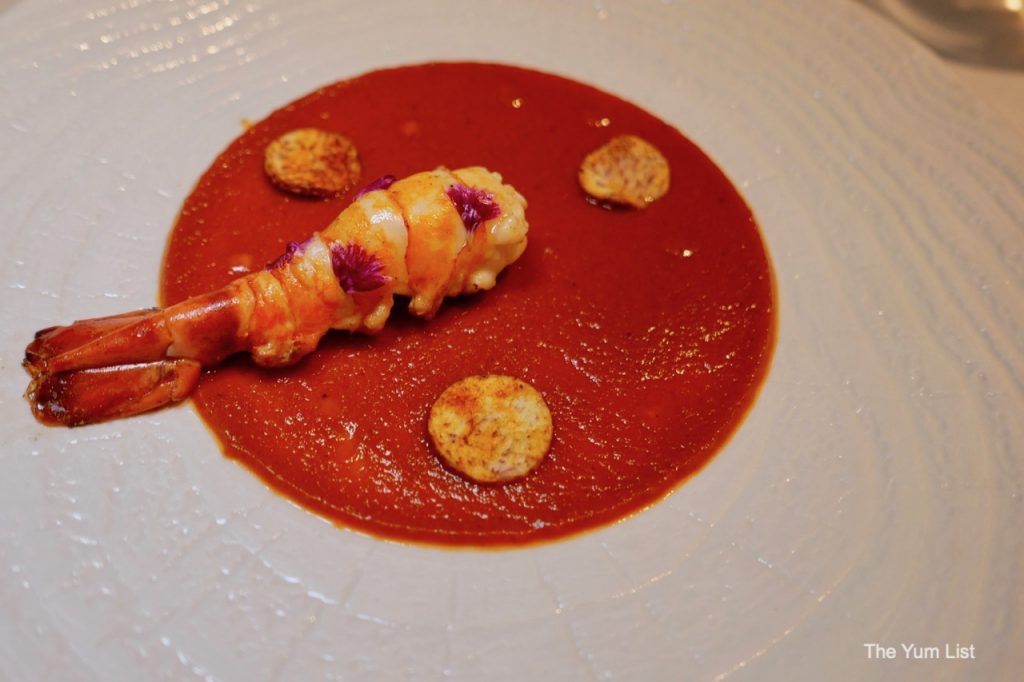 Tengumai Sake – Junmai Daiginjo 50
Sake Lesson #4 is a return to Daiginjo, this time Tengumai's Junmai Daiginjo 50. Geography is part of this lesson, and I learn that Tengumai brews all its sake with spring water from sacred Mount Haku and using rice from the Kaga plains. Its sweeter taste and slightly higher acidity help to cut the heaviness of Nadodi's Iberico Lamb, the next stop in our journey. Rubbed with Thuna Paha masala, the meat is so melty, we barely need to chew it! I love the texture in the coarse ground spices of the Sri Lankan base, offset by the creamy sweetness of Asian pumpkin puree.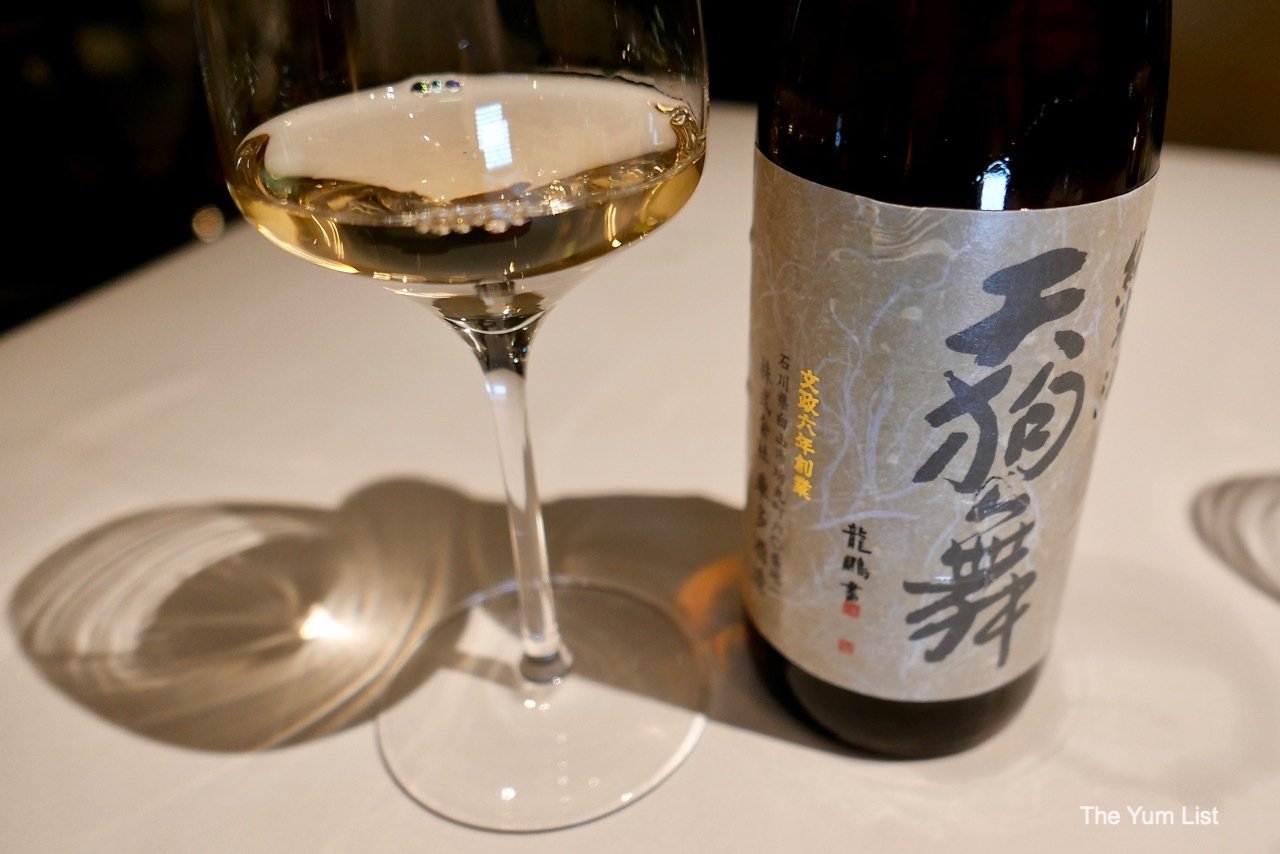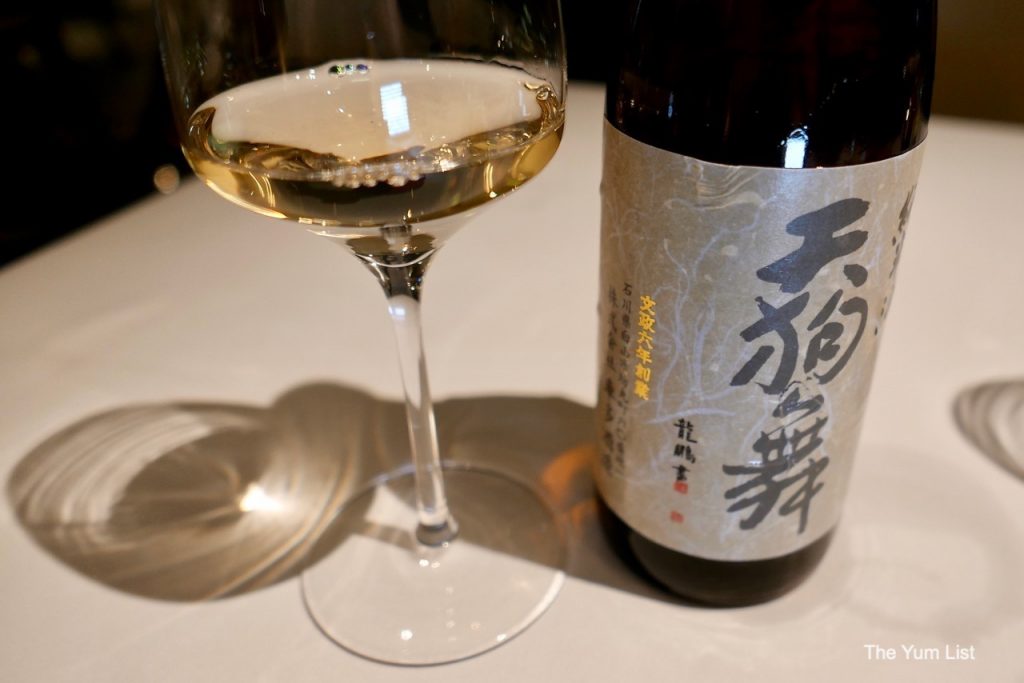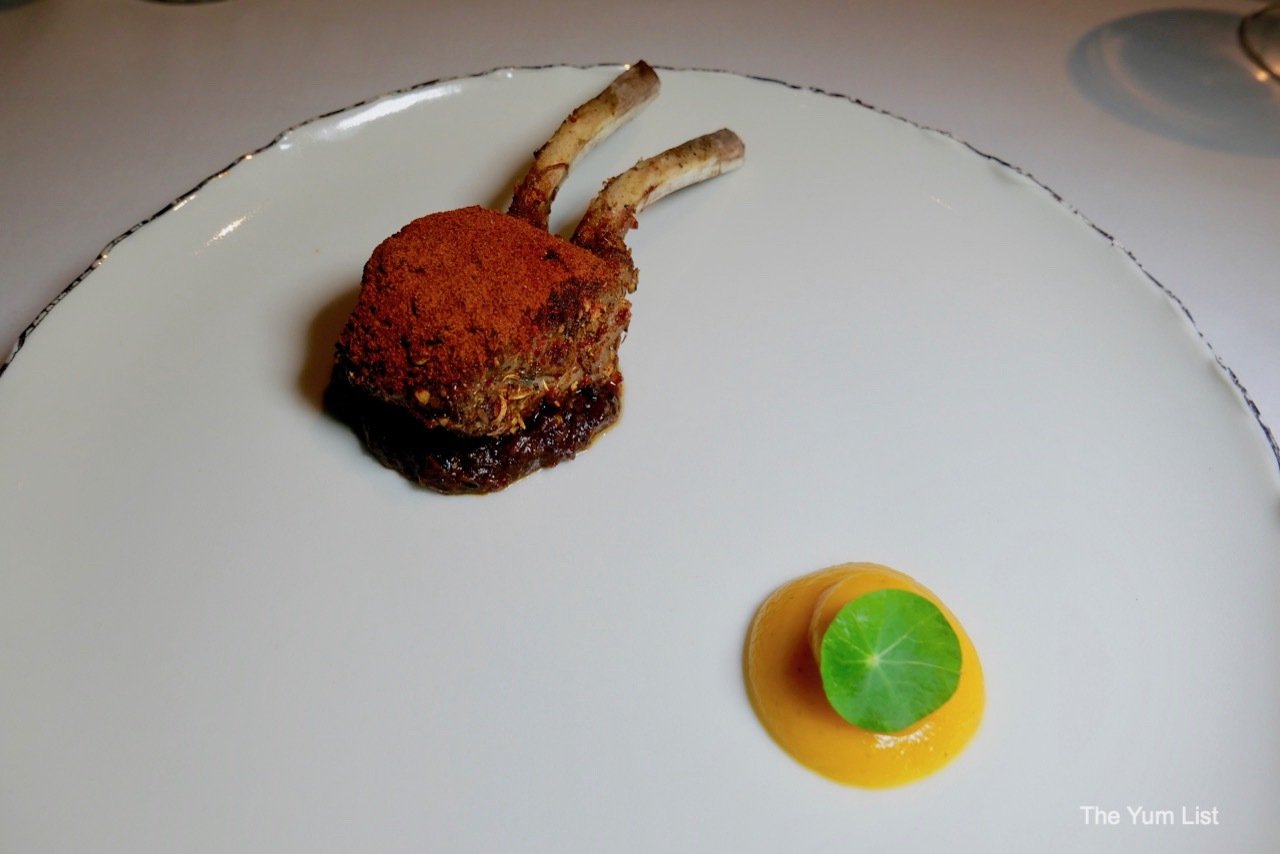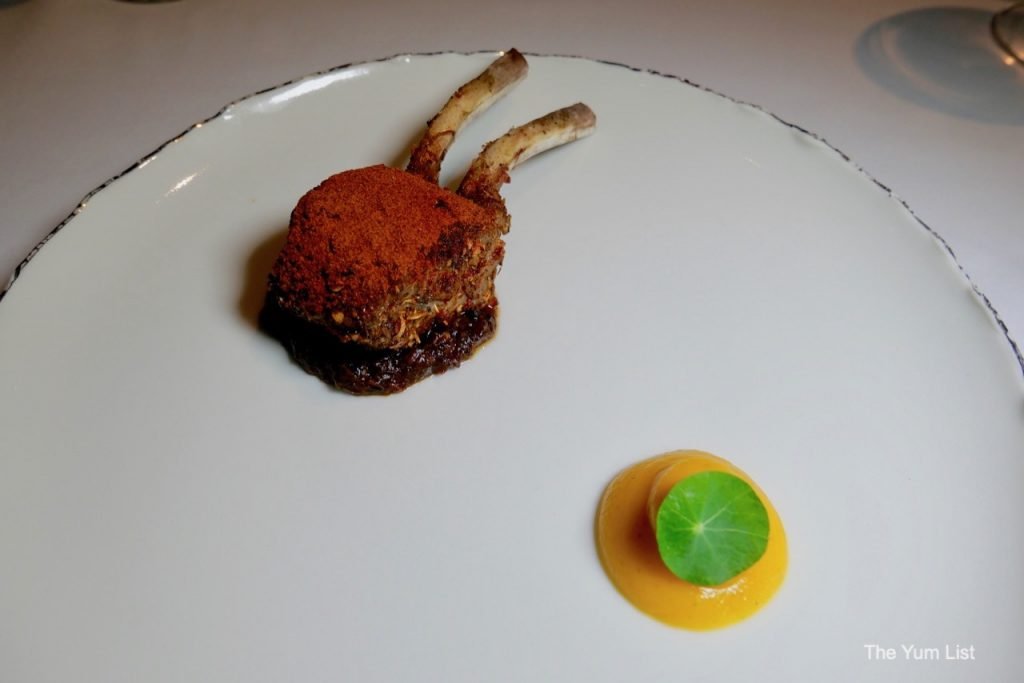 Nadodi Globe
No Nadodi menu is complete without the delivery of the Nadodi Globe, a levelled carrier that appears to bring the world right to your table. Revealed in turns, we find short grain venison biryani in one level, to be topped by the goodies in the other levels. This time it's a rich cashew-almond salna in one and pineapple raita in another. Hints of cardamom are tucked into the rice, and I love the added crunch of whole cashews.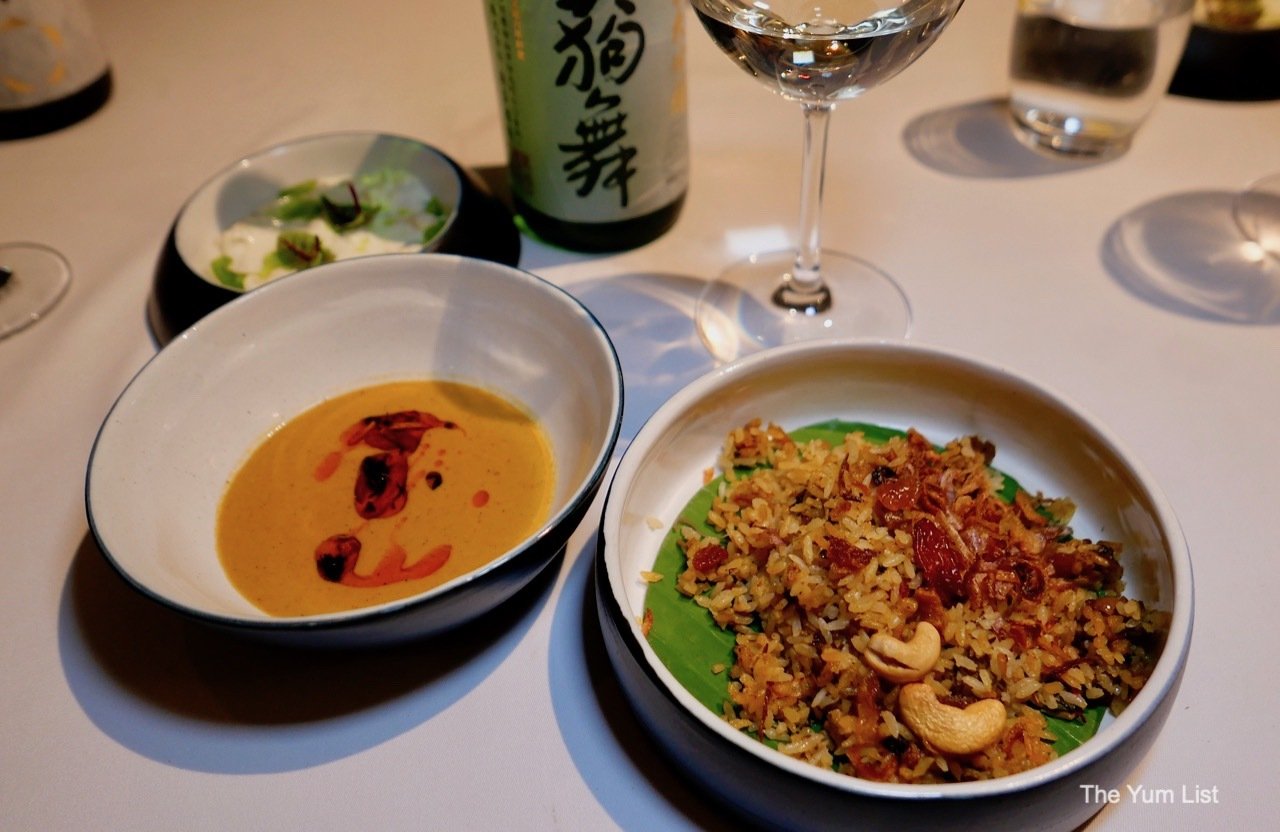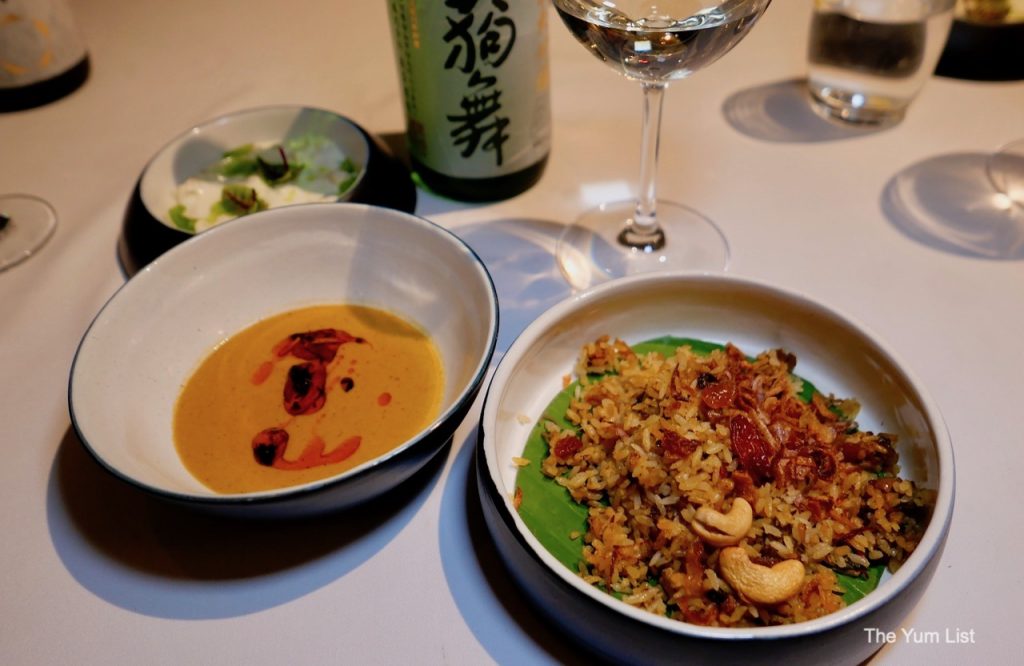 Chai and Biscuit
We revisit Chef's nostalgia with a dessert called Chai and Biscuit, though neither is as straightforward as it may sound. On one side of the plate, chai-flavoured ice cream is topped with a caramelized Nilgiri tea reduction and laid on a nest of cumin cookie crumble. On the other hand, a tart of dolce mousse is dotted with Semai chocolate and cardamom-flavoured-something-delicious. I think back on my own years living in India, and all I can say is that this is not what my neighbourhood chaiwallah was peddling! Like everything at Nadodi, food experiences are transformational.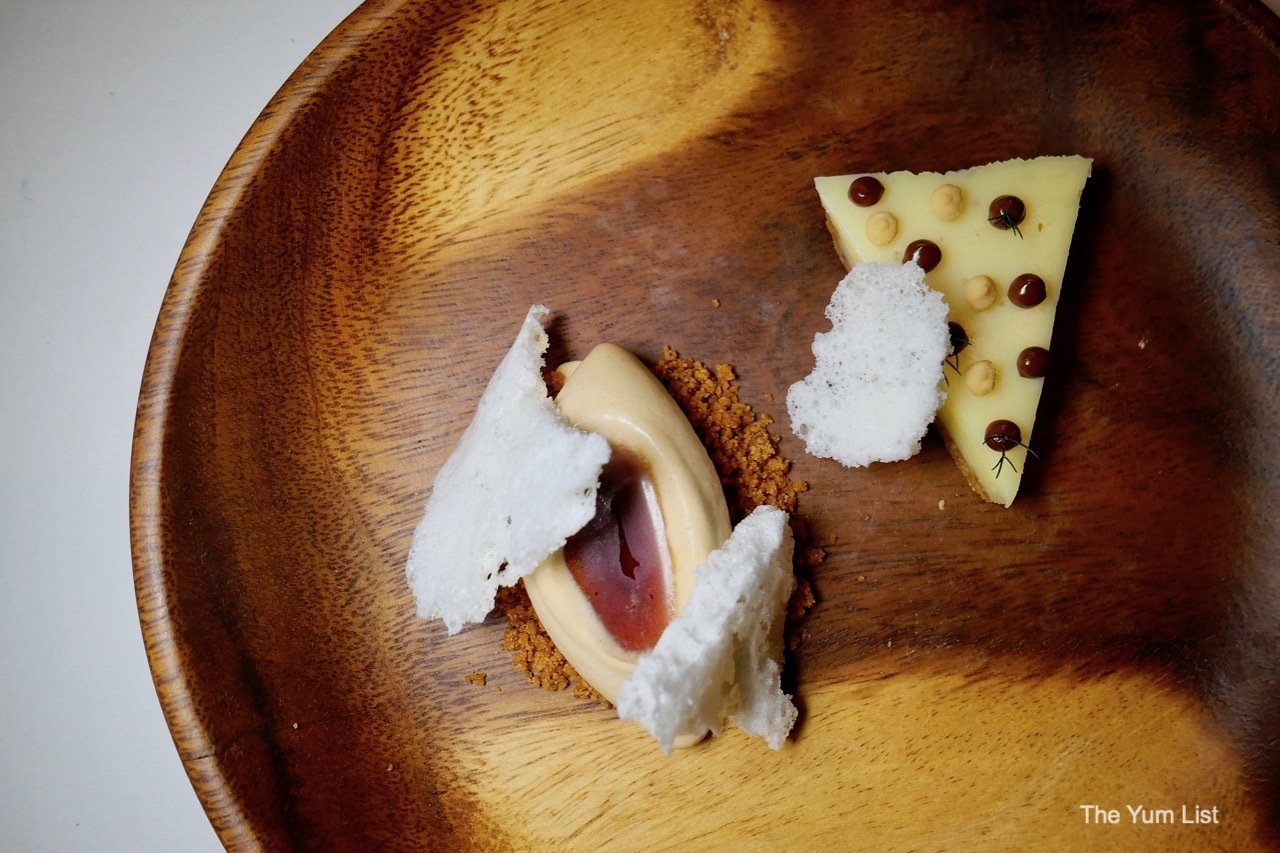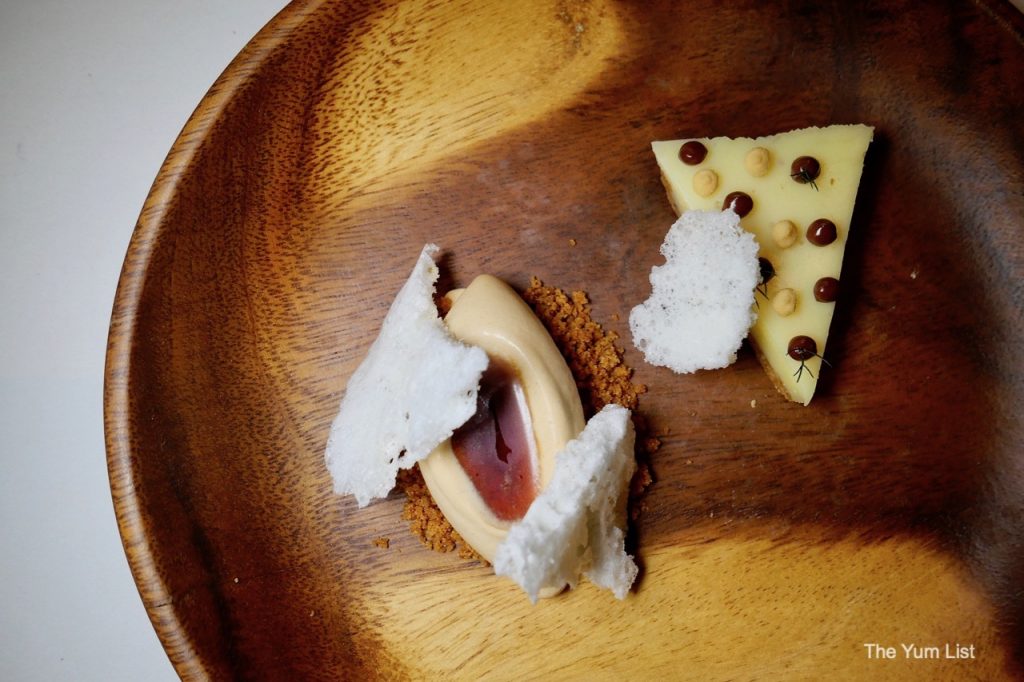 Tengumai Mead
Summing up, Sake Lesson #5, my last for the evening, takes a slightly different turn with the arrival of Tengumai's Mead, a honey liquor fortified with sake. Made with acacia honey from Hungary, the clarity of the drink complements the sweetness of the honey to provide an elegant accompaniment to the dessert.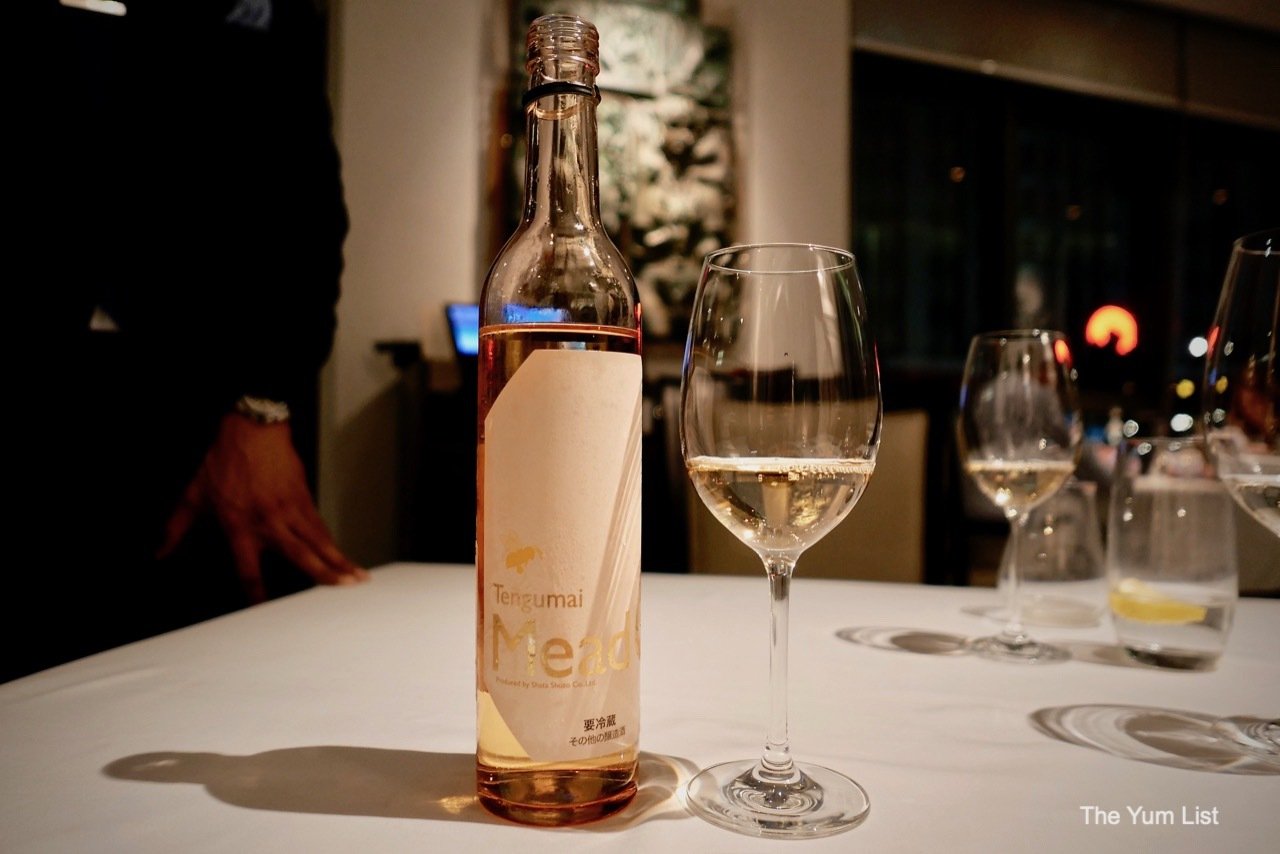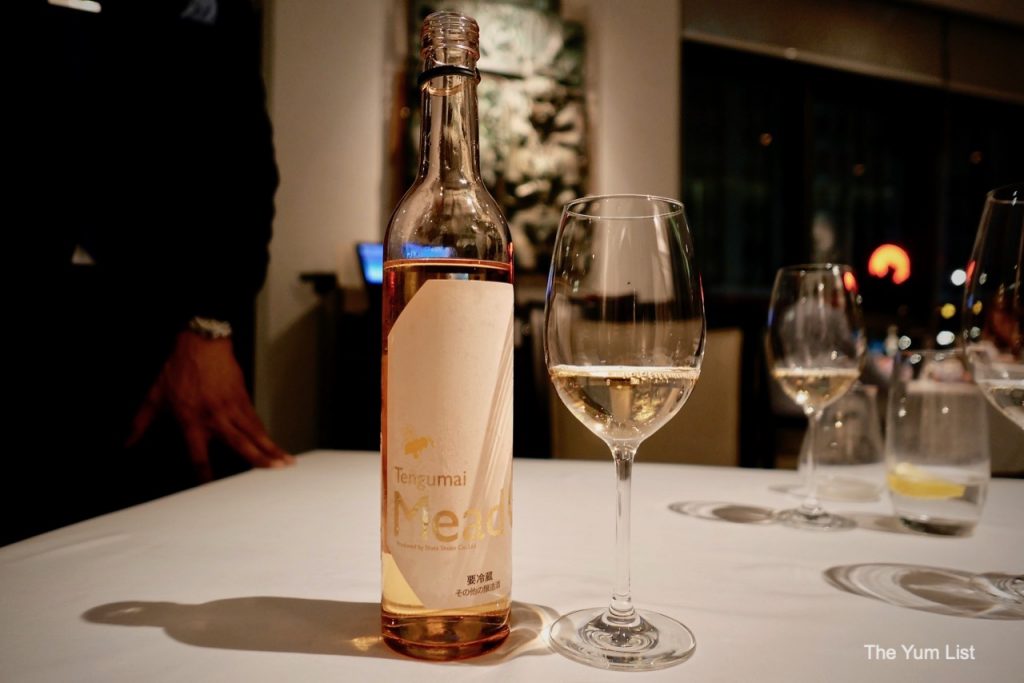 Nadodi Chocolates
Lastly, orange chocolates with the "Nadodi" signature and fruit leather butterflies signal the end of the evening's voyage. Tonight we may have lounged in Malaysia, but journeyed to the ocean, to the mountains, to Kerala, and to Europe, and most especially to Japan. We found food and in drink, in a "collision" of cultures unparalleled in our city. The "impact" is more like a kiss than a smash.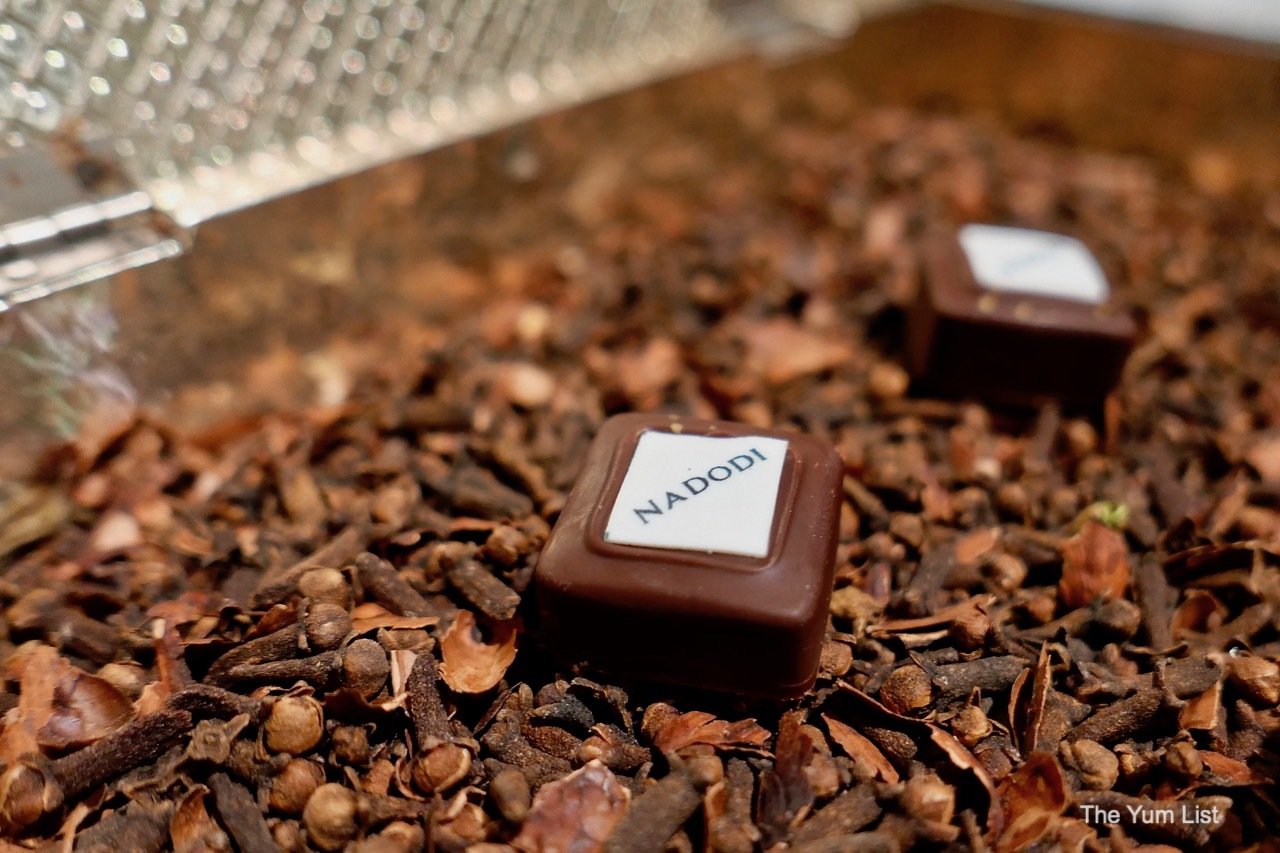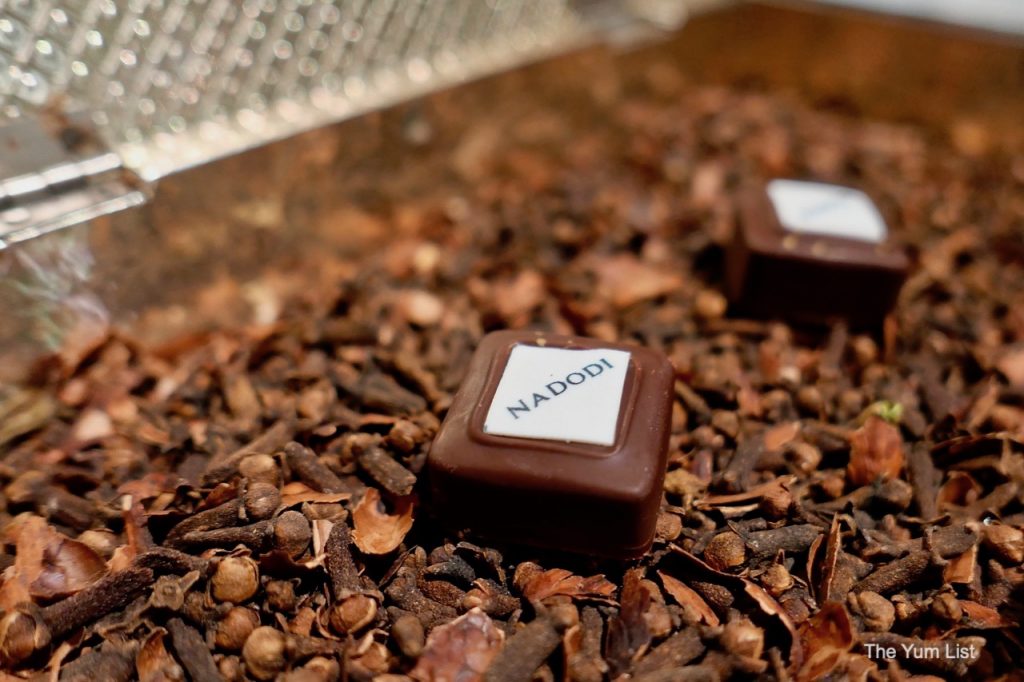 Tengumai Sake Shata Shuzo
www.tengumai.co.jp/en
Nadodi Restaurant KL
Lot 183, 1st Floor, Jalan Mayang,
Off Jalan Yap Kwan Seng
50450 Kuala Lumpur
+60 3 2181 4334
+60 17 390 0792
www.nadodikl.com
Nadodi Restaurant Kuala Lumpur Opening Hours
Monday through Saturday from 6:00 p.m. until 11:00 p.m.
Closed Sundays. Reservations are recommended.
More on Nadodi collaborations and special menus here, here, here, here and here.