Lerouy & Nadodi Four-Hands Dinner
Anna Chew & Monica Tindall
When two renowned chefs get together, there is bound to be magic. Chef Sricharan Venkatesh of Nadodi KL recently collaborated with Chef Christophe Lerouy of Lerouy Singapore in a wine-paired dinner in Kuala Lumpur. For one night only, the two chefs harmonized bold Indian flavours with delicate French cuisine. They gave guests a unique tasting that could be described as nothing short of wizardry.
The wine pairing was from Mas De Daumas Gassac, a family-owned boutique vineyard in Languedoc France. Having gained a reputation as "the grand cru of the Languedoc," these organic wines were nearly as exciting as the food.
Nadodi x Lerouy Four-Hands Dinner – The Courses
Prelude
The prelude to this Lerouy & Nadodi collaboration began with four small bites; two from Lerouy and a duo from Nadodi. Each miniature was a work of art both to the eyes and to the mouth. Lerouy presented recipes honouring the sea. The first, Brandade Aioli, featured bacalao rolled into a potato croquette and finished off with calamansi aioli, spinach dust and a petal from the beautiful cosmo flower. The second, a plump prawn with fennel and saffron sauce atop a prawn cracker resembled a petite open taco, in the Amaebi Rouille. Indian flavours came in Split Gill Masala, which was housed in a tartlet with mushroom mousse, leek floss and sauce and curry leaf. Lastly, and the most robust in flavour, was Kola Urundai, a chicken and polenta meatball with sesame seeds and dates.
These bites paired brilliantly with the Mas De Daumas Gassac Rose Frizant 2016. Containing 70% Cabernet Sauvignon and the rest a blend of  Mourvèdre, Pinot noir, Sauvignon, Petit Manseng and Muscat, this pink bubbly offered fresh berry aromas, a fine mousse and superb acidity.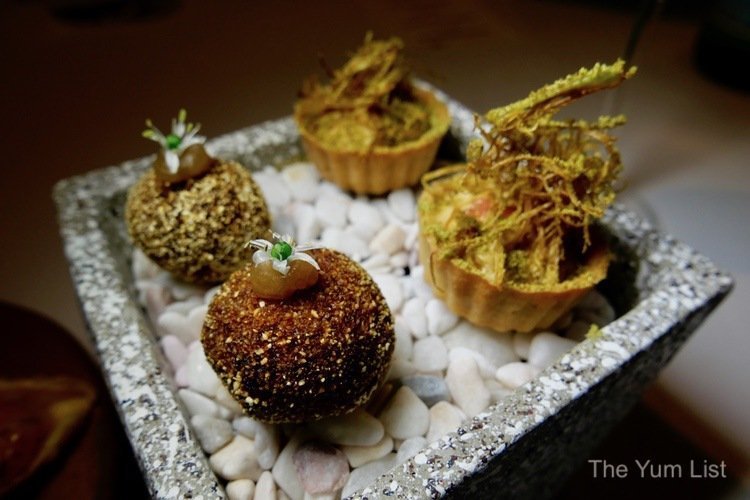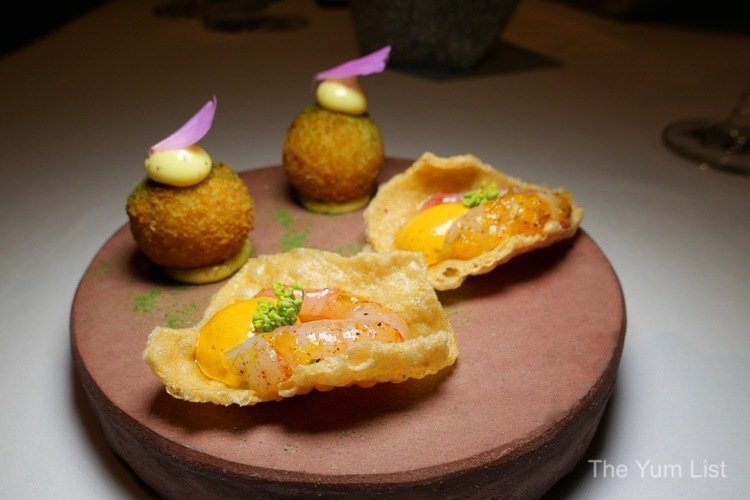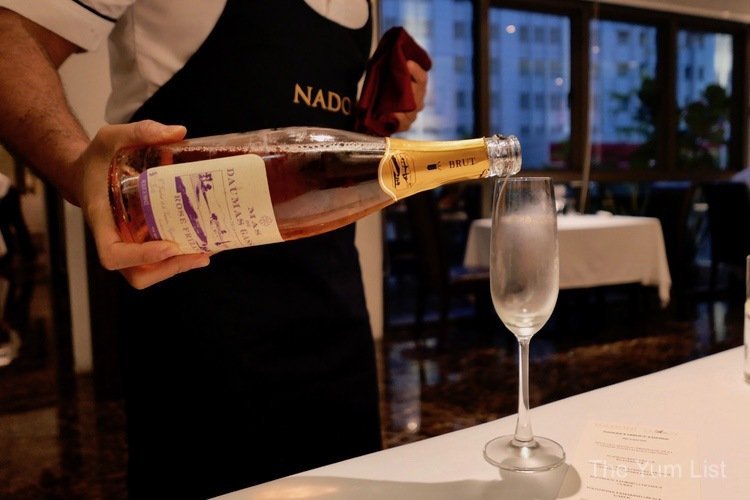 First Course
The first course was Alaskan King Crab & Buttermilk from Lerouy. This cold dish was rare and refined, our favourite course of the night (alongside the beetroot palate cleanser, that is). The dish arrived with juicy king crab meat and sourdough bread topped with caviar, in the bowl. Buttermilk with burnt lemon oil was poured over tableside as the wait staff explained the ingredients. Pont de Gassac Blanc 2016, a blend of Grenache Blanc, Sauvignon Blanc, Chardonnay and Viognier makes a lovely mate. This rich, aromatic wine with citrus and a tinge of minerality brings out the best in the seafood and ends long and smooth.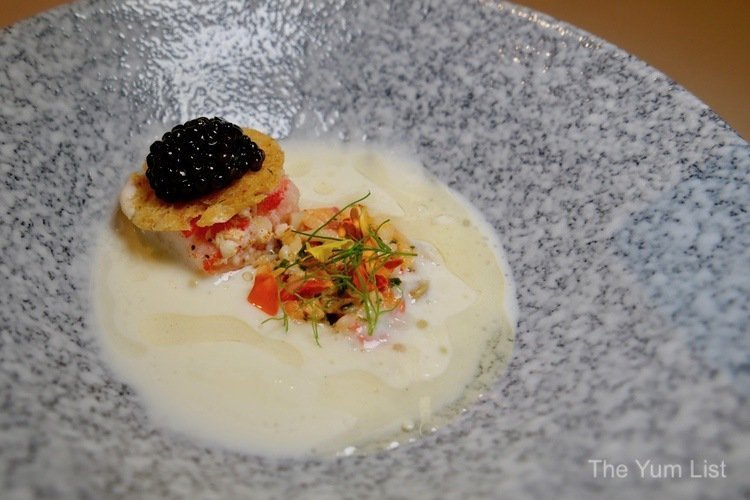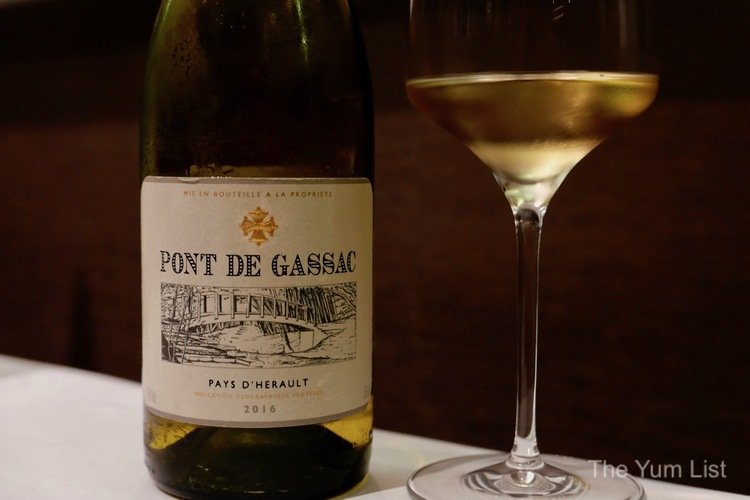 Second Course
The second course of the Lerouy & Nadodi meal was a familiar Indian favourite and Nadodi's interpretation of thosai; Fermented Rice & Lentils, Peanut Chutney & Kopara Prawns. The base is served with beetroot sauce and provides a distinctive combination. It's both unpretentious and a knock-out at the same time.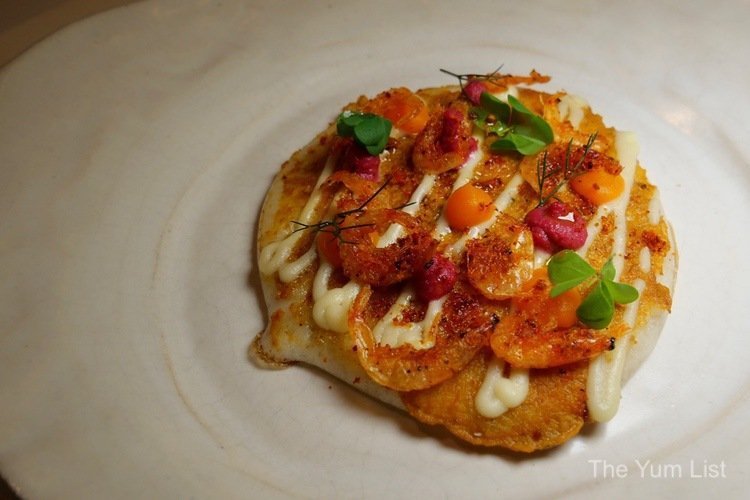 Palate Cleanser
You can't say you've experienced a palate cleanser until you've tried Nadodi's Beetroot 4 Forms & Coconut Curry. Coconut foam lent base for pickled beets and peanuts, beetroot sorbet, a beetroot sheet and beetroot dust to provide a slight savoury touch over the curried coconut. This was a compelling mix of texture and taste, including a pop of spice which showed up unexpectedly after swallowing. It both surprised and challenged the taste buds.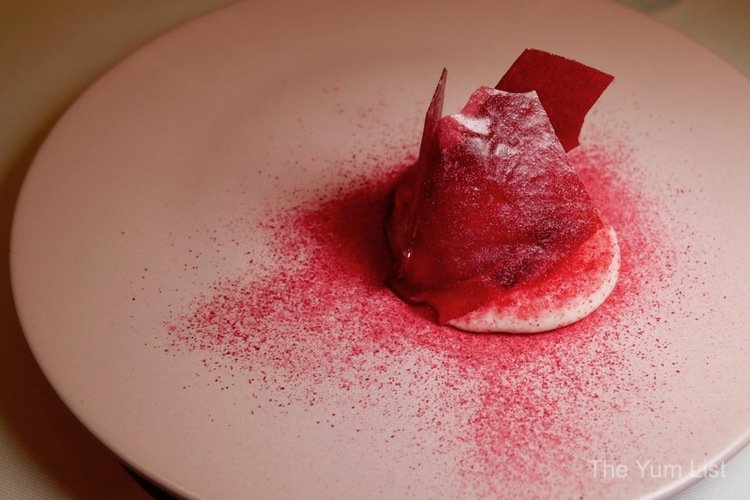 Pont de Gassac Rouge 2016 was served for the next courses and consists of a blend of Cabernet Sauvignon, Syrah, Merlot and Grenache. The wine was smooth and well-balanced with berries and vanilla notes.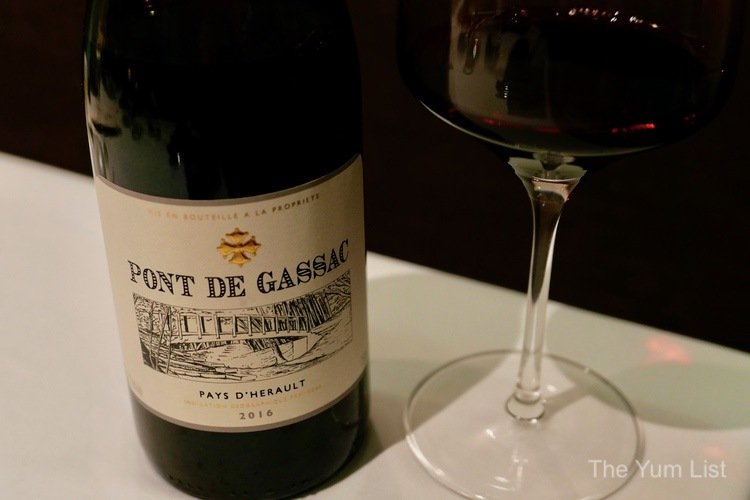 Fish
Toothfish with Tamarind & Black Garlic was a delicious preparation of a sought-after fish in the Lerouy & Nadodi line-up. Tamarind foam folded into the flaky texture of the fish, while puffed rice gave a certain smokiness and character. Seaweed grapes and dehydrated julienned red peppers were weaved together with black garlic. This was a fish dish to remember.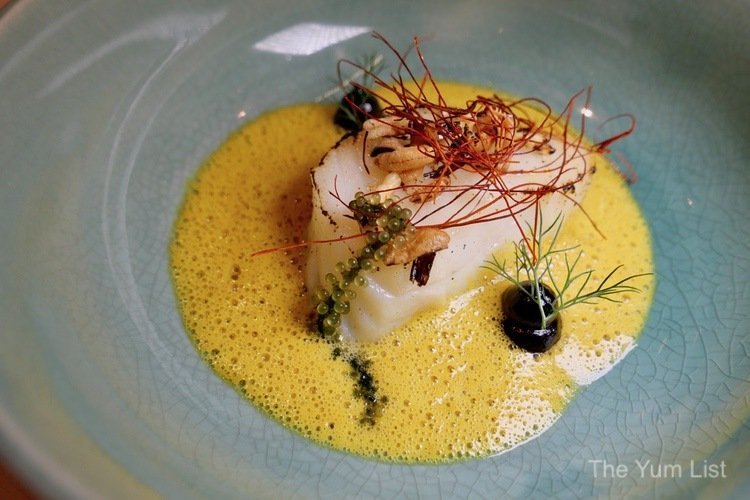 Soup
The soup, Tomato, Almond & Coriander Bisque, was a fascinating recipe. Basically, it is a vegan bisque, inspired by simple but power-packed rasam. Dehydrated red quinoa contributed floating balls of grain and fennel leaf oil in gel form turned into a layer of oil when melted by the almond milk rasam. It was an enchanting twist and made a genuinely memorable soup dish.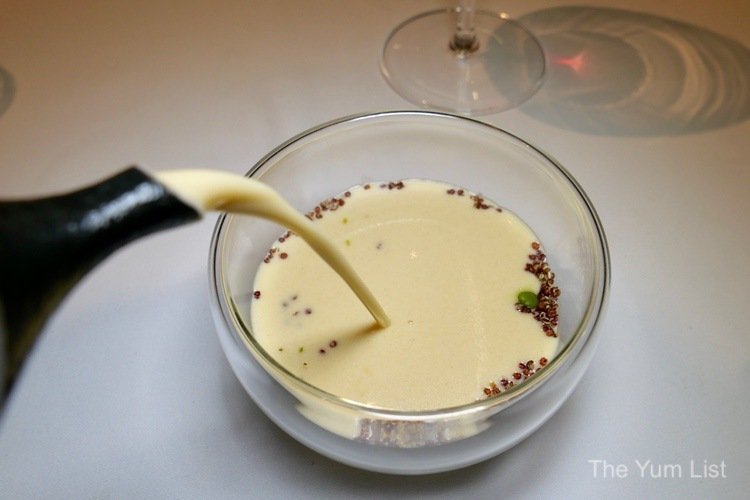 Lobster
More decadence in the Lerouy & Nadodi menu arrived from the sea with Lobster, Red Pepper & Onion. Plump lobster meat stood out against sweet caramelized onion chutney, a wildly-green chive sponge cake and vibrant red pepper sauce. The quality of the ingredients and expertise in preparation was clearly high, yet we both found this marriage a little too pungent for our personal preferences.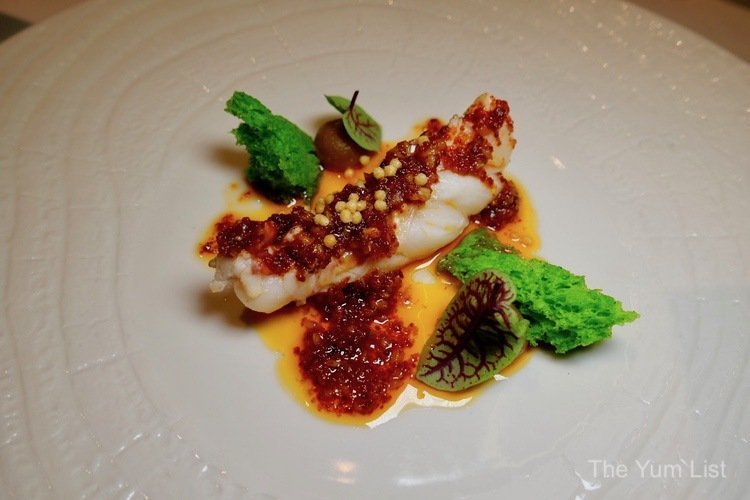 Moulin De Gassac Terra 2016 carried us over for the rest of the meal. A blend of Syrah, Grenache and Carignan, it offered a medium-body, with soft tannins and a trace of pepper.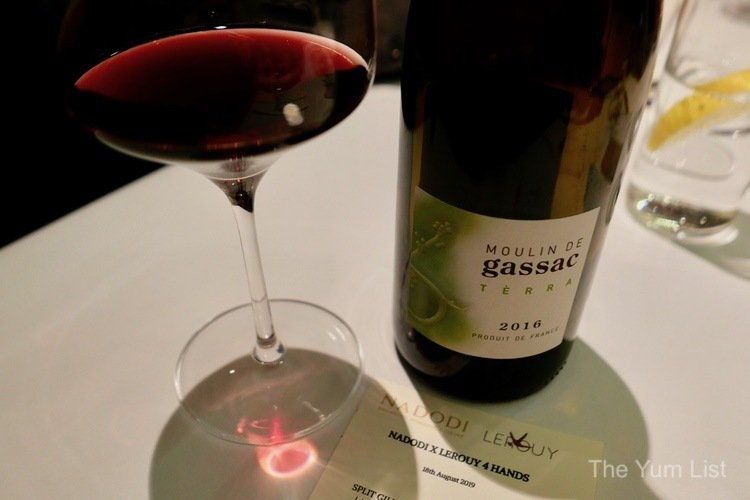 Main
The main plate awarded a slice of Morocco with Lamb Loin, Raz El Hanout, and Eggplant. Tender Australian lamb came over a refreshing bed of couscous. With just the right acidity and spice layers, the North African spice mix, eggplant caviar, pea shoot and seaweed balanced the intensity of the meat.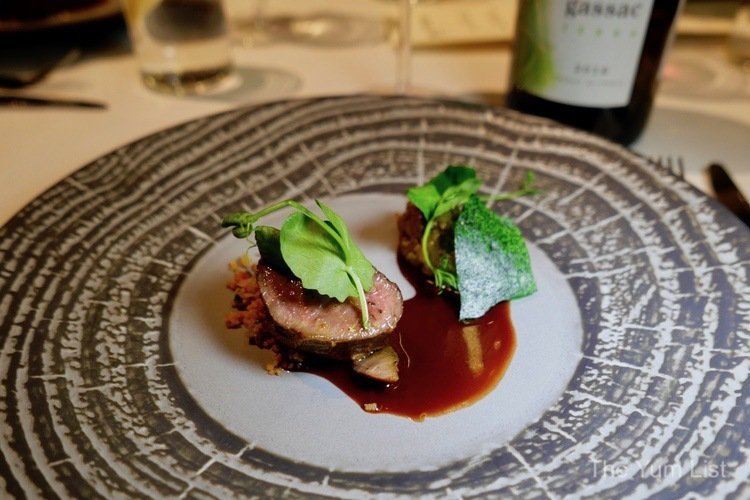 Rice
Rice & Lentils, Lotus Root, Malabar & Pepper Scallops ensued as the traditional rice course in the Lerouy & Nadodi menu. It ensured that not a soul went home hungry. Served in a golden spherical tiffin container, the first layer held lotus root crackers. The second carried khichdi made from Bario rice and lentils, and the last section was filled with pepper-tossed Kerala-style Hokkaido scallops. We were advised to first crush the lotus root over the rice and then to combine it all together with the scallops. Talk about soul food, the creamy rice was delicious, like a thickened dahl, and the scallops… well… yum!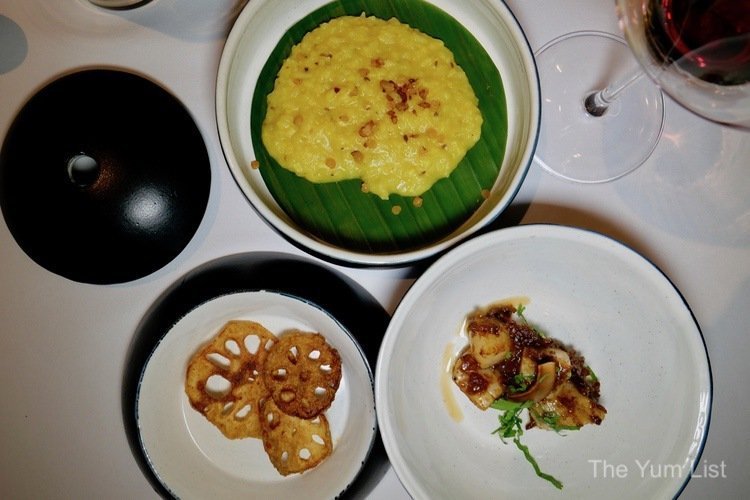 Dessert
The finale was Nadodi's interpretation of payasam; Coconut, Jaggery, Banana Syrup & Manjari. Instead, however, being in liquid form, it was frozen, resembling a scoop of smooth and creamy gelato.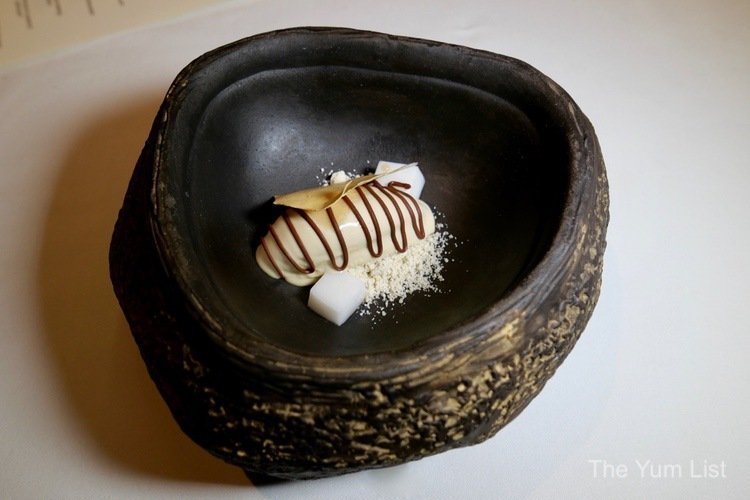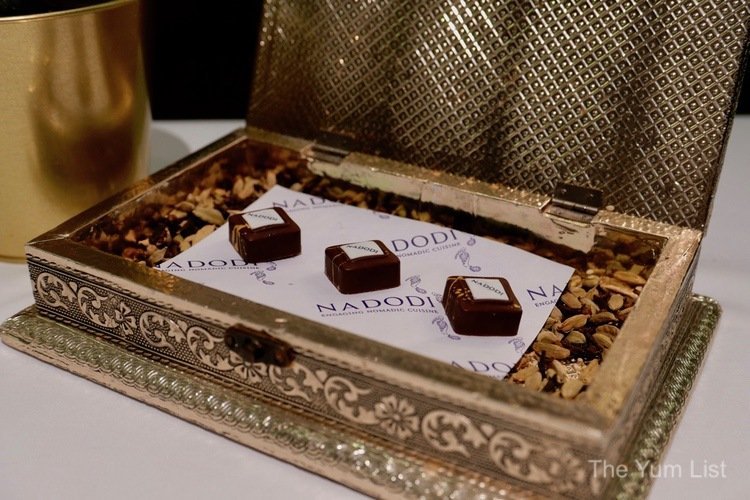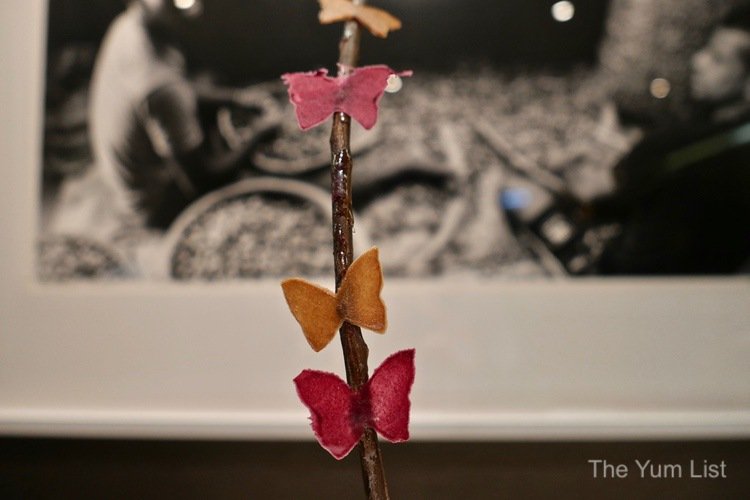 Lerouy & Nadodi Four Hands Dinner Review
The Lerouy & Nadodi collaboration was delicious, inspiring and an immense credit to two top chefs, showing that cooperation rather than competition wins every time. While this was a one-night-only experience, the team at Nadodi are continually honing their skills through partnerships with exceptional chefs. Follow Nadodi on Facebook or Instagram to stay abreast of future projects.
The Lerouy & Nadodi nine-course degustation menu was RM500++ per person with an additional RM200++ for wine pairing.
Check out previous dining experiences at Nadodi here, here, here, here and here.
Find more restaurants that are perfect for special occasions in Kuala Lumpur here.