The Good Stuff COVID-19
Times of great challenge present opportunities to bring out both the best and the worst in people. Sadly, humans seem to be drawn to drama, and many media outlets play along. Here at The Yum List, however, we believe that to grow the good, you must focus on the good. So, here we highlight a few of the positive things businesses and individuals have been doing in Malaysia to assist our community during the MCO and COVID-19 pandemic. This is by no means a comprehensive list. Instead, it's purpose is to draw attention to some of the wonderful actions being taken and hopefully inspire you to find a way to contribute.
Restaurants
The team behind The Fire Grill has raised over RM23 000 so far making it possible to serve near to 3300 meals to the needy and front-liners during the MCO period. Just a few examples are:
120 meals to the front-liners at Hospital Kuala Lumpur's emergency department
150 meals to the Kechara Soup Kitchen
120 meals to Klinik Kesihatan Bandar Botanic
35 meals to a needy family in Ampang
116 meals to the Refugee Settlements in Kotaraya, Cheras and Ampang (Rohingya, Afghan, Chin Myanmar)
And, many, many more.
Order a meal from The Fire Grill and help them to continue their efforts.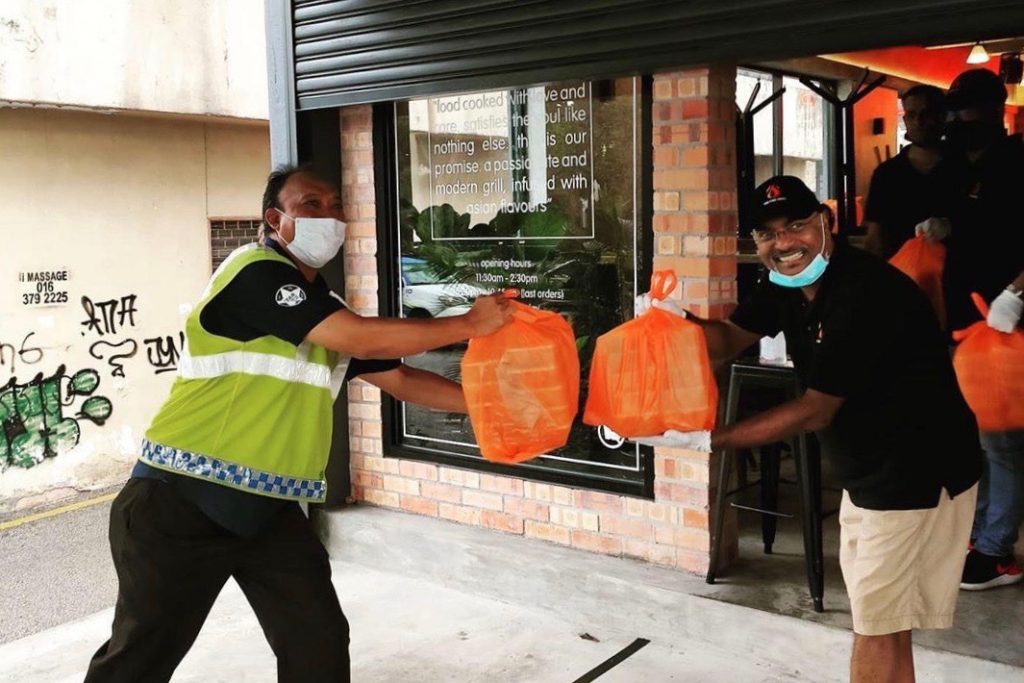 The team at Southern Rock Seafood are doing their best to provide full salaries for employees, delivery free meals to the front-liners, and continue to raise funds for a local NGO they work with, Dignity & Services.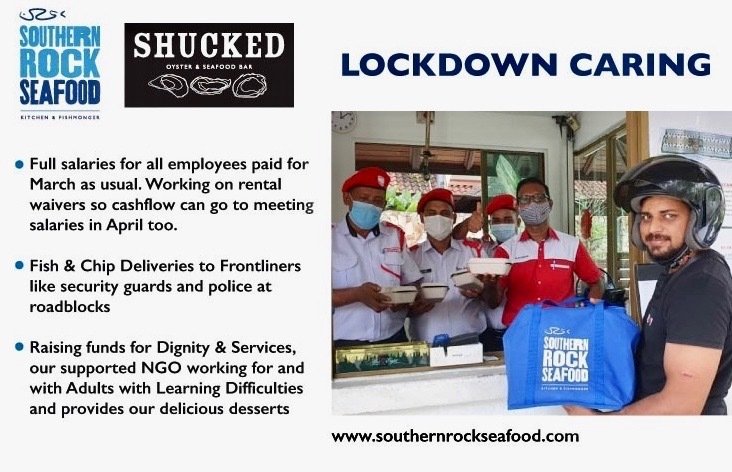 Agrain #1FOR1
Agrain initiated a #1FOR1 movement, where they add on a meal box on top of every meal box donated by the public. These meals go to the front-liners who are combating the COVID-19 pandemic. For every meal box given, Agrain matches it with another.
Here's how you can do your part:
Step 1: Contact the Agrain team through their social media accounts (Instagram or Facebook @agrainmy)
Step 2: Contribute a meal box/es to the front-liners
Step 3: Contributor's name will be written on each of the meal boxes to let the front-liners know that they are not alone in this! Agrain will double your goodwill by donating another.
The teams from La Juiceria Superfoods, Super Saigon and Hawker Hall have been contributing food and beverages to our heroes and heroines in the medical fields at Hospital Kuala Lumpur and Sg. Buloh Hospital.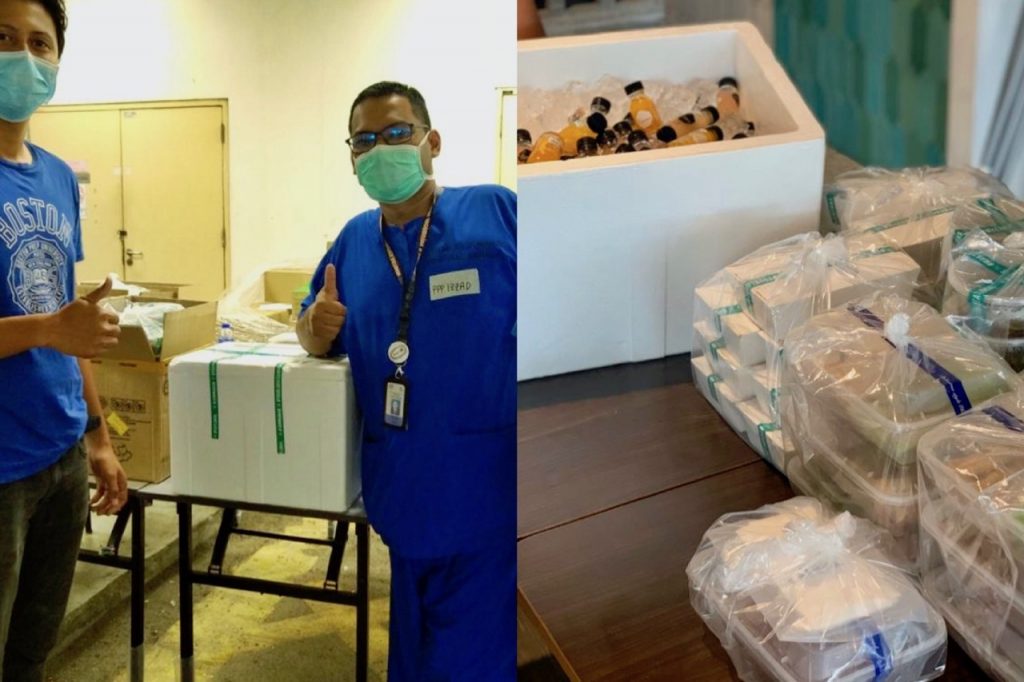 Hotels
To help alleviate the current situation, Marriott International hotels in Malaysia have joined forces to collect over 10,000 pieces of essentials such as dental kits, soaps, shampoos, shower caps, and other personal hygiene kits to donate to the front liners.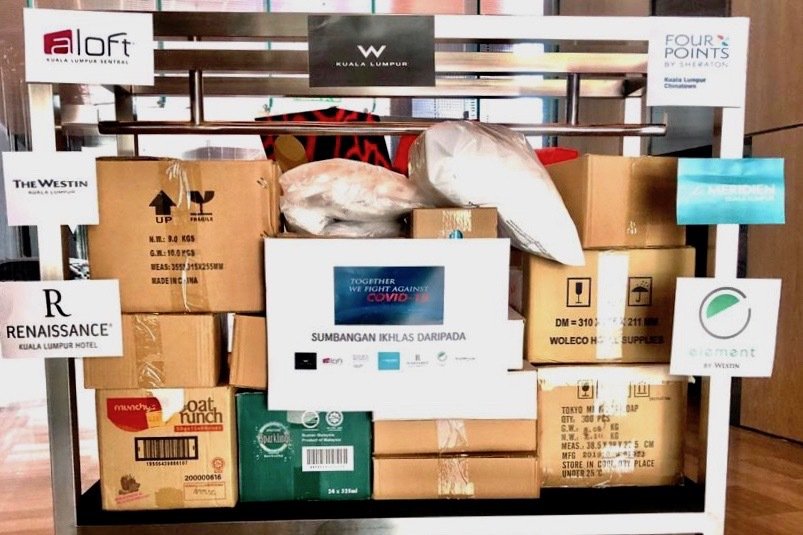 Medical Centres
Doctors not directly involved on the frontline, such as Dr Kuljit Singh at DWHC, are organising groups to provide much needed protective gear for those in the medical profession. Recognising the front-liners are the heart and centre of our community, he hopes to stand by them as they look out for us. Contact DWHC if you would like to contribute.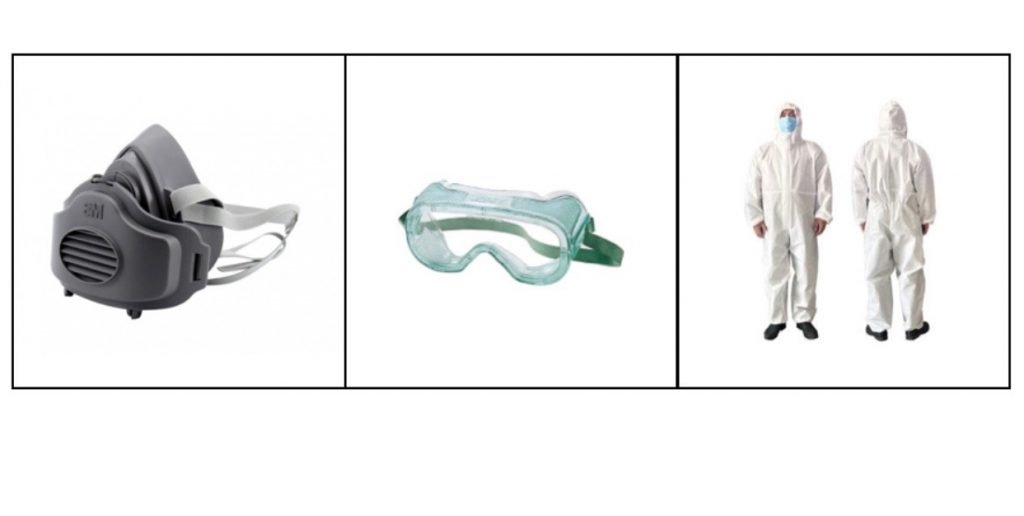 Groups
Biji-biji Initiative and Me.reka, along with its partners Taylors Me.reka Makerspace, Taylors University and Impact Malaysia have joined together to offer a relief strategy for those working in the front line fighting COVID-19. They've learned that there is a critical shortage of Personal Protective Equipment (PPE), specifically face shields. They have initiated an open-source collaborative effort to create a decentralized production of face shields for the Covid-19 front-liners. By mobilising partners across Malaysia, they hope to ensure front-liners have the medical necessities they require.
Visit this page to see how you can join their efforts!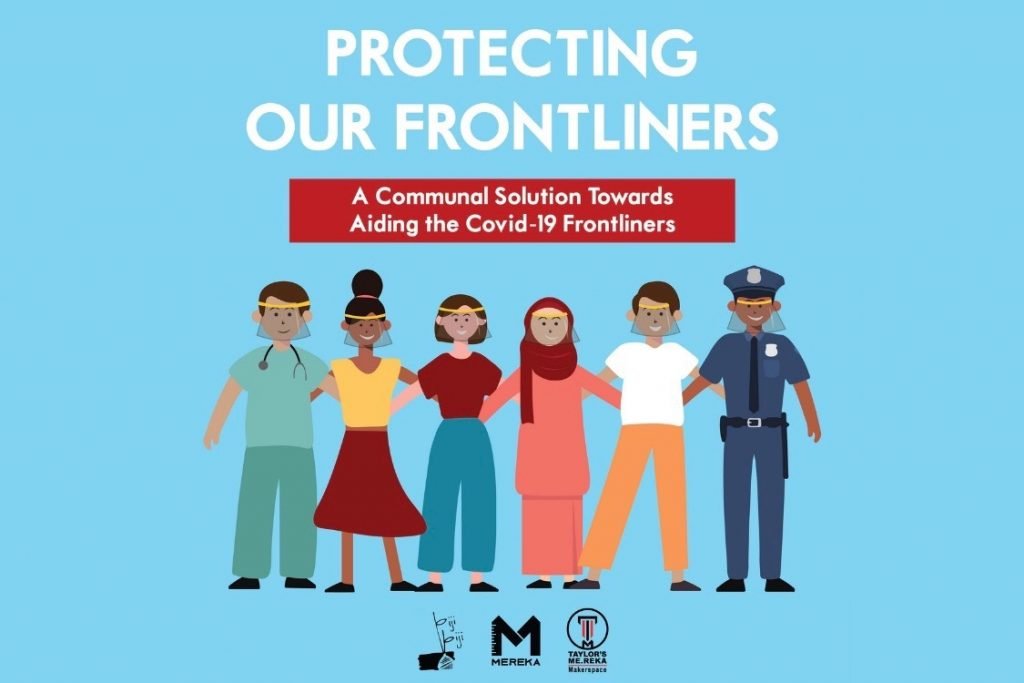 A group of volunteers and chefs participate in Food Aid Foundation's COVID-19 EMERGENCY FOOD RELIEF MISSION. They cook and sort donated foods from manufacturers to reach out to the poor and vulnerable such as refugees, orang asli and welfare homes. All of these have been affected by the Movement Control Order. More donations are welcome as this mission has been running for the last 10 days. With the extended MCO, all resources have been stretched. Corporate companies such as KawanFood, Hiestand, Air Asia, Kuala Lumpur Convention Centre, Tesco and many others have joined in the mission. They donate supplies and volunteers prepare them into meal boxes to be distributed to those in need. Anyone who would like to contribute can assist by volunteering or donating fund or food. Please visit their website: www.foodaidfoundation.org for more information.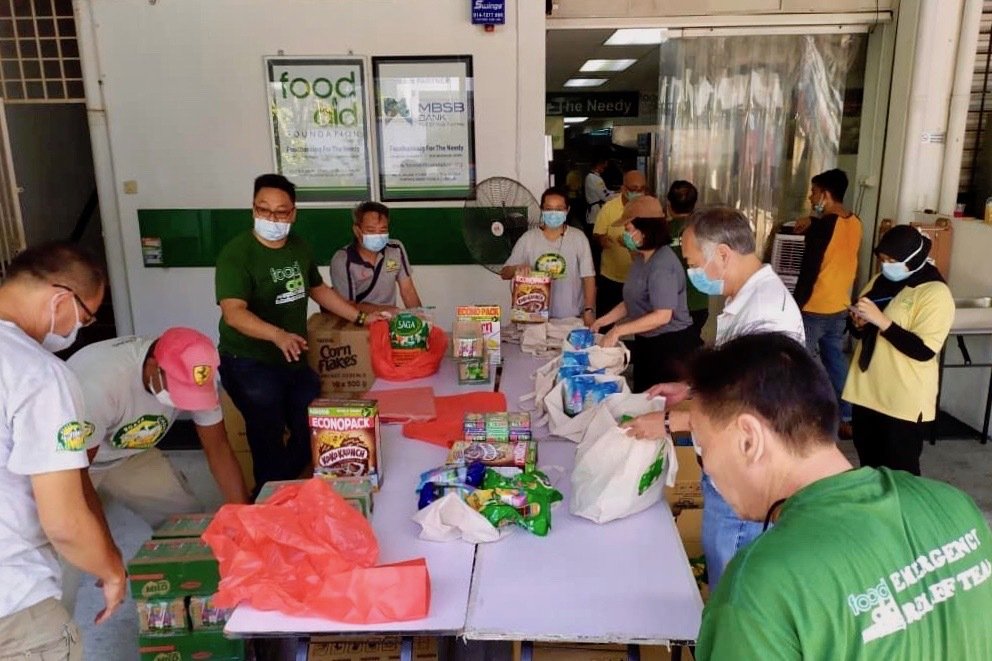 Facebook Groups
The Good Stuff COVID-19 – Caremongering Malaysia
Caremongering Malaysia – Community Response to COVID19, a local group on Facebook, allows individuals to post In Need of Support #ISO or to Offer Support #OFFER. "Groups of volunteers are kept small, so locals can decide what to do on their street, rather than a centralised authority." Join up! Sometimes requests are so small but make a huge difference in someone's life.
Clubs
Originally reported by SJ Echo.
In Subang Jaya, a section of the community is suffering in silence and going hungry. This community is comprised of daily wage earners who etch out a living as cleaners, odd job or construction workers – jobs that pay only when one shows up and finishes the task. With the MCO in effect, this group is now without work and without income. Many are suffering in silence as they run out of money, and their families go hungry. In response, the Lions Club of Subang Jaya cobbled together a "Feed the Hunger" program and have been distributing up to 700 packs of dinner every day. This program will run throughout the MCO.
Individuals
Showing that every effort counts, Max Wright, an ex-pat in KL, has been sewing face masks out of old sports' medal ribbons and cotton. He is distributing them to anyone who needs them in the community. He is happy to share the pattern for making them. You can message him here.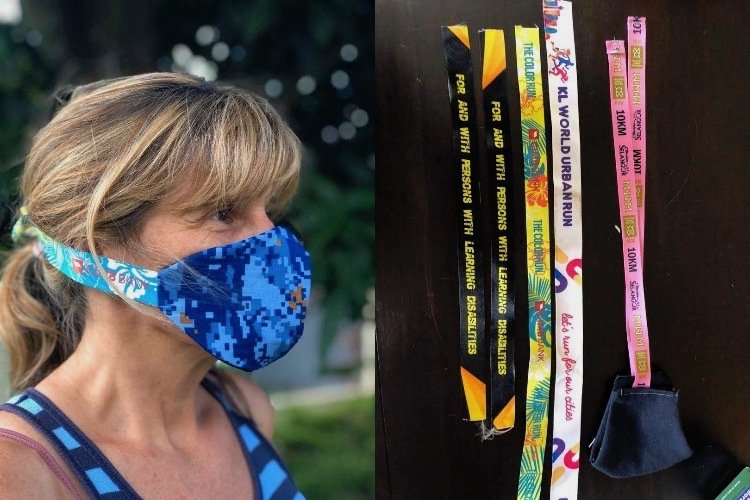 The Good Stuff COVID-19
As noted in the introduction, this is just a snippet of the good stuff happening as a result of COVID-19. This article is not meant to be a comprehensive list, but rather highlight that if you look for the positive, you will find it. If you would like to congratulate any groups or individuals for their effort, kindly leave a message in the comment box below.