OpenHouse Kitchen Takeover at Flock
"Recipes from Our Mother's Kitchen"
Monica Tindall
Two champions of the local food movement, OpenHouse KLCC and W Kuala Lumpur, collaborate in a "taste and visual feasting experience." OpenHouse aims to preserve Malaysia's rich culinary heritage. At the same time, the team at W Kuala Lumpur celebrate local ingredients in contemporary recipes. Tonight's OpenHouse kitchen takeover at Flock seems a roaring success, and we're grateful to be part of the buzzing guest list.
OpenHouse Kitchen Takeover at Flock
The fashionable setting of Flock features a display of jungle produce. OpenHouse proudly supports and buys directly from Orang Asli and villagers, and the centrepiece is a culinary wonderland of biodiversity. From my favourite ingredient, torch ginger, to the yet-to-have-acquired-a-taste-for jackfruit, the exhibit is a parade of prized ingredients waiting to be marketed. Quietly, I'm glad they have not yet been commercialized. Still, the quality and variety of flavour and nutrients here have to be one of the world's best-kept secrets.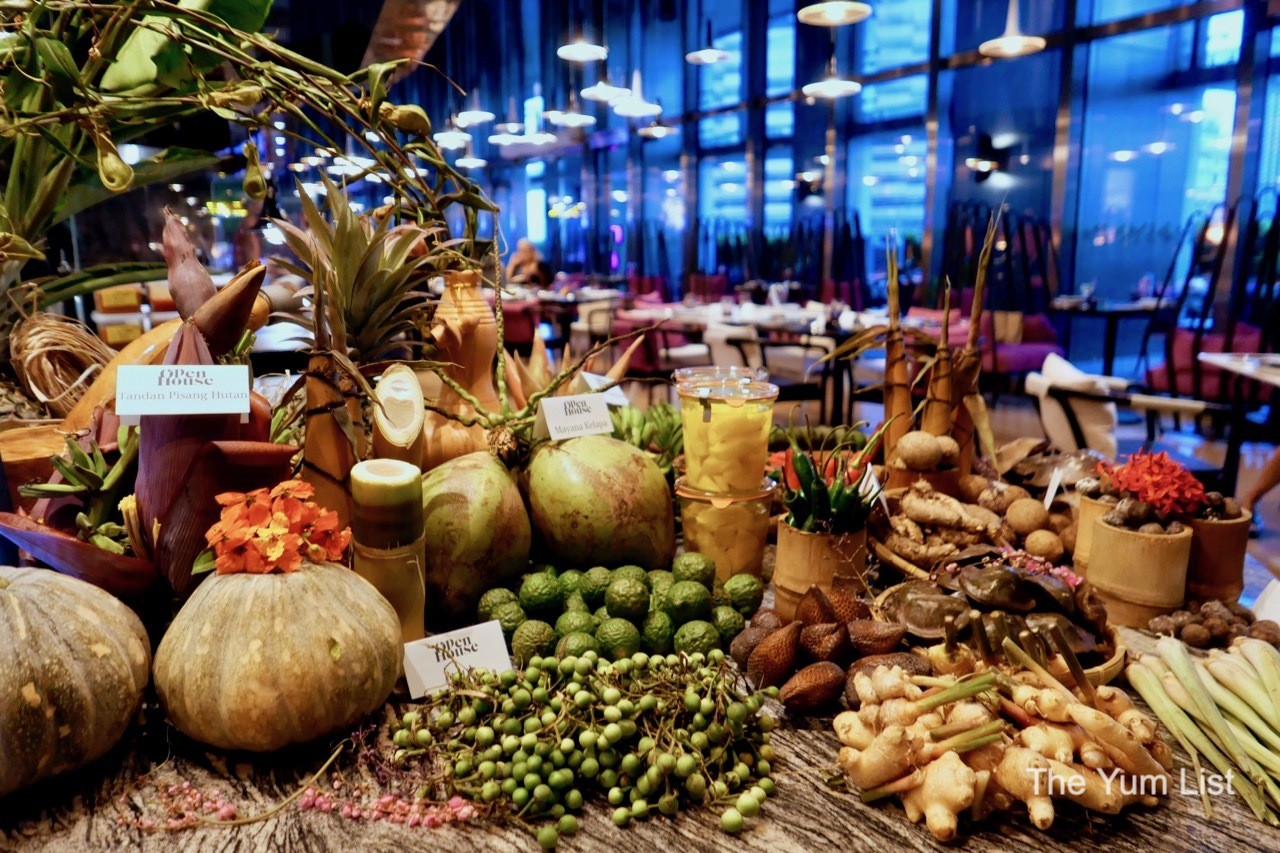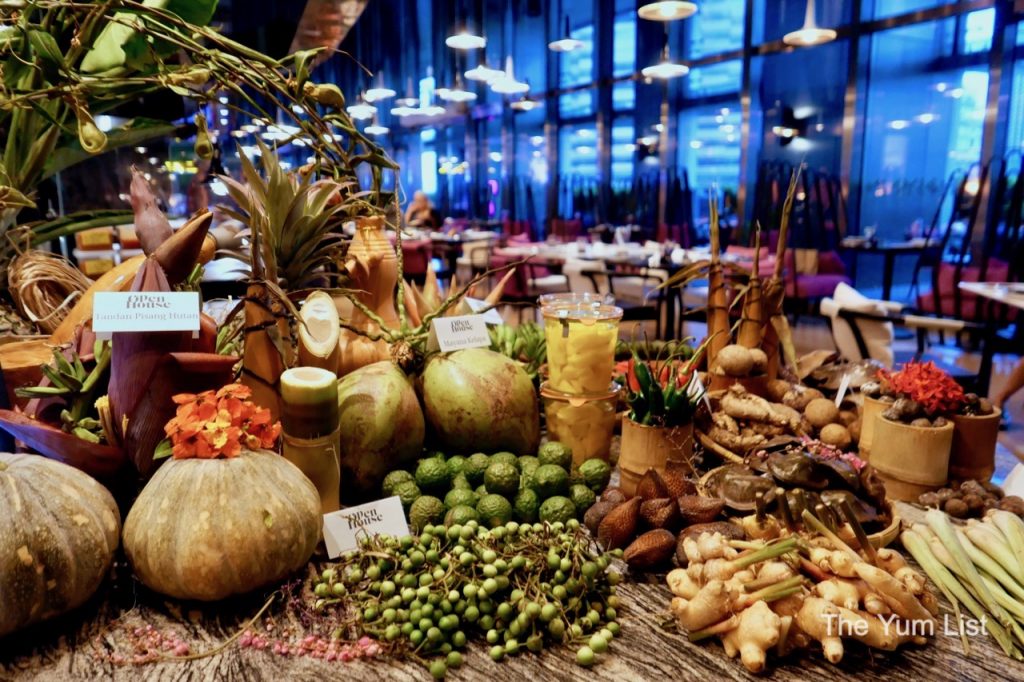 Malaysian Ingredient-inspired Cocktails
Also procuring a space of its own is the bar. With a grass-walled backdrop and neon lights, we can't resist a few moments here before dinner. Junior and his team from WET Deck are responsible for the cocktails. They fit perfectly with the menu celebrating local ingredients.
Our first sip, Pandan Indah, is not only cleverly named but also a toothsome mix. Gin, pandan vermouth and bitters are served in a coupe glass and garnished with a pandan leaf. My palate, however, falls for the Rentap featuring a smoky mezcal, tuak (local rice wine), Aperol and citrus. It's presented in a rocks glass over a cube of ice and a dehydrated orange slice.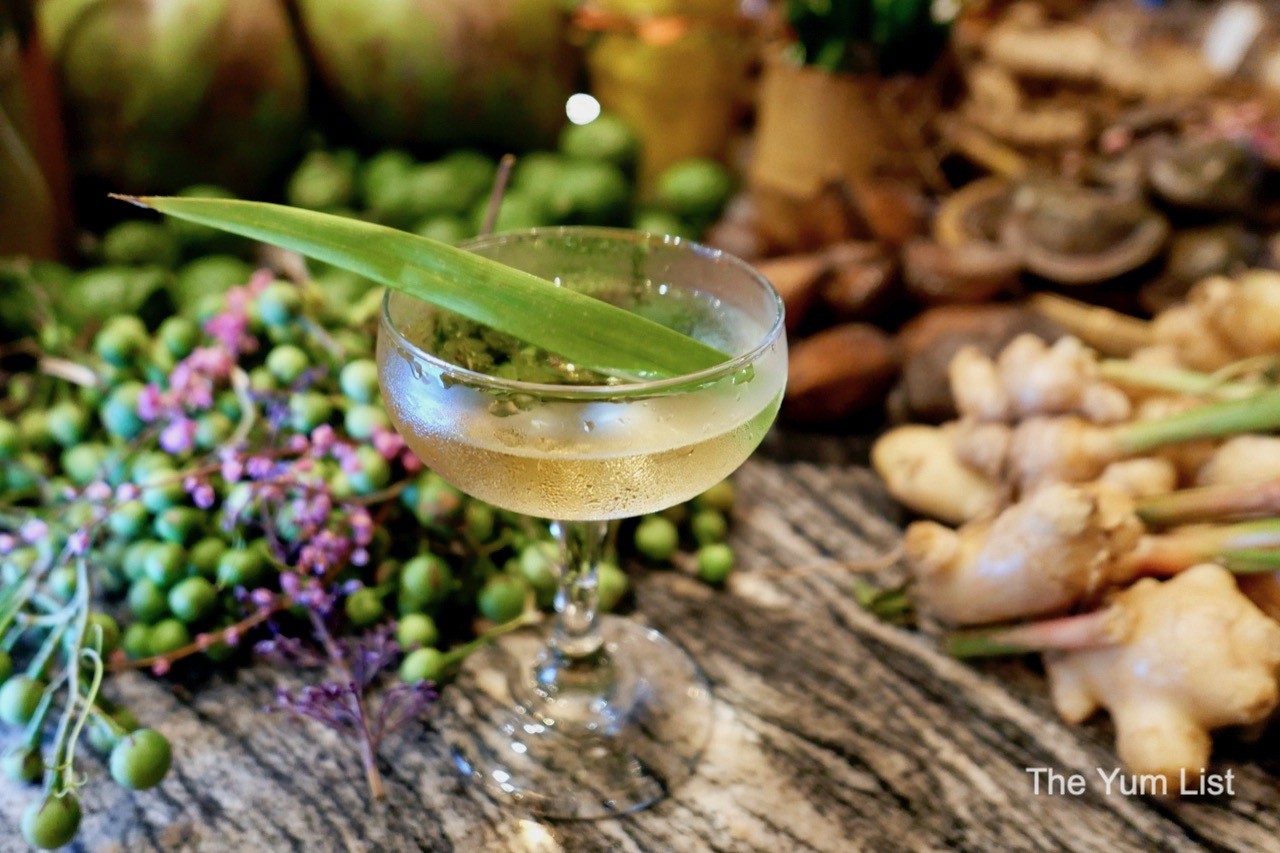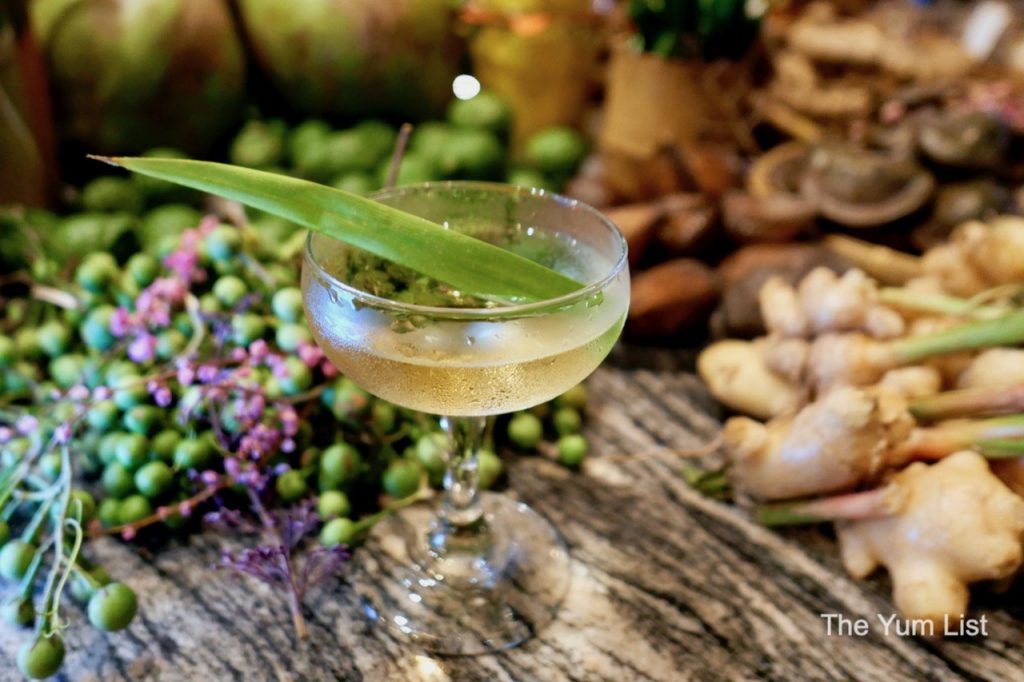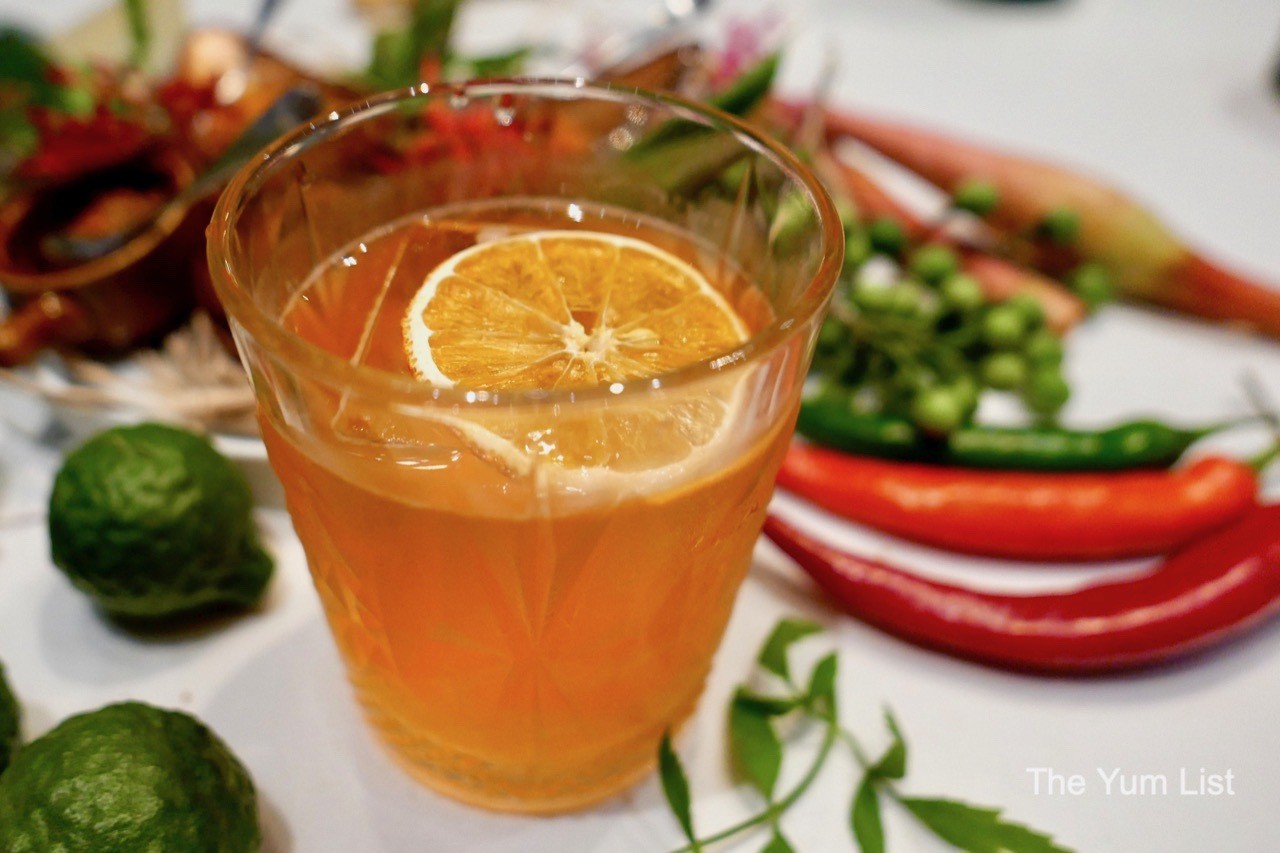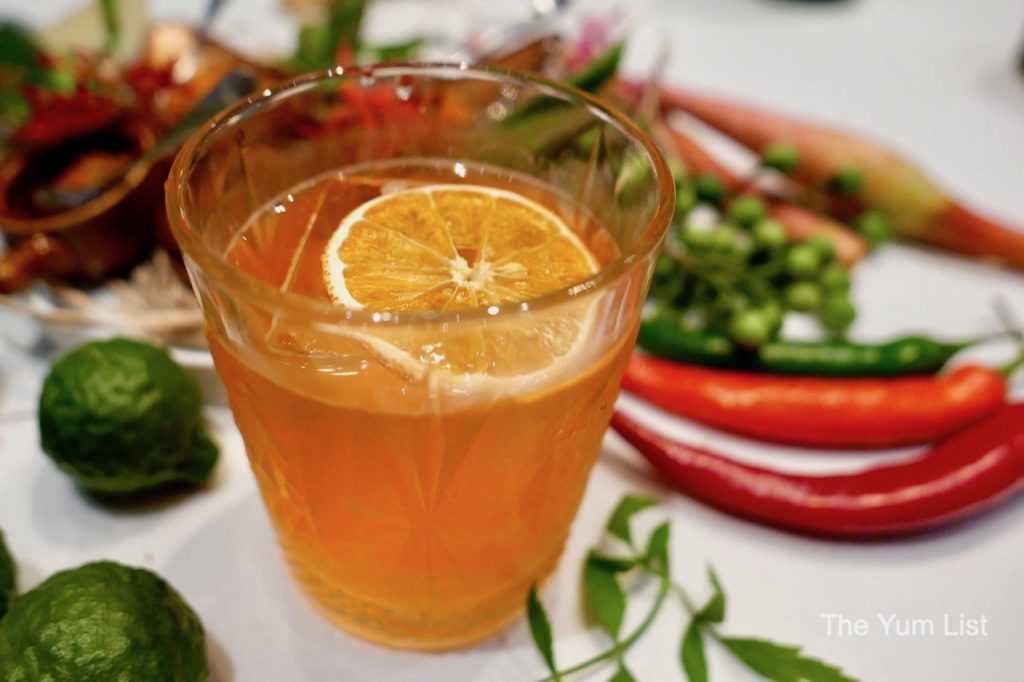 Amuse Bouche
Seated, we begin the four-course meal with Flock's presentation of Bornean ceviche, Smoked Fish Umai. A white deep-sea fish is "cooked" in lime, yuzu and vinegar. It's seasoned with coriander, red onion, dried shrimp, nuts and chilli. Sea grapes (seaweed resembling a miniature bunch of green grapes) adorn the crown along with pomegranate adding vibrant bursts of both liquid and tint. We fold the betel leaf enveloping the ingredients, and pop the whole thing in our mouths. Delicious.
We move from refreshing to warm and comforting with the Organic Hen's Egg Custard. Flock's take on chawanmushi with stir-fried duck, soybean, shimeji and garlic is contrasted with a deep-fried coriander leaf. The combination is decadent. Flock sets standards high. It will be challenging to eat this dish elsewhere, evading comparison.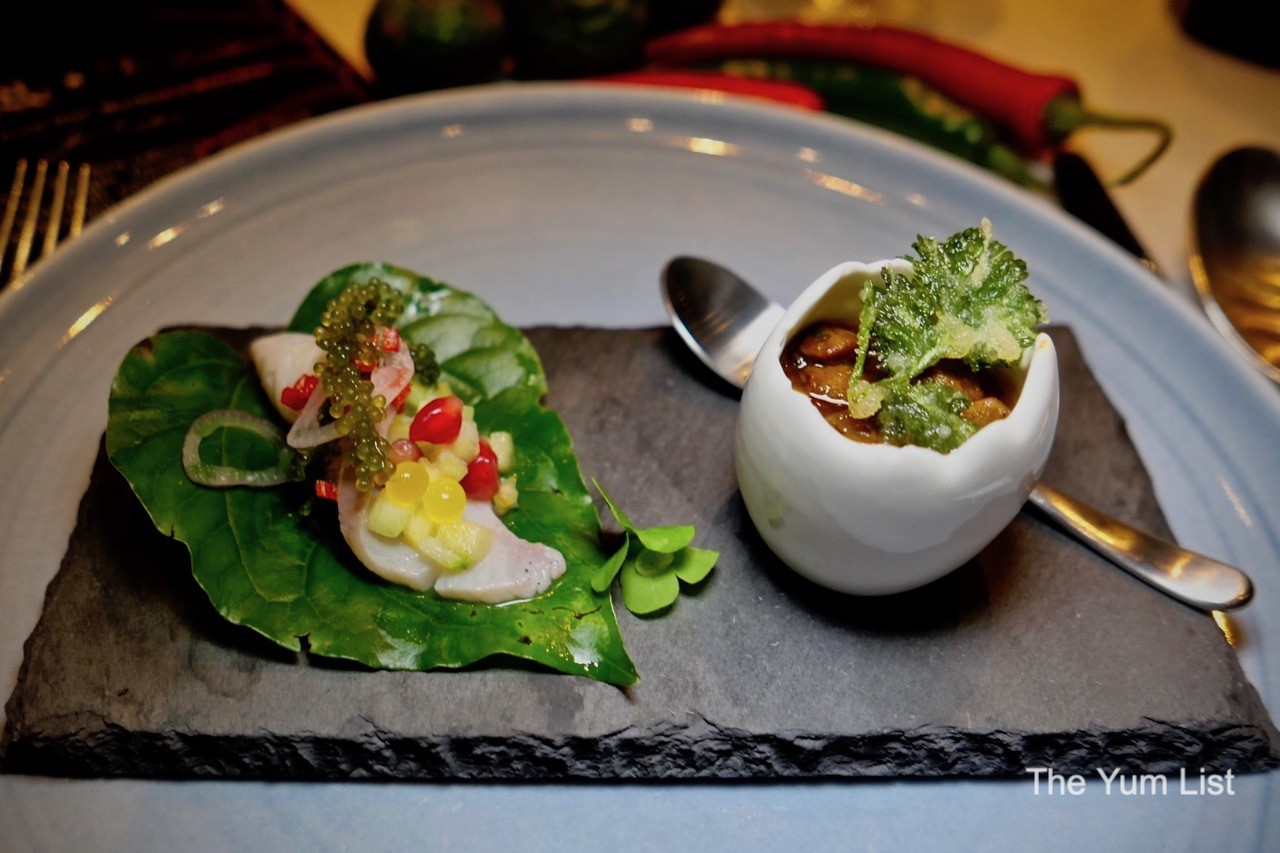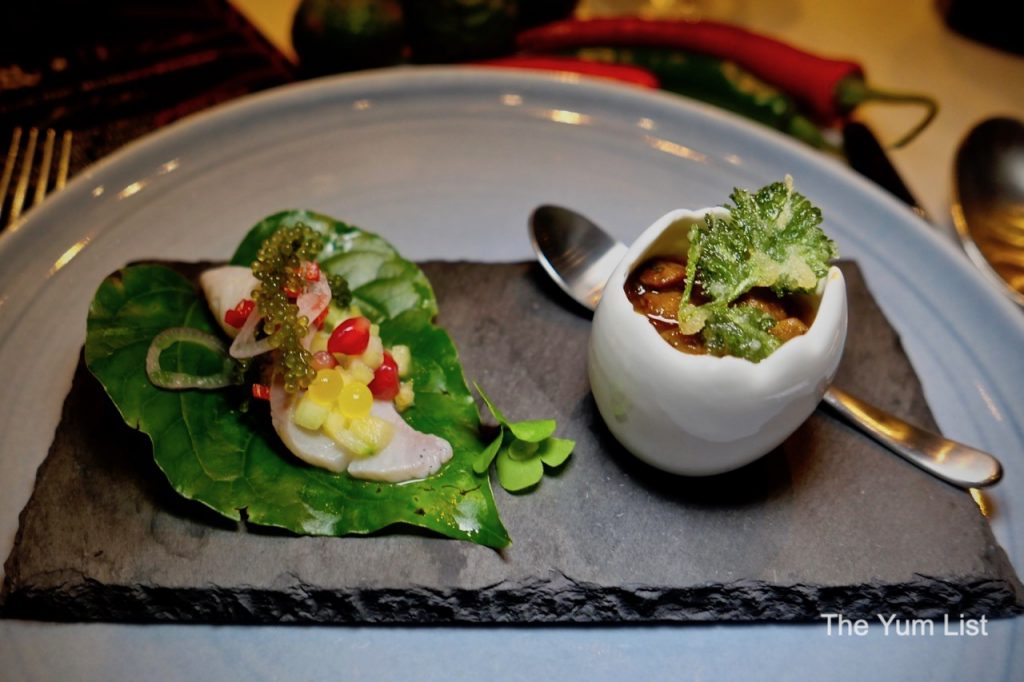 Starters
In typical OpenHouse style, the starters are prettily plated with native blooms and leaves. Deep-fried Spinach Pakora is fantastically delicious and packed with nutrient-dense local greens. These fat spinach balls are bulked with bean curd, and the sweet, spicy sauce that ponds them is an excellent companion.
Most will tell you that the peanut sauce is the highlight of satay, but in OpenHouse's Chicken & Beef Satay, the meat has been marinated and charred so well that the sauce is unnecessary. Of course, you should not miss the sauce. It's been made in-house and is an admirable balance of nutty, spicy and mildly sweet. Glutinous rice balls have been given colour and sweetness with the addition of corn, and red onion and cucumber slices are further opportunities to mop up that sauce.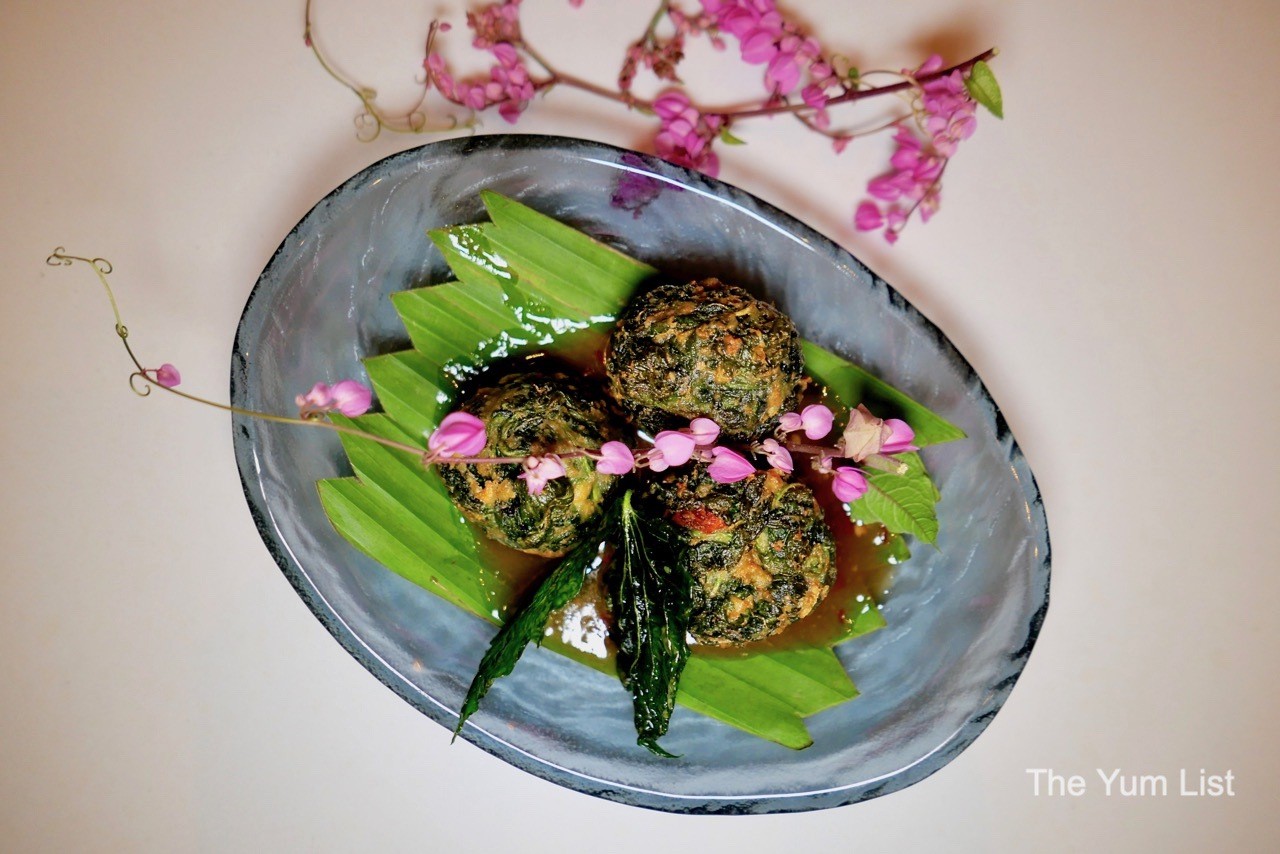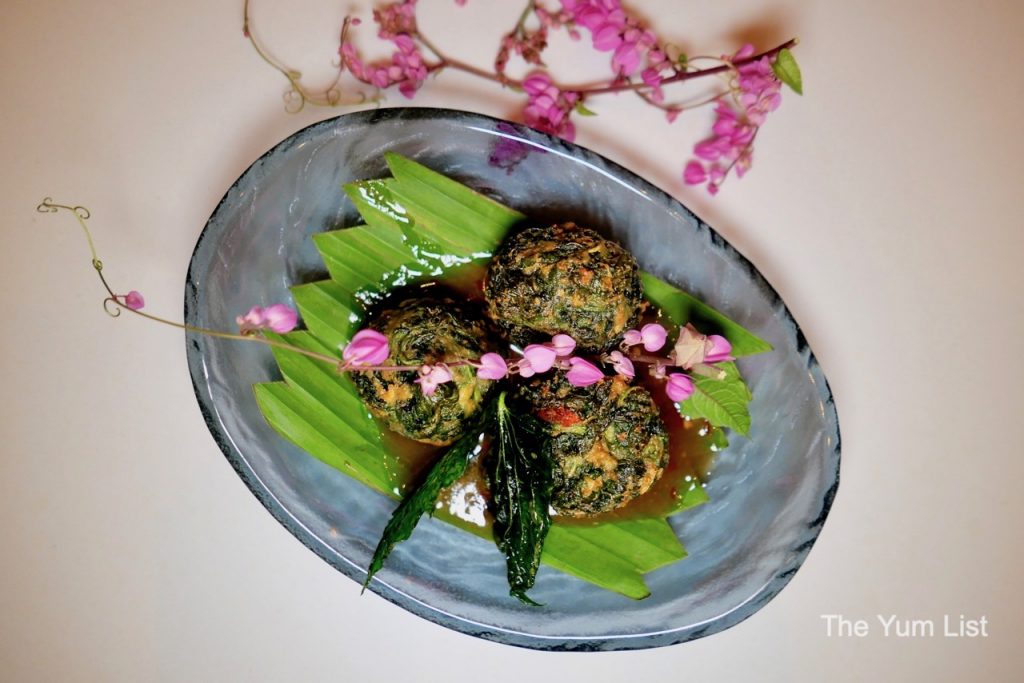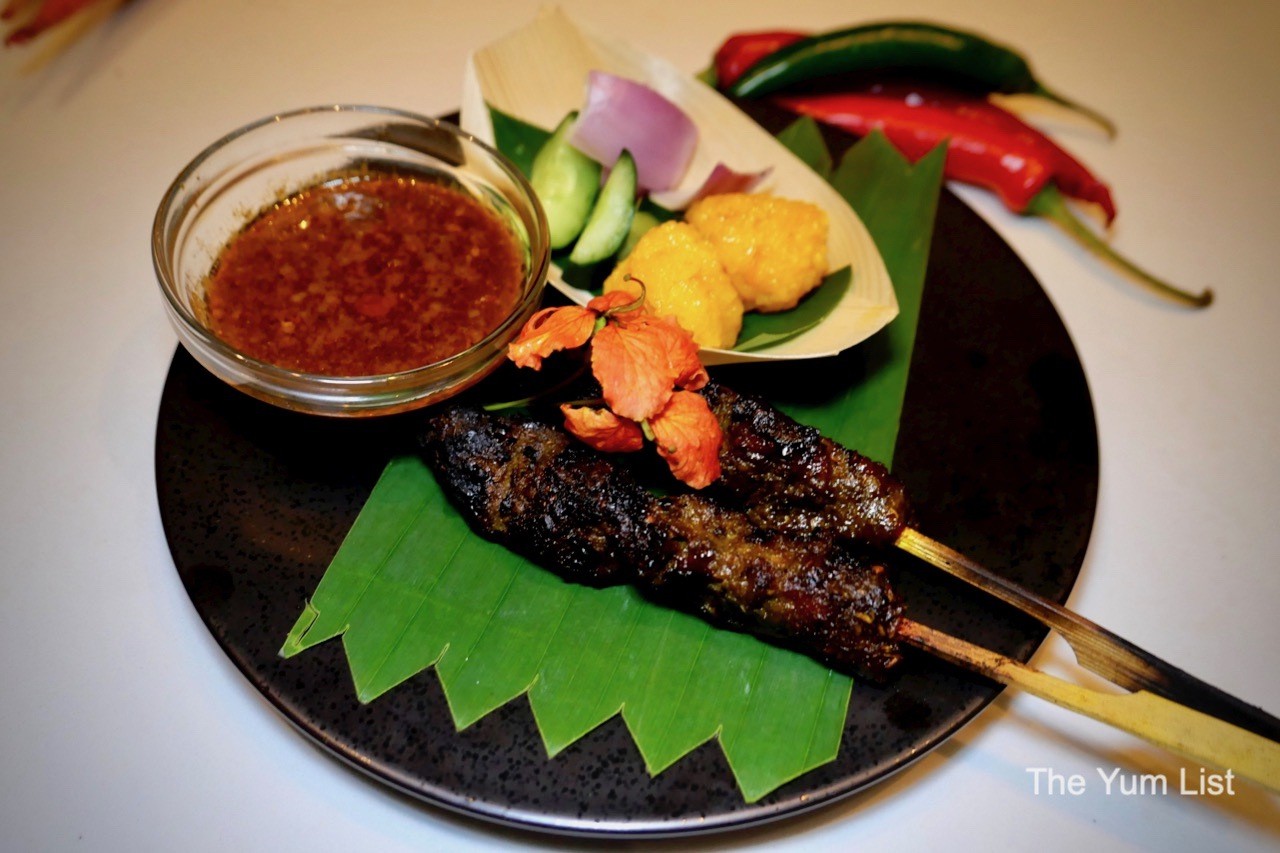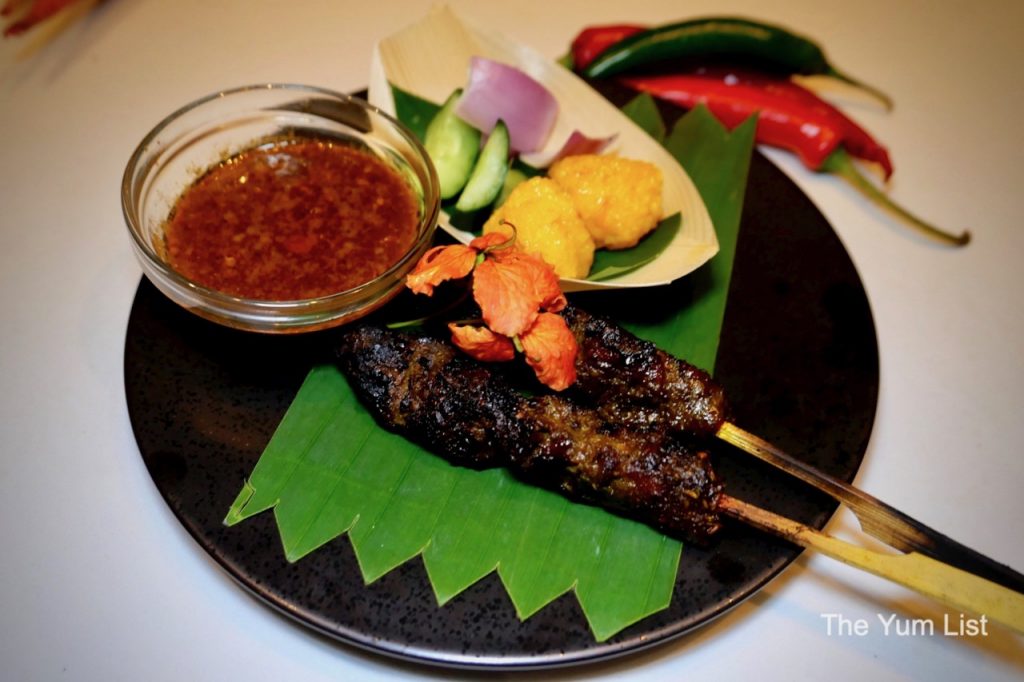 OpenHouse Kitchen Takeover at Flock – Main Courses
OpenHouse delivers a choice of beef, fish, chicken and a vegetarian option as mains.
Hubby opts for one of the restaurant's stars, Pais Barramundi. It's a moist, flaky fillet wrapped in a lerek leaf parcel along with tapioca shoots, shredded coconut and chilli padi. Lerek comes from a wild bush in the wetlands. It's oft used both as a wrap for cooking and as a carrier for food. This recipe is one of our favourites and one we order for our visiting guests repeatedly.
I plump for vegetarian with Rendang Hitam Vegetables. It's mock meat rather than vegetables – not my preferred ingredient. However, the sauce it simmers in is an appetizing Minang-style gravy. Minangkabau people from West Sumatra who settled in Negri Sembilan are credited with this tempting mix of highly aromatic herbs. Garlic, ginger, onion, chilli, galangal, and turmeric are just some of the spices composing the complexities in the profile. Coconut milk makes a thick, rich gravy absorbing everything. The addition of toasted shredded coconut moating the pyramid is also highly enticing.
Both are accompanied by Steamed Kulim Rice and an attractive platter of sambals – sambal temu pauh (jungle root), sambal tempoyak (fermented durian), kulat kukur (jungle fungus) and sambal isi rong (rubber seeds). Again, we don't find them necessary. Still, it is fun to experiment with the various recipes and test our resistance to heat. Before you go adding on any extras, though, do appreciate the rice on its own. It's been infused with buah kulim, a hard jungle nut with an intense fragrance of roasted garlic.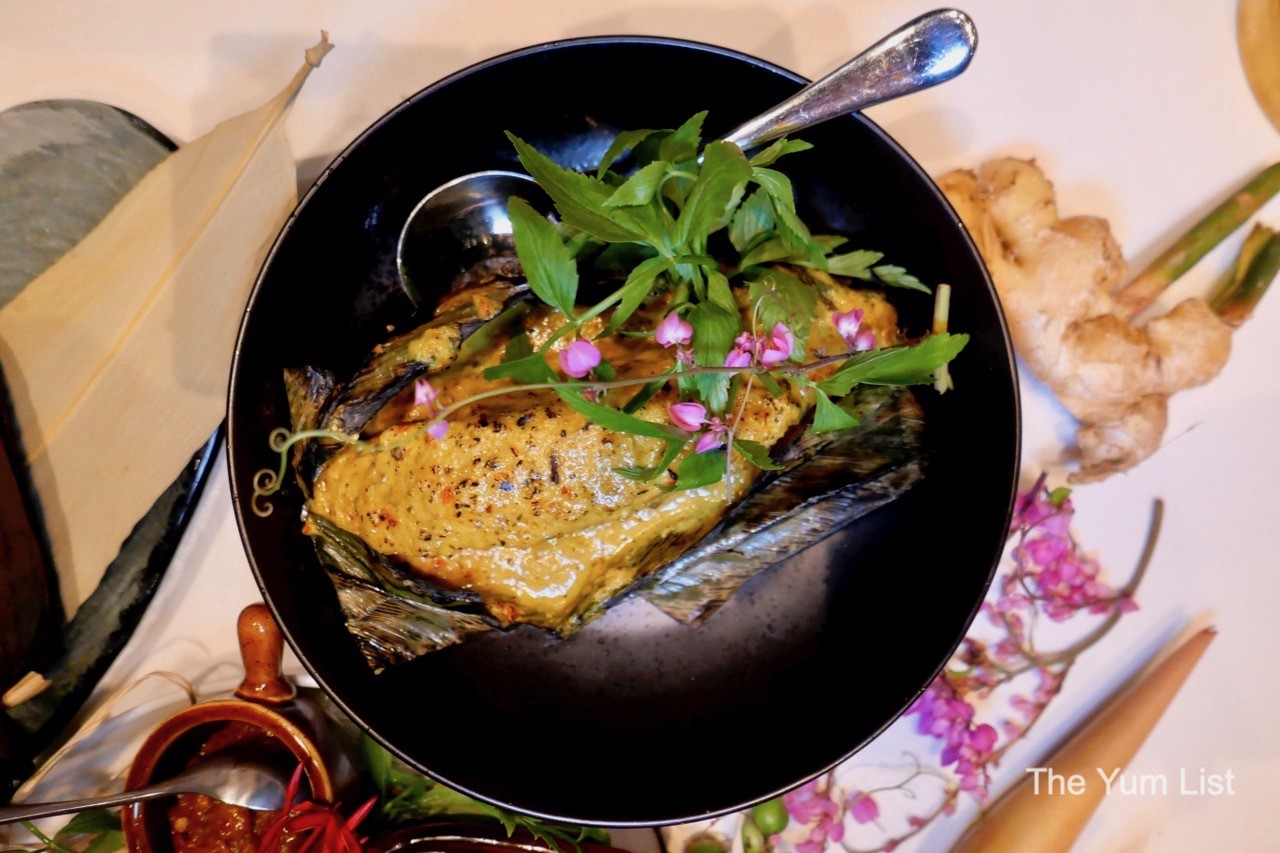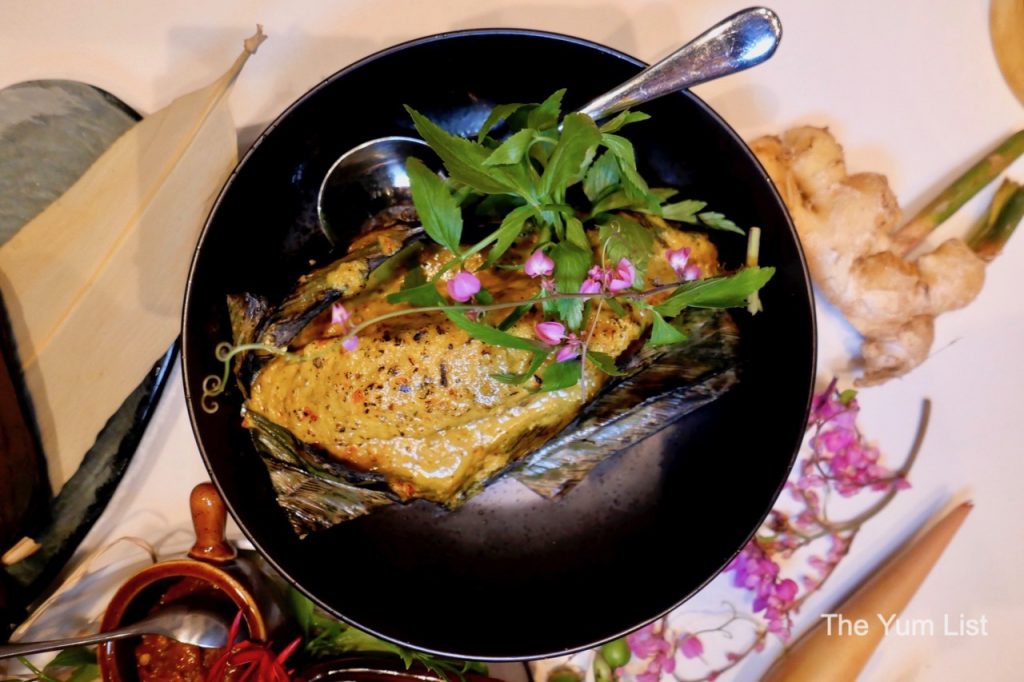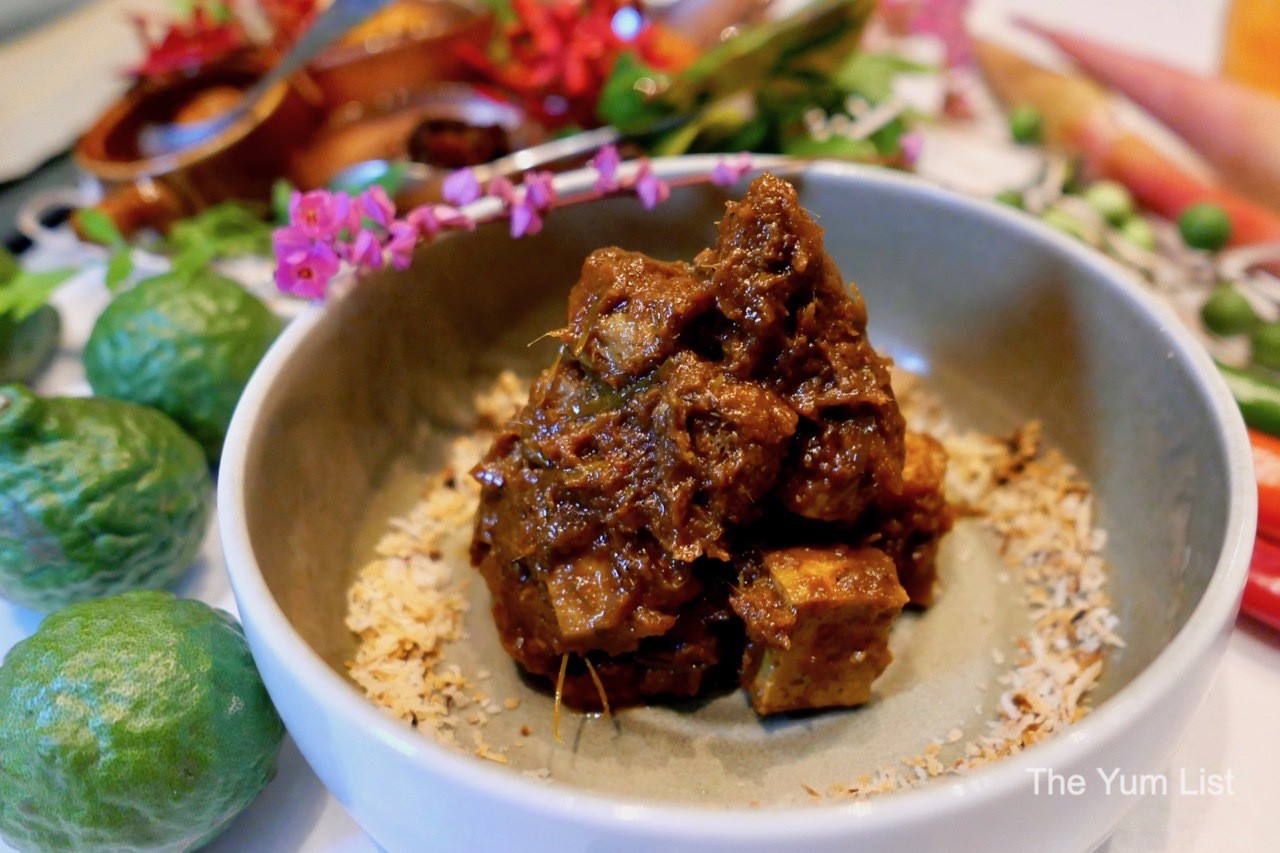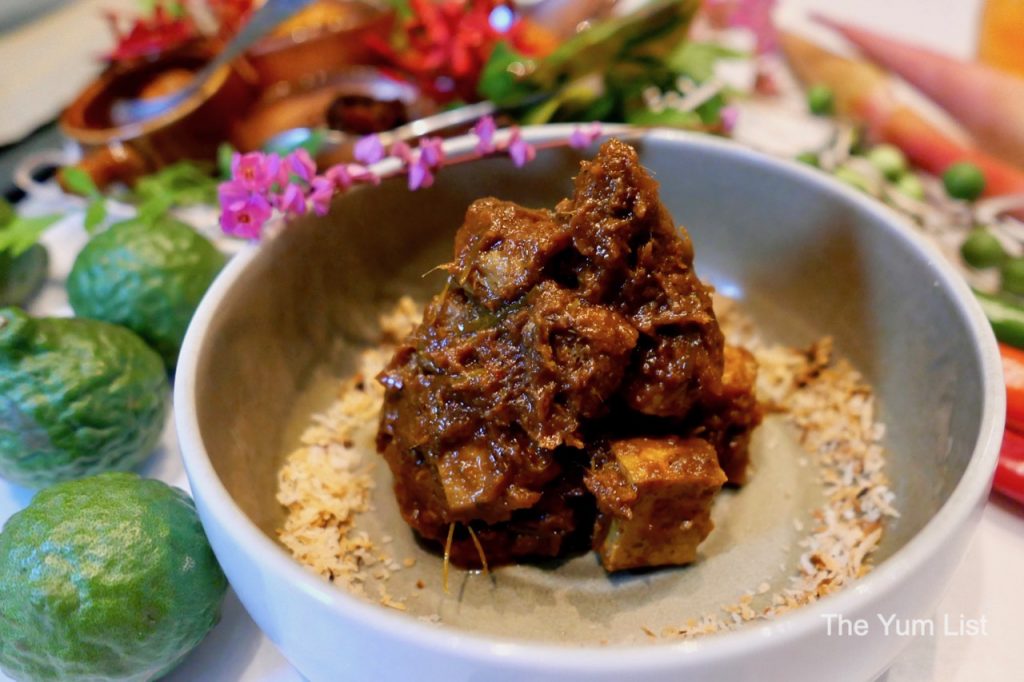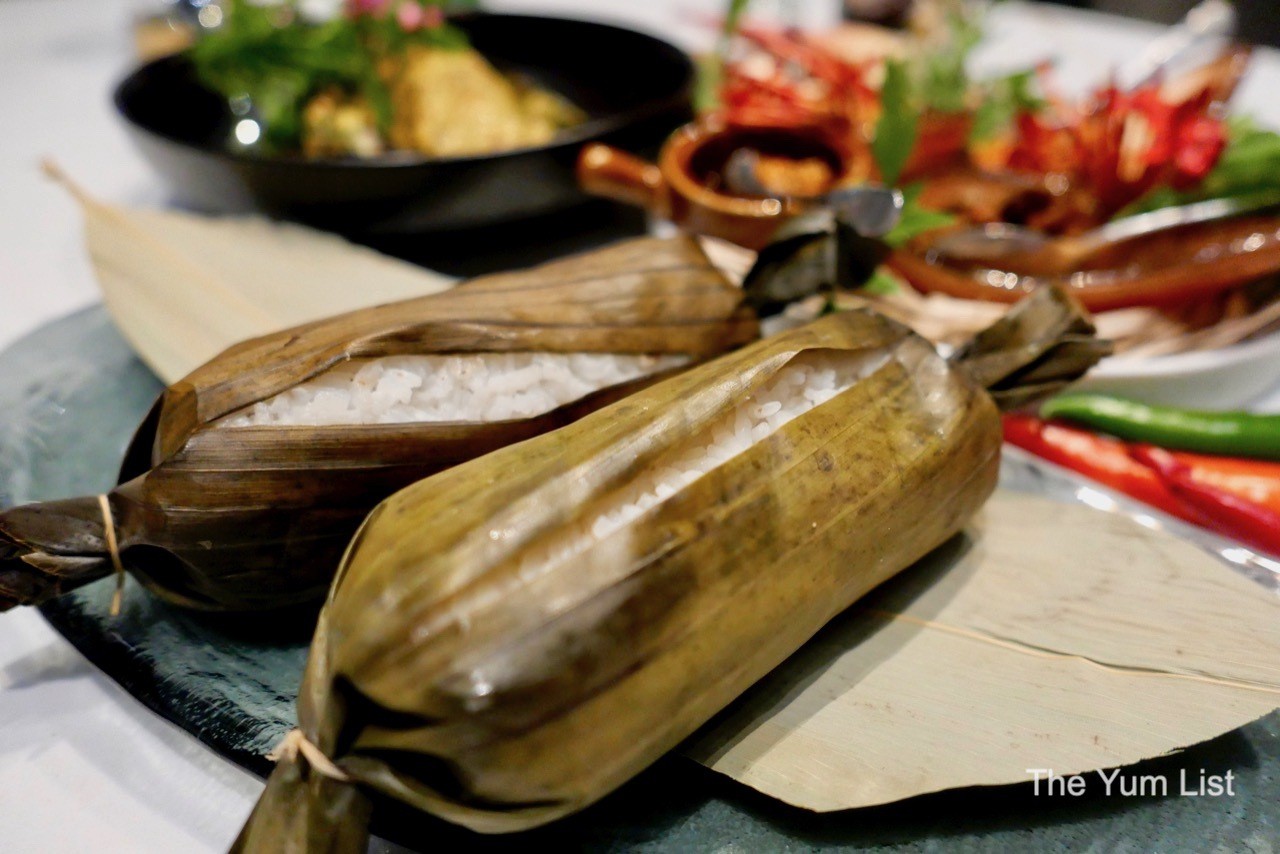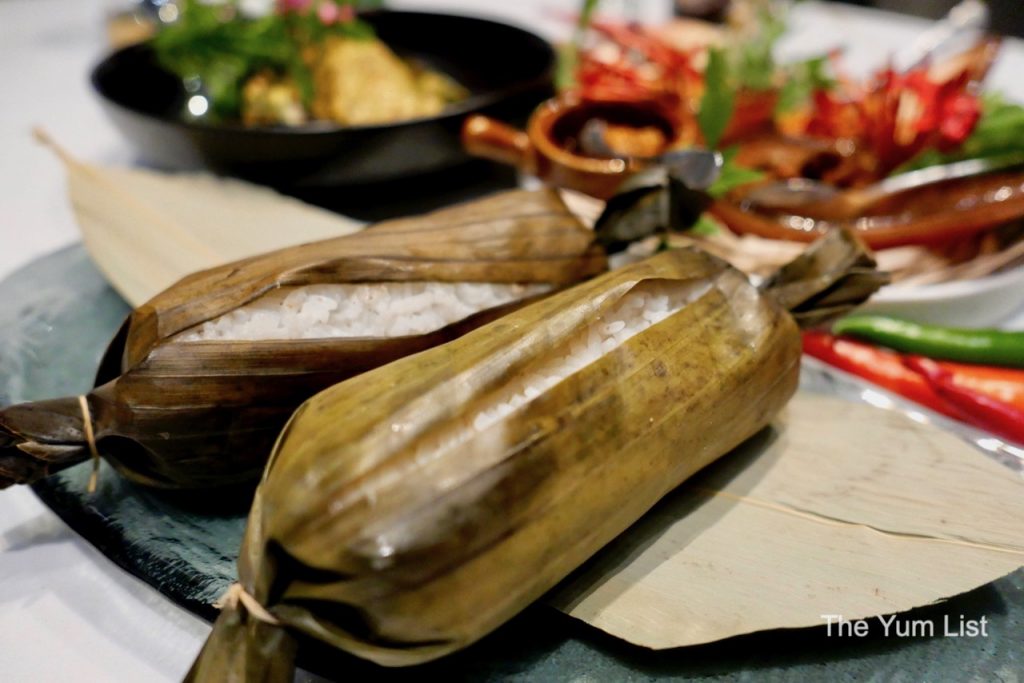 Desserts
The team at Flock conclude the meal with Reinvented Bubur Cha Cha. Taro semifreddo centres the plate, and other components are layered around it. Coconut espuma and soil, dehydrated sweet potato chips, black-eye pea gel, and sago pearls are gently sweetened, making it a satisfying and not overly sweet conclusion.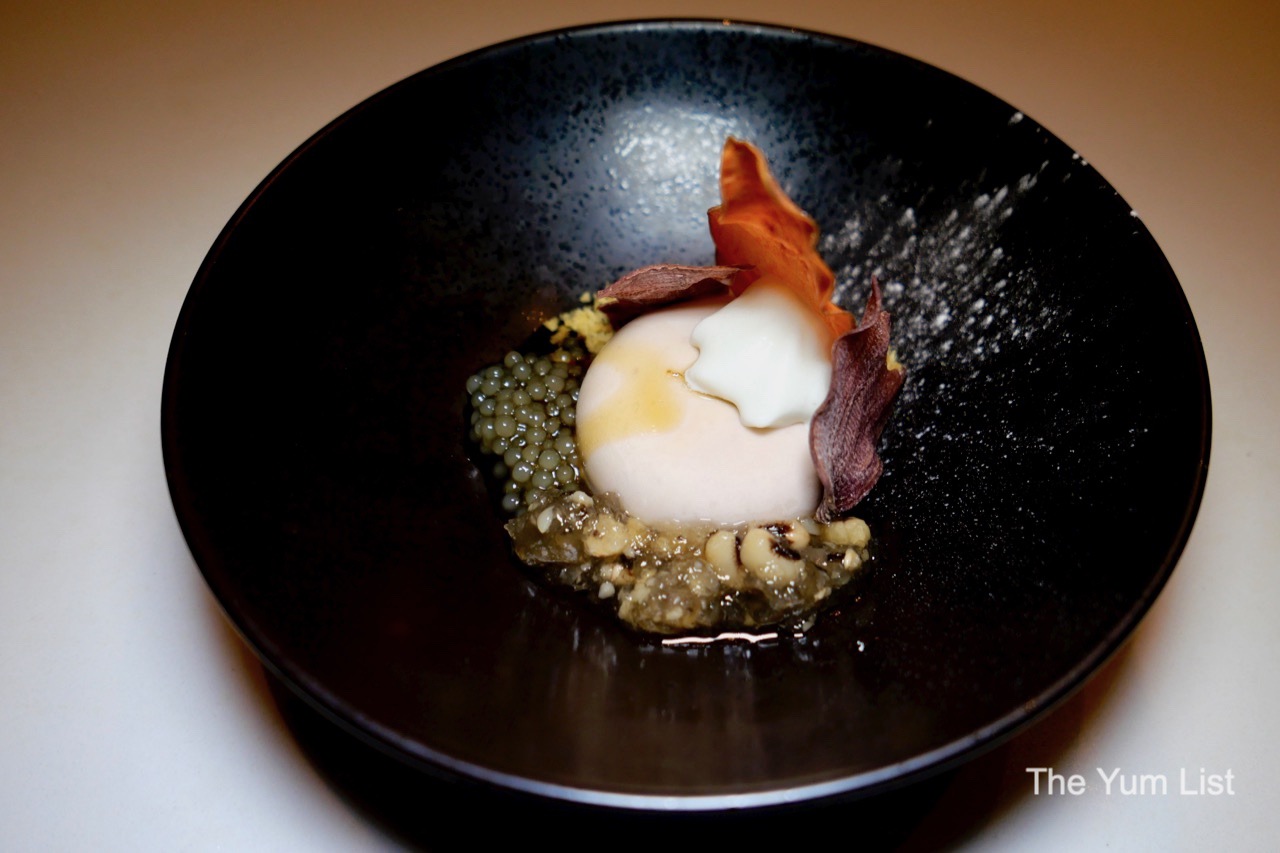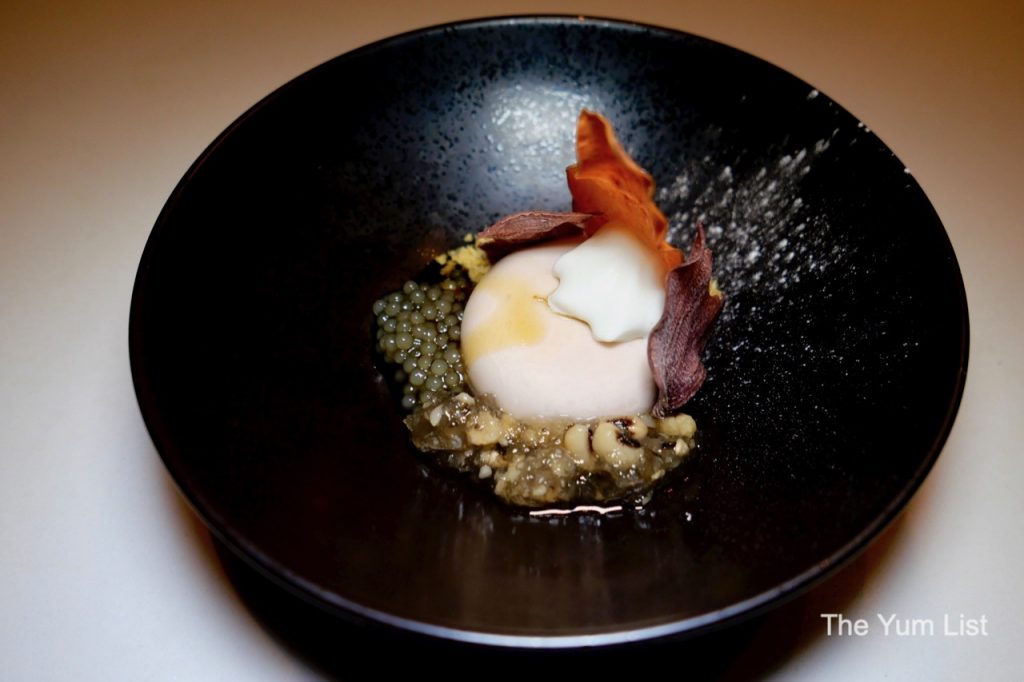 OpenHouse Kitchen Takeover at Flock Review
The OpenHouse Kitchen takeover at Flock was highly successful. All seats were sold out a week before the event, and judging from the crowd's buzz, guests were charmed by the experience. Stay tuned for W Kuala Lumpur to have their turn taking over OpenHouse's kitchen in the months to come!
OpenHouse KLCC
G48, Suria KLCC
Above Delirium Café and Acme Bar & Coffee (facing the fountain)
Kuala Lumpur, Malaysia
+6 03 2162 0888
www.facebook.com/openhouseKLCC
Flock, W Kuala Lumpur
No. 121, Jalan Ampang
Kuala Lumpur, 50450 Malaysia
+60 3-2786
b&[email protected]
www.facebook.com/WKualaLumpur
Stay up-to-date with the latest gourmet and travel recommendations for Malaysia here and here.