Keratherapy Review
Monica Tindall
I love the smoothing effects of a keratin treatment, but it seems these days that I just can't afford the downtime. In older therapies, even the natural ones such as Argila, I would have to wait 72 hours before washing, sweating (so no exercise) or pulling my hair back in a ponytail or with a clip. The latest product on the market, however, Keratherapy Pure Renewal Plus +, has no downtime – a very real benefit in these very busy times.
What is Keratherapy Pure Renewal Plus +?
Keratherapy Pure Renewal Plus + is a smoothing system promising to leave your hair "frizz-free, shiny and manageable" while at the same time reducing curl. It is a temporary treatment that will eventually wash out, returning your hair to its natural state.
How long does the Keratin treatment take?
Treatment time varies depending on the length of your hair. My long, medium-thickness locks took about 90 minutes to treat from start to finish. Shorter hair may take less time.
Who is the treatment suited to?
At my preferred salon in Bangsar, Eka Roots, they recommend Keratherapy Pure Renewal Plus + for clients wanting to reduce frizz and increase shine. As this salon only uses products with the lowest amount of chemicals on the market and organic where possible, it is also suited to those with chemically treated hair. It is gentle yet reduces curl and increases manageability.
Post-Care Keratherapy Pure Renewal Plus +
As with all straightening treatments, it's recommended to use a shampoo and conditioner that are free of sulfates and sodium chloride. It can be quite the challenge reading product labels these days, so it's convenient that Eka Roots Bangsar stocks the post-care line in the salon.
It's also advisable to avoid swimming in salt or chlorinated water as this reduces the longevity of the treatment. The good news though, is that regular activities such as washing, tying your hair up in a ponytail, and exercise can be resumed immediately. With proper care, the smoothing and straightening effects are said to last up to 12 weeks.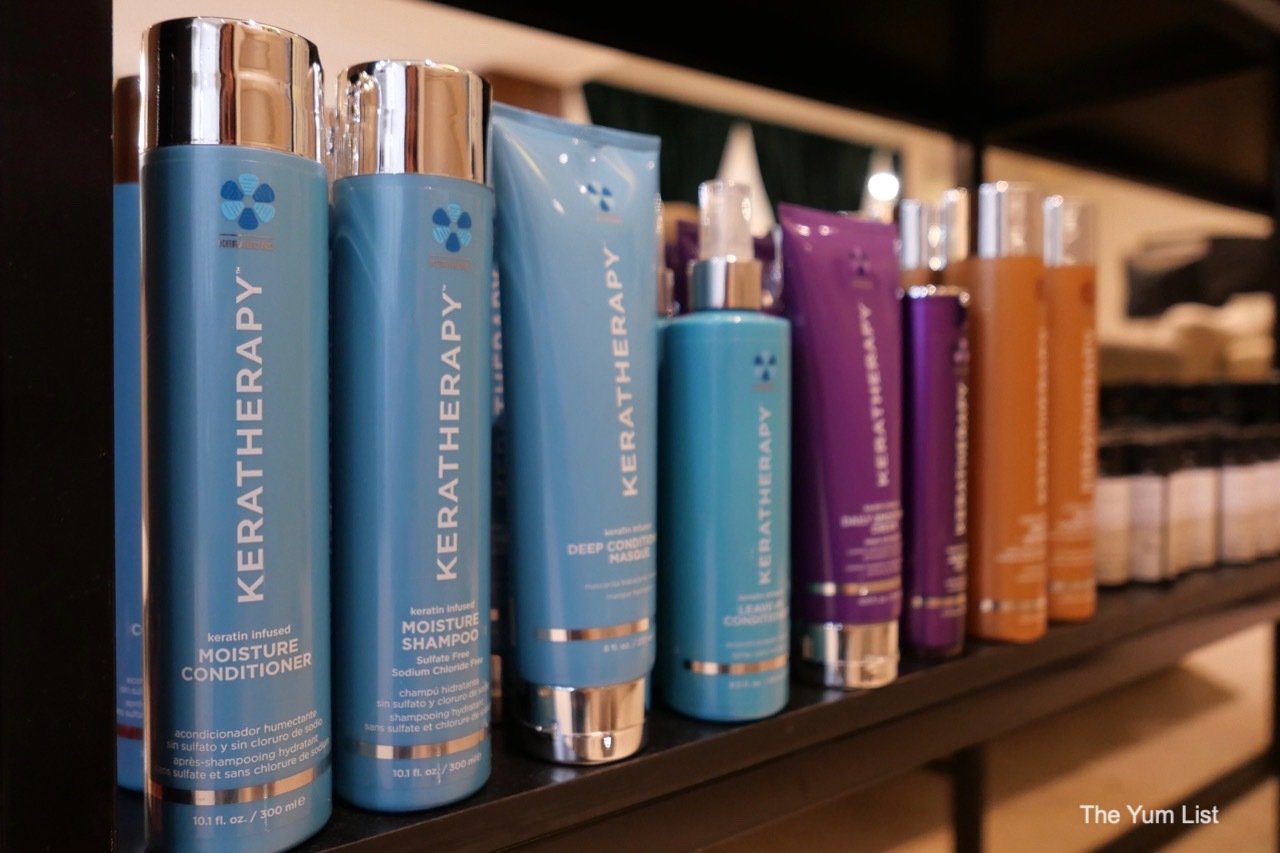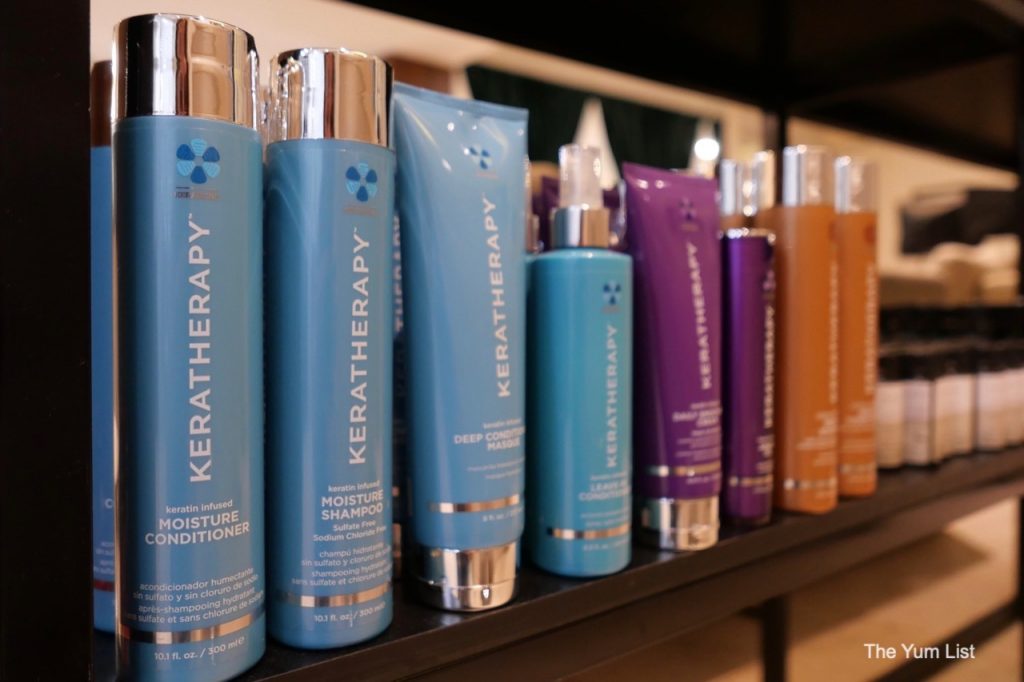 Keratherapy Pure Renewal Plus + Results – Before & After Photos
Below you'll find photos of my hair immediately before and after the Keratherapy Pure Renewal Plus + treatment. As you can see, the kink I had in my hair has completely disappeared, and my hair is much shinier. The high frizz factor too, has been abolished.
Two days later, after I've washed my hair, blow-drying time is reduced to half, and it's much easier to manage. I am ever so happy for those few extra minutes gained in the morning rush.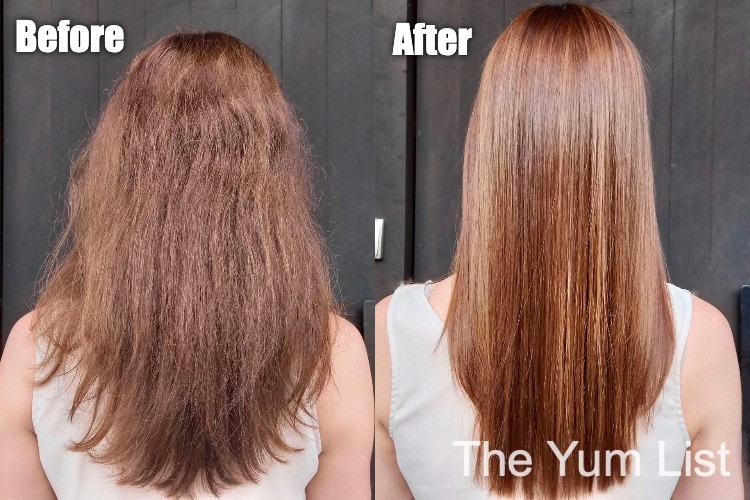 Hair Straightening Price
The price of Keratherapy depends on the length and thickness of your hair. For my long locks, the price is around RM 900. However, readers of The Yum List are entitled to a 15% discount until the end of May 2021. You just need to make sure you mention The Yum List and the discount when you make a booking.
Keratherapy Pure Renewal Plus + Review
The current discount of Keratherapy Pure Renewal Plus + at Eka Roots in Bangsar is too reasonable not to take advantage of. If you've been considering trying a hair-smoothing treatment, I recommend this as an excellent place to start. With no downtime and instant frizz-free hair, it's something I would definitely do again.
Hair Straightening @ Eka Roots Bangsar
Organic & Chemical-Free Hair Salon in KL
123 Jalan Maarof, Bangsar
59000 Kuala Lumpur, Malaysia
www.ekaroots.com
+6 03 2856 0775
As mentioned, Eka Roots is my go-to salon in KL. I love the relaxed and welcoming vibe here and truly appreciate efforts by the team in sourcing products that are organic and have minimal chemicals. I highly recommend their organic hair colour, detox hair treatments and microblading for perfect eyebrows.