Quarantine Around the World
Quarantine around the world looks vastly different from country to country. Here, several kind expatriates share their stories of life in quarantine around the globe.
Quarantine Around the World
Hong Kong, Penny's Bay
Matthew Jones
Monday, March 15, 2021, began like any other. That is until around 11 am. I got a phone call from my yoga centre casually informing me that someone in a class I had recently attended tested positive for the coronavirus. Additionally, I should expect a call from the CHP (Centre for Health Protection Hong Kong). They rang two hours later announcing that I was to be collected sometime after 9 am the following morning to enjoy what was, in my eyes, a 10-day all-expenses spared holiday at what I affectionately named 'Club Med Penny's Bay', HK's newest and most remote quarantine facility attraction. Situated right next to Disneyland, the irony wasn't lost on me.
I wasn't entirely unprepared. I'd had friends who had recently been through, so I'd seen and read snippets of their accounts on social media. As my work was aware of the situation and fully sympathetic, other than mentally preparing myself for 10 days in less than twenty square metres of floor space, I didn't really have that much to be worried about. My biggest fear was having to endure the nasal swab test (which, as it happens, didn't happen), and I figured if I could get through that, then the rest was going to be a piece of cake.
Unlike many other people, I was gifted with around 36 hours of preparation time from the initial call to being collected. Collection, by the way, was at my doorstep by a man in a full white HAZMAT suit, including helmet and gloves. I wasn't quite sure if he was there collecting bees or me. I made full use of the time by getting some good exercise in and having a long salad and vegetable lunch from my favourite cafe (I knew the food wasn't going to be particularly healthy or fresh), and then went shopping for essential supplies to take with me. Having done my research with friends currently there, I knew what I could take in (basically anything and everything you could physically carry yourself). So I toured the supermarkets and filled my suitcase pantry with enough stuff to survive in the rare event that everything supplied was inedible.
Approaching it as an opportunity to spend 10 days reconnecting with myself and treating it as a 'health and wellness retreat' allowed me to enter with a sense of excitement as you would with any pending holiday. I packed all manner of spa-esque essentials; scented and tea light candles, a full kit of facial scrubs, cleansers, masks and serums, nail file and cuticle oil, five novels, a couple of old Belle magazines, two vases of fresh herbs; basil and mint (I wanted something fresh and green to eat) and a potted bamboo plant I picked up in the wet markets on my sweep through. I took my yoga mat and stretchy band (gym), workout shoes, and a minimum of simple clothing for working out, lounging and sleeping in.
Our arrival at the facility around 10 pm the following evening involved a lot of processing, instructions regarding thermometers, saliva tests, paperwork and a plethora of forms to fill in before finally arriving at our rooms around 11:30 pm. Our room service dinners had thoughtfully been delivered about five hours earlier so were as cold and unappetising as the rooms themselves, in all their fluorescent-lit, plastic-clad, exposed plumbing and electricals glory. Our offending yoga class had actually all been put in the same block together. I was lucky enough to be in a room across from my 'therapy person,' Monica. I have to say at this point, if it wasn't for her and our facing room arrangement, I would not have enjoyed or even tolerated the whole experience half as much. This led me to one of my biggest takeaways for me; the importance and power of support networks for our emotional, mental and spiritual health.
Over the days, Monica and I bonded like two old Italian Nonna's in the village: morning greetings over warm lemon water-upon waking time, 10 am floor sweeping and room cleaning time, 11 am Chloe Ting YouTube workout video time, analysis and reaction to the delivered lunch 'how-dreadful-is-it-today?' time, afternoon nap time, spa ritual/book reading club/phone calls home/swapping herbal teabags and chocolates and treats time/general gossip time, and' romantic candlelit dinner' time, before Waltons-style bedtime. Privacy protocol was "do not disturb" if the window blind was down.
We bonded over the 'prison wardens' patrolling our street on the hour most hours, often bearing signs such as "keep your windows and doors closed" and "wear the mask." The lunch ladies who would deliver our meals and afternoon piece of fruit, which alternated between an orange and an apple and two bottles of water, and special deliveries ranging from toilet paper to food hampers to flowers. On day 7, our gym thoughtfully sent us care packages each, which created a good half-day buzz of excitement.
As part of my health spa retreat mindset, I took my computer but decided I was going to unplug as much as possible and do all the reading and self-care that we're always fantasising about but never actually get to doing. The non-existence of WiFi made this very easy to do. I saved my phone data for our Chloe Ting workout videos. On request from various friends, I'd been updating with photos and daily anecdotes from the inside. I reignited my Facebook profile with daily posts capturing my favourite moments, which became a personal project and (pun intended), went viral with comments, likes and feedback. My personal favourite was the' S/S2020 resort fashion parade featuring local supermodel-of-the-moment Phar-Kew Lott' who took the road-runway by storm in her over-accessorised full-scale nuclear apocalypse meltdown outfit. Those posts led to being reacquainted with long lost friends from all over the world, which in turn led to actual phone calling and having proper verbal conversations with people I hadn't connected with in decades, a seemingly lost art in our current texting world.
I meditated, read, chatted, ate, created, napped, wrote, and basically thoroughly enjoyed my entire time on the inside of those four walls. It brought out long sleeping creativity in me: saving and utilising the ocean of plastic waste of containers, bags, bottles and cutlery and using them to make handcrafted objects and social media posts; journal articles and creative writing; art installations on the walls (I even took in a pack of Blu-tack). I had even longer than usual phone calls with my mum back in Australia, musing about life and the funny and unexpected places it takes us to.
In so many ways, it could have been a much worse experience. I genuinely understand and empathise with everyone who didn't manage to thrive as well as I did in there. There was a guy who arrived in a straight jacket in a police paddy wagon accompanied by about 10 facility staff and just as many police officers, yelling and screaming the place down to "RELEASE ME!!!". The 'uncle' in the room next door was clearly lost without his wife and normal daily routine, swallowed up in the emptiness of it. The terrified Japanese couple opposite would only allow a single hand to reach through the slightest of window openings to access the food and then slam the glass and draw the blind back down as quickly as possible.
It's not necessarily something I'd want to repeat, but I definitely feel grateful and lucky to have had the experience. I left the place far richer and with a much deeper sense of fulfilment and personal contentment for it.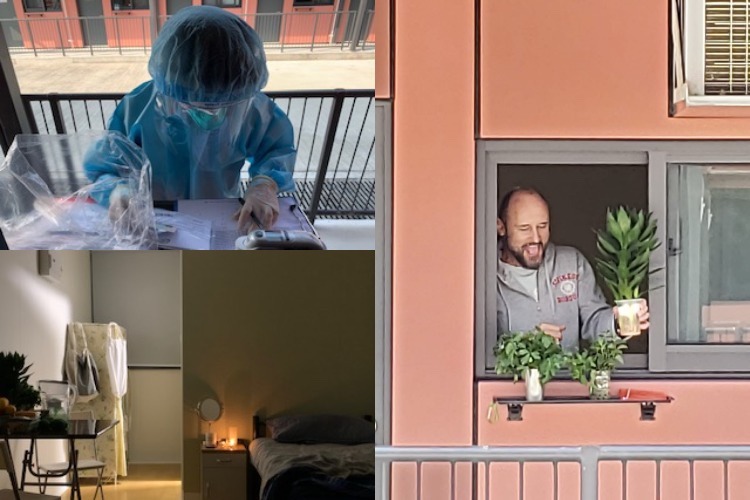 Dominican Republic
Janice Myles & Johnson Jacob
Arriving at our new home in Santo Domingo in the Dominican Republic during COVID was easier than we thought. We left our home in Hannover, Germany on June 28th and had to fly through Punta Cana as there were no direct flights to Santo Domingo. We arrived with our two dogs and lots of luggage and breezed through customs and immigration. We were surprised that we were not required to show proof of our vaccinations in Frankfurt or Punta Cana. However, we were mindful and took care to wear our masks at all times.
On arrival, we were not subject to mandatory quarantine or any other restrictions and were free to move about the city as we pleased. The school however took precautions to safeguard its community by limiting access and we were only allowed to enter the campus after 10 days. The local government also limited movement around the city by enforcing a daily "lockdown curfew" after 6p m. This required shops and restaurants to close at 6 pm, however, you were allowed a two-hour transit time to get home. As a result of a reduction in the number of COVID incidences, the government changed the curfew time to 11 pm. I was impressed to see how the general public cooperated and followed the guidance of the authorities by wearing masks at all times, even when walking around open spaces and streets.
The good news is vaccines are readily available and a good percentage of the population is now fully vaccinated. Our school has been closed since March 2020, as have many other local schools on the island, and learning has continued for nearly a year and a half online. We are happy that Carol Morgan will reopen on Aug. 18th and we look forward to meeting and greeting our students on campus while ensuring their health and safety through safety protocols and guidelines. We are praying that we won't get the Delta virus here and have to go back to online learning. Here's to hoping we can all go back to a new kind of 'normal' this school year.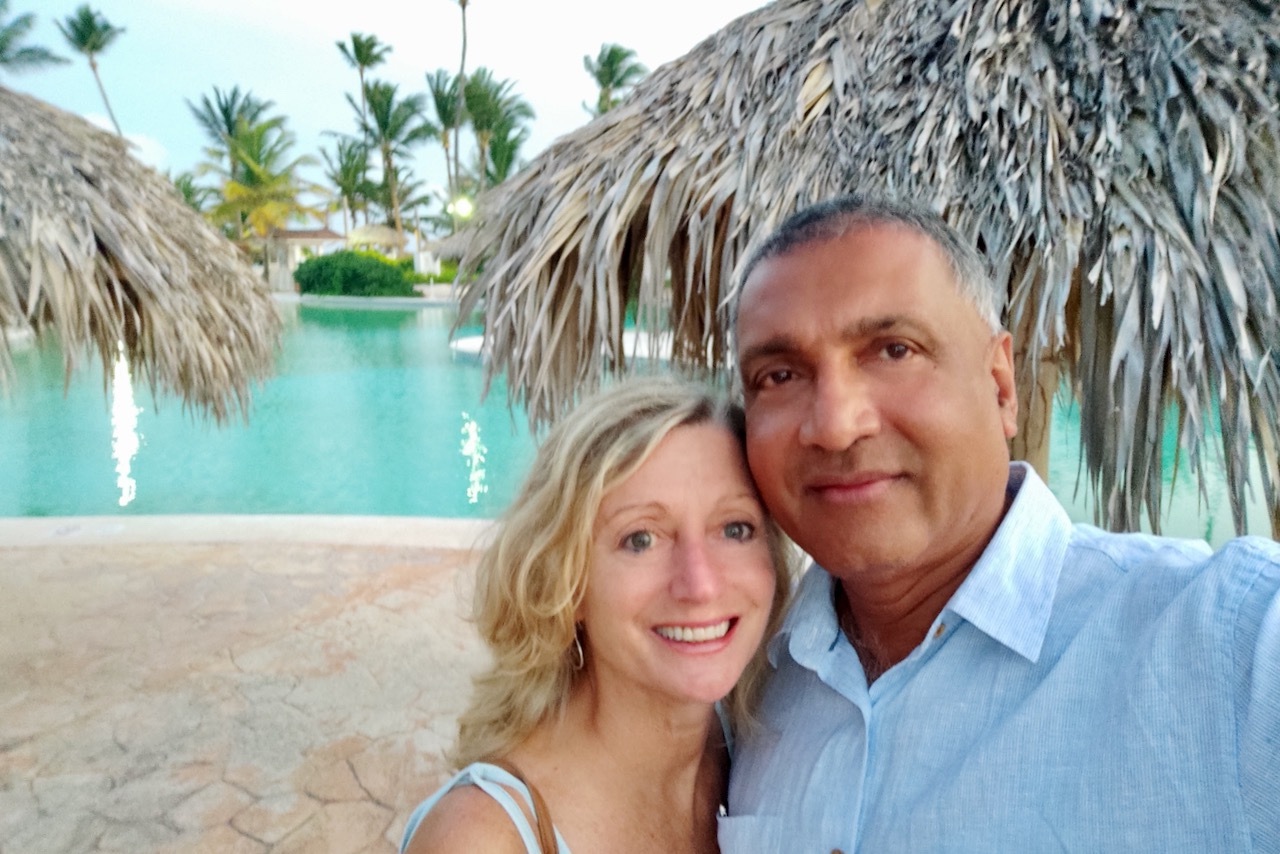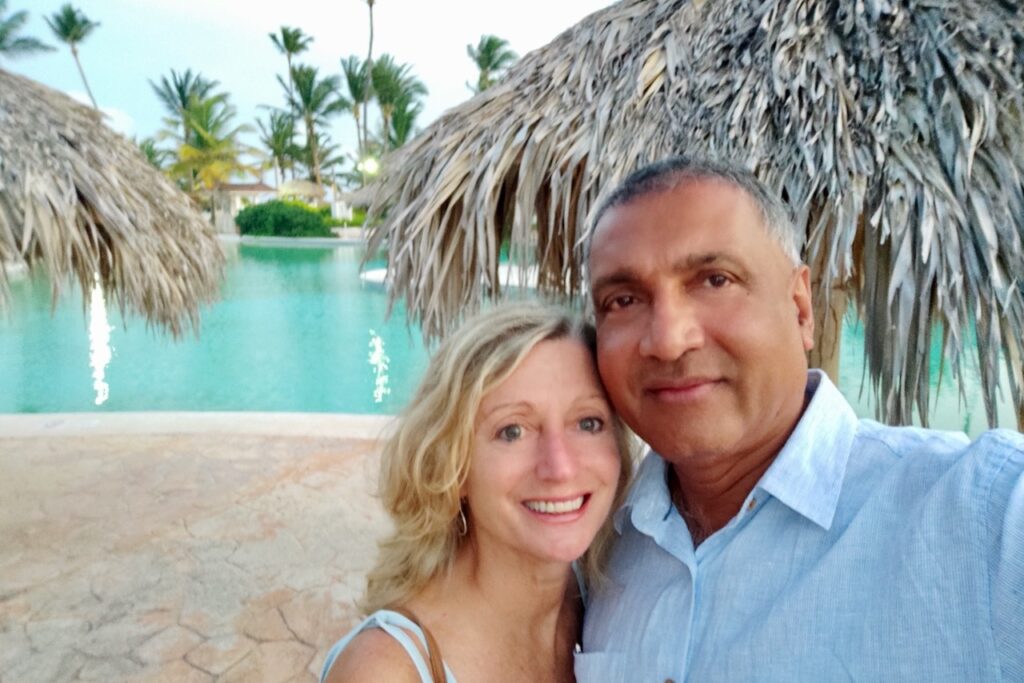 Quarantine Around the World – Phuket, Thailand
Kitty Noble
Being someone who hiked daily whilst living in KL, the thought of going into two weeks of quarantine in moving to Thailand filled me with dread. I had images of losing my mind and requiring meds in a 'One Flew Over the Cuckoo's Nest' style.
As my new job was paying towards the accommodation AND we had not had varying holidays that we'd saved for, we decided to make our quarantine one that could closest replicate a holiday. More on that a bit later.
I like to research as much as possible, so in knowing we would be hog-tied for 15 nights, I wanted as much information as possible to make our stay as comfortable as it could be. The first thing that I did was join a Facebook group dedicated to those who were entering or had been quarantined in Thailand. This gave me all of the much-needed hints and tips on what to take.
Secondly, I consulted a friend who travelled for work, who was, by this time, a 'quarantine professional', having been through it five times already. The initial plan was to start to put together a stash of items that would help pass the time – jigsaw puzzles, board games, books (mostly e-books), downloading as much as possible onto my devices, in case there was not fantastic internet… very much a 'plan-for-the-worst-hope-for-the-best' scenario.
I also packed things to help with what I knew was going to be a very wasteful situation, which caused me some anxiety. I packed cutlery, a water filter (rather than bottled water), loose tea and tea-pot and fresh coffee and plunger. Also, an eco-ball for the washing machine I intended to have, and bio washing-up-liquid for the kitchen I also intended to have. For me, other 'luxuries' were my Toh's daily garlic and chilli, HP sauce and Kampot pepper mix. I also thought ahead and packed sunscreen, mosquito spray and coils and aftersun, just in case! My mini-medical pack didn't quite cover every eventuality, but most things.
Gadget-wise, I had my loaded iPad, laptop, Firestick and Amazon Alexa (one Amazon Show, very kindly given by a friend, so we could catch up face to face, an Echo and a Dot). It turns out the internet was pretty good, with only a couple of days with a patchy connection.
I also took my balance ball, stretching bands and yoga mat, so I was able to engage in my personal training, which I did with the assistance of my fantastic personal trainer, who I upped from once a week to three times a week, to help with the lack of hiking. Besides that, I also took a sample of my essential oils to help balance out when needed (lavender is the best!).
Simultaneously, whilst packing for a world-war III bunker, I was researching the best places to stay. Given that Thailand has made some very sensible and reasonable decisions regarding their quarantine, we were presented with some interesting options. These included golf hotels (whereby you are allowed to play golf after your first negative swab on day three to five. I don't play golf, but I considered learning for the daily chance to interrupt a lovely walk by hitting a little ball with a big stick), hotels with balconies in Bangkok or pool villas in Pattaya or Phuket. We settled on a pool villa.
Trying to align all the stars, with pre-flight Covid 19 tests being assumed negative (it was), flights departing as scheduled (it did) and navigating the ever-changing landscape of travel rules was somewhat challenging. Seemingly everyone else had come to the same conclusions as us, limiting the available pool hotels for our selected dates.
We finally settled on the Anantara Hotel in Phuket. In so doing, we had to land directly in Phuket, as Bangkok arrivals are not permitted to travel outside of Bangkok. We chose Singapore airlines as it had consistently been the most reliable. With a short stop in Singapore, we flew directly to Phuket.
Briefly, the flight was meticulously planned, with a three-hour stop-over in Singapore, where we were ushered off the plane, by attendants in full PPE, to an eerily quiet arrival hall, which was taped off, to keep us from wandering off. At the appropriate time, we were called by loudspeaker and led to the departure lounge by similarly clad ground staff, where our plane, ferrying around 20 of us, awaited the departure. At all points, we felt as if we were being looked after and put under no undue risk.
On arrival in Phuket, the process of going through the airport was flawless. We were greeted by more ground staff, looking like alien surgeons, who directed us to well-spaced seats to check our paperwork was all in order (COE, passport copies, negative swab tests, hotel accommodation, work contract etc.). Then (as at most steps of the way), we were temperature checked, health checked, and paperwork checked. I can tell you, the worry about not having everything 'just-so and the threat of being sent on the next plane back can undoubtedly raise the temperature a degree or two!
All was well, so we awaited our (160kg) luggage in the arrival hall. Having retrieved that, we were whisked off to our van, given face shield, gloves and masks and driven directly to the hotel, do not pass go, do not collect $200!
I have to say that the process was like clockwork and brilliantly done. Well done, Thailand!
So to the all-important part… the pool villa. We arrived at what can only be described as luxury. At 219,000 Baht (roughly 28,000 Ringitt), it wanted to be! The front door lead to a vaulted ceilinged living room, with a long kitchen bar, hobs (which we had been informed we would not have use of), a door hiding a washing machine and tumble dryer, a sink, a much needed large fridge and freezer, cutlery, crockery, microwave and a basket of fresh fruit.
Also presented was a SIX PAGE menu. Each meal we selected would allow us three courses and a soft drink. Tea and coffee would be served with breakfast if desired, but as that entailed paper cups with plastic lids, we avoided these. We also had to ask for no salt and pepper because, for some reason, they would come in individual 'portions' in plastic containers, rather than just giving us a salt and pepper pot. I appreciate these might be considered 'first-world issues, but I really wanted to have as minimal environmental impact as possible, and the photos of waste from other travellers was horrendous.
The food was spectacular. Fresh, delicious and cooked with care. Fresh fruit was available for every meal, pastries for breakfast, Western and Asian options… AND they would adapt to requests too. A couple of minor mistakes were met with huge apologies, and it was clear that they wanted the stay to be as painless as possible.
We frequently ate our meals outside on the table next to the pool. There was a little bit of garden and a wooden sala, which is where we were directed to wait for our day three and day ten swab tests. The outside space was incredibly important for our mental health, particularly with the various birds, insects, butterflies and other creatures visiting regularly. There was also enough space for me to be able to do my PT outside in the sunshine.
As we were both working, the separate living space inside and outside was very important and helped maintain our sanity. Two weeks, even with your spouse, could lead to the best of relationships being challenged, so the space avoided this issue.
There was a huge bathtub in which to soak away our stresses (I took my bath oil for this purpose) and two outdoor showers. We decided to be naked most of the time because we could!
The interaction with actual people was minimal. Food was left on an umbrella-covered tray outside, with the doorbell rung, to announce its arrival. Cleaners would come, with us strictly instructed to remain outside for the duration (or carefully curate moving between rooms if it were raining). The only time we were in close contact was for the two swabs, which were conducted with military precision and timing. We had twice daily calls from the nurse, on WhatsApp, to take our temperature (Facetime, so no cheating…) and had to call on medical help for minor issues a couple of times, but it was INCREDIBLY expensive. Note to self for the future, take medication for reflux, earache, and anything else you can carry!
By day 12 or so, the food was starting to get a little tired… the levels didn't drop, but it turns out that even with such an extensive menu, there are only so many times you can eat sorbet for dessert or paneer curry for dinner. Other than that, we had concluded that we would be perfectly happy if our stay had to be extended for whatever reason.
In conclusion, the planning and preparation for everything were somewhat stressful. Still, once we arrived at the hotel, it had all been worth it, with everything slotting into place. I wouldn't rush to do it again. Still, under the circumstances, we had the very best situation we could find ourselves in and would do everything exactly the same way again.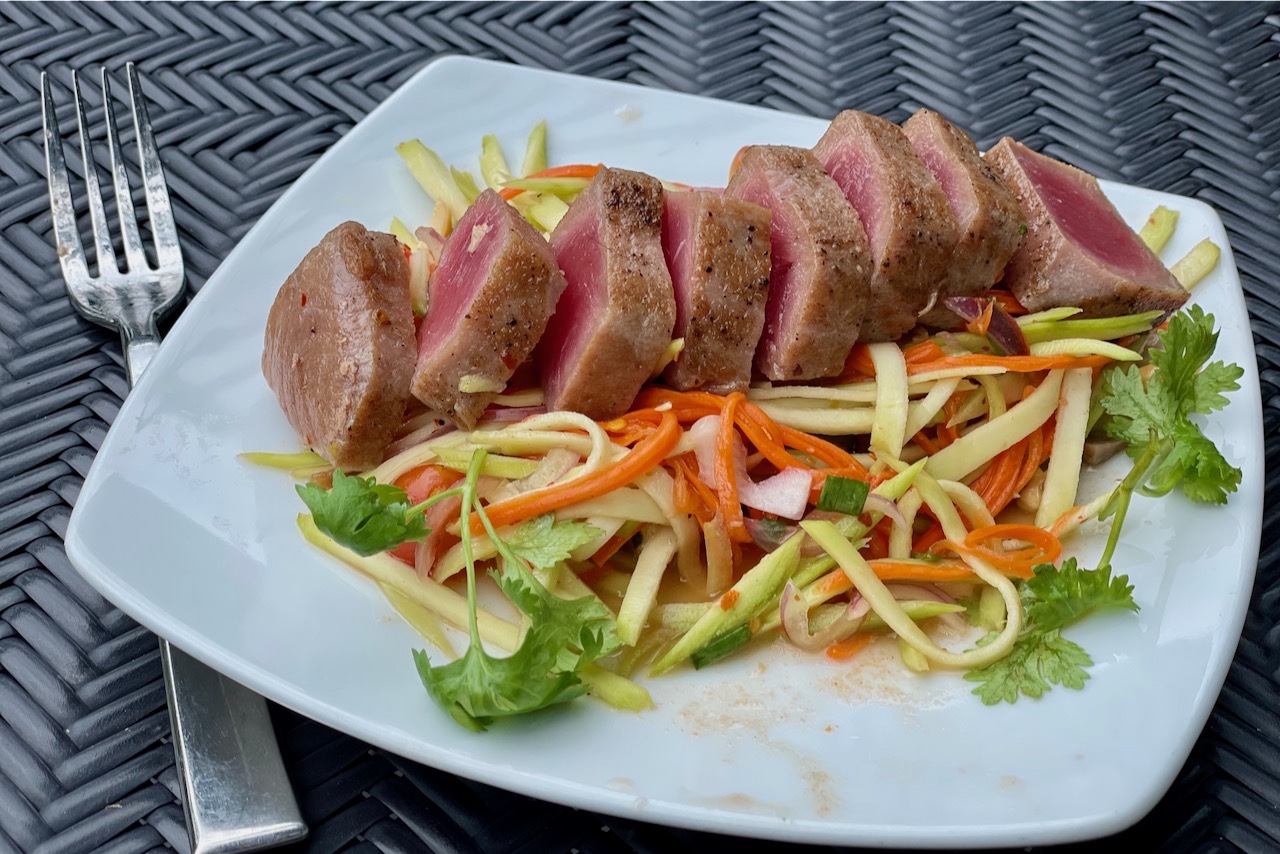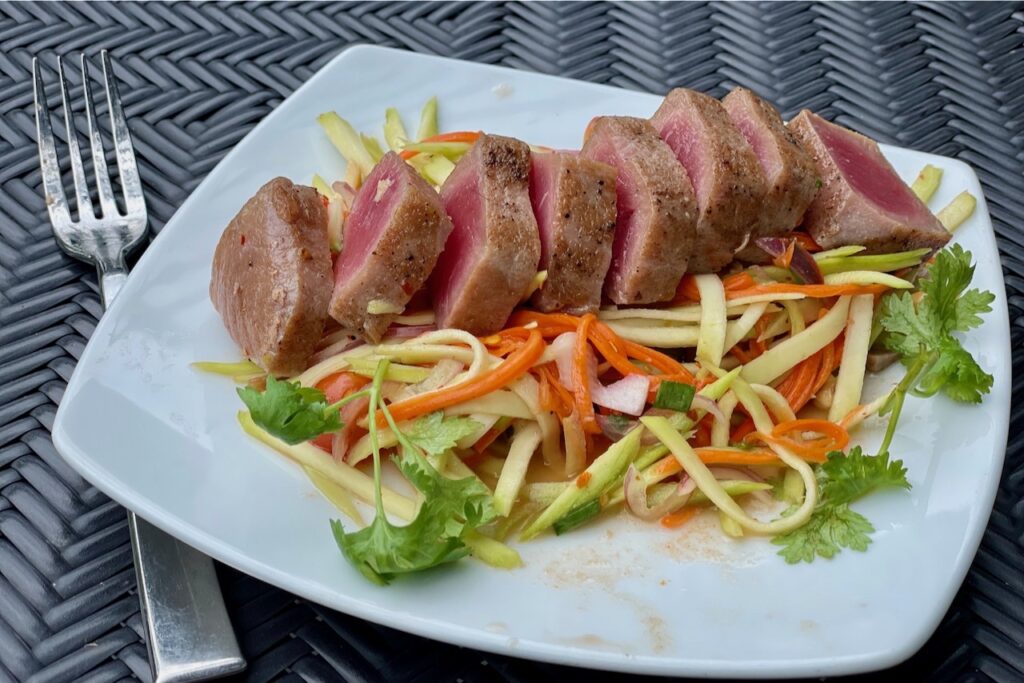 Quarantine Around the World – Australia
Betsy Leona
Unlike many others in the news and on FB groups, I hadn't planned this for months. I had a few weeks' leave to take. I thought if I could get the re-entry visa from the Malaysian government then see if I could get tickets, it might be worth the trip (eight weeks including four weeks quarantine). The alternative was roaming the house in lockdown, annoying my partner. One of us would not have survived that scenario.
An agency obtained a re-entry visa (RM500) which took five business days. I then checked for tickets. Ultimately, I booked on a Thursday and left the next day. It was not a complicated process, and Scoot had loads of availability. A Scoot business ticket was less than a Cathay ticket normally (US$1,500), so I was starting to feel lucky. It was very eerie at KLIA 2, though. Lights off, shops closed, a lonely solitary walk to the gate… the makings of a good horror movie. In Singapore, I checked out the transit lounge, but with so many people coming in/out, a 12-hour wait overnight for the connect and only one jab, I opted to isolate in the transit hotel (US$200), which was clean and functional.
Arriving in Melbourne was a different story – people hazmatted to the max to greet us. There were lots of stations and forms, which took about an hour. Our destination was the InterContinental at the Rialto. Sounds great, right? But the Intercontinental has rooms facing an interior courtyard which don't get much light. I didn't mind this, but I'm sure others would have.
Once in the room, you obviously can't get out, and a guard is stationed in the hall. I got a daily call from the medical staff, everyone was extremely friendly, and it was well organized. The hotel delivered me a Rocky Road on my birthday, extra points there.
Food was good, especially compared to my subsequent KL experience, and delivered on time. I was thrilled to get a meat pie on my first day, and the mornings where I got two cold hard-boiled eggs for breakfast or a veggie wrap for lunch (worst days, ugh), I just dug into my Coles Online order. I could have one order per week for groceries, but as much Uber Eats as I wanted. I was in the city, which meant I could get some of my favourites – Piccolina, Tiamo, Tim Ho Wan, Betty's Burger, Messina. They all delivered, and I didn't have to share. It was awesome.
Too much of my luggage included quarantine "essentials" advised by FB groups. These included exercise equipment, cleaning stuff, plates, cutlery, diminishing volumes of Golden Roughs and Caramilk. In hindsight, this was a tactical mistake.
I had a spin bike and weights delivered (A$390), and my trainer set exercises via an app, which took an hour or two daily. Working throughout made the time go very rapidly, saving me the warping of the time-space continuum others experience. That and Netflix and Masterchef. And Law & Order. I read a few books. I found that no alcohol (by choice) avoided highs and lows.
I wouldn't say it was a revelatory experience or that I learned any new skills. It was something to get through to access the joy on the other side. It was a price I would pay again, emotionally and financially, to see my family and friends. Those four weeks of memories are all the more precious, despite dealing with the Melbourne winter. That's the one thing I would definitely not return for.
Malaysia
Jennifer Pettus
Cramming my family, including my husband and a tween and teen, into a stuffy room for two weeks was not necessarily how we would have envisioned wrapping up our summer vacation, but being that this was a government requirement (and in truth, we did not want to contribute to Malaysia's rising COVID numbers), we chose to adjust our attitudes and to step in with our best foot forward. We opted for the "Premium Quarantine Package" because the reviews said it was worth the "spacious connecting rooms" and a "variety of delicious and healthy food choices". We figured we might as well splurge and attempt to turn the experience into a mini stay-cation adventure.
Upon leaving the USA, we packed our bags with various items including crafts, games, healthy snacks, an HDMI cable, air fresheners, and chocolate – all of which proved to be essential survival tools in combating the boredom, snuffing out the aroma of teenagers, and to lure one arguing child from another.
During the 14 days that turned out to be anything but adventurous, we had to adopt some coping strategies. Upon arrival, we moved the twin beds aside to the wall in one of the rooms and declared it the "movement room". My husband transformed the room's safe into an exercise step and my daughter and I queued some Zumba and Just Dance. We also created a schedule, which included reading and activity time (crafts and games) – sprinkled in with entirely too much electronic viewing to fill in the voids. We found that keeping a sense of humour along the way was also a key survival component, such as trying to dissect and identify the food, charting how many times the kids said "Is the food here yet?", snickering over the WhatsApp chat room discourse, discovering unique shower space conversions, and finding the most creative ways to dry out our hand washables.
On day 13, we were surprised that we had fared better than predicted. As we were high-fiving each other while packing to go home, we received a dreaded phone call from the hotel's KKM officer.
"Hello, Miss. I am sorry to inform you that your exit COVID test is positive, so you will need to immediately transport yourself to a separate COVID + facility for 10 days. Even though your family tested negative, they will also need to make arrangements to extend their quarantine at this hotel for 10 days, being that they are close contacts to you."
The proceeding 24 hours were a blur of confusion, tears, frustration, choice words, and vulnerability. Numerous phone calls and emails were made for a test retake (double vaccinated, negative antigen, I felt fine), efforts in vain to call through to an actual person to make a reservation at COVID+ facility, and petitioning for my family the ability to fulfil their additional quarantine at home. Unfortunately, this was to no avail. The men in the hazmat suits eventually came to my room and took me from my family, put me into a sealed-in van, then transported me to my new hotel.
The next nine days turned into an endurance test that I equate to a nightmare (- like when you are running a marathon and you come within two meters of the finish line, but then you suddenly trip and fall flat on your face and need to then crawl in pain, inch by inch, to the very end). My husband, staying behind at the original hotel, knew that even though the hotel bill continued to tick upward, he needed to keep the adjoining rooms for the sake of sanity. He surrendered the schedules, ordered a massive Grab delivery dedicated to junk food, and allowed the children free-for-all electronics. Luckily these things alone managed to soothe the wild beasts that my children were turning into.
As for me, I knew that I could have been in a worse situation, but the high price tag that I paid for a private room was not what it was made out to be. It started with an unfortunate run-in with bugs resulting in a night's sleep in the tub. The food was delivered cold and consisted of meat dishes (and not the veg option I was paying for). Around midnight each night, I was awakened by a loud noise from a faulty water tank that literally vibrated the walls. The most discerning part of my stay was my steadfast efforts to not get sick. I scrubbed down my room multiple times from the visual remnants of the COVID+ guests before me. I would lather in sanitiser and obsessively check the tightness of my mask each morning when the guests were required to collect in a hallway for a "vitals check-in". Besides the other unfortunate people infected with COVID I would see during vitals, the only other humans I came into contact with were the workers in hazmat suits. Probably because we were all too dazed by the circumstance, ill, or bound by the multiple face masks and shields, our primary form of communication was dramatic eye expressions and hand gestures, which just added to the surrealness of the entire situation. Aside from the hardships, I managed to keep my sanity thanks to the phone chats with friends and family and diving into a captivating, binge-worthy K-Drama.
Our final exit from our separate quarantine locations was a glorious moment indeed, yet also a bit anticlimactic. We were all essentially escorted out of our rooms and taken down to the man holding a credit card machine, the only thing that stood between us and the exit. We begrudgingly settled our whopping combined bills of RM25,000 (4,800 USD – including our extended hotel stays and administrative fees). We were then set to the curb to fend for our individual rides home (SOP's – 1 passenger per car) with our combined 12 pieces of luggage.
What was our family's takeaway after walking away from a 24-day quarantine? Well, that we apparently can live through many people's "worst nightmare" which apparently means that we can also do "hard things". Also, going to stay at a hotel has lost much of its charm, and that maybe we'd rather just camp under the stars since we have realized how much we value fresh air. And finally, as we try to continue to stay optimistic during this pandemic, we have to remember that our mental survival means that we have to actively grasp onto the good things that we have in our lives in order to conquer the unexpected difficult times that might come our way.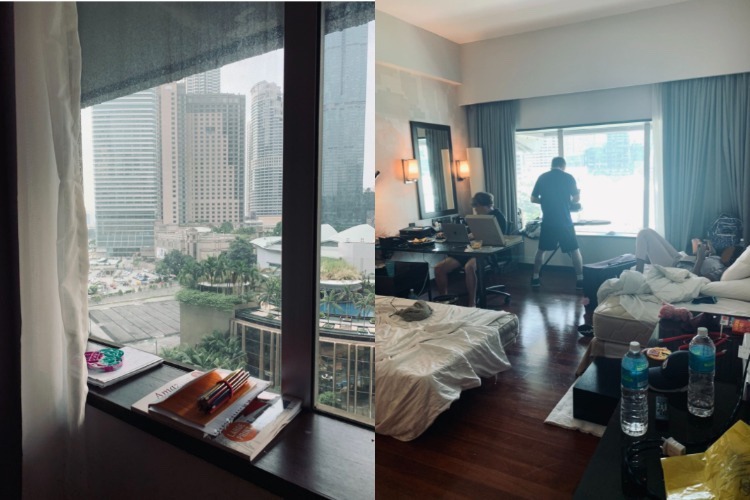 Quarantine Around the World – USA
Karen Callahan
Home. For many, especially ex-pats, this is a complicated concept based on a multitude of factors. Even though our family of three has been living abroad for eight years (three years in fabulous Malaysia), this is a simple answer for us. We are proudly from Denver, Colorado, in the United States of America. The sunsets in Colorado are pure magic. This summer, after two years, we were one of the lucky ones who were able to travel back home.
Yet, I am not sure if we were fully prepared for the stark differences of leaving Malaysia and landing back in Colorado. We had grown accustomed to our regimented home-bound life here in KL. We knew (and still do!) how important it is for us to stay home, wear a mask and help manage the spread of COVID. We also knew that travelling to our family contained a certain amount of risk.
Like many who were able to visit family this summer, we spent the days before leaving printing our tickets, letters of exit and entry, COVID-test, and gathering any piece of paper that proved our travel's validity. I felt like a young school girl carrying my science project to show the teacher. Proud of how we had everything organized, validated and correct. Leaving Malaysia, multiple people examined our documents, double-checked our passports, and I am sure wondered about our sanity to travel during this time.
When we landed in San Francisco for the final leg of our trip, I eagerly looked for anyone to examine our paperwork. HERE, I wanted to scream, take our temperature, look at our documents and ask me to download an app! But, not one. We walked into the United States. And while the airports mandated masks, that was one of the few places to do so in June. There was a continued sense of reverse culture shock for the next few days. I stared at thousands of people who refused to wear masks. I stood anxiously in trains and crowded areas where the signs about the social distancing were only a slight suggestion.
Within 12 hours of landing, we had our first vaccine shot at a drive-thru! We signed up online for an appointment, and the entire process took under 30 minutes (15 of that in our car, making sure we had no side effects). The process was complicated because we needed Pfizer (the only vaccine approved for those below 18) on a Sunday, and many pharmacies are closed on Sundays.
We chose to self-quarantine for a week at a family cabin in the mountains. Many friends and family members (not all!) questioned our decision and did not understand the purpose. After all, the USA was "returning to normal" at this point. Open restaurants, bars, sporting events, and concerts. But, when we left in July, new restrictions (or suggestions) from the US government were starting again as the Delta variant started accelerating cases.
We were fortunate to spend six weeks back in our home during this strange time. We gazed at countless Colorado sunsets and connected with friends and family.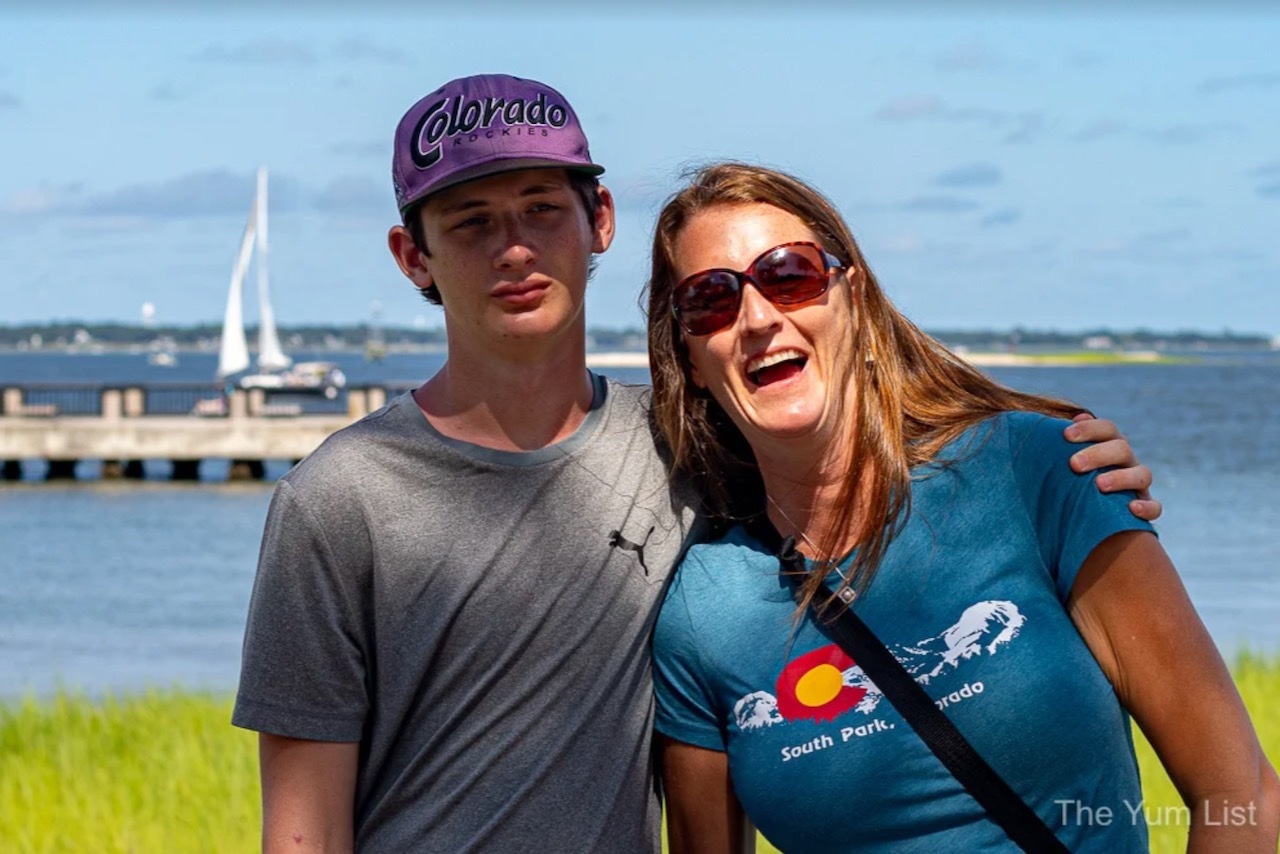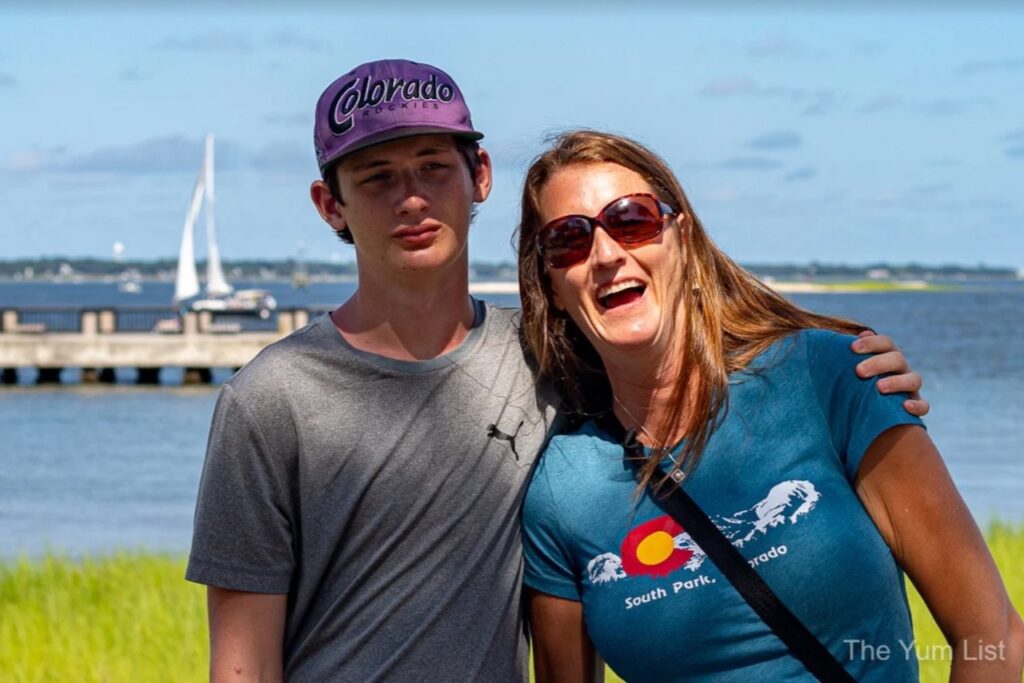 Quarantine Around the World – Singapore
Mandy Robinson
I underwent home quarantine in Singapore because one of my close contacts had been in contact with someone who tested positive for COVID-19. Both my friend and I are fully vaccinated. I received a call from the Singapore government notifying me of the situation.
I was informed of the contact tracing and that I would be required to stay inside my condo. Stepping outside the front door could have resulted in a hefty fine and the possibility of losing my work permit. While it was challenging to be restricted to my own four walls, I was also grateful to be allowed to stay in my own home and not be moved to a hotel.
My phone had a tracking device, and I was required to take a photo of myself and my temperature and submit this three times daily. I also was gifted an ankle tracking bracelet that would signal the authorities if I left my home.
In the end, both my friend and I tested negative for COVID-19. Sadly, the contact who tested positive was not vaccinated and ended up in hospital very ill even though he is young and healthy. Doctors say damage to his internal organs will most likely be long term. The vaccine is readily available in Singapore. I am grateful to have had it.
Spending 12 days alone in my apartment was hard. I love to be around people and am very active. Being outdoors is part of my daily routine, so the restrictions were particularly challenging. I am fortunate to have a nice place to stay, with windows I can open. My friends and workmates also sent me care packages, called and met me online, which was a real help. The quarantine experience made me realize how connected we are to others and how our individual choices can impact the lives of those around us.
Have you experienced quarantine anywhere around the world? Share with us your stories in the comment box below.
Read how several expats have been staying sane during the pandemic here and check out a few of the things I've been doing over the pandemic such as indoor gardening, setting up edible balcony plots, and my own pandemic coping strategies. Also, stay up-to-date with the latest gourmet and travel recommendations for Malaysia here and here.