Sustainable Food KL & Marriott Bonvoy
Continuing my attempt to maximise Marriott Bonvoy earnings with double points, this afternoon, we dine at Flock. Members gain double points at participating outlets and dining discounts of up to 20% until March 20, 2022. Membership is free, and you can sign up on the spot. Flock at W Kuala Lumpur, with its trendy setting and sustainable food philosophy, is one of our favourite hotel restaurants in KL. They host one of the most happening Sunday brunches in the city, and their ala carte menu is full of innovative cuisine using fresh, wholesome local ingredients.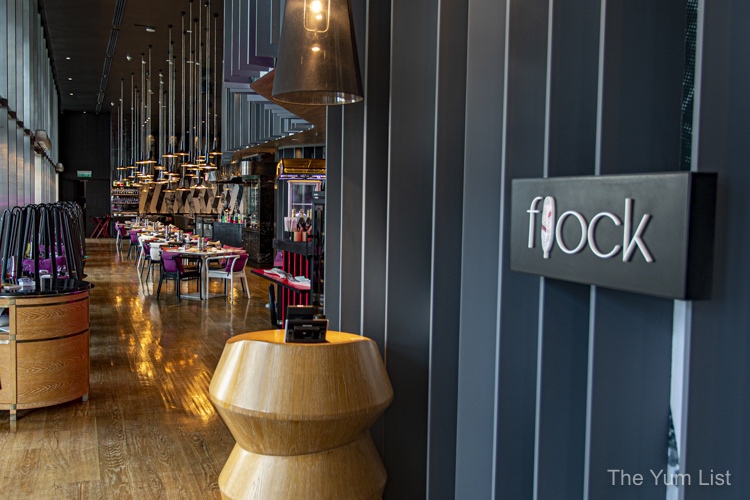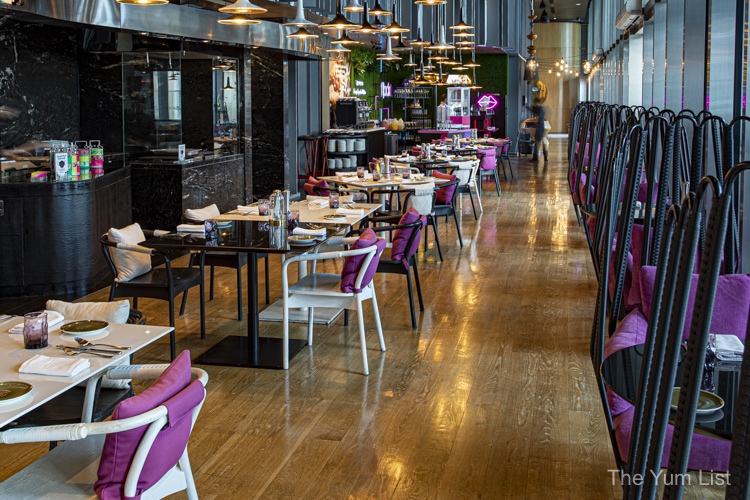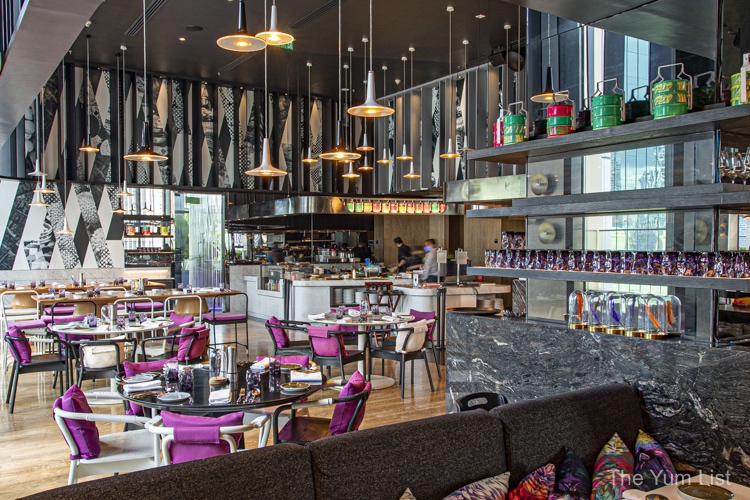 Sustainable Food KL – Flock Foodism
Chef Haz and Chef Suhaimi have put together a sustainable food menu using the freshest local ingredients they can find. Many components come from in and around KL itself, while others make the most of Malaysia's grand biodiversity – fish from Sabah, greens from Janda Baik, heirloom tomatoes from Cameron Highlands and more.
Indoors is a vibrant, inspiring space with an open kitchen. However, there is also a covered alfresco area cooled by a gentle breeze, bordered by greenery and offering close-up views of the striking Petronas Twin Towers. This is our roost for the afternoon, a comfortable area to enjoy Flock's locavore menu along with a tipple or two.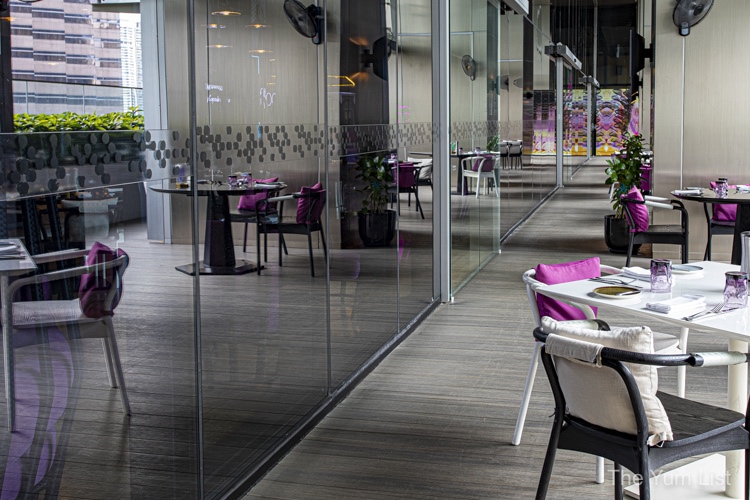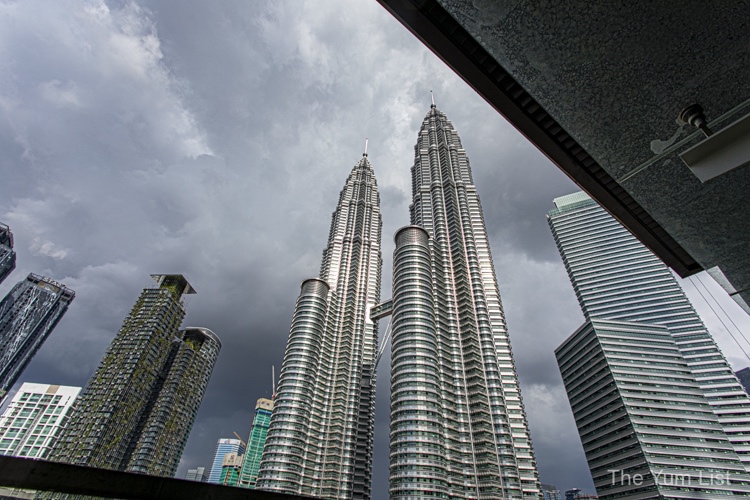 Aperitif
Next door to Flock is Woobar, where cocktails are stirred, shaken, and poured by an expert mixologist and delivered to your table. Today, Dylan is behind the bar, and he has shaken us a tall, cool glass of Gin Fig (RM 45) as our aperitif. I love fresh figs, and so the garnish is almost as enticing as the drink itself. It is on the sweeter side, made with gin, house-made fig syrup (local fresh figs and fig jam) and grapefruit bitters. The fruit comes to the forefront of the palate with a tiny sharpness in the finish, encouraging repeat sips.
We sip and nibble with Flock's signature cabbage bread. Yes, you read right, cabbage. The round loaf is full-flavoured with a slightly pungent taste, similar to sauerkraut. A trio of condiments – furikake (sesame, nori) butter, lightly pickled cauliflower and salted black fungus. Artisan bread is always a positive sign of good things to come.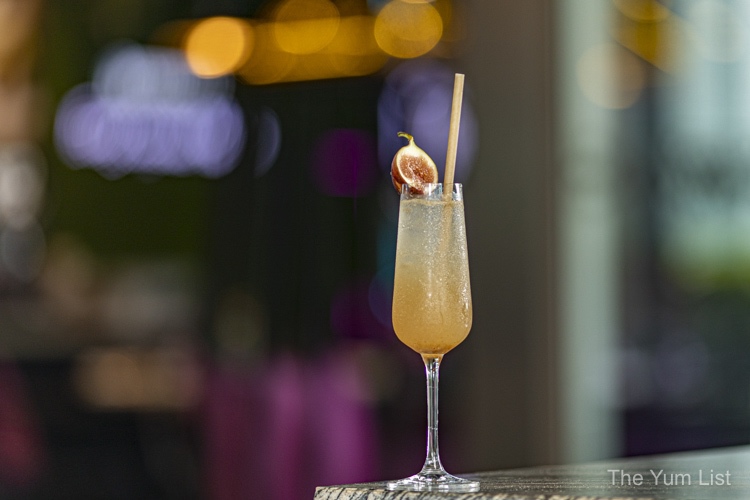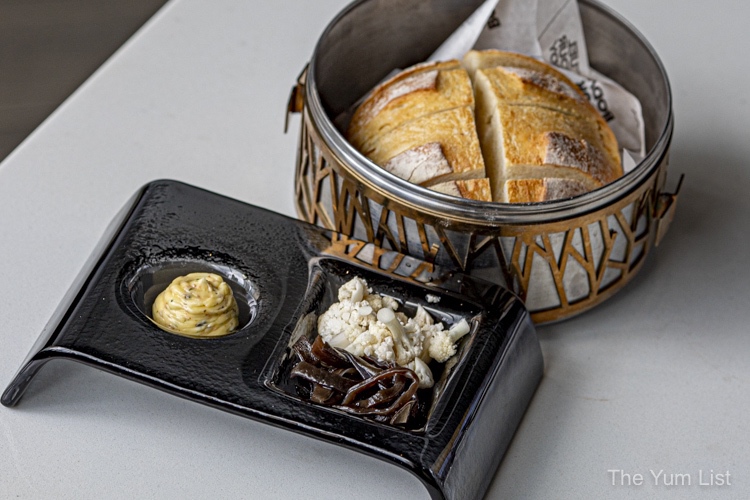 Raw Charred Smoked
Marvin is assisting us today with our orders. He delivers two beautiful bowls of health – Grilled Paneer (RM 48) and Dale Kerukub Salad (RM38). Knowing I am a big fan of local, he carefully explains the ingredients in each dish. The first is a hearty bowl of cottage cheese, heirloom tomatoes, red onions, red cabbage, pomegranate, quinoa, and spinach. Plated in a black bowl, the white cheese and melinjau crackers stand out amongst the greens. Melinjo (in English) is manganese, and copper-rich fruit said to be high in antioxidants and eaten locally for good health. In the cracker, there's a whisper of bitterness, which sets off the creaminess of the cheese.
The latter salad features Sarawak job's tears (kerukub), quail eggs, selom (water dropwort), parsley, spinach, heirloom tomatoes, kyuri and sunflower seeds in a zesty lemon vinaigrette. I love the chew to the job's tears. It's similar to barley in appearance but is gluten-free, a big bonus for many.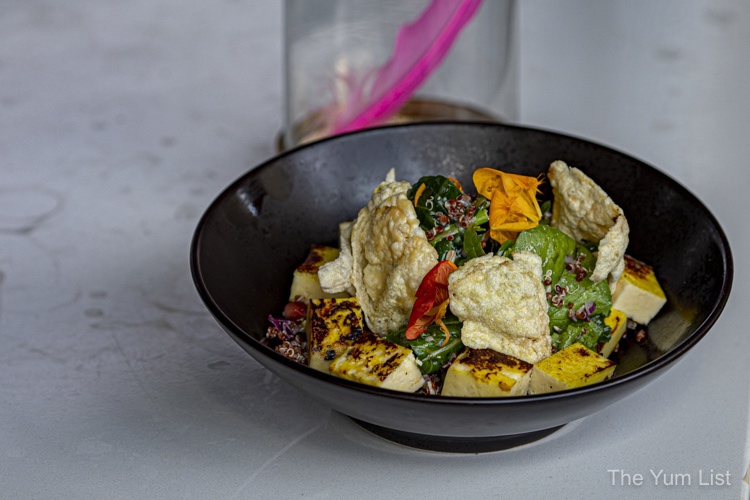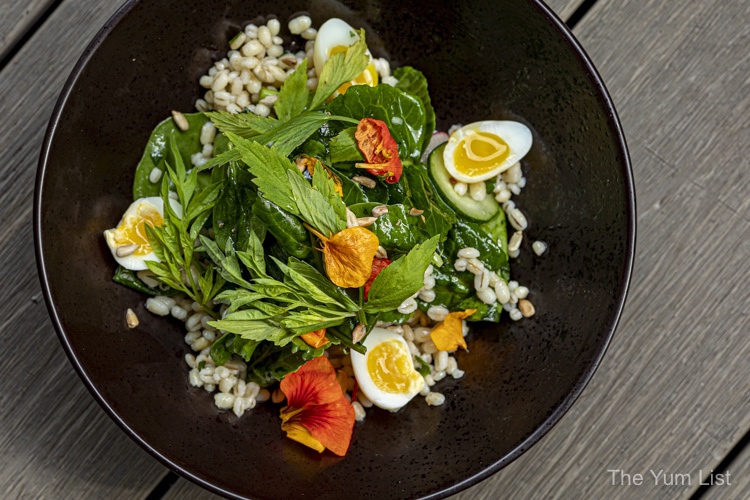 Flock's Wine List
Flock has an excellent selection of wine from both the old world and new, with ten varieties available by the glass. I pair our vegetarian starters with Penfolds Max's Chardonnay 2016 from Australia (RM 65). A tribute to Max Schubert, the legendary former chief winemaker responsible for bringing Grange to life, the chardonnay is a nod to his pursuit of excellence. I get white peach and maybe some toasted pine nuts on the nose, with more stone fruit in the mouth along with some vanilla oakiness. Its high acidity makes it a great food wine, but I'd be quite happy with this as a porch-sipper too.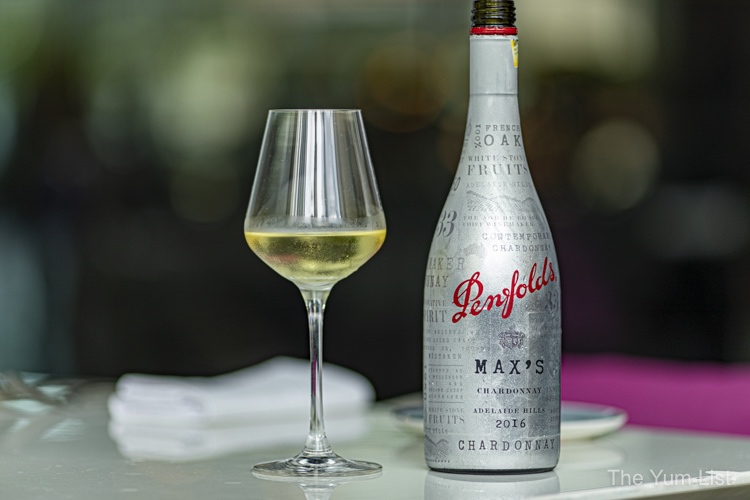 Sustainable Food KL – Carbs
Bridging our starters and mains, the Plant-based Bowl (RM 48) is warm and comforting. Short-grain rice is topped with a handful of meatless (soy base) meatballs, a brilliantly cheery fried egg, gochujang mayo, organic baby gem, pan-fried corn, eryngii mushrooms and cucumber. It's a meal-in-one, easily making a satisfying lunch or quick dinner.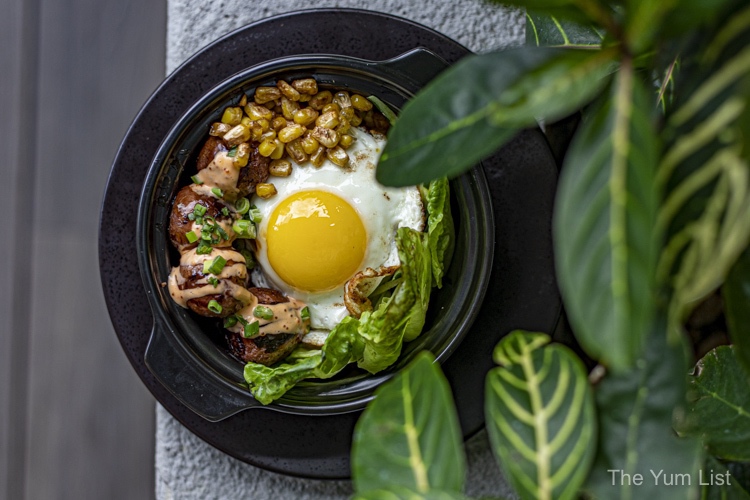 Rose Wine
I'm of the opinion that we should be drinking much more rose in South East Asia. It's such a versatile drop and great in our warm climate. A value-for-money example of such a wine is La Vieille Ferne Rose from the Rhone Valley in France (RM 50). Pale pink in the glass, it offers aromas of summer berries, which are mirrored in the palate. It's balanced and fresh, highly quaffable and also a good match to our plant-based bowl.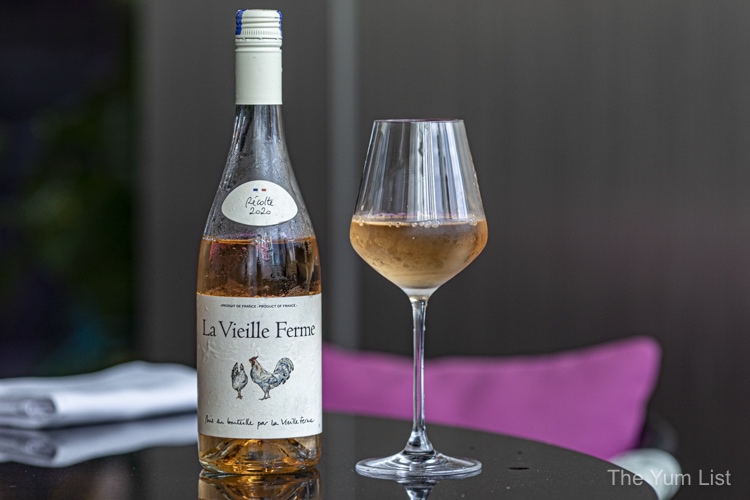 Farm
I finish the last sips of my rose with the first bites of the Lobster Makhani (RM 98) and find that it brings out the heat in the gravy. My next wine, a red, Chianti Frescobaldi "Castiglioni" from Tuscany, Italy (RM 50), also accentuates the spice, but with its bolder body and fruit holds its own again the strength of the Indian flavours. The Sabahan lobster tail has a nice spring to it. The sauce is rich in ghee, onions, tomatoes, and cream, absolutely delicious. I mop up the remains using every last corner of the accompanying garlic flatbread to do so.
Hailing from Malaysia's famous foodie island, the poultry in the Five Spice Penang Duck Leg (RM 72) is meaty and flavourful. It's partnered with charred MD2 pineapple (a super sweet and juicy variety), grilled baby gem lettuce and a sweet-sour sauce.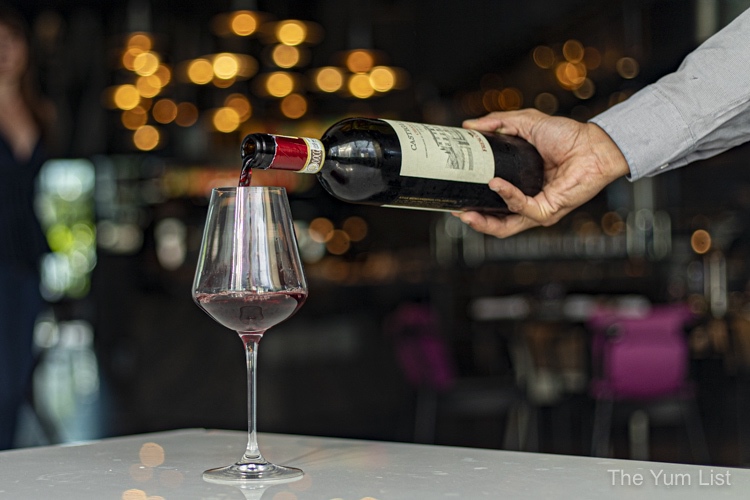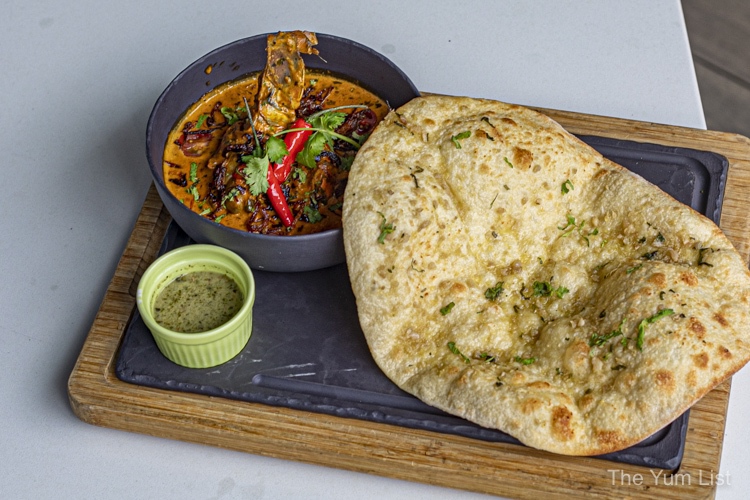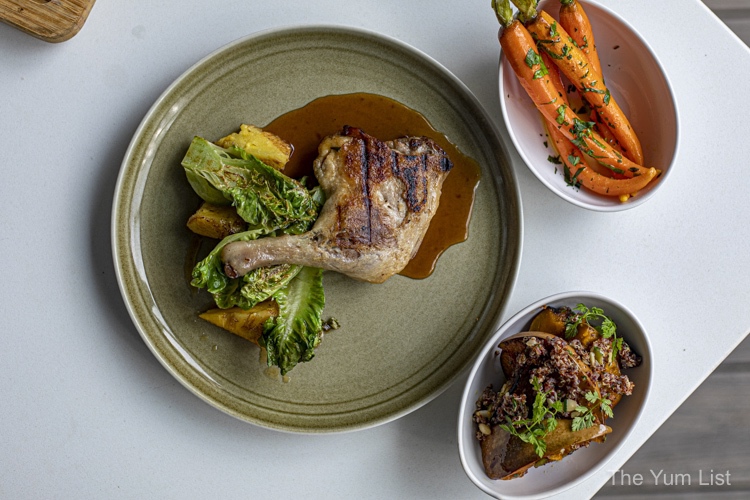 Sides
The sides of organic heirloom carrots, honey, yoghurt, citrus (RM 40) and toasted aged pumpkin, quinoa, sunflower seeds, pepitas (RM 40) make me happy. I love eating wholesome, sustainable food where I can identify every ingredient in the dish. These sides are tasty but not over complicated. And, being sourced not too far from KL, the produce flaunts maximum freshness and flavour.
Dessert – Sustainable Food KL
I'm not a big dessert eater (I leave that to Rich, he takes the sweets, I take the booze, an equal division of calories is fair, right?), but I admit to having more than a forkful of the Sarawak Farm (RM 35). A joyful yellow palette fills the plate with Sarawak pineapple semifreddo, caramelized roasted pineapple, a chocolate crown and Sarawak rice crackers crumbled together with Sarawak black pepper soil. It's a lovely combo.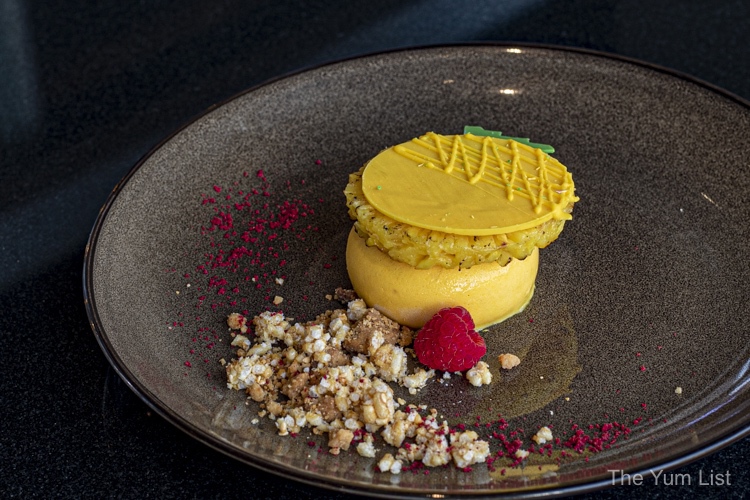 Digestif
Putting final Flock flair on the meal, we conclude with a digestif in the Peru-tini (RM 45). Organic coffee, vodka, salted caramel and Kahlua are WooBar's take on an espresso martini. It's a little sweeter than the standard, possibly making for a digestif and dessert in one.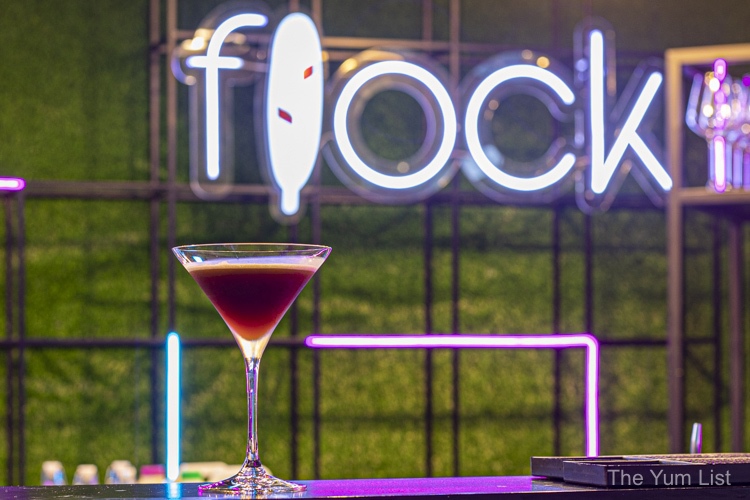 Reasons to try the sustainable food menu at Flock, KL: do your bit for the earth by reducing your food miles and supporting local business; full fresh flavours thanks to ingredients benefiting from a short journey from farm to plate; double Marriott Bonvoy points until March 20, 2022.
Flock – Sustainable Food KL
W Kuala Lumpur
No. 121, Jalan Ampang
Kuala Lumpur, 50450 Malaysia
+60 3-2786 8888
b&[email protected]
www.facebook.com/WKualaLumpur
Flock Opening Hours
Breakfast: 6:30am – 10:30am
Lunch: 12 noon – 2:30 pm
Dinner: 6:00 pm – 10:30 pm
Find more places to earn double points with Marriott Bonvoy here and stay up-to-date on the latest gourmet and travel happenings around Malaysia here and here.