InterContinental Kuala Lumpur
Concierge Lounge
InterContinental Kuala Lumpur makes an excellent weekend escape without the worry of plane tickets, traffic, airports or the other dreary time-consuming activities usually associated with a holiday. What you save on travel expenses (and don't just think in terms of money, but also time) you can add to experiences such as a treatment in the spa, an elegant dining experience or an upgrade to the Executive Club. Located in the heart of Kuala Lumpur, InterContinental boasts easy access to a host of attractions. What's more, hours saved by staying in the city, yields time to enjoy them?
The hotel is minutes from the LRT and other forms of public transport but is also walking distance to KLCC and the Conference Centre. If you choose to leave the hotel you might consider a show, some shopping at any number of malls, a slice of culture at Central Market or a stroll around KLCC park. Unique to the InterContinental, the Concierge Lounge is, as the name suggests, an entire area (not just a counter inviting a rushed quick tip), but a comfortable reception attracting thoughtful contemplation and meaningful recommendations of things to do in the city. Hosted by local experts, the Concierge Lounge ventures to give you the "In the Know" experience by equipping you with maps, suggestions, and tips to provide guests with an individualized memorable adventure.
Tropical Swimming Pool
Despite the central KL location, the recreation facilities of the InterContinental are sufficient enough to tempt you to stay in. A tropical outdoor swimming pool, the temperature of tepid bath water, beguiles you for a dip, while a bar cabana can outfit you with refreshments. A gym, on the same level, offers basic cardio machines and strength building equipment. This will be updated in future renovation phases but is currently more than sufficient to maintain your fitness program during your stay. The Sompoton Spa beckons you to be pampered and offers both individual and couples treatments. Three restaurants and a pub are more than enough to keep you satiated too. Choose from Japanese at Tatsu, Chinese in Toh Lee, all day dining with a whirl of international cuisine at Serena Brasserie or bar snacks and a down to earth atmosphere at Bentleys Pub. But… I haven't even got to the best bit yet… the rooms!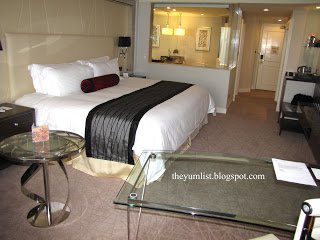 Grand Premier Room
110 Grand Premier Rooms have just been refurbished. A whopping 42 square metres will make any homeowner in Hong Kong jealous and the SUPER king sized bed is sufficiently ample to fit an entire family. The Cosy Dreamz pillows and luxurious cotton bedding was so sleep-inducing that it's on my list of 'things to do' to find out if they can be purchased to take home. Stylishly decorated, the space is bright with natural light filling the room from large windows, white walls and plenty of glass in the form of a modern desk and a transparent divider between bath and living areas. Based in tradition with solid marble bathrooms and quality fittings, splashes of contemporary design in the form of an ergonomic workstation chair, vitreous coffee table, and slinky sofa, give a feeling of a classy urban retreat. Electronic enhancements are aplenty including iPod docking station, 40 inch flat LED TV and DVD player. My only wish is for a sprucing up of the coffee facilities to include a French press and ground beans. However, if you upgrade to an Executive Club Room, you'll receive lattes, flat whites and a whole host of other benefits all day long.
Executive Club Benefits
For RM150++ on top of the Grand Premier Room rate, you can scale up to Club benefits to savour the following privileges in a quiet, elegant location: continental breakfast, late checkout, free internet, free flow tea, coffee and non-alcoholic drinks, afternoon tea and cocktail hours including light nibbles, sparkling, wine, beer and bottom shelf spirits. While breakfast is advertised as continental, it provided more than we could ever try in one sitting. A semi-buffet displays cereals, fruits, cheeses, juices, baked items and hot local and western dishes such as dim sum, noodles, baked beans and grilled tomatoes. Mains can be ordered from the menu including both local and international favourites such as nasi lemak, eggs any style and blueberry pancakes. Located on the 29th floor, the Executive Club view is impressive giving a bird's eye perspective on the surrounding high-rises. A bright modern lounge area, leading out to a pebbled courtyard for the smokers, is ample and offers both lounge and table seating. Two computer stations give instant cyber access.
The InterContinental is involved in some Corporate Social Responsibility activities. Of note is their work with SOCSO and the Selangor Sheshire Home providing jobs for people involved in an accident or born with a disability. Placement at the InterContinental enables many to return to work whose options were previously limited. Raising of funds too has seen a local boys' home fully furnished in their work towards Responsible Business and, separation of trash for recycling and replacement of lighting to energy efficient bulbs have enabled the hotel to complete the first phase of the Green Engaged program.
For a quick escape, InterContinental Kuala Lumpur is worthy of consideration.
Reasons to visit the InterContinental Kuala Lumpur:  Newly renovated rooms, SUPER king sized beds, excellent location, an entire lounge dedicated to the concierge to serve you better
InterContinental Kuala Lumpur
165 Jalan Ampang
50450 Kuala Lumpur
Malaysia
+6 03 2161 1111