Raya Thai Cuisine, Phuket, Thailand
by Chef Peter Webber
If
you have heard of, or are lucky enough to have been to Raya Restaurant in
Phuket Town it will have probably have been because of the Pork Stew with
Garlic and Pepper which is famous in its own right. I cannot go too often as
it's just not good for my waistline but when I go to Raya not only do I stuff a
whole portion by myself but I cannot leave without another portion in a doggy
bag and of course the dog doesn't even exist!
Located
on New Debuk Road just as you getting to the center of Phuket Town is Raya Thai
Cuisine housed in a wonderfully old colonial style house, unfortunately a
little more old than wonderful but one does not go there to look at the décor!
There is ample parking at the back of the restaurant which is down a little
road to the left of the restaurant. You can also enter the restaurant from the
back where you can sneak a look at what's going on in the kitchens.
Pa
Kulaab (pronounced Baa Kulaab) is the owner of Raya and the creator of the famous
pork stew as well as many other delicious Thai dishes served on the premises
and is there most days. She is a wonderful Thai lady and a true Phuketian, I
dare not guess her age but she is full of energy and always has a smile for
you, willing to answer any questions you may have as long as you're not after her
recipes, forget it I have tried many times to extract the secrets!
The
restaurant has 2 levels but as yet I have never eaten upstairs but either
offers the same experience. This is a "Thai" restaurant, the level of English
is enough to get you the necessities and the service is efficient and always of
course with a smile, even when they get it wrong!
This
evening I invited some Thai friends to dinner as I believe they have a more
objective opinion on their own food and also as this is a great part of the
history of Phuket Food which they love to enjoy. The
menu is quite extensive but easy to read and I like the way they have
categorized it, they have a full page devoted to their popular and favourite
dishes which I normally order.
For
this evening we ordered as usual dishes to be shared family style and they were:
Local
Phuket vegetable salad (Pak goon) with squid which was interesting and had a
crunch similar to seaweed, fresh and not too spicy.
Deep
fried chicken with Curcuma, Turmeric which gave an interesting flavour.
Stir
fried Sa-taw with shrimps, these look much the same as broad beans but with a
very pungent taste, I like to eat them with steamed rice as it diffuses the
strong taste.
Crab
meat curry with coconut milk and Mee Hoon noodles, full of crabmeat and taste
but you've got to like it spicy, just a spoonful of sauce with a lot of noodles
is enough for me!
Omelet
with deep fried pork belly melts in your mouth and the combination of textures
is delicious.
Pork
Stew, steamed pork with garlic and pepper Phuket style, belly pork slowly
cooked with all those secret ingredients of Pa Kulaab, this is the dish you
must try. I love it!
Our
choices of dishes were all quite heavy and rich as these are the ones I love
here but there are also plenty of other delicious dishes for those who have
more control over their diets, so do not fear!
The
wine list at Raya is limited but adequate and they all pair well with Thai food
and the prices are also fair. Personally I don't normally drink wine with Thai
food, I prefer a good cold beer and water which I drink plenty of, especially
if I didn't spot one of these fiery chilies coming my way!
Raya
is open daily for lunch and dinner but for dinner I would recommend a
reservation. Also
worth a mention, this is a cash only restaurant so make sure you have enough or
you'll be jogging down to the ATM which is not recommended after a bowl of Pa Kulaab's
delicious pork stew!
Reason
to visit: Great traditional Phuket food dishes especially the Pork Stew.
Downside:
If very busy the food can be a little inconsistent.
Food
Prices: Med-High Range
Appetizers
from 160 Baht ++
Raya Thai Cuisine, Phuket, Thailand
Address:
48
New Debuk Cross Road,
Amphur
Muang Phuket,
Phuket,
Thailand
Telephone:
+66 (0) 76 218 155 +66 (0) 81 376 6958
Fax:
+66 (0) 76 200 921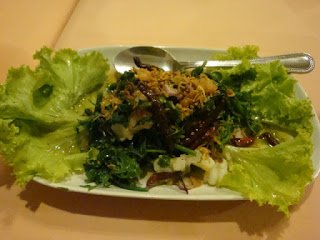 Local Vegetable Salad with Squid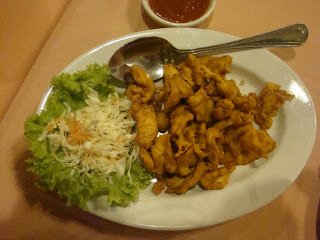 Deep Fried Chicken with Curcuma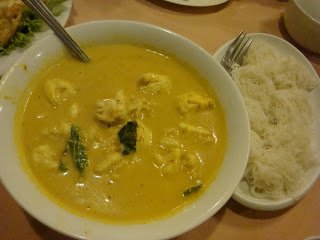 Crab Meat Curry with Noodles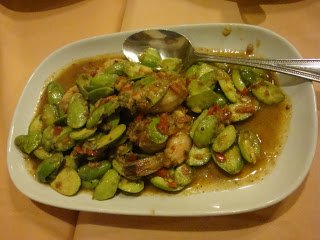 Stir Fried Sa-taw with Shrimps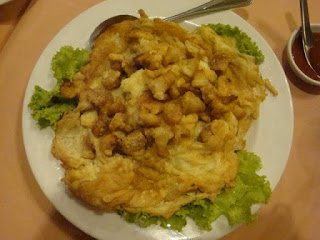 Omelette with Pork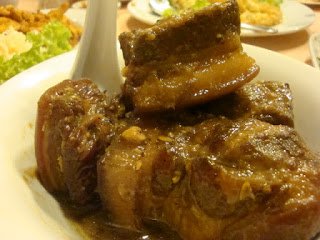 Steamed Pork with Garlic and Pepper Phuket Style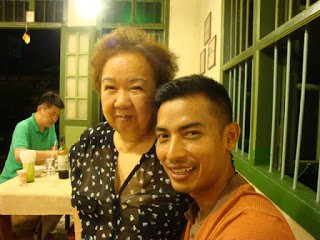 Pa Kulaab with Khun Witoon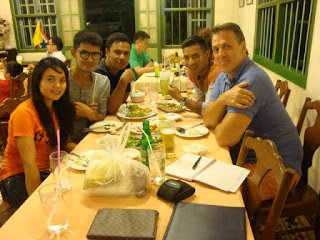 Myself and Thai Friends at Raya Restaurant