Sundays
with Chef Peter….
Happy
Sunday to you, hope you've had a great week and are enjoying a great weekend
doing the things you love to do.
After
a hectic week myself daahlings I finally had a chance to put down the piping bag and
apron and meet up with Khun Toon for lunch yesterday.
One
of our favourite lunches we enjoy is Thai Papaya salad (Som Tam) and Grilled
Chicken (Kai Yang) and we have three or four places in Phuket where we enjoy eating
these dishes the most.
One
is Tam Leak which is a common name for a Som Tam specialty restaurant and, from
what I could gather from Toon, translates as "pounded a lot" as they make a lot
of Som Tam… I presume!
I
then started to ask my Toon and my Thai friends about Som Tam and there is so
much interesting information about this wonderfully simply dish that originates
from Isarn, Thailand that I will devote another Sunday to it but back to Tam
Leak for today.
Tam
Leak's location is best explained as follows. It is on the Chao Fah main road
on the right hand side going south, just after Chalong Temple and 500 meters
before the PTT gas station. The sign is in Thai so here is a picture of it to
help you out!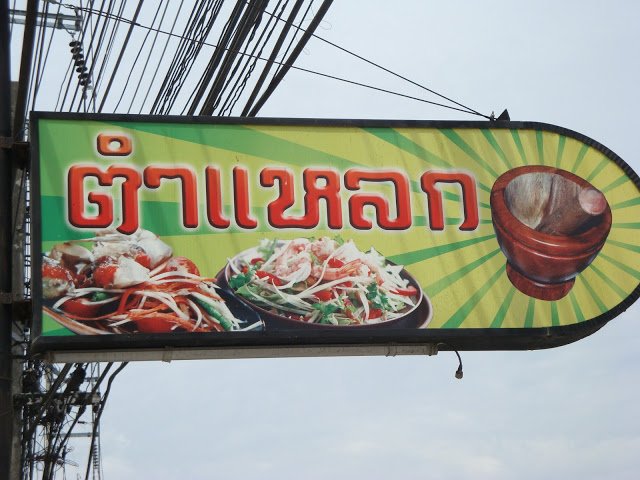 Look for the sign Tam Leak!
There
is parking for cars on the left of the restaurant.
The
menu is in Thai but it is not difficult to order as there are pictures in the
menu that you can point at and at the front of the restaurant all the chicken
and fish is being barbequed for you to choose from. The staff are friendly and
although may not speak perfect English will do their best to help you.
The
restaurant consists of a main dining area which is the original part and behind
this are small dining salas which are recently added and I think cute for "private
dining." Music is Thai country and pleasant (I mean daahlings some of that
stuff they play in some Thai restaurants just drives me mad after half an
hour).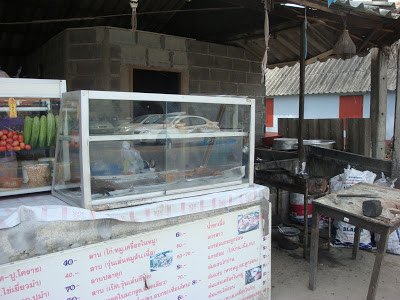 Simple but Good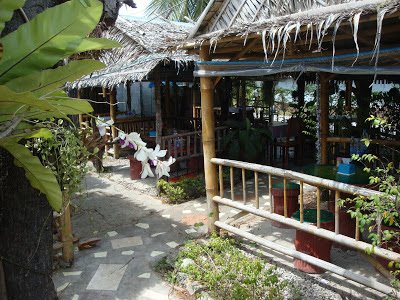 The Salas
When
Toon and I eat these foods we always order two small plates of each, one without
chili for me, as I don't do chili, and with Som Tam you usually get a chili kick from
the pestle and mortar anyway which is just enough for me!
For
lunch today as well as our Papaya Salad (Som Tam), lovely and fresh with a
perfect balance of sweet and sour, Grilled Chicken (Gai Yang), tender and juicy
with a crisp skin, we also ordered Grilled Fish (Plaa Pao) which is a local
fish stuffed with herbs and rubbed with sea salt and barbequed. You don't eat
the skin (though I have before and thought it quite tasty) but the flesh is delicious
and flaky. Pork Salad (Naam Tok Moo) which is a spicy pork salad and I like it
here as the pork is not too fatty but lean, again I order without chili but it is
still packed with great flavours and spices. One dish I order sometimes instead
of Som Tam is Tam Tang which is exactly the same as Som Tam but with cucumber
instead of papaya. I love it and find it a refreshing change. I like to take
away a portion and keep it the fridge for a couple of hours until well chilled
to eat when I enjoy it most.
Of
course all this should be eaten with warm Sticky Rice (Kao Nieaw) which soaks up
all the delicious juices from the salads and dishes.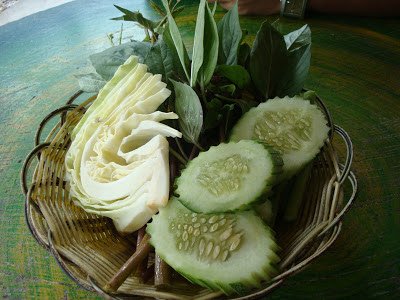 Fresh Cut Vegetables and Herbs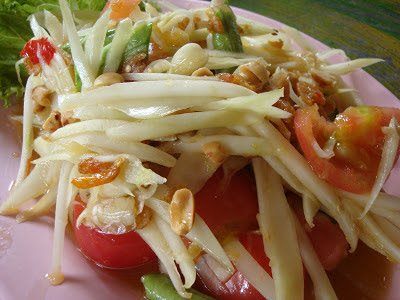 Som Tam (Papaya Salad)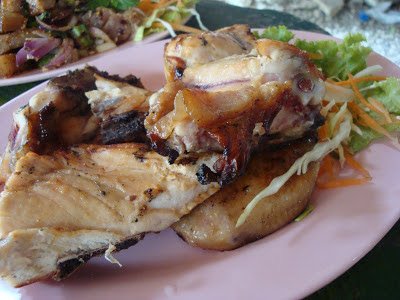 Gai Yang (Grilled Chicken)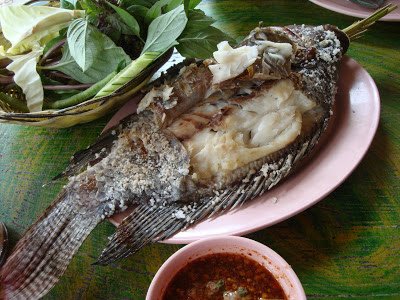 Plaa Pao (Barbequed Fish)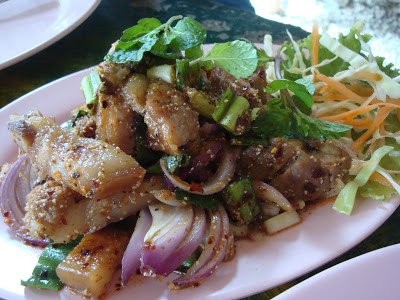 Naam Tok Moo (Spicy Pork Salad)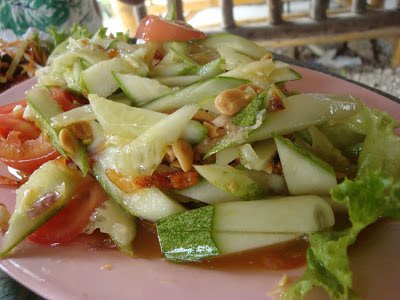 Tam Tang (Cucumber Som Tam)
For
drinks we had water and soft drinks (lunch daahlings!) but there are also juices,
shakes, beer and whiskey which go well with this type of food.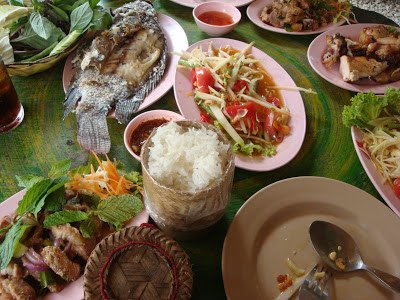 A
really delicious lunch on a lovely summer's day and all for less than 500 Baht,
not bad!
Reason
to visit: Great local food and consistently good and fresh.
Downside:
On the main road, can be noisy with traffic.
Main
Courses from 60 Baht
See
you next week…