Sundays
with Chef Peter….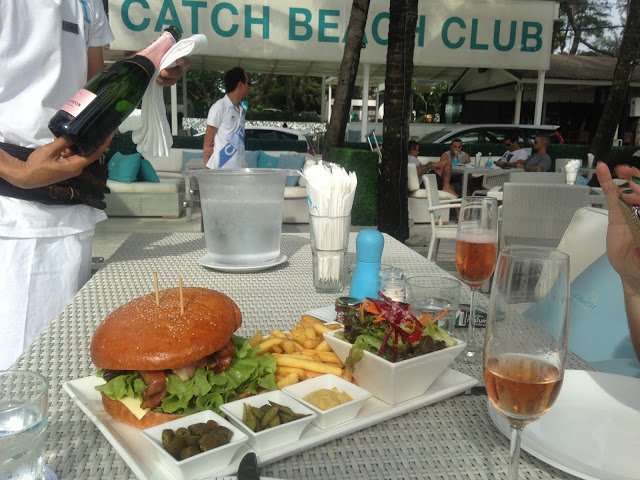 The Dream Burger at Catch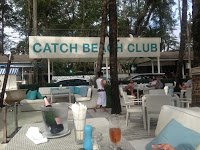 Happy
Sunday Darlings! Hope you're all feeling
fabulous today as I am not! I was sooo very busy the past couple of days making
"works of art" and when I dropped off the final cake yesterday I decided I
would celebrate a little and have a couple of drinks with friends, which of course
translates into a quite a few drinks and a rather bad head this morning! But
hey it's the weekend, the sun is out and we live in paradise, why not? You'll
just have to forgive me this morning for any bad grammar.
Now
darlings, if you know Phuket well you will have noticed over the past couple of
years the surge of "Beach Clubs" popping up literally all over the place and
some even where there is no beach!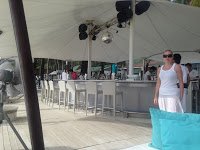 I
would say one of the first "decent" beach clubs to come on the scene in Phuket was
Catch by Twinpalms as was the first great brunch in Phuket which still goes
strong today. I
am a great fan of the Twinpalms Hotel and all those years ago, when I first came
down to Phuket to look at opening a business here, Twinpalms was where I always
stayed and I quite fell in love with the place. 'Till this day it still remains
one of my favourites and I regularly recommend it for people visiting Phuket.
Alison,
my darling ex also shares my sentiments about the place, so when she was here
last month on holiday and to keep me in tow, Twinpalms was on her list of must-dos during her stay. Unfortunately she left the amazing (unusual) summer England
was having and arrived to a very wet Phuket and, that's the way it stayed for a
good few days or more. So
while the rain poured I made excuses that it was no good going anywhere in this
dismal weather and got her busy in Les Diables making her wonderful homemade
bread of which she kindly shared with me and my girls. Daahlings there is
nothing quite like seeing a buxom country girl kneading her bread, simply
wonderful even for an old tart like me! Luckily she's back in the UK now
freezing them off so I won't be getting a slap when she reads this, ha!
Anyway
the sun finally came out, things warmed up and, we got time to make that visit
to the Twinpalms. Rather than doing brunch as we normally do, this time we
thought as the weather was so lovely, we would pay Catch a visit.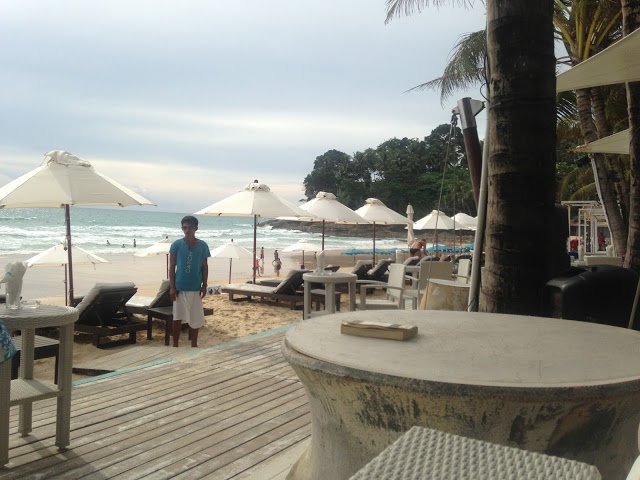 Catch Beach Club on Surin Beach is Phuket's most inventive, style-setting beach club bringing
glamour and exciting tropical days and nights to the sands of Phuket. It is
open to all who love fashion, fun and fabulous seaside dining with all the elements of an alluring island lifestyle. Many of Phuket's most talked-about parties take place here and the annual White Party has become an
event not to be missed. (Though my daahlings, as years go on I look less fabulous
in white so tend to shy away.) J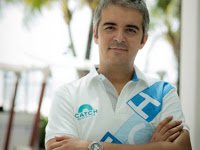 Benedikt
De Bellis, who I have known for a good few years here in Phuket is the manager
and as always was there to greet and welcome us on arrival. Ben brings
hospitality expertise gained from a number of operations across Europe and Asia
including five years in Phuket. Before
arriving to Phuket, Ben held management positions at some well-regarded luxury
venues including Grand Copthorne Waterfront in Singapore, Radisson SAS Portman
Hotel in London, and The Ritz Hotel London, Picadilly – so the man has been around!
Ben
has been at the helm of Catch now for well over a year and I asked him how he
was enjoying it and living here in Phuket. "What really makes Phuket," he says,
"are the people that live here. Being a Westerner, I, like many others, found
it difficult at the beginning to adapt to a totally different culture, but what
kept me going was that I always admired how genuine and cordial the people of
Thailand can be. Nowadays, there aren't many people like that left in the
world. It is a blessing for me to be able to work and live among them." I
totally agree! Ben
helps cultivate Catch Beach Club's constant evolution in its aim to share its
zest for life in the hot tropics with every new and returning guest.
I
ate here a couple of months ago when another great friend was in town and we
had a lovely evening helped along with the wonderful cocktails Catch mix. In
particular, the Long Island Iced Tea is truly wonderful and lethal
at the same time. This might have been the reason that night that the Catch Beach Club 16oz Dream Burger, served with mushrooms, bacon, cheddar cheese and jalapeños caught my eye!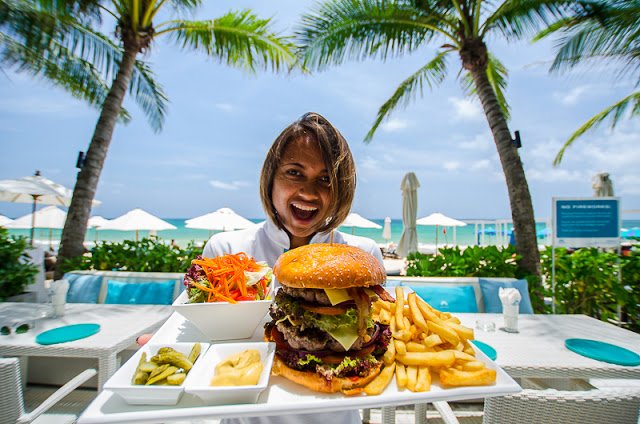 Look at that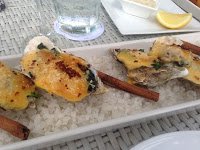 I am always curious about
these types of dishes on menus such as the "biggest club sandwich" or the "longest
hot dog" and normally steer clear of them but this night I thought I would give
it a try as I was hungry. I was not disappointed, it was really good but just
too much for even me to handle so I took half home and had it for warmed up for
lunch the next day (it still tasted good), so I thought that was pretty good value
at 950 Baht.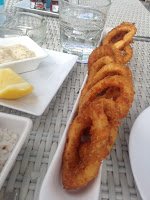 Back to the present, Ben
joined Alison and I for a chat and to kindly take our order. We decided that as
it was such a lovely day we would have champagne, a nice chilled Rose. After
recalling my story to Alison about the Dream Burger we decided to have a
couple of starters, Oyster Rockefellers and Deep Fried Calamari and then give
the burger another go to see if was still as good – little piggies that
we are!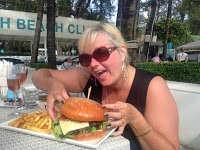 Champagne was delish as were
the starters and then the staff asked if we were ready for our burger. We
decided to wait a while and enjoy the view and more Champagne and then we saw
the burger being brought from the kitchen.
My Daahlings….. if you are
at Catch and want to be noticed (in the day that is) then just order the Dream
Burger. When our arrived we were suddenly the center of attention! All eyes were on the burger
and of course then on us (probably all thinking what fatties we were). Forgetting
them, we tucked in and were having a ball!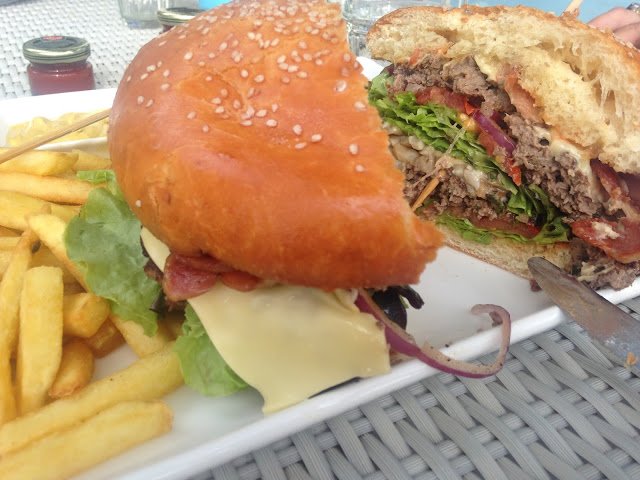 Luvely!
The Dream Burger was just
as good as I remembered it and Alison had never seen one "So Big"! The meat was tender and
tasty, the salad filling fresh and crunchy and, the brioche bun was as good as
the brioche I make. French fries were also great as were the dips and sauces, but alas my dears even after a very good go, even the two of us could not finish
it all!
A table sitting near us asked if it was any
good and also ordered one. They also got some looks but as there were four of them,
not as bad as we got! They also thoroughly enjoyed their burger and thanked us
for the recommendation.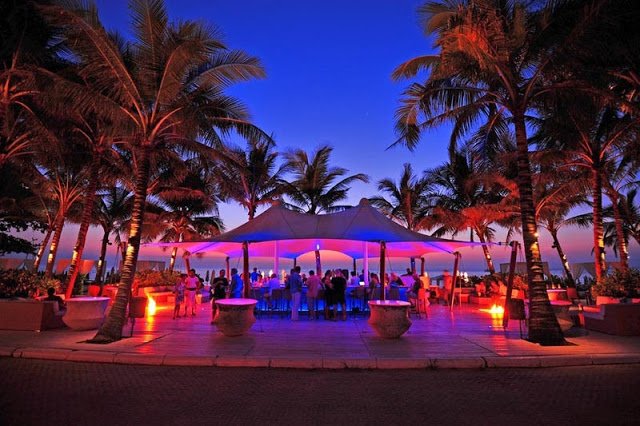 Catch as the Sun Goes Down
Catch is a great place to
hang out with great cocktails, drinks and food. The staff are hip and friendly
and Ben manages the place and pace perfectly. Even though it appears a little on the
pricey side. considering location, service and quality it is excellent value for money.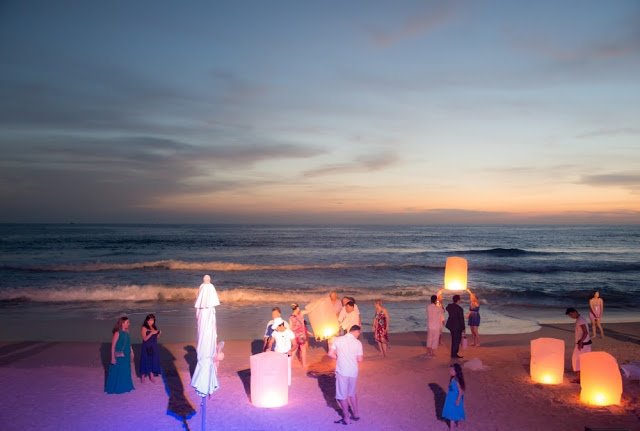 Surin Beach
So Champers finished and the
sun going down, us two little piggy's happily went home!
Twinpalms Phuket
106/46 Moo 3, Surin Beach Road,
Cherng Talay, Phuket 83110, Thailand
+66 0 7631 6500
Fax: +66 (0) 7631 6599
www.twinpalms-phuket.com
Don't forget the Les Diables Grand Opening Darlings!
Chef Peter