Vegan Desserts Kuala Lumpur
Want to satisfy a craving for sweets but without the guilt? Kuala Lumpur has a whole variety of nutritious and delicious vegan dessert providers that supply treats that are good for the earth, your body and your soul. Here we highlight some of our favourites.
Vegan Desserts Kuala Lumpur
Cancer patient, Sara, was in a bad place physically and mentally throughout her treatment. She was depressed and trying to balance her craving for sweets with consuming a healthy diet. She was unsuccessful in finding healthy substitutes so created her own. Now she shares them through her platform Pink Indulgence KL, hoping that everyone can indulge in a guilt-free treat. She calls them nut truffle kokobollars. All of her recipes are vegan with no added sugar are grain-free and gluten-free. By the way, she has now been cancer-free for one year!
Pictured here is the Fiesta Box (RM 50, 12 pieces) consisting of Pestakoko, hazelhaven, snowball, kokobollar, Garlandalmond, cinnamon love, kokofig, kokochino, blasty sesame, tangy cranberry and peanutty. Message Sara on WhatsApp +60 17-812 7686 or via her social media pages Pink Indulgence KL.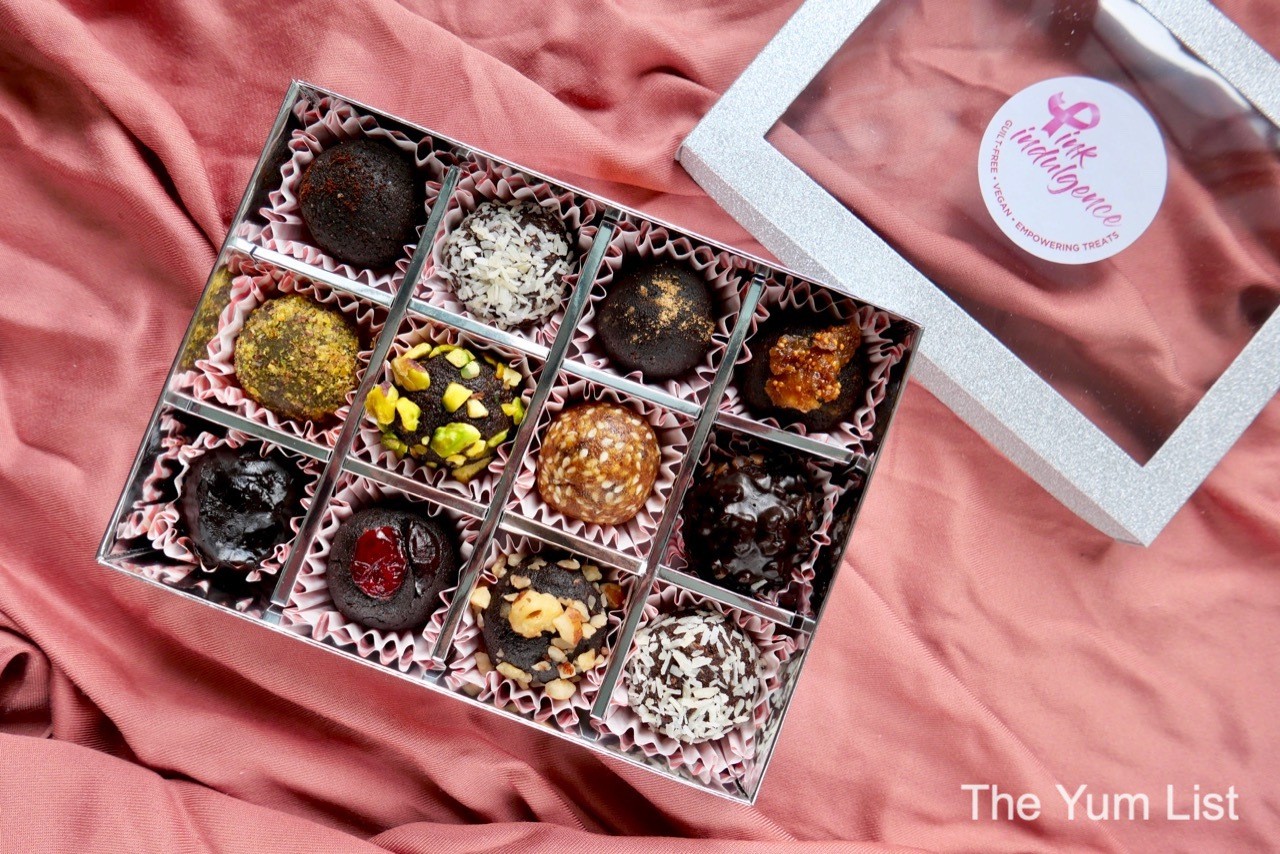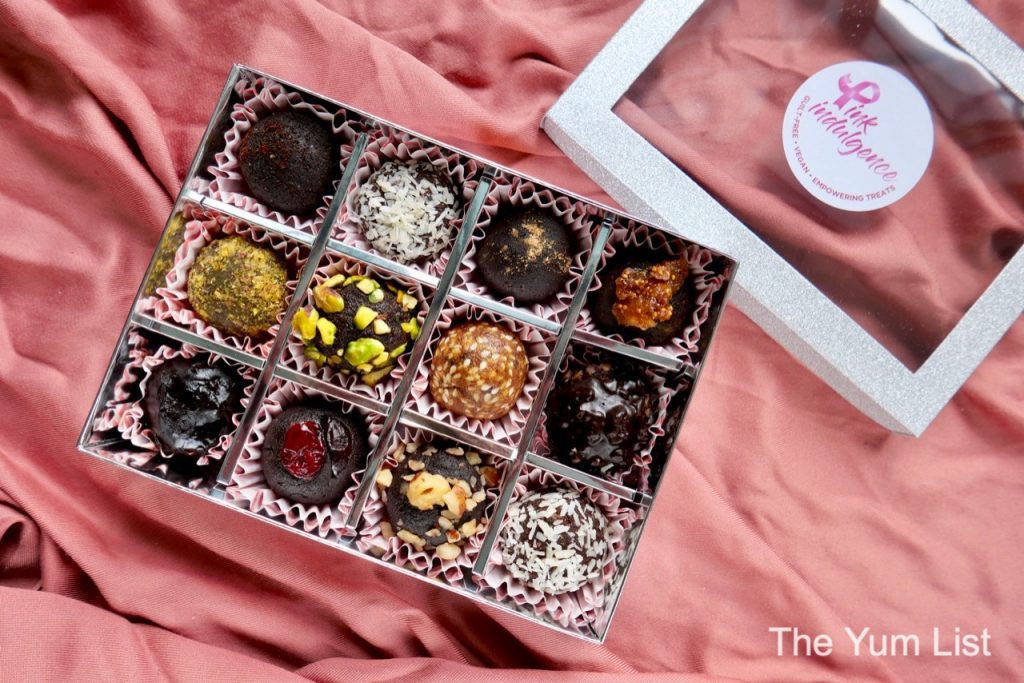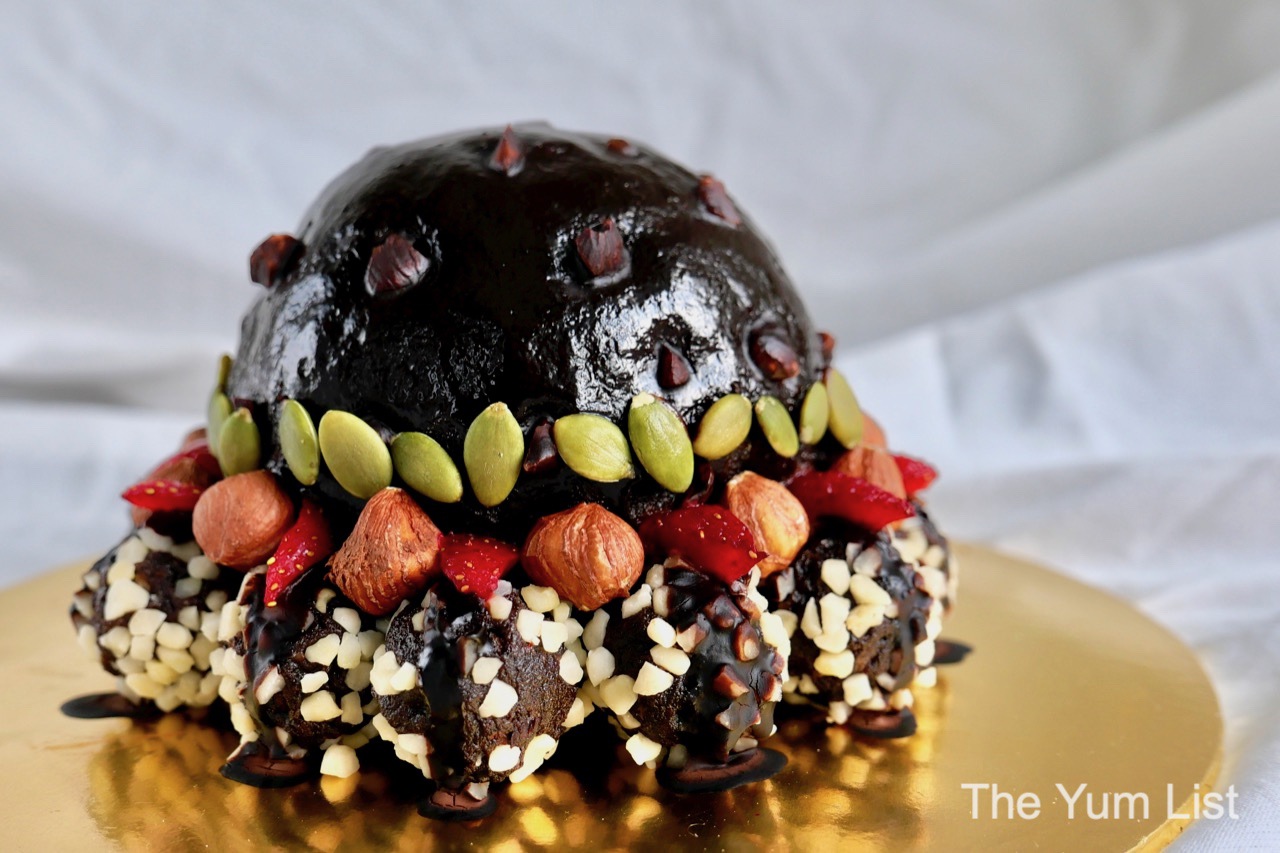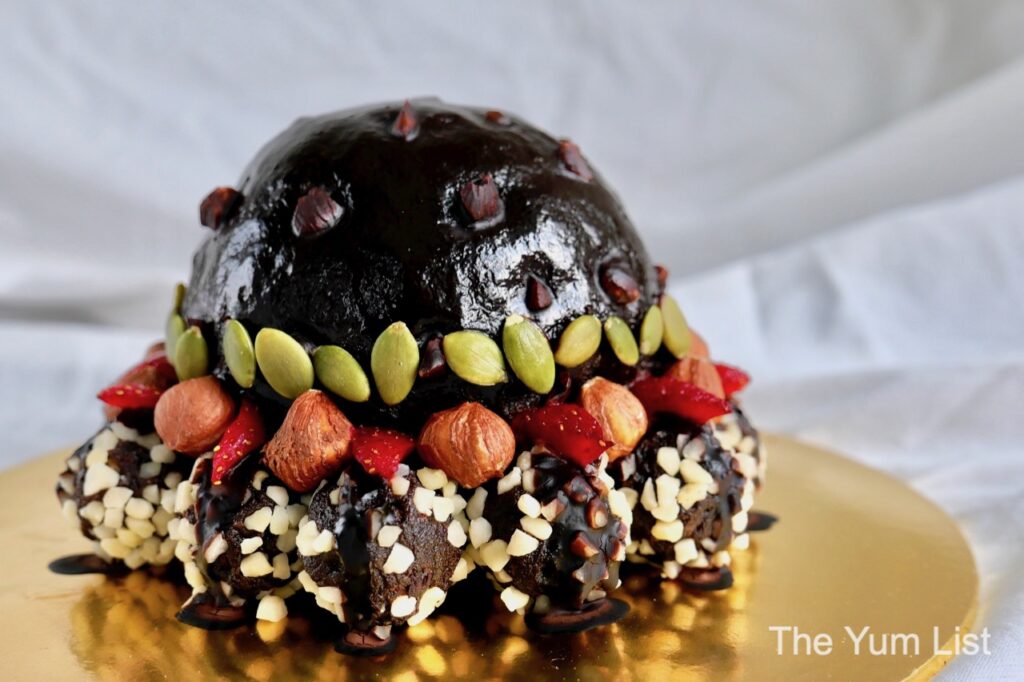 The Honest Treat is possibly the most established raw, vegan dessert producer we've come across in KL, and for sure, has some of the prettiest treats in town. If you're looking for eggless, dairy-free, gluten-free cakes, you must try these. I'll let you in on a little secret as well – each piece, although they look petite, can actually do three or four serves. The sweets are so rich and dense, you only need a slice to be satisfied.
Pictured below is the mixed box of eight treats (RM 104.30). I recommend starting with this collection to discover your favourites (and because they just look so darn pretty altogether) and then you can reorder your top picks. Orange Chocolate with oranges, bananas, extra virgin coconut oil, cacao butter, agave nectar, dark cacao powder, cashews, almonds, pecans, walnuts and dates, is one of my repeat orders.
Message The Honest Treat on Instagram to arrange delivery.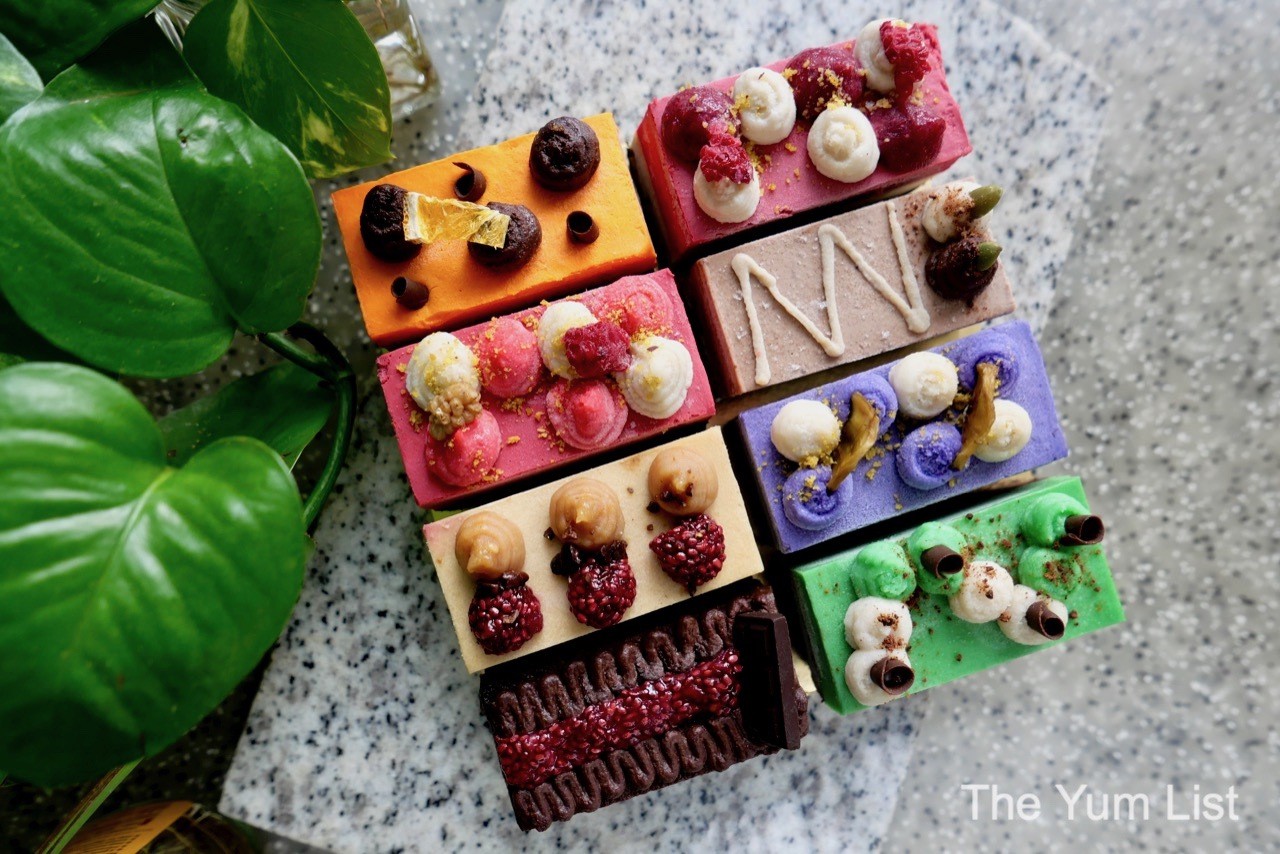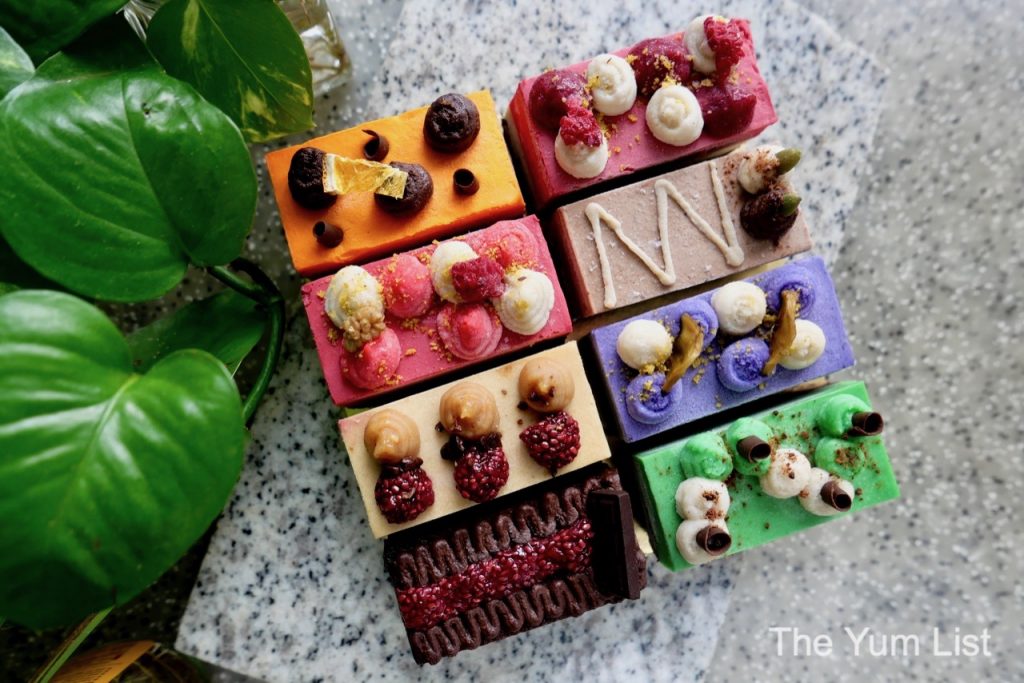 My Plant Deli is a small family-owned and operated business. They began four years ago after seeing a demand for high quality, locally made vegan products. Vegan cheese, sausages, ice creams, and other products could not easily be found, especially with good ingredients. My Plant Deli uses recipes that have been developed over years for their own family, and they are happy to be helping others enjoy them as well.
Vegan ice cream from My Plant Deli is homemade with natural ingredients. I appreciate the use of coconut and cashew milk rather than soy. They have so many delicious flavours that it's hard to pick a favourite. If I have to choose today though, I might say the Raspberry Truffle and Mint Chip will both be in my bowl.
My Plant Deli products can be found in several grocers in the Klang Valley including Vegan District, Green Bamboo, Miyosi Mart and more.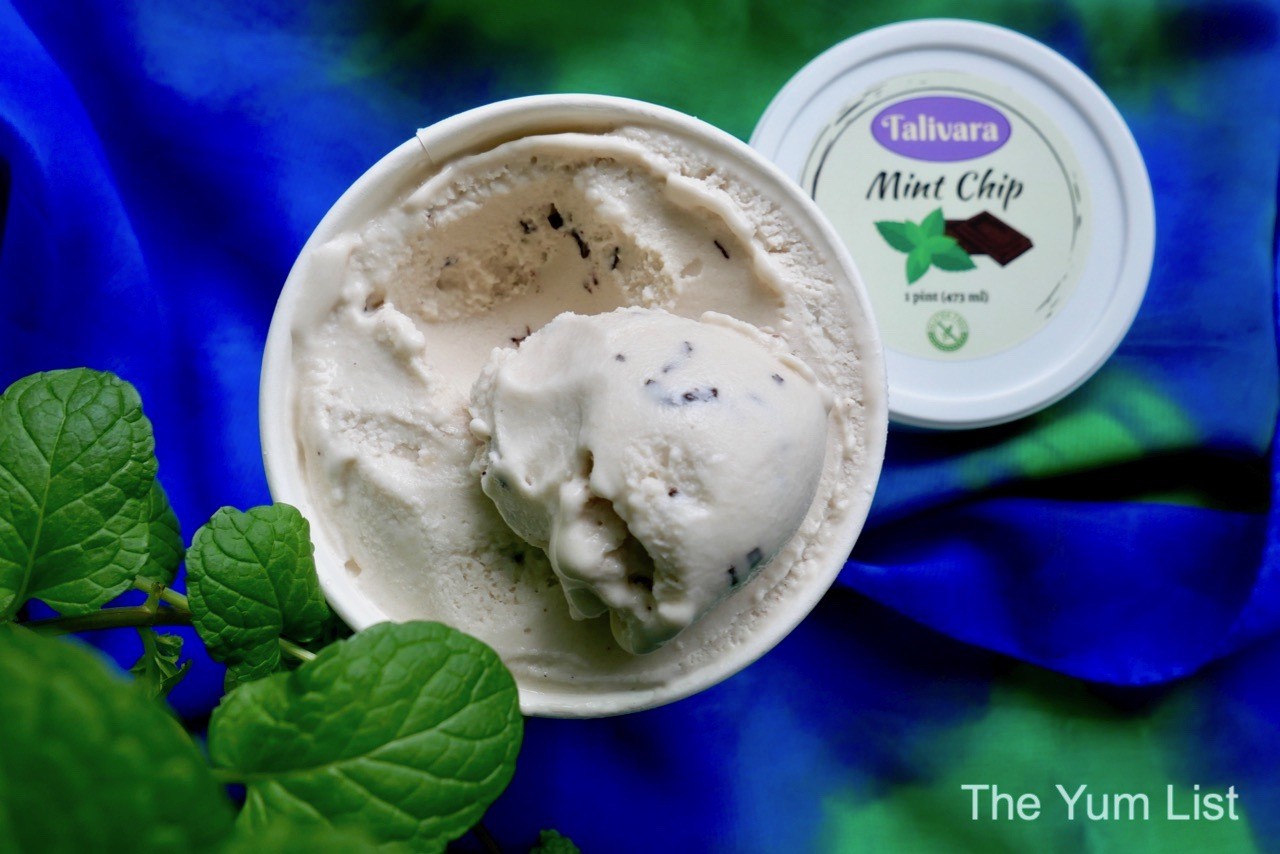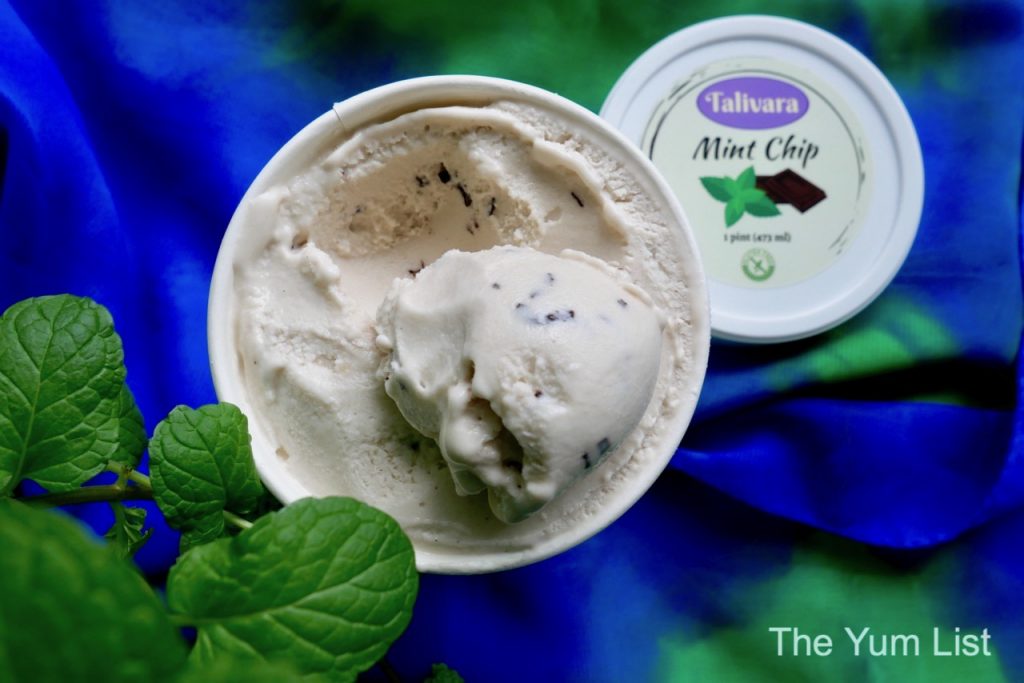 Vegan Desserts Kuala Lumpur – Simply Serene
Simply Serene is a home-based business specializing in plant-based desserts. They have one mission, and that is to spread the love of plant-based wellness. Serene, a certified plant-based chef, started Simply Serene after collaborating with a few like-minded associations here in Malaysia in July 2020. She saw a demand for healthy, guilt-free snacks and desserts. On her social platform, simple veg recipes that anyone can cook at home are also shared. Her ultimate goal is to open a plant-based café to create job opportunities for refugees and the less fortunate so she can give back to society.
Pictured below is the Fruit Slice (RM 45, 18 pieces, 470g) made of dates, coconut oil, ground almonds, gold and black raisins, cranberries, apricots, chopped cashews, desiccated coconut, walnuts, nutmeg, cinnamon, ginger, orange and lemon zest, salt and vanilla extract. Order via Zesty Clickz or direct message on Instagram.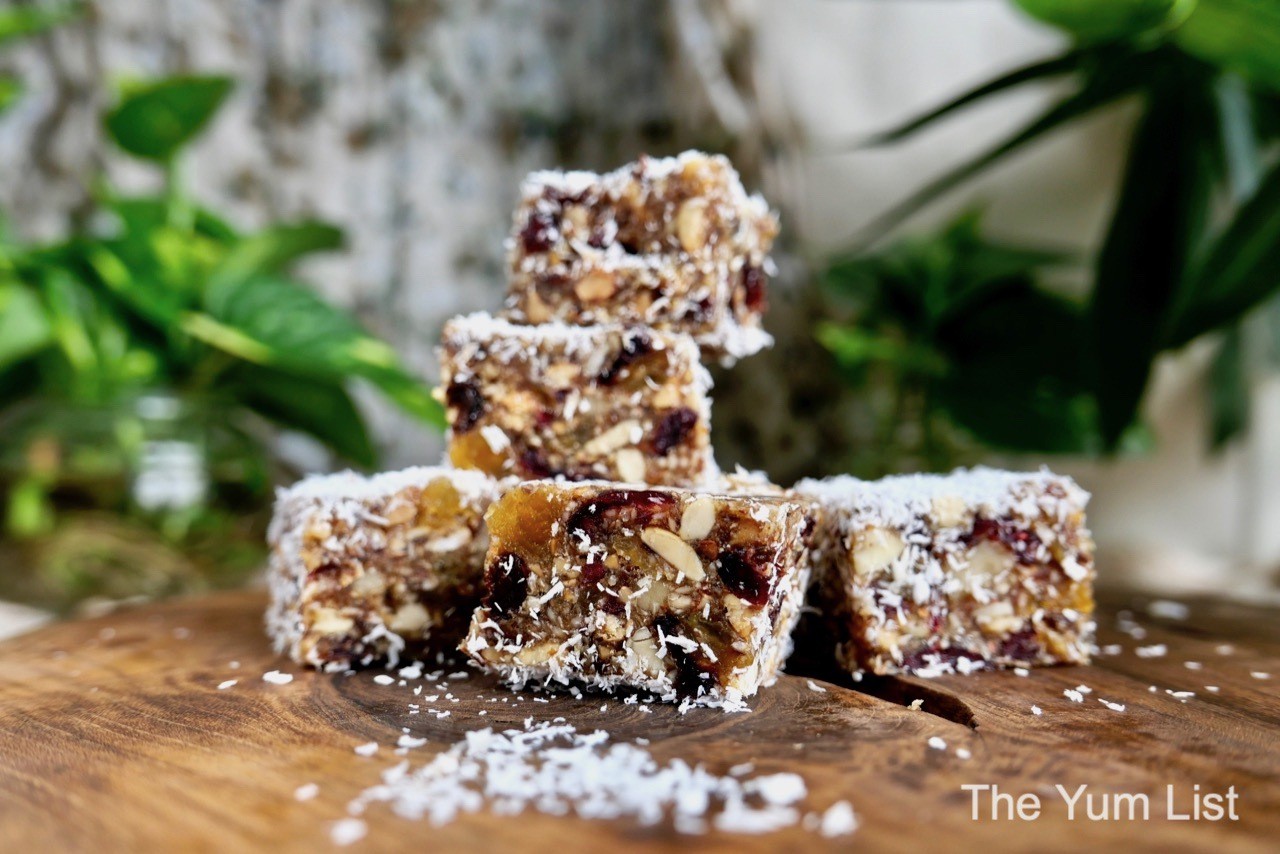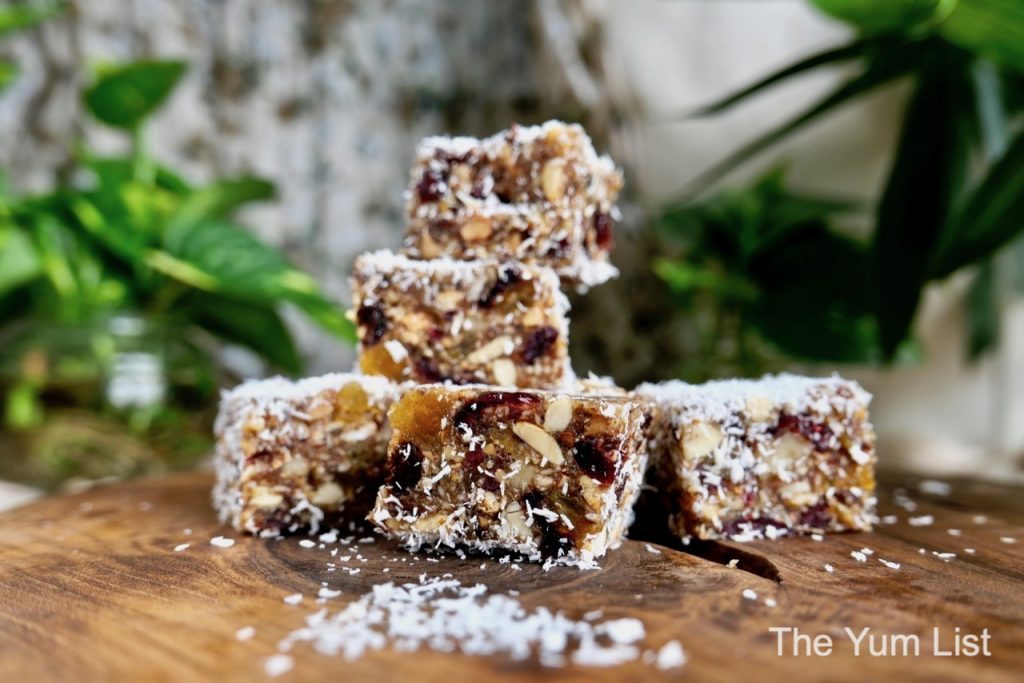 VickedGood is a Malaysian vegan bakery established over lockdown. They promise a complete list of plant-based artisan baked goods. Aiming for affordability and variety in selection, you'll find wholesome cakes, bread, spreads, cookies, granola, and yoghurt all on their menu. As their entire collection is 100% plant-based, you don't need to meticulously check labels. Instead, you can rest assured that everything is vegan.
Pictured here is VickedGood's Victoria Sandwich Cake (RM 75, 6"). It's a double layer of sponge with a bounty of dragonfruit jam oozing out from the middle. Topped with fresh fruit, it sure makes a pretty afternoon tea centrepiece. They also stock vegan, gluten-free, sugar-free and keto options such as their Lemon Cheesecake. Take a look at more of their range here.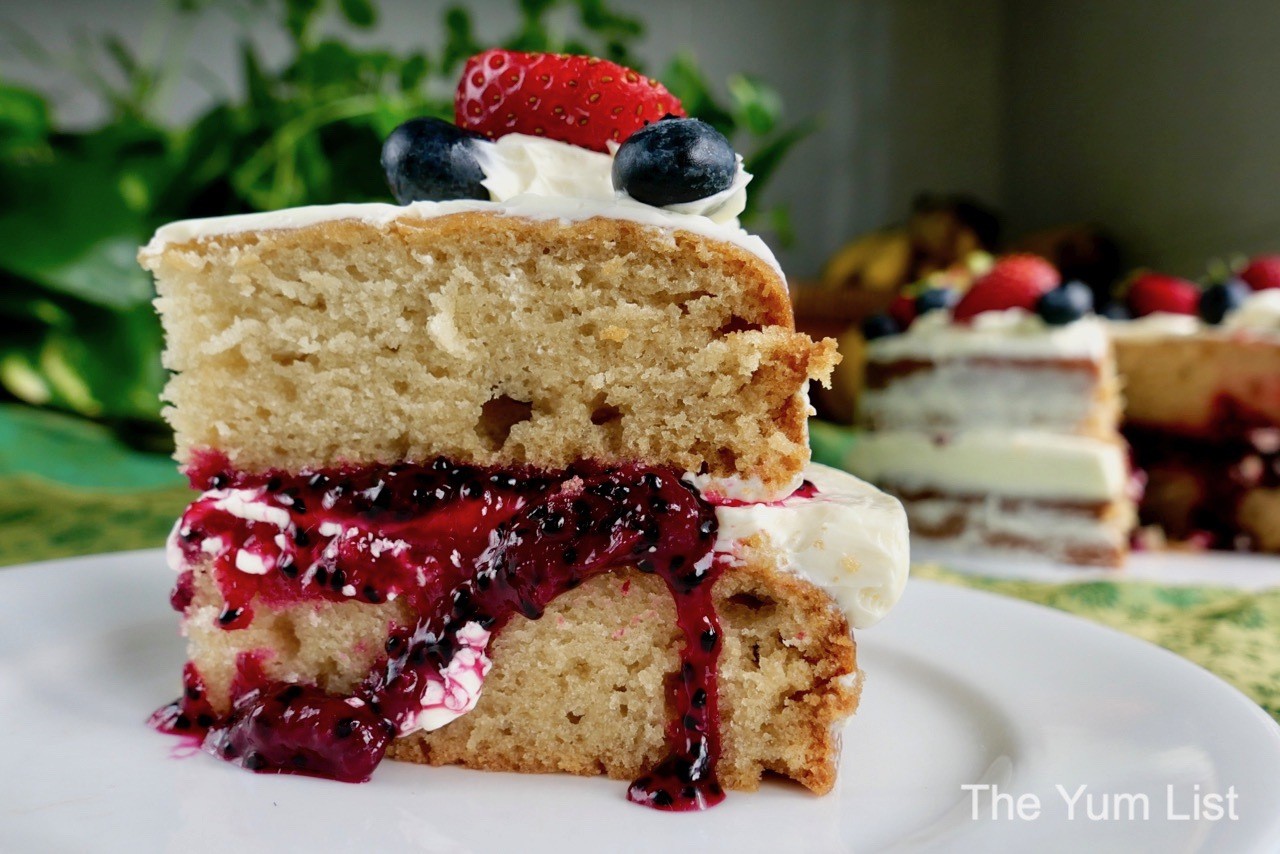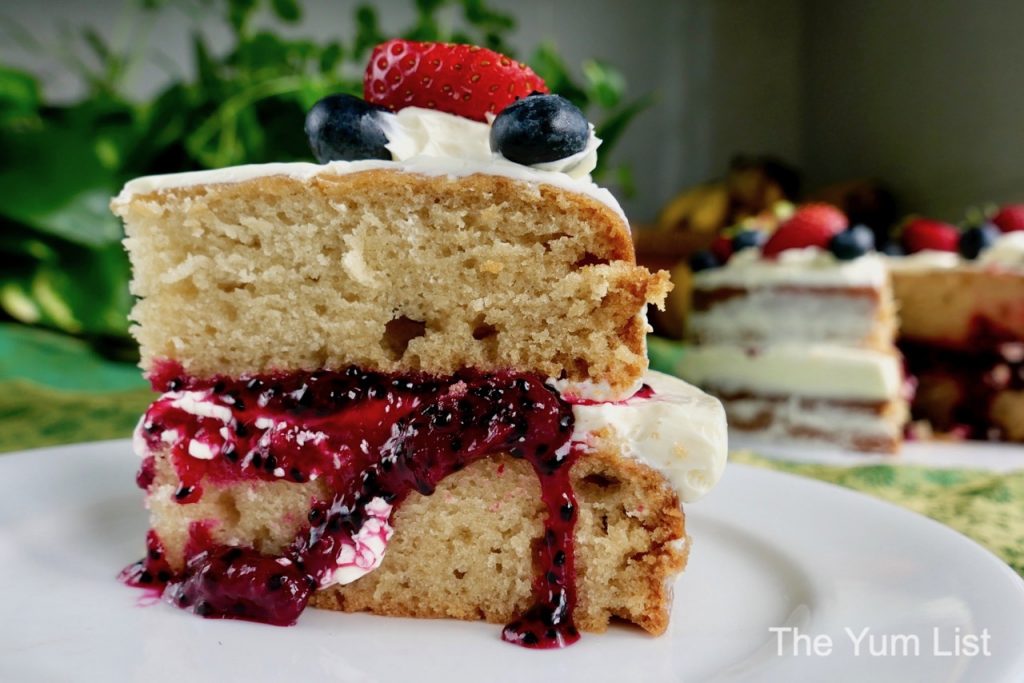 Waves Cafe has a wholesome food menu catering to a variety of dietary preferences. They have entire menus dedicated to vegan and keto recipes. You'd never tell that some of their plant-based desserts are vegan.
Below is a collection of their vegan desserts – Raspberry Parfait (RM 16), Mango Pudding (RM 16), Breakfast Muffin (RM 7) and Chocolate Mousse (RM 16). The primary components of these desserts are vegan chocolate, nut butter, coconut butter, tofu, almond flour, fresh fruit, cashew nut cream and granola. Take a look at some of Waves Cafe's savoury items here or place your orders directly on WhatsApp at +6017 260 8693.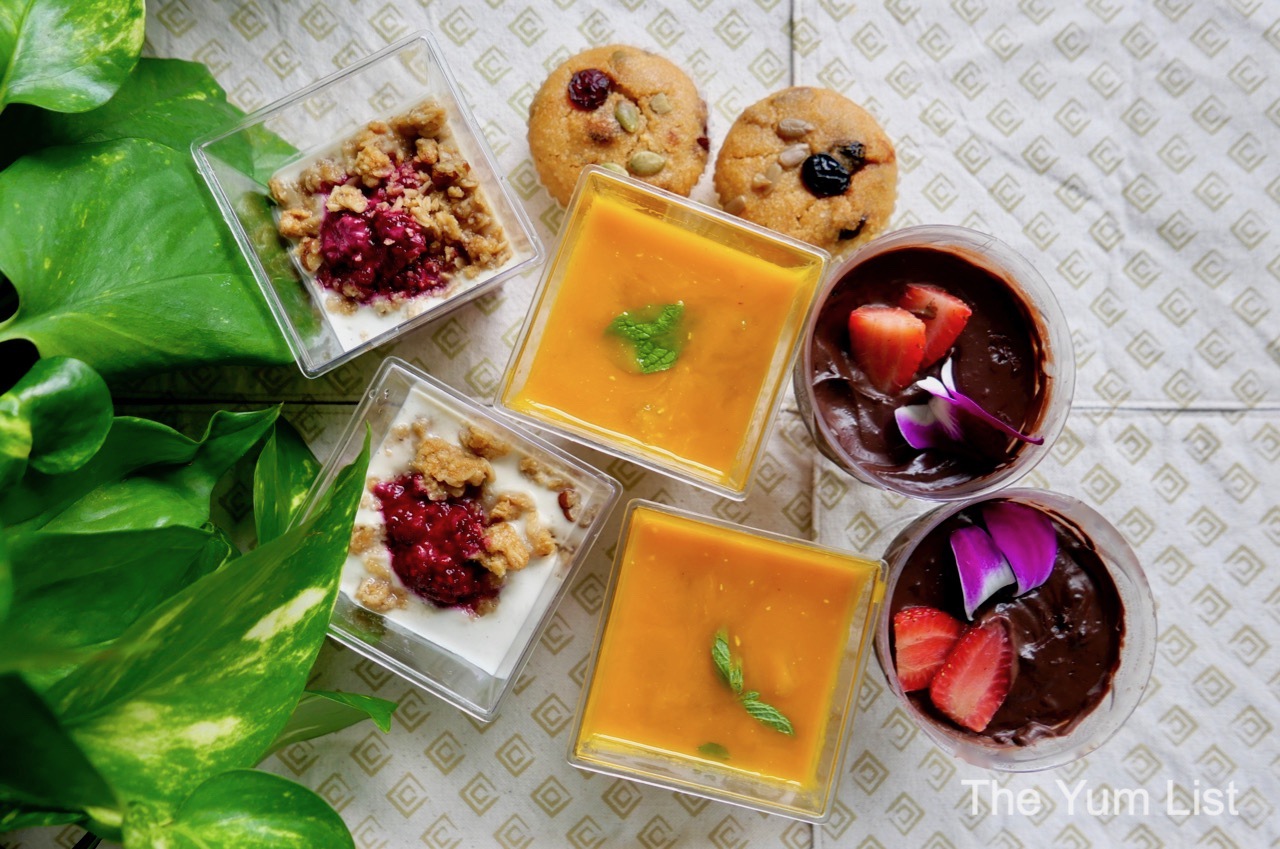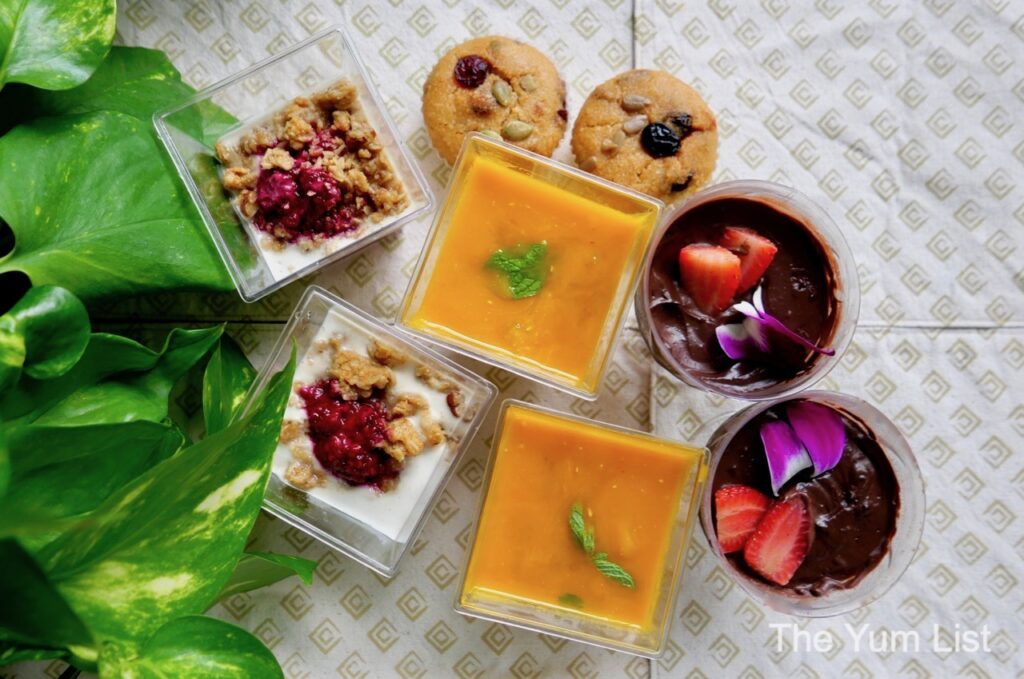 Whimsical Gelato makes delicious ice creams made on dairy but also has a range of gelatos that are vegan. All ingredients are natural and every batch is made from scratch. Choose from Salted Calamansi, Pomegranate, Tofu-fa, Strawberry & Raspberry, and Thai Coconut with Gula Melaka. They are currently running a promotion where you can get a testing package of six different varieties, and additionally, you can get RM 5 off the delivery fee by mentioning Yum5.
WhatsApp +601156385399 or direct message their Instagram page for orders.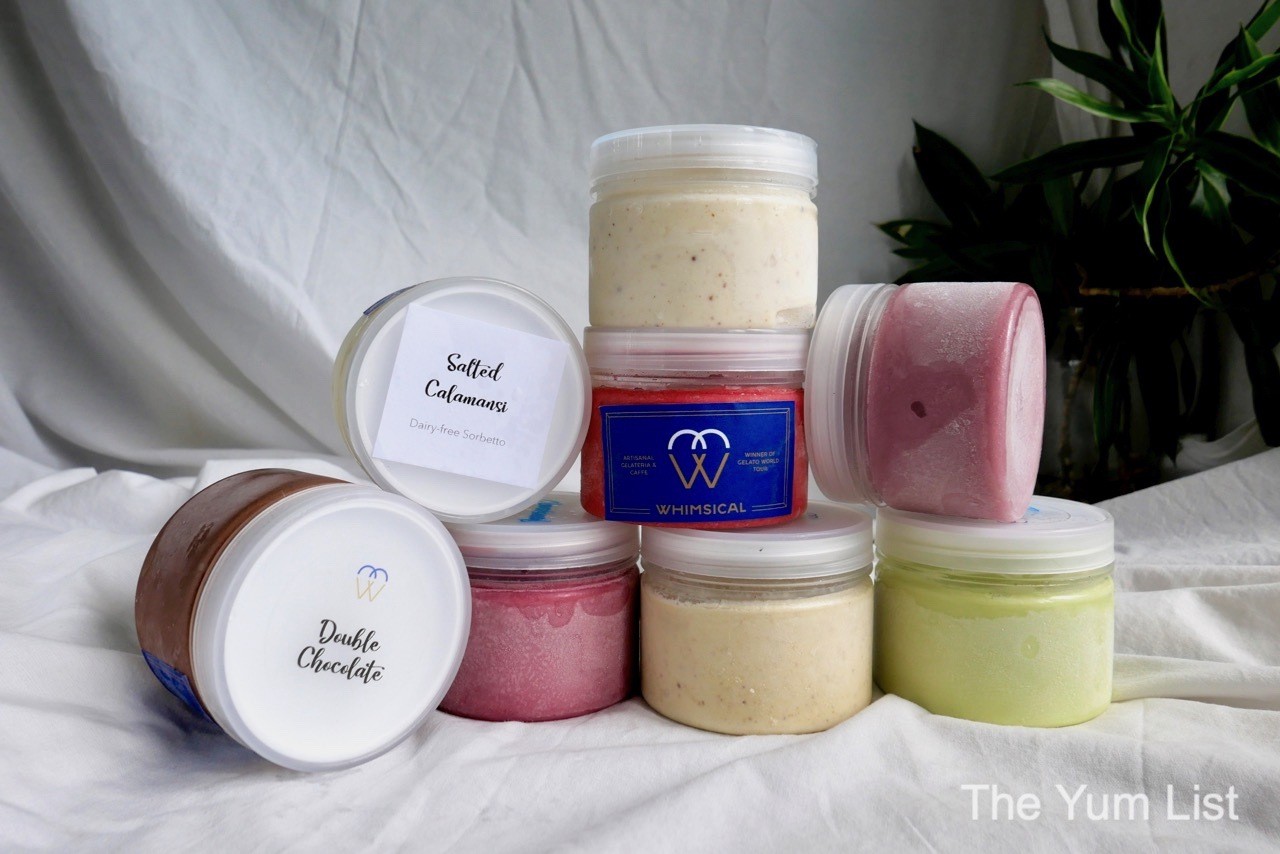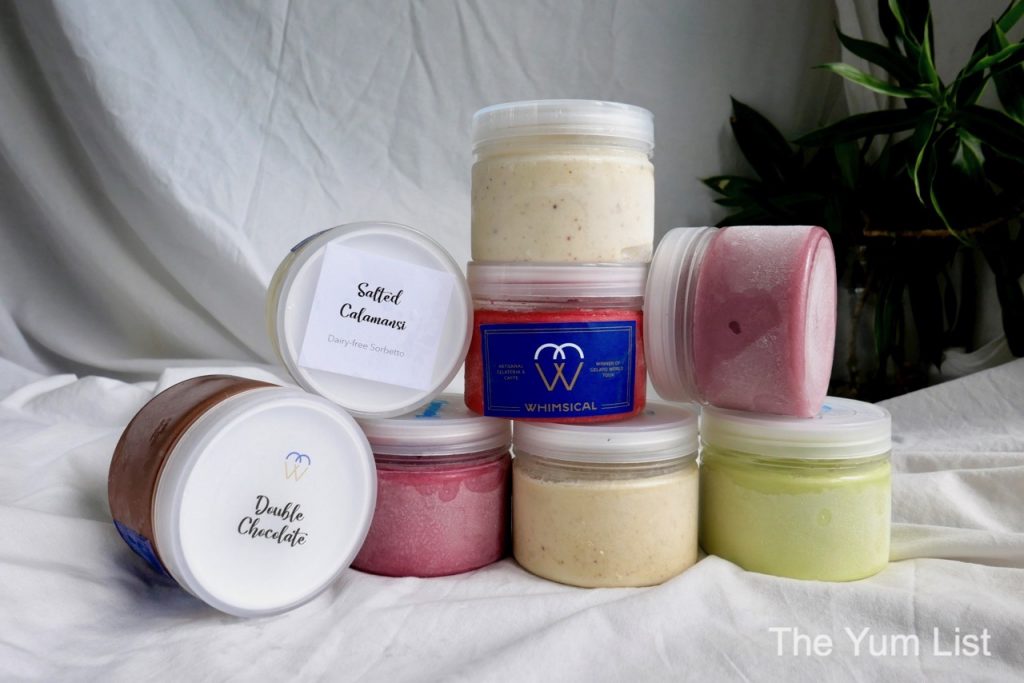 Nourish by KHB is a dream for families or groups of friends with diverse dietary preferences. Offering a comprehensive cafe menu of healthy recipes, there are plentiful vegan, vegetarian, gluten-free and keto options. Pictured below is a vegan Chocolate Banana Cupcake (RM 12) and vegan Pecan Pie (RM 16), which is also gluten-free. Their house cold brew, black or with oat milk, is an excellent beverage match.
See more of Nourish by KHB's comprehensive healthy menu here or place your order on Beepit here.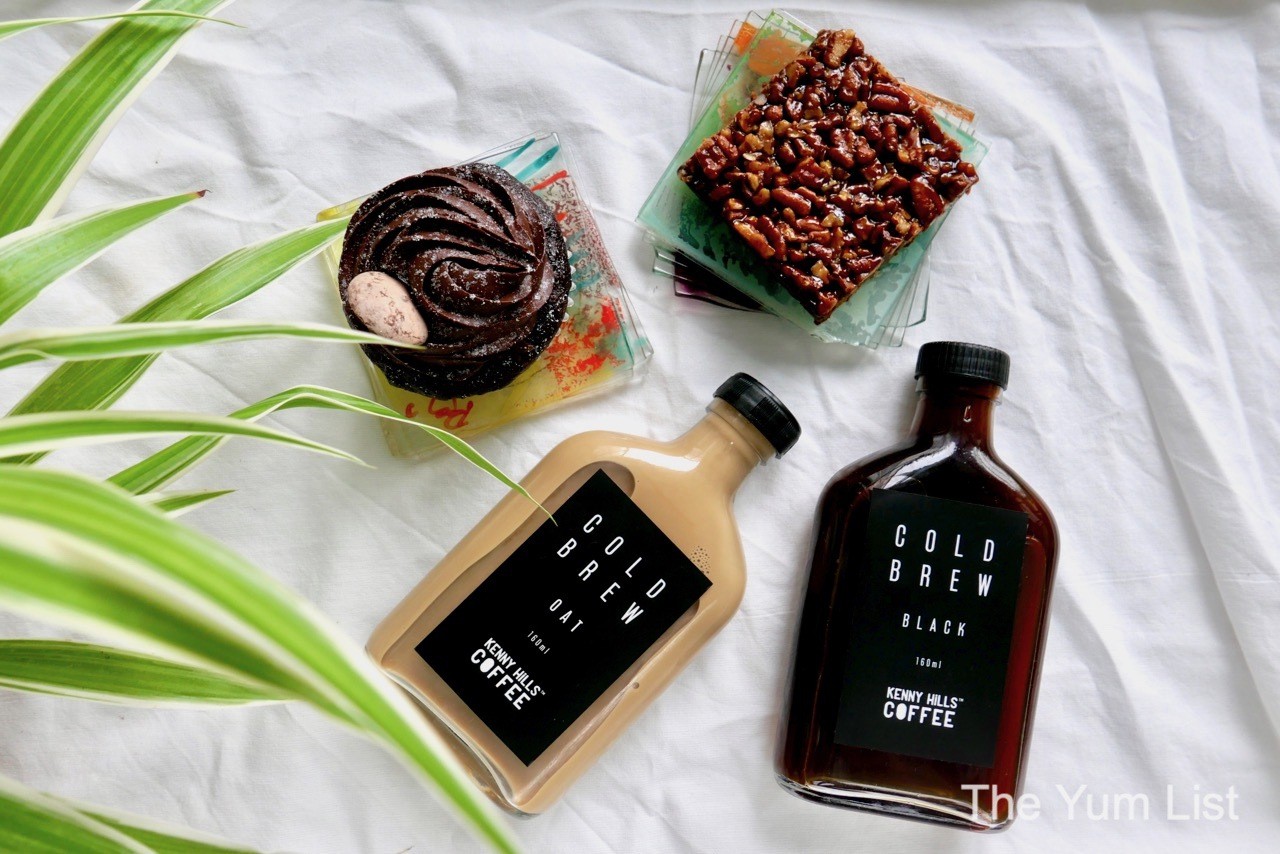 Vegan Desserts Kuala Lumpur – The Avosome
The Avosome team handpick fresh avocados and make them into healthy treats. Aiming to "bake the world a better place," their Vegan Avocado Brownies are created with perfectly imperfect avocados. Picking up wonky, oddly-shaped and sized avocadoes, they reduce food waste by rescuing those fruits that might have otherwise been discarded because of distorted, socially constructed ideas of 'beauty.' Their message is to embrace ourselves and life's imperfection.
For orders, WhatsApp +6011 1293 1489, message them on Facebook or Instagram or place an order online here.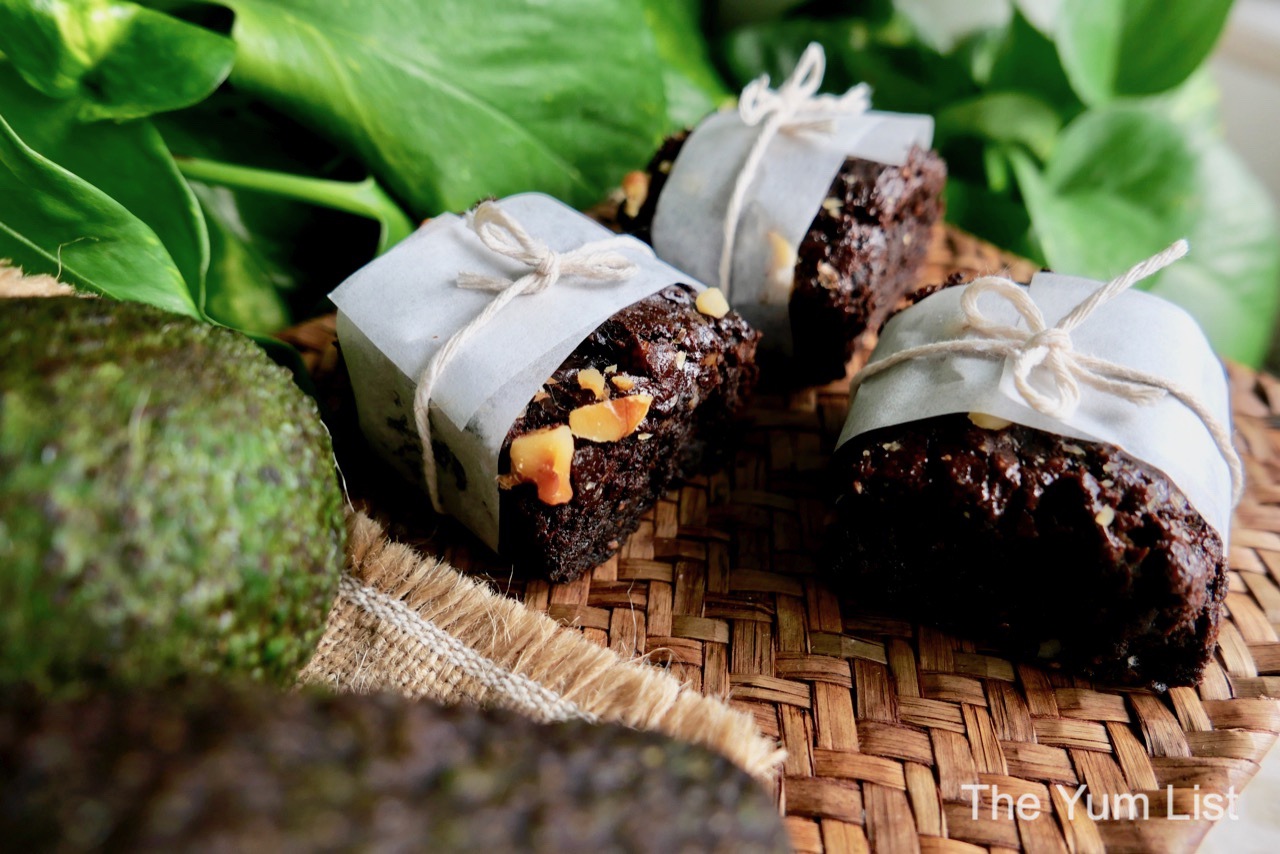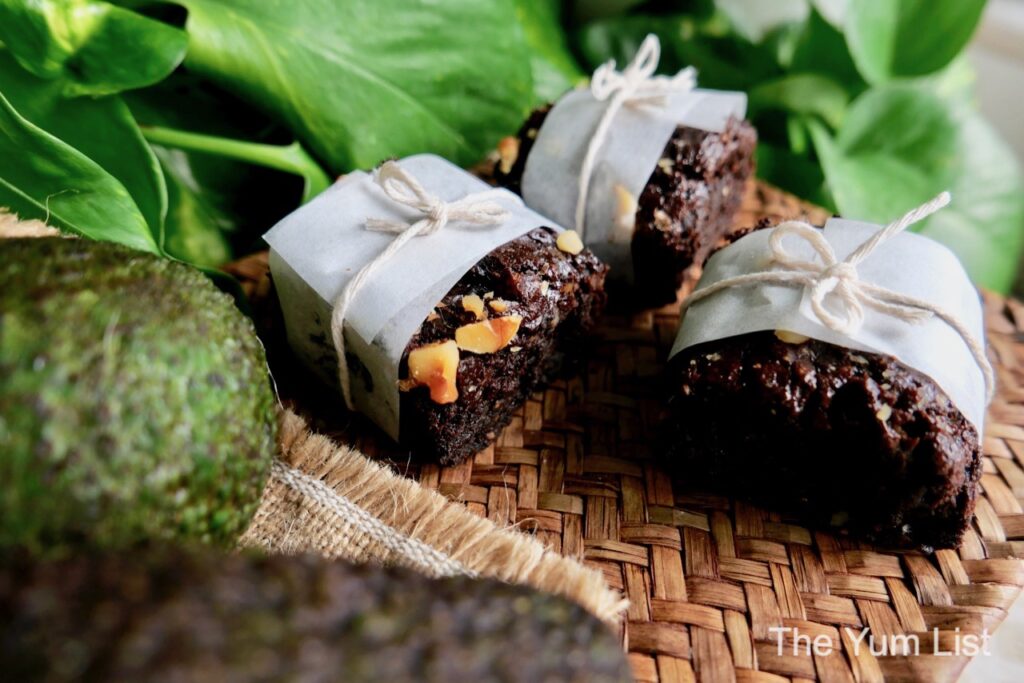 Fresco Grano, an online specialty bakery, has an entire range of products catering to a variety of dietary preferences. They offer gluten-free, sugar-free and vegan bread, cakes, cookies and granola. Using only organic ingredients, they have formulated their own recipes to suite the Malaysian market.
Check out the sweet treat below as an example. Strawberry-topped Flourless Chocolate Cupcakes (RM 43.20, 6 large) are gluten-free and vegan. They're intensely chocolatey, dense and come with the prettiest pink frosting. Find more on Fresco Grano's menu here.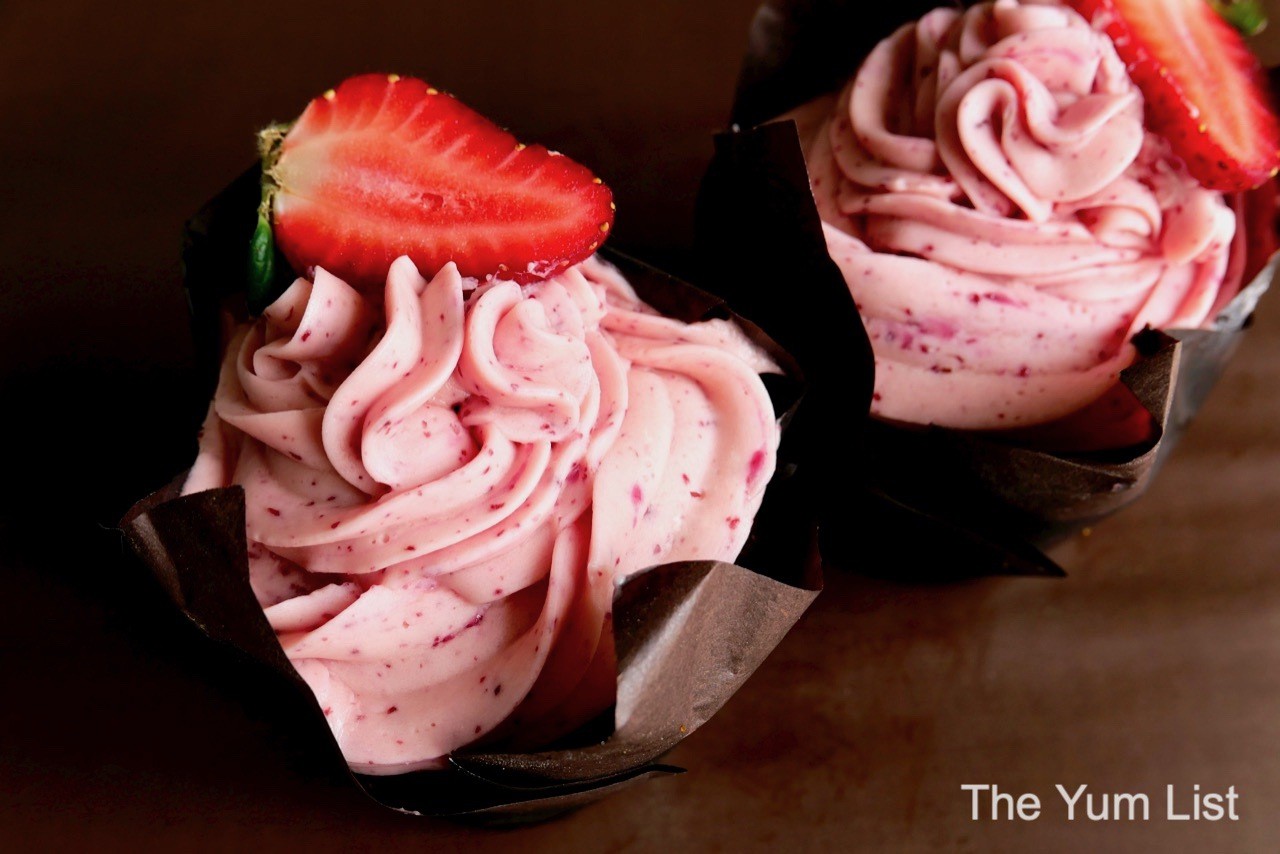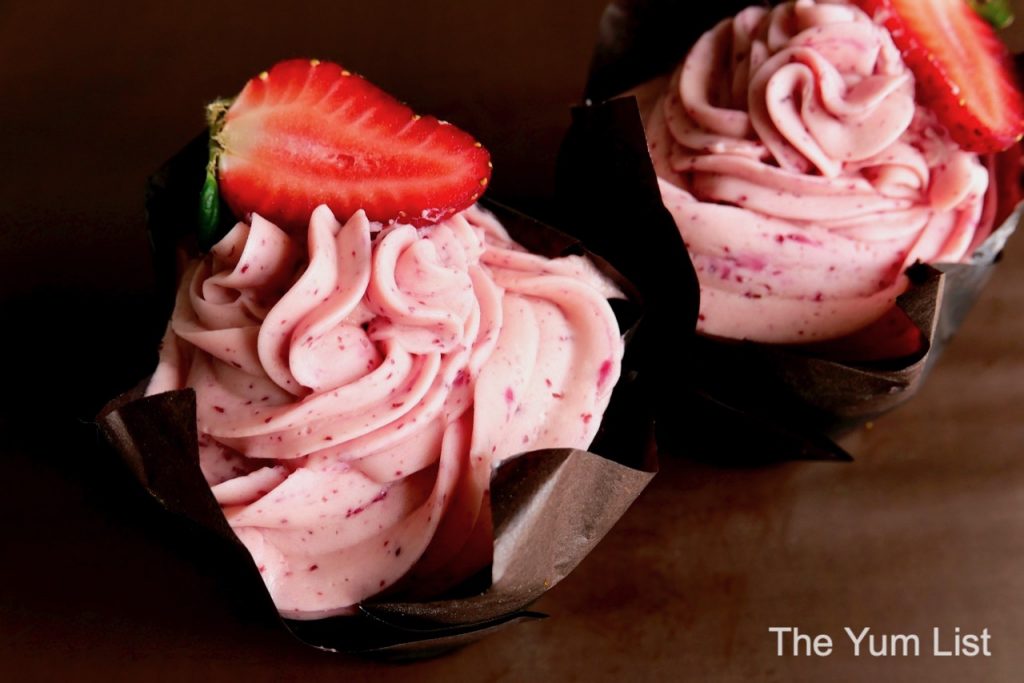 Neetbites is a healthy snack company that was born during the lockdown. They provide affordable, healthier snack options. Their three current snacks – yoghurt cubes, Korean strawberries and mango – are made with freeze-drying technology, which retains 95% of the fruits' nutrients! There is no added sugar, preservatives, or additives, and each crunchy bite is flavour dense.
Visit their Instagram page for more details or WhatsApp +601151616398 for orders.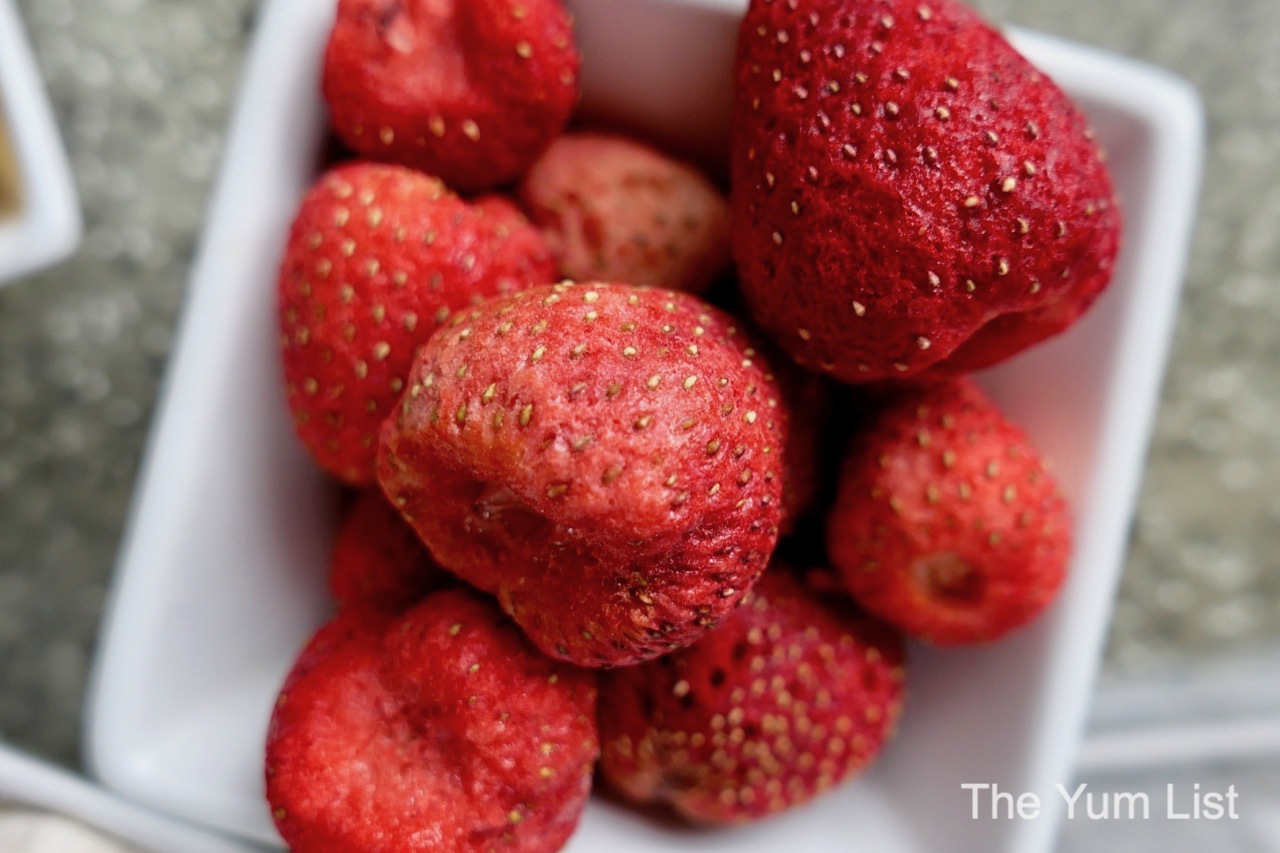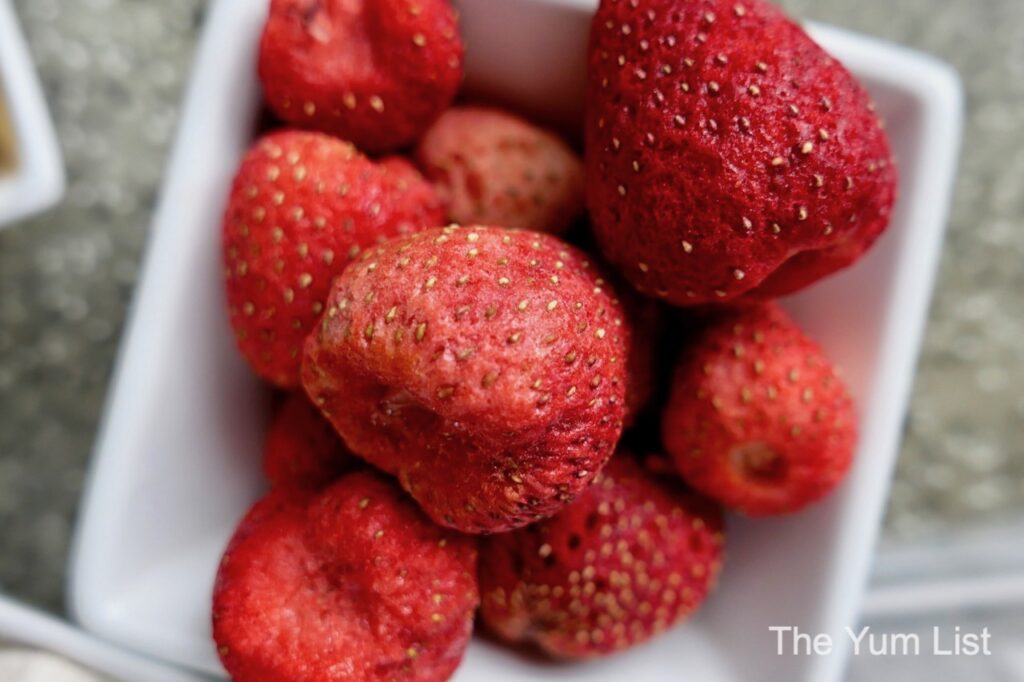 Hey Peach in REXKL is a vibrant new plant-based concept making fruit the star of the show. As such, they have several smoothie, some flirty fruity rolls, chia pudding and a handful of vegan cakes for the sweet tooth. Pictured here is their Vegan Pistachio Cake. Place your orders here, and find some highlights from the rest of their menu here.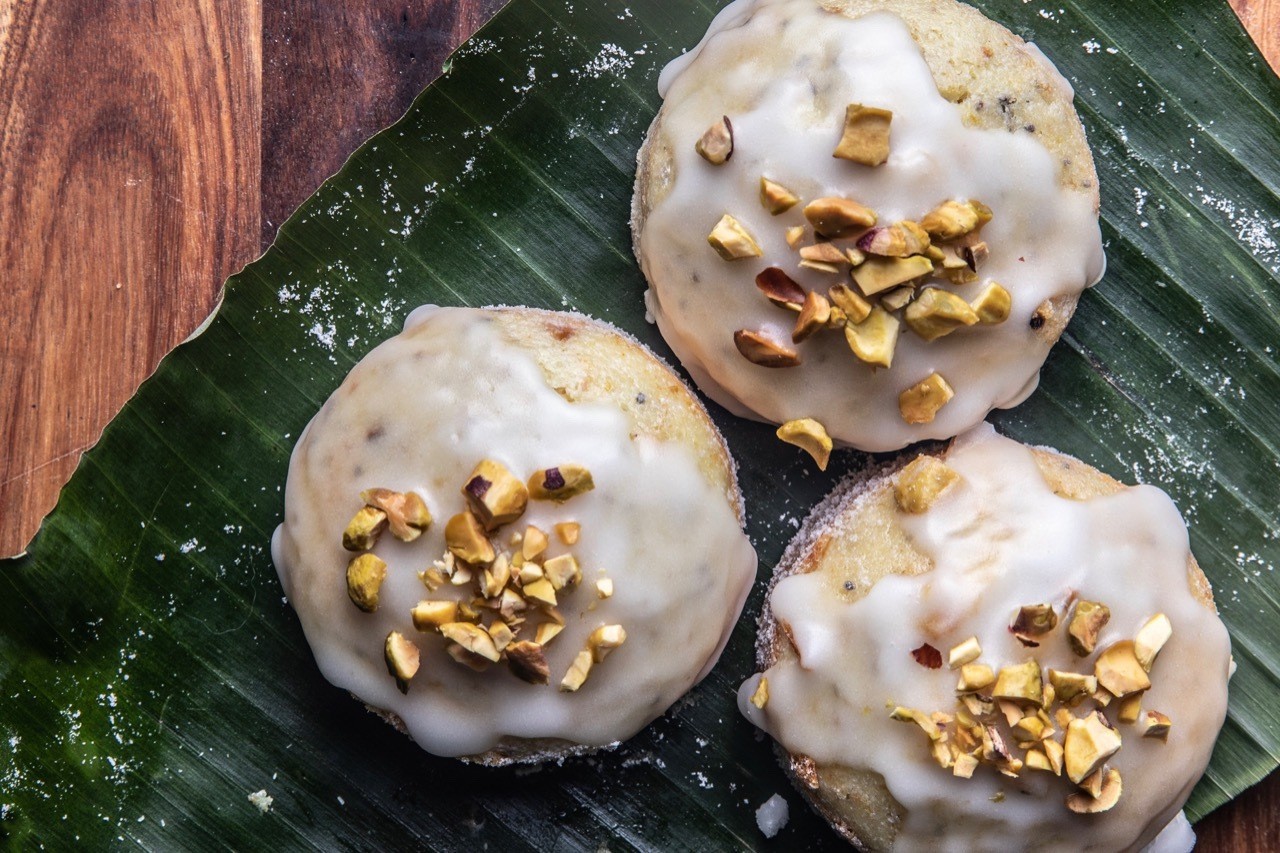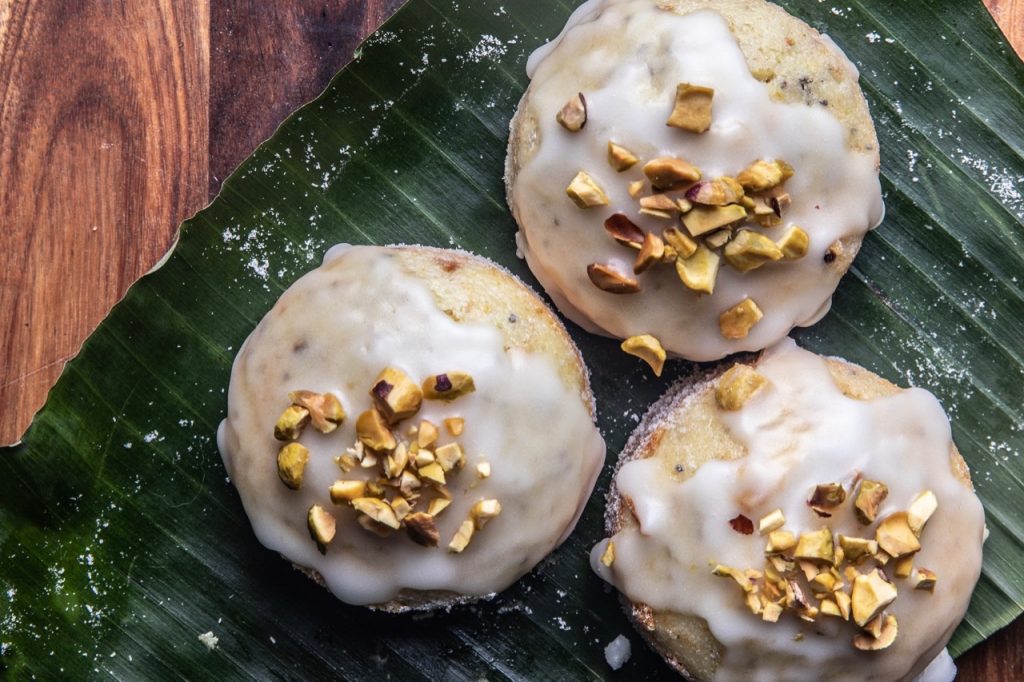 Vegan Desserts Kuala Lumpur – Kind Kones
Last, but certainly not least, Kind Kones has been the forerunner for bringing vegan desserts to Kuala Lumpur. Not only do they have an enticing range of plant-based ice cream but a mouthwatering list of vegan sweets too. Visit them here to place your orders.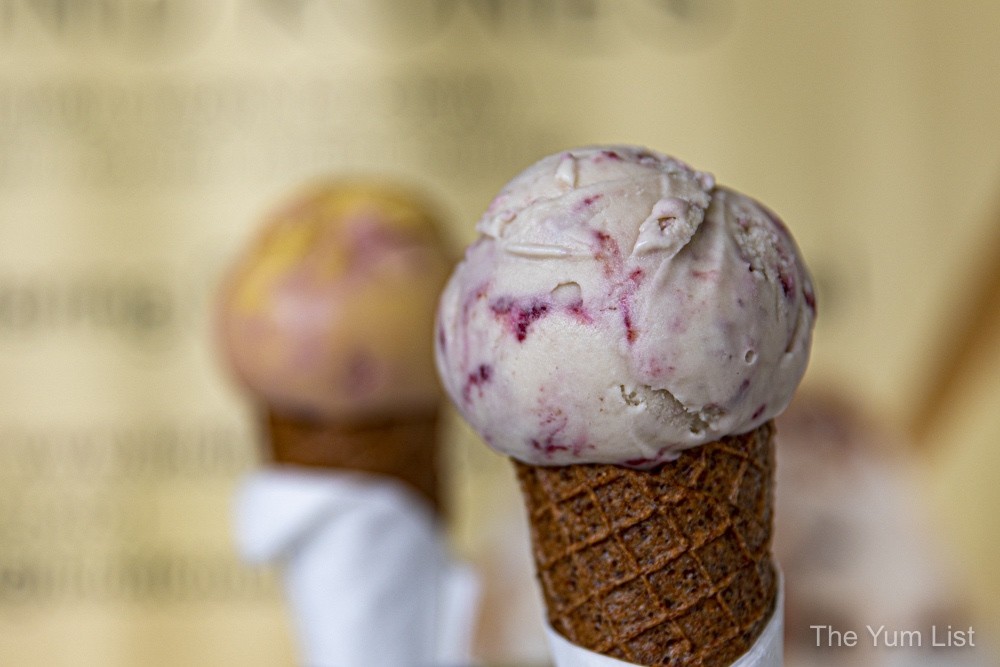 Where do you find a sweet pick-me-up with vegan desserts in Kuala Lumpur? Have you tried making andy plant-based sweets yourself? Do share below.
More vegetarian and vegan restaurants in KL here and stay up-to-date with the latest gourmet and travel recommendations for Malaysia here and here.