Sundays
with Chef Peter….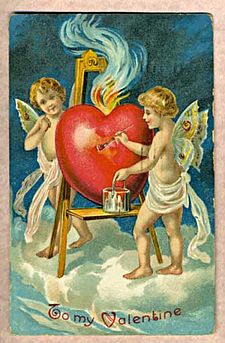 Hello
there this fine Sunday and Happy Chinese New Year. Do hope you are having a lovely holiday celebrating with your friends and family. This year is my year, the year of the snake.
I
was thinking this week that I should do something on Valentine's as it is the
big day this coming Thursday but then I thought, "nah, not in the mood just yet!'
I
hope though you are looking for a little something for your loved ones for this
day of love darlings, just a simple something to tell them how much you love
them…
I
wanted to tell you more this week about that wonderful Thai dish Som Tam.
The
dish originates from Laos and is made from shredded unripe papaya. Did you
know that the dish was listed 46 on World's 50 Most Delicious Foods compiled by
CNN Go in 2011? Not bad for a little Thai salad!
Thais
love to eat this dish as they can enjoy it any time, for a snack or main meal and
is perfect for sharing with friends and catching up on the latest. It is also
very popular among Thai ladies from all classes for the same reason but also
because it is great for your waistline! It
can be eaten any time of the day and is normally eaten with sticky rice and
grilled chicken.
All
around Thailand you will find Som Tam restaurants and street vendors making the
dish. People
normally have their own way of having the Som Tam, either less or more spicy or
more sweet or sour but a good Som Tam maker will know how to get the right
balance of sweet and sour. Of course how many chilis you can take is up to
you, for me no chili (I can do one if put in by mistake but it's not pleasant for
me!). As I mentioned, I still get a little kick from the pestle and mortar
and all the chili from the many salads pounded in it before. The addition of brined crabs to Som Tam is also popular in Thailand.
These are not marine crabs, but local salted black crabs (rice field crab)
found in the flooded rice fields and canals. Isarn people eat the entire crab,
including the shell. From what I see from my friends though,
eating it this way seems a sure way of getting a bad stomach, yet the daahlings
still love it!
We've also tried pairing Som Tam with other meats and fish and it goes really well
with pan-fried salmon, lamb cutlets and beef – all delicious and worth a try.
If
you would like to make your own Som Tam, all you need is a pestle and mortar and
the following ingredients:
These
quantities are just guidelines and can be adjusted to suit your taste.
We
visited another of our favourite Som Tam shops to see the making just across
the road from where we live in Boat Lagoon, Laab Lung Auon Yasathorn, 30/10 Moo
2, Tambon Koh Kaew, Amphur Phuket.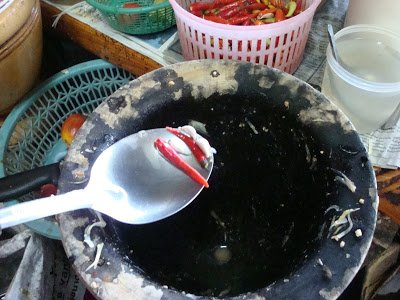 Place your chili and garlic and give it a pounding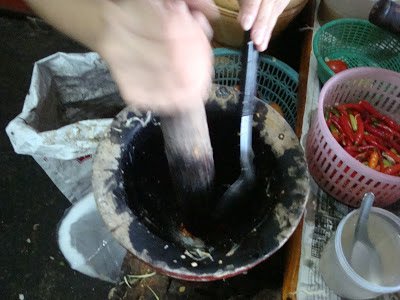 Add your fish sauce, palm sugar and lime juice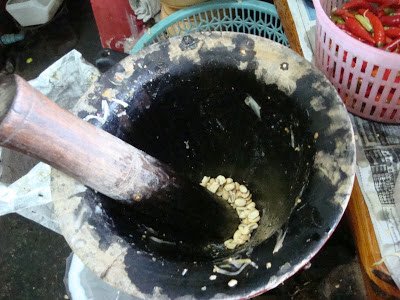 Add peanuts and dried shrimps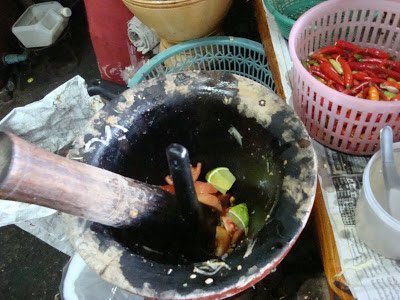 Add tomato and lime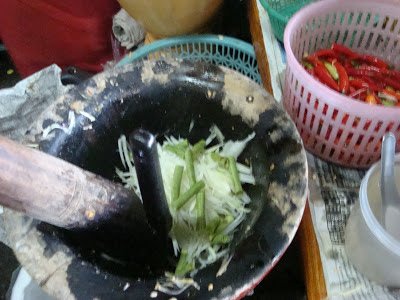 Add papaya and long beans and give it all a good pounding to mix all the flavours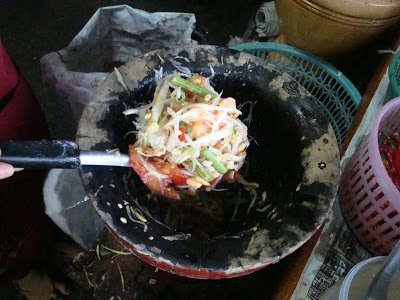 At last, the finished salad
This
is my regular for Som Tam where Khun Sao or her mother do the cooking. It is
perfectly consistent every time.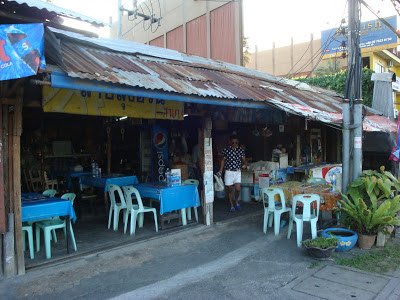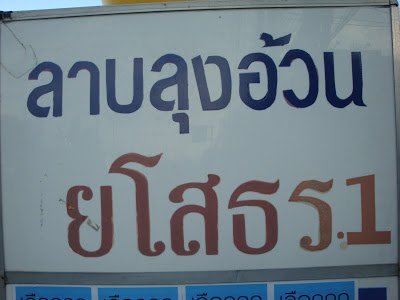 "Laab Lung Auon Yasathorn Restaurant"
These
street restaurants may not look like 5 star joints but actually produce really
good, clean Thai food and their BBQ items are excellent. I always like to get
there just before midday when all the meat and fish is fresh off the BBQ and
just before the lunch crowd arrives!