Best Steaks in Kuala Lumpur
This post on the best steaks in Kuala Lumpur is dedicated to the carnivores amongst you. While it's hard to beat the smell of the char and a steak hot from the grill directly to your table, these restaurants do a fine job of coming pretty close with their steak delivery menus. Click on the title links for menus, prices, photos and contact details.
Best Steaks In Kuala Lumpur – Delivered To Your Door
Vantador made waves a few years back when they first opened as the only steakhouse in Kuala Lumpur serving the illustrious Rubia Gallega. Said to be one of the best-tasting steaks in the world, the prized Spanish beef was only the tip of the knife for Vantador. Offering premium cuts of meat, the team dry-age them in house, concentrating the flavour and improving the texture. While you can't currently be seduced by the setting and eye-catching flickering flames from the open grill, the team behind Vantador offers a beautiful delivery menu instead.
Vantador has three-course boxes with a choice of four types of steak for delivery. They start from RM 318 for the Full Blood Angus Ribeye dry-aged for 200 days and go up to RM 818 for the Black Wagyu MB9 Ribeye. All include two signature pepper butter bread rolls, two sides, one starter and one dessert. Additionally, readers of The Yum List are offered a RM 10 discount for orders above RM 100 when ordering via VANTADOR.BEEPIT.COM. Just type in the voucher code YUM10. The offer expires on July 31st. And, if you order 1kg or more of steak, you'll also be treated to two complimentary cocktails.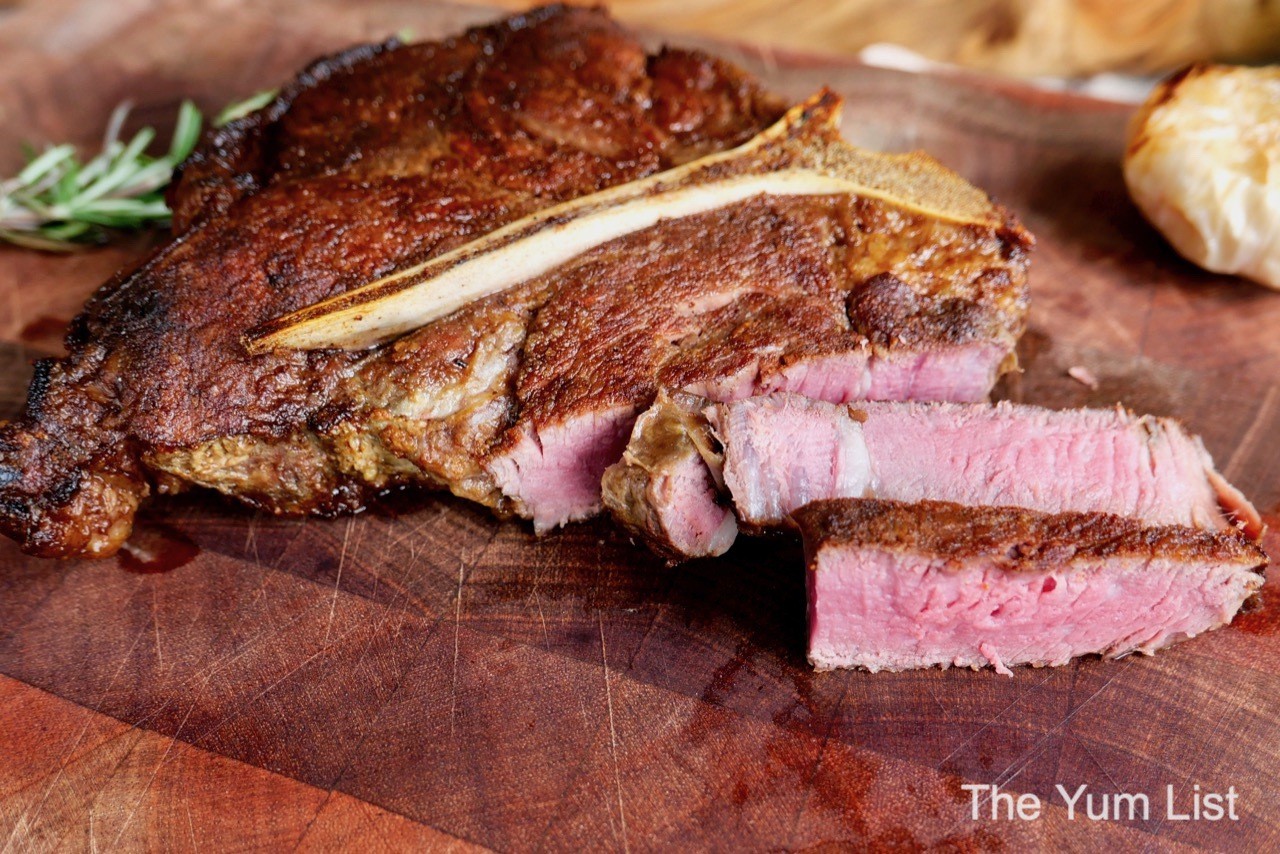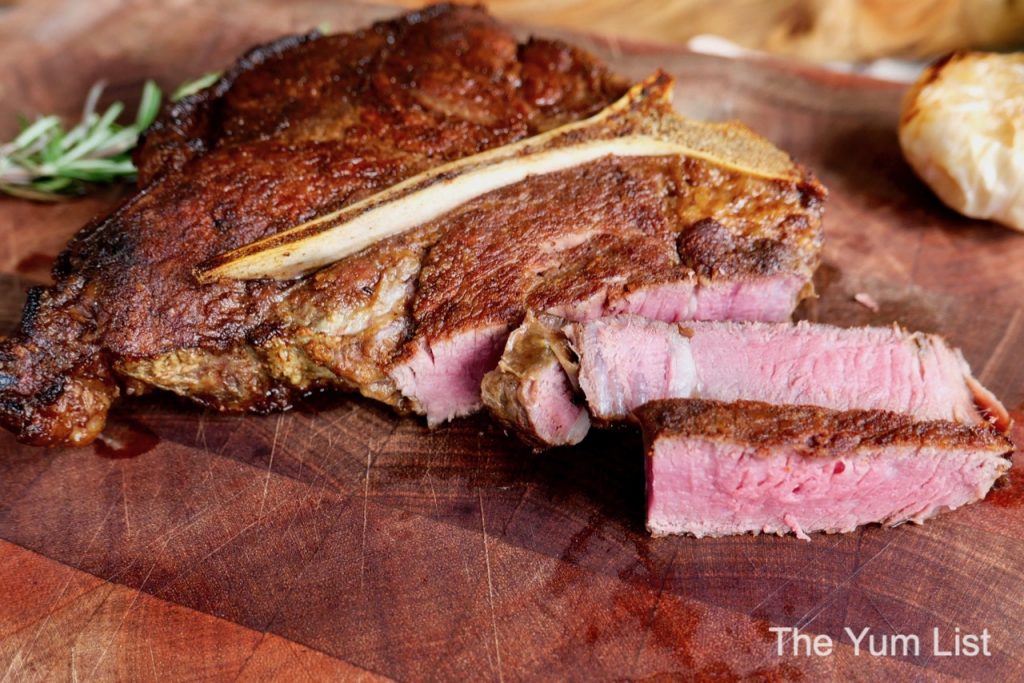 The newly opened Don Julio KL in Mont Kiara will be an exciting place to step foot into once we are allowed out again. But for now, you should know that they carry a range of premium steaks for delivery. Your focus here should definitely be on the Argentinian meat cuts. Beef from this part of the world is known for being clean due to organic feeding and free from hormones and antibiotics. The team at Don Julio KL uses corn-fed Black Angus beef, producing a sweet and tender steak and grass-fed Angus beef, which is a little leaner and offers more flavour variation. Cooked the traditional Argentinian way, over a parilla or brasero, you're guaranteed an expertly prepared steak here.
An excellent introduction is the Parrilla Mixta (RM 330, 1.5 kg). A common meal in Argentina, the platter is composed of short ribs, a half spring chicken, sweetbread (thymus and pancreas gland – rich and creamy), chinchulin (small intestine), and beef vacio. Or, for more modest portions, try the rib-eye or sirloin.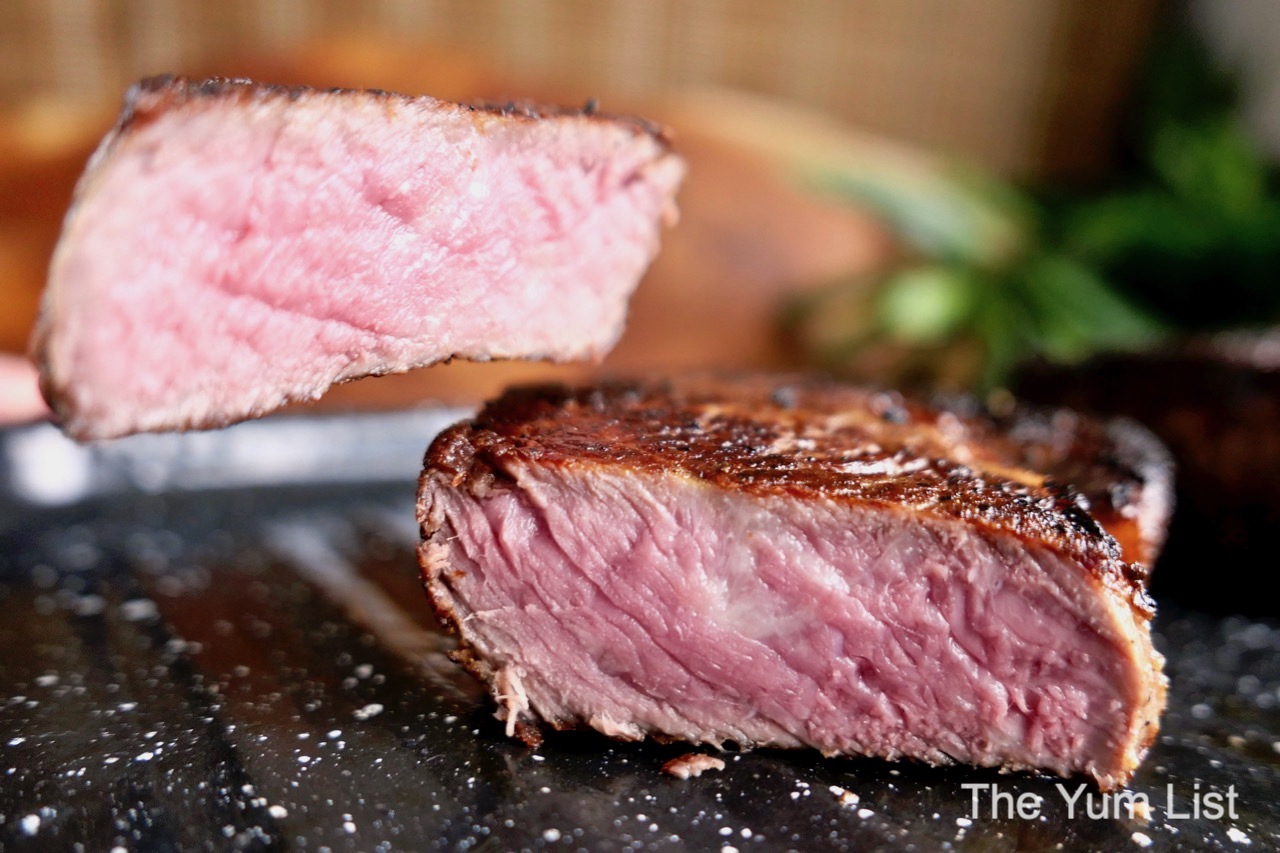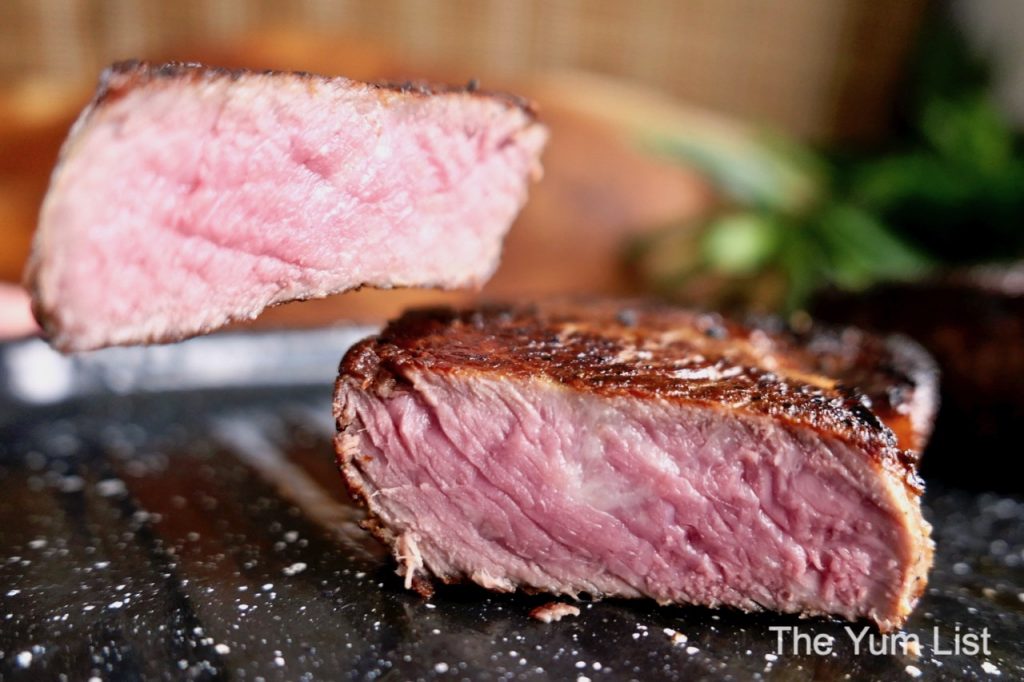 Best Steaks in Kuala Lumpur – Pampas
One of the longest established restaurants on this scene, Pampas, has curated a family menu with roast meats taking centre stage over MCO. Meals come with a mixed salad and your choice of side. For sauces choose from chimichurri, mustard, whole grain mustard, mint salsa or homemade gravy. Pictured below is the T-bone Steak (RM 118) with cauliflower and salad, 500g, which is more than enough for the two of us. Also, the Tenderloin (RM 128, 250 g) Lyonnaise potato, again something that will last days in this household. Order online here or WhatsApp +60107035405 with any questions.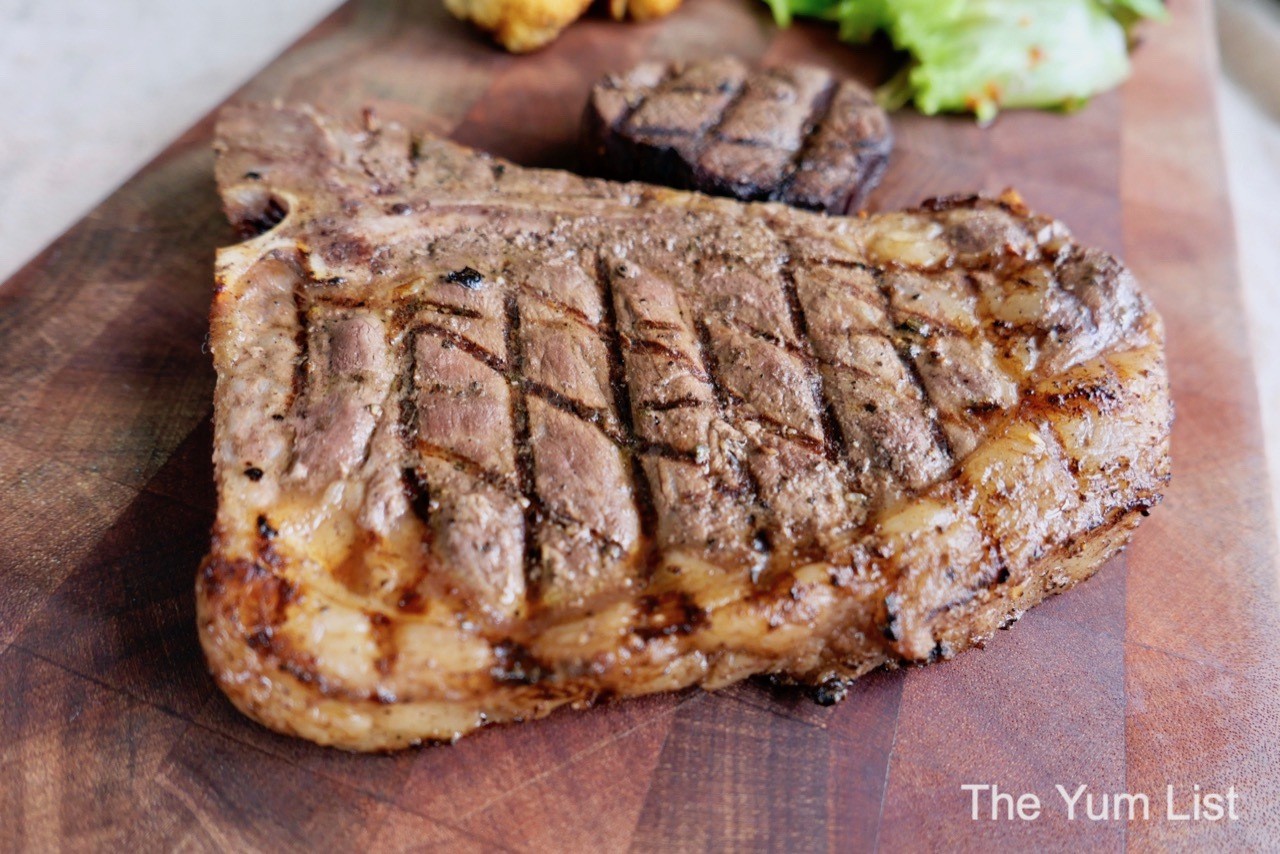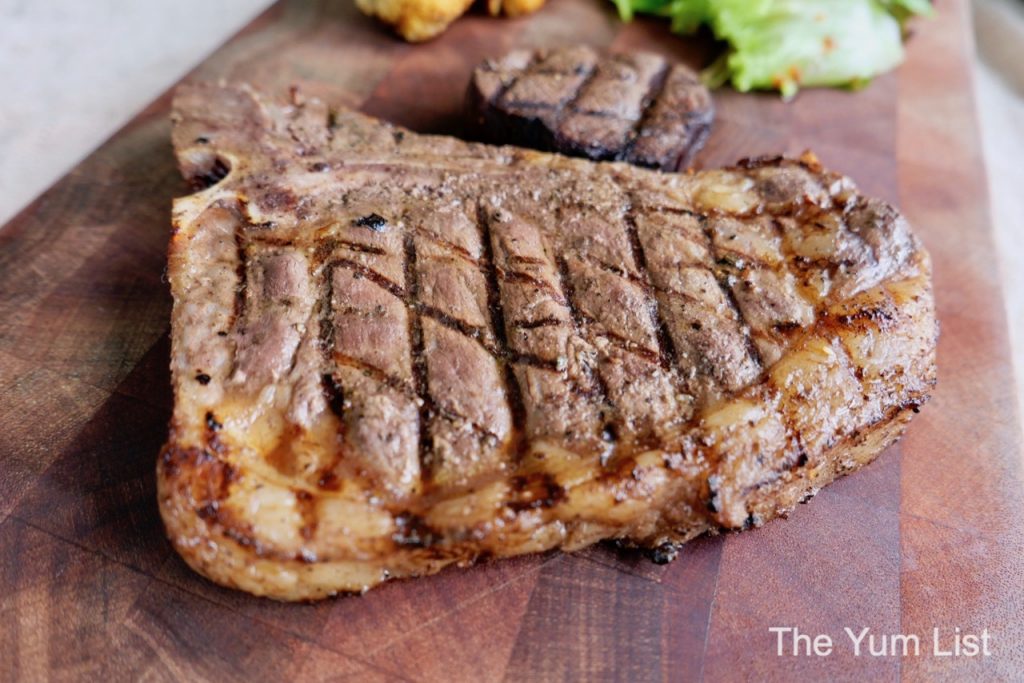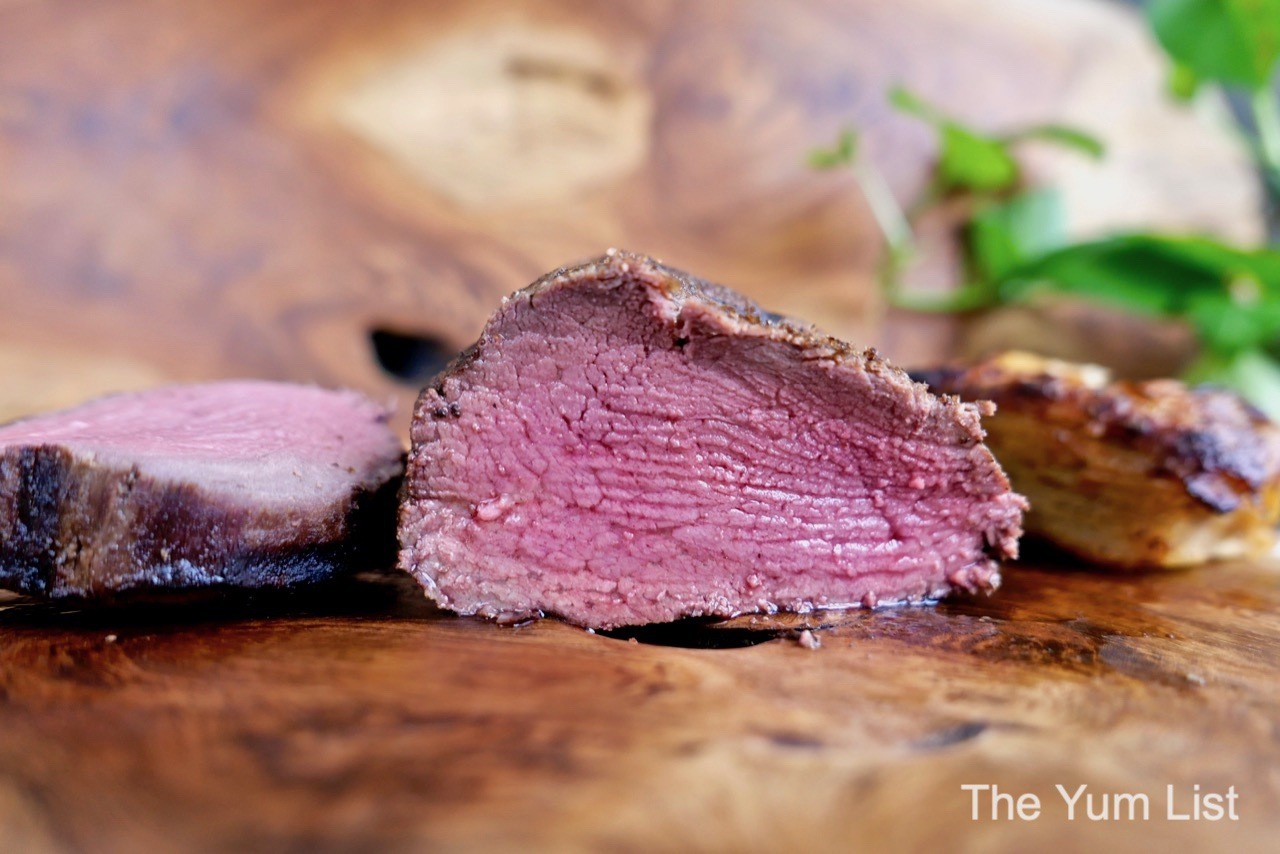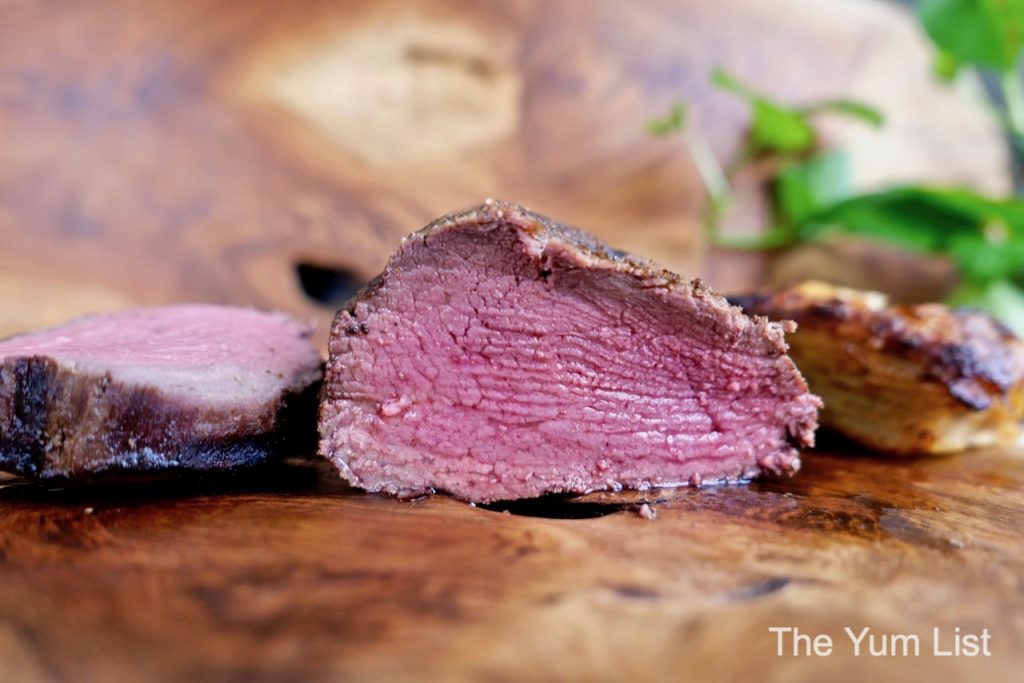 Best Steaks in Kuala Lumpur – D.I.Y – Maria's Mart
Maria's SteakCafe offers a new convenience for your day-to-day modern living – Maria's Mart. They deliver boxes of premium meats, fruits, and vegetables along with recipes for you to cook at home. Easy-to-follow instructions combined with quality products will have you cooking your own steak dinner in no time. You can get a grocery meal box with raw ingredients such as steak and whole veg, or frozen meal kits where most of the preparation is already done for you – just reheat and you're ready to eat. Furthermore, readers of The Yum List are entitled to a 10% discount with the use of the code THEYUMLIST10 upon ordering. Check out Maria's Mart menu and place your orders here.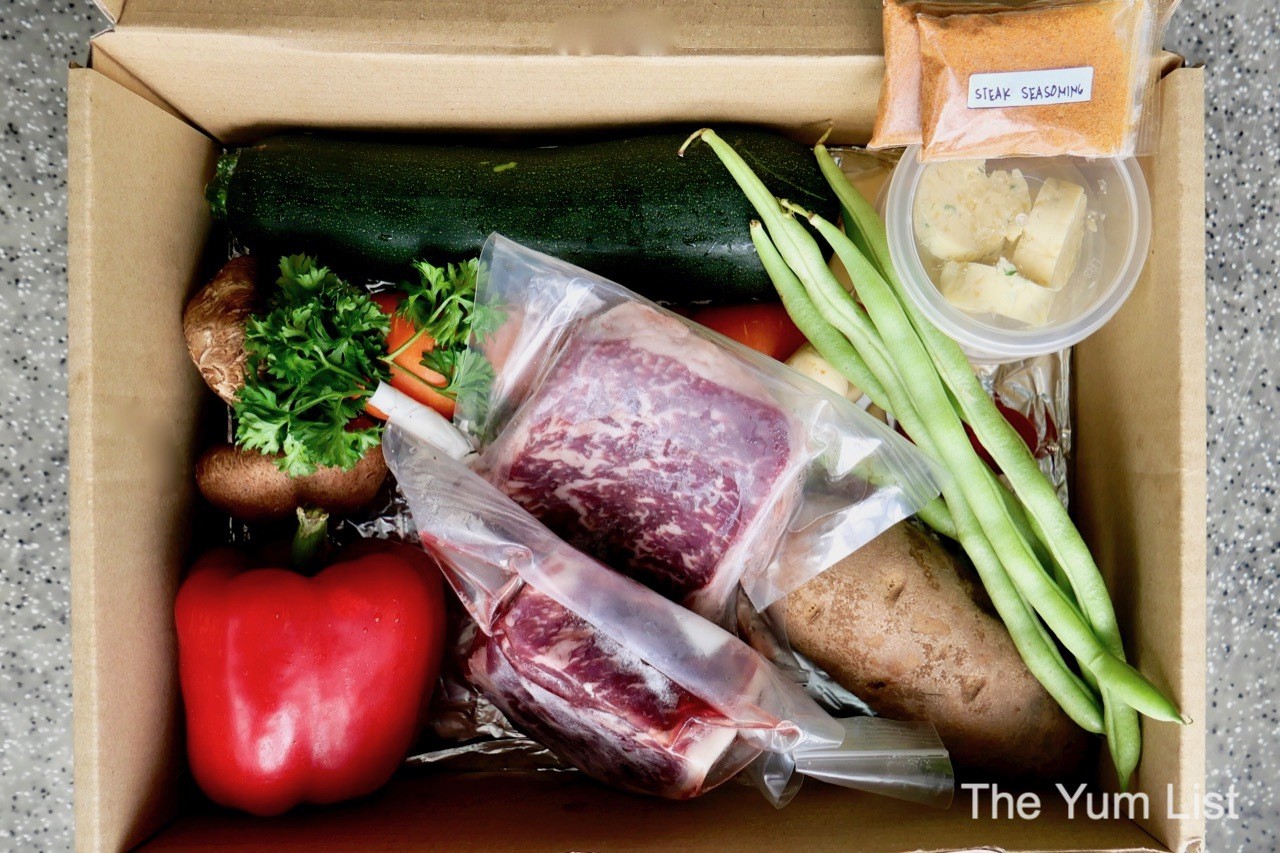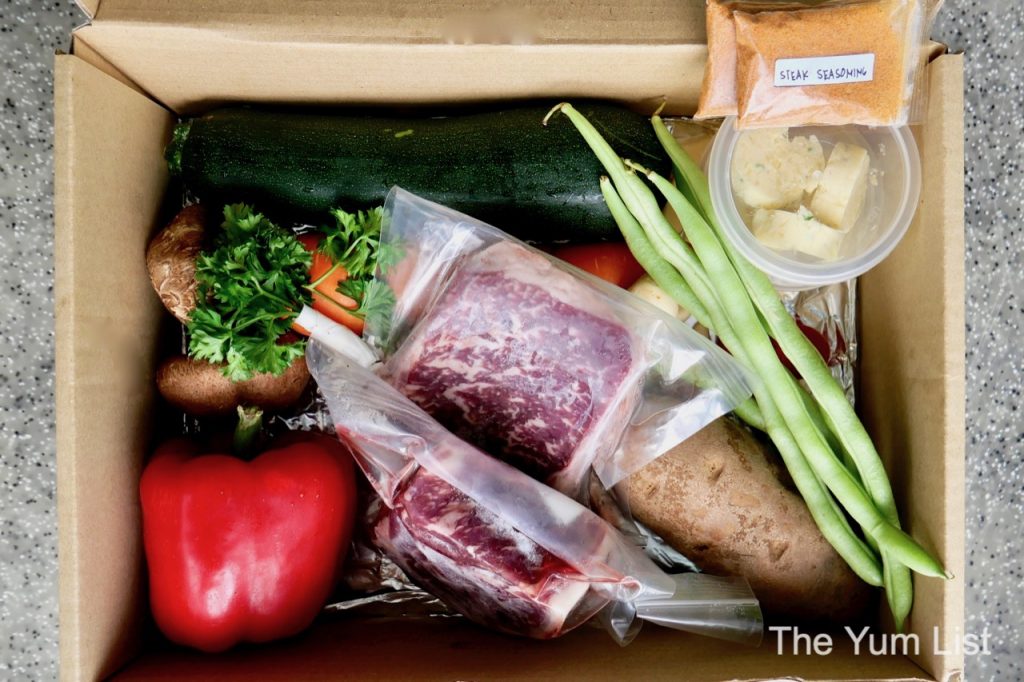 Troika Sky Dining's heat-at-home meals offer chef-prepped dinners delivered to your doorstep. All you have to do is heat and plate them. They provide the advantage of food delivery but give patrons just enough hands-on activity to gift a sense of accomplishment at the same time. Additionally, putting the finishing touches on the recipes ensures freshness and optimum serving temperatures, which are sometimes lacking due to travel. Several cuts of beef and lamb are on the heat-at-home meals' menu. But, as today we're focusing on steak, we suggest you try the Black Angus Pure Beef Tenderloin 500gm (RM 240). As you can see, it sure is a beauty.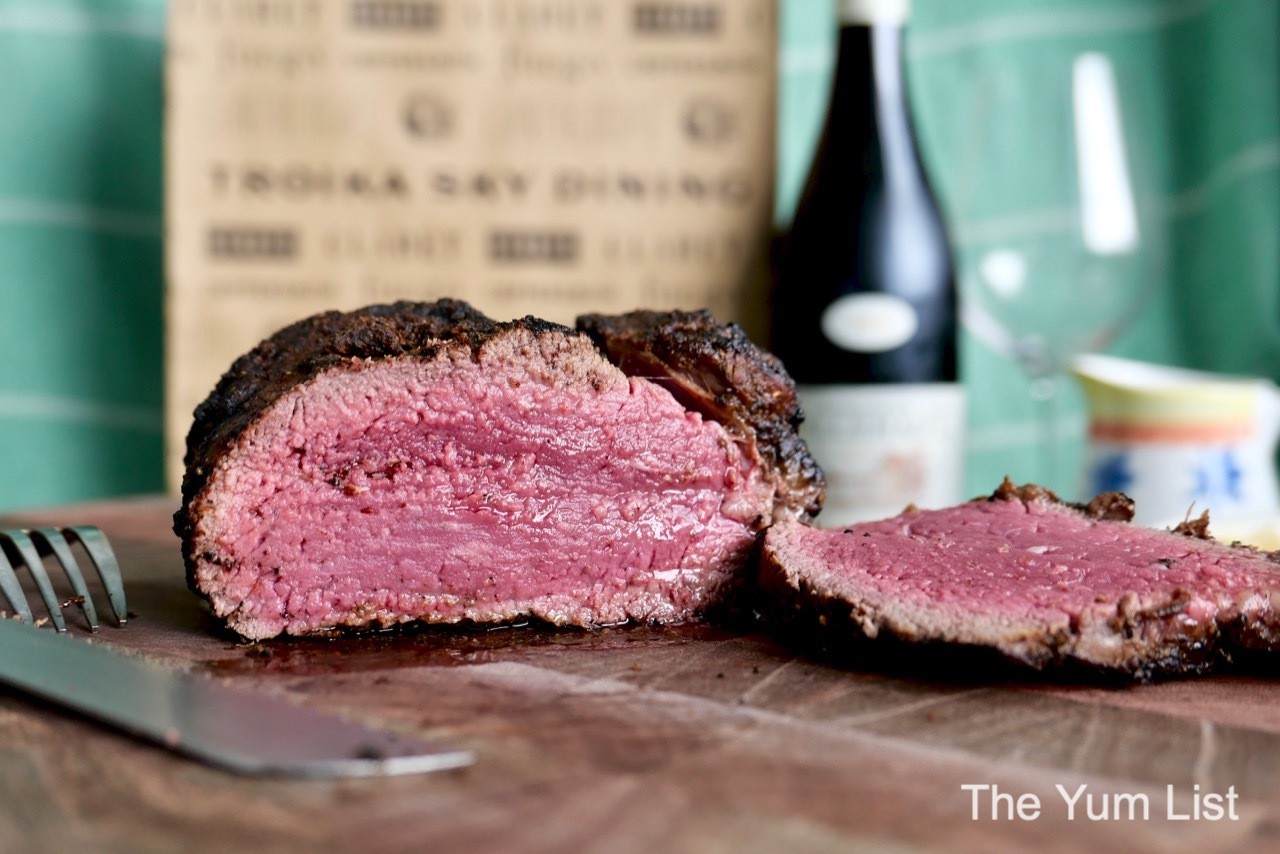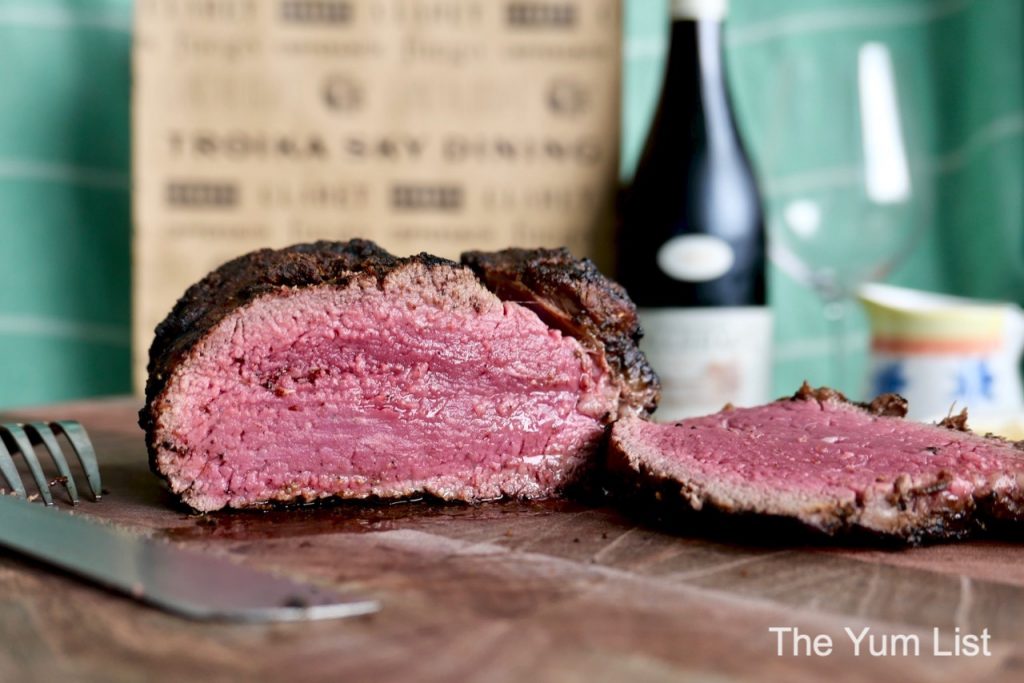 Does brisket count as steak? I wasn't too sure, but assume that if you're a meat lover, you would surely want to know about one of the most delicious, smokiest barbecues in town. Craf Roasters are proud owners of a custom-built offset smoker, which they fire up with local rambutan wood. They have some excellent barbecue sets, perfect for getting a taste of their skill. Weekends Set A (RM 115) serving two to three people is a fine place to start. The combo consists of brisket, smoked pulled lamb and meatloaf. The first two have benefitted from smoking for a minimum of 12 hours (and go up to 18 hours depending on the size of the cut). They're extraordinarily juicy, and the smokiness deliciously lingers in the palate, outdoing even the most premium wines for length.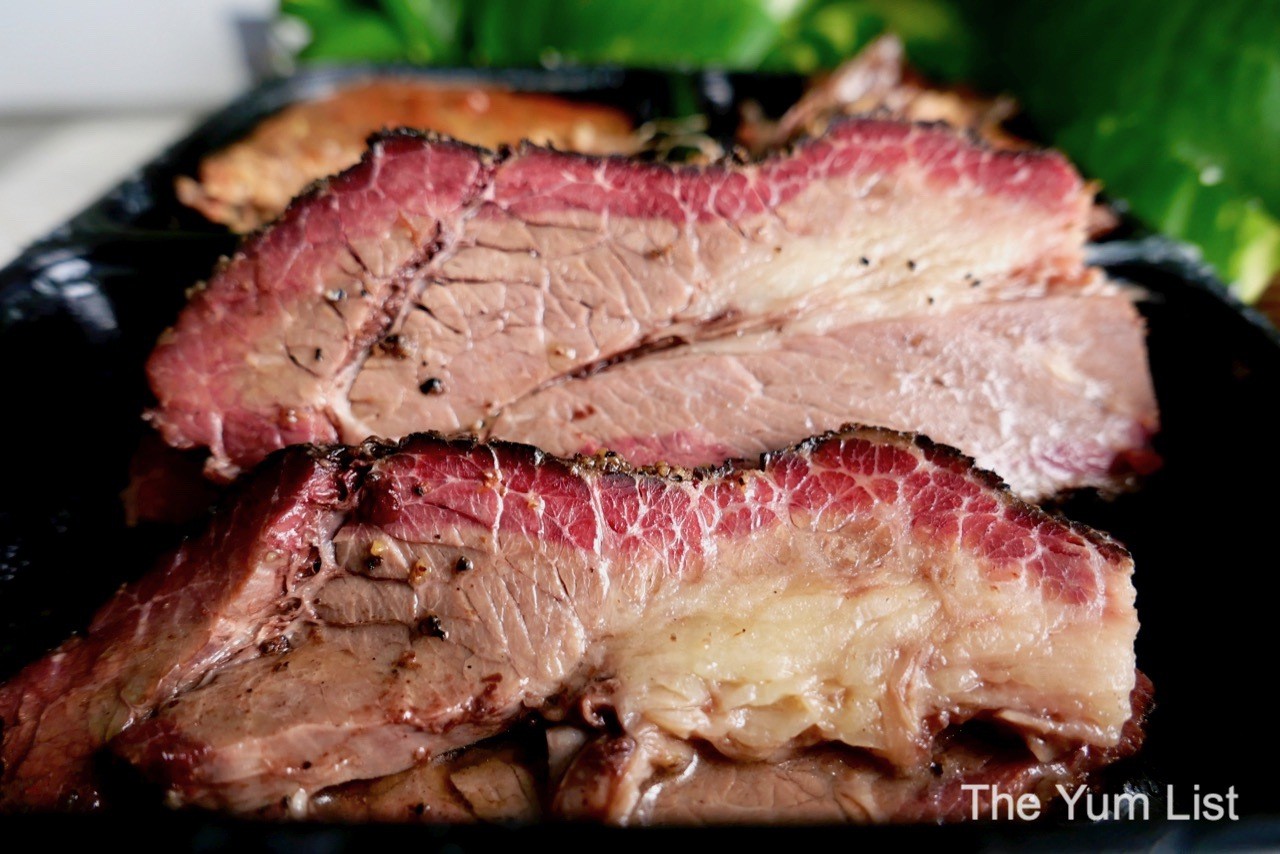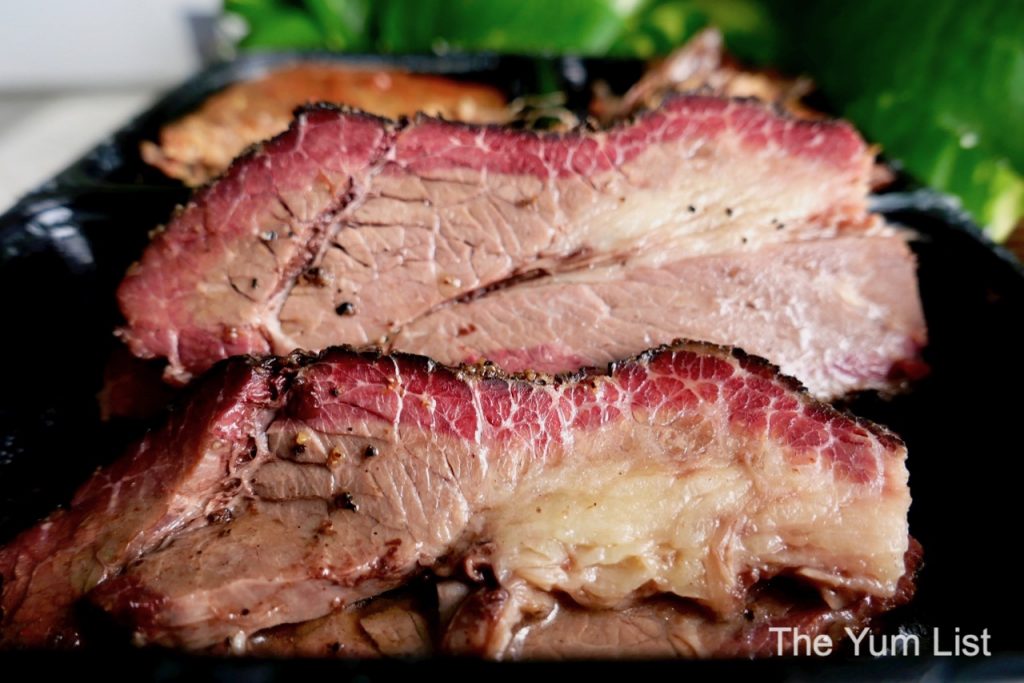 Where have you found the best steaks in Kuala Lumpur for delivery? I know a lot more places will be enticing when things open up again, but for now, have you had good experiences with steak delivery in KL?