'Livin La Vida Local' Staycation Package W Kuala Lumpur
Monica Tindall
While some of you might be racing across those state borders, we're equally happy for an escape a little closer to home. If I spend the weekend by the pool and enjoy a hotel's facilities anyway, why waste time in travel getting there? As such, we're checking out W Kuala Lumpur's 'Livin La Vida Local' Staycation Package in a Marvelous Suite.
'Livin La Vida Local' Staycation Package W Kuala Lumpur
Not only is the 'Livin La Vida Local' Staycation Package set in the hippest hotel in the city, but it also comes with a whole bunch of benefits – brekkie for two, late check-out (subject to availability), set dinner for two at Flock or Yen, and 30% off food and beverage at Yen, Woobar and Flock during the stay.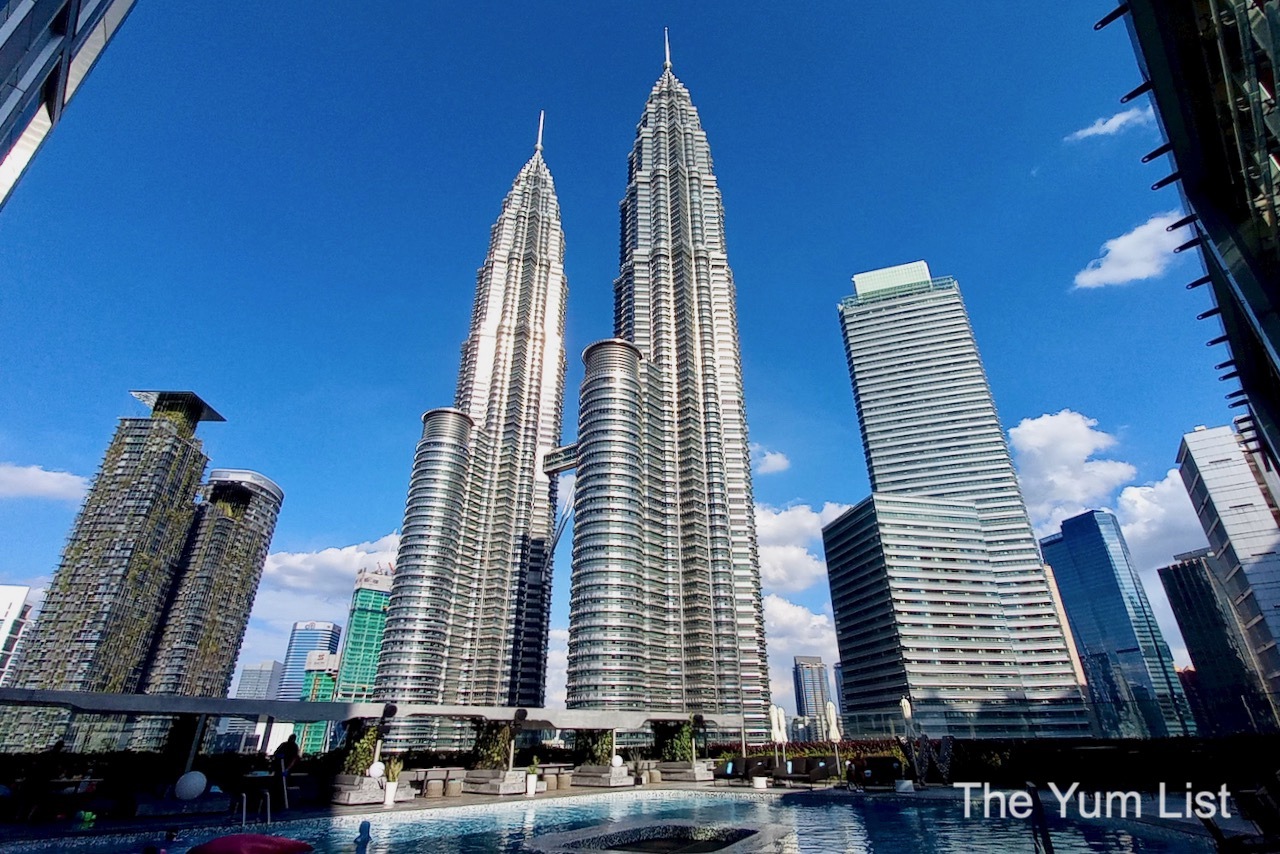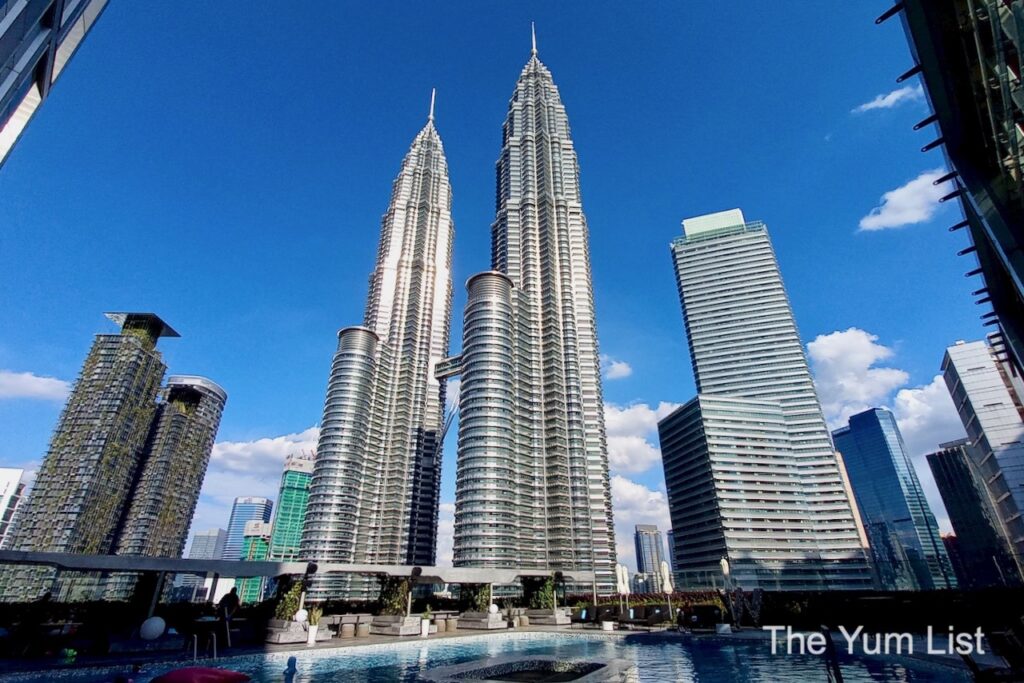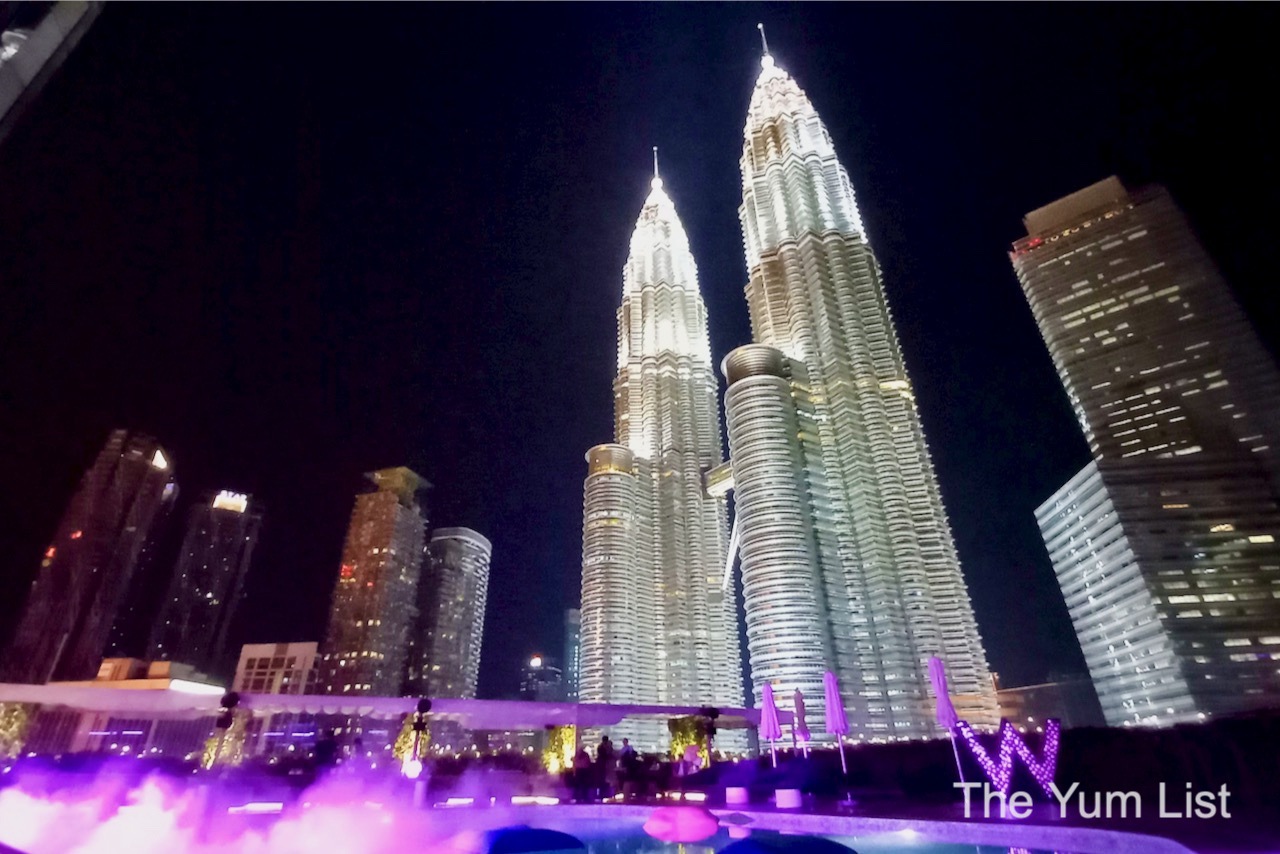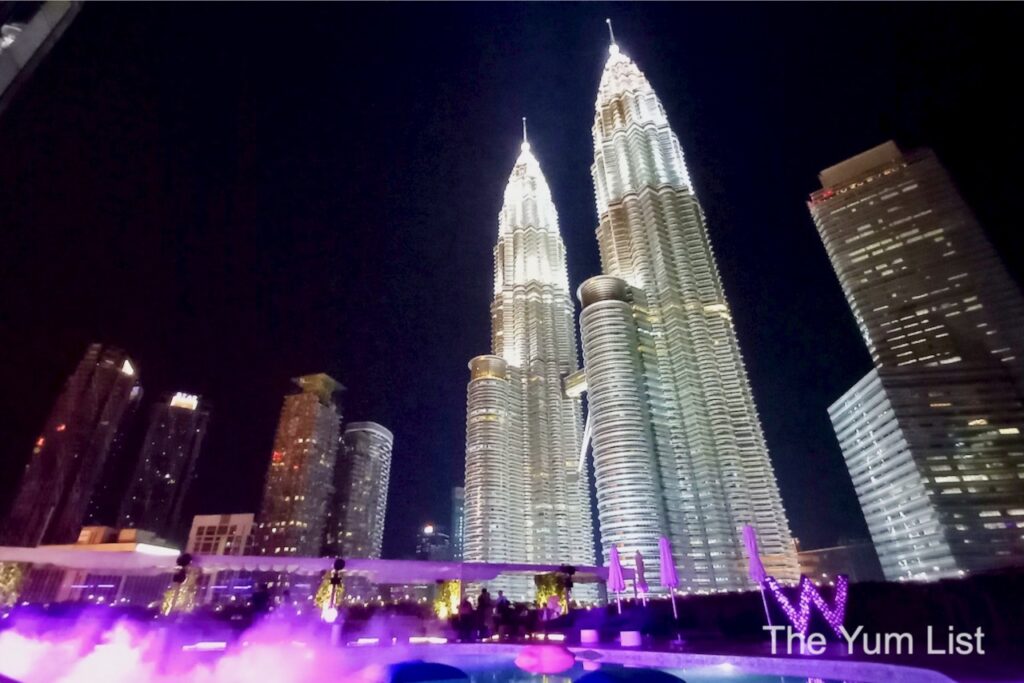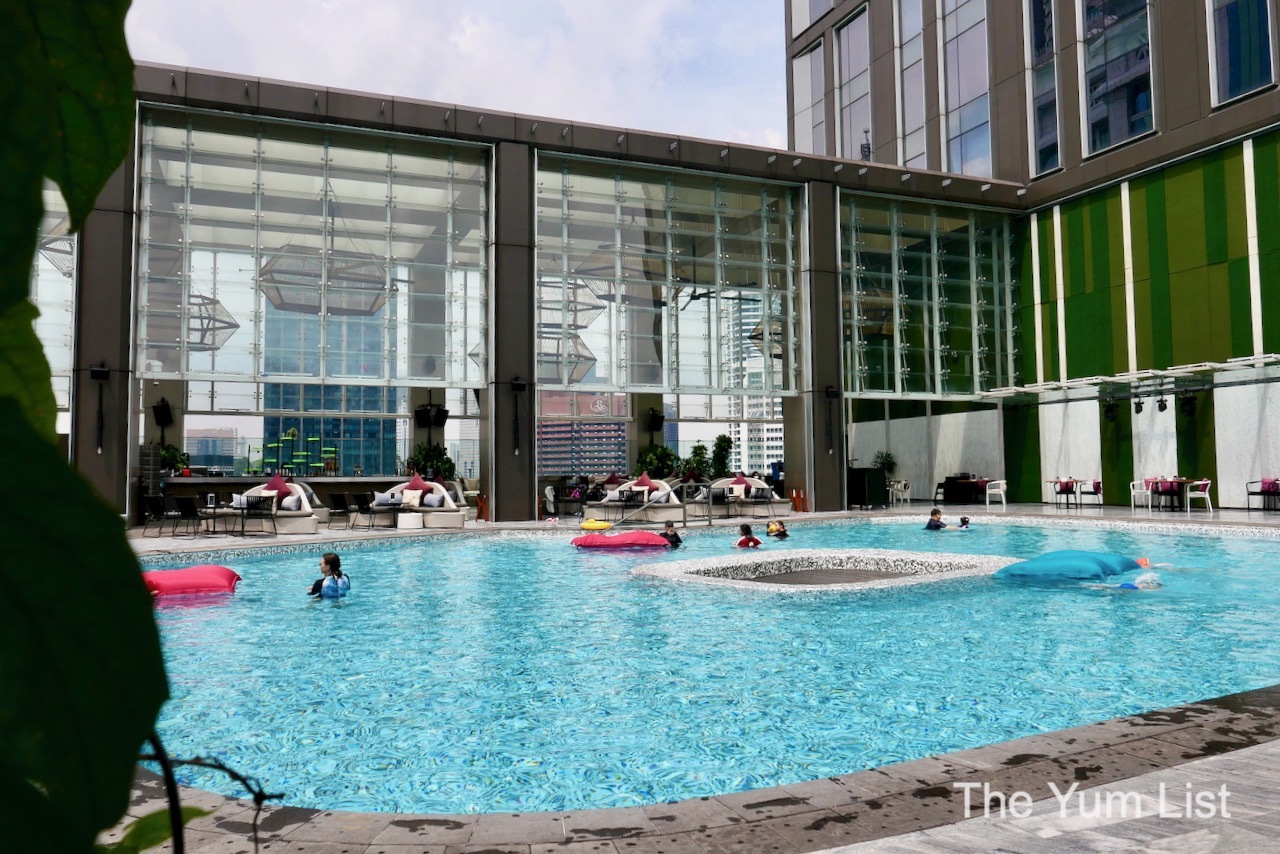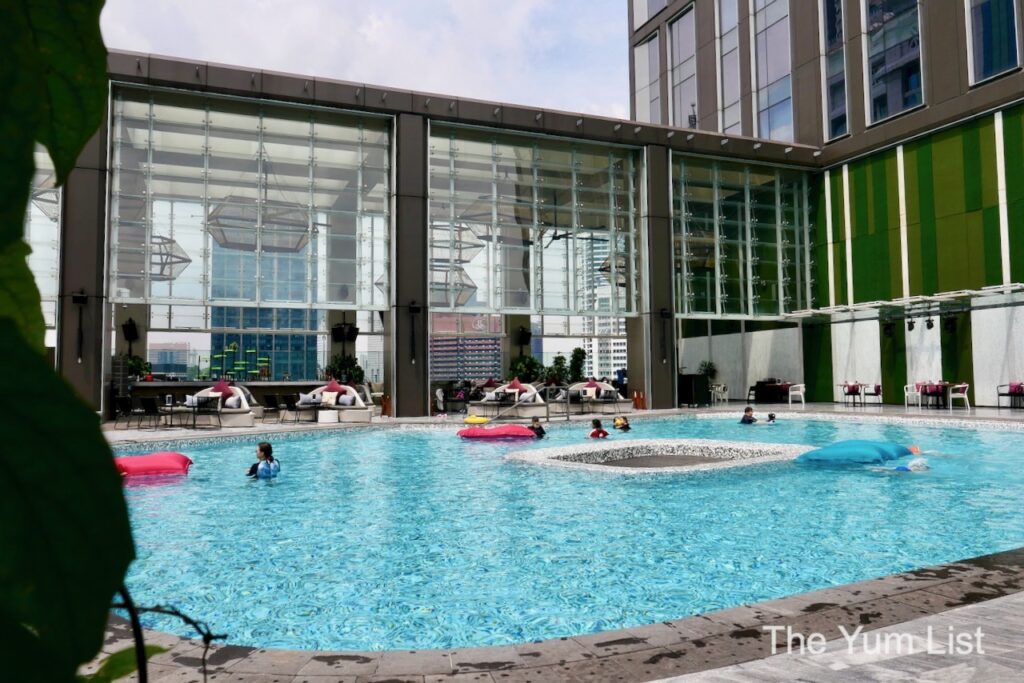 Marvelous Suite
We take the promo in the W Kuala Lumpur's Marvelous Suite. A wonderful expanse of 1100 square feet is divided into living room, bedroom, dressing room, bathroom, and there's even a guest toilet. Our corner suite not only affords terrific views of the PETRONAS Twin Towers but also has a full frontal of the KL Tower to go with.
Technology is everywhere with a 55-inch LED HDTV with Bluetooth soundbars in the living room, another 43-inch in the bedroom and yet another telly in the bathroom. Scan the code by the bed, and you'll be treated to W Kuala Lumpur's trendy music playlist.
A patterned wall backs an L-shaped lounge dotted with colourful cushions in the living room – perfect for laying back with a glass of wine and relaxed conversation. Alternatively, we make ourselves a cuppa with the in-room espresso machine. We keep our caffeine levels loaded as we pull up stools and work from the centre island.
At night, W's signature king bed is literally a dream. We appreciate that every button on the beside control panel (and in the whole suite) is labelled with what it operates. Automated blinds open and close at the touch of a button, and mood lighting is set with the flick of a switch. Additionally, the bedroom is privatised with thick sliding doors. The bathroom, closet and living room can all be used without disturbing anyone sleeping.
The bathroom boasts not only dual sinks but double shower heads too! Another option, though, is a soak in the deep bathtub. Of course, soft slippers, luxurious robes and top quality bath products are provided.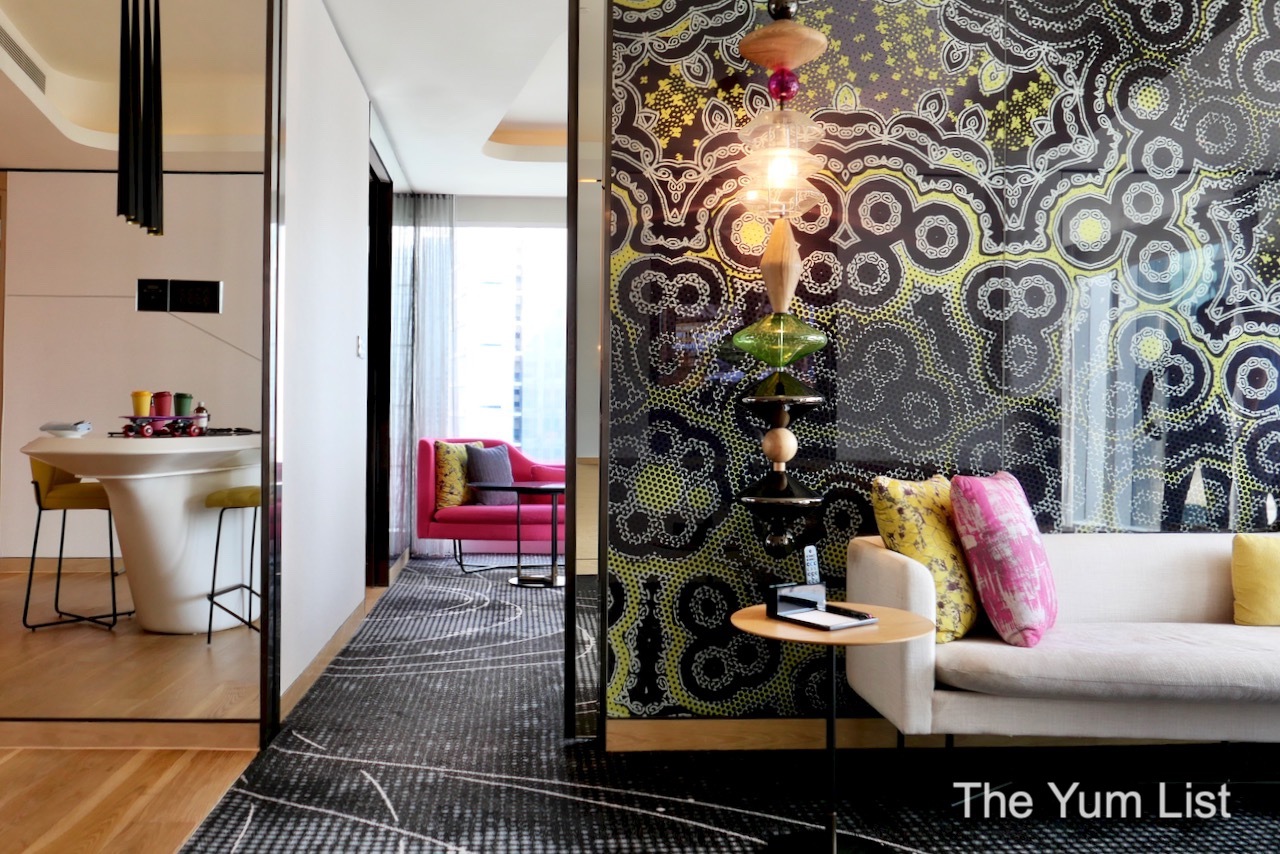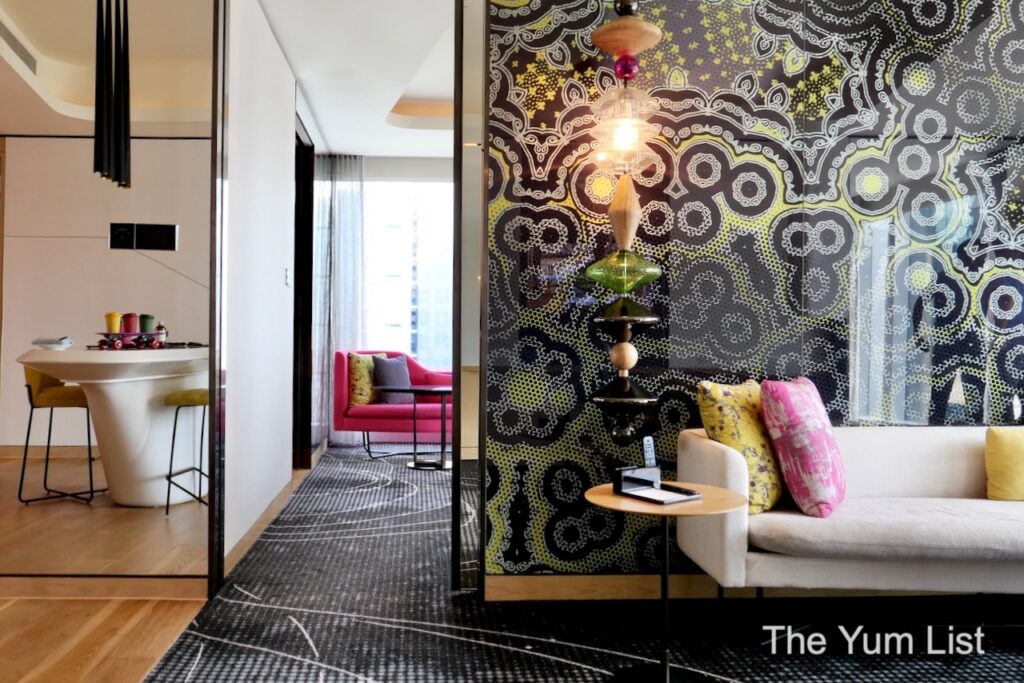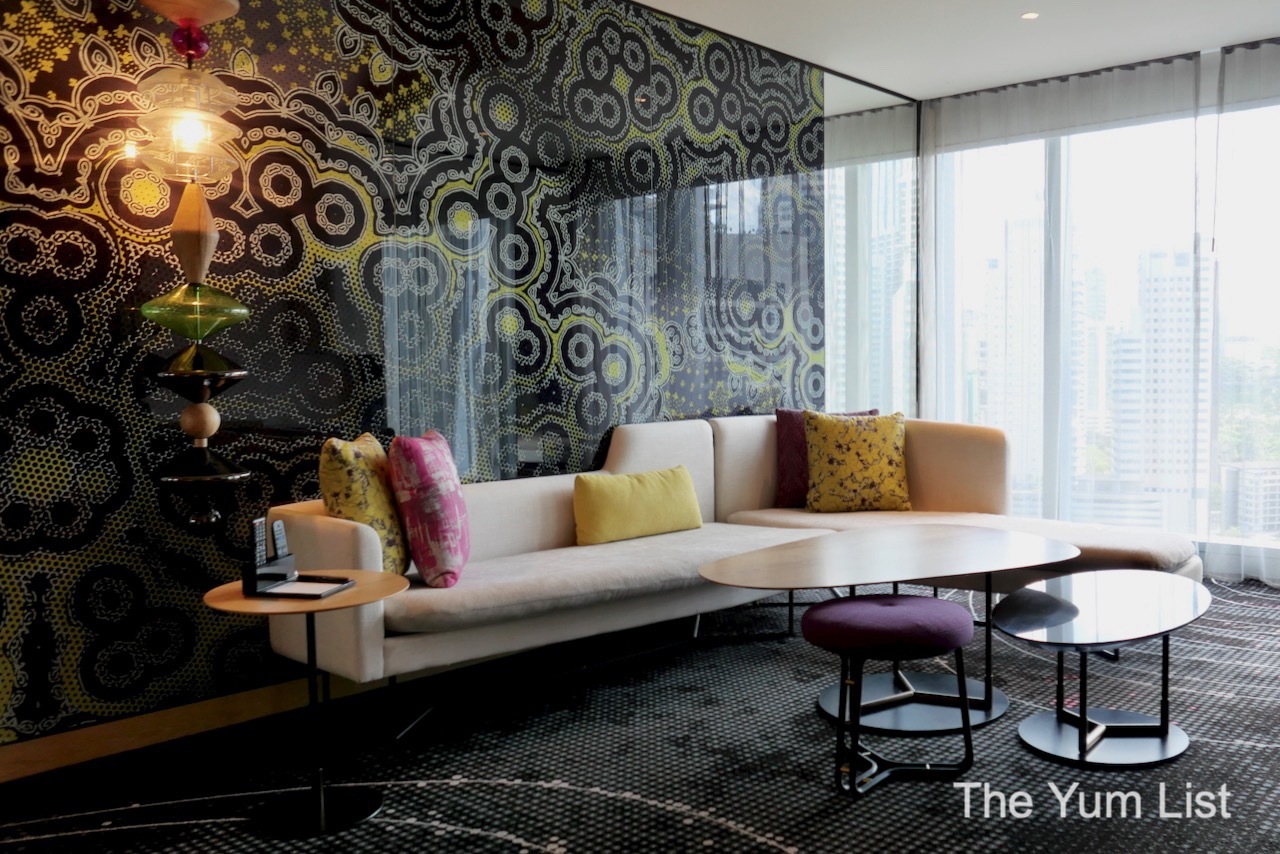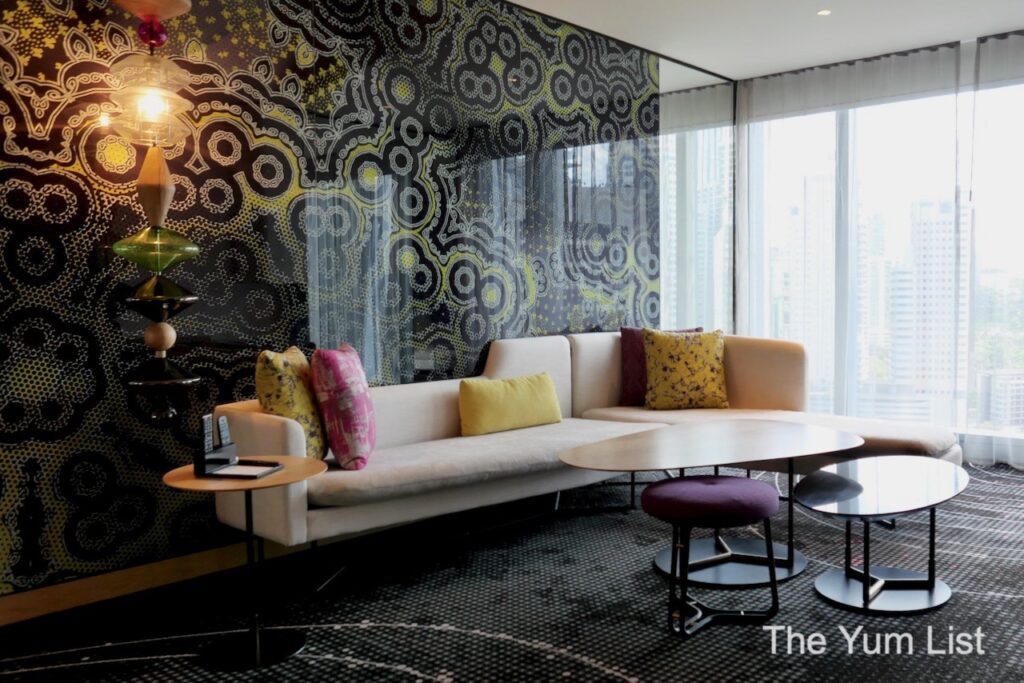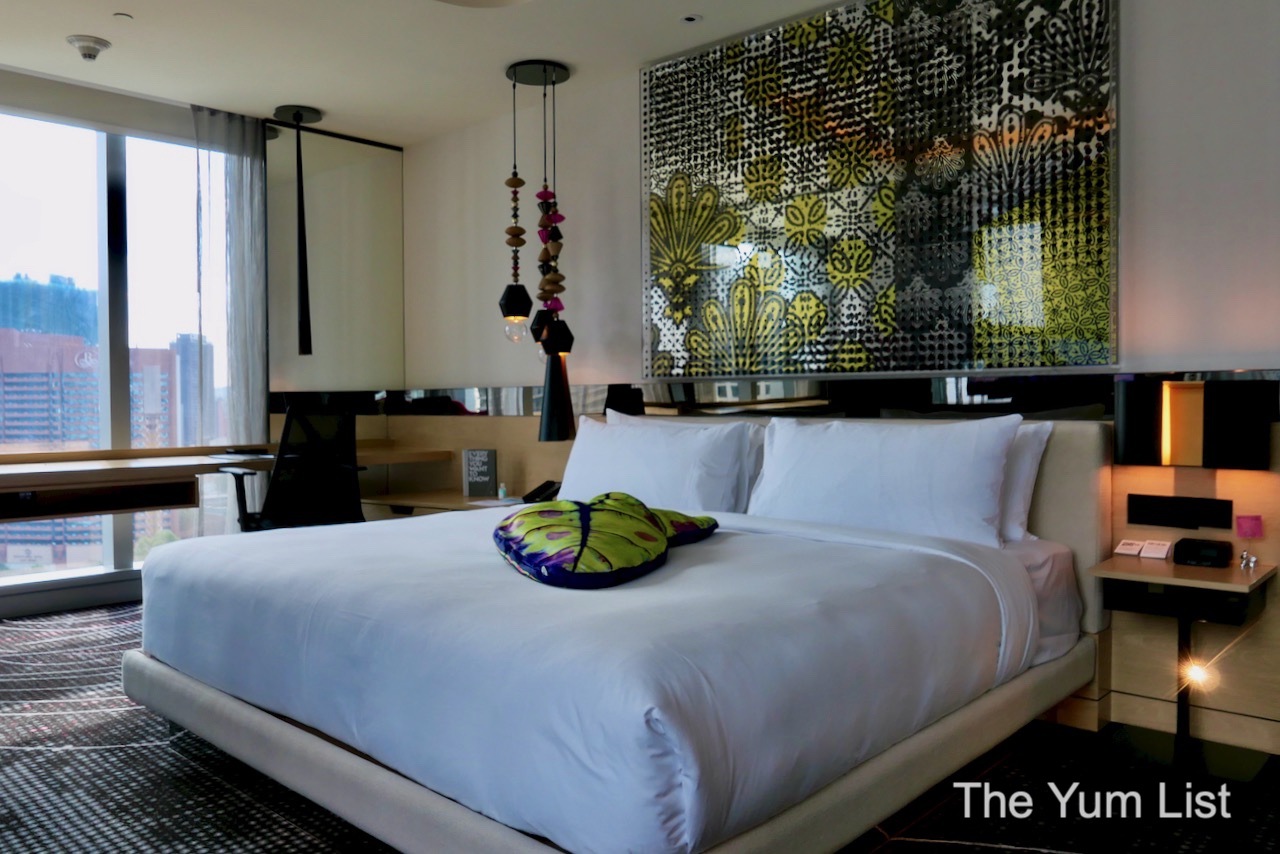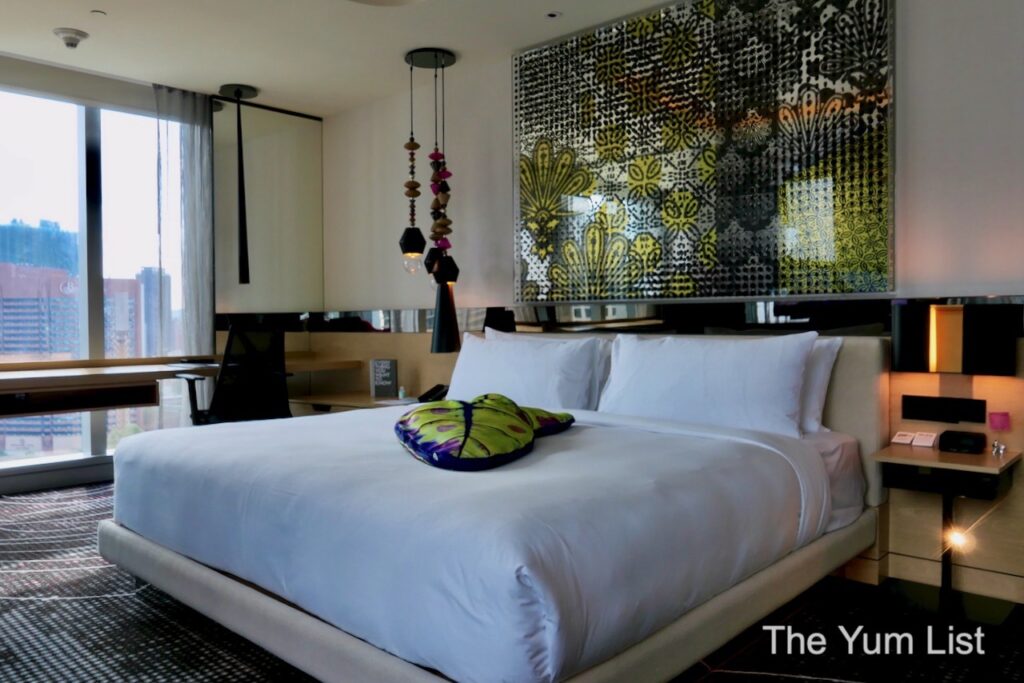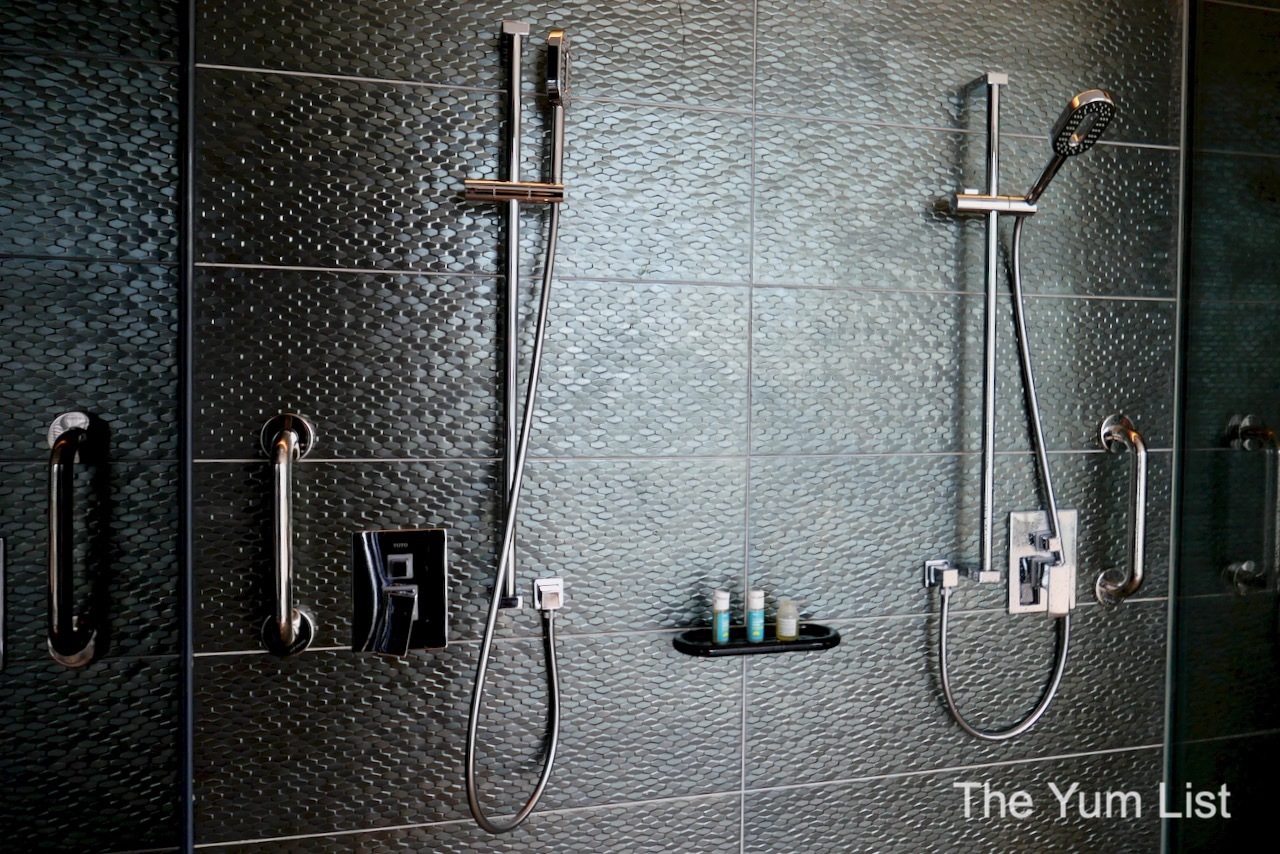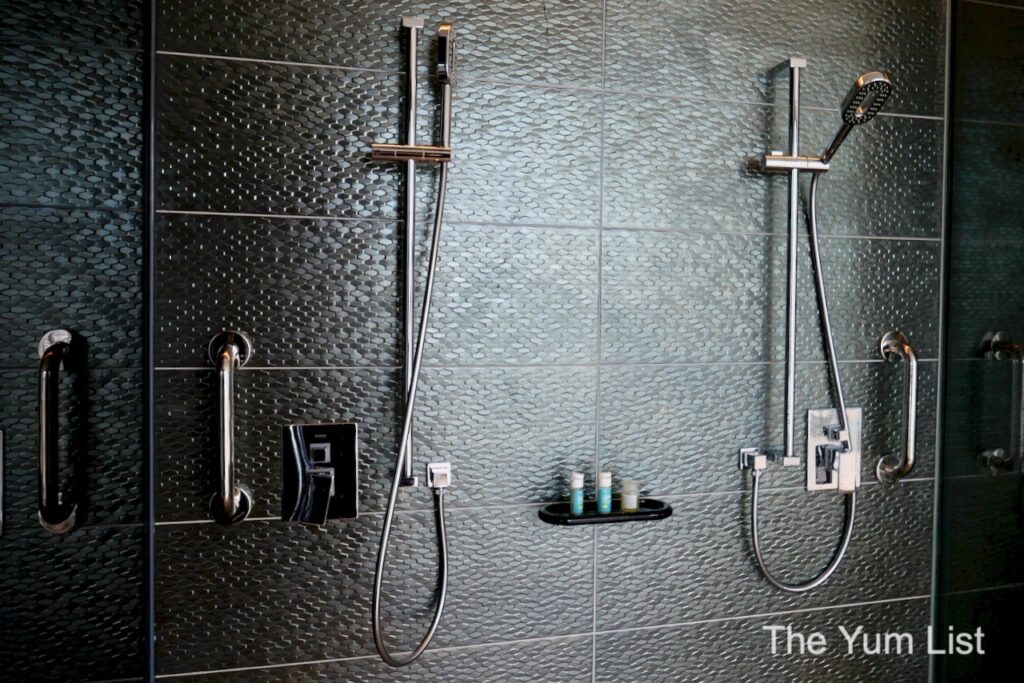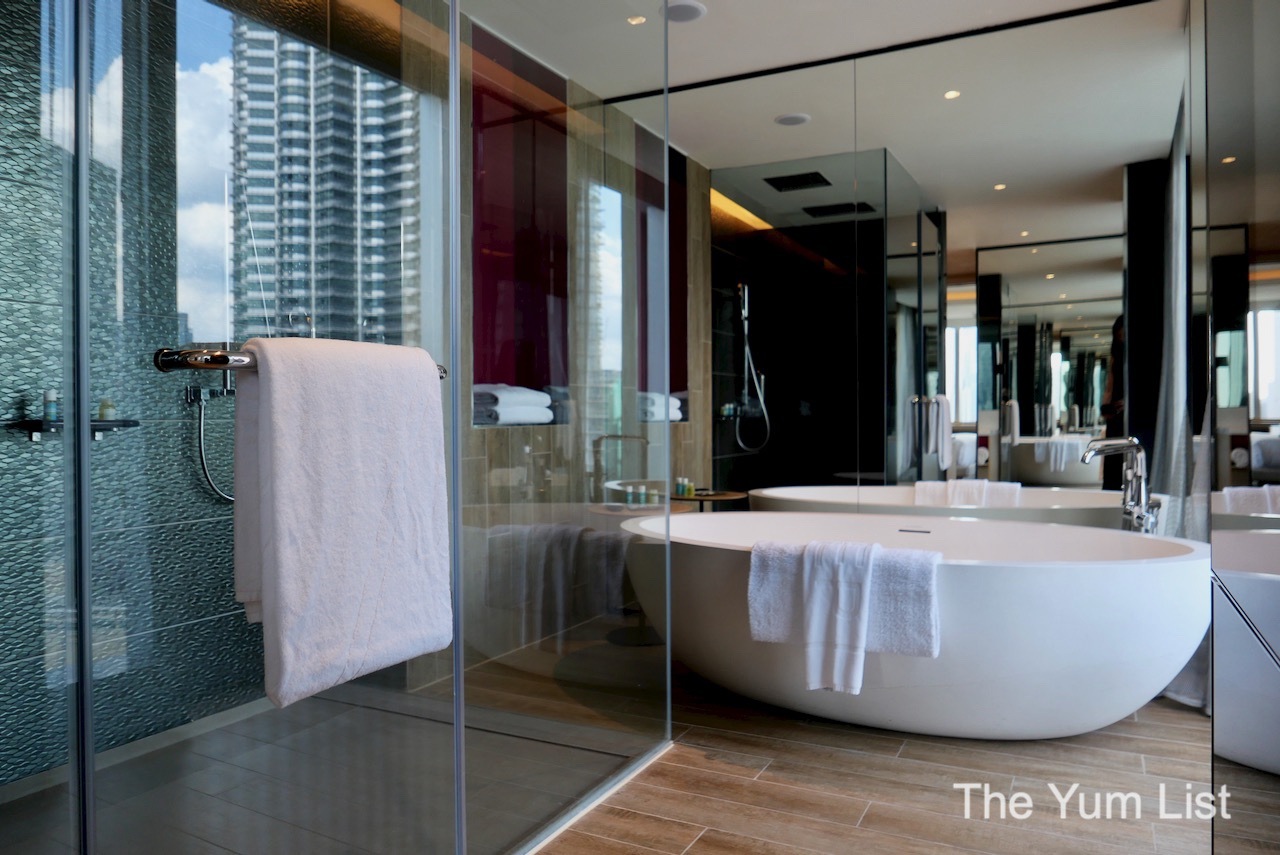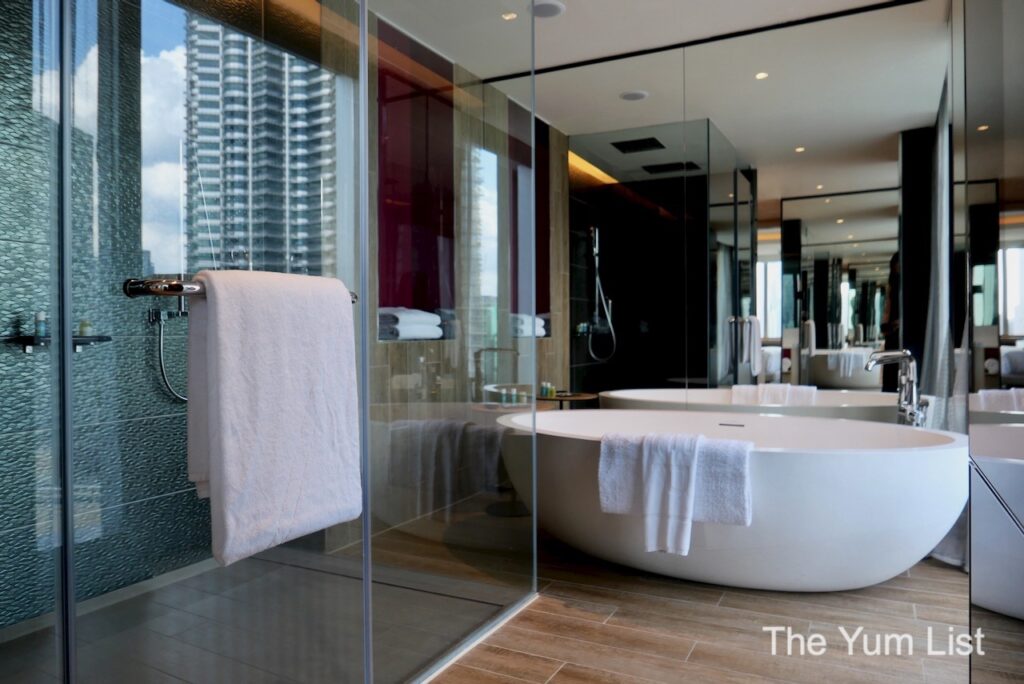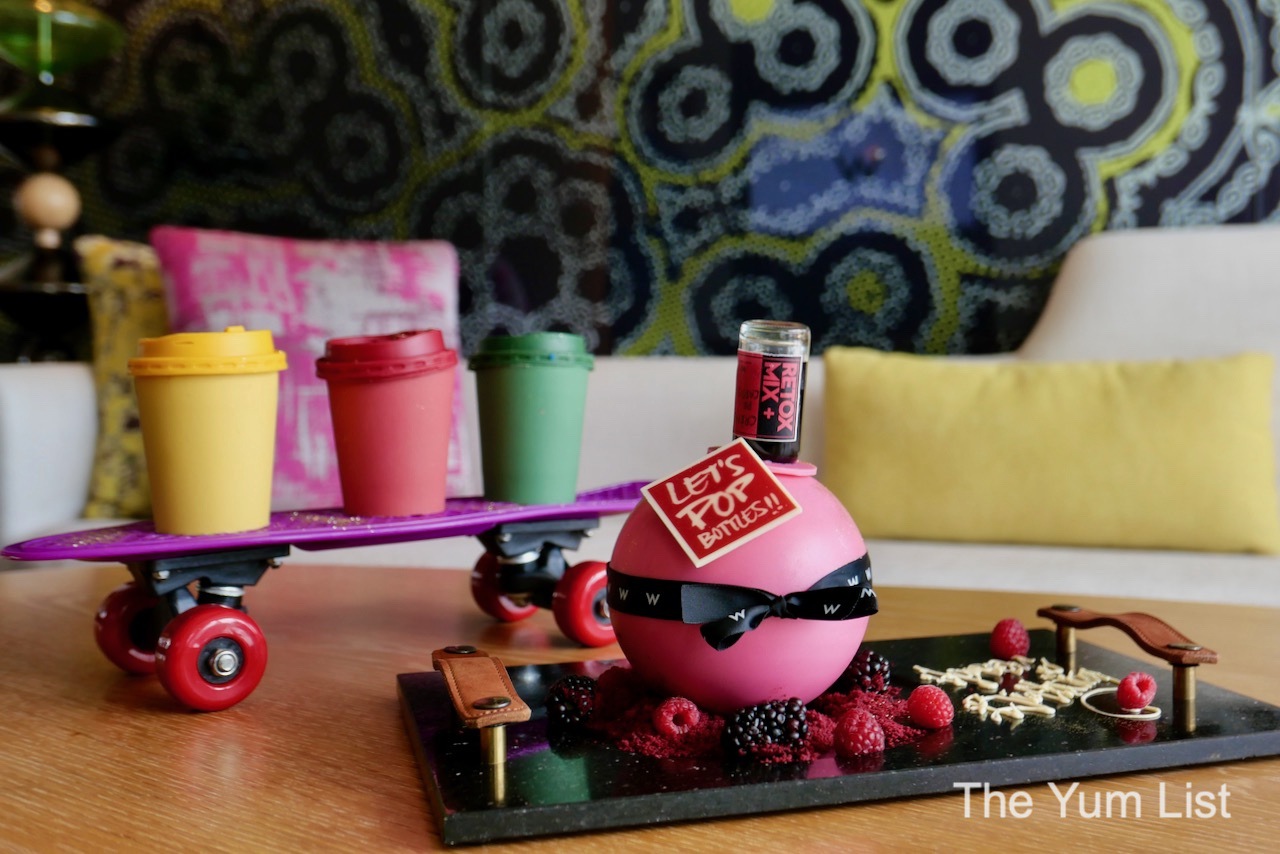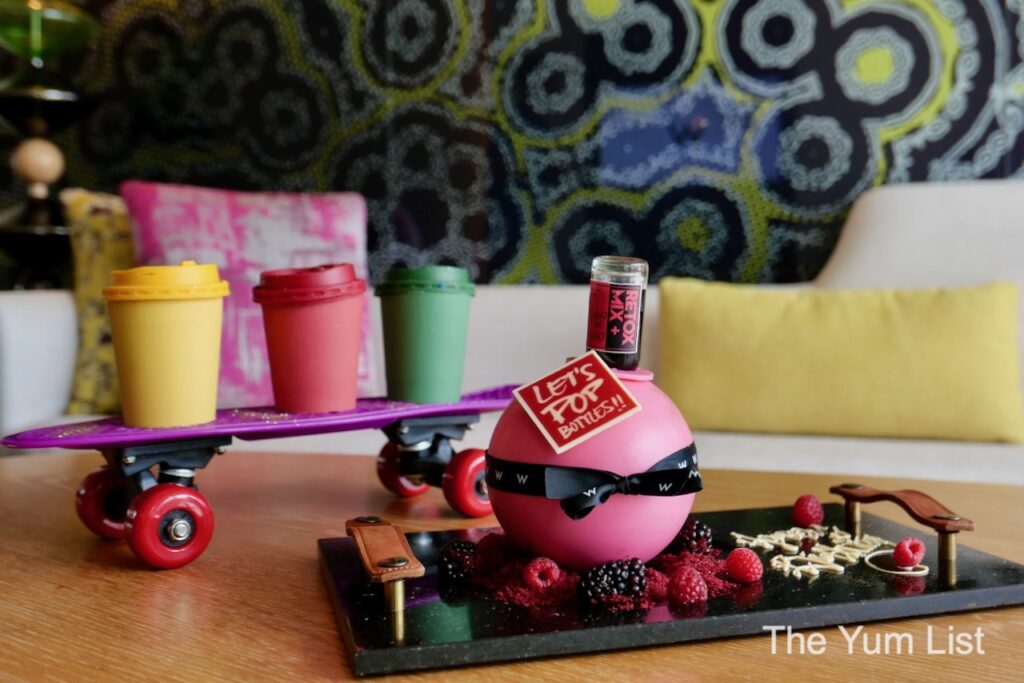 WIP Access
Some might consider never leaving the room, but WIP Elite Appreciation Access at Woobar entices us out. Guests staying in suites (and with various reward programs) are treated to access daily between 6 and 7:30 pm. A selection of sips and bites replicate the club lounge experience but in a much funkier setting. Besides house wine and beer, a couple of cocktails, a mocktail, juices and soda offer refreshment.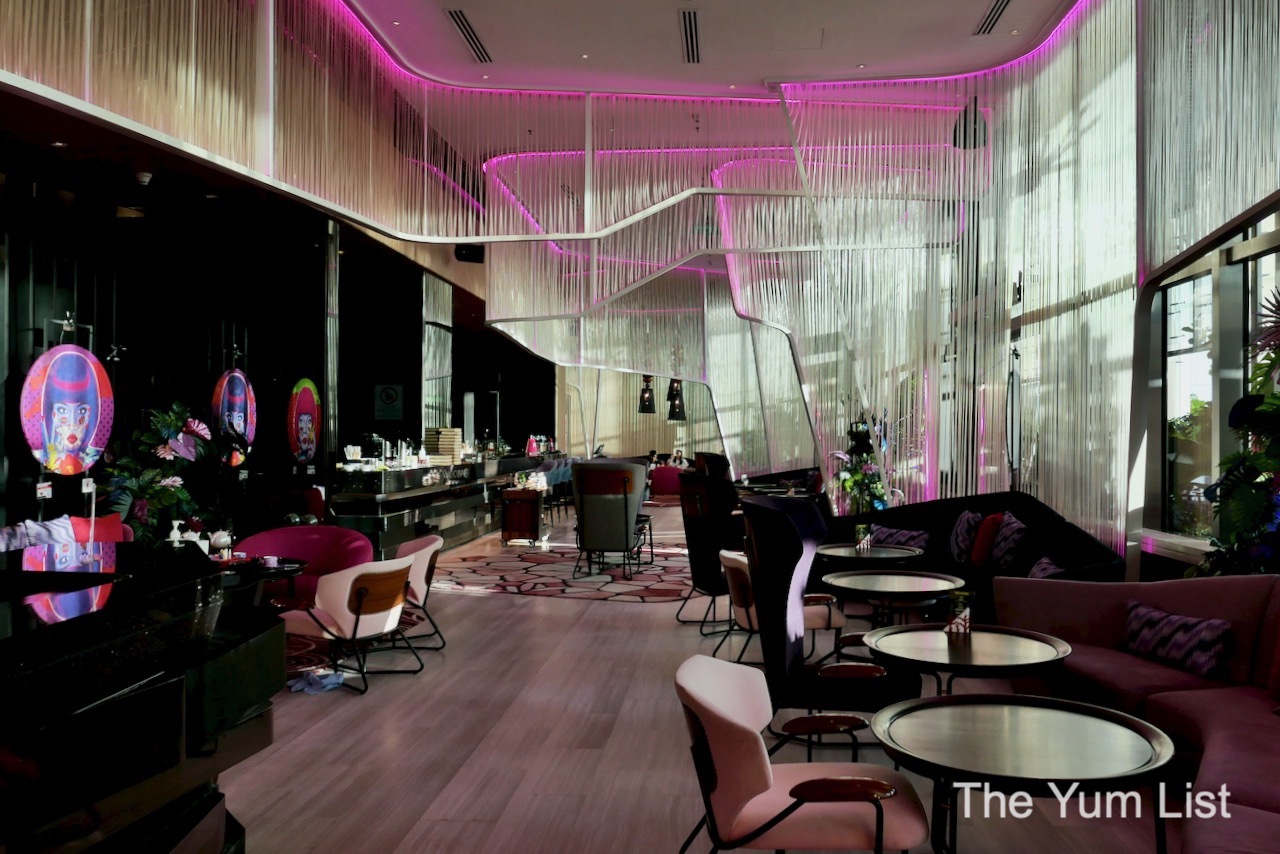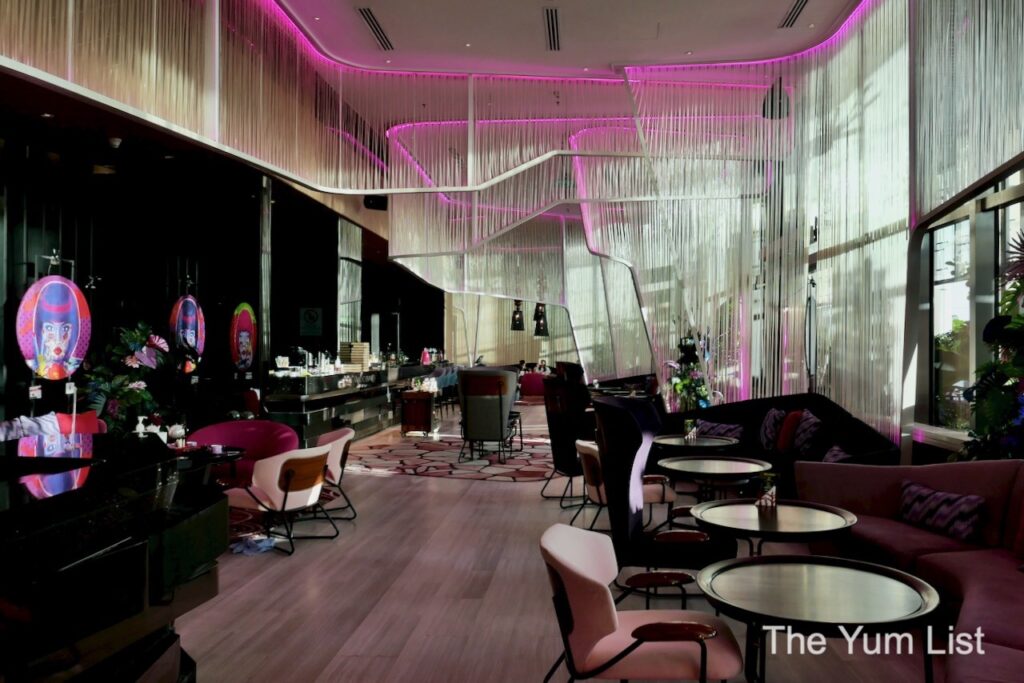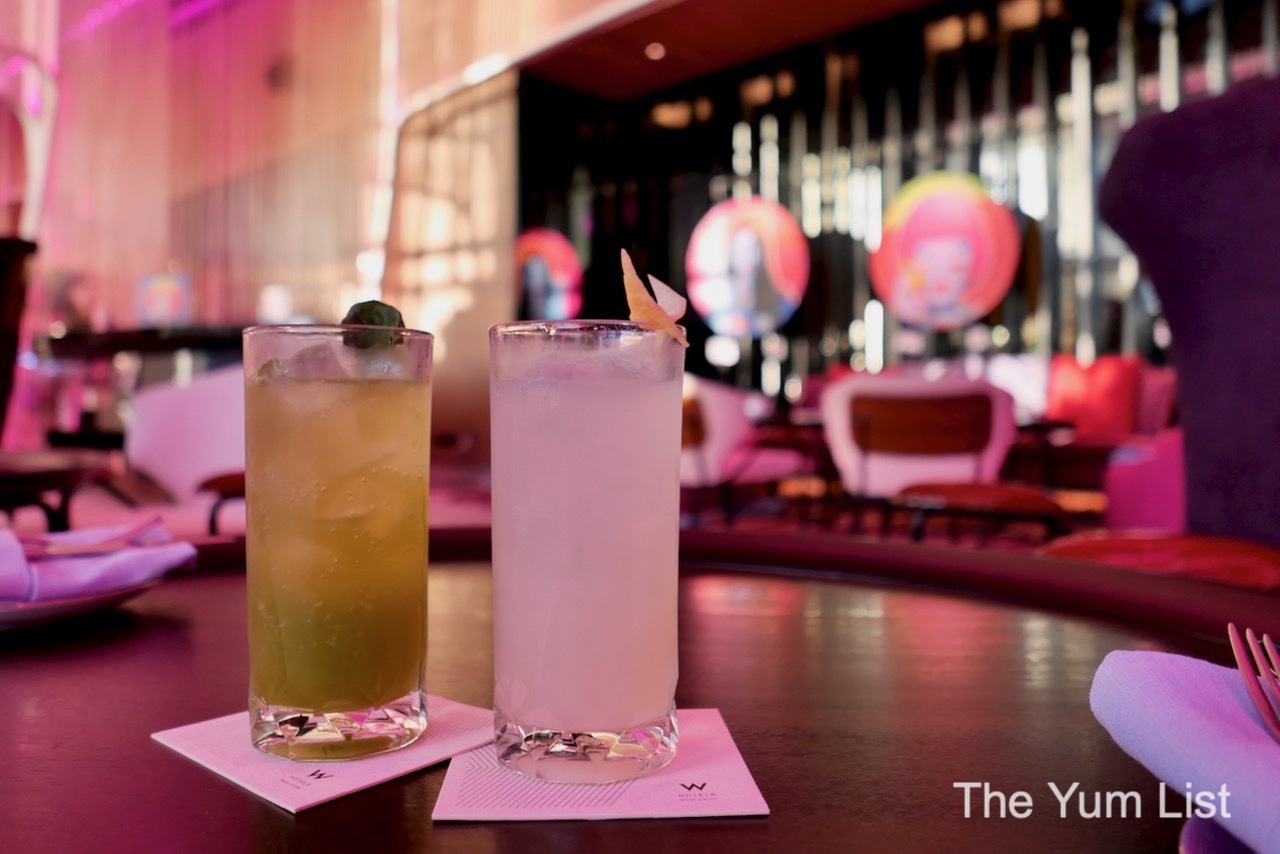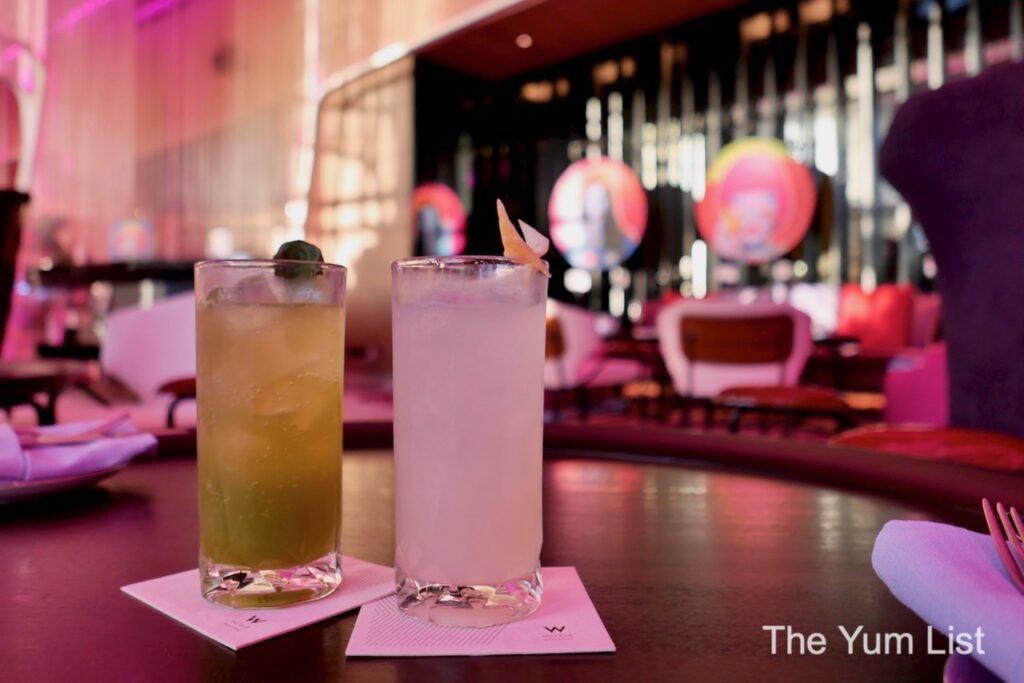 'Livin La Vida Local' Staycation Package Breakfast at Flock
Included in the 'Livin La Vida Local' Staycation Package, breakfast at Flock is a healthy spread of wholesome regional and international cuisine. With a strong focus on sourcing ingredients locally, there's an attractive range of wonderfully tasty produce. As you might expect from the W, the buffet is extensive and of high quality.
A highlight for our nutrition-loving dispositions is the fabulous salad bar from BoomGrow. Growing directly in the fridge, a delicious selection of greens is for the plucking. Furthermore, it's one of the few hotels in the city that truly provides a variety of fruit, not only melon. There's a dedicated fruit slicer, arranging mango, pineapple, the obligatory melon, bananas and gooseberries on personalised platters upon request.
From various hot and cold counters, choices are in abundance. However, it's Flock's Signature Egg Menu, served to the table, that takes my fancy. I go all out with the Egg on Egg on Egg. A soft poached egg, ikura and avruga are supported by fried spinach and sauteed mushrooms on sourdough toast. The little mound is drizzled with hollandaise sauce. Coffee is free-flowing. Life is good.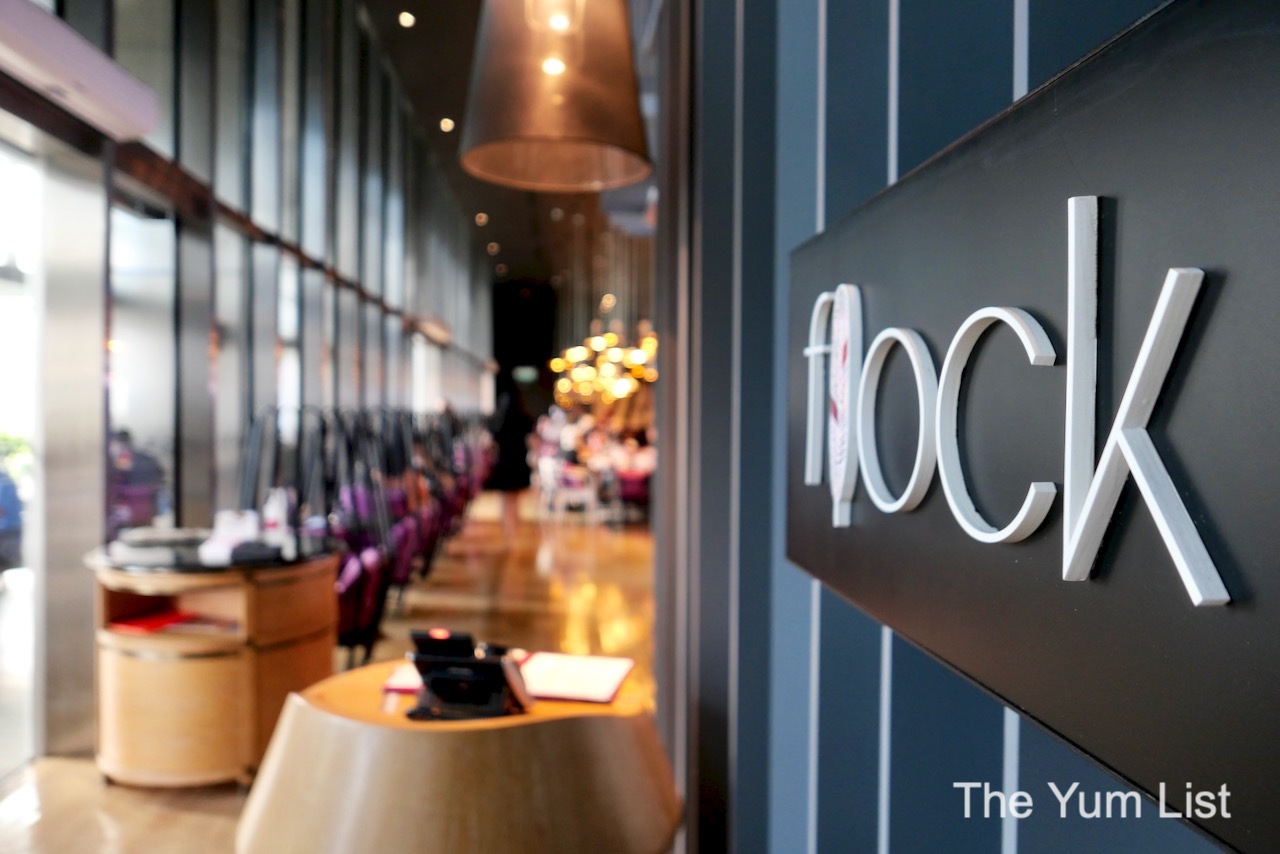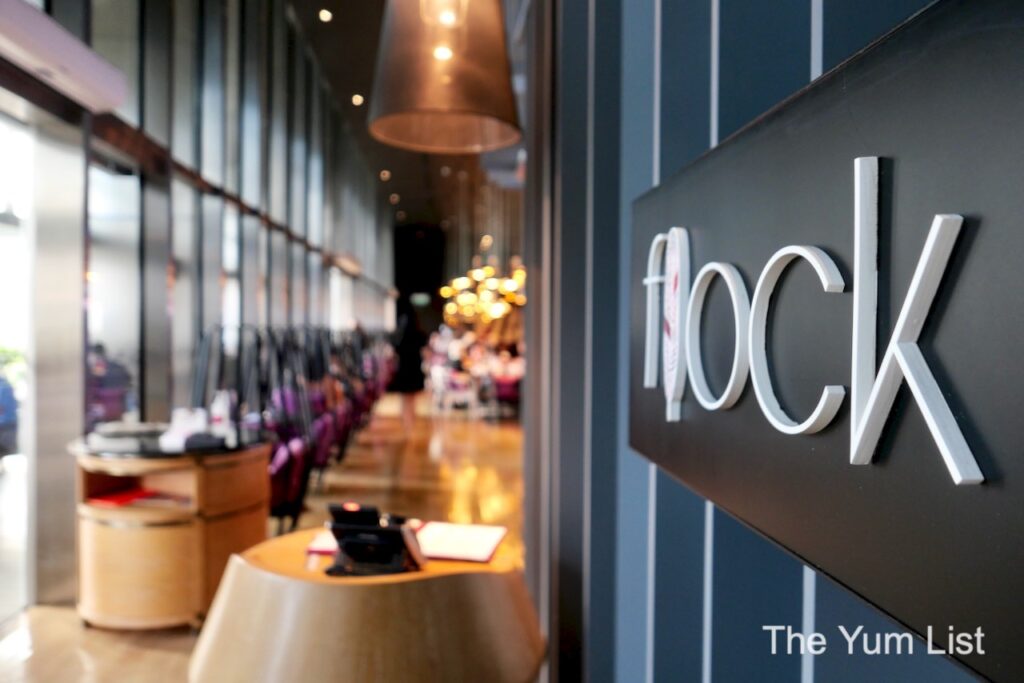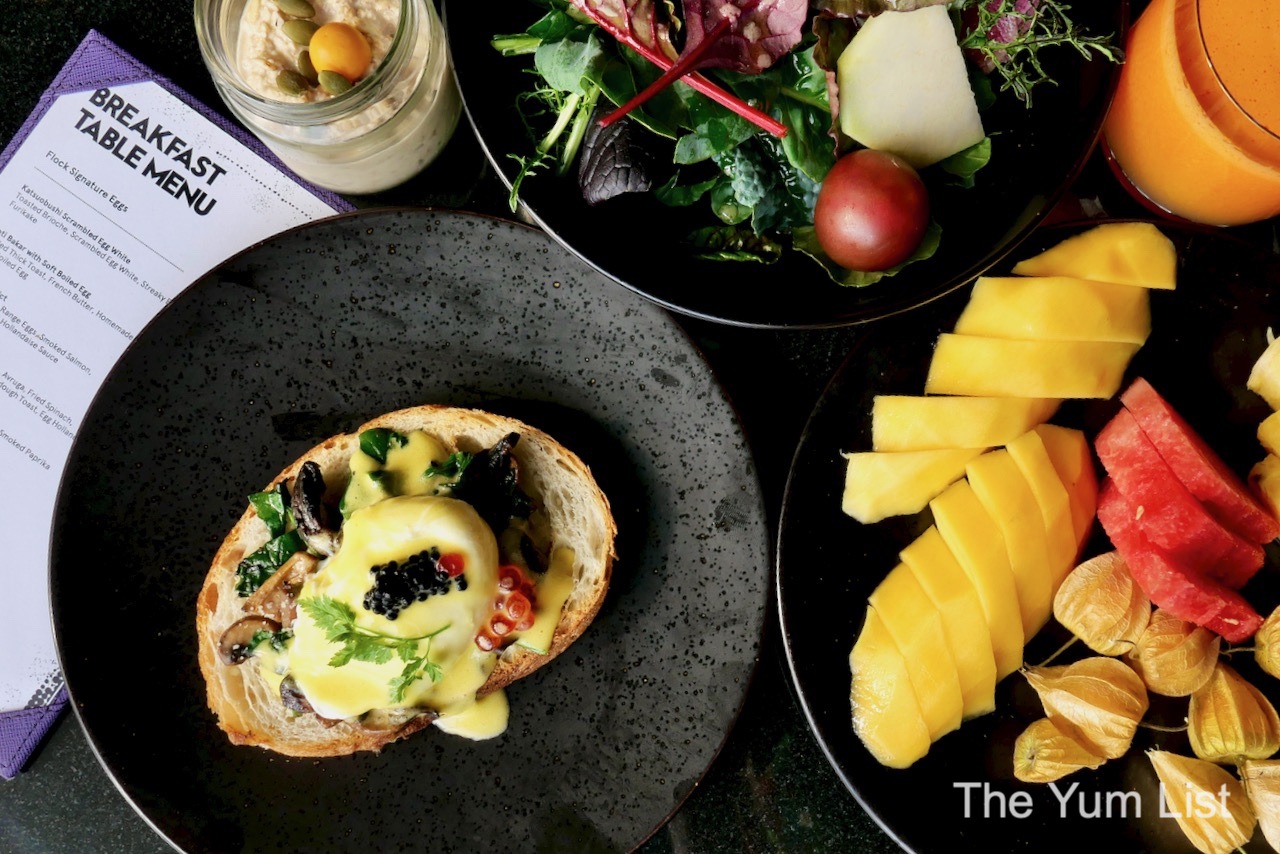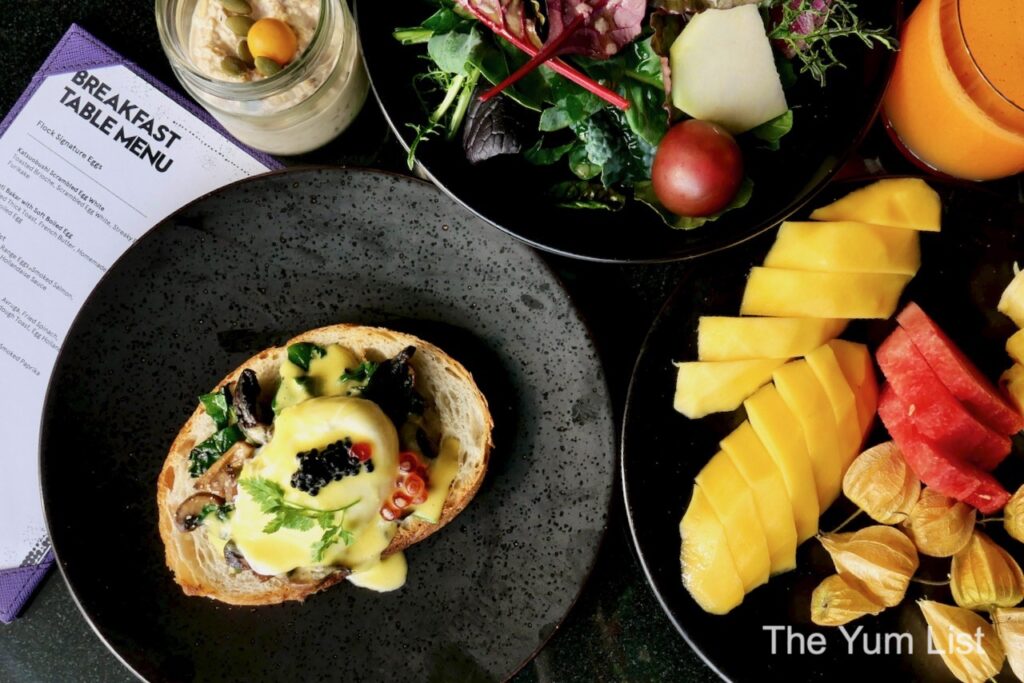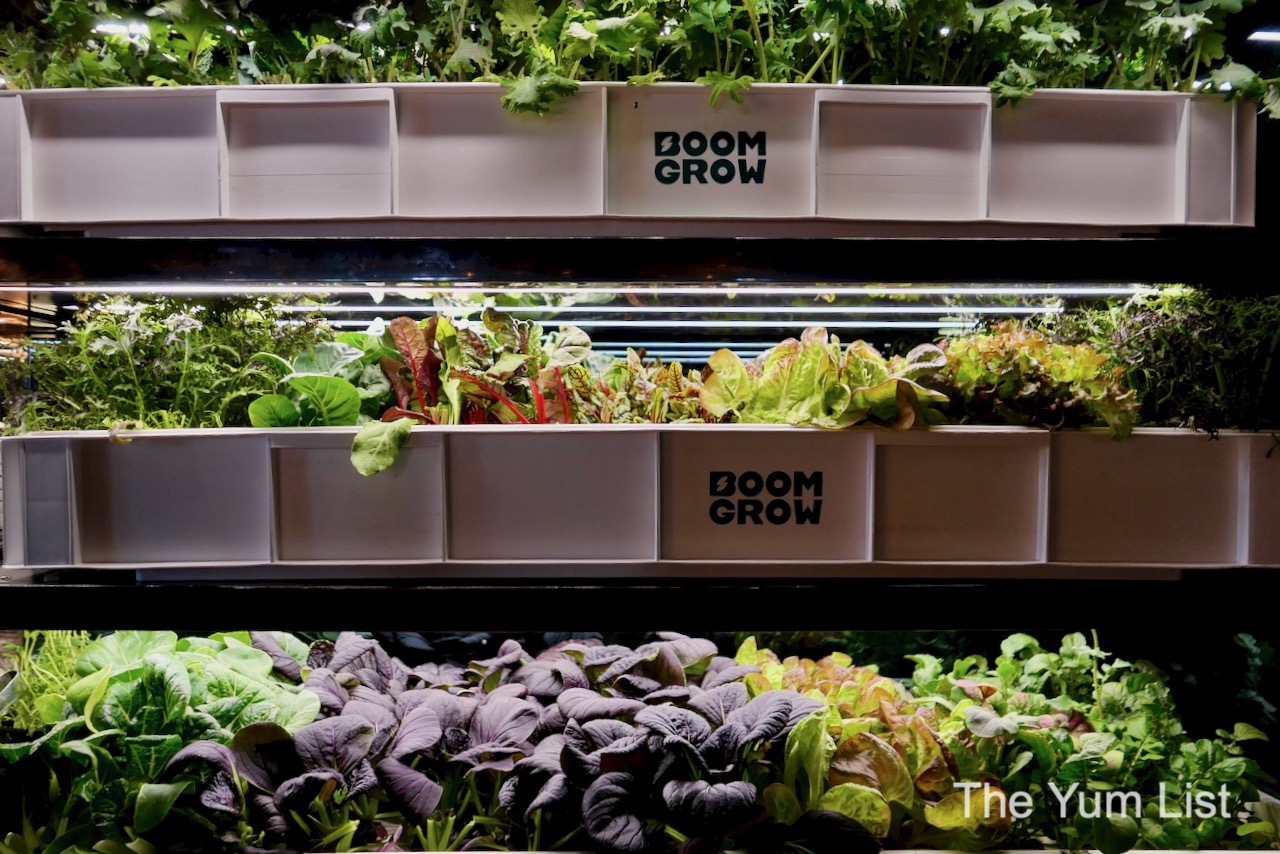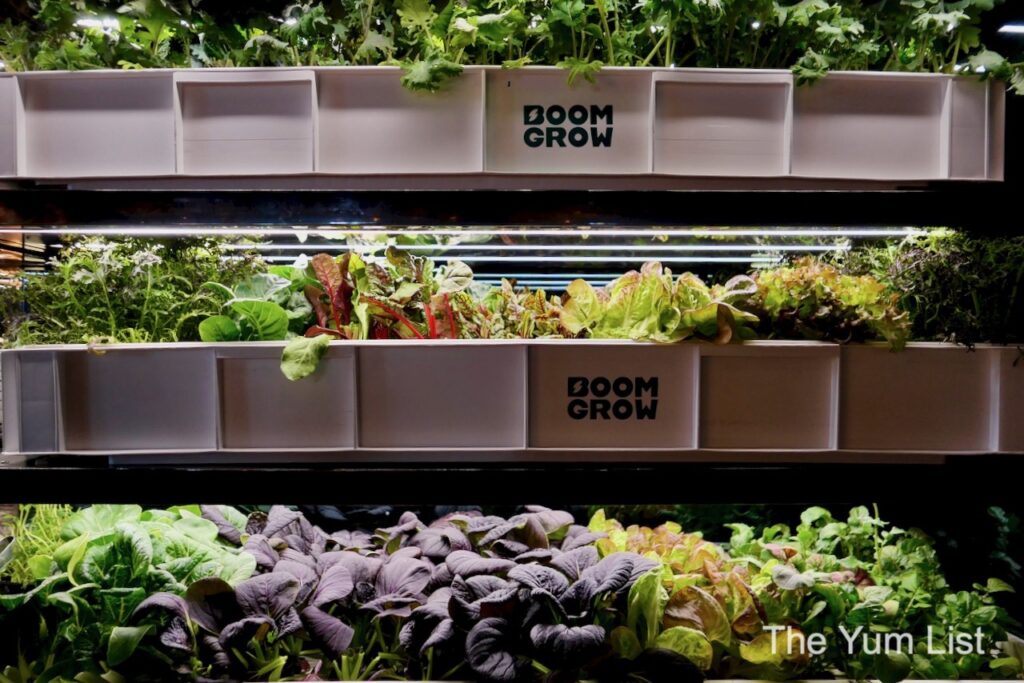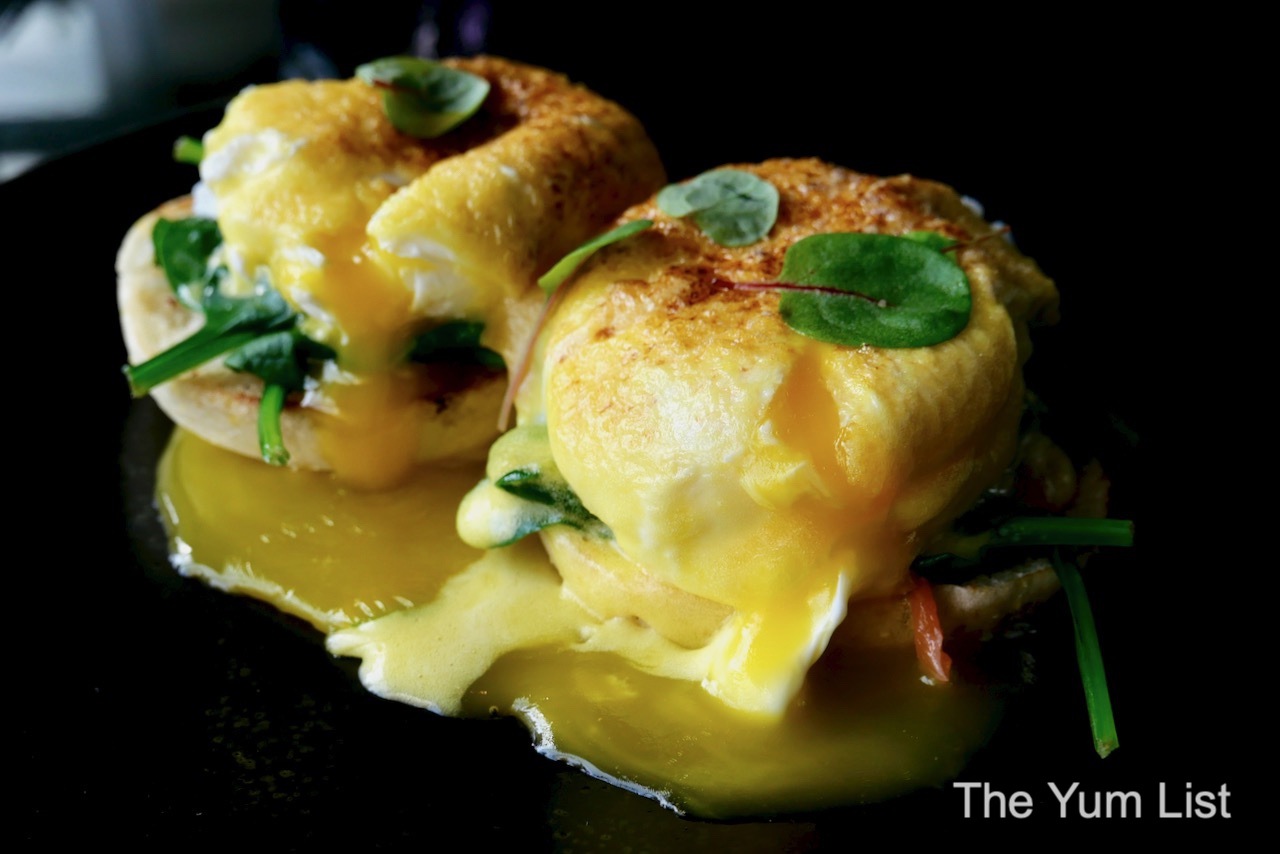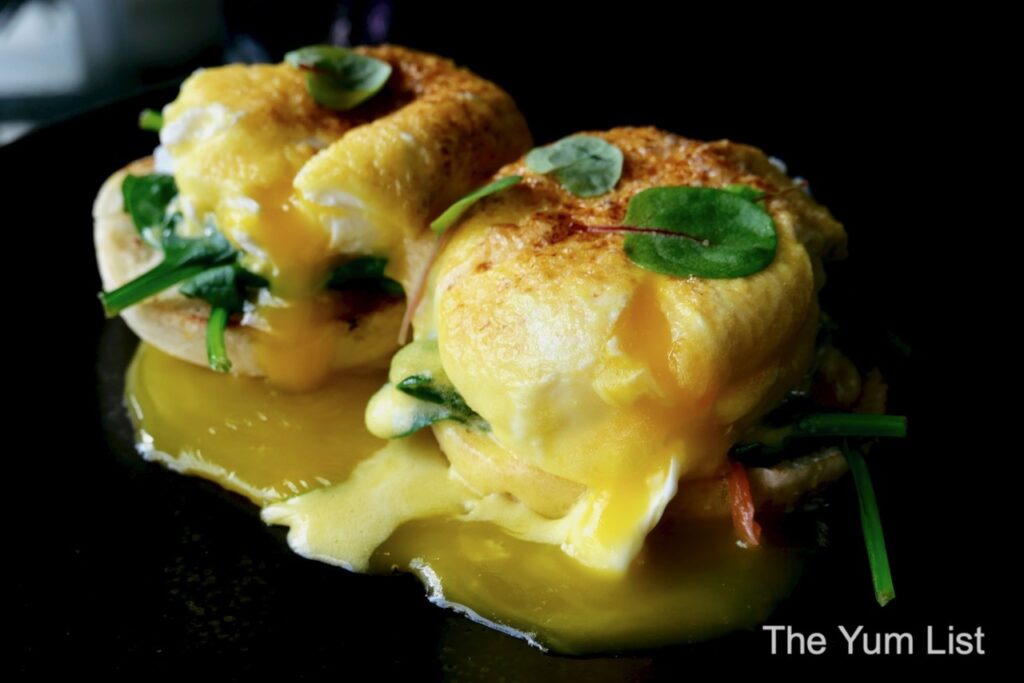 Food and Beverage
On top of brekkie, a set meal for two at either Yen or Flock is included in the 'Livin La Vida Local' Staycation Package. You can't go wrong with either. Check out Yen's dim sum brunch here and some of Flock's specials here and here. If you'd like to dine in WET Deck's new alfresco restaurant, though (highly recommend), be sure to reserve in advance. The location is stunning, the menu fresh and delicious, but it has been fully booked since opening.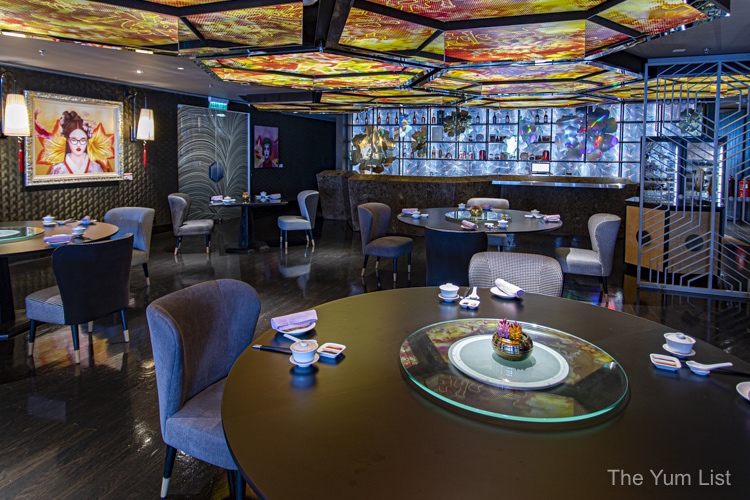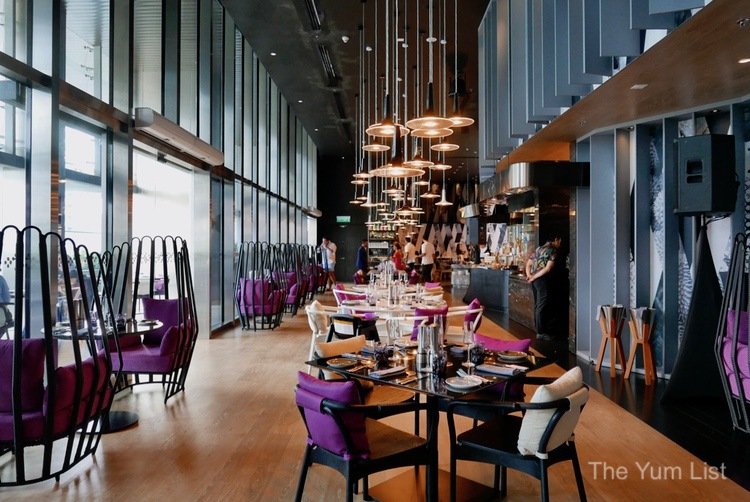 'Livin La Vida Local' Staycation Package at W Kuala Lumpur
Start your day with a continental breakfast in Flock or in bed for two.
Early check-in and late check-out (subject to availability).
Set dinner for 2 at Flock or Yen.
30% off for B&F* during your visit (Flock, Yen and Woobar)
From RM699 nett per room night for 2 persons
Black-out periods apply
Reservations and enquiries: +603 2786 8888 or [email protected]
Find more recommendations for hotels in Kuala Lumpur here and stay up-to-date on the latest gourmet and travel happenings around Malaysia here and here.